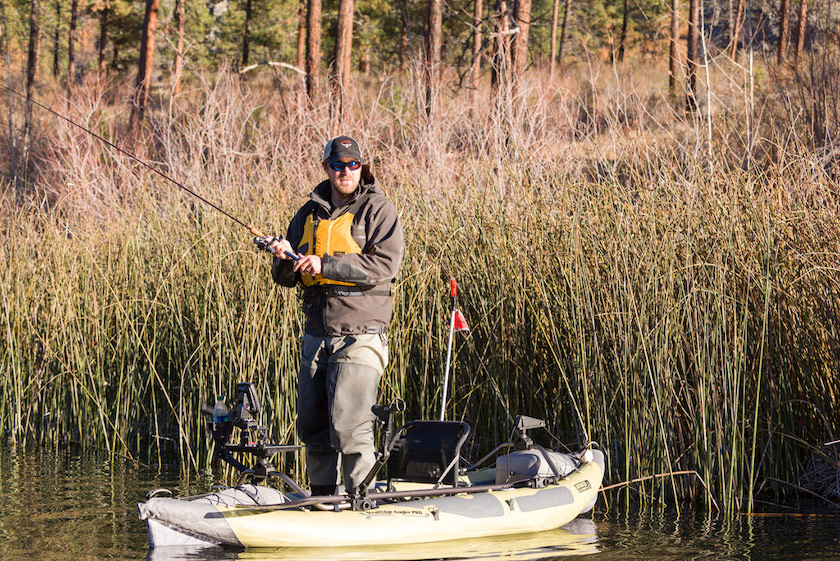 Here at Paddlingspace.com, we have reviewed over 250 fishing kayak models. Some are better than others, but we have yet to come across a fishing kayak that's outright bad.
That said, there's a huge variety of kayaks made for different purposes, types of water, budgets, and angler preferences. It's easy to get confused, especially if you're just getting into kayak fishing and not sure what you need
For this post, we've selected the best fishing kayaks in different categories that we believe should be on your short list. We've also put together a comprenesive buying guide to help you make the right choice.
Quick Answer: Top Fishing Kayaks for 2022
---
Top Rated Fishing Kayaks for 2022

Type: Hard-shell sit-on
Material: High-density, UV-protected polyethylene
Size: 10 ' 3 " (312 cm) x 31″ (78.7 cm)
Weight: 57.5 lb (26 kg)
Capacity: 300 lb (136 kg)
The Lifetime Tamarack Pro 103 is an outstanding option for anglers on a budget. It is a fishing kayak that takes care of business and offers just what you need for comfortable fishing. Short and nimble, this model lacks some of the more modern comforts, but the features it does have are worth noting.
At The Tamarack Pro 103 is lightweight at just 51 lbs (23 kg), meaning it will be easy to handle outside the water and also cartop if you choose to. There isn't an abundance of storage space, but this model does offer two dry storage hatches—one in front of the seat and one behind.
Crafted from UV-protected high-density polyethylene, the Tamarack Angler is designed to be a rigid, durable kayak that performs well on the water. Many users report that the kayak offers enough stability to allow them to stand while fishing. At just 10' (304.8 cm) in length, the Tamarack Angler is a great option for budget-minded anglers.
Pros:
Great maneuverability
Lightweight
Good stability
Cons:
Limited capacity
Seat lacks padding
---
Best Fishing Kayak Under $1,000: FeelFree Moken 12.5 V2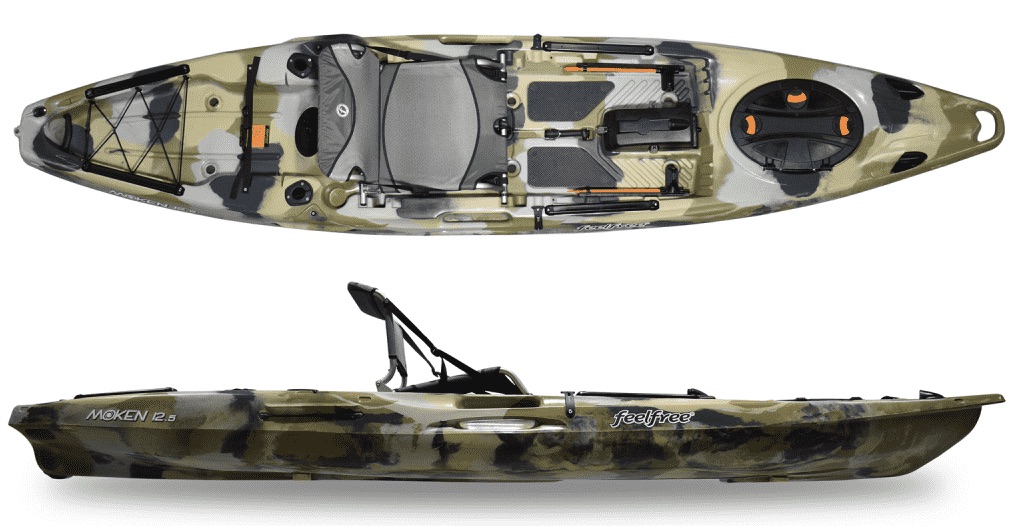 Length: 12'6" (381 cm)
Width: 32" (81.3 cm)
Weight: 85 lb (38.5 kg)
Capacity: 400 lb (181 kg)
Want to take your fishing trips to the next level? That's what FeelFree Moken 12.5 V2 is designed to do.
At 12' 6" (381 cm) long and 32" (81.3 cm) wide, the Moken 12.5 V2 is not a small boat. It weighs 85 lb (38.5 kg), so you'd better be prepared to do some heavy lifting or get a friend to help. That said, the molded handles and FeelFree's patented Wheel in the Keel system do make transportation much easier.
FeelFree Moken 12.5 V2 features rod tip protectors, a removable Sonar Pod, and an adjustable EZ Rider seat. A large, lockable hatch on the bow opens access to in-hull storage, which is great on longer trips. The accessory rails on each side will let you install any accessories or electronics you may need on the water.
The EZ Rider seat features two high positions (forward and back) plus one low position. It might be one of the most comfortable seats in this price segment.
The Moken 12.5 V2 has adjustable footrests and is rudder-ready.
While the Moken's primary stability isn't stellar, it compensates that with solid secondary stability, which makes it great for choppy waters. The long hull with a pronounced keel on the bow and stern provides excellent speed and tracking performance.
The Moken 12.5 will shine on larger bodies of water where you need to go far and may have to battle waves and winds.
---
Best Do-It-All Fishing Kayak: Vibe Shearwater 125

Length: 12' 6" (381 cm)
Width: 35" (89 cm)
Weight: 82 lbs (37 kg)
Capacity: 475 lbs (215 kg)
If you want something so advanced that it pushes the realms of what we can call a kayak, you really should look at the ultimate fishing machine; the Vibe Shearwater.
The Shearwater is a fishing kayak which has more features than you can shake a stick at. For a start, the Vibe Summit seat has four positions with adjustable height and lean while retaining the same comfort and support of the Hero seat. It also folds up and out of the way, and with the optional standing perch, you get a perfect elevated fishing platform with an unparalleled view of the water.
Even without the perch, the Shearwater has a huge standing area to fish from, as well as gunwale grips so you can stand up on the sides without slipping. There are four rod mounts as well as four horizontal rod holders, loads of gear tracks, a removable fish finder pod with a transducer mount, and two Power Pole mounting spots on the Shearwater.
Storage wise, you get all usual space at the rear, complete with adjustable bungee, but also loads of options on the bow and midship. There's a bow storage area with the Flex Top cover, a Vibe Versa drawer which fits under the seat, as well as the recesses for tackle boxes next to the seat and three hull access plates. In the middle of the boat is the removable Vibe Versa Pod, perfect for storing electronics while on the water.
Vibe Shearwater 125 can be fitted with the optional Vibe X-Drive Pedal Pod, allowing you a truly hands-free experience. This also requires the optional steering handle, as the rudder on the Shearwater is usually controlled with toe mounts on the footrests.
Pedalling still a bit too much like hard work in the wind? There's always the option of the Bixpy Jet Motor, which attaches to the rudder system. This small engine will propel you along in almost any condition.
That said, the hull doesn't exactly make your life difficult. Designed to cut through the water like a knife through butter, the sharp v-shape and long keel line of the Shearwater is over-accentuated at the bow to track perfectly in all sorts of winds.
There's so much going on here that it's hard to imagine a better fishing platform.
---
Best Inflatable Fishing Kayak: Sea Eagle 385fta FastTrack Angler

Length: 12'6″ (381 cm)
Width: 36″ (91 cm)
Weight: 48 lb (21.8 kg)
Capacity: 635 lb (288 kg)
Sea Eagle 385fta FastTrack Angler is a strong player in the inflatable fishing kayak market. With its bullet-proof construction and tons of fishing-specific features, it should be on the list of anyone shopping for an inflatable fishing kayak.
The 385fta is 12'6″ (381 cm) long and 36″ (91 cm) wide, which gives you a pretty sizeable and very stable fishing platform. The hull weighs just 45 lb (20 kg) while offering an incredible capacity of 635 lb (288 kg). Big guys out there looking for a fishing kayak, take notice!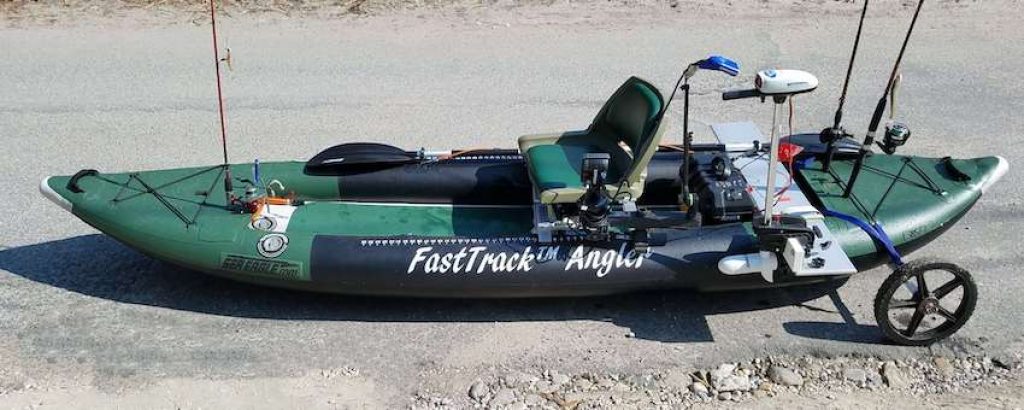 The FastTrack Angler features a bomb-proof construction with a 1000D hull material double-layered on tubes and bottom for extra protection, non-slip crocodile-patterned EVA padding on the floor, and 4 separate air chambers. The kayak is NMMA certified.
Another distinctive feature of the 385fta is its low profile. The side tubes are only 10′ (24 cm) high, which means you don't get pushed around by the wind as much, a known disadvantage of most inflatable kayaks. The performance is further improved thanks to a large removable skeg on the bottom.
Sea Eagle offers multiple configurations of the 385fta, including a choice of an inflatable seat or plastic swivel chair, a tandem package with two high-back seats, and even a version with a side-mounted Watersnake Asp T24 trolling motor. Each version comes with a paddle (or two paddles in the tandem configuration).
---
Best Tandem Fishing Kayak: FeelFree Lure II
Length: 14' 2" (431.8 cm)
Width: 36" (91.4 cm)
Weight: 105 lb (47.6 kg)
Capacity: 500 lb (227 kg)
The FeelFree Lure II tandem kayak is the most feature-rich fishing platform in this roundup. It is a stable, comfortable, and versatile fishing vessel for two people. You can also paddle or pedal this kayak solo.
The most attractive feature of the Lure II is, of course, the super-comfortable Gravity seats. These padded, adjustable seats offer as many as ten height adjustment points and are perfect for long days on the water. The front seat can be removed if you want to paddle the kayak solo. Sadly, you can't turn the front seat around and sit face to face (some people do it without fully securing the seat, but we would not recommend it).
Another unique feature is that the Lure II can be converted to a pedal-driven kayak. Feelfree's Overdrive pedal unit pops into the sonal pod opening. You will also need the rudder kit.
Feelfree Lure II can be converted into a solo fishing kayak. You can remove the front seat and have tons of deck space all for yourself. Remember, however, that transporting this kayak alone is not an easy task.
Feelfree Lure II features multiple gear tracks, two sonar pods for no-drill fish finder installation (I can't think of any other tandem that offers those), adjustable footrests for both paddlers, a dry storage hatch, two flush-mount rod holders, a large rear tank well, and FeelFree's patented Wheel in the Keel for easier handling.
With its 36-inch beam and 500 lb of capacity, the Lure II can hold a lot of gear and is stable enough to stand on. There are soft pads on the deck to improve traction and dampen any noise that might scare the fish.
At 105 lb (47.6 kg) without the seats, this kayak is the heaviest in our list. That weight is manageable for two adults, but if you plan to go out with a kid, it might be too heavy to handle alone, so think about a trailer and a kayak cart.
---
Best Kayak for Fly Fishing: Jackson MayFly

Length: 12'1" (368 cm)
Width: 35" (88 cm)
Capacity: 450 (204 kg)
Weight: 89 lbs (40 kg)
As the name indicates, Jackson's MayFly is a kayak that's built specifically for fly fishing. It has a lot of storage space and is relatively easy to paddle and control on the water.
But where the MayFly really shines is its solid deck to stand on and make casts. The deck is flat and has a soft padding that many anglers prefer to stand on barefoot in order to feel more sturdy and comfortable.
This kayak is about average in terms of weight and capacity, giving you plenty of room to load as much gear as you need to without greatly affecting the boat's maneuverability. It's described as one of the more fun kayaks to use as it is surprisingly nimble and tracks quite well considering the fact that it's only 12'1" in length.
The fly fishing features on the MayFly are what really captures attention. Everything on the boat was designed to provide you with the best possible experience using a fly rod and reel. The kayak features a fly line management system and a snag-free deck that is free of obstructions that you get your line tangled on. In addition to a large dry storage hatch on the hull and another on the stern, the MayFly even offers fly box storage and a tippet organizer.
Rod stagers on both sides are optimized for long fly rods with oversized reels. There are rod tip protectors on the bow so you don't have to worry about damaging your rods as you get to the most hard-to-reach fishing spots.
The price of the MayFly may put this boat slightly outside of the normal budget for beginner anglers, but experienced fly fishing enthusiasts will appreciate the overall value and the quality of features that this kayak is equipped with.
---
Best Lightweight Fishing Kayak: Aquaglide Blackfoot Angler 130

Length: 13′ (396 cm)
Width: 38″ (96.5 cm)
Weight: 41 lb (18.6 kg)
Capacity: 650 lb (295 kg)
If you need the lightest weight possible, you can't go wrong with a good inflatable fishing kayak. Introduced in 2021, Aquaglide Blackfoot Angler 130 features a drop-stitch floor and a body made from Duratex, a polyester reinforced PVC material. With a wide beam of 38 inches and a high-pressure, stiff floor, it allows anglers to stand and fish in comfort. The raised framed seat and the included cooler make it a true fishing kayak for advanced users.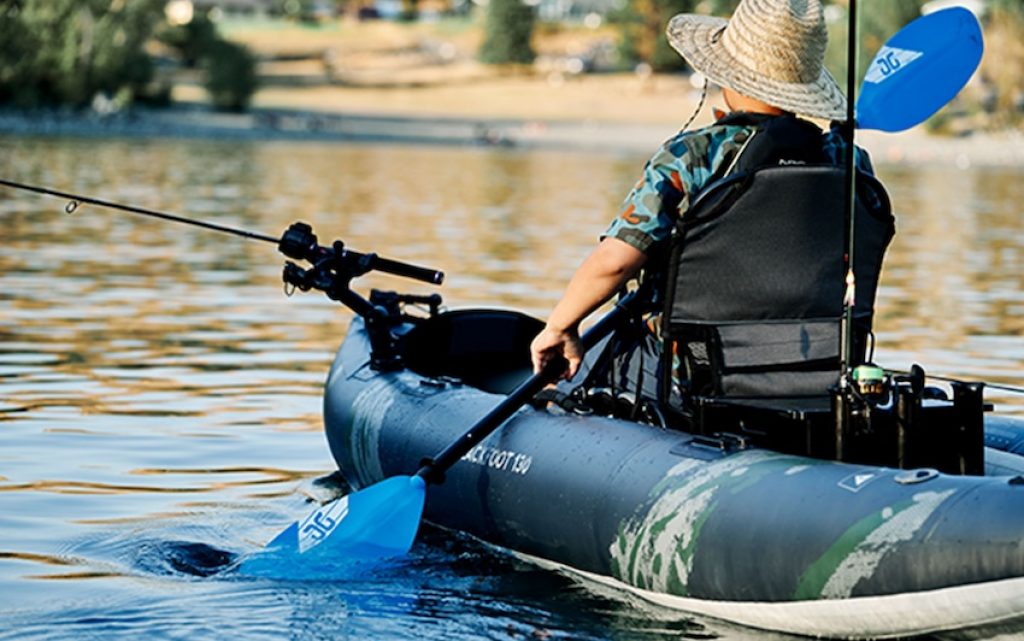 Other features include Scotty mounts on both gunwales, Molly plates and mesh bags to customize gear storage, some bungee on the bow and stern, adjustable footrests, scupper holes for drainage, and a removable skeg for better tracking.
The Blackfoot Angler 130 has an impressive capacity of 650 lbs. At just 41 lbs, it is very lightweight and packs down into an included backpack. It is a versatile fishing platform that you can take anywhere.
---
Best River Fishing Kayak: Crescent UltraLite

Length: 10'2" (309.88 cm)
Width: 35" (76.2 cm)
Weight: 49 lb (22.2 kg)
Capacity: 350 lb (158.7 kg)
The Crescent UltraLite is a throw-and-go kayak that's great for river fishing. This 10'2" (310 cm) kayak is made with a good amount of rocker that translates to high maneuverability along the toughest river rapids. The boat also weighs just 49 pounds (22.2 kg), which means you'll have no problems launching in steep areas or dragging it over shallow sections of the river.
The cockpit offers a wide open deck that allows you to easily stand and fish without obstruction, which is also good for fly fishing as it can hold excess line. The UltraLite's seat is very low to the deck, which means you'll have a better chance of remaining upright when going through rough water.
This kayak offers a total capacity of 350 lbs (158.7 kg), which is enough to hold most boaters and a decent amount of gear. One of the only downsides to the UltraLite is that it has limited dry storage in the form of a sealed bow hatch. However, the kayak does feature bungee cords on the bow and stern that can be used to secure dry bags and any other gear you'll need to bring along.
---
Best Fishing Kayak with Pedals: Hobie Mirage Pro Angler 12 with 360 Drive

Length: 12′ (366 cm)
Width: 36″ (91 cm)
Weight: 132.5 lb (60.1 kg)
Capacity: 500 lb (227 kg)
For anglers who are seeking the best possible option when it comes to a pedal operated fishing kayak, it's hard to beat the Hobie Mirage Pro Angler 12 with 360 Drive. This kayak is feature-rich and delivers on the legendary performance level that Hobie is known for. The Hobie Mirage Pro Angler 12's ergonomic design is evidence that Hobie engineers thought of every possible convenience related to how this kayak would perform on the water.
The MirageDrive 360 is arguably one of the best pedal systems ever made. It allows users to turn on a dime and pick up incredible amounts of speed with just a few steps on the pedals. There is no shortage of storage options both dry and open, and users will also appreciate the kick-up fins and rudder that are built to retract upon impacting a solid object beneath the water's surface. With six rod holders and plenty of tackle space under the Vantage ST seat, it's easy to see why we consider this one to be the best luxury pedal fishing kayak on the market.
Pros:
MirageDrive 360
Great stability and comfort
Plenty of storage
Kick-up fins and rudder
Cons:
---
Crescent CK1 Venture

Length: 11' (335 cm)
Width: 34" (86 cm)
Weight: 60 lbs (27.2 kg)
Capacity: 400 lbs (181 kg)
Crescent CK1 Venture is the latest addition to the Crescent model line which hits the sweet spot between Crescent Ultralite and Crescent Litetackle while sharing their great performance characteristics. It is a very well-designed kayak that's equally great for recreational paddling or fishing on both flat and moving waters.
"With the CK1 Venture, we wanted to blend the lighter weight of a throw-and-go with the weight capacity of a larger kayak—all without compromising our signature paddling performance," says Crescent owner James Derbecker. "Basically, we set out to create a light, high-weight capacity, customizable kayak platform that paddles and handles amazingly. We wanted it to be user-friendly, versatile, and reliable."
At 11 ft (335 cm) long and 34" (86 cm) wide, the CK1 Venture weighs only 60 lbs (27.2 kg). This qualifies it as a throw-and-go kayak. That said, it offers an impressive capacity of 400 lbs (181 kg), giving you full freedom in what gear to take with you.
Building on the strengths of Crescent's previous models, the CK1 Venture also introduces a number of improvements. These improvements include a cleverly design elastic cover over the bow tank well, a simple but functional paddle holder, and four molded-in bottle holders. The boat is airtight and does not offer any dry storage, but you can fit a medium-sized dry bag or soft cooler under the front cover to keep your stuff dry and secure even if waves crash over the deck.
Speaking of waves, the CK1 Venture performs beautifully both on flat water and in currents, including some light rapids. Its bulbous nose wants to ride over waves, keeping the boat dry and maneuverable. The pronouced keel runs the entire length of the boat, helping it track better. Like all Crescent's models, the CK1 Venture may not feel super-stable initially, but once the secondary stability kicks in, you'll know you're not going to tip over.
All in all, Crescent CK1 Venture is extremely versatile and fun to paddle. If you enjoy both flat water and rivers, including some Class I and II rapids, this might be the boat for you.
---
Perception Outlaw 11.5

Length: 11'6" (351 cm)
Width: 35" (89 cm)
Weight: 77 lb (35 kg)
Capacity: 425 lb (193 kg)
Perception Outlaw 11.5 offers solid stability, a high, comfortable seat, and a walkable open deck, all at an attractive price.
The Outlaw 11.5 is 11'6″ (351 cm) long and has a comfortable 35″ (89 cm) beam. At 77 lbs (35 kg), it is not the lightest in our roundup but still totally manageable. Molded carrying handles on the bow and the stern as well as two side handles make transportation and handling much easier.
The kayak can carry up to 425 lb (193 kg), which is more than enough for an average-sized angler and a reasonable amount of fishing and camping gear.
The Outlaw 11.5 is excellent for those that value simplicity and a hassle-free, snag-free fishing experience. It would make a great fly fishing kayak thanks to its stability and walkable open deck.
The kayak features bow and stern tankwells, a transducer scupper, three recesses for 1.5″ Solo Mount bases, two gear tracks that double as carry handles, and two "double barrel" rod holders.
A distinctive feature of the Outlaw 11.5 is a very high seating position, a full 16" (41 cm) above the bottom of the boat! This is great for sight fishing and makes it much easier to stand up and sit back down. However, in choppy waters and strong winds, a lower paddling position would be great for paddling performance and overall stability.
The seat itself has a high back and is pretty comfortable. The mesh material provides great airflow and dries quickly. You can also remove the seat and replace it with a 35-liter cooler for SUP-like experience.
Perception Outlaw 11.5 is ideal for anglers that do a lot of stand-up fishing in calm waters.
Perception Outlaw 11.5 is ideal for anglers that do a lot of stand-up fishing in calm waters. It is an excellent fly fishing platform. It's not the fastest or the most maneuverable boat around, but what it lacks in the speed department, it makes up for with rock-solid stability.
---
Bonafide SS127

Length: 12′ 7" (383.5 cm)
Width: 33.75" (85.7 cm)
Weight: 94 lb (42.6 kg)
Capacity: 475 lb (215.4 kg)
Bonafide SS127 prides itself for kayaks that offer the ultimate performance and stability—a combination that the company likes to refer to as "fishability." Bonafide SS127 is crafted for larger-sized anglers that want peace of mind and the ability to focus on fishing.
Bonafide SS127 is 12′ 7" (383.5 cm) in length and 33.75" (85.7 cm) wide. The high seat puts the user well above the sitting position of some other kayaks, but the kayak is stable enough for that. If you want to stand and fish but find it hard to stand up and sit back down in a kayak, you might want to give the SS127 a shot.
Weighing in at just 94 lb (42.6 kg), the SS127 is still quite lightweight for its size.
The SS127's total capacity is 475 lb (215.4 kg). Many larger-sized users have raved about the stability of the SS127 and its capability to handle just about anything you want to weigh it down with.
Features include a junk drawer that slides under the seat, a fish finder pod, a huge bow hatch, multiple rod and paddle storage points, traction pads on the deck, YakAttack gear tracks, dual skid plates on the stern, and more.
---
NuCanoe Unlimited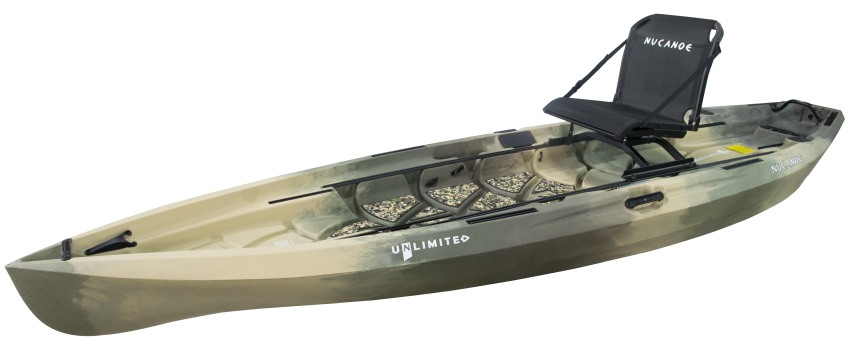 Length: 12'6" (381 cm)
Width: 41" (104 cm)
Weight: 84 lb (38 kg)
Capacity: 650 lb (294 kg)
The NuCanoe Unlimited was released in 2021. It is a feature-rich, high-performance boat that is drawing considerable amounts of attention in the kayak industry.
In line with NuCanoe's philosophy, the Unlimited is made to be extremely customizable and versatile. You'll see the usual clean, open deck design, gear tracks all over the boat (it now uses aluminum top-loading gear tracks), the rotating 360 Fusion seat, incredible motor compatibility, and multiple wiring options with YakAttack through-hull wiring kits.
NuCanoe also listened to their customers' complaints about the Frontier 12's deck being a little too soft for standing. The Unlimited features the all-new Tarpon design of drainage channels which also improve the rigidity of the deck.
NuCanoe Unlimited measures 12'6" (381 cm) long and 41" (104 cm) wide, which is impressive. As you would expect, it's not very light, tipping the scales at 84 lb (38 kg). The Unlimited can carry up to 650 lb (294.8 kg), which makes it a great kayak for big guys and a capable tandem fishing kayak.
---
Perception Pescador Pro 12

Length: 12 ft (365 cm)
Width: 32.5" (82 cm)
Weight: 64 lb (29 kg)
Capacity: 375 lb (170 kg)
The Perception Pescador Pro 12 demonstrates great performance in all sorts of conditions.
This kayak is 12′ (365 cm) long with a 32.5″ (82 cm) beam and 14.5″ (37 cm) deck height. Its weight of 64 lbs makes it relatively easy to load it onto the car roof rack or the truck bed.
Perception Pescador Pro 12.0 features a stadium-style seat with high and low positions, a fishfinder-ready central pod, YakAttack gear tracks, bow and stern tank wells, flush-mount rod holders, adjustable footrests, and a replaceable skid plate that protects the keel.
The Pescador Pro 12 has a maximum capacity of 375 lbs, which is not stellar but enough for an average-sized angler with a moderate amount of fishing gear.
With a longer hull and sharp bow, this 12-footer is great when you need to cover long distances, especially in choppy waters or when the wind picks up. It is quite fast and tracks well.
The 32.5-inch beam provides ample stability when you are seated, but the Pescador Pro 12 is probably not the best platform for stand-up fishing.
If you mostly fish in tight places or on small, meandering rivers, you might want to consider the shorter variant of Pescador Pro, the Pescador Pro 10.0.
---
How to Choose the Best Fishing Kayak
Kayaks allow anglers to approach their favorite spots with more stealth and precision than ever before. Whether you're using a paddle, a pedal drive, or even a trolling motor, a kayak is much quieter and less intrusive than boats that are traditionally associated with fishing.
When fishing kayaks began their meteoric rise in popularity among outdoor enthusiasts, they lacked many of the impressive features that fishing boats offered, such as the capability to install fish finders, to stand up while fishing, store gear in dry compartments, and other amenities.
Now, thanks to advancements in engineering and technology, fishing kayaks are able to be fitted with a huge variety of gear and equipment that will work as a boost to any angler's fishing game.
Whether you're a seasoned kayak angler looking to upgrade to the latest, most advanced ride, or a novice who's brand new to the world of kayak fishing—we've put this guide together to help you navigate the many different choices and select the one that's perfect for you.
Sit-on-Top Fishing Kayaks
Perhaps the most popular type of fishing kayaks is the sit-on-top kayak. These are the top choice for many anglers because they offer outstanding stability compared to sit-inside kayaks.
Sit-on-top kayaks are usually a bit wider than their sit-in counterparts, but this allows them to be designed with a greater weight capacity, which is also key for many kayak anglers. While traditional kayaks have long been designed based on a long, narrow frame, many sit-on-top kayaks can be built with a shorter, wider body.
RELATED: Best Sit-on-Top Kayaks: The Ultimate Guide
These types of kayaks might not have the same level of on-the-water performance in areas like speed, tracking, and agility, but they are geared toward stability and greater capacity. Sit-on-top kayaks will feature scupper holes that act as a self-draining mechanism so that users aren't tasked with pumping water out of their vessel.
One of the main advantages of a well-designed sit-on-top kayak is the ability to stand up while fishing. This is a major asset as it relates to fishing because it allows the user to get a better field of view of their surroundings and also means anglers can have a better range of motion, which means longer, more accurate casts.
Sit-on-top kayaks are also now being designed to offer seats that can be placed in the "high" position, allowing users to sit more comfortably and to also stand with less effort.
Pros:
More stability
Greater overall capacity
High seating
Scupper holes
More ability to move and turn in the seat while fishing
Cons:
Heavier
Less performance
Can give you a wetter ride
Sit-Inside Fishing Kayaks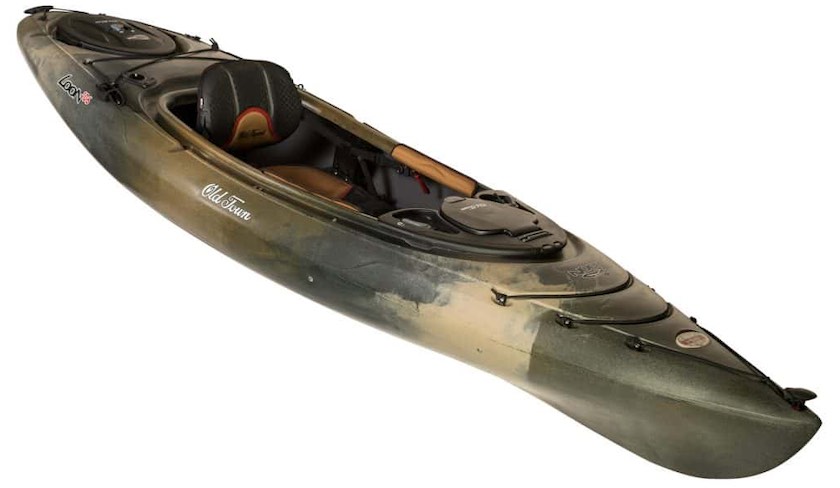 The first fishing kayaks were basically traditional sit-in kayaks that users had converted and customized to fish out of. These kayaks were designed for optimal on-the-water performance, but they are not ideal for fishing in most cases.
There are quite a few reasons why anglers usually opt for a sit-on-top kayak instead of the traditional sit-in models.
Sit-in kayaks typically aren't stable enough for users to stand up in, which means anglers will be limited to fishing in one, seated position at all times. If they do happen to take on water, you'll be forced to scoop it out, or use a bilge pump if you intend to stay dry.
These types of kayaks have less surface space for mounting things like rod holders, fish finders, or even camera gear. While sit-in kayaks usually have ample amounts of dry storage, most premium sit-on-top kayaks will feature a decent amount of storage space as well, making them the more suitable choice for most fishermen.
While not usually the best choice for fishing, sit-in kayaks do offer superb on-the-water performance. Many of them are designed to allow users to reach high speeds with little effort and also offer great tracking thanks to their sleek design.
Pros:
Great agility
Excellent speed and tracking
Dry storage
Lightweight
Cons:
Most models won't let you stand up
Less space for mounting equipment
Limited storage space
Don't self-drain
Inflatable Fishing Kayaks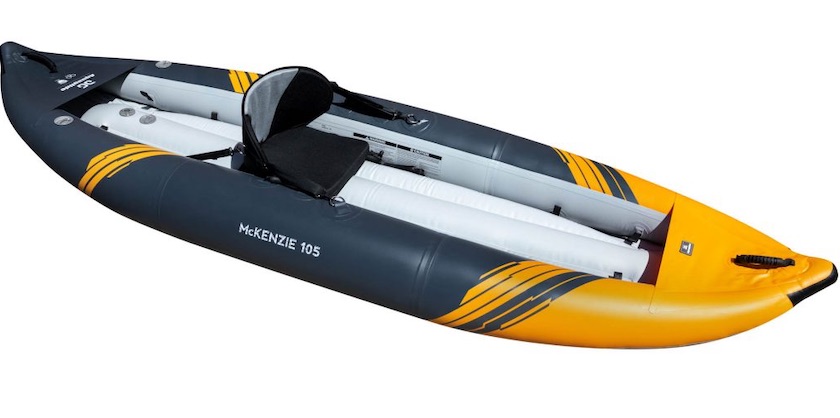 Arguably the most convenient version of fishing kayaks is the inflatable kayak. These can often be stored in a compact, easy-to-transport bag that is capable of being taken onto airplanes and anywhere else an angler might want to go. This means trips overseas with your own kayak are no longer out of the question.
RELATED: Best Inflatable Kayaks: Reviews and How to Choose
Inflatable kayaks are much more lightweight and portable than their plastic counterparts, but they do come with their own limitations. For starters, inflatable kayaks aren't quite as durable as plastic kayaks and can lead to major problems if you have a leak or your kayak is damaged while on the water.
Most users will be able to stand up in some premium inflatable kayak models, but performance is also going to be limited with an inflatable kayak.
While they are usually much lighter than other kayaks, inflatable models will not be as fast, or have as much agility on the water as hard-shell models. Users should also prepare for a more taxing paddling experience with an inflatable kayak as they are usually windblown much easier than plastic models.
Pros:
Cons:
Lack durability
Slower
Less agile
Can be blown around by the wind more easily
Paddling, Pedal, or Motorized Kayaks?
With the many recent advancements in kayaks and their features, some brands have produced impressive models that are totally "hands-free" and can be driven with pedals, or even a trolling motor system.
Let's take a closer look at all three types and weigh some of the advantages and disadvantages that they offer to fishermen.
Paddle Kayaks
Traditional kayaks are all powered the same way canoes and other boats have been for thousands of years—by paddle. While this is easily the most inexpensive option, there are a few reasons why some anglers might choose a paddle kayak over other, hands-free models.
For experienced kayak anglers, paddle kayaks offer a more familiar feel and can sometimes allow them to have greater control over a kayak that utilizes pedals or propellers.
It can be argued that paddle kayaks are the stealthiest of all models due to the fact that they only make as much noise as the user wants them to, unlike the intrusive "humming" of a trolling motor, or the sloshing of a pedal-driven kayak.
In addition to having to work harder to reach your destination, you'll also be tasked with finding a place to put your paddle before you take that first cast.
One of the major advantages a paddle kayak has over other models is the ability to go into more shallow waters due to the fact that it has no low-hanging fins or propeller to accomodate for.
Pros:
Able to travel into more shallow water
Less expensive
Lighter
Easier to operate
Cons:
Requires greater physical fitness
Limited range
Pedal Kayaks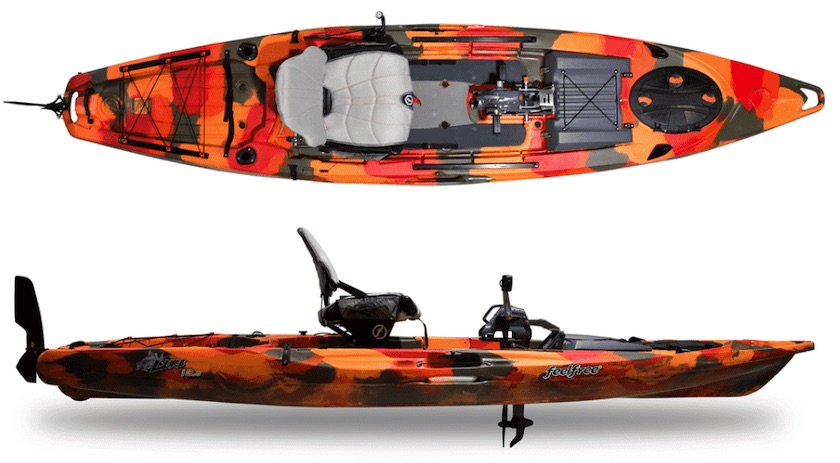 Pedal kayaks are quickly becoming one of the most popular versions of fishing kayaks as they allow users to freely travel while fishing. This is especially useful for anglers who prefer to "troll" or cast around docks while casually moving along at a decent pace.
RELATED: Best Pedal Fishing Kayaks: Reviews and Buying Guide
Most pedal kayaks can easily be controlled using a small knob or lever on one side of the seat, leaving the other hand free to hold a fishing rod.
Users will also be able to travel greater distances using a pedal kayak as they are designed to reach optimal speeds with relative ease.
One of the only downsides to pedal kayaks is that their fins can sometimes become damaged if they forcefully encounter an underwater object. Some pedal-driven models that utilize a propeller can also become entangled in fishing line, moss, or anything else you might expect to find in any given waterway.
Pros:
Easier to operate
Hands-free
More comfortable for some users
Cons:
Limited access to shallow waters
Heavier
More maintenance
Motorized Kayaks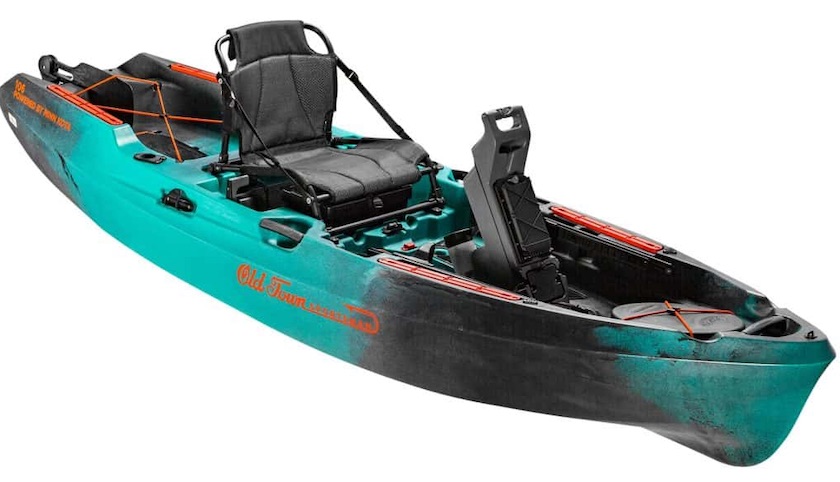 Every year, the top brands in the kayak fishing industry jockey for the top spot among the best fishing kayak in the game. Many anglers are beginning to consider motorized kayaks to be the "ultimate fishing experience" when it comes to fishing from a kayak.
RELATED: Best Motorized Kayaks: The Ultimate Guide to Powered Fishing Kayaks
There are numerous advantages to fishing from a kayak that's powered by an electric motor, the most obvious being the ability to travel anywhere on a given waterway without expending any effort.
A motorized kayak also allows users to reach greater speeds in less time. It is also easier to maintain steady speed, which is great for trolling.
There are different levels of quality, even among motorized kayaks. Some of the latest models utilize GPS, Bluetooth, Wifi, and a litany of other kinds of technology to allow anglers to have an experience similar to some of the most advanced bass fishing boats.
As you might expect, these kayaks are much more expensive than other types and will mean that users will be faced with much more maintenance than a typical paddle kayak.
Pros:
Hands-free
Faster speeds
Effortless operation
Cons:
More maintenance
Heavier
More expensive
Less portable
Fishing Kayaks Under $1,000

If you're looking for a fishing kayak that can provide great experience without breaking the bank, a thousand bucks will open a lot of options. Most brands offer great models in this price range.
Read our review of the best fishing kayaks under $1,000
Fishing Kayaks Under $500


Even if the funds are tight, that does not mean you're out of the kayak fishing game. The market offers some really interesting models under $500 that won't let you feel inferior.
Here's our overview of the best budget fishing kayaks.
Tandem Fishing Kayaks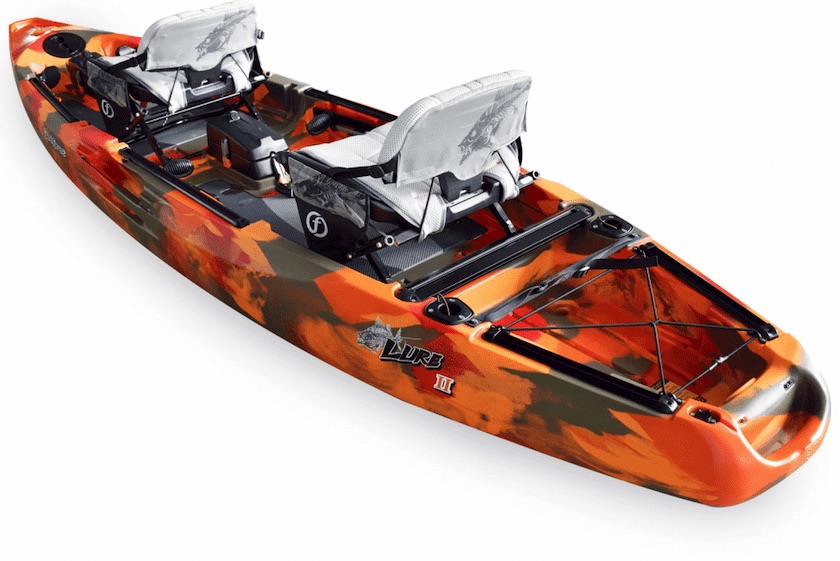 Want to share the experience with a friend, a kid, or your husband/wife? Tandem fishing kayaks let you paddle and fish together without having to bring two separate boats. Some of the tandem models can be used in a solo configuration for maximum versatility.
RELATED: Best Tandem Fishing Kayaks: Reviews and Buying Guide
Key Features to Look for in a Fishing Kayak
Regardless of the style of kayak you're looking for, there are a handful of areas to focus your attention on to get the most value and best features available. Here are a few of the main features to look for:
Stability
If there's one single thing we would look for in a fishing kayak, it's stability. Regardless of any other features or items a kayak has to offer its user, if it's not stable enough to allow an angler to stand and fish comfortably, it's not going to give you the best experience on the water.
It's important to do your research before making any purchase and, in some cases, try it before you buy it. If you can find a reputable kayak retailer in your area, it's always advisable to go and take a closer look at the specific brand you're interested in before making a purchase.
Capacity
Another important factor is the total capacity of the kayak. When calculating the overall weight, it is important to consider not only your own weight but also your clothes, PFD, food/drinks, and all the fishing and camping gear you plan to take with you. The end result may surprise you.
Also, it is usually recommended not to load a kayak beyond 80 percent of its maximum capacity for a drier ride and better performance.
If you feel like you'll be pushing the limits of the kayak, it is always a good idea to choose a model with a higher capacity. You'll be glad you did.
RELATED: Best Kayaks for Big Guys and Gals.
Adjustable Seat
According to most professional kayak anglers, the most important part of a fishing kayak is the seat. It's imperative to have a seat that's both comfortable and functional to make sure you're getting the best experience possible on the water.
Look for a seat that can be adjusted into multiple positions, from high and low to reclining, or even flipping the seat up altogether to allow for more standing room.
It's hard to have an enjoyable day on the water if you're not comfortable, so be sure that you're happy with a kayak's seat before purchasing one.
Dry Storage
It's also very important to have ample amounts of dry storage on your kayak so that you can stash some gear away without worrying that it will be soaked. Whether you're a beginning angler, or a seasoned professional, making sure that you have the right kind of storage is essential to your kayak fishing experience.
Many premium kayaks will offer large, sealed hatches on the bow and stern, but it's also important to look for the smaller nooks and crannies that certain brands have found ways to utilize. Some kayaks offer excellent center console areas that are ideal for storing valuable items like wallet, keys and cell phones.
If you plan to go on overnight trips on your kayak, having plenty of dry storage is absolutely essential because you can't afford for some gear items to become drenched or to be exposed to the elements.
Transducer-Ready Design
Years ago, it was unheard of for anglers to mount any type of fish finding equipment on their kayak. Now, with the latest advancements, it has become fairly easy for users to install their favorite electronic equipment on their new kayak.
Most brands have begun offering specialized compartments for batteries and other parts of electronic equipment, including pre-installed cables and mounting plates. If you plan to use any kind of electronic equipment, be sure to check and verify that your potential purchase will allow you to install your gear of choice without any additional headaches.
Some brands offer things like transducer plates and other items that protect your equipment and enhance its operation on the water.
Fishing Kayaks: Transportation and Storage
While it's tempting to choose a bigger boat with more features, always remember that you'll have to transport it to and from the water and store it somewhere. It is always a good idea to consider the transportation and storage options before you pull the trigger on the kayak.
Thankfully, the market offers a variety of kayak racks, kayak carts, and kayak trailers that will suit most needs easily. There are also different storage options, such as racks, stands, or kayak covers.
Whatever you choose, remember not to store your kayak under direct sunlight. UV rays are the worst enemy of just about any plastic.