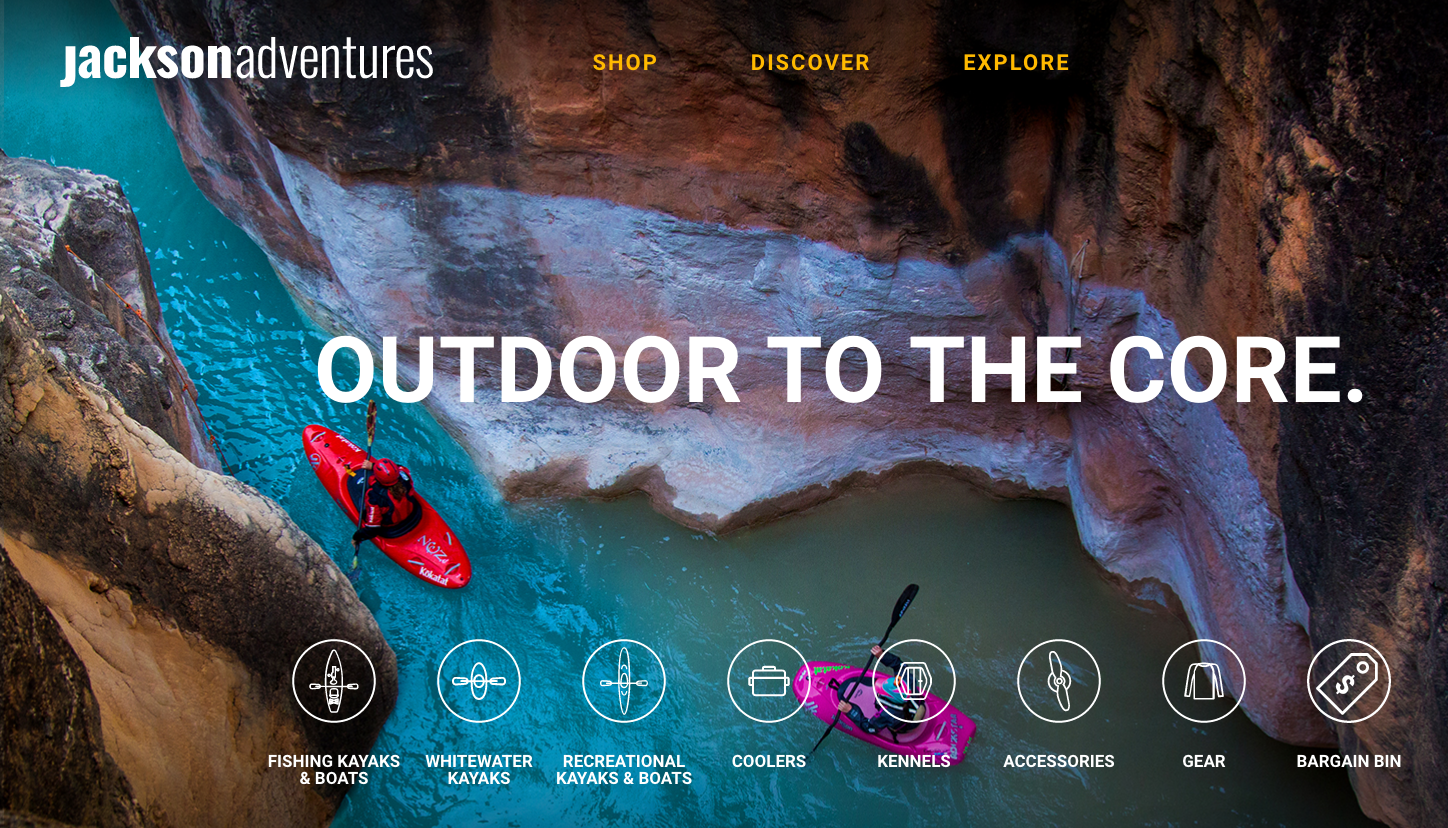 EVER SINCE it was found in 2003, Jackson Kayaks has been known for innovation and attention to detail. In this guide, we'll look at Jackson Kayak's 2021 model range and briefly discuss the features of each boat.
DISCLAIMER: I don't touch Jackson's whitewater models here. I know very little about whitewater kayaking, so I decided to avoid them altogether for the time being. Just being honest here.
Jackson Riviera
(11′4″ long | 58 lbs | 300 lbs capacity | MSRP 549 USD)
https://paddlingspace.com/catalog/jackson-riviera/


If you want a kayak that's simple, stable, and easy to use, take a look at the Riviera. It is Jackson's lowest-priced sit-on-top kayak.
Jackson Riviera was designed with simplicity and fun in mind. It has a minimalistic set of features and is great for occasional paddlers. It is also very popular as a rental boat.
The Riviera features a small day hatch on the bow and a decent-size tank well on the stern. The seat is molded but has a high back. There are four carry handles and molded footrests.
Jackson Riviera combines great stability with good speed, agility, and tracking. It is easy to paddle, even for beginners. The kayak is also easy to transport and store as there's almost nothing to break.
Jackson Bite
(11′6″ long | 69 lbs w/o seat | 400 lbs capacity | MSRP 799 USD)
https://paddlingspace.com/catalog/jackson-bite-angler/

At US $799.00 MSRP, the Bite is Jackson Kayak's most affordable fishing kayak and a strong player in the sub-$1,000 niche. It could be all you ever need from a fishing kayak or a great way to learn what you need and move on to more advanced models.
The kayak features an open-concept deck with no central consoles or hatches, so nothing gets in your way when you stand up to fish. Two huge open tank wells on the bow and on the stern will take any milk crates, coolers, dry bags or any other gear. Two gear racks let you install rod holders, camera mounts, etc. There are also four tackle box storage spots that fit 3600 Plano boxes.
Jackson Bite's frame seat does not have high and low positions but you can move it fore and aft to trim the boat. You can even replace it with a cooler to get a SUP-like experience.
With the Bite, you get a ton of versatility and functionality at a great price point.
Jackson Bite FD
(11′6″ long | 91 lbs w/o seat | 400 lbs capacity | MSRP 2,199 USD)
https://paddlingspace.com/catalog/jackson-bite-fd

The Bite FD combines the simplicity and great tackle management of the Bite with Jackson's excellent Flex Drive 3D pedal system. The result? You get a kayak that is quick and responsive, yet provides solid stability for standing casts.
Just like the paddle-driven Bite, the Bite FD fishing kayak offers two large open tank wells for gear storage and a frame seat that slides fore and aft on racks. There are only two tackle box slots and no bottle holders. The flush-mount rod holders have been moved to make space for rudder control cables.
We like the simplicity of the original Bite, but if you want the Flex Drive, the Bite FD is the most affordable way to get it.
Jackson Cruise 10
(10′3″ long | 53 lbs w/o seat | Capacity: 300 lb | MSRP 899 USD)
https://paddlingspace.com/catalog/jackson-cruise-10/
If you're looking for a shorter, lighter boat that can go into tight places longer boats can't reach, take a look at Jackson Kayaks Cruise 10. This smaller version of the popular Cruise 12 may be exactly what you need.
Cruise 10 measures 10'3″ by 32.5″ and weighs just 53 lbs without the seat. With four rigid carrying handles, you'll easily throw it on top of your vehicle or drag it to the water (it's got a replaceable skid plate). Its weight capacity is 300 lbs, which is pretty decent for such a short boat.
The Cruise 10 offers a large front hatch with in-hull storage, a smaller central day hatch accessible from the seating position, and a large rear tank well that will fit a milk crate or a cooler.
The seat is super comfortable and has a high and low position. You can remove it and use as a picnic chair.
There are no gear tracks, but the kayak does have five RAM mount inserts for additional rod holders, camera mounts or electronics. You also get adjustable footrests and a bungee-secured bottle holder.
In summary, Cruise 10 is a solid and affordable package for those who don't need to paddle long distances but need to fit into tight places where larger boats can't go. It is also easy to transport and store.
Jackson Tupelo 12 / 12.5
11′10″ or 12'5″ long | 42 or 49 lbs w/o seat | Capacity: 250 or 300 lb | MSRP 899 or 999 USD)
https://paddlingspace.com/catalog/jackson-tupelo-12/


Jackson Tupelo is a feature-rich recreational kayak made for day cruises and longer trips.
The accent is on comfort and performance. The Tupelo features Jackson's removable Ergo Seat with built-in lumbar support, a large cockpit opening that lets you get in and out easily, four gear tracks to mount any equipment you may want, and a stern bulkhead for dry storage and additional safety. With a shallow V hull and hard chines, Jackson Tupelo offers excellent primary stability that makes it beginner-friendly. However, it also provides good secondary stability and edging performance, so it will let you use more advanced paddling techniques as you progress. The pronounced keel extends bow to stern, helping the Tupelo track straight for stress-free, more efficient paddling.
Like some high-performance kayaks, Jackson Tupelo comes in two sizes. Tupelo 12, designed for smaller and medium paddlers, is 11'10" long and has a capacity for 250 lbs. Tupelo 12.5 is for larger people. It is 12'5″ long and supports up to 300 lbs.
Read our FULL REVIEW of Jackson Tupelo
Jackson Tripper 12
12′3″ long | 63 lbs w/o seat | Capacity: 375 lb | MSRP 1,099 USD)
https://paddlingspace.com/catalog/jackson-tripper-12/


Jackson Tripper 12 is a recreational version of the popular Kilroy fishing kayak. It is very stable, it offers a lot of storage space, and it will even let you take a kid or a dog on a paddling trip.
Jackson Tripper does not have a ton of features, but it offers everything you need for a comfortable day trip or overnight camping adventure. On the bow, there's a small storage platform secured with a bungee. On the stern, you get a waterproof bulkhead which offers dry storage and adds buoyancy in case the kayak gets swamped. The cockpit is huge, offering a kind of freedom normally associated with sit-on-top kayaks. It also lets you pack a ton of gear, including oversized items such as coolers.
The seat is not the same as on some higher-end models but still very comfortable, with high and low positions. It also slides fore and aft, so you can trim the kayak for optimal weight distribution. Better yet, you could install the second seat and take a kid with you.
Adjustable footrests and soft knee pads add to the overall comfort on the water.
Jackson YuPIK
(12′2″ long | 84 lbs w/o seat | Capacity: 425 lb | MSRP 1,299 USD)
https://paddlingspace.com/catalog/jackson-yupik/
Jackson YuPIK, first introduced in 2019, takes customizability to the extreme. It is essentially a blank slate with a huge standing platform and tons of gear tracks that you can tune to your liking.
Аt 12'2″ with a 35″ beam, the YuPIK is super stable thanks to its twin-arch hull. It can carry quite a lot of weight (up to 425 lbs). The boat features an open bow tank well and a large open standing platform with non-slip padding. Want to take a kid or a dog along with you? No problem, there's enough room.
The gear mounting options on the YuPIK are impressive. Gear tracks run almost the entire length of the boat. Two transducer scuppers accommodate many different transducer sizes. There's even a padded battery platform at the stern. The YuPIK is also Power Pole ready.
The boat features Jackson Kayak's new track-mounted high-low frame seat that lets you trim the boat for different loads. You can also remove the seat altogether and use it as a camp chair.
Overall, the YuPIK is a great choice for flatwater anglers who want flexibility and customizability. You'll need quite a lot of extras (there's only one rod holder out of the box, for example) but in return, you'll get a boat that's outfitted exactly the way you want it.
Read our FULL REVIEW of Jackson YuPIK

Jackson Coosa
(11′2″ long | 65 lbs w/o seat | Capacity: 350 lbs | MSRP 1,349 USD)
https://paddlingspace.com/catalog/jackson-coosa/

If you mostly fish small rivers and wild creeks, the Coosa is Jackson Kayak's best answer for you. With a shorter, narrower, and rockered hull, it is the most nimble of their kayaks – just what you need in tight places and sharp turns.
The Coosa measures 11'2" and weighs just 65 pounds so you should not have any trouble loading and unloading it alone. It features a removable frame seat with high/low positions and Molle webbing on the back. You also get splash-proof hatches on the bow and stern, a rear tank well with bungee cords, a small day hatch, adjustable footrests, two RAM mount recesses (but sadly, no gear racks), and even a drag chain anchor chute. The replaceable skid plate makes it easy to drag the boat to and from the water.
Read our FULL REVIEW of Jackson Coosa
Jackson Coosa HD
(12′6″ long | 78 lbs w/o seat | Capacity: 425 lbs | MSRP: 1,899 USD)
https://paddlingspace.com/catalog/jackson-coosa-hd/

If you like the original Coosa but need the extra size and stability for big waters, you're gonna love the Coosa HD (HD stands for "heavy-duty"). 16 inches longer and 2 inches wider than its predecessor, the Coosa HD is still great for rivers but tracks better and is more stable on big lakes and saltwater bays.
This kayak offers a lot of nice extras. You get rod tip protectors on both sides, hinged hatch covers, a Hypalon paddle park up front, gear tracks and much more. The central console pod is entirely removable with a few twists of a screwdriver, opening additional deck space.
The Coosa HD also comes with a better seat with Therm-a-Rest lumbar support (which makes a good camping pillow) and a Molle pouch that attaches to the back of the seat.
Finally, the Coosa HD is compatible with a Power-Pole Micro anchor, which is a great feature for shallow waters.
Jackson Coosa FD
(12′7″ long | 102 lbs w/o seat | Capacity: 450 lbs | MSRP 3,199 USD)
https://paddlingspace.com/catalog/jackson-coosa-fd/

Make no mistake: the Coosa FD is not just a Coosa HD with pedals. It is an inch longer and wider and also 24 lbs heavier even without the drive and the seat.
Compared to Coosa HD, the FD model (FD stands for "Flex Drive", which is Jackson's pedal drive) has rod tip protectors that are molded in and go much further back, additional gear racks, a better seat that slides fore and aft on racks for optimal position and, of course, the rudder.
The Coosa FD is equipped with Jackson's 3D Flex Drive. Its propeller is protected by a daggerboard and can move up if you run over a shallow-water obstacle to avoid damage. You can lift the prop all the way up to remove weeds, fishing line, etc. right from the seating position. Better yet, the pedal unit can be easily swapped for a Flex Drive E electric motor!
Jackson Big Rig HD/FD
(12′7″ long | 118/125 lbs w/o seat | Capacity: 550 lbs | MSRP 2,199/3,499 USD)
https://paddlingspace.com/catalog/jackson-big-rig-hd/
At 13'3″ long, 40 inches wide and 118 lbs without the chair, the Big Rig HD/FD is not a small boat by any stretch. It is also one of Jackson's most popular models with a loyal following.
The Big Rig offers rock-solid stability you would expect from a boat this size. It also boasts a ton of features for the most demanding anglers. Four molded-in rod tip protectors, oversized front and back hatches with storage bins, two transducer scuppers that accommodate even large transducers (Side imaging? No problem), a plethora of gear tracks, foot-controlled rudder option, Power-Pole Micro compatibility… the Big Rig even has dedicated indentations for large fly reels on both sides!
Best of all, you can easily convert between the HD and the FD (pedal-driven) configurations or even pop in Jackson's electric motor unit.
Read our FULL REVIEW of Jackson Big Rig HD

Jackson Big Tuna
(14′2″ long | 92 lbs w/o seat | MSRP 1,899 USD)
https://paddlingspace.com/catalog/jackson-big-tuna/
Jackson's tandem fishing kayak measures 14 ft 2 in, has a 35-inch beam, weighs 92 pounds without chairs and has a capacity of 500 lbs. Both frame chairs are removable and you can also flip the front chair backwards for a face-to-face position. A great way to spend time with a family member or a friend! There's also a solo configuration option if you want to paddle it alone.
Another unique feature is a pod called the Tuna Tank. You can use it for storage, but drill some holes in it, and you get a small bait live well – no pumps needed!
Other features include a rod tip protector on the bow, tackle box storage, a transducer scupper, a large hatch on the stern (although we would prefer an open tank well), adjustable footrests, and rudder readiness.
Read our FULL REVIEW of Jackson Big Tuna

Jackson Kilroy HD
(12′10″ long | 93 lbs w/o seat | MSRP 1,599 USD)
https://paddlingspace.com/catalog/jackson-kilroy-hd/
The original Kilroy sit-inside fishing kayak had quite a lot of fans. The new Kilroy HD is Jackson's attempt to set a new standard in versatility for a sit-inside fishing kayak.
The Kilroy HD offers even more storage and customization options. The gear tracks run almost the whole length of the boat. Four rod stagers inside the cockpit keep your rods out of the way. The footrests are adjustable and removable. Open bow and stern platforms with a gear tie-down system will let you strap anything from tents to dry bags, decoy bags and almost anything else. You could even add a second seat!
Fish today, hunt tomorrow, take a dog or a kid for a day paddle – the Kilroy HD can do it all.
Jackson Liska
(12′1″ long | 84 lbs w/o seat | Capacity: 400 lb | MSRP 1,399 USD)
https://paddlingspace.com/catalog/jackson-liska/
Jackson's Liska, named after the late Jan Liska who led the European Jackson Kayak fishing team for years, is a new and improved generation of their popular Cuda model. The Liska is a little shorter (12'1″ vs. 12'7″) and wider (34″ vs. 31″) than the Cuda. It also offers a lot of features that the Cuda did not have.
The Liska was designed with inshore/lake fishing in mind. It is very stable yet maneuverable. The kayak also offers a lot of storage with its hinged front hatch and a huge rear tank well, both equipped with bungee cords. An interesting feature is its central hatch that holds your fish finder battery and cables and has a transducer scupper. You can really pack this boat without cluttering the standing area.
The Liska has a comfortable frame seat with Molle webbing on the back. It slides fore and aft on tracks, so you can trim the boat the way you like. The seat has high and low positions and is also removable for use as a camp chair or for transportation. As an option, you can replace the seat with Jackson's Orion 25 cooler.
Other features include gear tracks on both sides, an Omega rod holder that comes standard with the kayak, padded standing area, paddle holders, and two flush-mount rod holders behind the seat. The Liska is also Power-Pole Micro compatible and chain anchor ready.

Jackson MayFly
(12′8″ long | 89 lbs w/o seat | Capacity: 450 lb | MSRP 1,999 USD)
https://paddlingspace.com/catalog/jackson-mayfly/
The MayFly was built from the ground up for fly fishing. Everything in this boat is focused on making fly fishing from a kayak a truly fun experience. It is very stable and easy to stand on, which makes it perfect for flatwater conditions such as tropical flats, slow-moving rivers, lakes, and ponds.
With MayFly, Jackson tried to address all the challenges and problems fly fishermen normally face. The hull was optimized for a balance of stability, standability, and speed. It is a super stable platform that lets you do stupid stuff and get away with it. If you fall out of MayFly, even with the seat in the high position, you probably meant to.
The open deck has been specifically designed to remove everything a fly fishing line could snag on. You can strip the line right under your feet and shoot it back without any problems.
The attention to detail that went into the boat is amazing. You have three ways to store your rods: forward, backward, or backward at an angle. Gear tracks are everywhere so you should be able to mount your gear exactly where you want. The adjustable footrests have been re-invented to be snag-free. Even the knobs on the hatches are all skirted so that line can not get under them.
Read our FULL REVIEW of Jackson MayFly