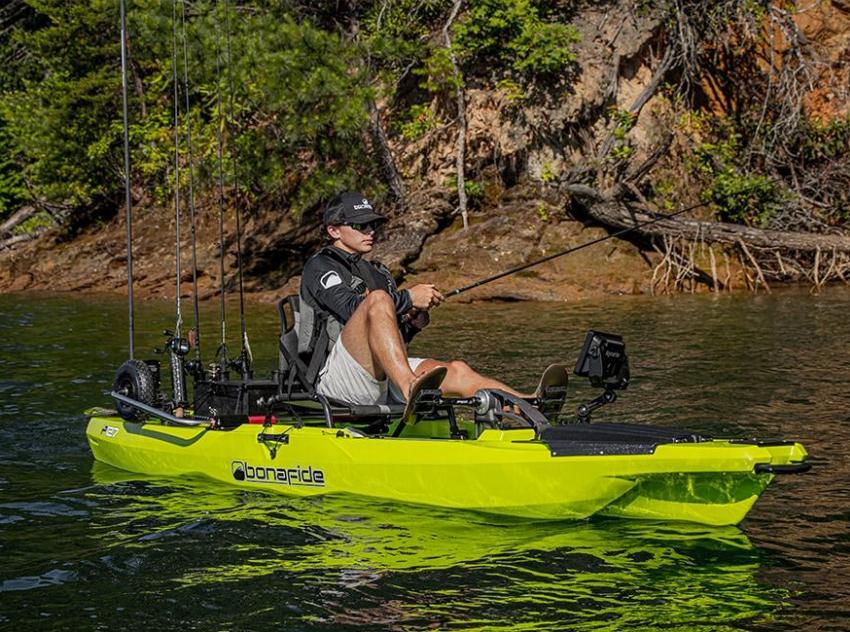 First announced in late 2016, Bonafide Kayaks is a relative newcomer to the kayak fishing market. They've started with a stellar team and a very simple strategy: to make the highest quality, thoroughly designed, and carefully engineered fishing kayaks on the market.
Bonafide Kayaks are 100% made in the USA. They are known for uncompromised quality and great stability (the company claims they are "the most stable kayaks on Earth"). Focused solely on fishing kayaks, they listen to what kayak anglers need and go out of their way to provide stellar customer service.
Let's take a look at what Bonafide Kayaks has to offer in 2021.
Comparison Table: Bonafide Kayaks in 2021
Picture
Model (click for full review)
Specs
Where to Buy
EX123
Size: 12'3″ x 29.5″
Weight: 67 lb
Capacity: 375 lb
Austin Kayak
RS117
Size: 11'7″ x 33.5″
Weight: 75 lb
Capacity: 425 lb
FishUSA
SS107
Size: 10'7″ x 34″
Weight: 89 lb
Capacity: 425 lb
Austin Kayak
SS127
Size: 12'7″ x 33.75″
Weight: 94 lb
Capacity: 475 lb
FishUSA
P127
Size: 12'7″ x 34″
Weight: 120 lb
Capacity: 475 lb
Coming soon
EX123

Length: 12'3" (374 cm)
Width: 29.5" (74.9 cm)
Weight: 67 lb (30.4 kg)
Capacity: 375 lb (170 kg)
The EX123 was designed with stability, versatility, and utility in mind, making it a great choice for paddling, camping, fishing, or all of the above! One of the most unique sit-inside kayaks on the market, and perhaps ever built, the EX123 lives up to its title as the SUV of kayaks. Its unmatched features, performance, and storage capabilities are poised to redefine the expectations of paddlers and anglers alike.
---
RS117

Length: 11'7" (353 cm)
Width: 33.5" (85 cm)
Weight: 75 lb (34 kg)
Capacity: 425 lb (193 kg)
The Bonafide RS117 is a kayak that offers much of the high-end performance that the Bonafide brand is known for, but with a more affordable price tag. This kayak is easily among the top choices for serious anglers looking for a great ride in the sub-$1,000 category. Despite being very lightweight compared to other kayaks with similar dimensions, the RS117 packs in plenty of great features. This kayak lives up to the Bonafide reputation for quality and stability without breaking the bank for most anglers.
---
SS107

Length: 10'7" (322.5 cm)
Width: 34" (86.3 cm)
Weight: 89 lb (40.3 kg)
Capacity: 425 lb (192.7 kg)
The Bonafide SS107 is a solid, compact kayak that doesn't sacrifice performance. It offers an extremely stable ride considering that it's less than 11" in length. The SS107 is designed with kayak anglers in mind and has virtually everything you might look for in a compact fishing kayak. It delivers much of the same great features that are found in the Bonafide SS127 model in a smaller, more manageable size.
---
SS127

Length: 12'7" (383.5 cm)
Width: 33.75" (85.7 cm)
Weight: 94 lb (42.6 kg)
Capacity: 475 lb (215.4 kg)
Bonafide set out to craft a kayak that broke the mold when it comes to performance and stability—a combination that the company likes to refer to as "fishability." Bonafide SS127 is described as a "high-seated" kayak, but you might never know it based on the superb stability this one has. For anyone seeking a great fishing kayak that won't break the bank, the SS127 is tough to beat.
---
P127

Length: 12'7" (383.5 cm)
Width: 34" (86.36 cm)
Weight: 120 lb (54.43 kg)
Capacity: 475 lb (215.4 kg)
With its roots in the best-selling SS127, the P127 achieves ultimate fishability with the Propel Pedal Drive system. The Propel Pedal Drive allows the P127 to be the ultimate kayak fishing triple threat with the options to Pedal, Power, or Paddle.