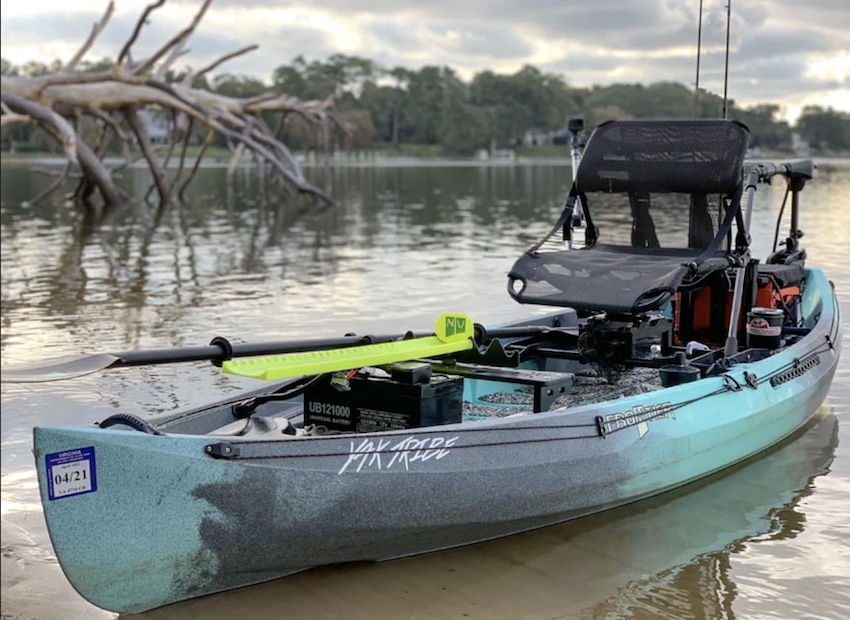 NuCanoe is a manufacturer of hunting and fishing kayaks that are known for their innovative design, rock-solid stability, and motor compatibility. Founded in 2006 by Tim Niemier (who also founded Ocean Kayak) and Blake Young, NuCanoe follows the vision of "putting a billion butts in boats" and letting people do whatever they want on the water. Whether you fish, hunt, or just paddle and relax, a Nucanoe kayak is able to do it all.
NuCanoe, Inc. is headquartered in Bellingham, WA and has a production site in Oostburg, WI. According to the company, over 95% of the parts and accessories they use in their kayaks are made in the USA.
RELATED: Best Fishing Kayaks: Reviews and Ultimate Buying Guide
So, what does Nucanoe offer in 2021? In this overview, we'll take a look at Nucanoe's kayak model range to help you find the best kayak for your needs.
Quick Answer: NuCanoe Kayaks in 2021
Comparison Table: NuCanoe Kayaks in 2021
---
NuCanoe Flint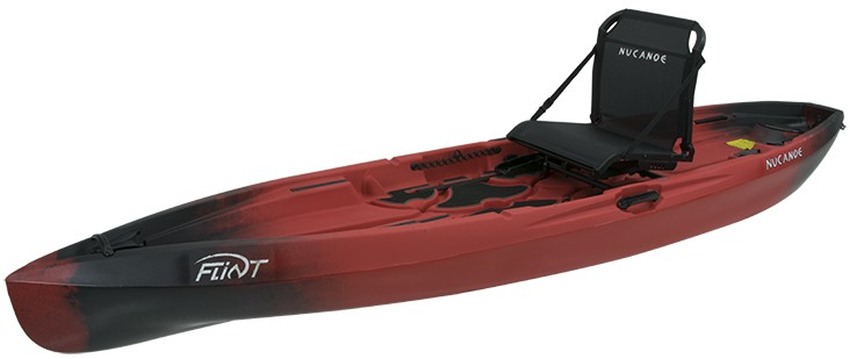 Length: 11'3" (342.9 cm)
Width: 33" (83.8 cm)
Weight: 63 lb (28.5 kg)
Capacity: 375 lb (170 kg)
Nucanoe Flint was designed as a simpler, entry-level kayak that in some ways goes against the trend of more sophisticated and more expensive fishing kayaks. At 11'3" (342.9 cm) long and 33" (83.8 cm) wide, the Flint tips the scales at just 63 lb (28.5 kg). This means you can easily cartop this boat and take it with you almost anywhere. The Flint's total capacity is 375 lb (170 kg).
This kayak doesn't come with removable pods, oversized hatches, or other features that typically add extra weight and price. The deck is clean and open, offering you freedom of movement for fishing or hunting.
That said, the Flint does have everything you need for fishing. It offers four flush-mount rod holders, a comfortable framed seat that moves fore and aft on tracks, some gear tracks on the bow and stern, a sizeable rear tank well, and even a square stern that works as a transom for trolling motors.
Priced at just under $1000, the Nucanoe Flint is a great way to start relatively small and then customize the kayak to your taste and needs.
---
NuCanoe F10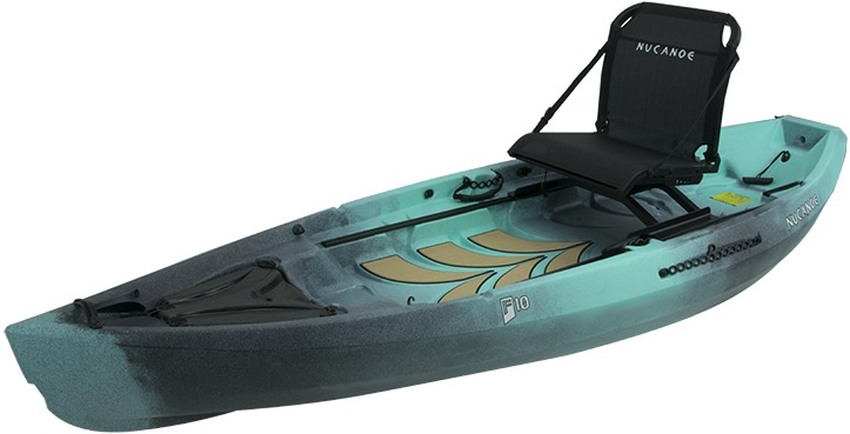 Length: 10' (304.8 cm)
Width: 39" (99 cm)
Weight: 62 lb (28.1 kg)
Capacity: 500 lb (226.7 kg)
How about a 10-foot fishing kayak that can carry up to 500 lb and is compatible with a pedal drive, trolling motors and even small gas outboard motors? Meet the The NuCanoe F10. This throw-and-go fishing kayak offers a clean open deck and a seat that rotates 360 degrees. Comfortable, agile, and stable, this kayak is a very versatile vessel that's equally at home on lakes, ponds, or rivers.
At only 10' (304.8 cm), the F10 is NuCanoe's shortest and lightest fishing kayak. However, due to its impressive 39" (99 cm) width, it offers more cockpit room and better stability than most kayaks in its class.
The F10 tips the scales at just 62 lb (28.1 kg), which makes it a great 'throw-and-go' kayak. You should have no problem loading this boat into a pickup truck or even car-topping it on your own.
Features include rod tip protectors on the bow, a large dry hatch with access to in-hull storage, a clean open deck with traction pads and adjustable footrests, 70 inches of Freedom gear tracks on either side of the cockpit, two molded-in cup holders, a paddle holder on the left gunwale, anchor hardware, and two more Freedom gear tracks on the stern.
Like all NuCanoe kayaks, the F10 is compatible with bow- and stern-mounted trolling motors. You can even put a small gas motor on the stern.
Last but not least, you can add the NuCanoe Pivot pedal drive system to transform this kayak into a pedal-propelled fishing platform.
---
NuCanoe Frontier 12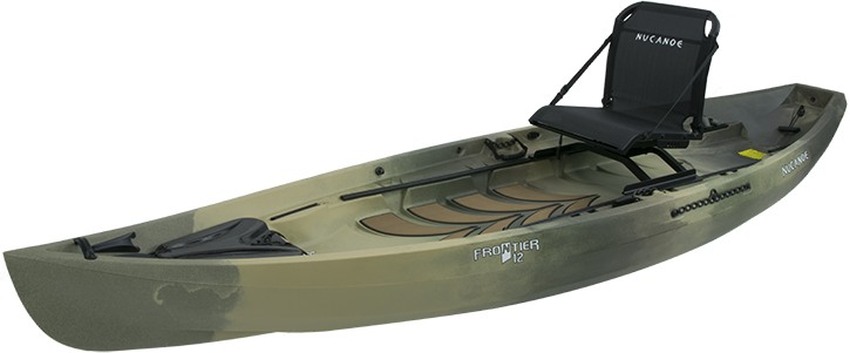 Length: 12' (365.7 cm)
Width: 41" (104 cm)
Weight: 80 lb (36.2 kg)
Capacity: 650 lb (294 kg)
The NuCanoe Frontier 12 is a spacious 12' kayak that is suitable for almost any fishing or hunding adventures. It is the perfect blend of both canoe and kayak performance and capability. The Frontier 12 is great for fishing or hunting and offers smooth performance on rivers, lakes, or the ocean. The open deck is great for standing and fly fishing. The NuCanoe Frontier 12 is a unique boat that can be used both as a solo or tandem kayak.
The Frontier 12 features include:
Rod tip protectors on the bow
A large hatch with a catch bag and access to in-hull storage
EVA foam traction pads on the deck
Gear tracks that run almost the entire length of the boat
Dual bottle holders and much more
The framed seat slides fore and aft on gear tracks and rotates 360 degrees for maximum freedom of movement when you fish or hunt. You can even install two seats and use the Frontier 12 as a tandem fishing kayak. The boat's maximum capacity of 650 lb (with scupper plugs) makes it a capable tandem.
Behind the seat, you'll see a sizeable tank well, some more gear tracks, and a square stern that accepts a choice of trolling motors or even small gas motors (you'll need optional motor brackets).
NuCanoe Frontier 12 is also compatible with bow-mount trolling motors and the company's Pivot pedal drive system, which makes the Frontier 12 incredibly versatile.
---
NuCanoe Pursuit

Length: 13'6" (411 cm)
Width: 35" (89 cm)
Weight: 82 lb (37 kg)
Capacity: 500 lb (226.7 kg)
Built for competitive kayak anglers that demand the best in every aspect, the Nucanoe Pursuit is the company's flagship kayak.
Measuring 13'6" (411 cm) in length with a more narrow 35" (89 cm) body, the Pursuit is desinged for speed and tracking but is still stable enough to stand and fish. The weight is very similar to the NuCanoe Unlimited and the Frontier 12 at just 82 lb (37 kg), which is totally adequate for a pro level kayak.
The Pursuit offers all the bells and whistles a kayak angler could dream of. Unique features include a bow tank well that can accommodate a milk crate or a cooler, tube-style rod protectors, and a custom-height Fusion seat.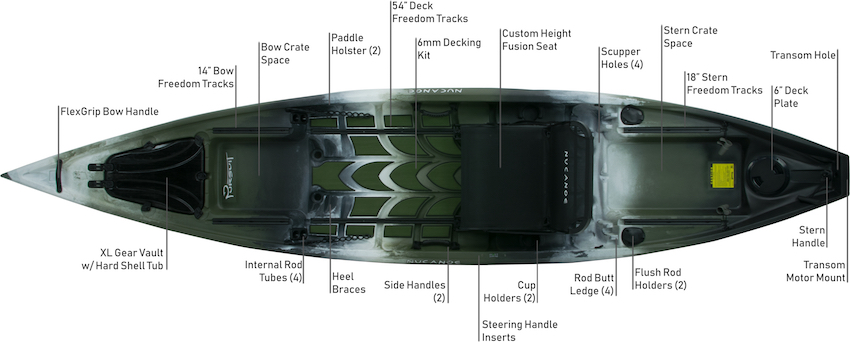 Like all NuCanoe models, the Pursuit is compatible with multiple types of kayak motors. It can take bow-mount and stern-mount trolling motors, Torqeedo, small gas motors, and the company's pedal drive system.
NuCanoe Pursuit is ready for the most demanding fishing conditions, including off-shore fishing. It may be more difficult to maneuver in tighter spaces than NuCanoe's shorter models, but on large bodies of water, the Pursuit is a very strong player.
---
NuCanoe Unlimited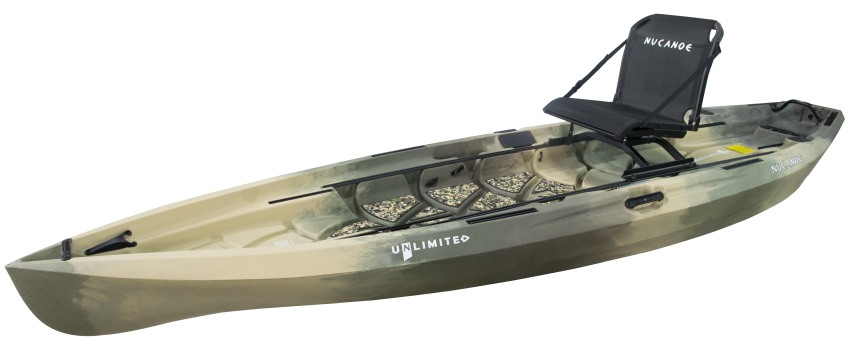 Length: 12'6" (381 cm)
Width: 41" (104 cm)
Weight: 84 lb (38 kg)
Capacity: 650 lb (294 kg)
The NuCanoe Unlimited is a newly-released model for 2021. It is a feature-rich, high-performance boat that is drawing considerable amounts of attention in the kayak industry.
In line with NuCanoe's philosophy, the Unlimited is made to be extremely customizable and versatile. You'll see the usual clean, open deck design, gear tracks all over the boat (it now uses aluminum top-loading gear tracks), the rotating 360 Fusion seat, incredible motor compatibility, and multiple wiring options with YakAttack through-hull wiring kits.
NuCanoe also listened to their customers' complaints about the Frontier 12's deck being a little too soft for standing. The Unlimited features the all-new Tarpon design of drainage channels which also improve the rigidity of the deck.
NuCanoe Unlimited measures 12'6" (381 cm) long and 41" (104 cm) wide, which is impressive. As you would expect, it's not very light, tipping the scales at 84 lb (38 kg). The Unlimited can carry up to 650 lb (294.8 kg), which makes it a great kayak for big guys and a capable tandem fishing kayak.