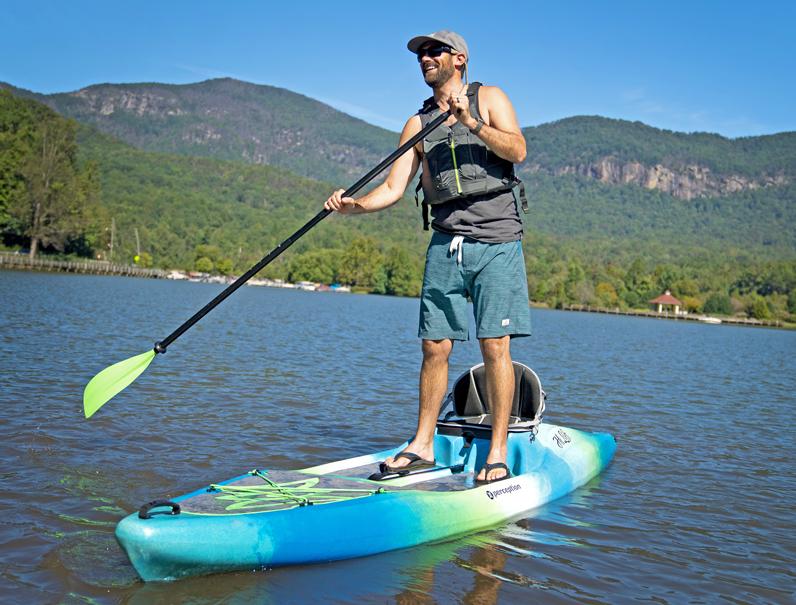 For over 40 years Perception Kayaks have been at the forefront of the kayaking industry, introducing more people to the sport than potentially any other brand in the world.
Every paddler knows Perception's rich and varied history. It's unusual to come across a seasoned kayaker who hasn't paddled a Perception kayak. Their versatile range focuses on comfort and durability across the board. Each boat is finished with a personal touch, which makes the Perception range truly unique.
Their 2022 kayaks show that they're not just a historic brand, but have continued to push the development of boats to the modern day. Perception has a boat for almost everyone and all occasions.
---
Perception Sit-In Recreational Kayaks
Perception Drift 9.5

Length: 9' 6" (290 cm)
Width: 28.5" (72.4 cm)
Weight: 40 lb (18.1 kg)
Capacity: 300 lb (136 kg)
Perception's entry level recreational kayak, the Drift is designed to be your go to boat for lakes and slow moving rivers. Coming in with a very affordable price point, the Drift is a great sit-in option for beginners, but with attributes of a more advanced kayak.
The large cockpit and stable design means the Drift inspires confidence in paddlers, and the comfortable padded seat and footrests mean you can stay out on the water all day. Recreational comfort is heightened with features like the drinks holder and dashboard, where you can store things like phones securely and within reach. There is also a paddle park for when you just want to sit back and relax.
The Drift's design is sturdy and easy to paddle, while also being convenient to move around on land with solid moulded handles and a shorter design make it easy to store, too. There's also a couple of rod holders for part time anglers, but the Sound is the more fishing specific version of this boat.
---
Perception Sound
Sound 9.5

Length: 9' 6" (290 cm)
Width: 28" (71 cm)
Weight: 38 lb (17 kg)
Capacity: 300 lb (136 kg)
Sound 10.5

Length: 10' 6" (320 cm)
Width: 29.5' (75 cm)
Weight: 46 lb (23 kg)
Capacity: 335 lb (152 kg)
So you want a bit more fishing than the Drift offers? Well the Sound is Perception's sit-in option for fishing kayaks. It takes all the accessibility and ease of the Drift, but makes it slightly more comfortable and more fishing specific.
Depending on your size and weight, the Sound is available in a 9.5 or a 10.5 model, but the characteristics are the same on both.
From the Drift, the Sound has retained an extremely stable tri-keeled hull, meaning it still tracks effectively, but the outfitting has been padded considerably better on the seat and backrest and this time there's knee padding too.
The two rod holders behind the seat which were on the Drift are still in place, but the dashboard has been upgraded to mounting points, and there's also two solo mount recesses so you can fully accessorise your kayak for fishing.
Internal storage from the Drift has been replaced on the Sound with open recesses for boxes, buckets and barrels which can be secured in place with the bungee.
---
Perception Joyride
The Joyride does exactly what the name would suggest. This is a kayak which takes recreation to new levels, embracing the comfort and relaxation of a warm weather kayaker who wants nothing more than to explore their local lake in a leisurely way.
The wide design makes the Joyride extremely stable, but don't think that negates it's paddling prowess. This is a kayak which tracks well and can cover a bit of water when it needs to.
The dashboard which Perception have added to their recreational kayaks heightens the lifestyle nature of this kayak; there's a selfie slot. Your phone can sit securely in place, ready to snap the action off the bow of your boat, or even better, a photo of you on the water. Behind this is an easy to reach drinks holder. Next to this dashboard, there are two solo mount recesses so you can fully accessorise your Joyride.
This boat is not all about the external features, though. Perception knows that key to any recreational experience is comfort, and the padded seating and knee pads in the Joyride mean you can stay out on the way snapping selfies all day long.
Joyride 10.0

Length: 10' (305 cm)
Width: 29.5" (75 cm)
Weight: 50 lb (22.67 kg)
Capacity: 275 lb (125 kg)
Joyride 12.0

Length: 12' 2" (371 cm)
Width: 27.25″ (69 cm)
Weight: 54 lb (24.5 kg)
Capacity: 350 lb (159 kg)
---
Perception Prodigy XS (Youth)

Length: 10' (305 cm)
Width: 23" (58 cm)
Weight: 26 lb (12 kg)
Capacity: 150 lb (68 kg)
The ultimate touring and recreational kayak for kids and smaller paddlers, the Prodigy XS is Perception's closed cockpit youth kayak. Unlike the Hi Five, the Prodigy offers protection from the elements, perfect for year round paddling, or paddling in cooler places.
The Prodigy has traits of the larger and more touring focused Expression, but is slightly more beginner friendly. This is a kayak which can take you from your first days as a paddler all the way through to some long day tours and perhaps even an overnight adventure.
A spacious cockpit and comfortable, adjustable outfitting gives young paddlers space to grow in this boat, rather than having to replace their kayak every couple of years. This larger cockpit also makes it feel safe and accessible for any nervous paddlers starting out.
It turns easily and is agile and stable, but with a v-shaped hull, this boat does well to keep up with some longer boats, so kids won't feel left behind on days out.
---
Perception Sit-in Touring Kayaks
Perception Carolina
The Carolina is Perception's beginner to intermediate touring kayak, which doesn't mean it's a basic boat. This progressive design prioritises stability and comfort but is still fast enough to keep up with more traditional touring kayaks.
The Carolina has a spacious cockpit, ideal for beginners who aren't comfortable feeling fully enclosed in a kayak. This confidence inspiring design extends into the hull, where the slight v-shape and soft chines balance efficiency and stability perfectly.
Perception's engineers are well aware that not everyone who's out for a tour wants to be paddling hard all day. The multiple molded footrests in the Carolina allow you to switch from relaxed to engaged in seconds, while a paddle park means you can stow your paddle and fully immerse yourself in your surroundings.
There's loads of storage for those who want to develop into overnight trips and rudder capabilities if you want to go a bit further afield.
The Carolina is available either 12ft or 14ft long, depending on your size and your aspirations; speed and tracking or maneuverability.
Carolina 12.0

Length: 12' (366 cm)
Width: 26" (66 cm)
Weight: 49 lb (22 kg)
Capacity: 275 lb (125 kg)
Carolina 14.0

Length: 14' (427 cm)
Width: 24.5" (62 cm)
Weight: 53 lb (24 kg)
Capacity: 300 lb (136 kg)
---
Perception Conduit 13

Length: 13' (396 cm)
Width: 26.5" (67 cm)
Weight: 51 lb (23 kg)
Capacity: 295 lb (134 kg)
Quicker and more agile than the Carolina, but still perfect for those just starting out, the Conduit is a perfect boat for beginners who want to get out on long days of exploring their local lakes and gentle moving rivers. The Conduit is a great boat for developing paddlers who want a boat which grows with them as they go from their first few strokes to multiday trips.
Potentially the most comfortable touring kayak available, you can sit in the Conduit all day and paddle it easily. The 13ft length and a v-shaped hull help this boat cruise effortlessly, tracking well in choppier conditions, while soft chines and a wide beam make it stable enough that you won't just get in and tip out the other side when launching for the first time.
There's loads of storage for getting out on longer days or multi-day trips, and plenty of bungee storage on the top deck, too. The Conduit is rudder-ready if you want some turning or tracking aid on longer trips.
---
Perception Expression

Length: 11' 7" (353 cm)
Width: 25.75" (65 cm)
Weight: 44 lb (20 kg)
Capacity: 250 lb (114 kg)
Shorter and more maneuverable than the Conduit, the Expression is an extremely versatile and adaptable kayak. The shorter length means it's a brilliant choice for playing around in tighter spots like coastal waters and slow moving rivers, while the v-shape at the bow and stern and the retractable skeg give it the tracking and speed of a touring kayak.
There's more, though. The Expression has enough rear storage to make it a great overnight boat, while the high quality outfitting, more snug and connective than that of the Conduit or the Carolina, heightens your control of the boat. Snug doesn't mean tight, though, this is still a boat you can sit in for long days and enjoy your paddling without needing to jump out to get feeling back into your legs.
Easy to paddle, easy to store, easy to move about; what more could you want from a touring boat?
---
Perception Sit-on-top Recreational Kayaks
Perception Hi Five (Youth)

Length: 6' (183 cm)
Width: 24" (61 cm)
Weight: 21 lb (10 kg)
Capacity: 120 lb (54 kg)
Built for kids, tested by kids. This is half beach toy, half youth recreational kayak; a sit-on-top, stand up paddle board crossover. With unsurpassed levels of stability, a spacious standing area and 'room to grow', the Hi Five will be part of the family for years, rather than a season or two. The Hi Five is built to last into your kids' early teens.
The Hi Five is basically the youth version of the versatile Hi Life, with a moulded seat and three options of moulded foot rests, and a rear swim-up deck to allow your kids to climb back on their own boat after a swim. The moulded paddle park across the top deck means that when the Hi Five is being used as a diving platform, you know the paddle will always be there when you need to get moving again.
Two mounting points allow your kids to accessorise the Hi Five, and there are a number of optional extras like deck pads, paddle leashes and tethers that you might choose to buy.
While the Hi Five is excellent in warm weather, if you're looking for a more technical boat, suitable for colder climates, check out the Prodigy XS.
---
Perception Crank 10
Length: 10' (304 cm)
Width: 35" (89 cm)
Weight: 87 lb (40 kg)
Capacity: 350 lb (159 kg)
Looking for a hands free kayaking experience? The Perception Crank is great for photographers or recreational paddlers who don't want the inconvenience of a paddle, but is also a quality fishing kayak, with extras like the transducer scupper, designed for fish or depth finders.
The Crank is an extremely stable sit-on-top, designed as a comfortable way to spend a relaxed day on the water. The captain's chair can be adjusted and even removed, so that when you get to your lunchtime beach stop you can still enjoy the same comfort you had on the water.
This is a true recreational kayak complete with side trays and drink holders and plenty of storage for coolers or fishing gear. The one handed rudder control means there's no need to stop enjoying your drink or snapping photos while you're maneuvering around, and the highly efficient pedal system stops you from breaking into too much of a sweat when you're trying to relax. That said, when you want this boat to go, it can get up some speed!
---
Perception Rambler

Length: 9' 6" (290 cm)
Width: 32" (81 cm)
Weight: 47 lb (21 kg)
Capacity: 250 lb (113 kg)
The Rambler sits at the cheaper end of Perception's sit-on-top range, but that doesn't make it a poorer younger sibling to the Tribe and Access. The Rambler is the ideal recreational cruiser which can cope with ocean surf, gentle rivers, lakes and ocean bays.
The shorter, wider design makes the Rambler extremely confidence-inspiring for beginners and easy to maneuver about on the water. Not only that, but being shorter and lighter makes the Rambler a great choice when it comes to storing and transporting your kayak.
The multiple footrests mean that paddlers of all sizes can jump in and out of the Rambler without having to make any adjustments, and the seating and backrest are comfortable and supportive enough to keep you on the water all day long.
---
Perception Tribe
Relax and enjoy your time on the water in Perception's best selling sit-on-top kayak. The Tribe is a ridiculously comfortable kayak for light surf, floating down lazy rivers and exploring flat water lakes. With a defined keel line and v-shaped bow, this boat will perform well when it needs to and tracks efficiently to make your life as easy as possible.
But where this boat excels is the comfort. The high back seat can be adjusted to just about any level of reclining, and once you're comfortably laid back, the mid-boat cup holder will come in handy. There's also an enormous amount of storage for coolers, buckets and bags while you're out on the water, so you need never run out of refreshment.
Off the water, the Tribe doesn't want to make you work too hard either, and it's lightweight design and amble handles mean that carrying this boat to the water is an absolute dream.
Tribe 9.5

Length: 9' 5" (287 cm)
Width: 31.5" (80 cm)
Weight: 48.5 lb (22 kg)
Capacity: 300 lb (136 kg)
---
Tribe 11.5

Length: 11' 5" (348 cm)
Width: 30.25" (77 cm)
Weight: 52 lb (24 kg)
Capacity: 350 lb (159 kg)
---
Perception Access
The Access is designed to make every paddler feel like a pro, regardless of their experience. A long and stable design makes this boat incredibly forgiving, cementing it as a firm family favorite in the Perception range. Beginners will love how easy this boat is to paddle, with tracking capabilities and a long keel line, while intermediate paddlers will relish cruising around with ease in the Access.
The molded seat in the Access is similar to that on far more advanced models, ergonomically designed to maximise your paddling position and power transfer as you cruise around and surf on waves. Don't worry, though, it's still incredibly comfortable and the molded backrest is really supportive, so you can still paddle this boat all day long.
At the front and rear of the Access there's loads of storage for your gear if you want to go out on long days, or fancy a bit of fishing. If you are a part time angler, there's a couple of rod holders behind the seat, too.
Access 9.5

Length: 9' (274 cm)
Width: 31" (79 cm)
Weight: 42 lb (19 kg)
Capacity: 250 lb (113 kg)
---
Access 11.5

Length: 11′ 6" (347 cm)
Width: 31" (79 cm)
Weight: 55 lb (25 kg)
Capacity: 300 lb (136 kg)
---
Perception Hi Life

Length: 11' (335 cm)
Width: 34" (86 cm)
Weight: 55 lb (25 kg)
Capacity: 280 lb (127 kg)
The adult equivalent of the Hi Five, Perception Hi life is a top level sit-on-top crossover and stand up paddle board, arguably the best recreational, hot weather boat on the market.
While paddling the Hi Life as a sit-on-top, you'll appreciate the supportive backrest and padded seat system, raised for a comfortable ride and better fishing position if you're a keen angler. If your sole focus is fishing and you want a similar boat, have a look at the Outlaw.
The wide, flat hull of the Hi Life makes it really stable when you're using it as a stand up paddle board, and the grippy deck cushioning means that you won't be sliding around if things get a bit choppy. This deck padding is also on the rear swim platform which allows you to climb back up onto your board if you choose to go in for a swim, intentionally or otherwise.
Additional extras like the removable fin change how this boat paddles, while the central gear track allows you to fully accessorise your Hi Life with T-Bolt mounted gear.
---
Perception Fishing Kayaks
Perception Outlaw 11.5

Length: 11' 6" (351 cm)
Width: 35" (89 cm)
Weight: 77 lb (35 kg)
Capacity: 425 lb (193 kg)
A fishing focused version of the Hi Life, the Outlaw is an angler's dream; a sit-on-top, stand up paddle board crossover with all the accessories you could need. According to Perception, it's "so good it should be illegal".
The seating position is even more raised than that of the Hi Life, making maximum use of the wide, flat hull to give you enormous amounts of stability and the perfect fishing position. This seat can be adjusted, folded and removed, so if you hop out for a break or to fish from the shore, you're never short of somewhere to sit.
As a stand up paddle board, traction pads not only give you loads of grip, but dullen the sounds of your feet. This board is stable enough for you to fish easily from a standing position or move around to get to your gear.
The double barrel rod holders mean you can take four rods out on the water with you and they'll be out of your way while you're paddling. The huge kit areas at the bow and stern, secured with bungees, gives you loads of space for all your equipment, while storage trays next to the seat are perfect for smaller items you need to hand.
---
Perception Pescador
Not only is the Pescador a great fishing platform, but it's arguably Perception's best sit-on-top recreational kayak. It's unsurpassed in terms of stability, straight line speed and tracking capabilities, with even the shorter 10.0 cruising at enough speed to cover long days on flat water.

Adjustable footrests allow you to fully customise the boat to fit paddlers of all sizes while a supportive and padded seat and backband keep you comfortable all day on the water.
While this isn't as fishing specific as perhaps the Pescador Pro, you're not likely to struggle for space and accessories in the Pescador. A large front hatch and rear tank well mean you can carry all your equipment comfortably, and side gear tracks allow you to fully customise your setup. There's also a couple of flush-mount rod holders behind your seat.
Pescador 10.0

Length: 10' 6" (323 cm)
Width: 32" (81 cm)
Weight: 57 lb (26 kg)
Capacity: 325 lb (147 kg)
---
Pescador 12.0

Length: 12' (365 cm)
Width: 32.5" (82 cm)
Weight: 64 lb (29 kg)
Capacity: 375 lb (170 kg)
---
Perception Pescador Pro
Did the best just get better? Perception took their best recreational kayak and turned it into a fishing machine.
They've taken the design and given it a sport specific overhaul, with a higher, more supportive seat; their renowned removable captain's chair. They've also changed up the storage systems so they're fishing ready and always accessible.
Other little features are the paddle park, so you can stow your paddle while you fish, the rod holders in the rear and the rod tip recesses near the bow, so you can keep your deck clear. There's also a transducer mount and battery zone, so you don't need to drill any holes in your brand new kayak.
Otherwise, this kayak is the same high quality hull as the Pescador, meaning it's incredibly easy to paddle and move around, with great stability and tracking capabilities. With the Pescador Pro, you're able to fish where a lot of boats just can't go.
Pescador Pro 10.0

Length: 10' 6" (323 cm)
Width: 32" (81 cm)
Weight: 57 lb (26 kg)
Capacity: 325 lb (147 kg)
---
Pescador Pro 12.0

Length: 12' (365 cm)
Width: 32.5" (82 cm)
Weight: 64 lb (29 kg)
Capacity: 375 lb (170 kg)
---
Perception Pescador Pilot

Length: 12' 5" (381 cm)
Width: 33.75" (85.73 cm)
Weight: 85 lb (38 kg)
Capacity: 475 lb (216 kg)
Built with the same high quality as the Pescador 12.0, the Pescador Pilot cruises effortlessly, tracks like a dream and has the stability you need for a long day of fishing. But all of this can be enjoyed hands free! With their extremely efficient pedal drive, you don't need to be encumbered by your paddle.
The one handed rudder control makes this boat highly maneuverable, and the propeller can be lifted in shallower water so you don't get stuck anywhere.
As with the Pescador Pro, the Pilot is an out-and-out fishing kayak. With four rod holders at the rear and more storage recesses and compartments than you can shake a stick at, you're not going to be short of space in this kayak. It also boasts the same ridiculously comfortable seat that the Pro has.
As with all the Pescador models, it's got gear tracks on the sidewalls so you can fully customise your boat to suit your needs. 
---
Perception Tandem Kayaks
Perception Rambler Tandem

Length: 13' 6" (412 cm)
Width: 34" (86 cm)
Weight: 78 lb (35 kg)
Capacity: 550 lb (249 kg)
The two-person version of the ever popular Rambler sit-on-top kayak, this tandem retains the maneuverability and ease but adds a whole new level of stability, making it easy for anyone to climb into without tipping.
The extra seat in the middle works as a children's seat, with footwells to match, but also has attachments to move one of the two actual seats into the middle if you want to paddle this boat solo.
The Rambler Tandem is a fantastic two person recreational kayak for days out exploring your local lake or slow moving river, and has plenty of storage for all that kit you want to make your day really enjoyable.
---
Perception Tribe Tandem

Length: 13' 5" (408 cm)
Width: 34" (86.4 cm)
Weight: 79 lb (36 kg)
Capacity: 500 lb (226 kg)
A tandem kayak which will leave you so relaxed you won't want to get out at the end of the day, the Tribe is a brilliant flat water cruiser thanks to the longer and more defined keel line than that of the Rambler.
The Tribe is fitted with Perception's fully adjustable, reclinable seats which can be moved quickly between engaged, relaxed and near horizontal if you just want to lay back and let your partner do all the work. There's also a moulded kid's seat in the middle so you can take your youngsters out with you.
While the comfort is arguably the most prominent feature of this boat, it also has loads of storage at the front and rear, as well as small day hatches in front of each paddler. There's also a couple of recesses for the solo mounts, so you can accessorise your ride.
---
Perception Cove Tandem

Length: 14' 6" (442 cm)
Width: 31.25" (79 cm)
Weight: 71 lb (31 kg)
Capacity: 550 lb (249 kg)
Tandem paddling is great, but some conditions just don't lend themselves to a sit-on-top kayak. This is where the Cove, Perception's only closed cockpit tandem kayak, comes into its own.
It might be closed at either end, but the entire middle of the boat is wide open, allowing you easy access and a level of security beginners often miss from proper closed cockpit kayaks. The Cove is slightly more touring focused than Perception's other tandem boats, and the longer, narrower waterline will allow it to cover more water with ease.
The seats are padded and the backrests are supportive, although maybe not quite as luxurious as those in the Tribe, and the padding around the knees means you can be both connected and comfortable. Both seating positions also have adjustable footrests; not always the case in a larger, open tandem kayak.
Comparison Table: Perception Kayaks