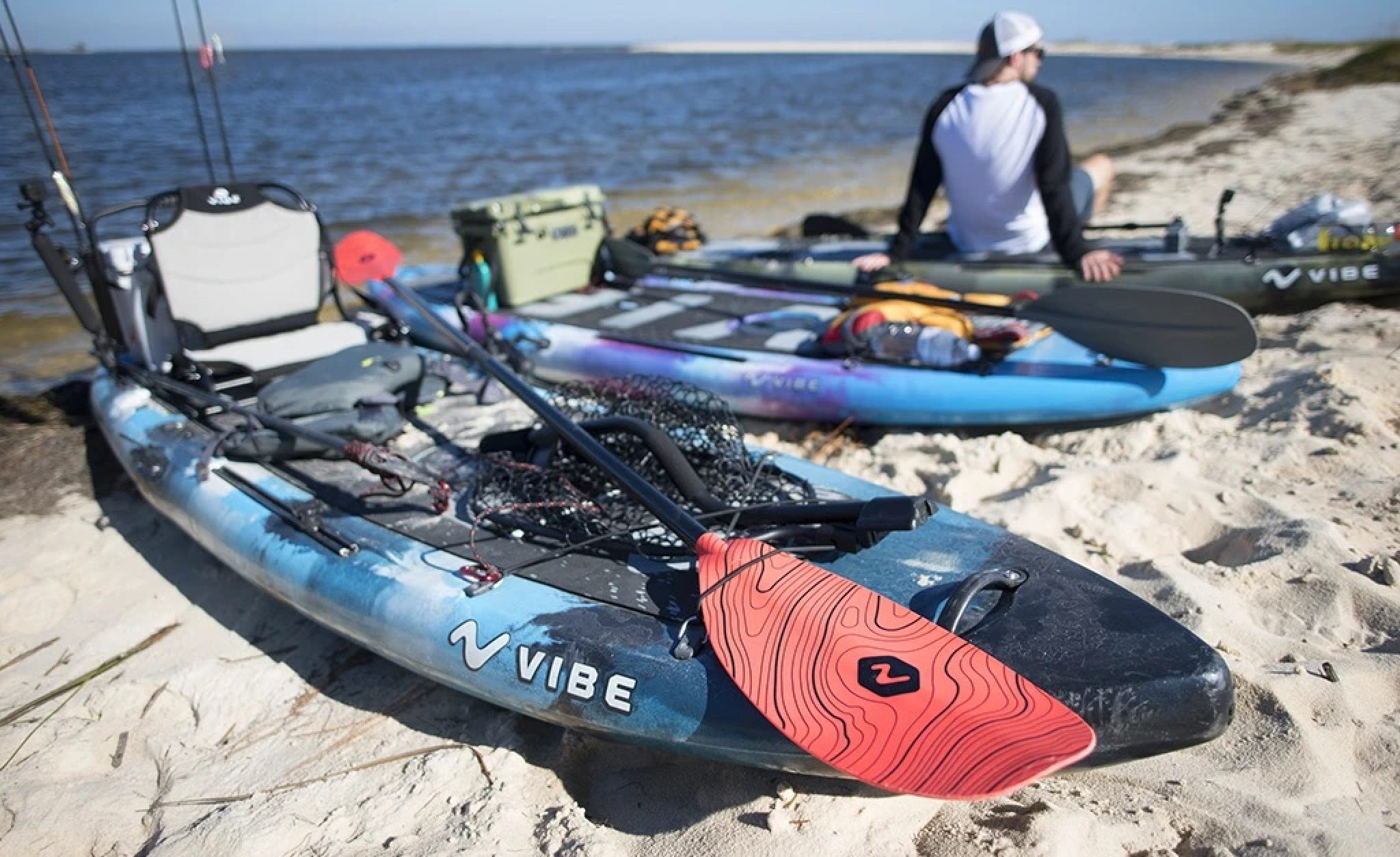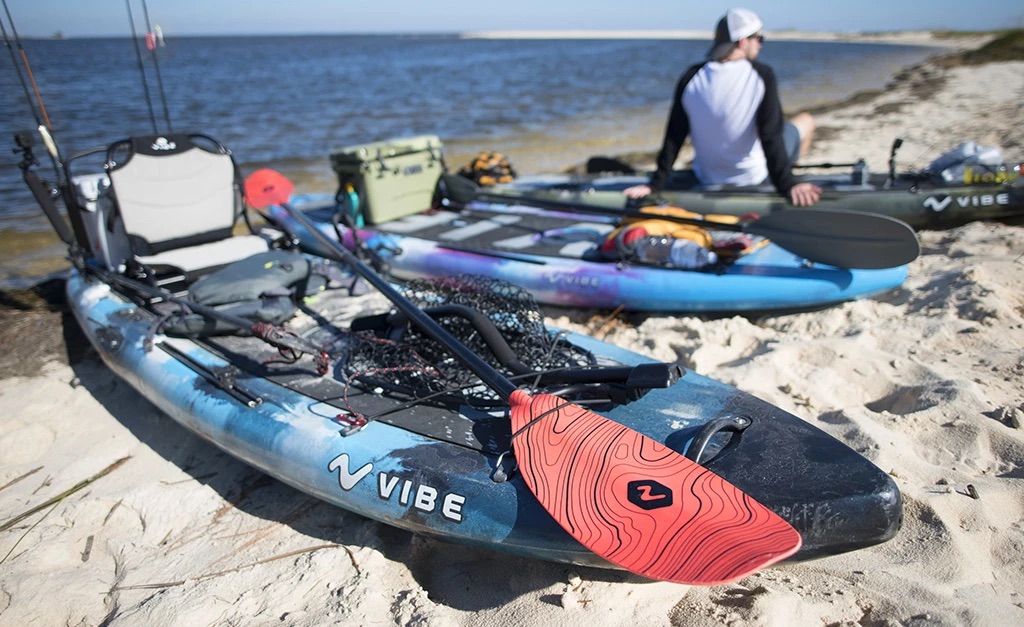 No drama, just adventure. This ethos underpins everything that goes into Vibe kayaks. Their innovative designs allow everyone to take to the water with comfort and security. Their kayaks are largely fishing focused, but that doesn't mean they're not excellent recreational boats in their own right.
Let's explore Vibe's 2023 range. We hope that our review will help you find a kayak that best suits your needs.
As an affiliate of Amazon and other retailers, we may earn a small commission when you buy via our links, at no additional cost to you. Thank you!
Quick Links: Vibe Kayaks
If you're interested in a particular model, click the link below to go directly to its review. You can also click a model name in the table below to read our full review of that model.
Comparison Table: Vibe Kayaks 2023 Models
WHY TRUST US:
Here at Paddlingspace.com, we spend more time on the water than we do in the office. We paddle, kayak fish, and camp as often as we can, so we know exactly what kayakers and kayak anglers need.
Each year, we independently research, review, and rate the best kayaks, canoes, and paddling gear. Our experts analyze hundreds of products to find out key differences, pros, and cons of each product. We only make money from ads or if you purchase through our links. No sponsored posts or biased reviews here, period.
---
Vibe Skipjack 90

Length: 9' (274 cm)
Width: 32" (81 cm)
Weight: 46 lb (21 kg)
Capacity: 300 lb (136 kg)
Whether it's exploration or fishing you're after, the Skipjack 90 might just be the perfect way to introduce new kayakers to the sport. The short, stable platform is versatile and highly portable, lightweight enough that you can just grab and go with the molded side handles.
For recreational exploring, the Skipjack's defined waterline and easy maneuverability makes taking to the water as easy as possible, while the waterproof, breathable seat pad and supportive back rest system mean you can stay out paddling all day.
You will appreciate the large amounts of storage at either end of the kayak, as well as the central tackle toss recess and base accessory mounting point. There are also four recessed rod holders on the Skipjack, which can double as GoPro mounts if filming is important to you.
The paddle park, drinks holder and a waterproof hatch, ideal for small items such as cameras and phones, can be invaluable for any paddler.
---
Vibe Yellowfin 100

Length: 10' (305 cm)
Width: 32" (81 cm)
Weight: 51 lb (23 kg)
Capacity: 375 lb (170 kg)
A step up in terms of comfort and paddling prowess from the Skipjack 90, the Yellowfin 100 features the Vibe Hero seat. This adjustable, incredibly supportive seating system will have you so comfortable that you won't want your day to end.
Beyond the seat, this boat is a recreational kayaker's dream. It's a similar shape to the Skipjack, but has an extra foot of length and more clearly defined keel, which not only make it more stable, but help it to track more effectively and carry speed through the water.
As a fishing boat, the Yellowfin 100 is everything most recreational anglers could ever need. The four rod holders, two behind and two in front of the seat, allow you to paddle unencumbered, while a rectangular base mount and two top loading gear tracks mean you can fully customise your fishing set up.
The Yellowfin 100 has loads of storage, too. There's a watertight hatch at the bow, and another in front of the seat, as well as a large recess at the rear where you can secure your bags with the adjustable bungee. In the middle there are tackle trays and a tackle toss for quick changes on the go.
---
Vibe Yellowfin 120

Length: 12' (366 cm)
Width: 33" (84 cm)
Weight: 66 lb (30 kg)
Capacity: 400 lb (181 kg)
You'd be forgiven for thinking the Yellowfin 120 was just the same old 100 with a couple of extra feet built in. Where that is true is the hull. The already fantastic shape of the Yellowin 100, coupled with extra length and just another inch of width makes the 120 even more stable and fantastic for cruising around, even when you're fully laden.
On the deck, however, the 120 is a different beast. It still hosts the superbly comfortable Vibe Hero seat, which is just about the most comfortable and supportive kayak seat on the market, and the same foot peg system which allows you to quickly adjust on the go. While two of the rod holders have been removed, meaning there are just two located behind the seat, this is more than made up for in customization options. Just think about it: you get TEN top loading gear tracks located all around the bow of the boat.
The front cargo area on the Yellowfin 120 is covered with Vibe's Flex Top gear cover, keeping your gear fully secure, while the rear tank well is equipped with adjustable bungees. There are also tackle trays, tackle toss, a rectangular accessory base mount and a hatch in the centre of the boat, too.
---
Vibe Sea Ghost 110 & 130

Sea Ghost 110
Length: 11' 6" (350 cm)
Width: 33" (84 cm)
Weight: 62 lb (28 kg)
Capacity: 425 lb (192 kg)

Sea Ghost 130
Length: 13' (396 cm)
Width: 33.5" (85 cm)
Weight: 71 lb (32 kg)
Capacity: 550 lb (249 kg)
The Sea Ghost series pushes the boundaries of how many features you can fit in one fishing kayak. Impressively, Vibe managed to put an enormous amount of technology into a boat which still feels like a low profile and easy to use design.
The features of both the Sea Ghost 110 and 130 are nearly identical, starting with the really long waterline, which inspires stability and speed so you can cruise around with ease. As if this wasn't enough, the tracking and turning capabilities are improved even further by the rudder system, which comes as standard and is controlled by toe pedals on the foot pegs.
Inside the Sea Ghost series you'll find the same high quality Vibe Hero seat that is so popular among most of their boats. There's also an enormous amount of storage available. Beside the seat, there's the tackle tray storage on either side. At the stern, there's a large open tank well for storing coolers, milk crates, bags, or buckets, which can be secured with the adjustable bungee. At the bow is a large watertight hatch for stowing gear.
It's the middle where this boat has its most interesting features. The Vibe Versa Console is a bit of everything, all at once. There's a magnetic lure catcher, some bungee storage for small items, two mini hatches, a cup holder and two gear tracks, all over the small central hatch, ideal for keeping your valuables secure.
There are gear tracks on either gunnel of the Sea Ghost, as well as two rod holders, a transducer port, a paddle holder and another hatch just behind the seat.
It's incredible that Vibe have fitted so much into a boat that's still so good in open water, slow rivers and even a bit of surf. This might just be the perfect fishing kayak.
---
Vibe Shearwater 125

Length: 12' 6" (381 cm)
Width: 35" (89 cm)
Weight: 82 lbs (37 kg)
Capacity: 475 lbs (215 kg)
If you want something so advanced that it pushes the realms of what we can call a kayak, you really should look at the ultimate fishing machine; the Vibe Shearwater.
The Shearwater is a fishing kayak which has more features than you can shake a stick at. For a start, the Vibe Summit seat has four positions with adjustable height and lean while retaining the same comfort and support of the Hero seat. It also folds up and out of the way, and with the optional standing perch, you get a perfect elevated fishing platform with an unparalleled view of the water.
Even without the perch, the Shearwater has a huge standing area to fish from, as well as gunwale grips so you can stand up on the sides without slipping. There are four rod mounts as well as four horizontal rod holders, loads of gear tracks, a removable fish finder pod with a transducer mount, and two Power Pole mounting spots on the Shearwater.
Storage wise, you get all usual space at the rear, complete with adjustable bungee, but also loads of options on the bow and midship. There's a bow storage area with the Flex Top cover, a Vibe Versa drawer which fits under the seat, as well as the recesses for tackle boxes next to the seat and three hull access plates. In the middle of the boat is the removable Vibe Versa Pod, perfect for storing electronics while on the water.
Why might you want to remove it? Well, it can be replaced with the optional Vibe X-Drive Pedal Pod, allowing you a truly hands-free experience. This also requires the optional steering handle, as the rudder on the Shearwater is usually controlled with toe mounts on the footrests.
Pedalling still a bit too much like hard work in the wind? There's always the option of the Bixpy Jet Motor, which attaches to the rudder system. This small engine will propel you along in almost any condition.
That said, the hull doesn't exactly make your life difficult. Designed to cut through the water like a knife through butter, the sharp v-shape and long keel line of the Shearwater is over-accentuated at the bow to track perfectly in all sorts of winds.
There's so much going on here that it's hard to imagine a better fishing platform.
---
Vibe Cubera 120 Crossover

Length: 12' (365 cm)
Width: 33.5" (85 cm)
Weight: 72 lbs (33 kg)
Capacity: 475 lbs (215 kg)
Stand up and stand out, that's what the Cubera 120 is all about. This open deck, kayak to stand-up paddle board crossover offers you unparalleled access to all sorts of water. With loads of optional add-ons, this boat offers a wealth of opportunities for standing up or sitting down as you fish or paddle.
The Cubera 120 has a no-flex, sink-proof hull with injected foam inside, which in itself makes a fantastic stand up paddle board. However, if you want the option of sitting down, you can fit the Vibe Summit Seat into the seating tracks. What's more, this seat folds up and becomes a standing perch (sold separately), which gives you the best casting position and top down view of the water.
On top of this, the Cubera has loads of top loading gear tracks for rod holders and other accessories, as well as a rear Power-Pole mounting location for the micro anchor or jet motor.
There's no shortage of storage on the Cubera, either, with versatile tie-down areas, bungees, and a small watertight hatch.
---
Vibe Skipjack 120 Tandem

Length: 12' (365 cm)
Width: 34.5" (88 cm)
Weight: 72 lbs (33 kg)
Capacity: 500 lbs (227 kg)
The two-person version of the ever popular Skipjack, this kayak retains all the ease of the solo boat and is a perfect recreational kayak for the occasional anglers. The shorter waterline with bow and stern rocker makes this boat really maneuverable and perfect for exploring lakes and slow moving rivers, as well as some small surf too.
The Skipjack Tandem is a very comfortable, supportive option for long days out on the water, with ergonomically designed seat backs and cushions. It is also relatively easy to move around off the water thanks to the four molded carrying handles.
In terms of fishing prowess, the Skipjack keeps it relatively basic. Two rod holders are located behind the rear paddler, while there are also two mounting points for rectangular base accessories and a selection of paddle stowing options. For storage, there are small bungee areas front and rear. There are also two small hatches, one for each paddler.
The Skipjack really is a recreational dream, but if you want to get into some proper tandem fishing, the Yellowfin Tandem might be more suited to you.
---
Vibe Yellowfin 130 Tandem

Length: 13' (396 cm)
Width: 35" (89 cm)
Weight: 77 lbs (35 kg)
Capacity: 500 lbs (227 kg)
With a long and sleek waterline, the Yellowfin Tandem is a great adventure kayak for two people who want to explore their local lakes or rivers. The v-shaped hull and long keel line mean this boat tracks effectively and picks up speed with ease, gliding effortlessly through the water.
With the Vibe Hero seat, you'll be comfortable and supported, even on long days on the water. If you want to paddle the Yellowfin 130 as a solo boat, just pop the seats out and reposition one of them in the center recesses.
For tandem anglers, the Yellowfin ticks loads of boxes. There are the standard rod holders behind the rear seat as well as two mounts of rectangular based accessories, but also a handful of top loading gear tracks to pimp your ride.
On top of all that, there's plenty of cargo space. Next to the seats are some tackle tray holders, as well as a tackle toss for quick changes. At the bow of the Yellowfin is a small cargo area while at the rear there's a larger tank well for coolers, boxes and bags, which can be secured with bungee. For small items you want to keep dry, there's a couple of watertight hatches, too.