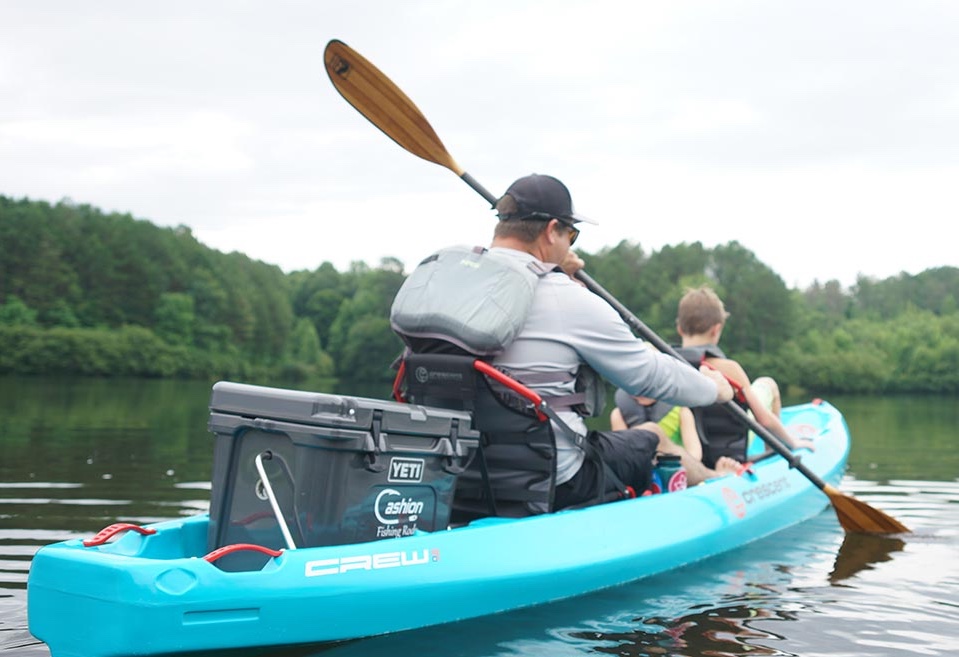 Crescent Kayaks was founded in 2001 and is headquartered in Carrollton, Georgia. Designed, manufactured, and assembled in the U.S.A., kayaks made by Crescent are known for solid quality, user-friendly design, great paddling performance, and affordable prices.
In this overview, we take a look at what Crescent Kayaks has to offer in 2021.
Crescent Ultralite

Length: 10' 2" (310 cm)
Width: 30" (76.2 cm)
Weight: 49 lbs (22.2 kg)
Capacity: 350 lbs (158.7 kg)
Crescent UltraLite is a throw-and-go kayak designed for smaller paddlers. This 10'2" (310 cm) kayak is made with a good amount of rocker that translates to high maneuverability and a playful character. The boat weighs just 49 lbs (22.2 kg), so it's really easy to throw on top of your car and carry to the water and back.
The hull is 30" (76.2 cm) wide, so don't expect a ton of primary stability. However, the kayak feels really stable on the edges, allowing you to play with it, especially in moving waters (we believe the Ultralite is a great river fishing kayak for smaller paddlers).
Crescent Ultralite has a total capacity of 350 lbs (158.7 kg). This rating is pretty generous, and some 200 lb users report that they max out the Ultralite. We'd say it's great for paddlers that weigh up to about 160 lbs, maybe a little more.
The feature set is pretty basic, with a small dry hatch on the bow, adjustable footrests, a comfortable framed seat that sits pretty low to the deck, and a decent-size rear tank well. There are also two YakAttack Mighty Mounts behind the seat for rod holders or camera mounts and some gear tracks on the gunwales for more equipment.
The Ultralite is a great performer, especially on smaller bodies of water. Its defined keel that runs the entire length of the hull helps it track really well for its size, while soft chines give it great secondary stability. The kayak has quite a lot of rocker on the bow, which helps it run over waves and improves maneuverability.
If you're looking for a lightweight recreational kayak to have fun on the water and go on a fishing trip once in a while, definitely check out Crescent Ultralite.
---
Crescent CK1 Venture

Length: 11' (335 cm)
Width: 34" (86 cm)
Weight: 60 lbs (27.2 kg)
Capacity: 400 lbs (181 kg)
Crescent CK1 Venture is the latest addition to the Crescent model line which hits the sweet spot between Crescent Ultralite and Crescent Litetackle while sharing their great performance characteristics. It is a very well-designed kayak that's equally great for recreational paddling or fishing on both flat and moving waters.
"With the CK1 Venture, we wanted to blend the lighter weight of a throw-and-go with the weight capacity of a larger kayak—all without compromising our signature paddling performance," says Crescent owner James Derbecker. "Basically, we set out to create a light, high-weight capacity, customizable kayak platform that paddles and handles amazingly. We wanted it to be user-friendly, versatile, and reliable."
At 11 ft (335 cm) long and 34" (86 cm) wide, the CK1 Venture weighs only 60 lbs (27.2 kg). This qualifies it as a throw-and-go kayak. That said, it offers an impressive capacity of 400 lbs (181 kg), giving you full freedom in what gear to take with you.
Building on the strengths of Crescent's previous models, the CK1 Venture also introduces a number of improvements. These improvements include a cleverly design elastic cover over the bow tank well, a simple but functional paddle holder, and four molded-in bottle holders. The boat is airtight and does not offer any dry storage, but you can fit a medium-sized dry bag or soft cooler under the front cover to keep your stuff dry and secure even if waves crash over the deck.
Speaking of waves, the CK1 Venture performs beautifully both on flat water and in currents, including some light rapids. Its bulbous nose wants to ride over waves, keeping the boat dry and maneuverable. The pronouced keel runs the entire length of the boat, helping it track better. Like all Crescent's models, the CK1 Venture may not feel super-stable initially, but once the secondary stability kicks in, you'll know you're not going to tip over.
All in all, Crescent CK1 Venture is extremely versatile and fun to paddle. If you enjoy both flat water and rivers, including some Class I and II rapids, this might be the boat for you.
---
Crescent LiteTackle

Length: 12'4" (375.9 cm)
Width: 34" (86.3 cm)
Weight: 75 lbs (34 kg)
Capacity: 450 lb (204.1 kg)
Crescent LiteTackle has made quite a splash in the kayak angling world. Designed by kayak anglers for kayak anglers, the LiteTackle offers great paddling performance, lots of storage space, and a clean, minimalist deck layout.
The boat is 12'4" (375.9 cm) long and 34" (86.3 cm) wide, so it's a pretty big kayak. The LiteTackle tips the scales at 75 lbs (34 kg), so most adults will be able to cartop and handle this kayak without too much effort.
With an overall capacity of 450 lbs (204.1 kg), the LiteTackle offers lots of room to store gear. The oversize bow hatch is fairly watertight and opens access to in-hull storage where you can put your rods, extra paddle, or camping gear. The rear tankwell will accommodate a 55-gallon cooler or a large dry bag, so you can really load it up as long as you stay within its capacity limits.
The seat is comfortable but does not have high/low positions. The only position is pretty low, which makes it a little harder to stand up and sit back down. If you plan to do a lot of stand-up fishing, Crescent sells a seat riser for LiteTackle that gives you an additional 5" of height.
In terms of performance, Crescent LiteTackle is considered to be one of the best "paddling" kayaks available. It offers superb speed, tracking, and stability. It is a pleasure to paddle and will help you go farther and faster.
---
Crescent Crew

Length: 13' (396 cm)
Width: 35" (89 cm)
Weight: 79 lb (35.8 kg)
Capacity: 600 lb (272 kg)
Introduced in 2020, Crescent Crew takes the best from the popular LiteTackle model and adds enough capacity and room for family, kids, and dogs.
This tandem kayak is 13 ft (396 cm) long and weighs 79 lb (35.8 kg), so it's not too huge even as a solo boat. It offers a generous capacity of 600 lb (with scupper plugs), two comfortable frame seats and an open, clean deck, so you can easily take a couple of kids and a dog with you.
Crescent Crew features molded footrests in the front, four molded cup holders, adjustable footrests for the rear paddler, and five sturdy carrying handles. A huge tank well on the stern can hold a lot of fishing or camping gear (not every tandem has that).
The kayak can be converted from tandem to solo in a matter of seconds. You can also reverse the front seat for a face-to-face seating position. It retains the awesome paddling performance of the LiteTackle model and is equally great as a recreational kayak or (with some modifications) as a tandem or solo fishing platform.
If you want to go fishing in a Crew, you can add gear tracks and rod holders in the pre-molded flat spots to turn it into a proper fishing kayak. For fish finder, however, you're limited to side-mounted options because the Crew does not have a transducer scupper.
---
Crescent Splashback

Length: 10'2″ (310 cm)
Width: 32" (81.3 cm)
Weight: 47 lb (21.3 kg)
Capacity: 300 lb (136 kg)
With the Splashback, Crescent Kayaks' goal was to create the best tracking compact kayak on the market. It's a beginner-friendly boat that's made for excellent performance and ultra portability. With a full-length keel, the Splashback is able to stay on course better than many other kayaks of comparable length. The Splashback was designed to be a new and improved version of Crescent's Splash I kayak with added speed and maneuverability.
The Splashback is 10'2″ (310 cm) with a 32" (81.3 cm) beam. At just 47 lb (21.3 kg), it is very lightweight and easy to handle out of the water. The kayak can carry up to 300 lb (136 kg), which makes it suitable for smaller to medium-sized paddlers.
The simplistic design includes a molded seat, two carrying handles on the sides plus one each on the bow and stern, a rear tank well with some bungee to keep your stuff in place, a simple paddle holder, and some more bungee on the bow for items you need easy access to.
The hull has quite a bit of rocker, giving the Splashback the playful character that users of all experience levels can appreciate.
---
Crescent Splash II

Length: 12'4" (375.9 cm)
Width: 34" (86.3 cm)
Weight: 69 lbs (31.2 kg)
Capacity: 500 lbs (226.7 kg)
The Crescent Splash II tandem kayak has been a cornerstone model for Crescent Kayaks since the company began. The new and improved Splash II is all about versatility and fun on the water. Balancing affordability and customization, the Splash II lets users tweak it to fit their own personal needs. The Splash II is a tandem kayak which can also be paddled solo. It's a great starter boat that is built to last and doesn't slack on performance.
The boat measures 12'4" (375.9 cm) long and 34" (86.3 cm) wide, so it's a fairly compact tandem kayak. It weighs 69 lbs (31.2 kg) and has a maximum capacity of 500 lbs (226.7 kg).
---
Crescent SUP+

Length: 11'10" (360.6 cm)
Width: 33" (83.8 cm)
Weight: 58 lbs (26.3 kg)
Capacity: 275 lbs (124.7 kg)
The kayak/SUP crossover models have become quite popular in recent years. Crescent Kayaks has jumped on the bandwagon with it's SUP+ model. This vessel functions in some ways like a paddle board, but has many of the capabilities of a kayak, which makes it a fun ride for lakes, bays, rivers and just about anywhere else.
Crescent SUP+ is 11'10" (360.6 cm) long and 33" (83.8 cm) wide, which makes it a very stable ride. At 58 lbs (26.3 kg), it's pretty heavy for a paddleboard but fairly lightweight by kayak standards. The maximum capacity of 275 lbs (124.7 kg) makes it suitable for most average-sized adults.
Features include traction padding on the deck, four gear tracks for things like camera mounts or rod holders, some bungees on the bow and the stern, and a comfortable framed seat which can be easily removed.
---
Crescent Solo Skiff

Length: 14'5" (439.4 cm)
Width: 41" (104.1 cm)
Weight: 150 lbs (68 kg)
Capacity: 400 lbs (181.4 kg)
A very unique design, Crescent Solo Skiff combines the shallow-water capabilities of a kayak with the speed and range of a motorboat. It can get you much farther and faster than any paddle-propelled kayak ever could.
The Solo Skiff has a hull length of 14'5" (439.4 cm) and is 41" (104.1 cm) wide. With the total weight of 150 lbs (68 kg) it is hardly a kayak, but it's an interesting vessel still. It's made from rotomolded plastic, which lets it ride very shallow in the water like most kayaks do. The Solo Skiff takes up to a 5 HP outboard motor, so you'll be able to cruise anywhere you want and expand your reach into any body of water.