Crescent CK1 Venture is a kayak that blends the high performance Crescent is known for with the increased capacity and more attractive features most users look for in today's market.

Description
Crescent recently set out to design a kayak that was a new blend of the high-performance capability their brand is known for with the increased capacity and more attractive features most users look for in today's market. Their result was the CK1 Venture, which has been a resounding success by all accounts from experts in the kayak industry.
The CK1 Venture offers a more evolved type of stability and performance that so many users now seek, but in a lightweight, throw-and-go style kayak that offers virtually limitless versatility on the water.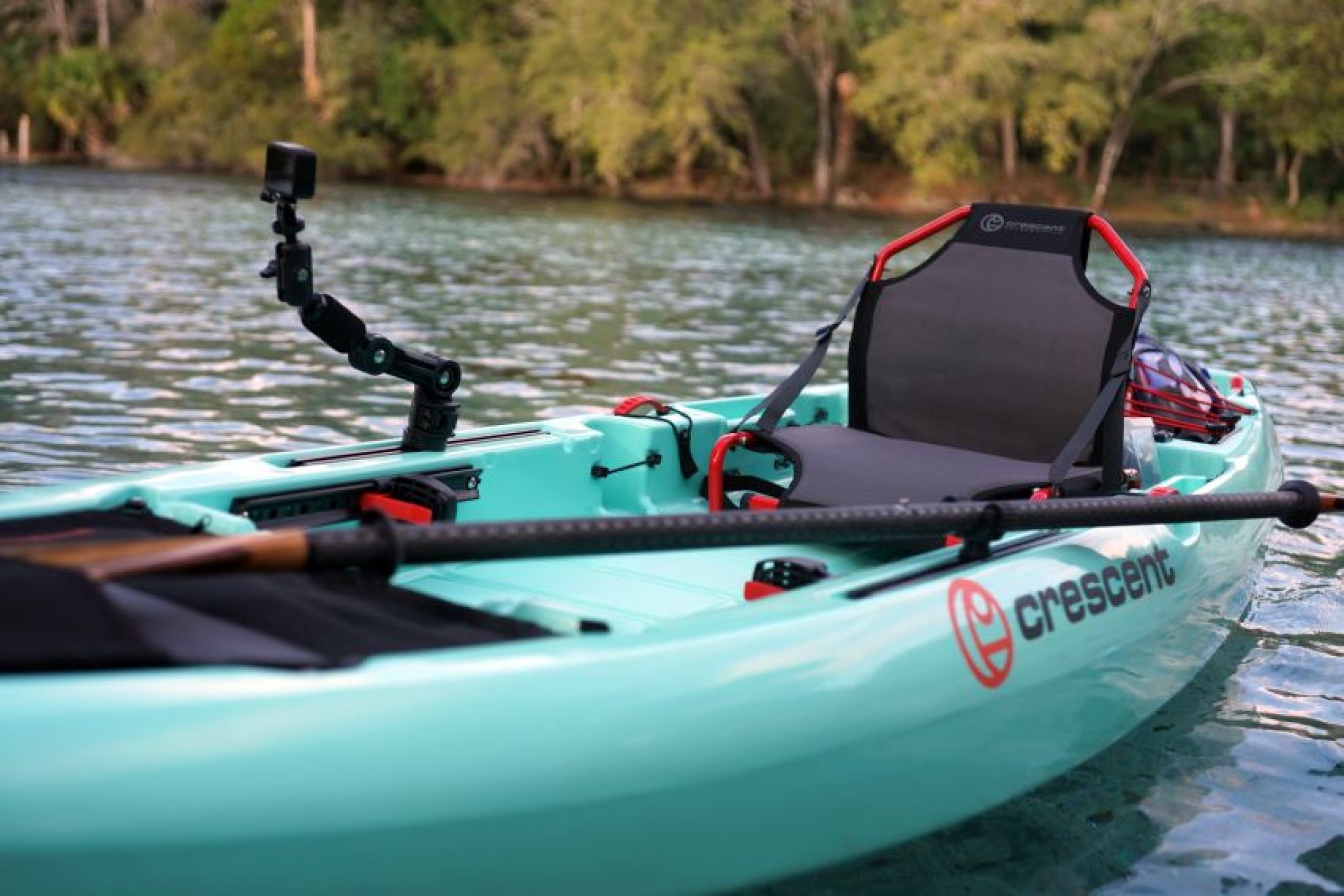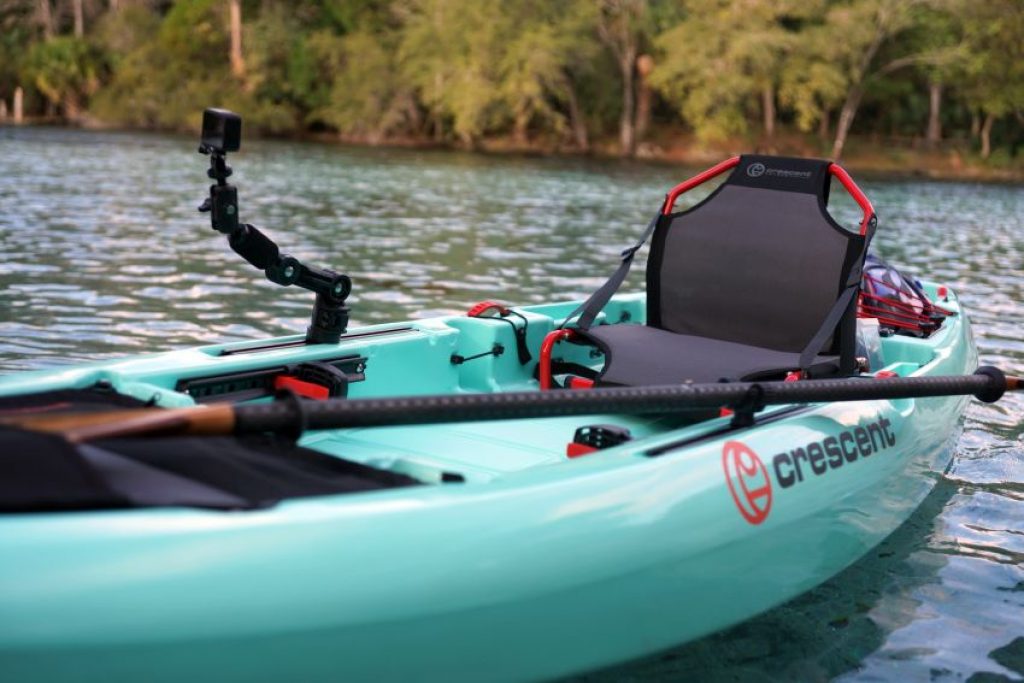 I recently got to test one of these kayaks out myself and can honestly say that it lives up to much of the hype that's been behind the CK1 Venture since it was released. It's been described as a playful and agile boat that is able to serve a number of different purposes like fishing, camping and hunting.
In this review, I'll cover all of the new and improved features Crescent added to the CK1 Venture and also detail my assessment of the performance and capabilities that this boat actually has.
Specs
Length: 11' (335 cm)
Width: 34" (86 cm)
Weight: 60 lbs (27.2 kg)
Capacity: 400 lbs (181 kg)
I caught up with Crescent founder James Derbecker who gave me the rundown on why they chose to add many of these items to the CK1 Venture and the overall goal in creating a kayak like this.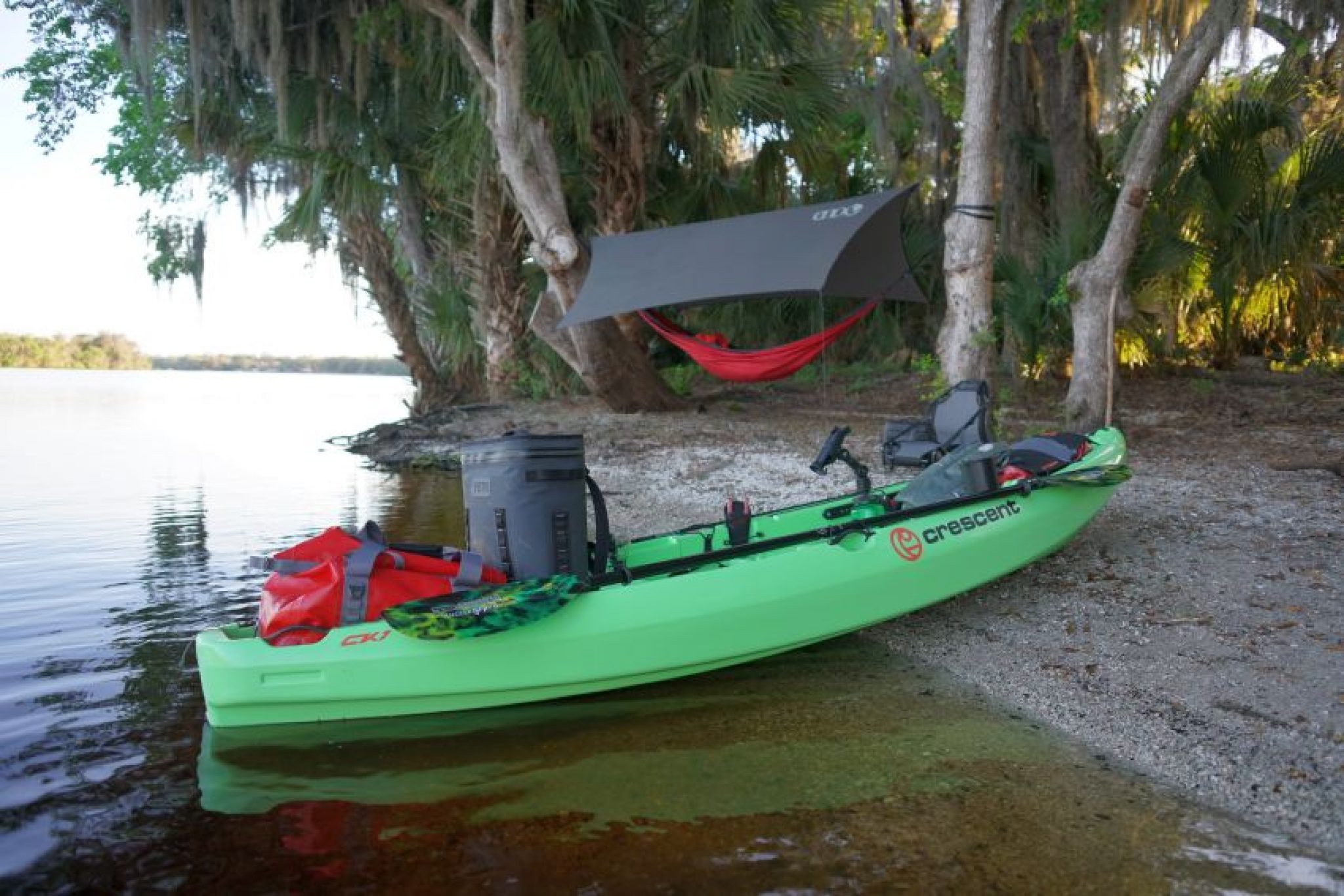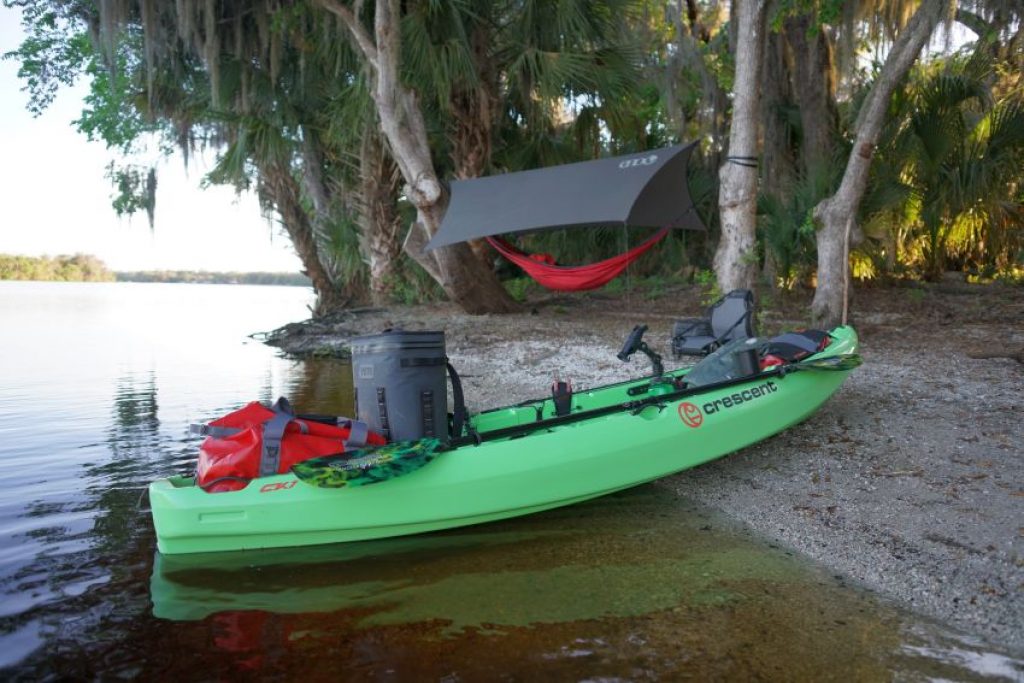 "With the CK1 Venture, we wanted to blend the lighter weight of a throw-and-go with the weight capacity of a larger kayak—all without compromising our signature paddling performance," says Derbecker. "Basically, we set out to create a light, high-weight capacity, customizable kayak platform that paddles and handles amazingly. We wanted it to be user-friendly, versatile, and reliable."
Features
The CK1 Venture is packed with new and impressive features that are based off of the design experts at Crescent and the feedback they've gotten from users of the brand's other models like the LiteTackle, UltraLite and others. This boat has just the right amount of features to allow users to customize it in a variety of different ways.
"We wanted to add as many features as possible while reducing the cost to our customers," says Derbecker.
We'll take a closer look at these features starting at the bow and working our way back toward the stern to give you an idea of just what this kayak is capable of and how it might be the ideal option for users of all skill levels and backgrounds.
Bow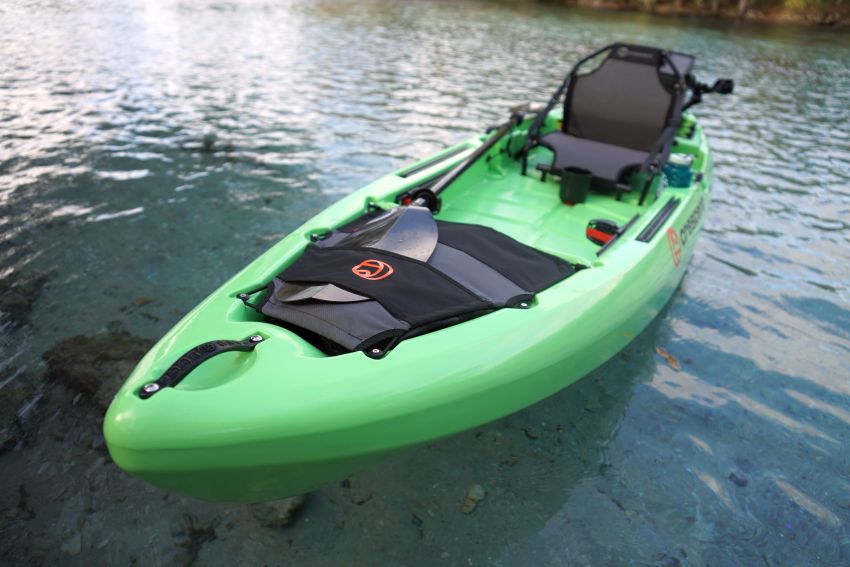 The Crescent CK1 Venture's bow is one of the most intriguing elements of the entire kayak. It's made with a bulbous nose that's designed to keep the boat well-balanced if the paddler stands up so it won't dive or pull to the left or right.
The bow is also fitted with a sturdy plastic handle, but the main feature that stands out is the large open tankwell that is equipped with a water resistant cover to keep your gear dry and in place. The removable cover is made of 600 Denier SDP polyester and is polyurethane-coated to ensure your gear stays dry.
The cover has a paddle park and a splash-proof pocket that's large enough to fit a wide variety of items. The cover will stretch as more bulk is added underneath it, so you'll be able to carry a decent amount of gear in this section alone.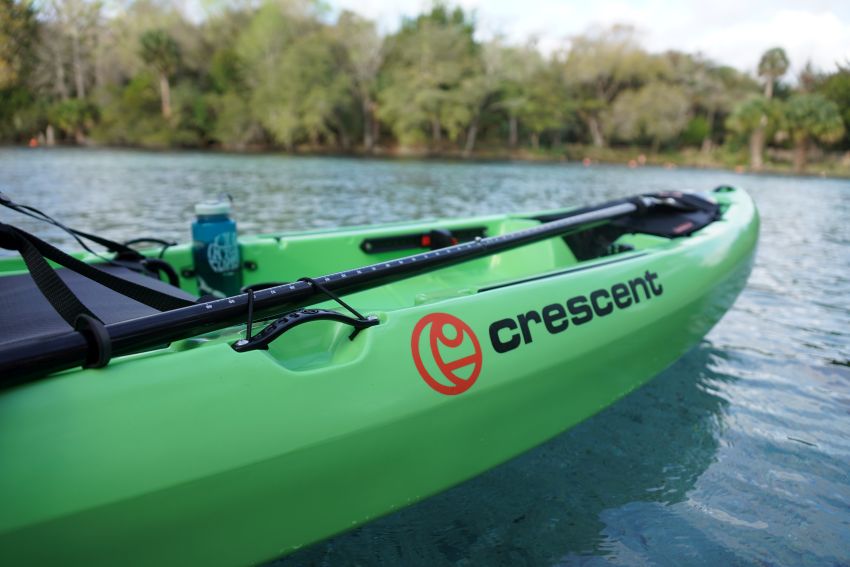 The bow also features two grooves that are made for staging a paddle or fishing rods. These rod catch grooves are designed with a slight angle instead of the squared-off style that you might have seen on other models. This means your rod or paddle will sit flush along with the kayak and won't awkwardly kick up if you happen to bump the reel end.
Cockpit
The cockpit area of the CK1 Venture is one of the most spacious in its class. There is no middle partition or central console, so there is nothing to step around while you stand and fish. The clean open deck is awesome for fly fishing since you can strip the line in the cockpit area with no problem. The cockpit floor has grooves for rigidity and traction. These are also cleverly designed to let any water easily drain out of the scupper holes.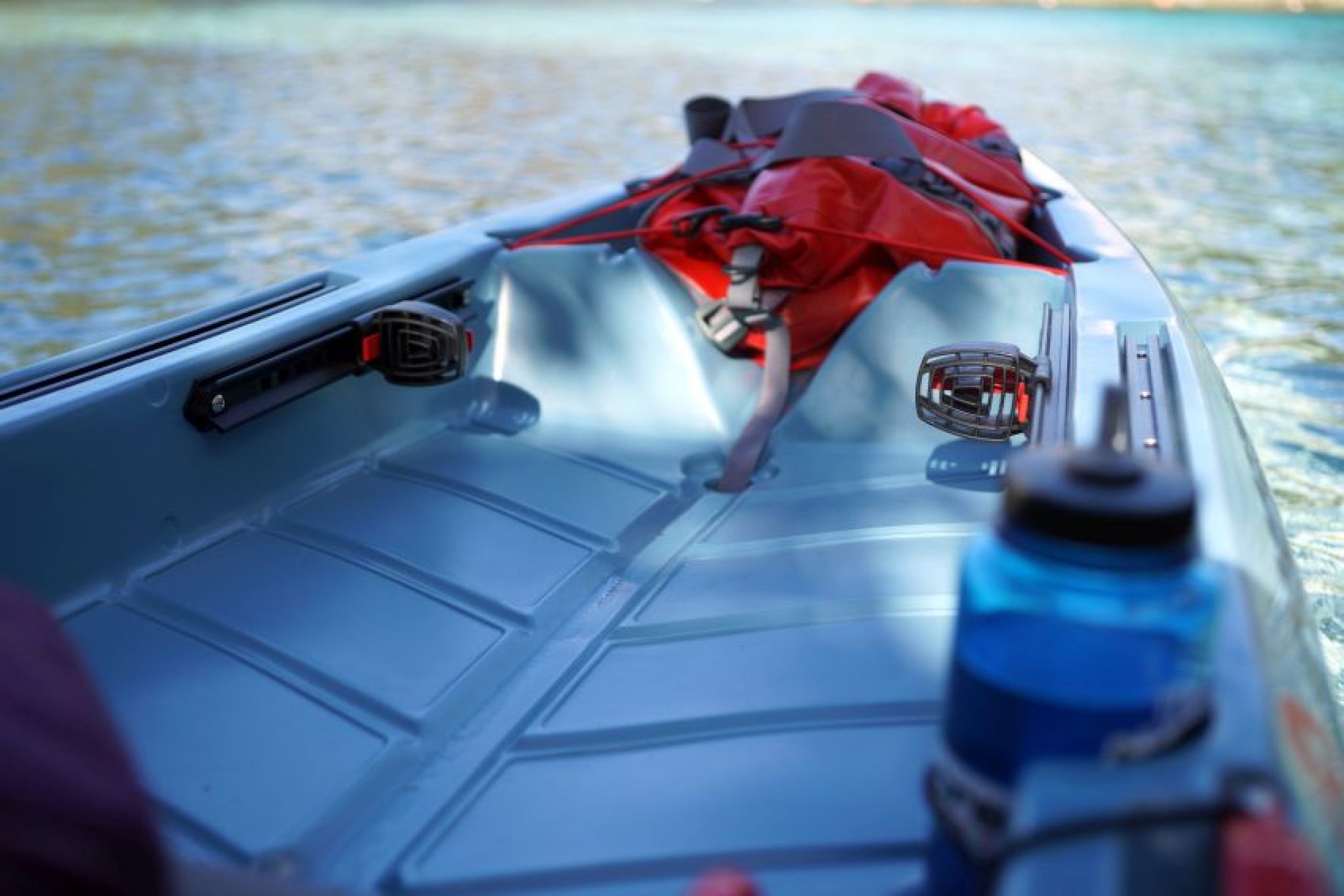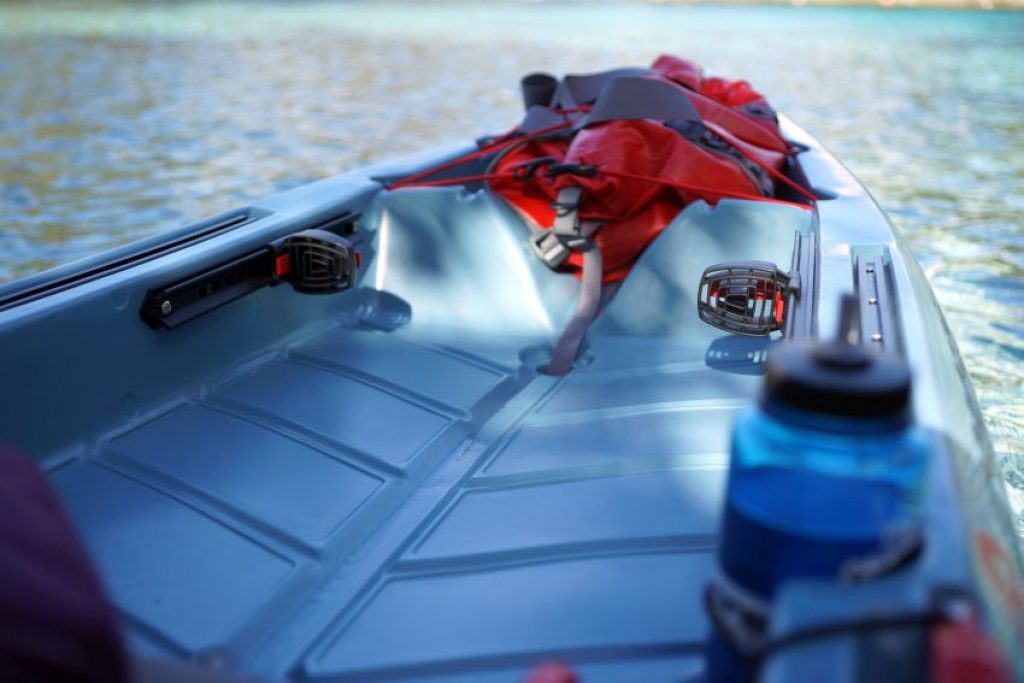 Crescent makes all of its kayaks out of AquaTough resin, which is a type of resin that's made in the United States and specially designed for the paddlesport industry. Studies have shown that this resin has the lowest failure rate of any other variation in the entire industry. The resin material is one of the reasons why the CK1 Venture's cockpit platform has such high rigidity, allowing users to stand and move around without being obstructed.
I found the cockpit's open deck to be one of my favorite characteristics about the kayak's design. This open space allowed me to stand and position my feet wherever I wanted while fishing without any hassle. Instead of having to position the kayak and have it oriented in one direction before standing to cast in that same direction, I was able to simply paddle to an area and stand up to fish without much concern for which direction the boat was headed.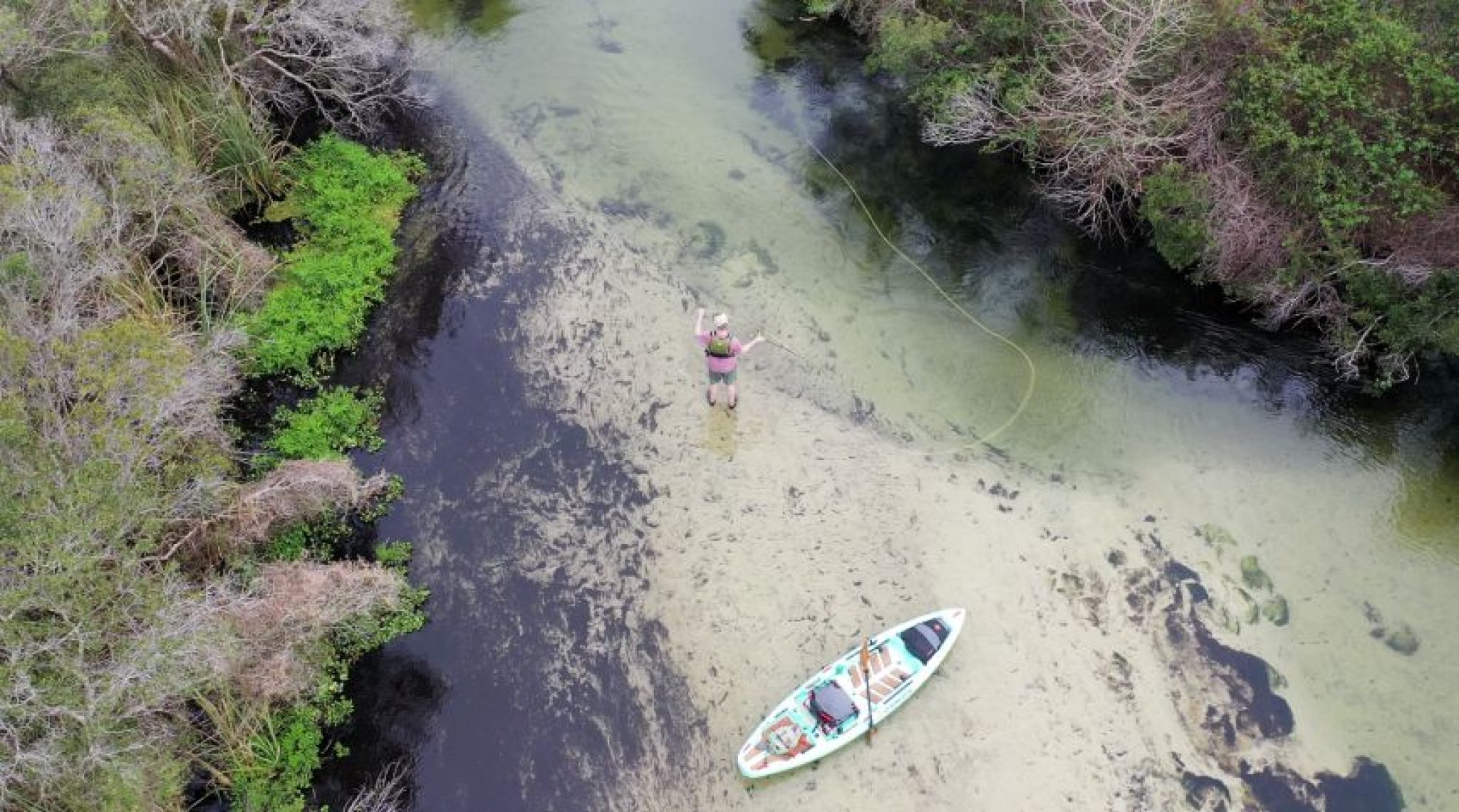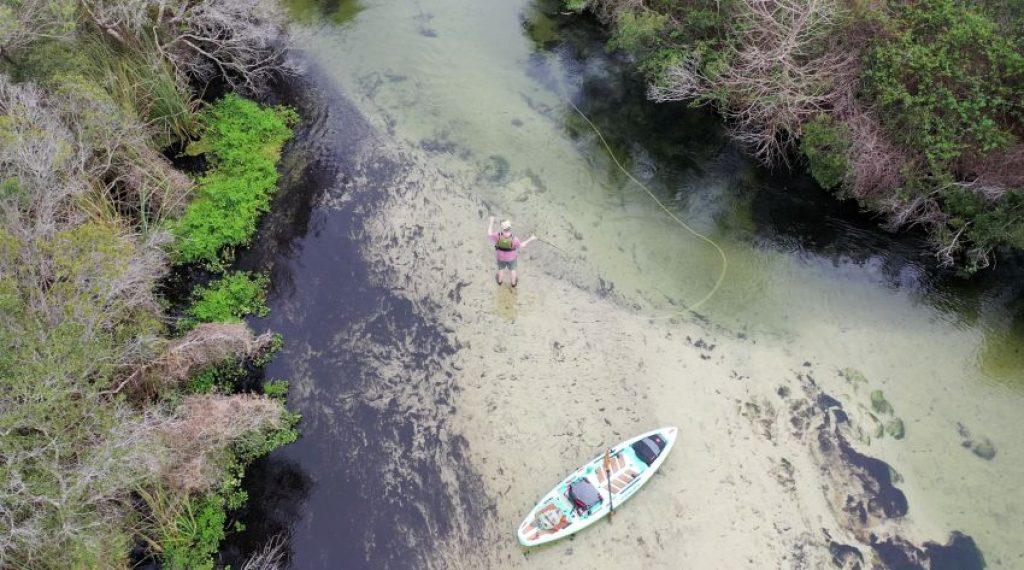 You can purchase the optional deck padding kit for the CK1 Venture. The kayak I tested was already fitted with this padding, and I would highly recommend it. It helped to dampen any noise I made on the deck while also helping me gain better footing than I would have from simply standing on the molded surface.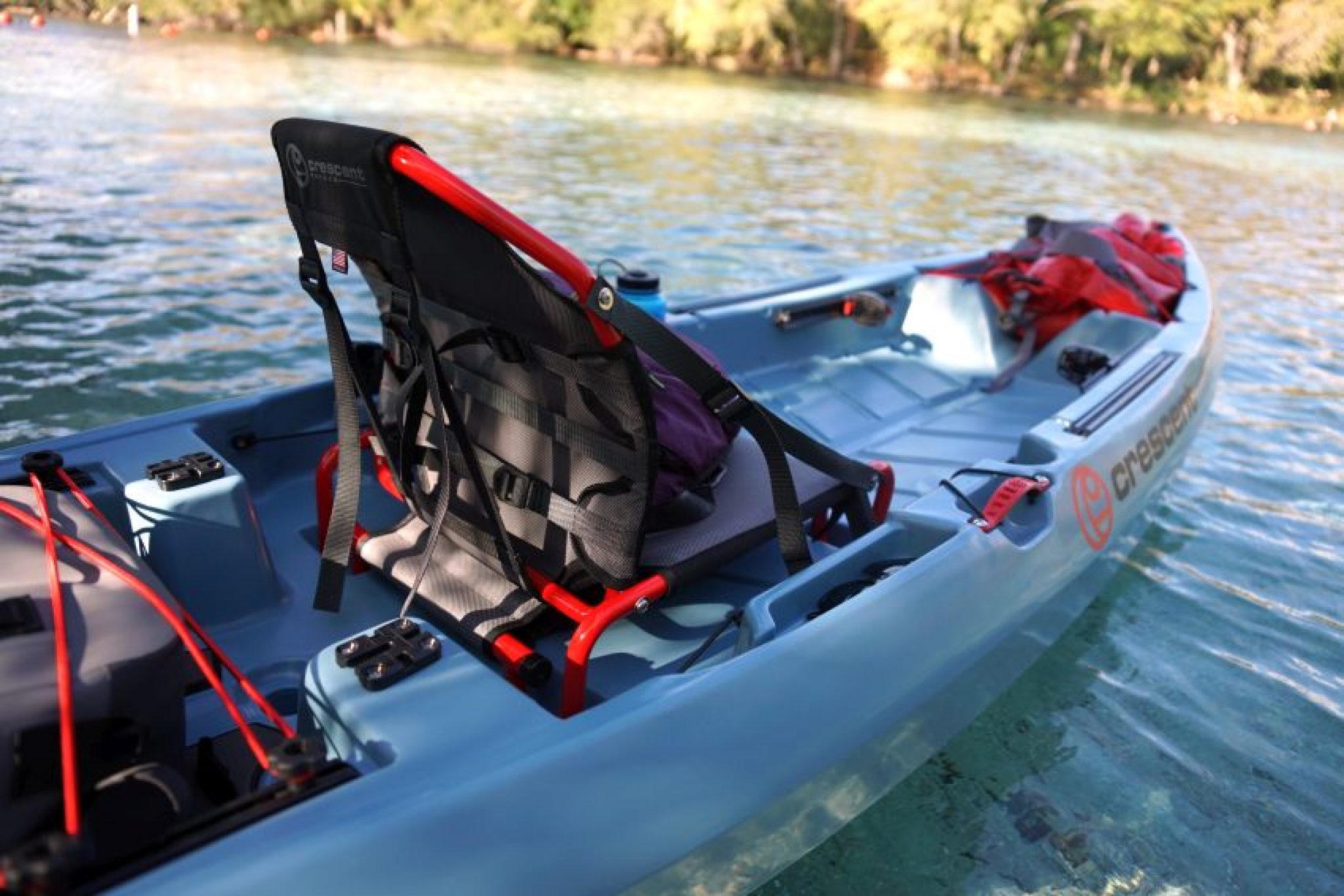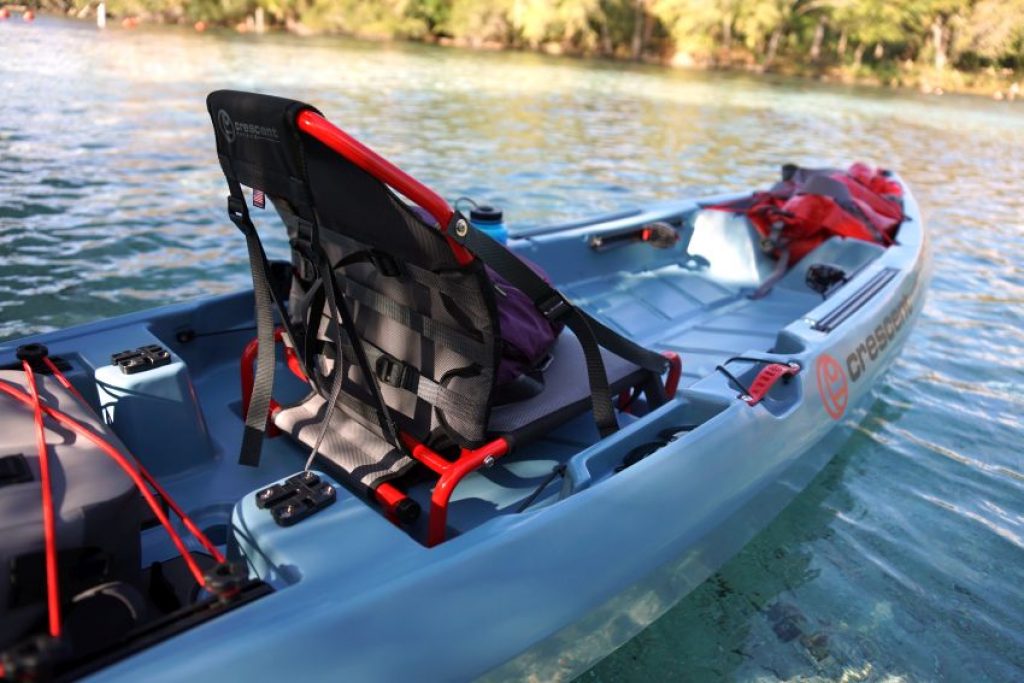 On either side of the cockpit are footpegs, which can easily be adjusted to give you a more suitable fit for harder paddling. Each side is also equipped with a YakAttack gear track that lets you install everything from a rod holder to a camera mount or virtually anything else.
The cockpit also offers a cupholder on either side that has a padded bottom, as well as a bungee strap to help secure your beverage in place. Derbecker said that one of the main items users asked for in a new Crescent model was molded cupholders on either side. These can serve as extra places to put gear items or keep a cold beverage in place. Users will also find that both the left and right side of the cockpit area is fitted with a paddle park strap, which is ideal for either left or right-handed boaters.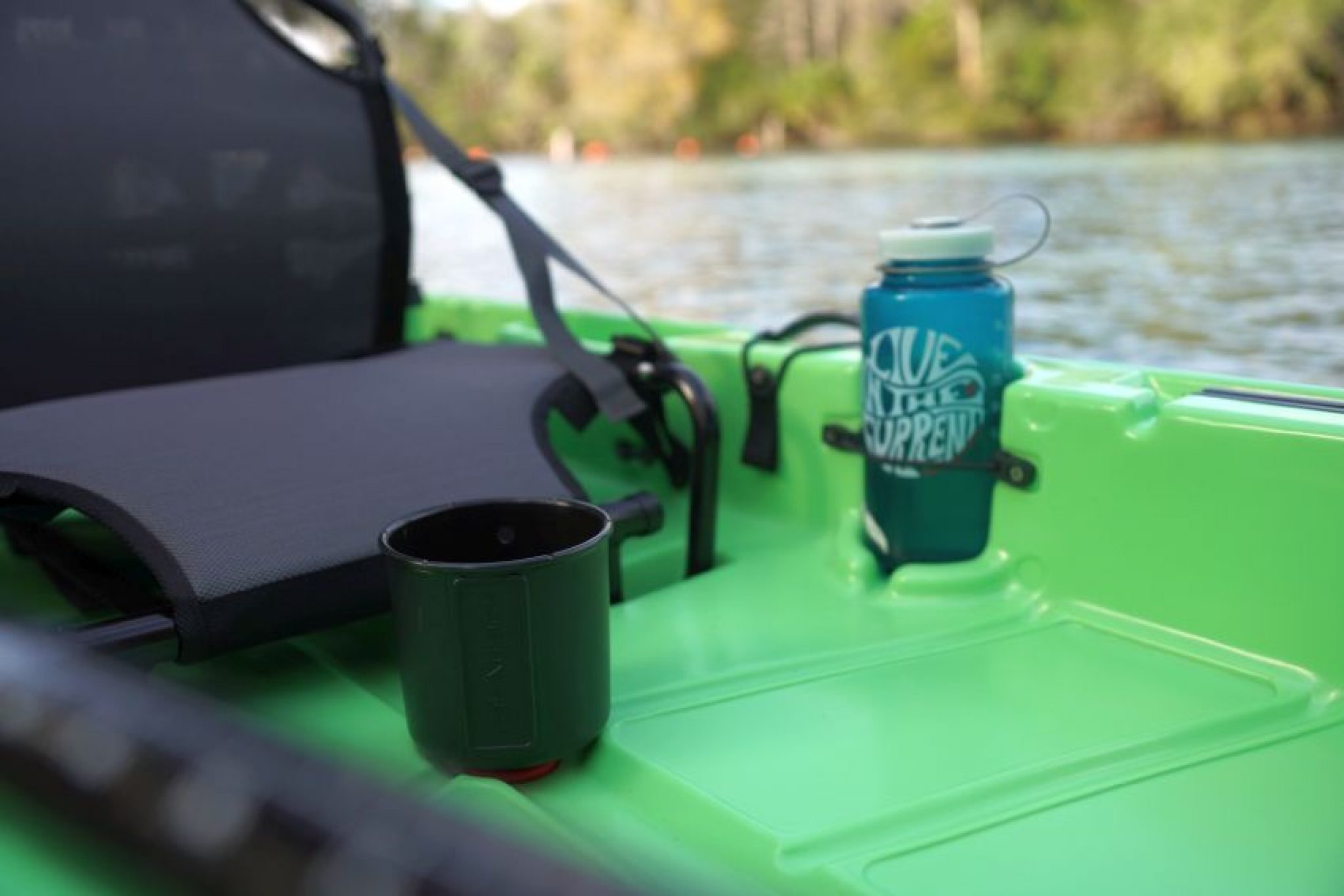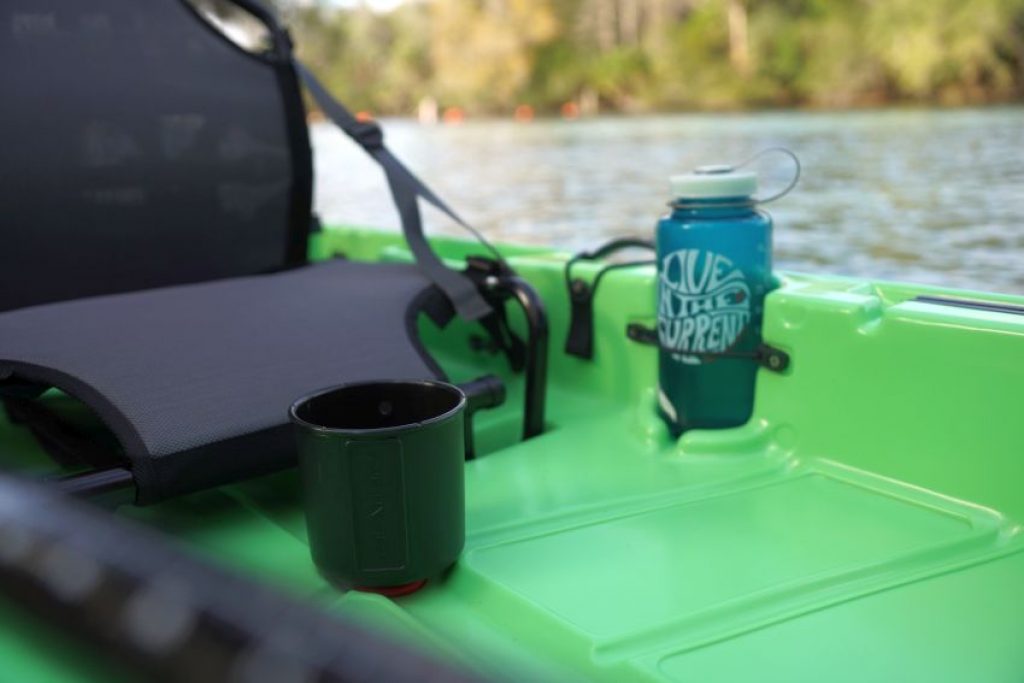 To the left and right of the seat are small stash pockets that are perfect for holding lures, pliers, and just about anything else you'll want to have quick access to on the water. Crescent listened to the feedback it got from users regarding other models and decided to offer a deeper side storage well with the CK1 Venture. This is also a great spot to place anything that you want to leave out to dry as each side tankwell is designed to drain slightly toward the stern scuppers.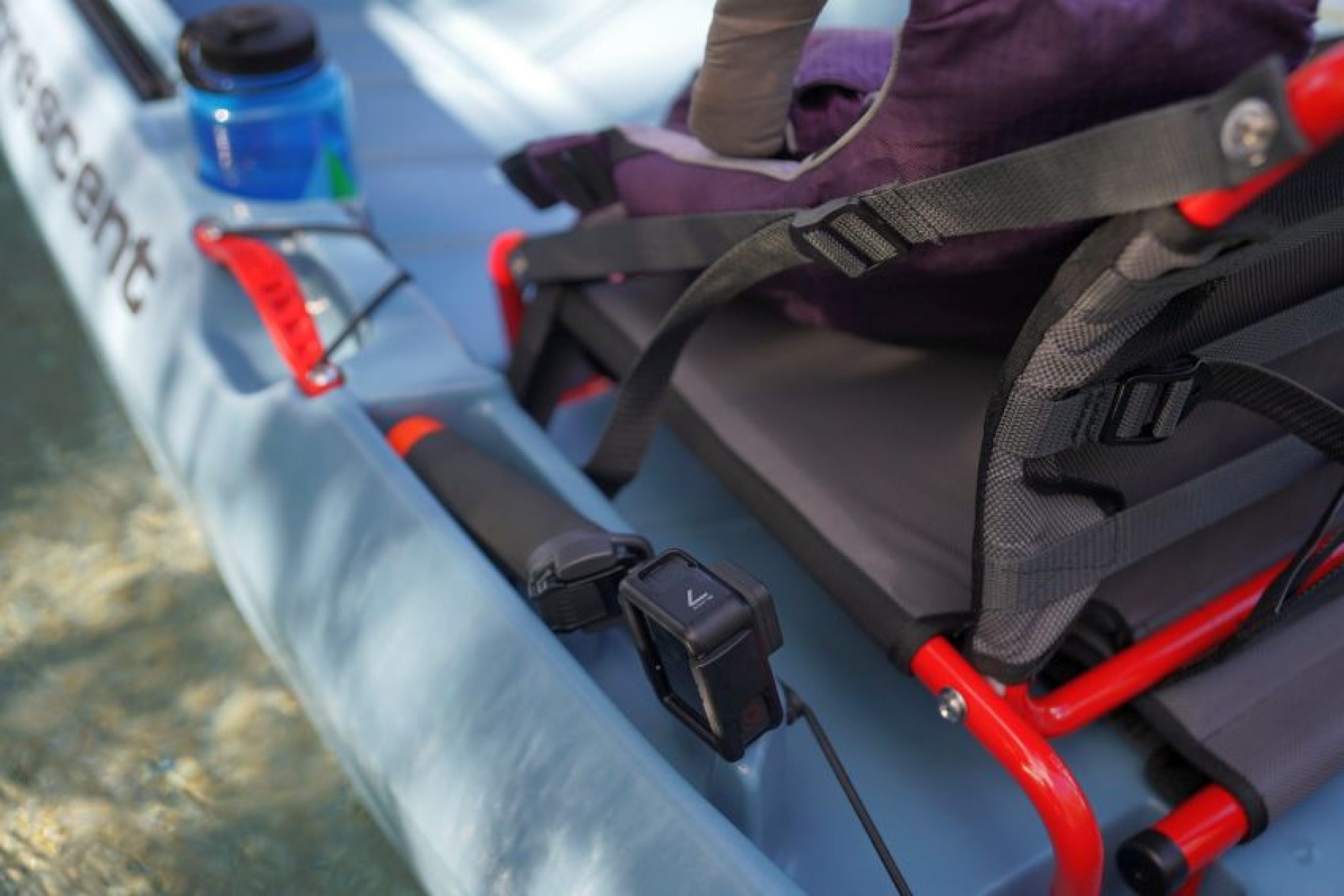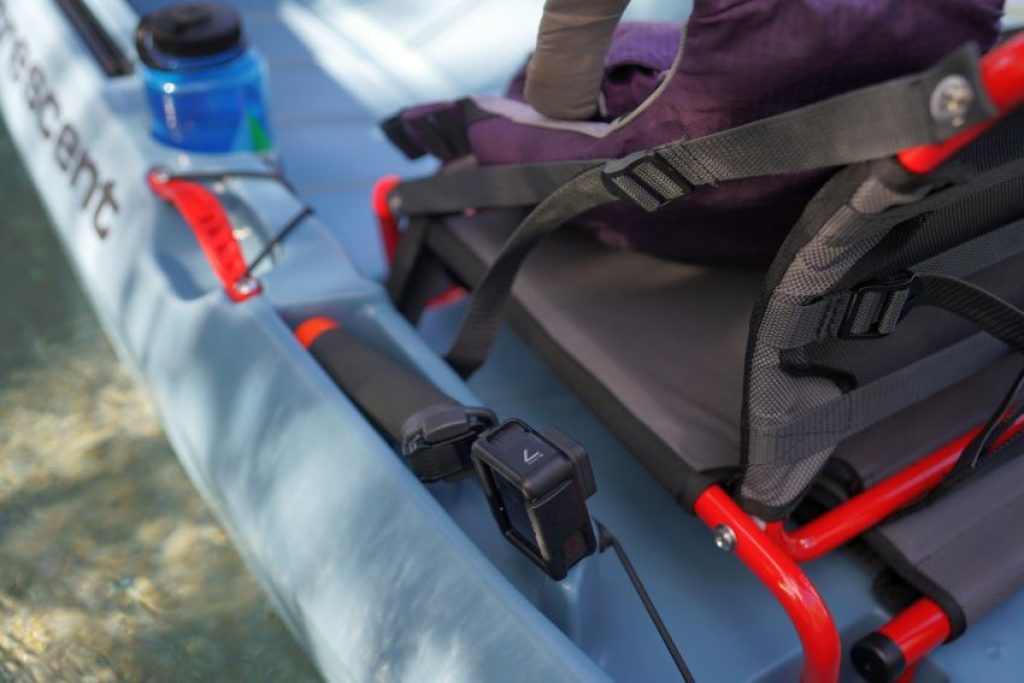 Seat
The seat is one of the most comfortable seats you'll find on any kayak under $1,000. It uses a powder coated frame that's made in the USA. The breathable, quick-dry material will keep your back and bottom as dry as possible while you're in the kayak.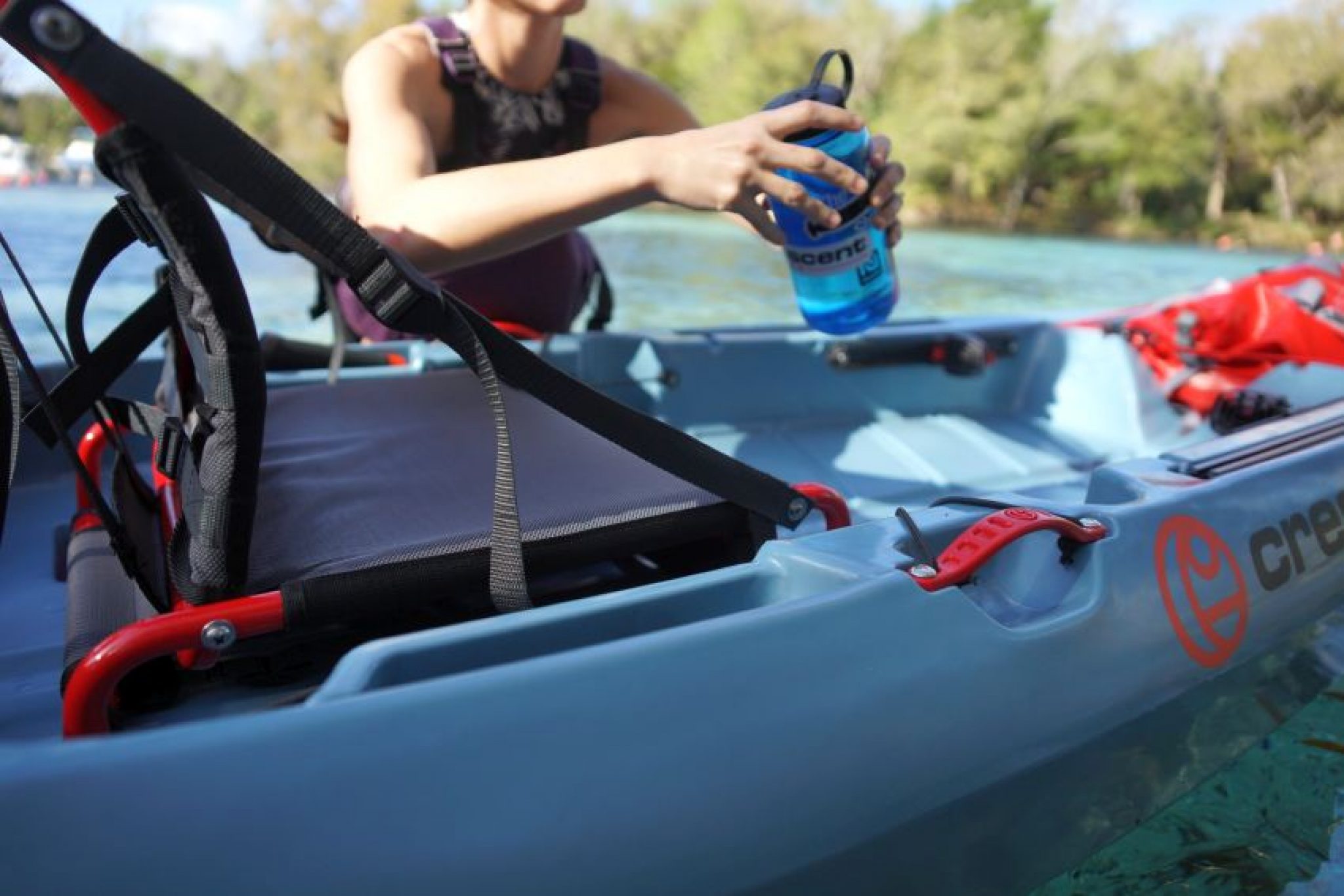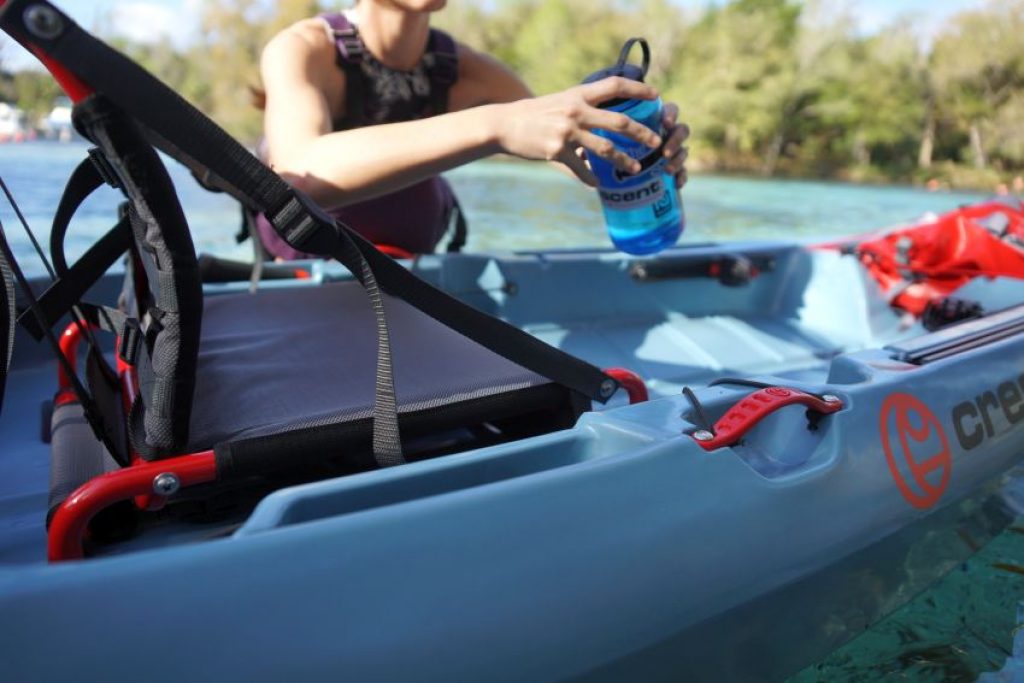 The seat offers plenty of lower lumbar support and ample padding, as well as two reclining straps that let you kick back as far as you feel comfortable with. Seat also can be removed and doubles as a beach chair for sitting around a campfire next to the lake or river.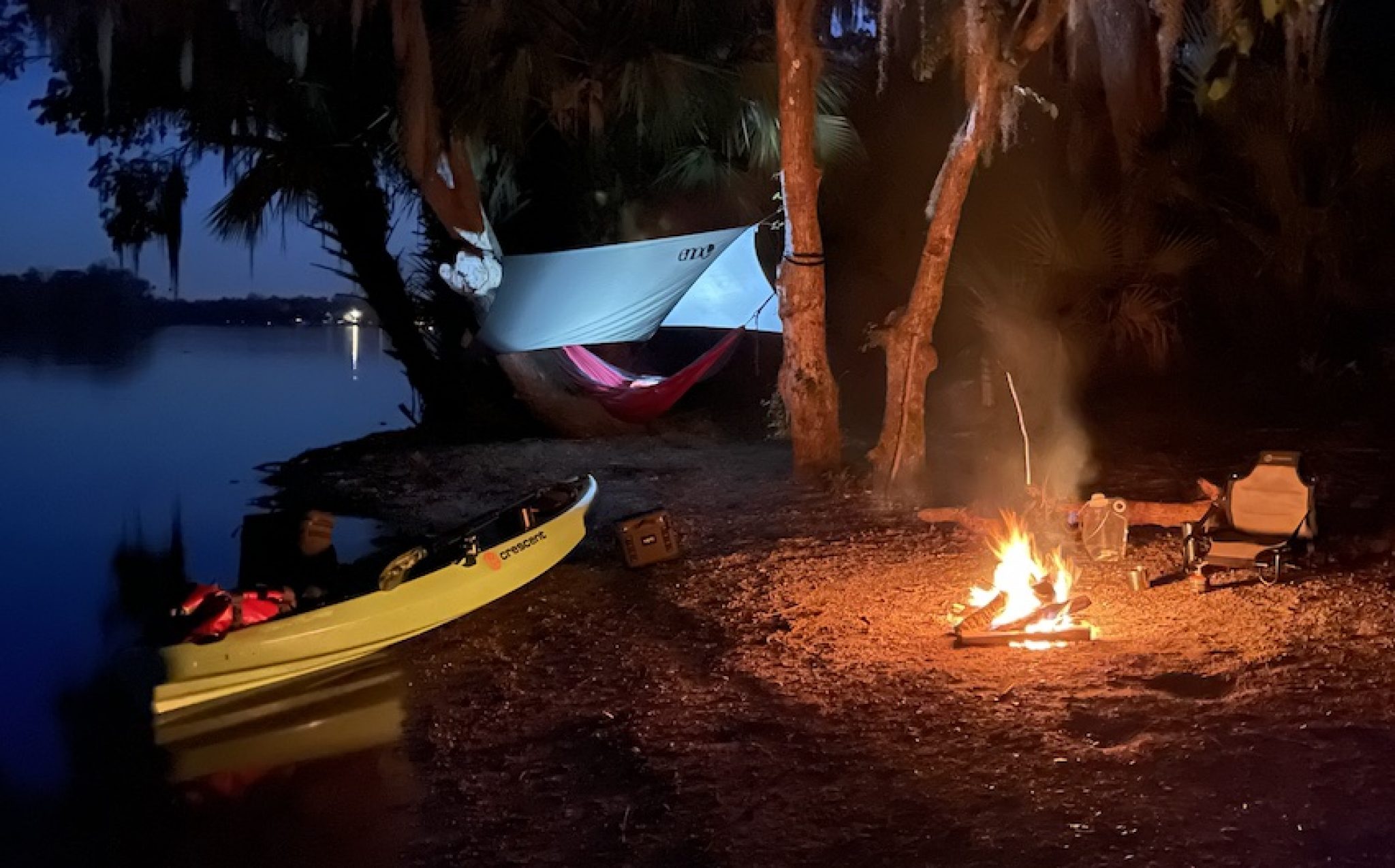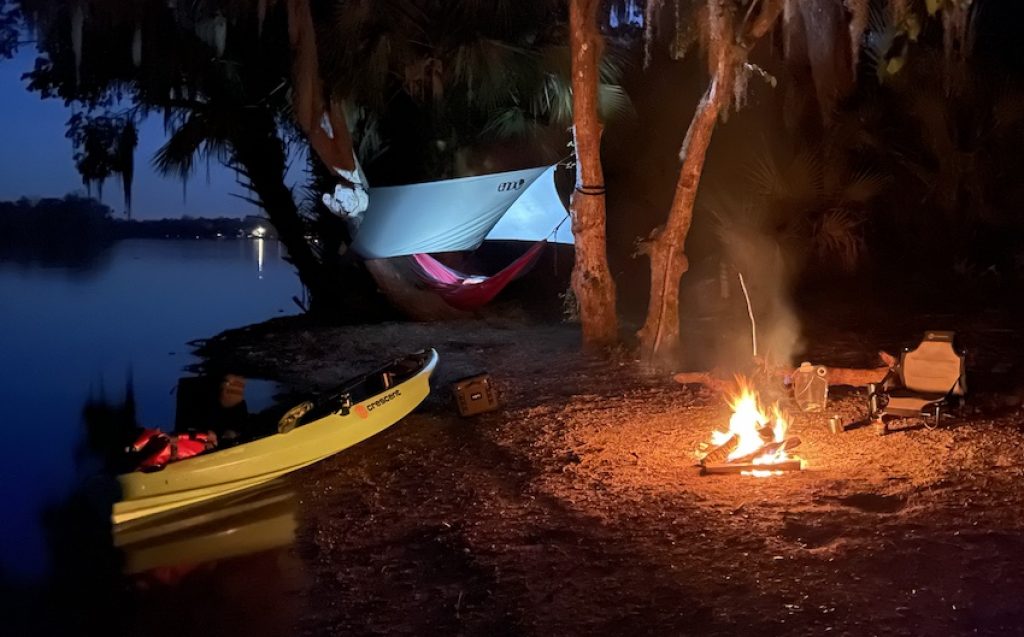 Personally, I prefer a higher seat than what the CK1 Venture offers. Luckily, this issue can easily be solved by purchasing the optional seat riser which gives you an additional 5 inches off the main deck. For many users, this is a welcome addition, even if it may slightly alter the kayak's performance when paddling.
Just behind the seat are a dual set of YakAttack MightMount mounts that are great for installing just about anything you want on. Ideal for flags, camera mounts, lights and many other items.
Stern
The large stern tankwell features a removable set of bungee cords that will help to secure anything you want to keep back there. The bungee pegs are mounted to a rear gear track on either side, which allows you to manipulate this bungee cord system in any way you want, as well as to include any additional items like rod holders or other things.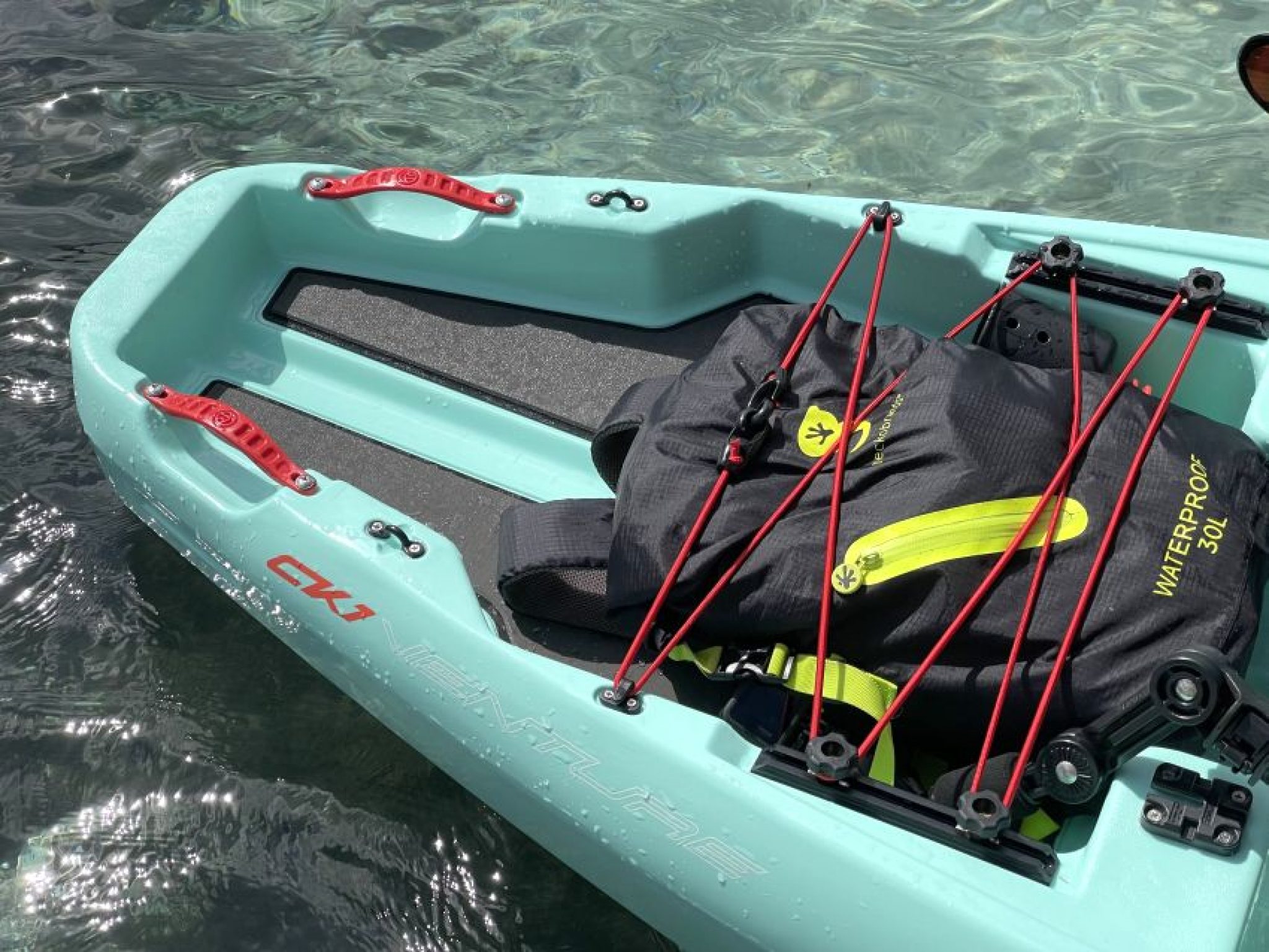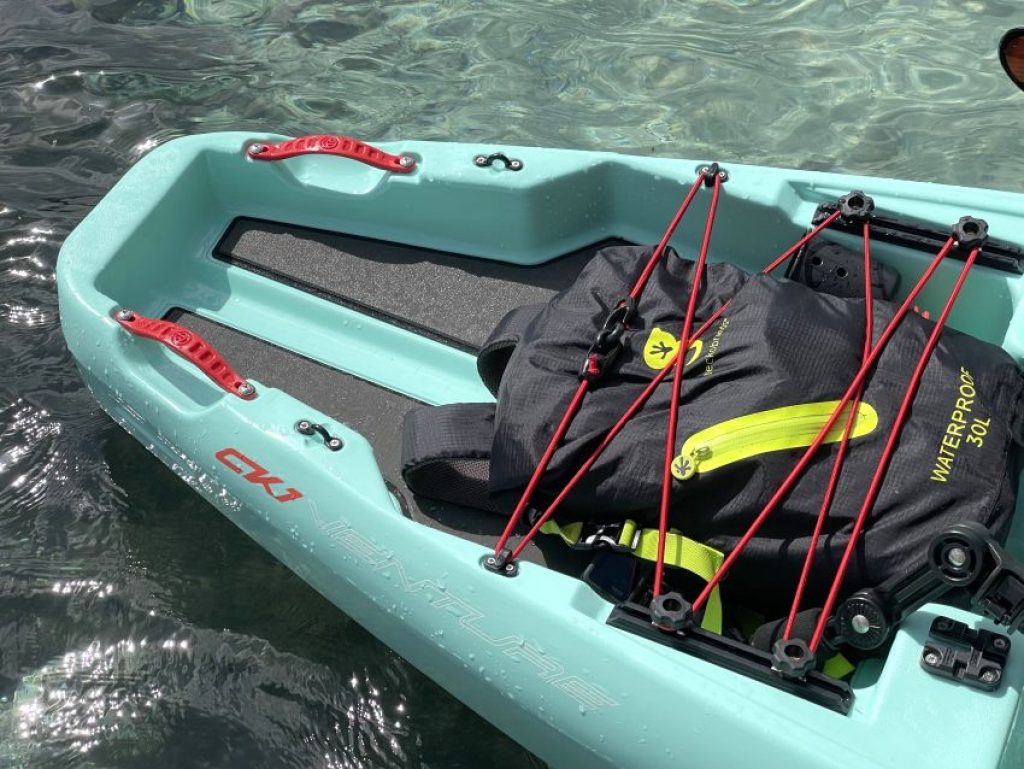 The stern's design is squared off, which is perfect for mounting a trolling motor or a Power Pole.
The stern features dual handles on either side of the kayak on either end. This totally eliminates the same frustrating problem of trying to position your hand in just the right way to help a friend load or unload their kayak. Now, one person can get a solid grip with both hands, which will ensure that the kayak won't flip over to one side and dump your gear out on the ground.
Hull Design
"This model was designed as a "platform" that allows paddlers to custom-tailor it to their specific paddling style, whether kayak camping, bass fishing, or casual weekend trips down the river," says Derbecker. "With a focus on secondary stability, we designed the CK1 Venture to feel a little more alive than a kayak with more primary stability. This allows better turning/handling in moving water while the full-length keel keeps you tracking straight on flatwater adventures."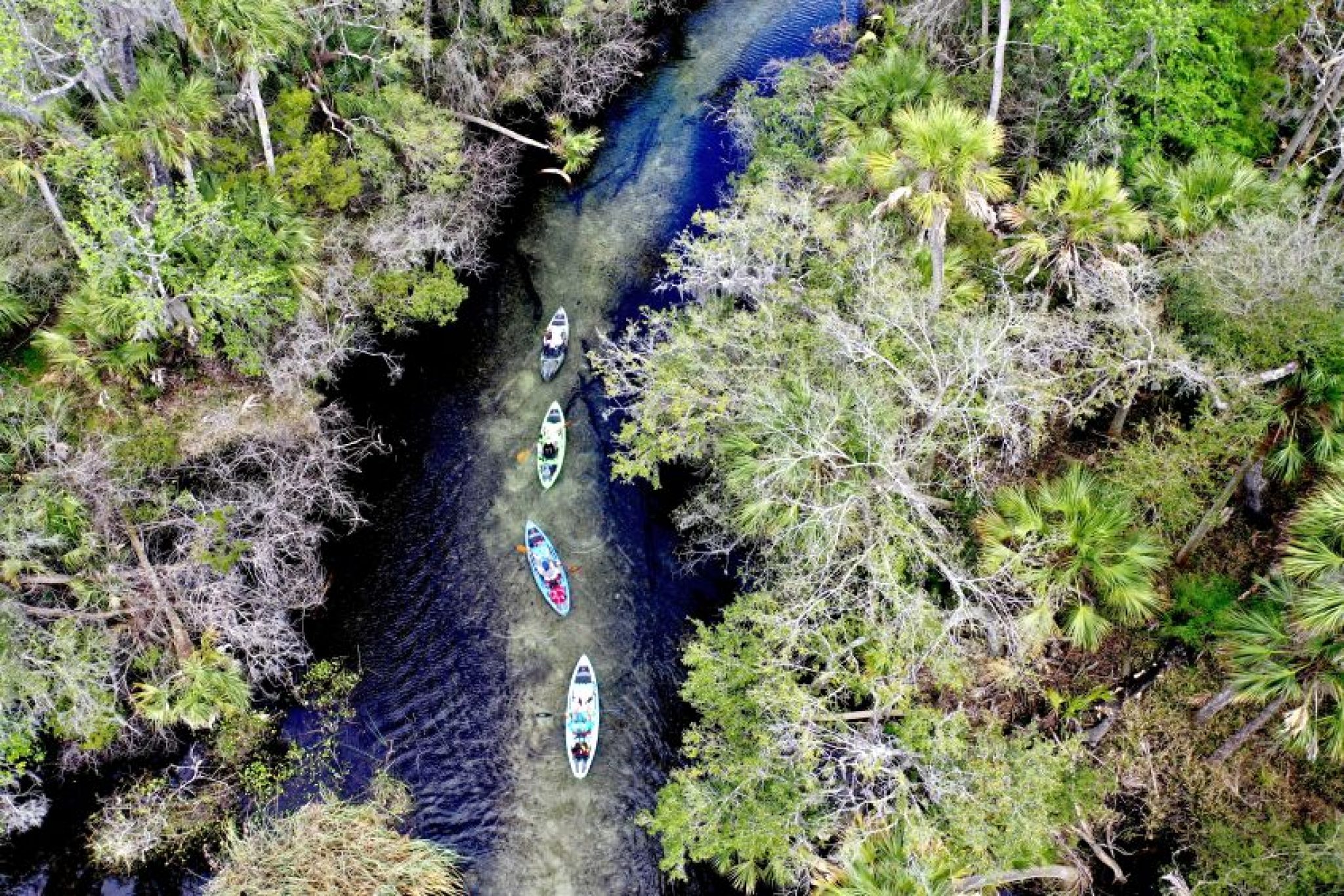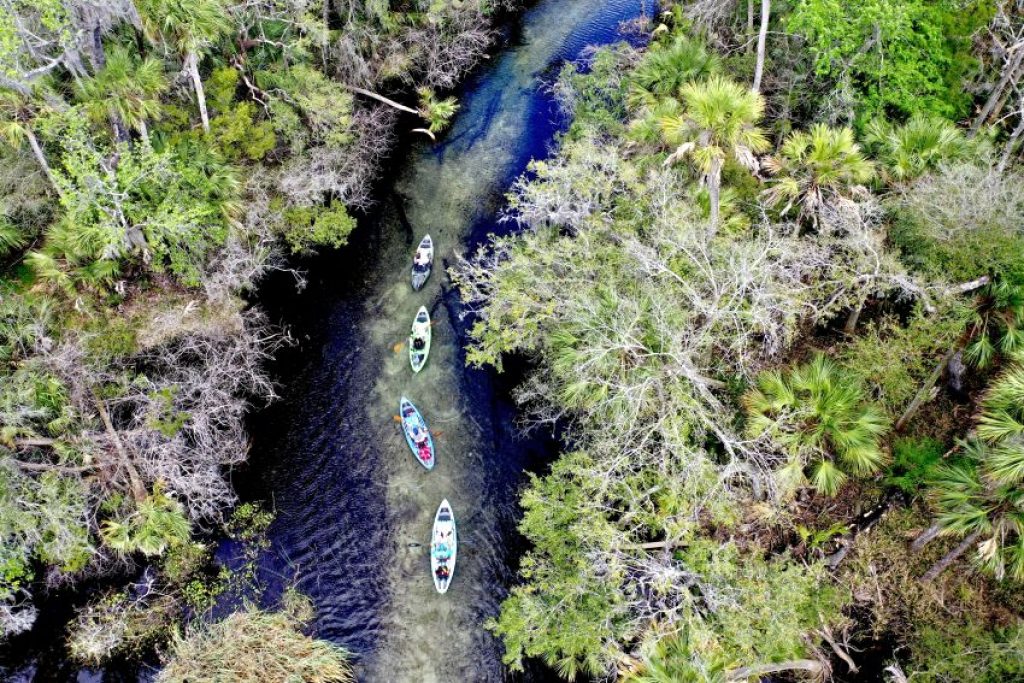 The hull design allows the CK1 Venture to have a significant amount of 'play' that really equals out to a much better overall performance in terms of maneuverability.
The boat may actually feel a bit odd at first, but once you get used to it, you'll begin to really appreciate the hull design and its ability to give you outstanding tracking and turning ability, as well as great capacity.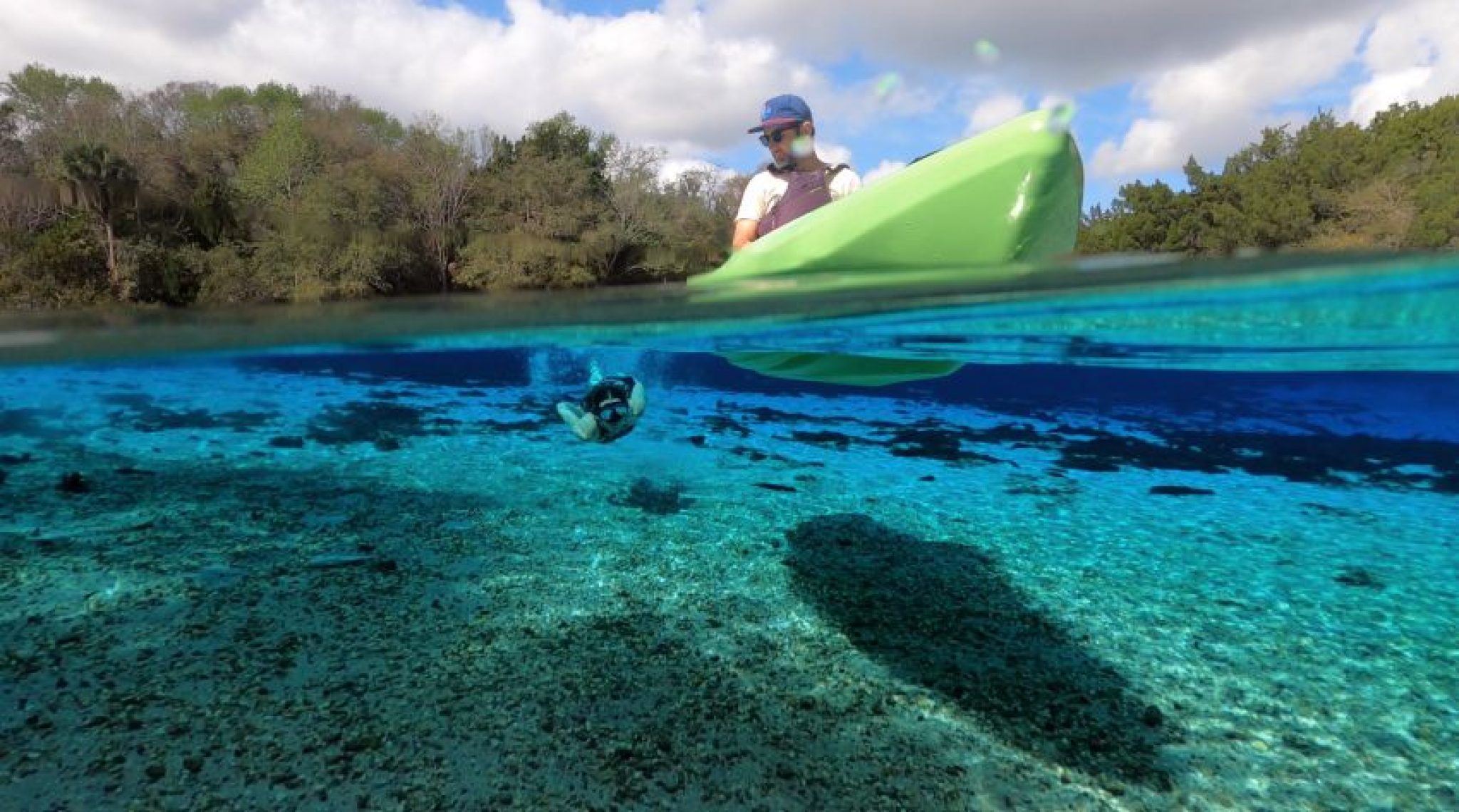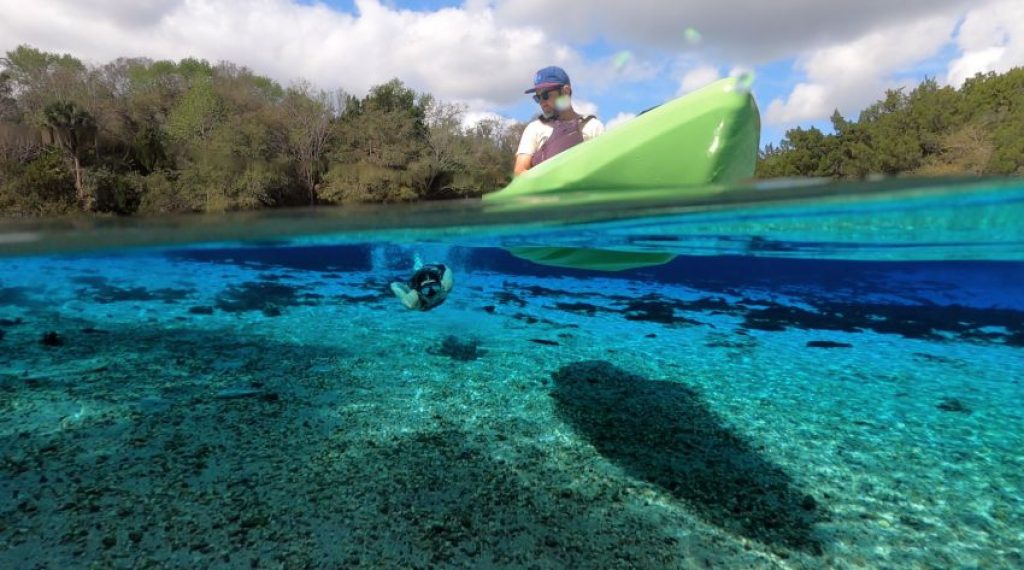 Derbecker noted that the CK1 Venture is a kayak that you might have to get used to before you can truly appreciate the hull design and its performance. I would certainly agree with that as I felt myself trusting the CK1 Venture more and more as I paddled, turned, and stood to fish during my test run.
"People really grow with our kayaks and they will understand the boat more over time and how they can get better performance out of it," says Derbecker.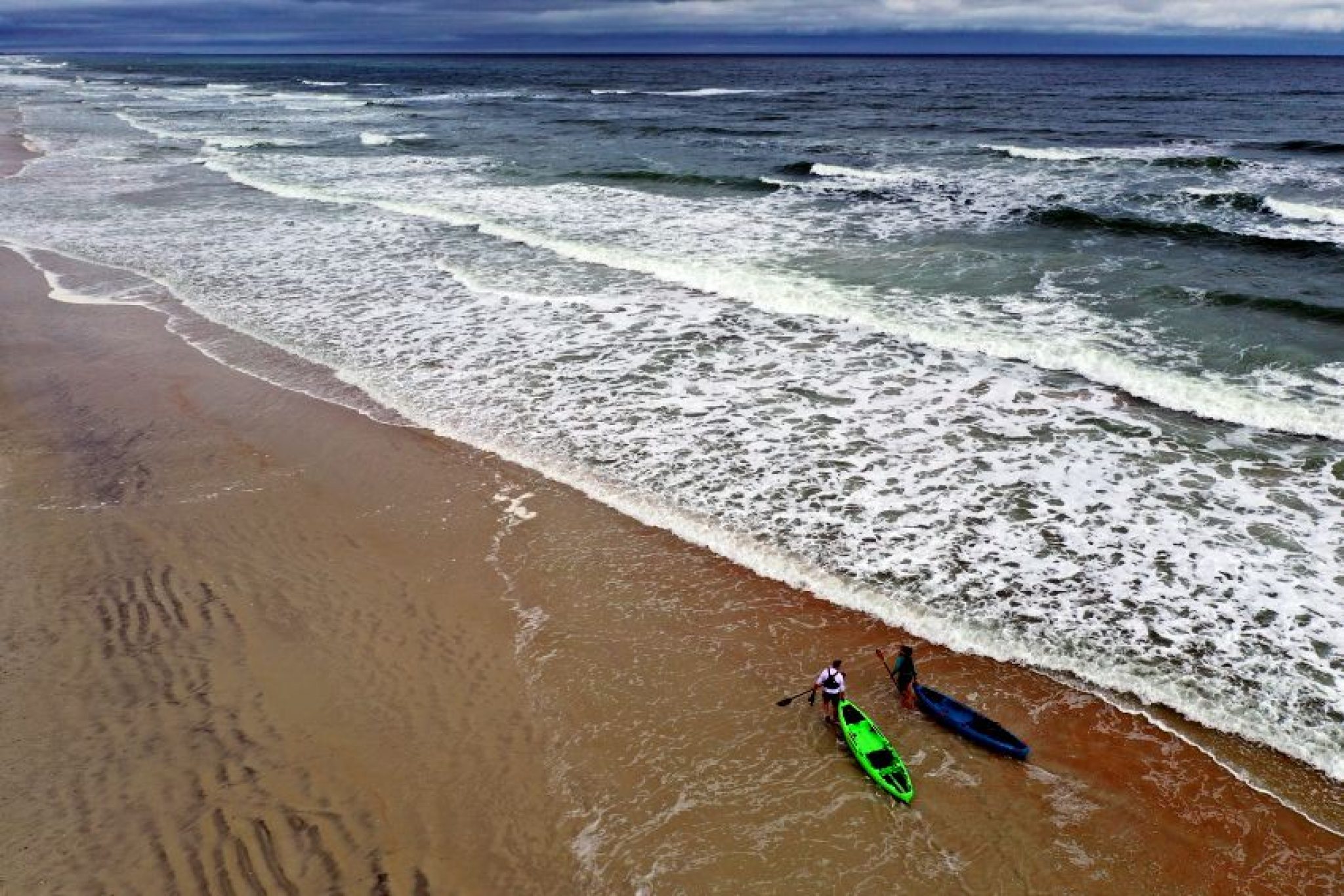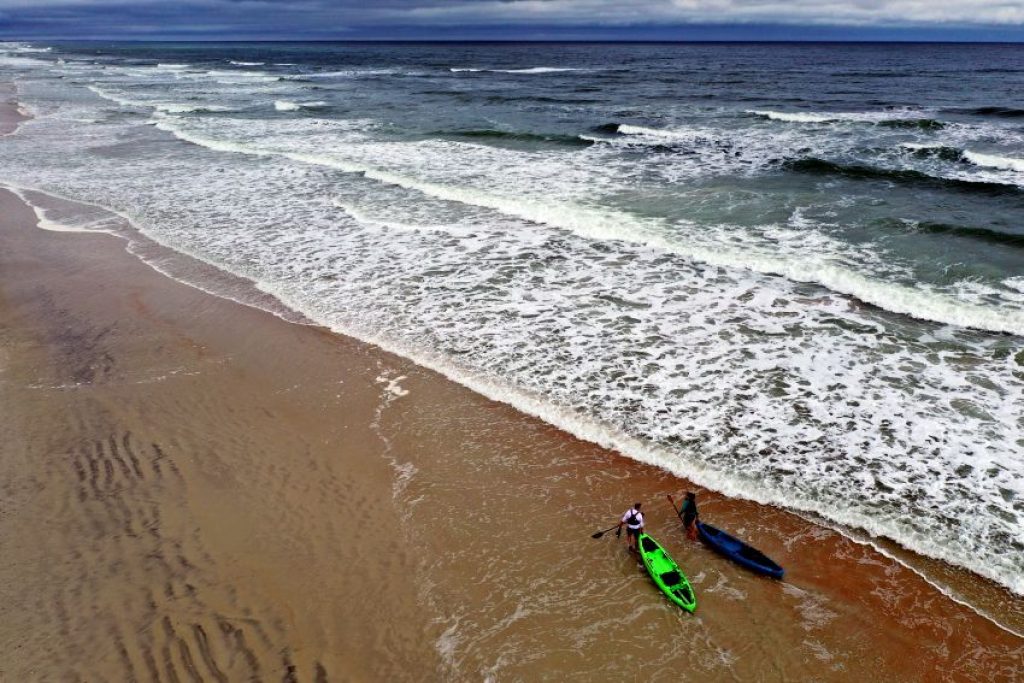 The CK1 Venture has a lot of rocker, which means you can ride above the choppy waves instead of trying to plow through them. This makes it an excellent option for users who like to spend time on rivers or the ocean as it thrives in unstable water.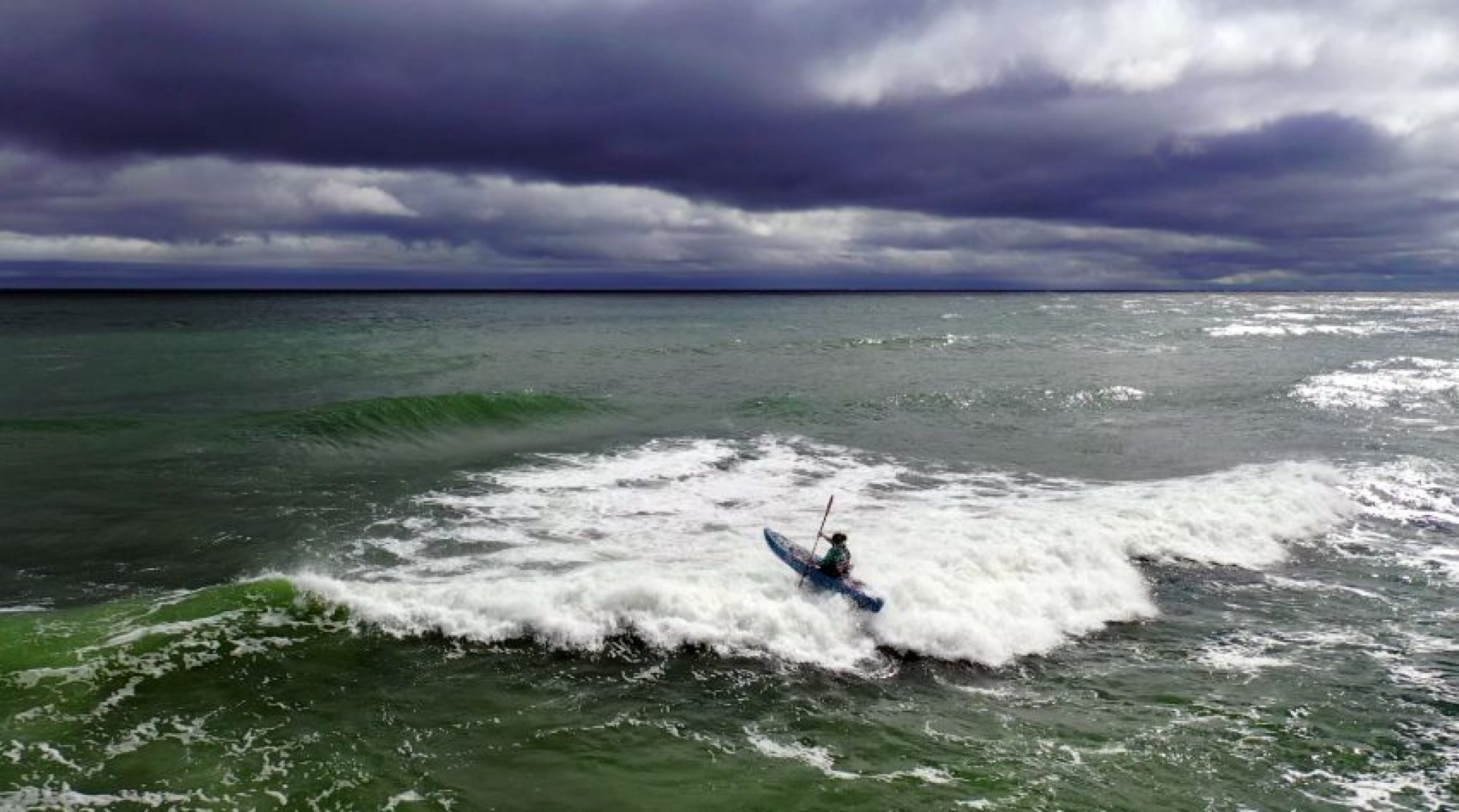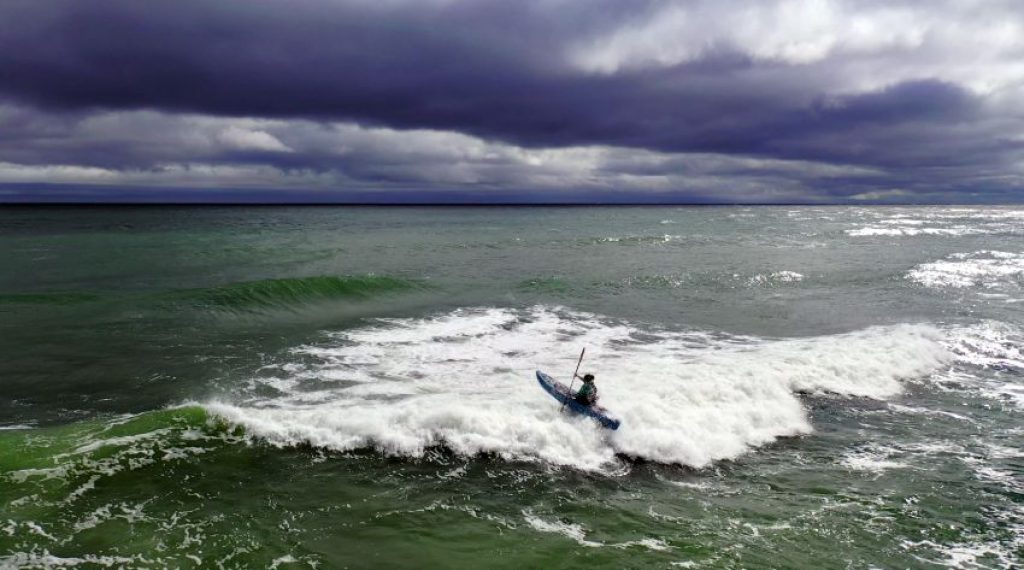 Fans of the Crescent brand will be pleased to know that the CK1 Venture features Crescent's signature molded full-length keel, which helps give this model excellent tracking. The kayak is also stackable, which means you can easily fit two or more kayaks together in the bed of a truck or on a trailer.
The kayak is designed with a platform-based system with an emphasis on paddling performance. This means you can pack along a large amount of fishing gear, bring a kid with you, or load the kayak with camping equipment without having to worry about how the extra weight will affect the kayak's stability, tracking, and maneuverability.
One of the great things about having 400 pounds of total capacity is that the kayak will become even more stable as more weight is added to it since the extra weight will cause it to rely more on its secondary stability.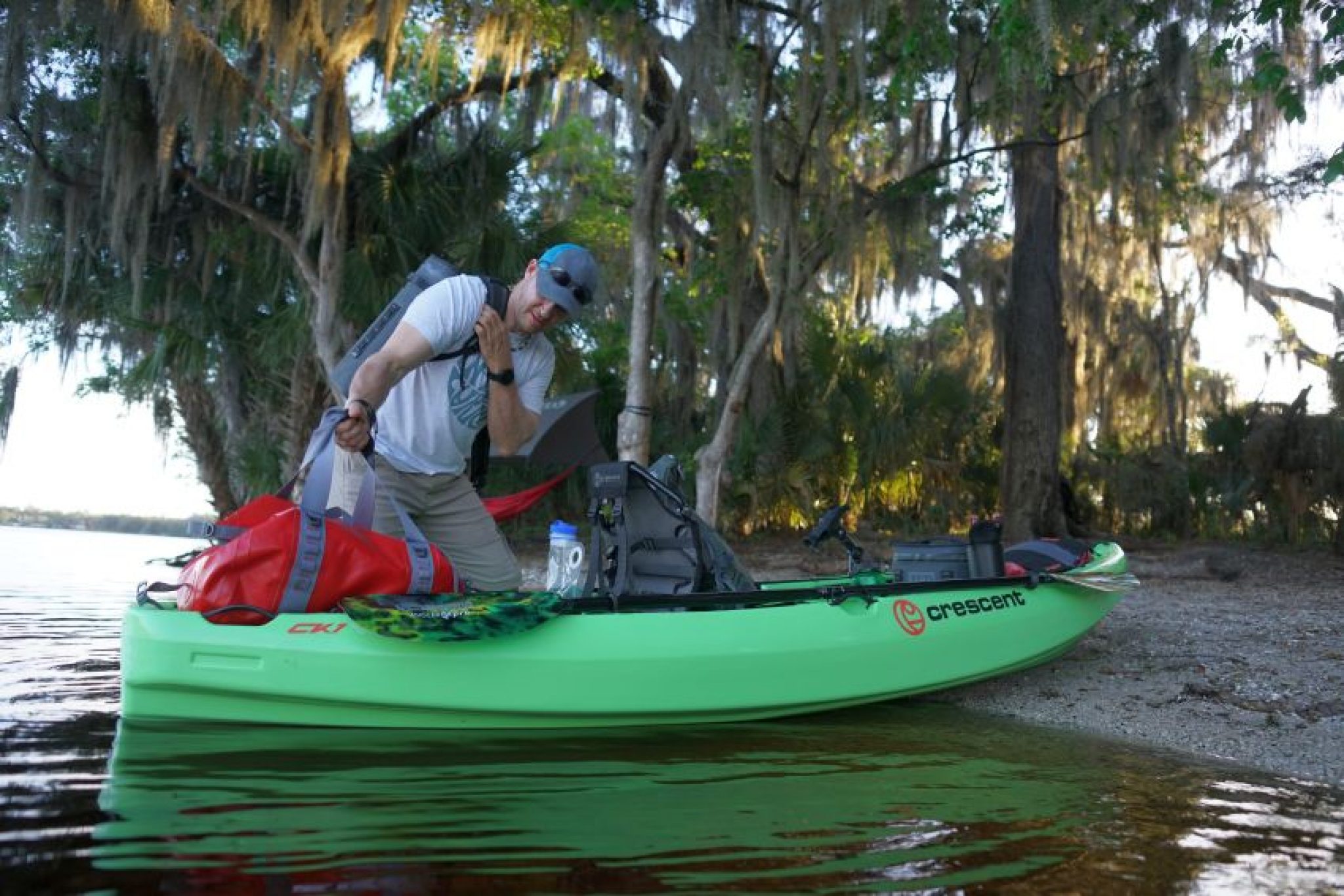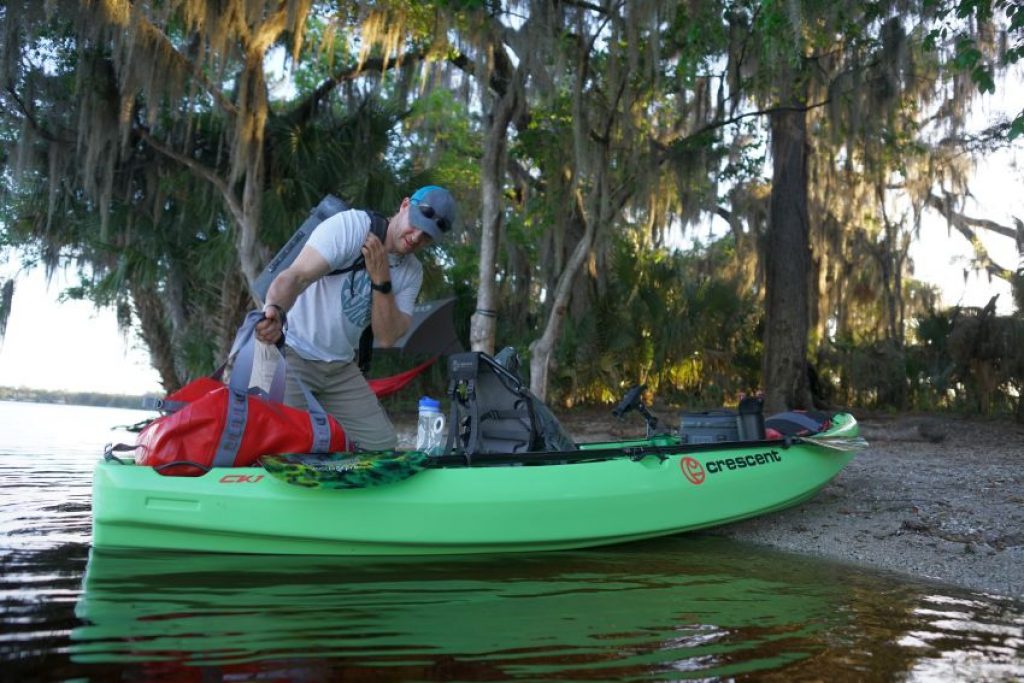 Performance
The CK1 Venture is an incredibly agile boat for it's actual size and shape. I found it to be very responsive to each paddle stroke and this is definitely not a kayak that you'll have to struggle with in terms of turning and tracking. After spending a day on the water with this kayak, I was impressed. My first outing with the boat only managed to pique my interest in seeing just what the CK1 Venture could handle when it comes to the rolling waters of a fast-moving river or the crashing waves of the coastal waters around the gulf.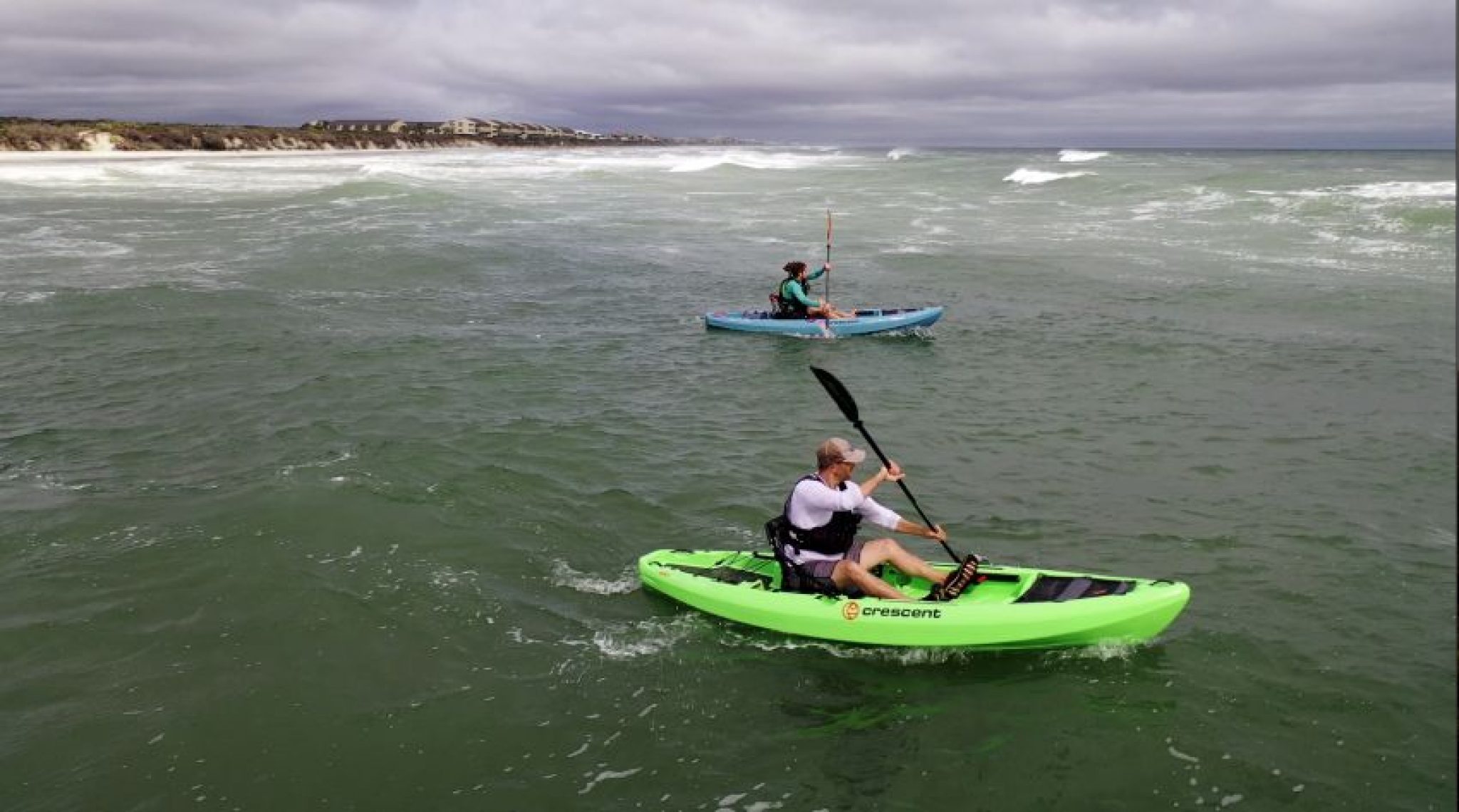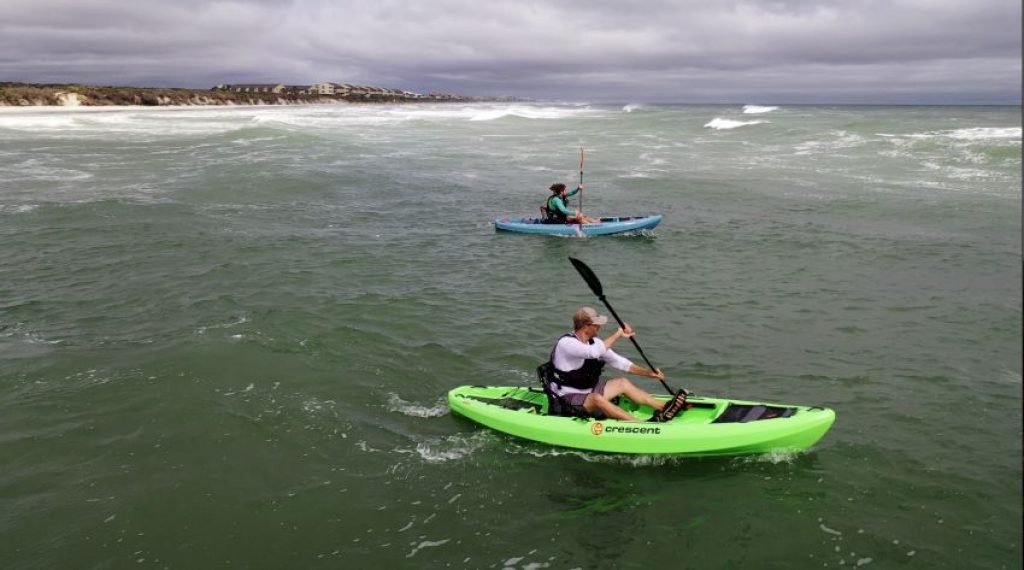 Stability
The hull design is shaped in a way that provides an exceptional amount of secondary stability and a relatively low amount of primary stability. It may feel like it doesn't offer the same amount of overall stability as some other models on the market, but it's actually quite difficult to flip the boat over and anglers will have no problem maintaining solid footing while standing and fishing.
Upon first launching, I half expected the kayak to struggle when I stood up since I'm not exactly a lightweight at just under 220 pounds. I was surprised to find that the boat does indeed offer a ton of secondary stability that makes up for any initial concerns.
The hook-set test also showed that the CK1 Venture performed as expected and anglers will have no problem when they need to really put their body weight into setting the hook on a large fish.
If you're used to a kayak that is made to deliver a high amount of primary stability, this one might take a bit of getting used to before you'll feel totally comfortable standing and fishing. Once you learn to trust that CK1 Venture, you'll find out what it's really capable of.
Speed & Tracking
It's quite unusual to find a kayak that has great tracking and speed in a wide, 11' frame. The boat does not have the same quick acceleration that most others are known for, but it does allow for a bit more top end speed. The tracking is also much better than you might expect thanks to the full-length molded keel.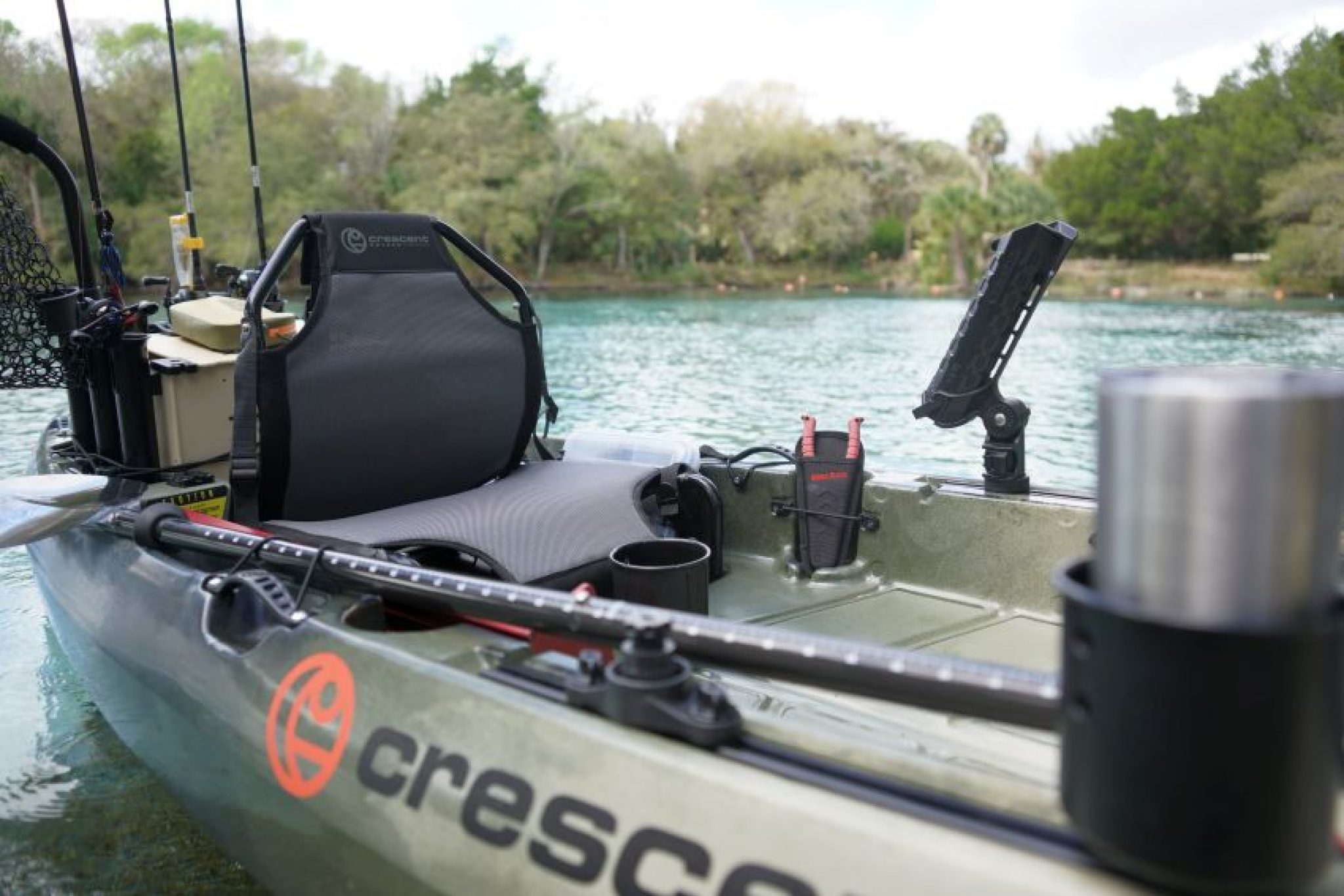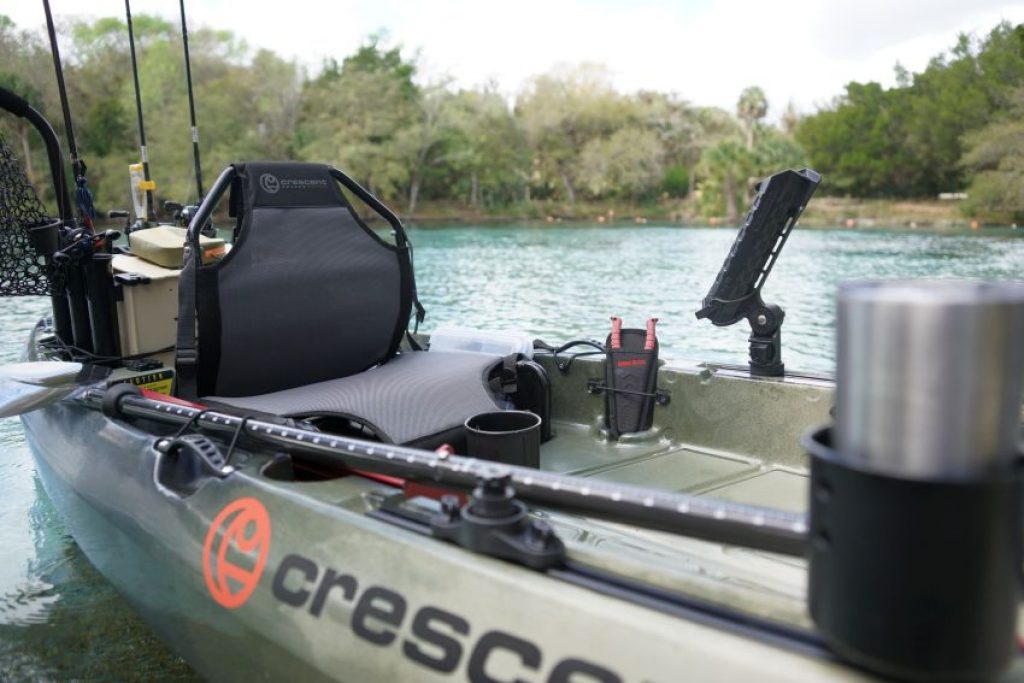 The main reason users can get such great speeds out of the CK1 Venture is that the kayak gives them the ability to lean into each paddle stroke without getting off course. The secondary stability of the boat truly becomes evident when you're paddling hard with this model. I felt like this is a kayak that I could easily cover a decent amount of water with if I needed to.
Agility
I had no problem turning the kayak and trying to make any type of maneuvers that I have found to be difficult with other makes and models. Even when the boat is moving at a considerable speed, the user is able to make quick and sudden turns if needed.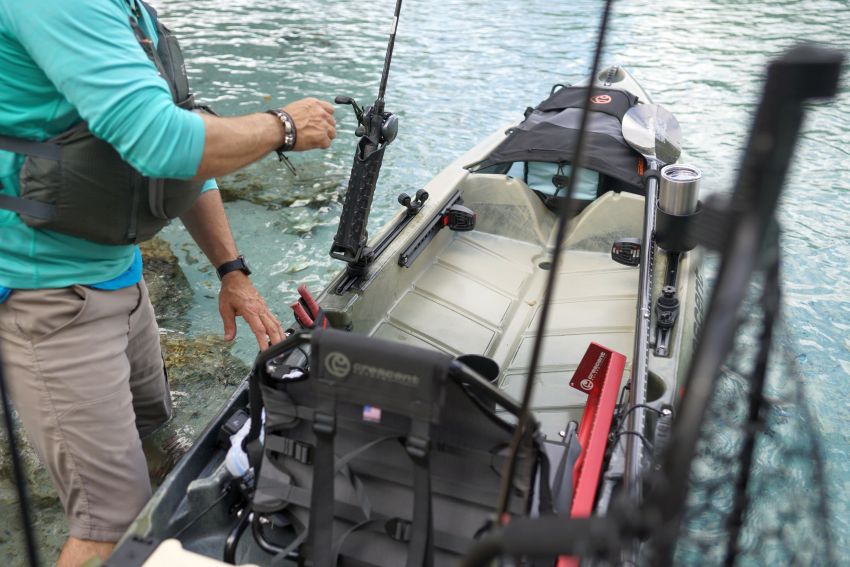 There is no denying that the CK1 Venture has a much more fun and lively feel than other kayaks that are made with a greater amount of primary stability. This model allows users to really feel the kayak's subtle movements over the water and allows one to feel more like the boat is skating across the top of the water instead of being bogged down with each paddle stroke.
Final Verdict
There are plenty of reasons why the CK1 Venture is not your average, run-of-the-mill kayak and many experienced boaters should find this model to be a pleasant surprise. It offers an outstanding amount of customization and can serve as a capable option for paddling across any type of fresh or saltwater environments.
It offers a number of great new and improved features that are just what most users are looking for in a lightweight model that can easily be cartopped or carried in a truck bed. Additionally, owners will have a lifetime warranty on this and any other Crescent model kayak they purchase.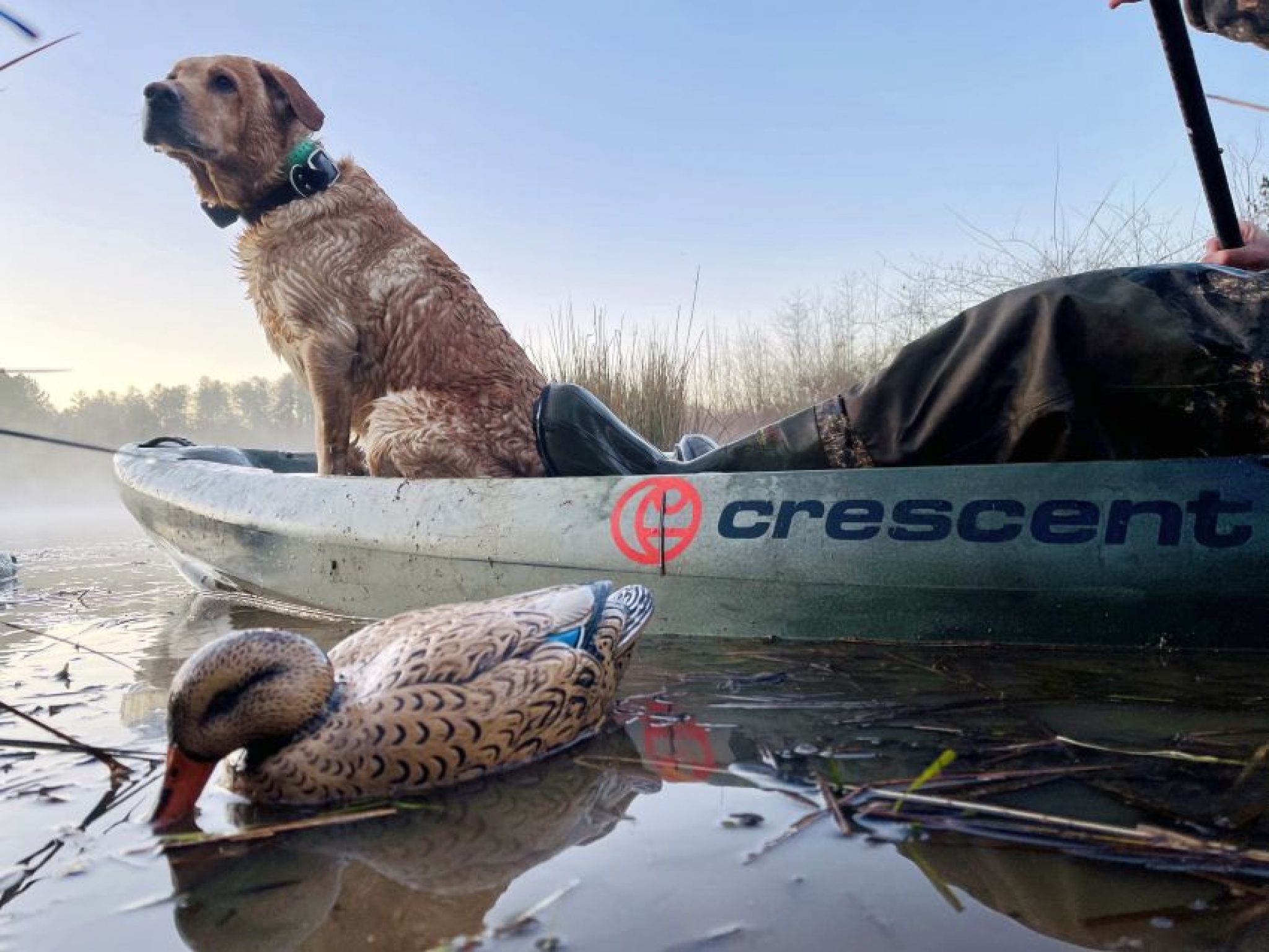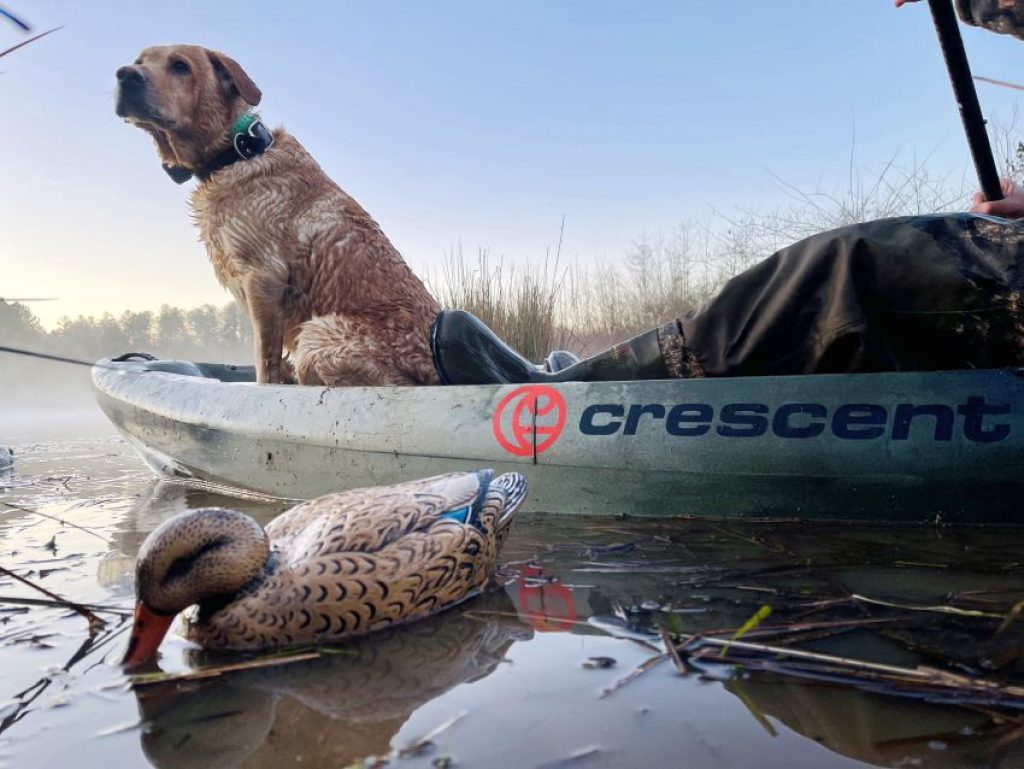 When asked about what it was that truly sets the CK1 Venture apart from other kayaks on the market today, Derbecker pointed to the boat's design and the fact that it enhances the overall paddle-ability of this model.
"Our main focus is always to connect paddlers with nature in a kayak they can rely on," says Derbecker. "It's a kayak that users can grow into as their skill progresses and enjoy across all types of waterways for years to come."
Additional information
Specification:
Crescent CK1 Venture
| | |
| --- | --- |
| Width (in) | 34 |
| Weight (lb) | 60 |
| Load Capacity (lb) | 400 |
| Hull design | Flat bottom with full-length keel |
| Self-bailing | Yes |
| Cockpit type | sit on top |
| Technology | rotomolded |
| Propulsion | paddle |
| Crew | 1 |
| User Level | Advanced, Beginner, Intermediate |
| Intended Use | Day touring, Fishing, Recreation |
| Water type | Big lakes, bays, Slow rivers (Class I-II), Small lakes, Surf |
| Seat | Removable framed seat with adjustable meshed backrest |
| Front tank well | Yes |
| Rear tank well | Yes |
| Tackle box holders | 2 |
| Paddle holders | 2 |
| Footrests | adjustable |
| Warranty | 1 year warranty against faulty workmanship and defective materials. Limited lifteme warranty on the hull. |