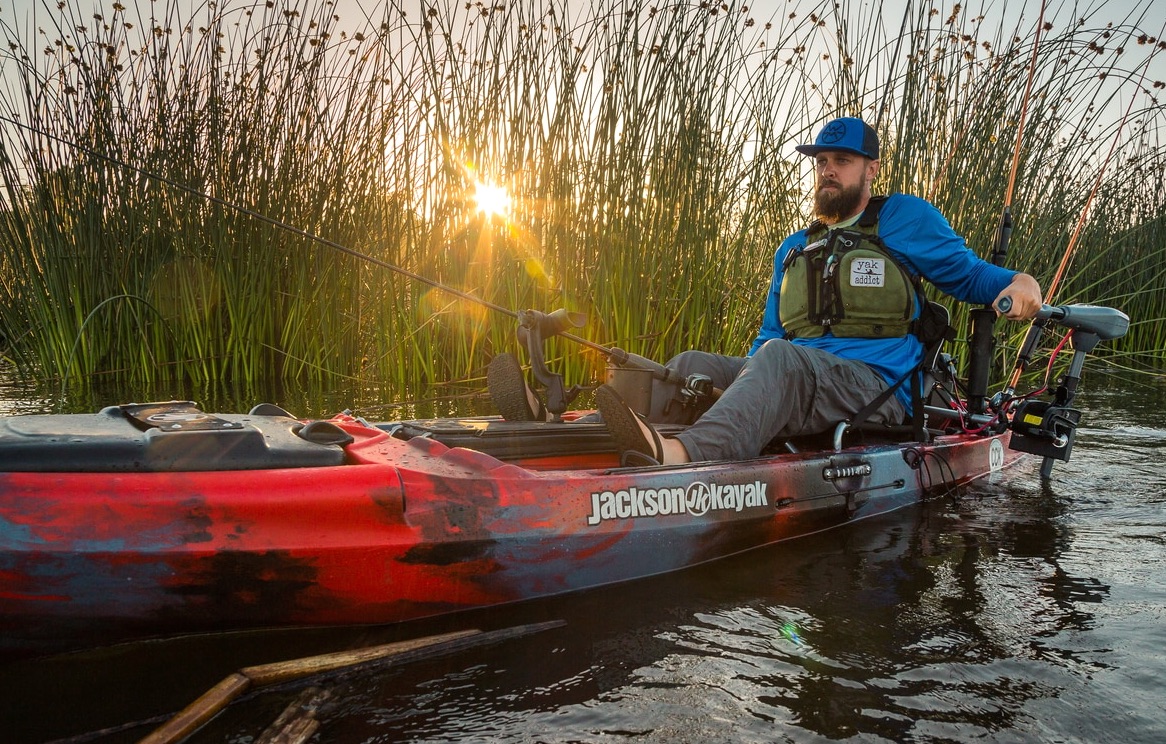 (featured image credit: https://newportvessels.com)
Having a trolling motor on your kayak greatly increases the range of water you're able to fish and, best of all, you have to put very little effort in getting to the best fishing spots on any given lake or river.
If you're looking to add a trolling motor to your kayak, we've put together a list of the best trolling motors for fishing kayaks.
Quick Answer: Best Kayak Trolling Motors in 2022
Newport Vessels NV-Series 36
Minn Kota Endura C2 30
Watersnake T18S 24-Inch
Cloud Mountain 8 Speed Trolling Motor
Haswing Osapian
Seamax 12V PowerMax
Watersnake FWDR44-48 Shadow
---
Newport Vessels 36-Pound Thrust 8-Speed Electric Motor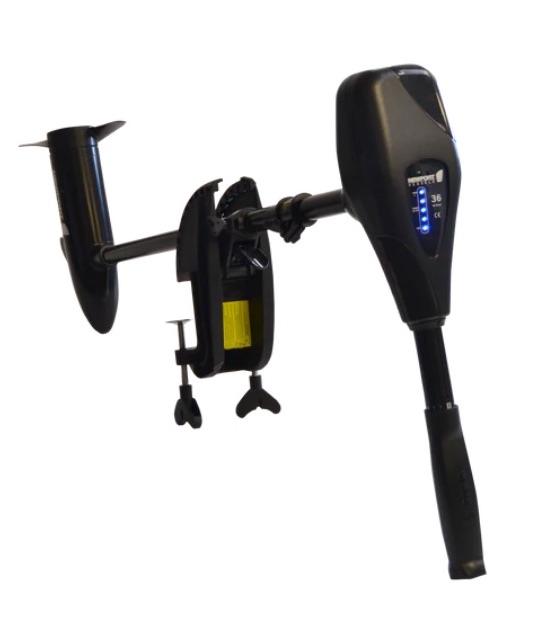 Shaft Length: 30″
Voltage: 12V
Max Thrust: 36 lb
This trolling motor is perfect for both freshwater and saltwater use as the Newport Vessels NV-Series 36 is capable of handling both. Users report that this trolling motor is quieter than many other models while still offering 36 lbs of thrust.
The trolling motor features 5 standard forward speed options and 3 reverse speed settings, which helps to maintain consistent speeds for anglers who like to troll for specific types of fish. The Newport Vessels NV-Series is lightweight, which is ideal for kayak fishing.
One of the only downsides to this trolling motor is that it might lack the durability that some other models have as it is composed of a composite fiberglass shaft instead of aluminum. It features a 6-inch telescoping handle that's ergonomic and easy to grip, as well as a built-in battery life indicator which helps users keep track of how fast their power is being used.
This motor is also available in 46 lb, 55 lb, 62 lb, and 86 lb thrust versions.
What we like:
Saltwater rated
Lightweight
Battery life indicator
Quiet operation
What we don't like:
See Newport Vessels NV-Series 36 on Amazon
---
Minn Kota Endura C2 30 Freshwater Transom Mounted Motor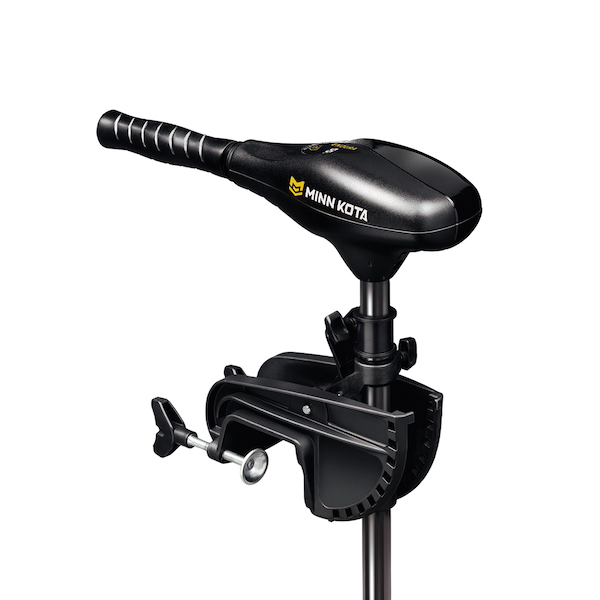 Shaft Length: 30″
Voltage: 12V
Max Thrust: 30 lb
This transom-mounted motor is powerful enough to propel any size kayak for several hours without draining the battery. While it has only 30 lbs of thrust, it is perfect for anglers who are less concerned about speed and more interested in getting the benefits of using a trolling motor with their kayak. Its 3 ¼" propeller diameter helps give this motor extra power despite having less thrust than most premium brands.
It has a 30-inch shaft and can easily be adjusted to fit a wide variety of kayak models. It offers five forward speed settings and three different reverse speeds. One of the most popular characteristics of the Minn Kota Endura C2 30 is that it is much quieter than most other models, making it ideal for anglers who prefer stealth over power and speed.
What we like:
Quiet operation
Good battery life
6-inch telescoping tiller
What we don't like:
See Minn Kota Endura C2 30 on Amazon
---
Watersnake T18S 24-Inch Asp Motor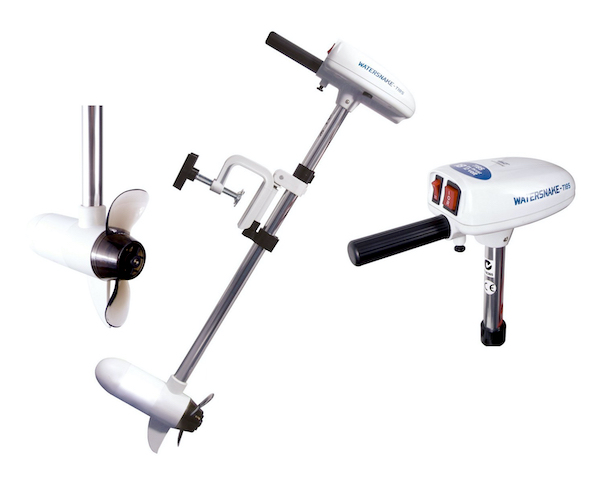 Shaft Length: 24″
Voltage: 12V
Max Thrust: 18 / 24 lb
For compact kayak owners, using a large trolling motor with a high level of thrust just doesn't make sense. The Watersnake T18S 24-Inch Asp Motor is the perfect choice for kayaks that are considered compact or lightweight. This trolling motor weighs just under 5 lbs, which means it is very easy to transport along with other gear.
While it only offers up to 24 lbs of thrust, this trolling motor has enough power to get most kayaks around any body of water with relative ease. It is extremely durable thanks to its alloy shaft construction. Users report that this trolling motor certainly earns its namesake since it is quiet and stealthy in the water, much like a watersnake.
It offers high or low forward speed settings and one reverse speed. The extended ergonomic handle makes this model very easy to steer or raise up out of the water when it's necessary to avoid debris or structure that might otherwise damage the propeller.
What we like:
Solid, durable construction
Extremely quiet
Lightweight
Compact design
What we don't like:
---
Cloud Mountain 8 Speed Trolling Motor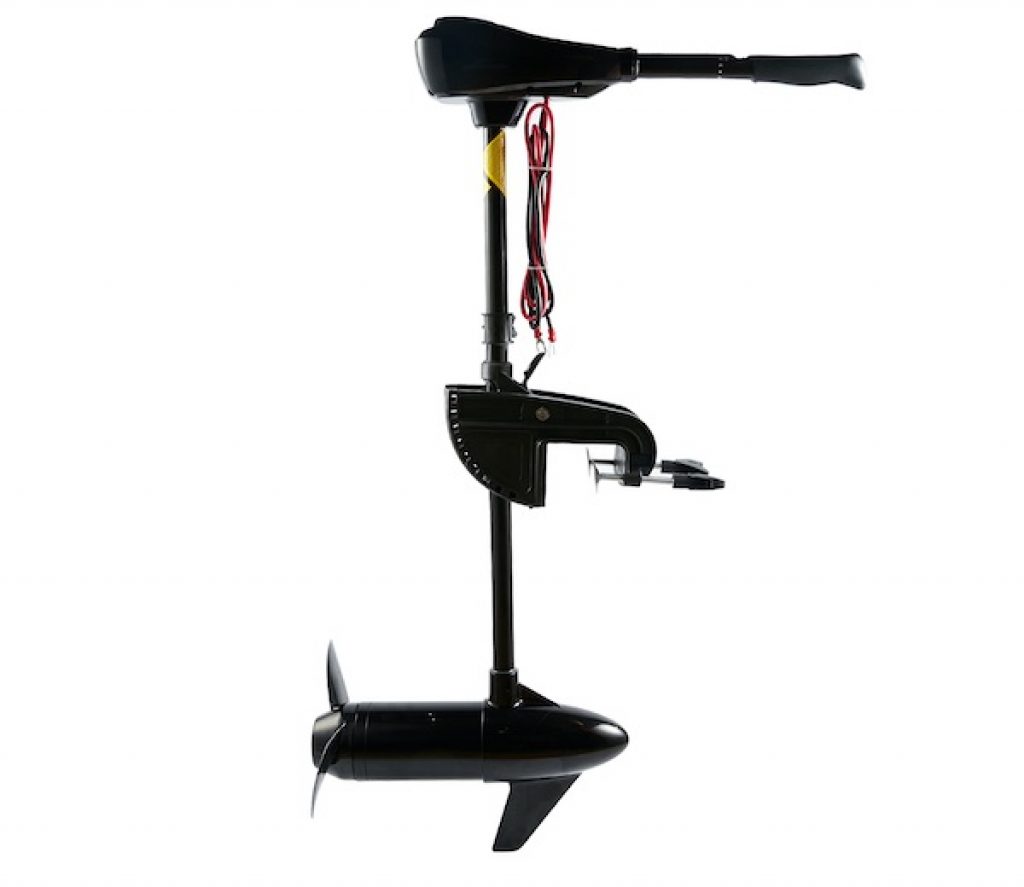 Shaft Length: 28″
Voltage: 12V
Max Thrust: 36/40/46/50/55/60/86 lb
The Cloud Mountain 8 Speed Trolling Motor is among the most popular for kayak fishing enthusiasts for a number of reasons. It's rated for use in both freshwater and saltwater, and is made with several premium features, including 5 different forward speed settings and 3 reverse speeds.
This trolling motor is available in thrust ratings of 36 lbs up to 86 lbs, which might be considered overkill for most kayaks. It's not quite as stealthy while in operation like some of the other models on our list, but the Cloud Mountain 8 Speed is functional enough to work with kayaks.
Many users report that this would easily be one of the best trolling motors for kayaks if it were constructed with better mounting brackets and offered a shaft that was made of stronger material, but the Cloud Mountain 8 Speed's versatility and overall control options make it one that will appeal to most kayak anglers.
What we like:
Saltwater rated
Great speed and power
Smooth operation
What we don't like:
Lacks durable components
Heavier than most models
Louder than some other motors
See Cloud Mountain 8 Speed Trolling Motor on Amazon
---
Haswing Osapian Electric Kayak Trolling Motor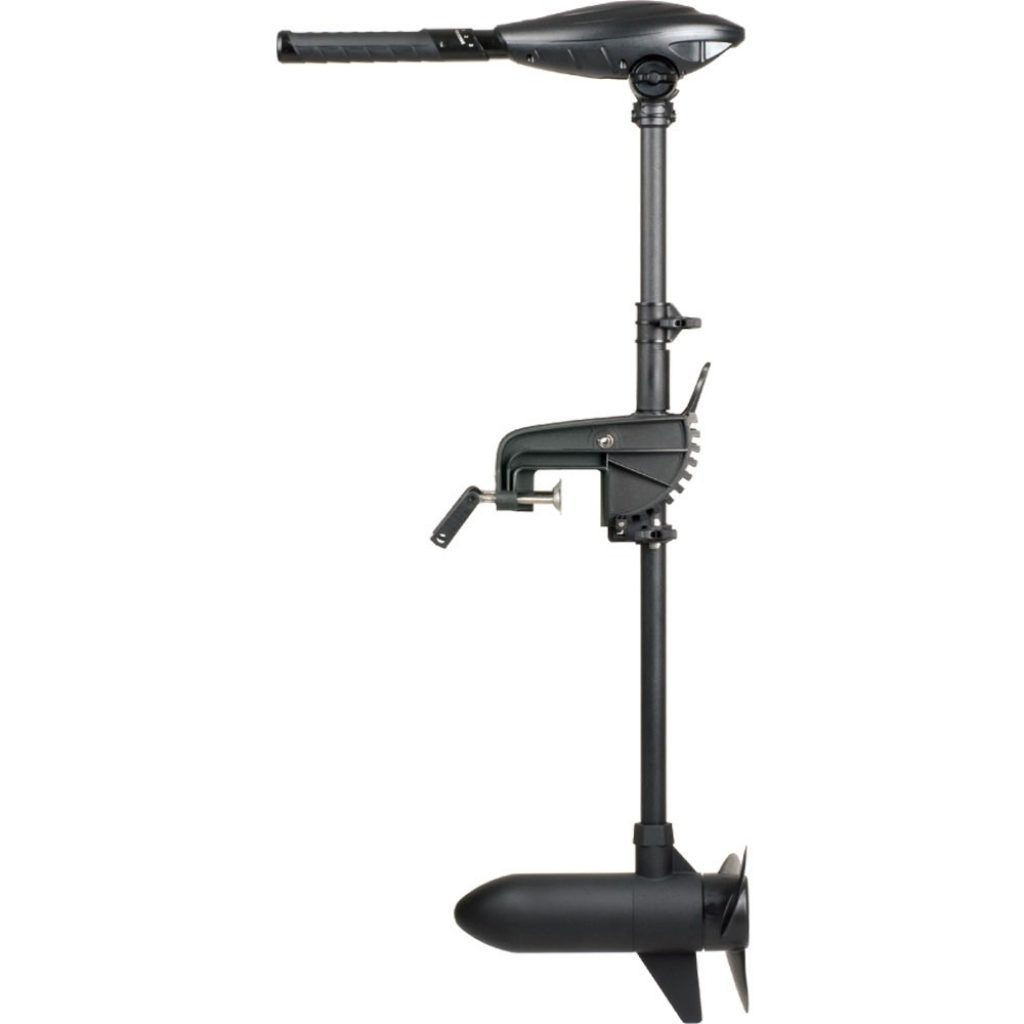 Shaft Length: 36″
Voltage: 12V
Max Thrust: 55 lb
The Haswing Osapian kayak trolling motor is especially popular due to the fact that it's virtually maintenance-free and has excellent battery life. This particular model was developed by Haswing to have less motor usage with more service life, meaning users will get many good years from this trolling motor if it's taken care of properly.
The Haswing Osapian is very easy to adjust and steer while moving, which is a welcome trait for users who are familiar with the headaches of complex trolling motor systems. This motor allow users to adjust into a particular level of speed and control, which can greatly reduce the level of power usage when you need to preserve battery life.
Once mounted, this motor can be adjusted to sit at up to a 100-degree angle and it can easily be lifted up while moving to avoid underwater structures or debris that might typically damage a trolling motor.
The Haswing Osapian offers 55 lbs of thrust and operates on a 12V battery. It has 24.4 inches of adjustable shaft height and can also easily be adjusted using a quick locking system should the user decide.
What we like:
Ergonomic handle
Dial up speed and control
Adjustable height and angle
Aluminum alloy shaft
What we don't like:
Battery life is sometimes less than advertised
Louder than other brands
---
Seamax 12V PowerMax 2HP Brushless Trolling Motor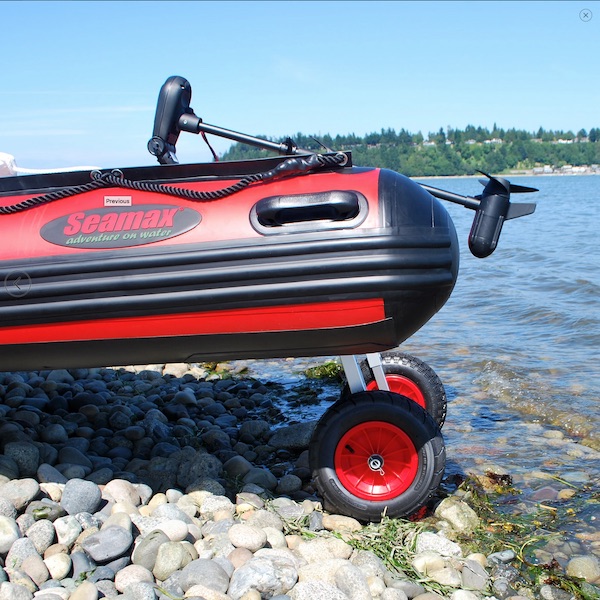 Shaft Length: 35″
Voltage: 12V
Max Thrust: 65 lb
This brushless trolling motor has an overall length of 35 inches and offers 65 lbs of thrust, which is enough to get full-size kayaks anywhere an angler needs to go on the water. The Seamax 12V PowerMax is surprisingly quiet for its overall propeller diameter and thrust.
This motor offers an extended handle that allows users to have a greater amount of control without having to twist and turn in their kayak to steer or lift the motor out of the water to avoid debris or underwater structure.
Its extremely lightweight design means this motor helps an already fast kayak have excellent speed and control with less drag. This model is especially popular as it is capable of withstanding saltwater conditions without risk of corrosion.
It offers a stepless speed control system that allows users to easily adjust the level of speed they want, as well as keep track of their battery life thanks to a built-in power monitor. It's recommended that this trolling motor be used with a marine deep cycle battery. Best of all, the Seamax 12V PowerMax comes with a 2-year warranty.
What we like:
Saltwater rated
Quiet operation
Battery-life monitor
Extended handle
What we don't like:
Lower battery life than advertised
See Seamax 12V PowerMax on Amazon
---
Watersnake FWDR44-48 Shadow Bow Mount Foot Controlled Motor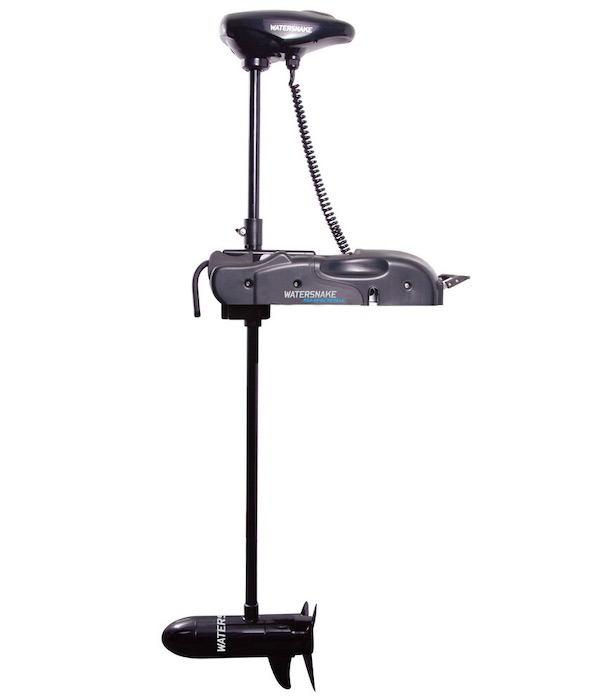 Shaft Length: 48″
Voltage: 12V
Max Thrust: 44 lb
Nothing is more convenient than a hands-free operating system when it comes to kayak fishing. The Watersnake FWDR44-48 Shadow is easily one of the best trolling motors on the market in 2022 for kayak fishing thanks to its seamless foot-pedal operation and versatility. 
This trolling motor's 48-inch shaft is slightly too long for most kayaks compared to other trolling motor models, but it offers 44 lbs of thrust, which is more than enough to power it across any body of water. It is said to be very quiet, which is also extremely important when it comes to kayak fishing.
The shaft is constructed from corrosion-resistant composite material, which isn't as durable as some other models. Best of all, Watersnake offers a satisfaction guarantee with this model.
What we like:
Hands-free operation
Smooth propeller operation
Optimal power
What we don't like:
Freshwater use only recommended
See Watersnake FWDR44-48 Shadow on Amazon
---
What to Consider When Buying A Kayak Trolling Motor?
Whether you're looking to get a kayak trolling motor to decrease the amount of physical exertion required to get to your favorite spot, or if you're an accomplished kayak angler looking to take their performance to the next level in one of the many kayak fishing tournaments throughout the world, having a trolling motor is a true gamechanger.
It's best to keep a number of specific characteristics in mind when shopping for a trolling motor.
Construction and Composition
Having a trolling motor that's well-made from quality materials will go a long way to ensure that your motor works properly and doesn't incur damage easily, especially if you're a dedicated angler who spends lots of hours on the water each month. Look for trolling motors that are made of stainless steel or aluminum alloy material to get the most durable product available.
These materials might be heavier than composite or other motor models, but it ensures that you'll get more life out of your trolling motor and likely smoother operation.
Battery Power
Regardless of the features on your kayak trolling motor, if you don't have it connected to a quality battery, you won't be able to enjoy its full potential. Using a cheap battery will mean risking battery failure or overall lack of power when it counts.

Nearly all trolling motors that are designed for kayak use operate on a 12V battery, which is typically more than enough juice to get you where you want to go on any body of water when kayak fishing. When shopping for a trolling motor, it's smart to look for models that offer a battery life indication system which will help you keep track of your battery life and avoid having to paddle long distances in the event your charge runs out.
Thrust
Most novice anglers assume that having a trolling motor with more thrust means their kayak will travel faster than one that offers less thrust. This is not always true, but it's best to go for a higher amount of thrust if you're using a larger, heavier kayak as opposed to a lightweight, compact model. Your trolling motor's speed capability is directly tied to its propeller pitch.
Mounting
Having a trolling motor that uses universal mounts or brackets will usually work with nearly any kayak, but you'll get better performance from having a trolling motor that's properly mounted to your kayak using a bracket system. There are a few reputable companies that make trolling motor mounts for kayaks and having one can make all the difference in great performance and poor output.
Shaft Length
Most anglers never worry about shaft length with full-size boats unless they're aiming to make sure the propeller is well under the water surface. Kayaks have a much lower profile, which means you'll need to be more concerned with having a shaft that's too long and might put you at risk of hitting underwater structure and damaging your motor. When shopping for kayak trolling motors, it's usually a good idea to stick to a shorter shaft when possible.
Corrosion Resistance
If you ever plan to use your kayak trolling motor in saltwater, you'll certainly need to make sure you're using a model that's saltwater rated. These types of motors are built to withstand the corrosion levels that are common with saltwater usage. It's recommended to look for a saltwater rated motor in general because these are typically made to a higher standard than freshwater-only models.
Comparison Table: Best Kayak Trolling Motors in 2022
Picture
Model
Specs
Price
Newport Vessels NV-Series 36
Shaft Length: 30″
Voltage: 12V
Max Thrust: 36 lb
Check on Amazon
Minn Kota Endura C2 30
Shaft Length: 30″
Voltage: 12V
Max Thrust: 30 lb
Check on Amazon
Watersnake T18S 24-Inch
Shaft Length: 24″
Voltage: 12V
Max Thrust: 18 / 24 lb
Check on Amazon
Cloud Mountain 8 Speed Trolling Motor
Shaft Length: 28″
Voltage: 12V
Max Thrust: 36/40/46/50/55/60/86 lb
Check on Amazon
Haswing Osapian
Shaft Length: 36″
Voltage: 12V
Max Thrust: 55 lb
Check on Amazon
Seamax 12V PowerMax
Shaft Length: 35″
Voltage: 12V
Max Thrust: 65 lb
Check on Amazon
Watersnake FWDR44-48 Shadow
Shaft Length: 48″
Voltage: 12V
Max Thrust: 44 lb
Check on Amazon