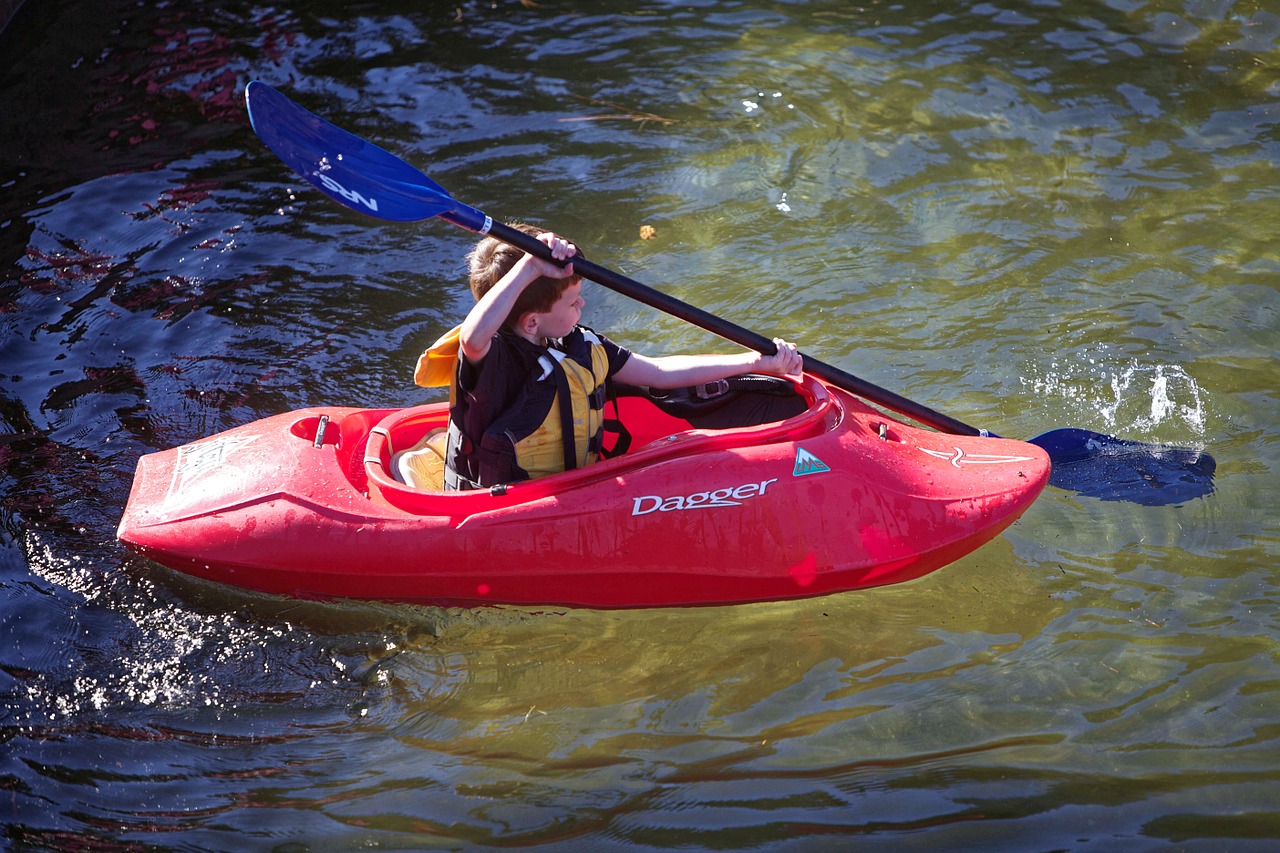 Kayaks are awesome when they're on the water. Sometimes though, when we're lifting them about and moving them at the start and end of the day, they just feel like big, unwieldy lumps of plastic.
This is even more of an issue if you're someone who often has to move the boat on their own, or needs to store it up high. Let's face it, sometimes it's nice to have a light boat.
So here's our rundown of the best lightweight kayaks for 2021, complete with a buyer's guide for what to look out for, and how to decide whether light weight is the ultimate way to go.
---
Our Picks: The Best Lightweight Kayaks in 2021
Intex Challenger K1 – 27.2 lb (12.3 kg)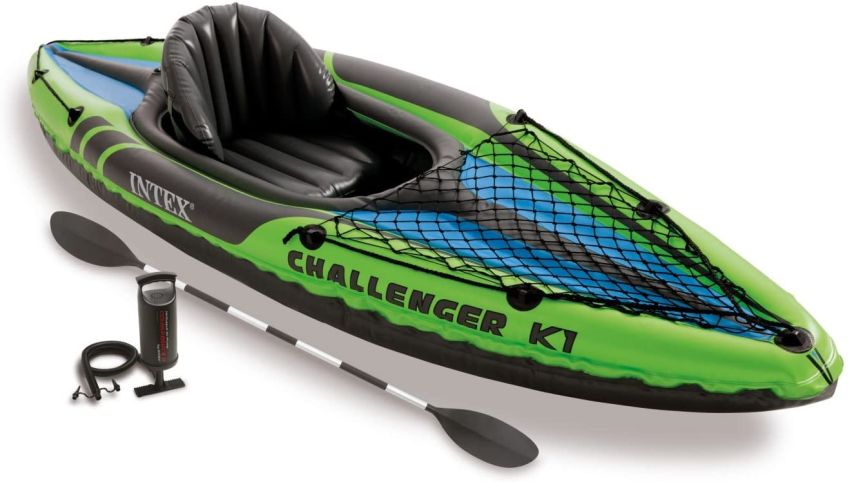 Length: 9' (274 cm)
Width: 30" (76 cm)
Weight: 27.2 lb (12.3 kg)
Capacity: 220 lb (99.8 kg)
Intex Challenger is probably the most popular entry-level inflatable kayak. Simple, portable, and easy to inflate/deflate, it is a viable option for occasional recreational paddlers looking to save space and money.
The kayak measures 9' (274 cm) by 30" (76 cm) and weighs 27.2 lb (12.3 kg). It packs away nicely in the included carry bag. With the capacity of 220 lb and somewhat limited legroom, it is geared towards smaller paddlers with minimal gear.
RELATED: Best Inflatable Kayaks
Intex Challenger is made from vinyl, which makes it light and compact but not nearly as durable as higher-level inflatable kayaks made from reinforced PVC. Two separate inflatable chambers (plus the inflatable seat) help with safety, but we still recommend staying close to the shore.
Features include a cargo net on the bow for your gear, an inflatable seat with a relatively high back, and a plastic skeg on the bottom that helps it track better. The kayak comes with a hand pump and a 3-piece paddle which you'd better replace as soon as possible.
There is also a tandem version of this kayak, the Intex Challenger K2.
---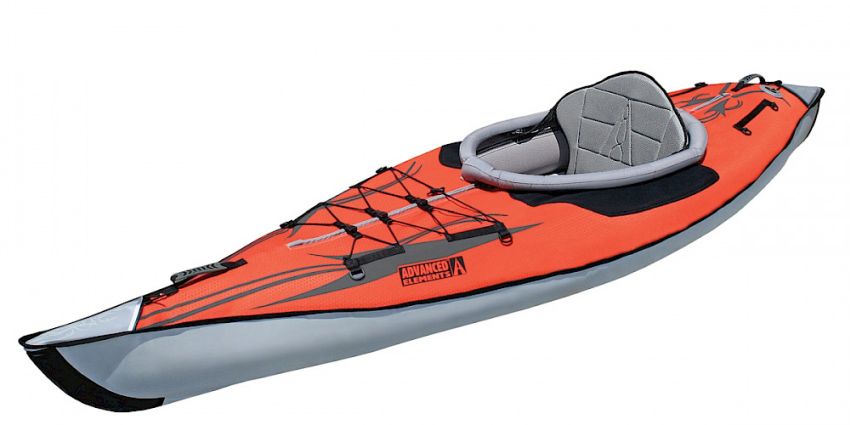 Length: 10'5" (317.5 cm)
Width: 32″ (81.3 cm)
Weight: 36 lb (16 kg)
Capacity: 300 lb (136 kg)
The Advanced Elements AdvancedFrame is a clever design that gives this inflatable some performance characteristics of a hardshell kayak.
Rigid aluminum ribs in the bow and stern form a sharp keel that pierces through the water, ensuring excellent speed and tracking. The reinforced 3-layer PVC material is tough as nails, while multiple air chambers improve safety on the water even if you manage to puncture the hull.
SEE ALSO: Best Kayaks for Kids.
A big advantage of the AdvancedFrame is that the aluminum ribs on the bow and the stern are pre-installed so you don't have to do any frame assembly. Just inflate the air chambers, and you're good to go.
The AdvancedFrame delivers on its promises. It glides through the water seamlessly and can handle some wind and waves. It is stable, fast, and fun to paddle. It is also very comfortable, allowing you to stay on the water for hours.
---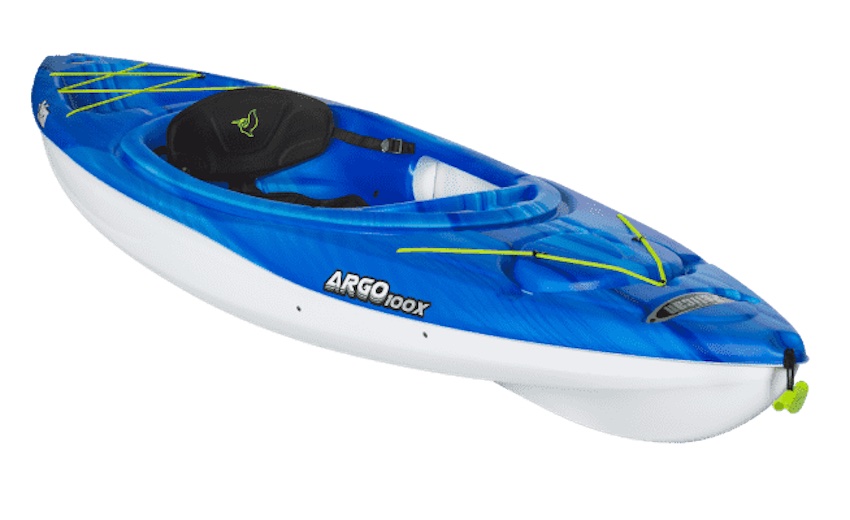 Length: 10' (305 cm)
Width: 28″ (71 cm)
Weight: 36 lbs (16.3 kg)
Capacity: 275 lbs (125 kg)
Pelican Argo 100X is an insanely popular beginner-level kayak, mainly due to its wide availability and great pricing. At 36 lbs (16.3 kg), it is also a very lightweight boat that you can literally grab one-handed and carry around.
At 10' (305 cm), it is a little shorter than the AdvancedFrame above but still offers enough room for an average-sized adult. The Argo's maximum capacity is 275 lbs (125 kg) – not much if you include your clothes, PFD, paddle, and all of your gear. For better performance, it's a good idea to stay within 80 percent of the kayak's capacity, which brings the available capacity down to 220 lbs or 100 kg.
Like most Pelican models, Pelican Argo 100X is made of RAM-X material using thermoforming technology. RAM-X is a three-layer sheet of high-density polyethylene. A sheet of RAM-X is heated up and stretched over a mold using a vacuum. Two parts of the hull are then melted together, creating a strong bond.
Thermoformed kayaks are lighter than rotomolded ones but are considered less durable.
---
Intex Explorer K2 – 30.6 lb (13.9 kg)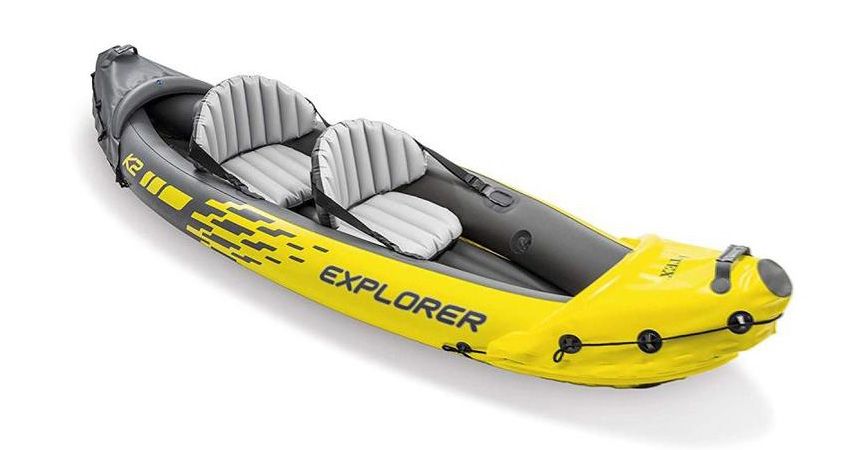 Length: 10'3" (312 cm)
Width: 36" (91 cm)
Weight: 30.6 lb (13.9 kg)
Capacity: 400 lb (180 kg)
This budget 2-person kayak is 10'3" (312 cm) long and 36" (91 cm) wide. It has an open, canoe-like design with small decks on the bow and the stern.
Tipping the scales at 30.6 lb (13.9 kg), the Explorer K2 is rated for up to 400 lb (180 kg). 400 lb is not that much for two people, so it's best suited for smaller paddlers.
The boat is made from vinyl and includes 3 main inflatable chambers (2 sides and the floor). The two inflatable seats are attached with velcro strips on the bottom and side straps that provide back support.
Features include a removable skeg that helps with tracking as well as grab lines and carrying handles on the bow and the stern. The kayak comes with two aluminum-shaft paddles, a hand pump, a repair kit, and a carry bag.
Intex Explorer K2 is best used for short recreational paddles on small, calm bodies of water. Its compact size, lightweight construction, and low price make it an easy first step into kayaking. Whatever you do, do not go far from the shore in it, and always wear your PFDs.
For longer trips, look for models made from reinforced PVC, which is much more durable and puncture-resistant. Also bear in mind that this kayak is pretty short for a tandem, so it provides limited legroom, storage space, and capacity.
---
Driftsun Voyager – 32.5 lbs (14.7 kg)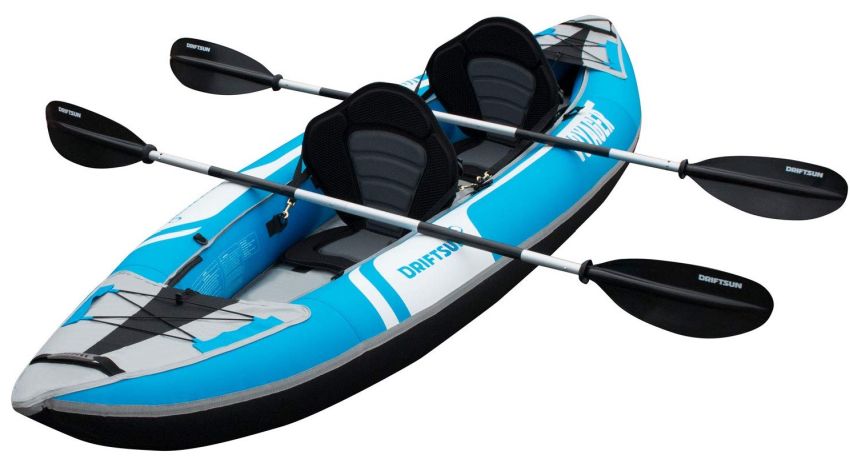 Length: 11'2" (340 cm)
Width: 35″ (89 cm)
Weight: 32.5 lb (14.7 kg)
Capacity: 400 lb (181 kg)
Driftsun Voyager is a budget-friendly 2-person kayak for short recreational trips. At 11'2″ long and 35″ wide, it is a stable platform for relaxed paddling and having fun on the water.
The kayak has a dual-layer construction with air bladders inside 840D coated nylon oxford fabric covers. The heavy-duty PVC tarpaulin bottom protects it from abrasion and punctures. There are three separate air chambers (two on the sides and one on the floor) to increase safety.
The kayak comes with two adjustable padded seats, two aluminum paddles, a double-action hand pump, a carrying bag, and a removable skeg on the bottom to improve tracking. Overall, it's a great package for the price and a fun kayak that can bring some great moments on the water.
---

Length: 12'6" (381 cm)
Width: 34″ (86.4 cm)
Weight: 33 lb (15 kg)
Capacity: 650 lb (295 kg)
Sea Eagle 370 is marketed as a 3-person kayak, but in reality, it offers just enough space for 2 adults to sit comfortably.
Sea Eagle 370 is made from the K80 PVC (Polykrylar) material and features three separate inflatable chambers. Two plastic skegs on the bottom help the kayak track better.
The kayak comes in several configurations, including the Pro package with better inflatable seats and two paddles, the Solo Fishing package with one seat and a multi-purpose storage box, and even a QuikSail package with a small sail.
Sea Eagle 370's larger interior and extra capacity make it possible to load the boat with gear. If you don't need all that space, there is also a shorter (and slightly lighter) model, the Sea Eagle 330.
---
Intex Excursion Pro – 39 lbs (17.7 kg)

Length: 12'7" (383.5 cm)
Width: 37" (94 cm)
Weight: 39 lb (17.7 kg)
Capacity: 400 lb (180 kg)
Intex Excursion Pro is a step up from other Intex kayaks. Unlike cheaper models that are made from vinyl, the Excursion Pro is made from 3-ply PVC laminate with a polyester core. This material is way more abrasion-resistant and durable.
Intex Excursion Pro is 12'7" (383.5 cm) long and 37" (94 cm) wide. At 39 lb (17.7 kg), it is the heaviest kayak in Intex's line but still very lightweight.
The capacity of 400 lb (180 kg) means that the kayak can take two smaller persons with limited gear or one average-sized adult with a reasonable amount of fishing or camping gear.
Intex Excursion Pro comes with two inflatable seats that slide fore and aft on velcro strips and can be easily removed. It also includes one removable seat booster that lets you sit higher.
Other features include two collapsible paddles that you'd better replace ASAP, a hand pump and a pressure gauge, adjustable footrests, two skegs (a large one and a small, shallow water skeg), and even a mounting bracket for your fishing accessories. There are also two flush-mount rod holders but those are hardly usable.
Overall, Intex Excursion Pro is pretty well equipped for its price. The better, more durable construction makes this kayak suitable for longer fishing trips or even overnight camping trips – if you paddle it solo, of course.
---

Length: 9' (274 cm)
Width: 32" (81 cm)
Weight: 46 lb (21 kg)
Capacity: 300 lb (136 kg)
Whether it's exploration or fishing you're after, the Skipjack 90 might just be the perfect way to introduce new kayakers to the sport. The short, stable platform is versatile and highly portable, lightweight enough that you can just grab and go with the molded side handles.
For recreational exploring, the Skipjack's defined waterline and easy maneuverability make taking to the water as easy as possible, while the waterproof, breathable seat pad and supportive backrest system mean you can stay out paddling all day.
You will appreciate the large amounts of storage at either end of the kayak, as well as the central tackle toss recess and base accessory mounting point. There are also four recessed rod holders on the Skipjack, which can double as GoPro mounts if filming is important to you.
The paddle park, drinks holder, and a waterproof hatch, ideal for small items such as cameras and phones, can be invaluable for any paddler.
---

Length: 10′ (305 cm)
Width: 26″ (66 cm)
Weight: 32 lb (14.5 kg)
Capacity: 250 lb (113.4 kg)
Eddyline Sky 10 is a lightweight 10-ft recreational kayak that retains some of Eddyline's features found in their sea kayaks. At only 32 lbs, this kayak is very easy to handle, transport, and store. It can also fit inside an SUV so you might not even need a roof rack! Stable, maneuverable, and good-looking, the Sky 10 is a great beginner boat for those who want to grow into the sport.
---
Choosing a Lightweight and Short Kayak: Things to Consider
Where You Paddle
Lightweight boats, they're perfect for everything, right? Well, mostly. Light boats tend to be on the shorter side. It's simple really: if there's less boat, there's less weight.
Okay, so there are some long boats which don't weigh too much, but they're often towards the top end of the price range.
Short boats are generally easier for twisting and turning, making them perfect for tighter places like rivers, but they can also be a lot of fun for cruising around on calm lakes. Lightweight, short boats can come a bit unstuck in chop, however, where a long waterline being in contact with the water can help to keep you in a straight line and moving fast.
Rivers and relaxing? Short is ideal. Long journeys and chop? Look for longer.
Strength vs Weight
There's more to just thinking about whether you're going on a lake or a river. Strength is a really important part of picking your perfect kayak.
Where are you going to be launching from? If it's really rocky and you want to explore, think about whether you're going to bump off them or scrape the boat as you launch. If you're going on a river, how fast does it flow, and are there any obstacles?
We'll have a look at materials in just a minute, and see what works for different places.
Weight and Capacity
Lightweight kayaks are designed to be just that; lightweight. It's great to have a boat that you can lift easily and move around on the land, but they're usually designed to sit high in the water and paddle lightly rather than gripping and tearing through waves.
Make sure you know the weight limit of your kayak. These vary from boat to boat and depend on a lot of different factors, so check it out and don't just assume it's a perfect fit. For maximum performance, try not to exceed 70% of the capacity, even with all your gear in there. 
Hardshell vs. Inflatable Kayaks
Inflatable kayaks are light, there are no two ways about it. They're so easy to move about and store that they definitely fall into the 'lightweight' category. 
Either way, they're light to paddle and can be perfect for all types of kayaking. In fact, inflatable kayaks are often used not only for recreational paddling but are increasingly popular for river trips and even some serious white water.
Hardshell kayaks, meanwhile, are more traditional. While these don't pack down, you also don't have the extra effort of inflating them when you get to the water.
Hardshell kayaks are certainly a better option for anyone who is serious about the sport and wants to go beyond the recreational level. They're more versatile and even the sit-on-top options often have a higher spec outfitting, as well as accessories for particular disciplines (e.g. fishing).
Thermoformed vs. Rotomolded Kayaks
Obviously, the weight of your kayak will vary massively depending on what it's made from and most of them nowadays are plastic molded, either thermoformed or rotomolded.
Thermoformed plastic sheets are heated and formed over a mold. These boats are notoriously light and still, making them perfect for a lightweight boat going on open water. That said, they often don't last as long, being much more susceptible to breaking, especially on rocks or beaches.
An alternative to these weaker boats is those made from ABS plastic, which is still light and stiff, making for some high-quality boats. These kayaks are much more durable but do come with a higher price tag.
Rotomolded kayaks are heavier, cheaper, and stronger. The majority of recreational, fishing, and river kayaks are rotomolded for their durability and value, they're also really versatile when it comes to adding in extras.
Rotomolded boats are susceptible to 'oil canning' over time, where the bottom bows in. They're also easily damaged over time by UV. These are more of a problem if the kayak is not properly stored.
In the world of lightweight kayaks, the top end goes to fiberglass, carbon, and kevlar boats. Even compared with thermoformed boats, these are absurdly light and stiff, perfect for long trips and high-end kayakers.
These kayaks are extremely brittle, though, and are only really ideal for kayaking where there are no rocks that can crack the boat. Unsurprisingly, they're also the most expensive option, with some ranging into many thousands of dollars.
Sit-on-top vs. Sit-inside Kayaks
The eternal debate; what's better?
Well, both. Sit-on-top kayaks and sit-inside kayaks both have their place, with sit-on-tops generally being easier to paddle and better for beginners or recreational kayakers. They're perfect for so many things, but the reality is they're rarely the lightest option.
The weight of a sit-on-top kayak does vary from model to model, but their shape and design don't lend themselves to sleek, lightweight models. They're also notoriously bulky to carry alone, you can't just slip your arm into the cockpit and pop it on your shoulder as you can with a sit-in kayak.
Sit-in kayaks derive their stiffness and structure from the shape, rather than having to thicken the plastic instead. They're usually lighter than their sit-on-top counterparts, and when you get into the composite or higher-end kayaks, they're almost always sit-in style.
Outfitting, Accessories, Paddler Weight
Seats, padding, rod holders, and everything else all come with a little extra weight. It's a balance of what you need against how much it will weigh, and only you can work out what you value more.
Don't forget about your own weight, either. We spoke earlier about your weight being included in the capacity, but are you the only person paddling this boat? What will you be wearing? What will you be carrying?
How can I transport my kayak more easily?
Once you've found your perfect lightweight kayak, you still need to think about how you're moving your kayak to protect yourself and keep kayaking for longer.
Learn proper technique for car topping a kayak
Lifting a kayak is usually the first and last thing we do in a day. We load our kayak onto our car first thing in the morning, having just got out of bed and not warmed our muscles up at all. Then, after a long day of kayaking, we lift a boat with our exhausted bodies and put it back onto a car.
All of this is a recipe for disaster. It's a great way to get injured if you don't do it properly.
Before you go to load your boat on your car, try to be as ready as possible. This may mean having the straps already in place, and knowing how you're going to position your boat. Once it's up high, you don't want to be moving it around too much.
Know whether you can lift your kayak solo, or whether you need help. Watch out for wing mirrors and windows as you lift! Lifting onto cars is usually easier from the side, while sometimes onto higher vehicles you might want to slide it from the rear, but be careful that you rest it on the roof rack, not the paintwork.
Strength should come from your legs. Lift with your knees bent and keep your back straight. Lifting your chin to look up towards the sky often helps with this posture.
Check out this handy video if you're still not sure.
Get a kayak that fits inside your car
There's a great sense of smugness that comes with loading your boat into your car while those around you fight to get their kayaks on the roof of their cars. Having a kayak that fits in your car or van can make life really easy.
But remember this may limit you for passengers. Don't block off mirrors or do anything that inhibits your vision. Also, make sure the boat is fully inside the car before you close the trunk. Many rear windshields have been lost to poor planning.
If you're going to load your kayak inside your car, take a towel with you to dry it off and clean it before sliding it over your seats.
Get an inflatable or foldable kayak
Short on space for either storing or transporting your kayak? A fold-up or inflatable option may just be the perfect solution. These pack down to fit in really small areas and with the right model are robust, rigid, and capable of some pretty gnarly paddling.
Bear in mind, there may be some build time that needs to be included in your day at the start and end.
Get a Lift Assist
These may be expensive, but how much do you value your back?
A lift assist attaches to the side of a roof rack and slides your kayak gracefully onto the roof of your car without you having to heave it there on your own. These are really good for anyone who paddles alone regularly or struggles to lift their kayak even with the help of a friend.
Simply slide the system down, attach your boat at around waist height, and lift it back up with the help of the mechanism.
Not sure what we're talking about? Check out this video:
Get a Kayak Trailer
Kayak trailers might be the solution to all your problems. That is, so long as you're comfortable driving with a trailer. These lightweight frames mean you can load the kayak on low down, far easier than lifting it to a roof. You also don't have to worry about getting the inside of your car dirty.
Simply hitch up, load up, and go. Remember though, you have to store your trailer when you're home, and leaving your boat on it may not be the best permanent option. See our Kayak Storage Guide if you're not sure how to store your boat.
Depending on where you paddle, you may even be able to reverse it into the water and launch without any lifting, just remember to keep it attached somehow, otherwise you'll be starting your day with a swim to collect your kayak.