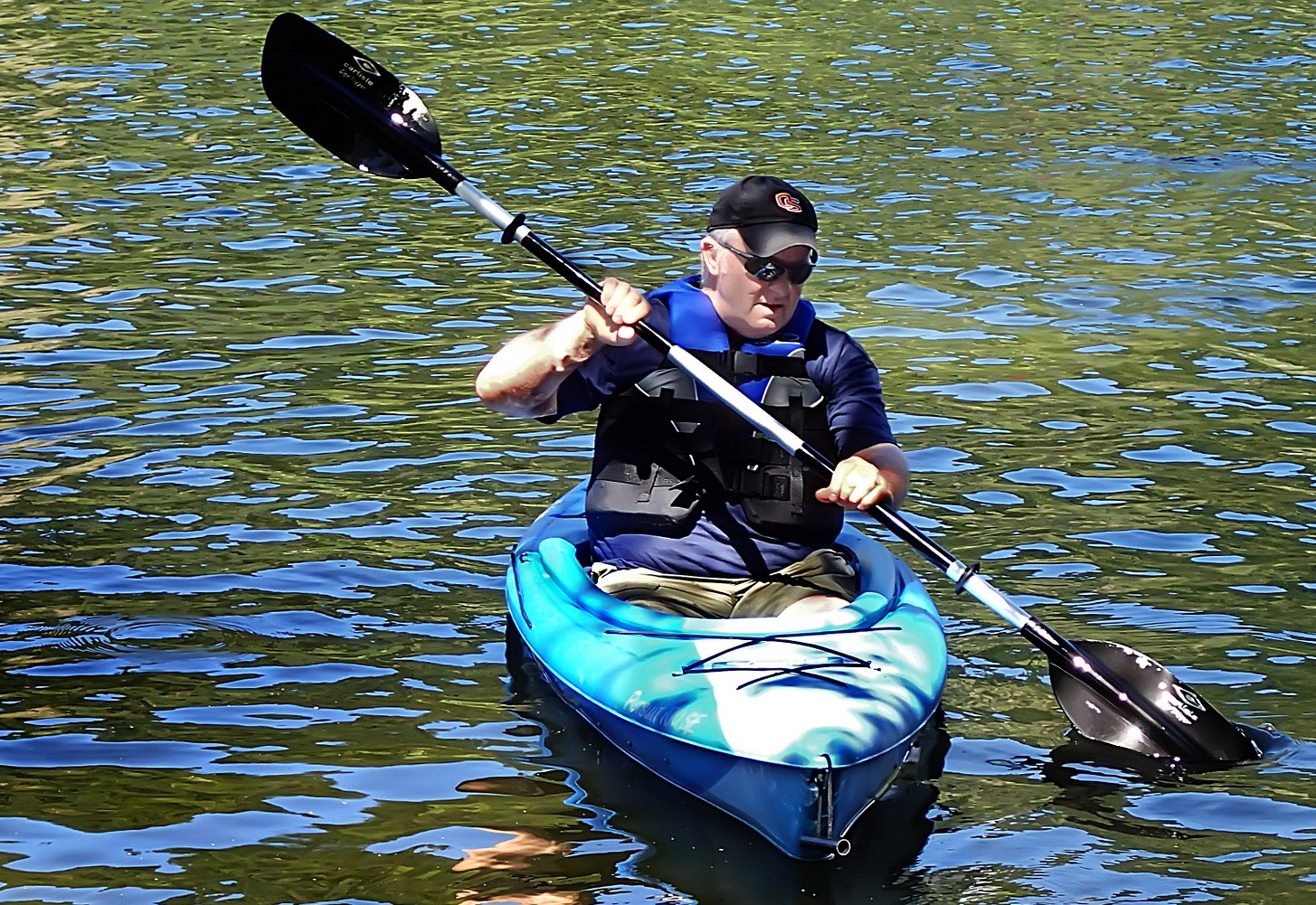 There's a lot to love about kayaking, it's a great way to explore, it's good exercise and mostly, it's just really fun. One of the best things about kayaking, though, is that it's a sport which anyone can do.
Paddlers of all ages, sizes and shapes take to the water and can all enjoy the same level of freedom. More recently, kayak and equipment design has become far more sophisticated. This means that not only do you have the ability to get out on the water, no matter your size, but you'll be comfortable and in control the whole time.
RELATED: Best Fishing Kayaks: Reviews and Ultimate Buying Guide
Probably one of the most recent developments in gear is a lot of high quality kayaks for big guys and girls. No longer is it a case of compromising comfort for control. There are boats which allow you to spend long days enjoying time on the water. But there are a few things to think about.
Quick Answer: Best Kayaks for Large People in 2022
Comparison Table: Best Kayaks for Heavy People in 2022
---
Best Kayaks with 400+ lb Capacity
Bonafide Kayaks SS127 (475 lb)

Length: 12′ 7" (383.5 cm)
Width: 33.75" (85.7 cm)
Weight: 94 lb (42.6 kg)
Capacity: 475 lb (215.4 kg)
Bonafide SS127 prides itself for kayaks that offer the ultimate performance and stability—a combination that the company likes to refer to as "fishability." Bonafide SS127 is crafted for larger-sized anglers that want peace of mind and the ability to focus on fishing.
Bonafide SS127 is 12′ 7" (383.5 cm) in length and 33.75" (85.7 cm) wide. The high seat puts the user well above the sitting position of some other kayaks, but the kayak is stable enough for that. If you want to stand and fish but find it hard to stand up and sit back down in a kayak, you might want to give the SS127 a try. Just don't forget to put on a good PFD.
Weighing in at just 94 lb (42.6 kg), the SS127 is still quite lightweight for its size.
The SS127's total capacity is 475 lb (215.4 kg). Many larger-sized users have raved about the stability of the SS127 and its capability to handle just about anything you want to weigh it down with.
Features include a junk drawer that slides under the seat, a fish finder pod, a huge bow hatch, multiple rod and paddle storage points, traction pads on the deck, YakAttack gear tracks, dual skid plates on the stern, and more.
---
Vibe Shearwater 125 (475 lb)

Length: 12' 6" (381 cm)
Width: 35" (89 cm)
Weight: 82 lb (37 kg)
Capacity: 475 lb (215 kg)
If you want something so advanced that it pushes the realms of what we can call a kayak, you really should look at the ultimate fishing machine; the Vibe Shearwater.
The Shearwater is a fishing kayak which has more features than you can imagine.
For a start, the Vibe Summit seat has four positions with adjustable height and lean while retaining the same comfort and support of the Hero seat. It also folds up and out of the way, and with the optional standing perch, you get a perfect elevated fishing platform with an unparalleled view of the water.
Even without the perch, the Shearwater has a huge standing area to fish from, as well as gunwale grips so you can stand up on the sides without slipping.
There are four rod mounts as well as four horizontal rod holders, loads of gear tracks, a removable fish finder pod with a transducer mount, and two Power Pole mounting spots on the Shearwater.
Storage-wise, you get the usual tank well at the rear, complete with adjustable bungee, but also loads of options on the bow and midship.
There's a bow storage area with the Flex Top cover, a Vibe Versa drawer which fits under the seat, as well as the recesses for tackle boxes next to the seat and three hull access plates.
In the middle of the boat is the removable Vibe Versa Pod, perfect for storing electronics while on the water.
If you want a pedal drive option, the Versa Pod can be replaced with the optional Vibe X-Drive Pedal Pod, allowing you a truly hands-free experience. This also requires the optional steering handle, as the rudder on the Shearwater is usually controlled with toe mounts on the footrests.
Pedalling still a bit too much like hard work in the wind? There's always the option of the Bixpy Jet Motor, which attaches to the rudder system and turns the Shearwater into an electric kayak. This small motor will propel you along in almost any weather conditions.
That said, the hull doesn't exactly make your life difficult. Designed to cut through the water like a knife through butter, the sharp v-shape and long keel line of the Shearwater is over-accentuated at the bow to track perfectly in all sorts of winds.
There's so much going on here that it's hard to imagine a better fishing platform.
---
Wilderness Systems Radar 135 (475 lb)

Length: 13' 6" (412 cm)
Width: 34" (86 cm)
Weight: 90 lb (41 kg)
Capacity: 475 lb (215 kg)
The Radar 135 from Wilderness Systems provides anglers with rock-solid stability and plenty of accessories for extended trips on the water. With its larger size and the option to mount a variety of drives and fish finders, this kayak is ready for any environment.
At 13' 6" (412 cm), the Radar 135 is quite a long kayak. The boat is 34" (86 cm) wide and provides enough room to feel comfortable. The weight of 90 lb (41 kg), so carrying it alone might not be the easiest task. A kayak cart (or a friend) will solve that problem.
A great feature of the Radar 135 is that it is ready for Wilderness Systems' Helix MD™ Motor Drive or Helix PD™ Pedal Drive, giving you a lot of versatility in how you want to propel the kayak.
---
Perception Pescador Pilot 12 (475 lb)

Length: 12' 5" (381 cm)
Width: 33.75" (85.73 cm)
Weight: 85 lb (38 kg)
Capacity: 475 lb (216 kg)
Built with the same high quality as the Pescador 12.0, the Pescador Pilot cruises effortlessly, tracks like a dream and has the stability you need for a long day of fishing. But all of this can be enjoyed hands free! With their extremely efficient pedal drive, you don't need to be encumbered by your paddle.
The one handed rudder control makes this boat highly maneuverable, and the propeller can be lifted in shallower water so you don't get stuck anywhere.
As with the Pescador Pro, the Pilot is an out-and-out fishing kayak. With four rod holders at the rear and more storage recesses and compartments than you can imagine, you're not going to be short of space in this kayak. It also boasts the same ridiculously comfortable seat that the Pro has.
As with all Perception Pescador models, it's got gear tracks on the gunwales so you can fully customize your boat to suit your needs.
---
Best Kayaks with 500+ lb Capacity
If you need a kayak for a 300 lb man and lots of camping or fishing gear, aim for a kayak with the weight limit of 500 lb or more. These boats are designed to support a big guy even if you choose to stand up and fish. Keep in mind that in most cases, the best way to transport such a kayak is in the bed of a truck (with a bed extender) or on a kayak trailer.
FeelFree Lure 13.5 V2 (500 lb)

Length: 13' 6" (411.5 cm)
Width: 34" (86.4 cm)
Weight: 107 lb (48.5 kg)
Capacity: 500 lb (226.8 kg)
FeelFree Lure 13.5 V2 is a sit-on-top fishing kayak that's versatile, comfortable, and capable on open waters. It offers rock-solid stability and one of the most comfortable seats on the market today.
With its 500 lb capacity, the Lure 13.5 can easily support a big guy with a ton of fishing gear, even in the open waters. The kayak is compatible with FeelFree's pedal drive and motor drive unit, giving you the freedom to choose how you propel it. It is also rudder-ready.
Other features include a removable sonar pod, an insulated console on the bow for live bait or drinks, adjustable footrests, rod tip protectors on both sides, and FeelFree's patented Wheel in the Keel for dragging the kayak around.
The Gravity Seat is adjustable from a flush sitting position to 10" (25.4 cm) above the deck. With a lot of padding and an optional high backrest, it is one of the most comfortable kayak seats on the market today.
---
Native Watercraft Titan Propel 10.5 (500 lb)

Length: 10' 9" (328 cm)
Width: 37.5" (96 cm)
Weight: 97 lb (44 kg)
Capacity: 500 lb (226.8 kg)
Don't let the shorter length fool you: the Titan Propel 10.5 is a beast that can carry a lot of weight. With its massive 37.5-inch beam, it offers incredible stability and peace of mind, even when standing.
Equipped with the Propel pedal drive, the Titan Propel 10.5 will quickly get you to your favorite fishing spot (you wouldn't want to paddle such a wide kayak anyway). The instant forward and reverse lets you adjust the boat position while fishing. The kayak is compatible with the Power-Pole Micro shallow water anchor, making it the ultimate bass fishing platform.
Other features include horizontal rod storage with tip protectors on both sides, a huge tank well and a dry hatch on the stern, a comfortable, elevated seat that's easy to stand up from, gear tracks, and more.
One thing to be aware of is that as a shorter boat, the Titan Propel 10.5 does not offer the most legroom. So if you're tall or have long legs, it's a good idea to test it out for comfort before pulling the trigger.
---
Vibe Sea Ghost 130 (550 lb)

Length: 13' (396 cm)
Width: 33.5" (85 cm)
Weight: 71 lb (32 kg)
Capacity: 550 lb (249 kg)
The Sea Ghost series pushes the boundaries of how many features you can fit in one fishing kayak. Impressively, Vibe managed to put an enormous amount of technology into a boat which still feels like a low profile and easy to use design.
The features of both the Sea Ghost 110 and 130 are nearly identical, starting with the really long waterline, which inspires stability and speed so you can cruise around with ease. As if this wasn't enough, the tracking and turning capabilities are improved even further by the rudder system, which comes as standard and is controlled by toe pedals on the foot pegs.
Inside the Sea Ghost series you'll find the same high quality Vibe Hero seat that is so popular among most of their boats. There's also an enormous amount of storage available. Beside the seat, there's the tackle tray storage on either side. At the stern, there's a large open tank well for storing coolers, milk crates, bags, or buckets, which can be secured with the adjustable bungee. At the bow is a large watertight hatch for stowing gear.
It's the middle where this boat has its most interesting features. The Vibe Versa Console is a bit of everything, all at once. There's a magnetic lure catcher, some bungee storage for small items, two mini hatches, a cup holder and two gear tracks, all over the small central hatch, ideal for keeping your valuables secure.
There are gear tracks on either gunnel of the Sea Ghost, as well as two rod holders, a transducer port, a paddle holder and another hatch just behind the seat.
It's incredible that Vibe have fitted so much into a boat that's still so good in open water, slow rivers and even a bit of surf. This might just be the perfect fishing kayak.
---
Wilderness Systems A.T.A.K. 140 (550 lb)

Length: 14' 1" (430 cm)
Width: 34" (86 cm)
Weight: 95 lb (43 kg)
Capacity: 550 lb (249 kg)
The Wilderness Systems A.T.A.K. 140 is a large kayak meant to satisfy the serious angler. With its flip up hood to hold a lot of gear, stable deck to cast from, and thoughtful innovation to mount fish finders, it does so very well. The length makes it a great boat for offshore or inland waters alike.
This kayak has a length of 14'1" (430 cm) and a width of 34" (86 cm), so it is a very big kayak. The deck height is only 15.5" (39 cm). This will help to reduce the effect of strong wind blowing it off course. At 95 lb (43 kg), it is also quite heavy, so transporting it alone may be a burden and you will probably need a kayak cart to drag it to and from the water.
With the weight capacity of 550 lb (250 kg), the A.T.A.K. 140 will accommodate a 300 lb guy with a lot of fishing gear without a problem.
Features include compatibility with Wilderness Systems' pedal drive and motor units, a fishfinder pod, lots of dry storage, the super comfy AirPro Max seat which has three positions (high, low, reclined) and flips out of the way if you want to stand and cast, and more. The A.T.A.K. 140 will be at home on large bodies of water where the conditions can get nasty.
---
Jackson Big Rig HD (550 lb)

Length: 13' 3″ (403.9 cm)
Width: 40" (101.6 cm)
Weight: 125 lb (56.7 kg)
Capacity: 550 lb (249 kg)
At 13'3″ long, 40 inches wide and 118 lb without the chair (125 lb fully rigged), the Big Rig HD/FD is not a small boat by any stretch. It is also one of Jackson's most popular models with a loyal following.
The Big Rig offers rock-solid stability you would expect from a boat this size. It also boasts a ton of features for the most demanding anglers. Four molded-in rod tip protectors, oversized front and back hatches with storage bins, two transducer scuppers that accommodate even large transducers (Side imaging? No problem), a plethora of gear tracks, foot-controlled rudder option, Power-Pole Micro compatibility… the Big Rig even has dedicated indentations for large fly reels on both sides!
Best of all, you can easily convert between the HD and the FD (pedal-driven) configurations or even pop in Jackson's electric motor unit.
---
Best Kayaks with 600+ lb Capacity
NuCanoe Unlimited (600 lb)

Length: 12′ 6" (380 cm)
Width: 41" (99 cm)
Weight: 84 lb (38.1 kg)
Capacity: 600 lb (272.2 kg)
If you want a kayak designed from the ground up for serious anglers and hunters, take a look at the all-new Nucanoe Unlimited. With its impressive 41-inch beam and 600 lb of capacity, this is a fishing platform that's ready for just about anything.
Taking the best from the NuCanoe's flagship Frontier 12 model, the Unlimited also fixes some of the drawbacks of its predecessor.
The versatility of the Unlimited is just that, almost unlimited. It is compatible with bow-mounted motors, trolling motors, Torqeedo, and even gas outboards up to 2.5 HP. You can also install Nucanoe's Pivot Drive pedal unit. Gear tracks that run all along the gunwales let you easily trim the track-mounted 360 Fusion seat or even install two of those and use the kayak as a tandem. There is also a bench seat option for a kid or occasional passenger.
Other features include a transducer scupper on the bottom, a removable bow storage console, rod tip protectors, tackle pockets, a new drainage system, and much more.
---
Sea Eagle 380X Explorer (750 lb)

Length: 12′ 6″ (380 cm)
Width: 39" (99 cm)
Weight: 40 lb (18 kg)
Capacity: 750 lb (340 kg)
How about a kayak that can carry 3 people or 750 lb, is tough as nails and suitable for up to Class IV white water, yet only weighs 40 lb and fits into a trunk? Meet Sea Eagle 380X.
This inflatable kayak is made from 1100D reinforced PVC and can take a beating. In fact, Sea Eagle recorded a video where they dropped cinder blocks on it and even ran it over with a Jeep!
The Sea Eagle 380X has three separate air chambers for extra safety, a drop-stitched floor, self-bailing scupper holes that can be closed for a drier ride in calm waters. A removable skeg on the bottom improves tracking.
The kayak is incredibly versatile and comes in a number of different configurations, including a solo version, a 2-person version with either inflatable or padded high-back seats, a rowing package, a motorized configuration, and even one with a sail! There's literally no limit to what you can do with your Sea Eagle 380X Explorer.
Choosing a Kayak for Big Guys: Things to Consider
Kayak Weight Limits
These things matter regardless of your size, but become a bit more pertinent if you're pushing toward the top of some weight ranges.
Don't Exceed 70% of the Kayak's Capacity
Every kayak has a maximum weight limit, or an 'ideal range' which tops out somewhere. This maximum capacity is an upper limit, but you want to avoid being too close to the top end of the range. As a general rule, you should aim not to exceed 70% of the maximum weight capacity of a kayak.
In a sit-in kayak, you'll be sitting higher out of the water, and less likely to tip or take on water over the cockpit. This will make your ride smoother, let you move easier and just make the whole experience more enjoyable.
Sit-on-top kayaks generally stop being self-bailing when over 70% of their weight is exceeded, so you'll end up getting quite wet. When they sit lower in the water, they plough through waves rather than glide over them, so you'll get loads more water crashing over your deck.
Not only that, but kayak hulls are usually designed to sit at an ideal level in the water. If they're too low, you often lose an element of control and performance, as well as balance and speed.
Account for the Weight of Gear
So you've got out the shower, stood on some scales, and then run out to buy a kayak that gives you a bit of wiggle room (remembering the 70% rule).
That's great, but it's a good bet that you shower in quite a different state to how you kayak. At least, we hope so.
In summer, you might just need some shorts and a t-shirt and a PFD, but that's not always going to be everything that goes with you when you take to the water.
If you're going out for long trips you'll be carrying some water, perhaps some food. You might also have spare clothes, maybe you're even wearing a drysuit and a load of layers. Then there's technical kit, fishing equipment, rescue ropes, spare paddles, technological aids. Maybe you want to take your dog with you, too.
It's unlikely you're holding all of that when you stand on those scales, but it's important to remember that everything you carry counts towards the upper weight limit of your kayak.
Kayak Weight Considerations
You might be thinking that if you're meant to be sticking under the 70% mark, isn't it just easier to go out and buy the kayak with the largest capacity available?
Larger capacity usually stems from a bigger kayak, which is likely to be heavier, bulkier and harder to move.
There's a balance to be found between a boat you can't fit in comfortably, to a boat you can't possibly load on to a car, or carry to the water. You also need to think about how you're going to move your boat. If it's really heavy, could it be too much to put on a small car? Do you need a trailer, or a truck?
Also, a boat that's way too big has all the same control issues as a boat that's too small. True, you probably won't fall in, but there's a good chance you won't be able to paddle it, either.
Kayak Size Considerations: It's Not Just the Width
When we look for a kayak which is going to be really stable, we're instantly drawn to the width. This is for good reason, a wide kayak is often a stable one, and the beam has long been recognised as equating to balance.
But there's more to it than just that. Length plays a part. For a start, length equates to speed, and the faster a kayak is moving, the more stable it is. That's how marathon boats, or some sea kayaks, stay so stable. Length also equates to volume, which in itself gives you stability.
Longer, narrower boats are faster and better for longer journeys, while shorter, wider boats tend to turn and weave more effectively. Then there's 101 things in between and loads of options.
Don't forget about depth and weight, too. Deeper boats give waves less chance to crash over, toppling you, while a heavier boat might be less affected by wind and waves. Each of these benefits comes at detriment to something else. Deeper boats may be slower or harder to turn, while heavier boats, other than just being really heavy, can be harder to meanuever.
What we're saying here is that there's more to it than just finding the widest boat on offer and making it work.
Kayaks for Big Guys: Comfort is Key
Outfitting is the most important part of being comfortable for a long day. Just because the numbers all add up to you fitting in a boat doesn't mean it will always be comfortable.
All of our bodies come in a variety of shapes and sizes, and what works for some will be uncomfortable for others.
Comfortable Seat
In the same way as boats come in a variety of sizes, so does outfitting. Well, a lot of it does.
It's a safe bet that a larger boat will come with larger outfitting, which is great. There are some incredibly comfortable, supportive seats on the market. Some of them have frames with adjustable back supports, while some are moulded into the kayak itself.
Whatever your seat design, make sure it works for your body type and that you can sit in it for a long time.
Enough Legroom
So you can sit on your seat comfortably, but is your whole body comfortable?
Boats often have footrests, which help us control the kayak and give us connection and control. Do you have enough length in your kayak to fit your legs comfortable into these while you're on your seat?
Internal Volume
If you're paddling a sit-in kayak, that there's enough space to get your feet all the way to your footrests.
Also, if you kayak has other outfitting, like knee pads, thigh braces or hip pads, make sure these aren't going to cut off any blood flow, and that you can still feel your legs at the end of a long day of kayaking.
Finally, is there enough room for all your kit so that it's not packed in around you, and won't all just come loose if anything happens?
Ease of Getting In and Out
If you're on a sit-on-top kayak, you're always going to be okay getting out, if you do capsize. Usually even in a sit-in kayak, that's not an issue. When we're upside down, gravity is our friend and will help us out of our boats.
That said, if you really have to squeeze yourself into a kayak, it's worth double checking you can get back out.
More importantly is that if you want to step out for lunch, to answer nature's call, or just because your day on the water is coming to an end, can you do so easily?
From a sit-on-top, can you stand up and exit the kayak gracefully? Or from a sit-in, can you unpack yourself and step out of the boat?
Final Thoughts
All of these things affect kayakers of every size when it comes to picking their kayak, but for heavy people that are towards the top end of a weight range, it can become harder to work out the finer details.
In short, always aim for the 70% rule, make sure the kayak fits your purpose and that you're going to be comfortable and safe. That way, you can enjoy your time on the water and make the most of exploring lakes and rivers.