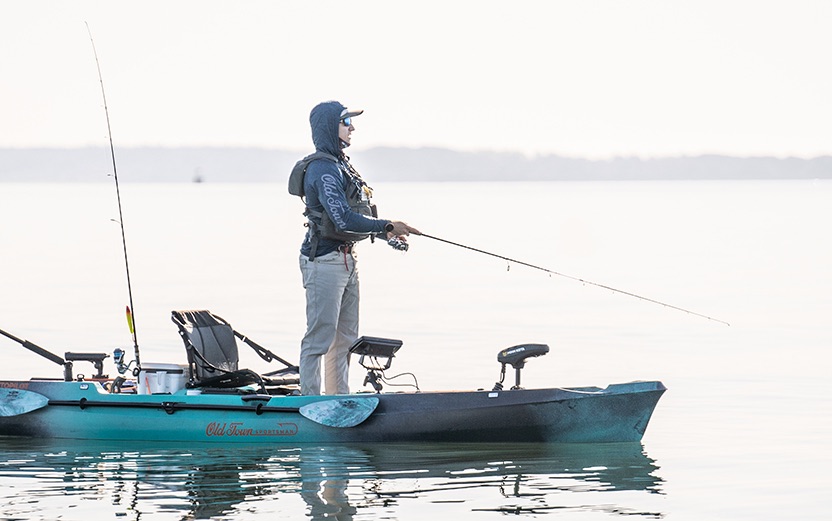 As the world of fishing kayaks continues to evolve, more and more brands are exploring new ways to improve the user experience. Motorized kayaks are wildly popular and many serious kayak anglers are turning their attention to some of these new motorized models that provide some serious advantages over traditional, paddle kayaks.
Motor powered kayaks give anglers an edge in multiple areas that make the overall kayak fishing experience more productive and easier to enjoy for many anglers of all skill levels. In addition to being able to arrive at your chosen fishing spot sooner, you can also save a considerable amount of energy and enjoy the ride by using a motorized fishing kayak. Having the maneuverability and stealth of a kayak coupled with the speed and efficiency of a motorized fishing boat is something that appeals to any kayak angler.
Until recently, it's been popular to outfit fishing kayaks with electric trolling motors or other mounting kits. Many of the sport's top brands are going to new lengths to engineer motorized kayaks that give you a new level of efficiency without concerning yourself with what motor you need and where it should be mounted to your kayak. In this review, we'll take a closer look at some of the best motor-ready fishing kayaks on the market in 2021 and some of the most important things to consider when choosing one yourself.
Quick Answer: Best Motorized Kayaks in 2021
Comparison Table: Best Motorized Kayaks in 2021
---
FeelFree Lure 11.5 – Most Versatile Powered Kayak

Length: 11' 6" (350.5 cm)
Width: 34" (86.4 cm)
Weight: 87 lb (39.5 kg)
Capacity: 425 lb (193 kg)
The FeelFree Lure 11.5 is nearly unmatched when it comes to the quality and amount of features this kayak offers compared to other models. FeelFree has designed an integrated motor system that offers virtually seamless operation for the user. The Overdrive System is built into the kayak's cockpit so that it's incredibly easy to switch between pedal power and a motorized propellor based on the user's preference.
In addition to being able to use the pedal-drive or motorized system, users will find that the Lure 11.5 handles incredibly well with a traditional paddle. It has great stability and the seat is arguably the most comfortable of any model on the market in 2021. The Beaver Tail rudder helps provide excellent maneuverability and an 8Ball steering system that is simple and easy to operate.
See FeelFree Lure 11.5 on Austin Kayak
---
Jonny Boats Bass 100 Angler – Most Affordable Motorized Kayak

Length: 10' (305 cm)
Width: 35.5" (90.17 cm)
Weight: 77 lb (34.93 kg)
Capacity: 400 lb (181.5 kg)
Buying a motorized kayak doesn't always have to require that you spend a small fortune. The Jonny Boats Bass 100 Angler is available for under a grand and is an incredibly functional motorized kayak. Anglers love this model because it is incredibly customizable and allows for multiple outfitting options and accessories to be installed. The kayak doesn't come with a motor readily installed, but users can easily mount a trolling or outboard motor to the transom.
If users are looking to get a high rate of speed, this is a great option as a small outboard motor of the user's choice can be installed. However, if you're more concerned with stealth like most kayak anglers, installing a trolling motor with a steering system is quite simple in most cases. This kayak is one that embraces the DIY (Do-It-Yourself) mentality and makes it possible for users to fully customize their kayak to be as effective as possible on their particular body of water.
See Jonny Boats Bass 100 Angler on Austin Kayak
---
Pelican Catch PWR 100 – Ready for an Electric or Gas Outboard

Length: 9' 9" (297 cm)
Width: 39.8" (101 cm)
Weight: 75 lb (34 kg)
Capacity: 450 lb (204 kg)
The Pelican Catch PWR 100 is another kayak that fits in the 'affordable' category, but with its own unique design that maximizes the rear motor's capability. It comes with a pre-installed independent transom that is ready for you to install your choice of electric or outboard motor. This kayak easily stowes the battery in the front compartment while allowing it to be connected to the stern. While the kayak is only 9'9 (297 cm) in length, it can haul quite a load as it offers a full capacity of 450 lbs (204 kg).
This compact, no-nonsense build is made to fully take advantage of the rear motor's capabilities. The overall design is one that more companies are likely to gravitate toward in the future as motorized kayaks become more popular. While it may not look like your traditional fishing kayak, the Pelican Catch PWR 100 offers everything you need for on-the-water performance including dry storage, rod holders, gear tracks, and more.
See Pelican Catch PWR 100 on Bass Pro Shops
---
NuCanoe Frontier 12 – Compatible with Bow-mounted Motors

Length: 12' (365,8 cm)
Width: 41" (104.15 cm)
Weight: 77 lb (35 kg)
Capacity: 400 lb (181.5kg)
NuCanoe has established a reputation for giving customers exactly what they want and need depending on their own personal style of fishing. The NuCanoe Frontier 12 is an all-around workhorse of a kayak that allows users to customize their boat and decide on the level of speed and power that's right for them. With NuCanoe's patented kayak/canoe hybrid design, this model has the ability to cut through the water with ease while also providing outstanding stability.
Users are able to choose between four different motorized propulsion options that include the rear-mounted NuCanoe EPS motor, Torqeedo, or Honda outboard, as well as a bow-mounted motor. Unlike other motorized kayak models, this one is also capable of serving as a tandem kayak that easily seats two users. The NuCanoe Frontier 12 is right at home on lakes and rivers, as well as saltwater marshes and coastal waters.
See NuCanoe Frontier 12 on Amazon
---
Hobie Pro Angler 14 with Hobie EVOLVE Torqeedo Motor Kit

Length: 13' 8" (417 cm)
Width: 38" (97 cm)
Weight: 120 lb (55 kg)
Capacity: 600 lb (272 kg)
When it comes to a motorized kayak with outstanding performance, it's hard to overlook the Hobie Pro Angler 14 with Hobie EVOLVE Torqeedo Motor Kit. Powered by a super lightweight Lithium-Manganese battery, this kayak is full of the premium features that Hobie has become known for in the industry. The motor system utilizes GPS monitoring capability to track things like speed and range while users can easily monitor your motor performance using a RAM mounting unit with LCD display that comes standard with each model.
The Hobie Pro Angler 14 EVOLVE also comes with the Torqeedo TorqTrac which connects to any iPhone or iPad device using Bluetooth technology. This feature tracks your navigation while also letting you know how far you're able to travel based on your battery's power level. This kayak model also features the same high level of quality when it comes to seating and storage, as well as incredible stability and speed that's characteristic of the Hobie brand.
See Hobie Pro Angler 14 on Water Outfitters
---
Jackson Big Rig HD/FD with Flex Drive E

Length: 13' 3" (396 cm)
Width: 40" (101.6 cm)
Weight: 145 lb (65.7 kg)
Capacity: 550 lb (245 kg)
Jackson is widely known for designing products that truly enhance the user's experience on the water and the company's Flex Drive E motor system is one that certainly deserves a closer look. The Jackson Big Rig HD/FD coupled with the new Flex Drive E is arguably the best motorized fishing kayak on the market for 2021. Unlike other motor systems, the Flex Drive E weighs less than 4 kg and is still able to provide a surprising level of power output. The Flex Drive E is available in three options that include 12V lithium, 24V 22Ah lithium, and 24V 9.6Ah lithium models.
This kayak's motor drive system is controlled using a simple knob that allows the user to go forward or in reverse at a wide range of speeds. While other motor kayak models can cause quite a stir on the water, this Jackson model is exceptionally quiet and stealthy. Users will find that this model also comes with the same premium features that Jackson kayaks are known for and the Flex Drive E makes this one a highly capable motorized option.
See Jackson Big Rig HD on Water Outfitters
See Jackson Big Rig FD on Water Outfitters
---
Wilderness Systems A.T.A.K. 140 with Helix MD Drive

Length: 14' 1" (430 cm)
Width: 34" (86 cm)
Weight: 95 lb (43 kg)
Capacity: 550 lb (245 kg)
Crafted for the highest level of performance, the Wilderness Systems A.T.A.K. 140 with Helix MD Drive is designed to go farther and faster than other motor kayak models on the market for 2021. Wilderness Systems created the Helix MD Drive in partnership with Torqeedo to produce a motor system that's capable of powering your boat at speeds of up to 6 miles per hour with a range of more than 20 miles. The A.T.A.K. 140 has a streamlined build that's designed for on-the-water performance and is an excellent fishing kayak.
The Helix MD Drive is one of the most advanced motor systems on the market for 2021 as it is able to calculate and display a wide range of information that helps enhance your trip. The system utilizes GPS capability to track speed while also calculating the system's remaining range and battery runtime. At a total weight of just 15 pounds, the Helix MD Drive is lightweight, quiet, and easy to use for anglers of all skill levels.
See Wilderness Systems A.T.A.K. 140 on Amazon
---
Old Town Predator MK powered by Minn Kota

Length: 13' 6" (400 cm)
Width: 36" (91.4 cm)
Weight: 117.5 lb (53.3 kg)
Capacity: 600 lb (272.2 kg)
Old Town Kayaks recently partnered with Minn Kota to design and produce one of the most efficient and fundamentally-sound motor kayaks in the industry. The Old Town Predator MK powered by Minn Kota is a feature-rich model that's a combination of comfort, stability, and performance. The kayak offers a specialized console that serves as the battery box which stores the battery in a location that's out-of-the-way and yet easy to access if needed.
This kayak operates using a foot-controlled rudder system that allows the user to have a fully hands-free experience. It operates using a 12V Group 27 Marine Sealed Deep Cycle battery that is capable of propelling the Predator MK at great speeds for extended lengths of time. This kayak also offers an outstanding level of features and overall capacity that's built to function as the ideal vessel for serious anglers.
See Old Town Predator MK on Old Town
---
Choosing a Kayak with Motor: Things to Consider
Why Power Your Kayak?
Having a motorized kayak is the ultimate opportunity for speed and efficiency on the water. It allows your hands to be free while you move from one place to another. Any experienced kayak angler knows that it's better to spend more time actually fishing than working to paddle from one spot to the next.
A motor will open up a new world of locations for anglers as you'll be able to venture out to spots you simply couldn't reach by paddling. This is obviously a huge advantage for tournament competition. Being able to outrun your competition during tournaments allows you to spend more time fishing and less time paddling. As any skilled angler knows, fishing is basically a numbers game and more casts will result in more fish.
Motor kayaks also create a new realm of possibilities for those who have physical limitations and injuries that would otherwise prevent them from paddling a kayak. For those people, a motor kayak is more than just an advantage over other anglers; it's a chance to be independent on the water and enjoy all the benefits that go along with kayaking when they would otherwise be unable to.
---
Benefits of a Motorized Kayak
Speed
One of the most obvious advantages you have with a motorized kayak is a higher level of speed compared to traditional paddle kayaks. While you might spend the better part of an hour or more getting to your favorite fishing spot using a paddle kayak, a motorized kayak could get you there in just a few minutes.
The higher rate of speed can translate to your ability to visit more locations throughout your trip on any given waterway, which means a higher likelihood of catching more fish. Some of the best motorized fishing kayaks offer speeds of up to 5 MPH or more, which means you're going to spend more time fishing and less time working to get where you need to be.
Range
With greater speeds, you're able to fish areas that you may not have been able to before as a motorized kayak helps you cover a significantly larger area of water than simply paddling. For most anglers, the prospect of paddling a great distance to get to a great fishing spot might seem appealing, but considering the fact that you'll be pressed for time if you're trying to make it back to your launch point before dark will severely limit just how far you can really go.
With new motorized kayaks, anglers are finding that they are able to explore new coves, rivers and other areas that are simply too far away for someone paddling their way across the water. Part of the biggest rush that comes with fishing involves venturing to and exploring new spots. Having a motorized kayak will undoubtedly expand your reach on any given waterway and open plenty of new possibilities for anglers of any skill level.
Less Fatigue
Fatigue plays more of a role in your overall success than many people realize. Spend a full day paddling around a lake and you'll quickly realize that casting your rod becomes a much more laborious process. As the day goes on, your arms and upper body begin to feel the strain of the many miles you may cover. The level of fatigue you're likely to face becomes an even greater concern when fishing on rivers that have strong currents.
If you're like most anglers, you may find yourself holding the fishing rod in a way that might let your tired shoulders and forearms rest instead of using the proper technique for the specific lure presentation you're using. If you're not holding your rod in the correct position, you're much less likely to feel a fish bite when you're overly fatigued from paddling so much.
Having a motorized kayak is an excellent way to make sure you stay fresh on the water throughout the course of the entire day. When you arrive at your chosen fishing spot, there's no need to park your paddle and take a few minutes to catch your breath. Instead, you'll be able to get where you need to be and devote your entire focus on using the proper techniques, making accurate casts, and having just the right retrieve to make sure you have the best chance to catch fish.
For many anglers, stealth is a major factor in why they choose to fish from a kayak instead of a large boat. If you're using a motorized kayak, you'll still be able to achieve that same element of surprise by shutting off the motor once you're close to your target location and quietly paddling into range for that first cast.
Having a built-in motor also helps to compensate for the increased length and width of modern kayaks that are made to accomodate a greater capacity and a higher level of stability. A larger kayak is harder to paddle, but a motorized kayak doesn't present these same challenges. This point will likely lead to companies designing larger and more stable versions in the near future as paddling will no longer be as much of a concern.
Trolling
Trolling in a kayak with an electric motor can be very efficient. Unlike a gas motor, the quiet electric motor does not spook the fish. Even if you don't like trolling as your primary fishing method, having a lure in the water while you travel from one spot to another can help you land a few more fish.
For many anglers, trolling in a kayak is an excellent way to produce bites when fish might otherwise be hard to find. It's tough to find much success when trolling with a paddle kayak because it's imperative that you maintain a consistent level of speed. Trolling with a motorized kayak, however, is a more streamlined experience. The electric motor is nearly silent and you can also easily adjust the speed on your motor to reach certain depth levels with your lure.
Many serious kayak anglers are finding that trolling creates an outstanding opportunity to catch a variety of different game fish species. Some of the most advanced motorized kayak models now feature the ability to place rod holders at just the right locations to make trolling a very resourceful method of catching fish. Once you've located a school of fish or a great location where you can produce bites by trolling, it's much easier to maneuver your kayak and position it in a way that passes over the spot multiple times—producing less water disturbance than a large fishing boat.
---
What Makes a Good Motorized Kayak?
Let's look at some factors that affect how well a kayak will work with a motor.
Seat Placement
Most anglers are only concerned with how comfortable a seat feels and whether or not they feel like they're going to flip over. When considering a motorized kayak, it's very important to note the seat position.
A recent report by Torqeedo representative Jeff Little suggests that seat placement is the single most important factor that determines how a kayak will perform under power. The further forward you place the seat (and the weight of the angler), the better the weight distribution, which reduces drag from the overweight stern. It also helps if you put more gear on the bow.
Hull design and seat position play a major role in how the motorized kayak will perform. According to Little's findings, a kayak that rides with a high bow is going to plow through the water instead of utilizing its bow design to cut through the waves. This works against the overall efficiency of the kayak on a number of levels. A high-riding bow will undoubtedly slow the kayak while at the same time draining considerable amounts of power from your battery. In this case, handling will also be impeded.
If you want a motorized kayak that's fast, maintains good battery life, and offers the best handling, it's important that you look for designs which feature about half of the kayak behind the seat.
Most premium paddle kayaks feature seats can be adjusted into various high or low positions. The low seating is often important as it allows a user to achieve greater leverage and create more propulsion while paddling. This factor might not be quite as important with a motorized kayak as you'll be able to maintain decent speed while seated in a high position.
Waterline Length
It's no secret that longer kayaks are generally faster. This is true in both paddling models and motorized kayaks, but the main factor that will indicate swiftness is the length of the kayak's waterline.
The waterline can simply be described as the portion of the kayak's hull that sits under the water's surface. Regardless of the overall length of a kayak, a design that features a longer waterline will generally be able to reach greater speeds than one that has more of its hull above the water's surface.
When looking at various motorized kayak models, it's a good idea to consider the waterline length as more of a deciding factor in speed capability than whether the hull is a more 'rockered' design. A longer, heavily rockered hull is actually going to be slower than a shorter model that features a longer waterline.
The heavily rockered hull will create more drag instead of cutting through the water. Many of the best motorized kayaks on the market in 2021 offer long waterlines and hulls that are engineered to cut through the water at greater speeds.
The most efficient motorized kayaks will often feature a 'planing' hull instead of the more traditional 'displacement' hull. A paddle kayak that is made with a displacement hull will function better than a planing hull simply because it usually travels at a lower rate of speed. A displacement hull will drag through the water as it travels at a higher rate of speed, unlike the planing hull, which will manage to cut through the water with greater ease the faster it goes.
Total Weight
While seat position is more likely to be the deciding factor regarding overall speed and efficiency, the total weight of your kayak also plays a role in how well it will perform on the water. In recent years, the most popular paddle kayaks have become heavier as brands seek to add more features, storage space, and other capabilities. It may initially seem like weight will not be much of a hindrance to a motorized kayak, but research has shown that heavier kayaks will typically drain a battery more rapidly than a lightweight model.
Some brands are exploring totally new kayaks that are designed around the use of motors instead of paddles. This is evident in kayaks like Fissot's new model which features retractable stabilizers. Other companies are adding pontoons to achieve higher stability and better overall performance.
While most anglers have come to view premium kayaks as being naturally heavy, those in search of a high-quality motorized boat should seek out a lighter model. A more lightweight kayak that utilizes a motor as its main propulsion source is going to be faster and more capable of long-distance trips than a heavier model. A lighter kayak means less battery usage and will also usually mean better handling at full speed.
With this in mind, it becomes even more important to consider just what gear items and other equipment you might want to add to your motorized kayak.
Stability
Stability should always be one of the most prominent concerns of an angler when considering the performance level of any kayak. New advancements in kayak design have allowed manufacturers to achieve a much higher degree of stability than older models. It's quite common for users to have the ability to stand while fishing—even in choppy water conditions.
When it comes to motorized kayaks, you have to take into account the boat's overall stability level and whether it could flip over when you apply power or make a turn. Kayaks that are larger and wider will undoubtedly provide a higher level of stability. The need for good overall stability is especially true when using a motorized kayak as a high level of torque can sometimes lead to a greater risk of flipping over.
Having a motor installed on one side of the boat will greatly increase the risk of flipping over, especially when power is applied suddenly. The most prominent motorized kayak models produced in 2021 have taken this into account and designed their kayaks to accommodate high levels of torque and limiting the degree to which the user can turn while moving at high speeds.
Using a motorized kayak will take some getting used to and it's important to know just how sharply you're able to turn the kayak while moving at or near full speed. Some brands are better than others when it comes to high-speed stability, and greater width is usually a good indicator of stability. It's usually best for anglers who are new to using a motorized kayak to take things slow initially until they have a solid understanding of how to make safe turns while moving at high speeds.