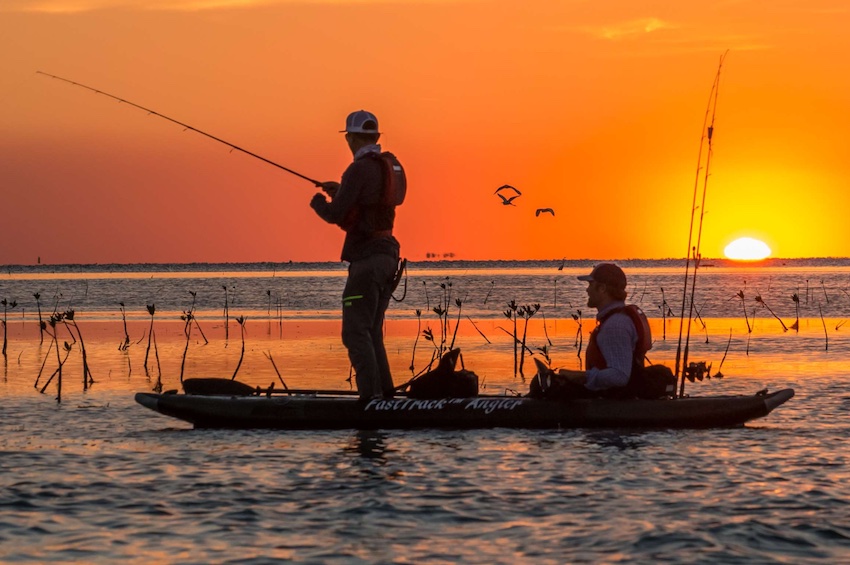 Inflatable fishing kayaks are becoming more popular every year. Portable and lightweight, they offer some unique advantages to kayak anglers. With an inflatable kayak, you can fish on remote, hard-to-reach lakes and rivers. You can throw an inflatable boat in the trunk of your car or even use public transport. You can store it in a closet in your apartment. It's amazing how much more you can do with an inflatable kayak.
But are inflatable kayaks safe? Are they sturdy enough for fishing?
In this article, we bust some myths related to inflatables. We also take a closer look at some great kayaks from brands such as Sea Eagle, Advanced Elements, NRS STAR, and others to help you choose the best inflatable fishing kayak for your needs.
---
Quick Answer: Top Rated Inflatable Kayaks for Fishing
---
Choosing an Inflatable Fishing Kayak: Things to Consider
How do you choose the best inflatable kayak for your fishing trips? Let's take a look at some of the most important factors.
Weight Capacity
A fishing kayak is no good if it can't comfortably carry you and all of your fishing gear. Moreover, for best performance you should aim to stay within about 70 percent of the kayak's maximum weight limit. Don't just think about your body weight — the total weight includes your clothes, paddle, PFD, and all of the fishing accessories you take with you. The combined weight might surprise you.
Luckily, inflatable kayaks usually have more than enough weight capacity (all the air inside makes them very buoyant). Even STAR Pike's 375 lbs weight limit will give you about 260 lbs of usable capacity, which is plenty. The other boats in our roundup can carry even more weight.
Durability
Another important thing to consider is the durability of the kayak. Hooks, sharp fins, low branches, and underwater obstacles just don't mix well with inflatable stuff. Will the boat hold up well?
High-quality inflatable kayaks are made from thick PVC materials reinforced with a polyester core (like your car's tires). They are extremely resistant to abrasion and punctures. The best models, such as Sea Eagle's 385fta, come with additional reinforcement layers on the gunwales and the floor, which makes them almost indestructible.
Air Chambers
The number of inflatable chambers is crucial for your safety. If you manage to make a hole in your boat, it is not going to sink because the other chambers will remain buoyant.
All models in our roundup except Sevylor's Coleman Colorado have three separate air chambers, one for each side and one for the floor. This construction makes them extremely safe even if something goes wrong.
What's more, some kayaks on our list are equipped with drop-stiched floors. A drop-stiched floor inflates to about 8-10 PSI and becomes very rigid. You can comfortably stand and fish on it.
Cockpit Size
Another thing you should look at is the size of the cockpit. Inflatable chambers on both sides take up a lot of space, so the cockpit may feel a little narrow. This is particularly important if you plan to stand and fish.
The best kayaks on our list use low-profile side tubes that leave enough space in the cockpit for you and all of your fishing gear.
Comfortable Seat
You'll spend hours in the kayak on your fishing trips, so a good seat is very important. Of the kayaks in our lineup, Aquaglide Blackfoot Angler 130, STAR Pike, and StraightEdge Angler Pro offer the best seats. Their comfortable, framed seats are raised above the floor and provide the best seating position. Sea Eagel offers a plastic swivel seat as an option. Other kayaks have more basic seats that still offer back support and adjustability but are closer to the floor of the kayak, which is less comfortable on long fishing trips.
Packed Size and Weight
The reason most people choose inflatable kayaks is to save weight and storage space. It's important to take a look at the packed size and the total weight of your kayak. Will you be able to carry it? Will it fit in the trunk of your car? All kayaks on our list are fairly lightweight (usually around 40 lbs) and packable.
Other Features
What are some other features you expect to see on a good inflatable fishing kayak? Here's a partial list:
Rod holders. Any fishing kayak should come with some sort of rod storage.
Gear mounts. If you plan to install a fish finder, GPS, camera, or any other gear, it is great to have mounting plates already glued on.
Motor compatibility. Inflatable kayaks are quite wide and not very fast. Paddling them over long distances could wear you out. That's why a trolling motor mount (or an option to install it) can be very useful.
Gear storage. Think about what fishing gear you want to take with you. Where will you place it, and how will you attach it to the kayak? Some models offer D-rings or similar features to let you lash your gear quickly and easily.
Top Inflatable Kayaks for Anglers Reviewed
Sea Eagle 385fta FastTrack Angler – Best Overall

Length: 12'6″ (381 cm)
Width: 36″ (91 cm)
Weight: 48 lb (21.8 kg)
Capacity: 635 lb (288 kg)
Sea Eagle 385fta FastTrack Angler is another strong player in the inflatable fishing kayak market. With its bullet-proof construction and tons of fishing-specific features, it should be on the list of anyone shopping for an inflatable fishing kayak.
The 385fta is 12'6″ (381 cm) long and 36″ (91 cm) wide, which gives you a pretty sizeable and very stable fishing platform. The hull weighs just 45 lb (20 kg) while offering an incredible capacity of 635 lb (288 kg). Big guys out there looking for a fishing kayak, take notice!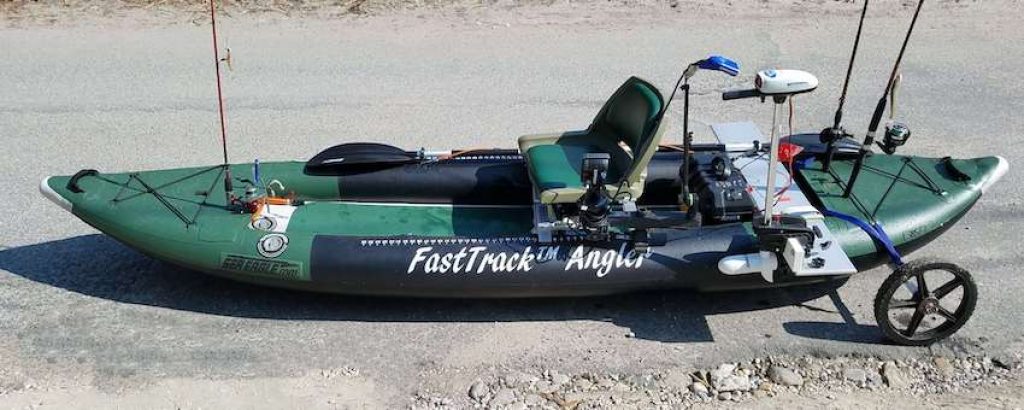 The FastTrack Angler features a bomb-proof construction with a 1000D hull material double-layered on tubes and bottom for extra protection, non-slip crocodile-patterned EVA padding on the floor, and 4 separate air chambers. The kayak is NMMA certified.
Another distinctive feature of the 385fta is its low profile. The side tubes are only 10′ (24 cm) high, which means you don't get pushed around by the wind as much, a known disadvantage of most inflatable kayaks. The performance is further improved thanks to a large removable skeg on the bottom.
Sea Eagle offers multiple configurations of the 385fta, including a choice of an inflatable seat or plastic swivel chair, a tandem package with two high-back seats, and even a version with a side-mounted Watersnake Asp T24 trolling motor. Each version comes with a paddle (or two paddles in the tandem configuration).
---
Aquaglide Blackfoot Angler 130 – Runner-Up

Length: 13′ (396 cm)
Width: 38″ (96.5 cm)
Weight: 41 lb (18.6 kg)
Capacity: 650 lb (295 kg)
New for 2021, Aquaglide Blackfoot Angler 130 features a drop-stitch floor and a body made from Duratex, a polyester reinforced PVC material. With a wide beam of 38 inches and a high-pressure, stiff floor, it allows anglers to stand and fish in comfort. The raised framed seat and the included cooler make it a true fishing kayak for advanced users.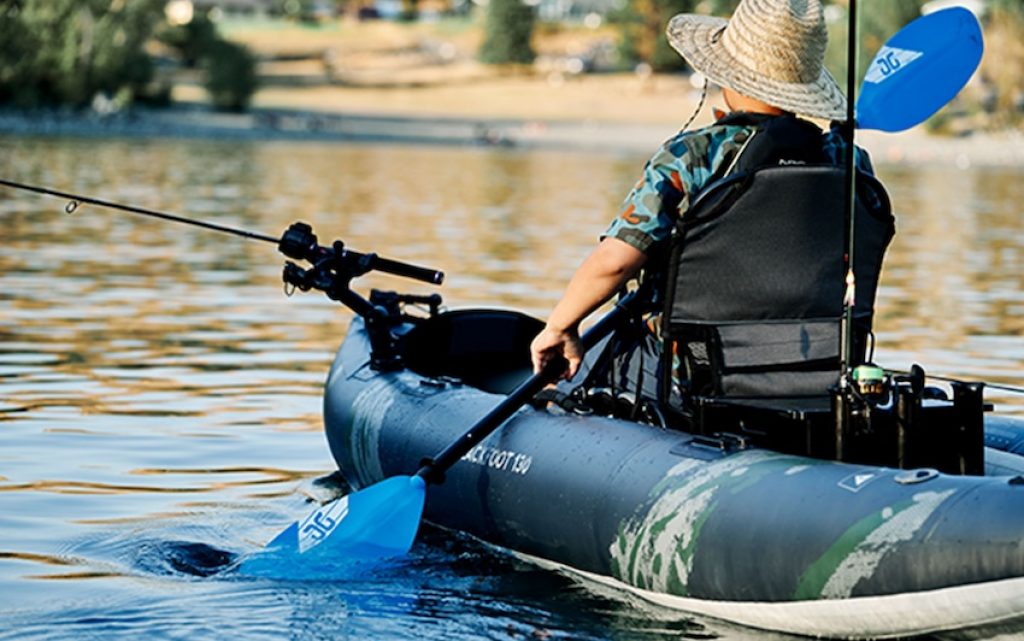 Other features include Scotty mounts on both gunwales, Molly plates and mesh bags to customize gear storage, some bungee on the bow and stern, adjustable footrests, scupper holes for drainage, and a removable skeg for better tracking.
The Blackfoot Angler 130 has an impressive capacity of 650 lbs. At just 41 lbs, it is also quite lightweight and packs down into an included backpack. It is a versatile fishing platform that you can take anywhere.
---
STAR Pike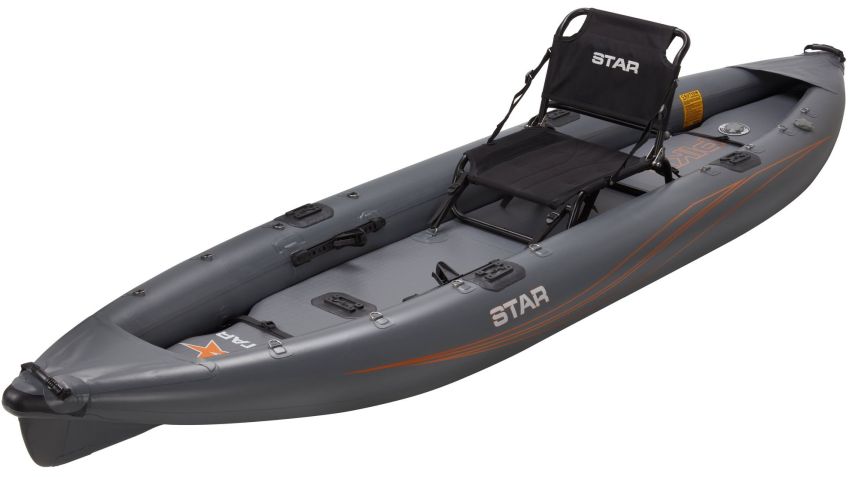 Length: 12'8″ (386 cm)
Width: 38″ (96.5 cm)
Weight: 48 lb (21.8 kg)
Capacity: 375 lb (170 kg)
STAR Pike is a very interesting model for demanding kayak anglers. It features an open, drop-stiched deck that you can stand on, rigid keel inserts on the bow and stern for better performance, and multiple gear mounting options.
The new model ditched the self-bailing design that could let some water in through the scupper holes. Instead, it now offers adjustable footrests that were not available earlier.
The Pike offers a very comfortable framed seat that is positioned pretty high above the deck, giving you better visibility into the water. The stern of the kayak was designed to accommodate a milk crate or cooler. Five YakAttack® SwitchPad™ mounts let you attach rod holders, fish finders, anchor locks etc. Last but not least, 16 stainless steel D-rings on the side tubes let you secure any fishing or camping gear you take with you.

Other features incude sturdy carrying handles on the bow and the stern and a removable skeg to improve tracking.
The drop-stiched floor inflates to 8-10 PSI and side tubes inflate to 3 PSI, so you need a high-pressure pump for this kayak. Luckily, Star Pike comes with a pump, a carry bag, and a repair kit.
The durable 1000D PVC used on side tubes and the floor can take some beating, so the Pike will last for years. The kayak comes with a 3-year warranty for retail buyers.
---
Advanced Elements StraitEdge Angler Pro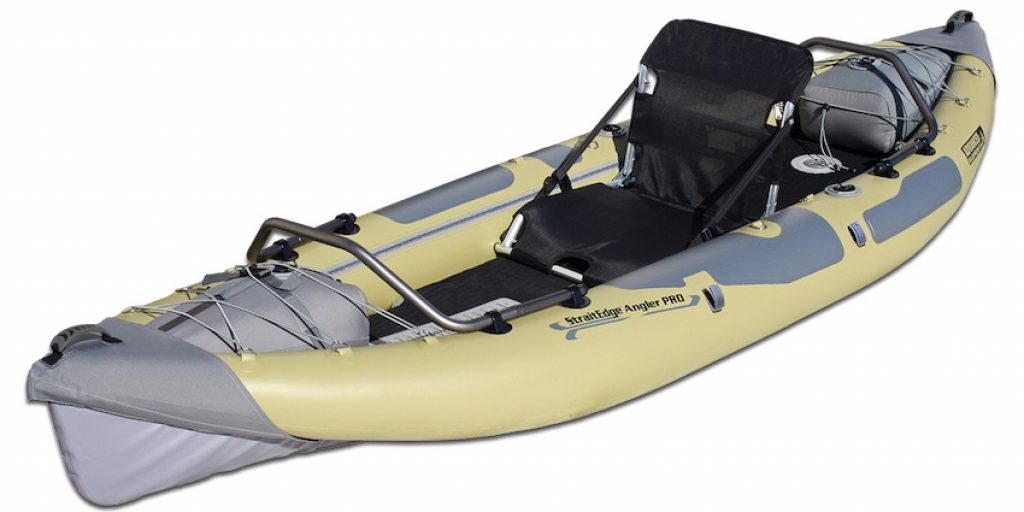 Length: 10'6″ (320 cm)
Width: 38.5″ (98 cm)
Weight: 45 lb (20.5 kg)
Capacity: 400 lb (180 kg)
StraitEdge Angler PRO is a capable fishing kayak and a huge step up from the budget models. Its wide beam and drop-stitched floor let you make casts and fight fish comfortably, even while standing. 5 separate air chambers and a durable PVC material add to the peace of mind.
The kayak is 10'6" (320 cm) and 38.5″ (98 cm), which gives you a stable fishing platform. It weighs 45 lb (20.5 kg) and has an impressive 400 lb (180 kg) capacity.
The boat features a sharp keel on the bow and the stern (there's an aluminum piece inside to give rigidity), which lets it pierce through waves and track better. There's also a removable fin for windy days or choppy waters. The aluminum frame seat offers great back support for long days on the water. Two accessory frames let you mount rod holders, electronics, or anything you want.
---
Intex Excursion Pro

Length: 12'7″ (384 cm)
Width: 37″ (94 cm)
Weight: 39 lb (17.7 kg)
Capacity: 400 lb (181 kg)
Having an inflatable kayak is a major advantage if you like to travel light and take your boat with you into the furthest reaches of the wilderness in search of game fish. The Intex Excursion Pro is an excellent choice for anglers who are looking for a reasonably priced fishing kayak. It is made to be very durable and can accommodate two users.
The Intex Excursion Pro makes a strong case for being the top kayak on our list. It's made from reinforced 3-ply PVC with high-pressure spring-loaded valves that allow for quick inflation and solid rigidity which makes it feel and handle just like a rotomolded kayak in some cases. This kayak can be used in saltwater or freshwater without deterioration.
The Excursion Pro also comes with removable and adjustable mounting brackets that allow you to install accessories such as fish finders, camera gear, rod holders, and more. This is a great option to include in an RV, or for couples who want to pack their fishing gear in their vehicle and hit the road.
What we like:
Highly portable
Can be used as a tandem or solo
Good handling
Quick inflation time
What we don't like:
Lacks storage capacity
Low seat position
---
Sevylor Coleman Colorado

Length: 10'7″ (326 cm)
Width: 36'5″ (92.7 cm)
Weight: 32.9 lb (15 kg)
Capacity: 470 lb (213.2 kg)
The Sevylor Coleman Colorado is another great option if you like to bring a lot of gear. Moreover, it can even take two people on board, although there would not be enough space to fish comfortably.
The kayak is made from thick PVC material and can take some beating. It comes with two adjustable seats but can be used in a solo mode as well (which is how it should be used, in our opinion).
Features include built in rod holders, several mounting points for your electronics, attachment D-rings for your gear, and some mesh pockets for small items you need quick access to.
The Coleman Colorado is another great option for anglers who want to have the ability to take their kayak almost anywhere without much hassle.
What we like:
Great portability
Solid feel when fully inflated
Includes rod holders
What we don't like:
Limited storage
Be careful not to over-inflate