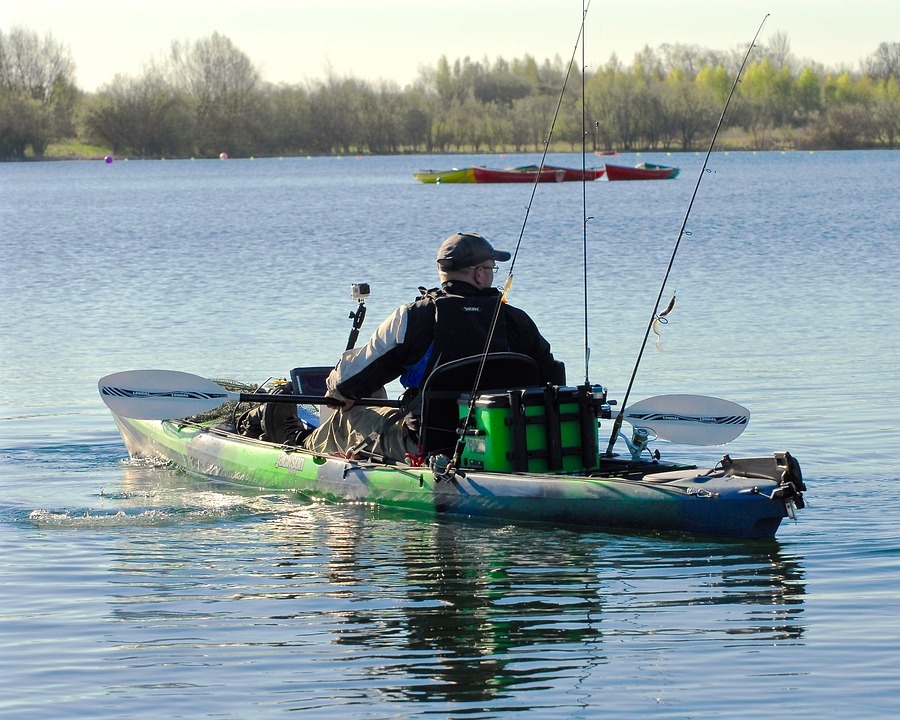 Kayak fishing allows anglers to utilize a smaller, quieter means of going after fish compared to traditional boats. While there are plenty of advantages of kayaks over fishing boats, one of the main drawbacks of using a kayak is the limited amount of space and capacity.
Professional kayak anglers and seasoned veterans of the sport have learned over time that some gear items are more important than others. Here are a few of the most essential gear items that should help beginners determine which ones to include in their trip, and which ones are best left behind.
Let's take a closer look at the 18 most essential gear items and accessories for kayak fishing.
1. Personal Flotation Device
"Safety first" is the common mantra of many outdoor sporting activities, and it rings true in relation to kayak fishing. Kayak anglers are at much higher risk of drowning because many kayaks can be tipped over more easily than a traditional boat.
RELATED: How to Choose a PFD for Kayaking: The Complete Buying Guide
Personal flotation devices should be worn by kayak anglers at all times, even in shallow water. Many drownings are all-too-often the result of victims sustaining head injuries or other instances that hinder their ability to swim and stay above the surface. Having a PFD gives you a greater chance of staying afloat, even when you might be unconscious.
Many new PFD models are constructed with less bulk than older versions that are notorious for getting in the way of casting, paddling, handling fish, and nearly any other activity common to kayak fishing.
Having a PFD is the single-most important item an angler can have in their possession. Going without one means putting yourself at a severe risk.
2. Paddle
This item may seem obvious, but many pedal-driven kayak users are choosing to take to the water without a paddle. Some of the most advanced pedal systems are so efficient that paddles are sometimes looked at as insignificant and something that will only take up precious space. Nevertheless, having a paddle will prove to be a very important item that helps anglers be prepared for the unexpected.
RELATED: How to Choose a Paddle for Kayaking: Expert Advice
Having a paddle in the event that a pedal system malfunctions or gets broken is not only smart, it can prove to be lifesaving in some instances. We've seen paddles used for everything from dislodging hooks from trees to fending off angry alligators in the backwater swamps of the southern United States.
Keeping a paddle stowed away on the side of a kayak might seem inconvenient, but experienced anglers will attest to the fact that paddles are one of the most essential items a kayak angler can have on the water.
3. Leash or Bungee Cords
Kayaks are at an increased risk of tipping over, meaning any gear you have sitting on top of your vessel is likely to be lost in the event that you do find yourself taking a tumble. Experienced anglers will agree that accidents on the water often lead to learning tough lessons in the importance of securing each and every gear item while fishing. After all, tipping your kayak always happens when you least expect it.
Having an adequate number of leashes or bungee cords for all your gear will prevent losing them completely. We know it can be frustrating and somewhat time consuming to secure each and every item during your trip, but it can sometimes keep you from losing expensive tackle and other equipment.
4. Anchor
Kayaks are much lighter than any other type of watercraft used for fishing. Being so lightweight can sometimes prove to be a huge advantage, but on a windy day, anglers will quickly realize the importance of having an anchor.
Bringing along an anchor can undoubtedly be an inconvenient piece of equipment, especially if your kayak isn't equipped with an anchor trolley. It's heavy, it takes up space, and it can easily get snagged on other gear items or fishing line.
However, an anchor can make all the difference between being windblown all over a lake or staying in the right position and staying on the fish.
5. Anchor Trolley
If you are smart and choose to include an anchor in your gear arsenal, you'd be even better equipped with an anchor trolley. Some premium kayaks offer this as a standard feature, but it can be quite easy to include an anchor trolley on most kayaks.
Having an anchor trolley allows you to position your kayak in a way that doesn't fight against the wind or current, but instead keeps your boat in the same position or facing the same direction—allowing you to focus on the fish instead of wasting time trying to keep your kayak in position.
6. Kayak Cart
One of the most pressing problems kayak anglers face is figuring out how to get their kayak from their truck or trailer to the water in the safest and least difficult manner. Some lightweight kayaks are much easier to handle than premium models, but using a kayak cart or trolley can eliminate a great deal of frustration and wasted effort.
Many kayak brands offer specialized carts that can easily be used to transport a kayak from Point A to B. Sometimes anglers find themselves having to get creative in launching their kayak in the most ideal spot, and there isn't always a boat ramp to make things easy.
Owning a kayak cart allows you to transport your kayak, as well as most or even all of your gear and tackle in one trip. Most kayak trolleys can easily be broken down to be stowed away in a hatch, or placed behind the seat of your kayak.
7. Fish Finder
Having a fish finder installed on your kayak is often seen as a symbol of experience and dedication as novice or beginner kayak fishermen seldom go through the trouble to install electronic equipment on their kayak.
If you plan to fish competitively, or simply want to have the largest advantage possible on the water, fitting your kayak with a high-quality fish finder or sonar equipment is something that will eventually pay off large dividends. Most premium fishing kayaks come standard with transducer scuppers and cables that make installation of a variety of fish finder brands quick and easy.
However, the lack of such features doesn't mean you won't be able to enjoy using a fish finder, but that you might need to have a bit of creativity in order to successfully install one to your kayak. Having a fish finder, and learning to properly use it is considered to be absolutely essential by professional fishermen and anyone who considers themselves to be a serious kayak angler.
8. Landing Net
When it comes to kayak fishing, having every piece of equipment that can help you land fish is absolutely essential. If you don't currently include a fishing net in your gear arsenal, now is the time to add one because a net greatly increases your chances of landing fish on the water.
Unlike fishing from a large boat, kayak anglers are very limited in the amount of movement they're able to make, especially when trying to land a fish. Anglers on a boat can easily get into position to grab a fish and bring it aboard, but kayak anglers are severely limited in the range of motion they have and every movement counts when a fish is on the end of your line.
Using a landing net allows you to focus on reeling and positioning the fish in a specific way and finally land the fish by netting it once it gets close enough to the kayak. Learning to use a fishing net is considered a useful skill and having one on your kayak greatly increases the chances of you landing a trophy fish.
9. Lip Grips
In the same spirit of listing equipment that helps anglers land fish from a kayak, having a pair of lip grips can also prove to be extremely useful for kayak anglers. Working with limited space is a constant challenge for kayak fishermen and women and using tools like lip grips can help anglers stay in better control over the fish while you remove your hooks and log your catch.
Professional anglers typically employ the use of lip grips as they have likely experienced the crushing defeat of catching and landing a fish onto the kayak only to have it slip away with a few lively thrashes—essentially wasting all your effort to catch the fish.
Lip grips can easily be stowed away in a tackle box, or underneath the seat in most premium kayak models. Many anglers like to keep them stashed in a tackle pocket or even the cupholder on their kayak's cockpit area. In addition to helping anglers secure their catch, lip grips can also prevent anglers from incurring injuries when fish might spike their hands or arms with sharp fins.
Utilizing lip grips and a landing net might seem like overkill to some less experienced fishermen, but kayak anglers are closer to the water and, therefore, must take greater care of their fish to ensure that they don't lose their hard-earned catch before being able to log it or get it into the live-well.
10. Multi-Tool
Fishing from a kayak is a continual lesson in learning to use what you have available and keeping your overall amount of gear at a minimum. This means that it's highly unproductive to tote a full-size toolbox along on your fishing trip. Instead, it's widely considered essential to bring along a quality multi-tool.
There are many different types of multi-tool units, but most can be distinguished by the price and any seasoned angler will agree that when it comes to fishing tools and accessories, you often get what you pay for.
Having a multi-tool allows you to use pliers to bend, reshape hooks and other important parts, as well as use the variety of blades at your disposal for any purpose you might need. Some multi-tools have elongated plier arms that are able to reach down inside a fish's mouth to dislodge hooks.
Multi-tools also usually feature a solid pair of snips that help in cutting braided line, or anything else while on the water. Bringing along a high-quality multi-tool unit can prove useful in a variety of situations and is arguably the most important accessory in a kayak angler's list of gear and tackle items.
11. Rod Holders
Most fishing kayaks will come standard with one or more rod holders, but experienced anglers will attest to the importance of having rod holders placed in exactly the right location. Many of the most sought-after kayaks feature a number of gear tracks along the sides, bow and stern of their kayak. Anglers can use these tracks to install any number of rod holders to fulfill various functions on the water.
Extra rod holders, especially adjustable models, will allow you to strategically place fishing rods at various points on your kayak to improve your trolling ability, or to simply stow an extra rod in just the right spot so that it can be quickly and easily reached once you arrive at your fishing spot.
Making use of limited space is an underrated skill set for professional kayak anglers and having a well-placed rod holder greatly contributes to making the most out of the space you are allowed.
12. Kayak Fishing Clothing
Kayak fishing is most popular in the warm months of spring and summer when most anglers don't mind getting a little wet while on their fishing trip. However, serious kayak anglers take to the water year-round in a variety of cold, rainy conditions that might otherwise keep amateur anglers at home.
Purchasing specialized, waterproof clothing will go a long way in making sure you stay warm and dry while on the water in your kayak when most anglers would rather not brave rough conditions. There are a variety of new and well-established clothing companies that produce waterproof, insulated clothing that are highly popular among professional kayak anglers.
Owning the right kind of gear and tackle is obviously essential to your success on the water, but making sure you are dressed in a way that will give you the greatest chance for a successful fishing trip is a lesser-known secret that veteran anglers know too well.
For more information on what to wear kayaking, check out this guide at REI.
13. Dry Bag
Many fishing kayaks offer dry storage compartments and hatches that are great for keeping some of your most important gear items stowed away safely and securely out of the elements. However, many budget-minded kayak models do not feature these amenities, so having a dry bag is extremely important for ensuring that some important gear items don't succumb to the potential wet conditions.
A dry bag is perfect for storing food, or valuable items like cellphones, wallets, and other items. Some anglers go as far as stowing the dry bag in a storage hatch, but some might consider this to be taking too much precaution. However, many seasoned anglers have found that when it comes to keeping your most valuable possessions dry and free of water damage, it's often better to be safe than sorry.
14. Flag & Lights
Proper safety equipment is easily the most important item an angler could bring along with them on their kayak. If you're fishing areas where you might encounter larger, high-speed boats, it's absolutely essential to have a flag that makes your watercraft as visible as possible from as great a distance as you can. Having large, tall flags are also considered to be important for those who fish along coastal areas and shallow inlets where bass boats often speed through with little warning.
Adding lights to your kayak is a must if you plan to fish at night. Many states require that kayak anglers who fish at night have the same lights that are required of full-size boats. Even if you don't plan to fish in the dark, having lights stowed away that can be equipped in the event that you become stranded on the water can turn out to be extremely important.
15. Flashlight or Headlamp
Experienced anglers know the importance of being prepared for emergencies and kayak fishing is no exception. Bringing along a headlamp or flashlight could prove to be extremely important for anglers who become stranded or can't find their way back to their launch point for any reason. A flashlight or headlamp will also allow you to signal nearby boats if you do happen to get stranded.
16. First-Aid Kit
Finding yourself ill-prepared in an emergency can often turn a bad situation worse, or even lead to serious injury. Packing a well-stocked first-aid kit along on your kayak will help you be prepared for anything you or your fishing partners might encounter. First-aid kits can quickly become the most important item in your kayak should you be faced with an emergency. Having one of these aboard your kayak is especially important for longer, overnight journeys into areas where cell phone signal is scarce.
17. Whistle or Air Horn
One of the lesser known safety items that experienced kayak anglers include in their gear arsenal is a whistle or air horn. This might seem like an insignificant item that will have little value in an emergency, but many anglers and first responders will agree that an item such as a whistle or an air horn often carries louder and farther than a person's voice when in distress.
Having a whistle attached to your PFD is a great way to stay prepared and ready should your kayak capsize and you find yourself in need of immediate help. If you opt for taking an air horn in with your other gear, be sure to keep it in a location where it won't be easily damaged by water.
Many states require that kayak anglers have a whistle in their possession when on the water, but there are plenty of instances where having a whistle can greatly increase your chances of being rescued.
18. Rope
One item that is all-too-often overlooked but can come in very handy is extra rope or cordage. Having extra rope can prove useful when tying your kayak off to structures along the shoreline, or even securing your kayak to another fishing partner's vessel if they happen to lose their paddle or encounter an emergency. Bringing along extra rope or cordage is an item that will usually prove its usefulness when needed.
Final Thoughts
Kayak fishing takes some preparation and the right gear. By having the right tools with you, you will stay safe, have more fun and (hopefully) catch more fish!