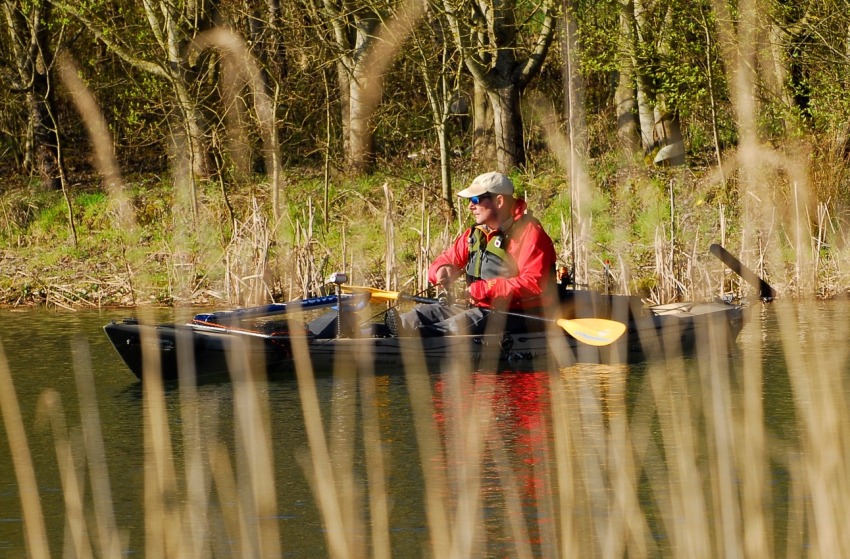 Although fishing kayaks are usually very stable, it is still important that you take responsibility for your safety. On the water, this starts with wearing a personal floatation device.
There are all types of kayak fishing PFDs, with various features and different fits. It's important to find a style which suits you and allows you maximum mobility in your kayak and while casting. Picking a PFD which fits and floats you is the most important thing, but there are extra features, storage and ventilation to consider too.
In this article, we explain what to look for when buying your fishing PFD. We then have our list of the best life jackets for kayak fishing, so you can choose your perfect PFD.
Quick Answer: Top Rated PFDs for Kayak Fishing
What Type of PFD Do You Need?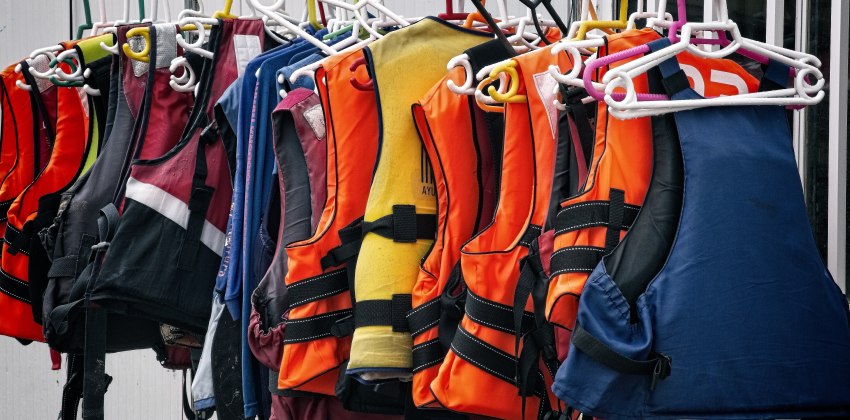 There are life vests and PFDs for every kayak discipline. Fishing PFDs need to be non-intrusive so that you can easily move around your kayak and fish without difficulties. They often have fishing-specific features for tool storage and holding rods, as well as pockets for tackle boxes.
Away from the features, the most important task of a PFD is to keep you afloat if you capsize or slip off your kayak. The USCG categorizes PFDs into five categories. PFDs of different types may float differently, or have different environmental uses.
Type I – These are designed for offshore use and have the most inherent buoyancy. Type I PFDs are designed to turn unconscious users onto their backs and protect their airways.

Type II – Type II PFDs are designed to be used in calmer conditions. They will turn most unconscious casualties onto their back and upright.

Type III – Type III PFDs do not turn unconscious casualties onto their backs, but are designed to simply float the wearer.

Type IV – These are external floatation devices that are thrown to the casualty to keep them afloat until they can be rescued.

Type V – These have sport-specific purposes and often include specific attributes which are used in particular environments.
Most kayaking PFDs are Type III. Some kayak anglers prefer inflatable PFDs for their low profile and these usually inflate to a Type I or Type II life jacket.
Foam or Inflatable?
There are pros and cons to both foam and inflatable vests. Why are foam PFDs usually considered the best for kayak fishing?
Foam-filled PFDs are comfortable, long-lasting, and safe for kayakers. Unlike inflatable jackets, they can be used over and over again without rearming.
Inflatable vests are preferred by some kayak anglers, especially those who fish further from shore. They are lower profile, which makes them less intrusive and far cooler than a foam vest.
The downside of inflatable life jackets is that once an inflatable PFD has been deployed, it has to be repacked and rearmed. You don't want to be doing that out in the middle of a lake.
Foam vests, though, are becoming more ventilated. A lot of fishing life jackets have mesh backs, which not only keep you cool but work well with high-backed framed seats that many fishing kayaks come with. They also tend to have more fishing-specific features, which we will look at further down.
What to Look For in Your Kayak Fishing PFD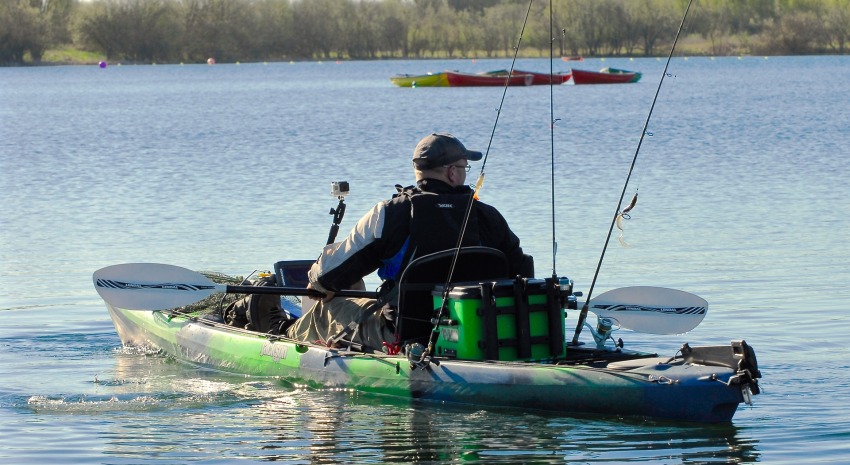 Mobility
If your PFD is restricting your movement, not only will it be more difficult to paddle, but also to cast. There is a fine line between a PFD that fits snugly enough not to come off in the water and one which stops you from being able to move properly.
Inflatable PFDs usually offer the most mobility, as we said earlier, but they also have their drawbacks. A Type III life jacket is usually the best choice for kayakers because of the increased movement you have while wearing it.
Different PFDs fit different body types. Of course, they come in a variety of sizes, but if you're not sure about your movement, try on your PFD before buying it. Remember that once your pockets are loaded up, this might restrict your movement too.
Weight
The weight of your PFD will have an effect on your comfort and movement. Smaller paddlers especially may struggle in a heavy PFD. However, lightweight PFDs usually mean lighter, less durable materials and perhaps fewer features.
It's important to find a balance that is right for you and doesn't make it hard for you to move about in your kayak. Adding the weight of your gear is important when you try on your PFD, too.
Floatation
Your weight matters too, but only in terms of finding a PFD with the right level of floatation. Type III PFDs usually have around 50 N of buoyancy, which is more than enough to float an adult. Most models come with a weight range, though, and you should stay within this to ensure you float safely clear of the water.
Warmth or ventilation
A PFD can act as an insulating layer in colder climates. Of course, this is something you want to avoid if you fish somewhere warm. Finding the right PFD means picking a model that fits you and your environment.
Full body PFDs are going to trap an extra layer of warmth for you, keeping you toasty. Some even come with hand warmer pouches, or fleece pockets to warm your hands in.
PFDs for warmer areas have ventilation strips, or often mesh backs. These let your body breathe and prevent you from overheating or wanting to remove your PFD.
Angling features
Finally, finding a PFD with the right angling features can make the difference between a good choice and a great choice. Large pockets for tackle boxes, tool pouches, rod holders, and many more features are available. You may decide you don't need all of these and they are adding extra expense. You should decide what's right for you.
Top 8 Life Jackets for Kayak Fishing
Stohlquist Keeper – Best Overall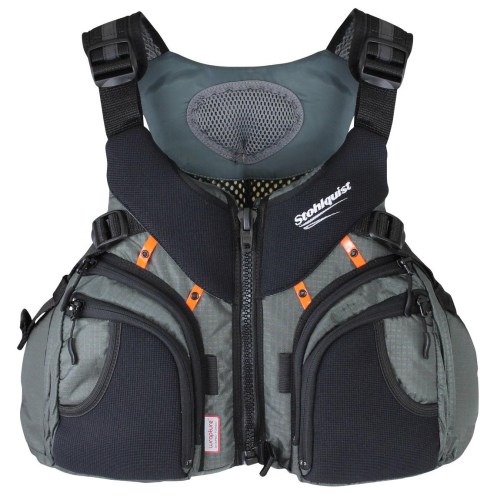 Buoyancy: 16.8 lbs. (7.62 kg)
Weight: 1.9 lbs. (0.86 kg)
USCG Rating: Type III
Stohlquist Keeper PFD utilizes the same high quality construction and comfort as Stohlquist's recreational and touring PFDs, but with the addition of fishing specific features. This is an excellent, year round fishing vest.
This is a full body, thin backed PFD, making this a comfortable life jacket suited to both high back, and traditional kayak seats. With the Wrapture shaped torso, the Keeper wraps around your body, fitting snugly and staying out of the way whether you're paddling, or standing to fish.
Obviously, when you're fishing, you want everything you need to be within easy reach and accessibility. The Keeper has a selection of easy to access and internally organised pockets for all your kit. The zips on these are fitted with gripped toggles, so it's really easy to open them one handed, even with cold or wet hands.
There are expandable neoprene pockets on the front of the larger tackle pocket, which are perfect for accessories you need regularly. These can be secured on the many mounting points the Keeper has, so that you don't have to watch your nippers sink to the bottom of the river if you let go of them.
Behind the larger pockets are two handwarmer pockets, ideal if you're fishing on colder days and want to breathe some life back into your fingers before you fish.
---
NRS Chinook – Runner-Up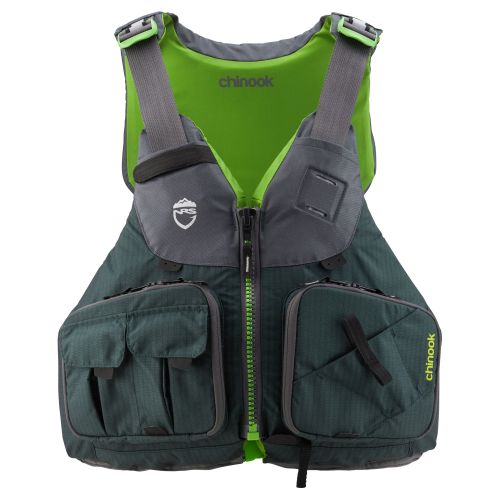 Buoyancy: 16 lbs. (7.26 kg)
Weight: 2 lbs. (0.91 kg)
USCG Rating: Type III
NRS Chinook is the world's best selling angling PFD, and it's easy to see why. A high back design is usually favored for kayak fishing, where the top end kayaks have highly evolved, supportive and comfortable seats. The mesh back is great for long days on the water too, not only allowing you to stay cool as you fish, but maximizing movement for both paddling and fishing.
Two large pockets on the front of the Chinook fit tackle boxes, so you don't have to hunt around in your kayak to find them. On the front of these there are two small accessory pockets and a tool pocket for pliers or line cutters. These accessory pockets are secured with hook-and-loop closures, easy to open and close single handed while you fish.
Beyond the fishing prowess of this PFD, this is a great piece of gear. It's comfortable and contorts well to your figure. The front zip entry and six adjustment points make sure it stays secure, as well as being really easy to take on and off to change layers throughout the day.
---
NRS Shenook – Best Female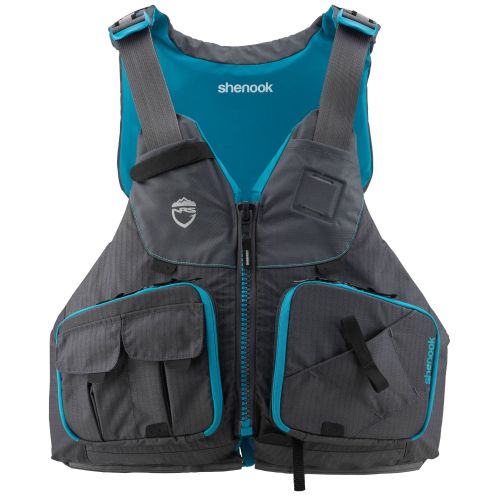 Buoyancy: 16 lbs. (7.26 kg)
Weight: 1.9 lbs. (0.86 kg)
USCG Rating: Type III
Made for female anglers, the NRS Shenook PFD is all the high quality of the incredibly popular Chinook but with a comfortable female fit. The articulated plush panelling is perfect for the female form, so you can be as comfortable as possible throughout long days of fishing.
The front zip and multiple adjustment points make this a really easy to fit PFD and with enough range to fit everyone. Like the Chinook, the high back and mesh design keeps you cool on hot days and allows you to fully enjoy the comfort of the high quality kayak seat you paid so much money for.
On the front of the Shenook are the same tackle box sized pockets, as well as the two gear pockets and the tool pocket, secured with the hook-and-loop closures. All of this storage is internally organised, too, so you can find what you need quickly on the water, saving you time and making your fishing as easy as possible.
---
Stohlquist Spinner – Best Budget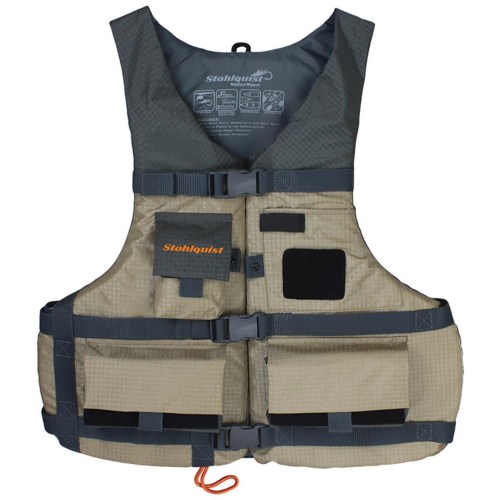 Buoyancy: 14 lbs. (6.35 kg)
Weight: 1.5 lbs. (0.68 kg)
USCG Rating: Type III
The Spinner is Stohlquist's budget fishing PFD, but that doesn't mean it's lacking in features or useability.
The Spinner focuses primarily on comfort and mobility. The thin foam and the low cut design couple well with the sculpted panels which wrap around your body, giving you an unencumbered paddle position. This is also a bonus when fishing, where the low profile will make the Spinner feel like you're wearing a regular fishing vest.
The thin back on the Spinner helps to keep you cool and well ventilated, while also keeping you comfortable fishing from the seat of your sit-on-top fishing kayak.
Two large pockets on the front of the vest are large enough for fly and bait boxes, so they're always close at hand and easy to access. The only thing worse than scrabbling around in the bottom of your boat for a pair of pliers, is leaning over the side of your kayak and watching them sink. The many mount points and stow points for accessories mean you always know your equipment is always safe and secured.
---
Astral V-Eight Fisher – Best Ventilation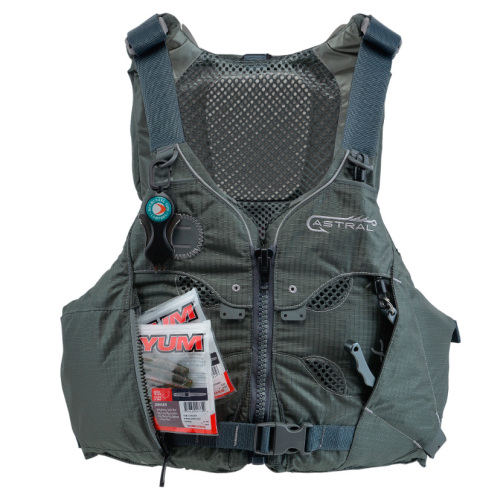 Buoyancy: 16 lbs. (7.26 kg)
Weight: 1.37 lbs. (0.62 kg)
USCG Rating: Type III
Based on the enormously popular Astral V-Eight, the V-Eight Fisher PFD might just be the most breathable kayak fishing life vest on the market. With a high back, mesh design on the rear and Astral's Airescape on the front, overheating is a thing of the past.
This minimalist vest is designed for serious kayak anglers. Whether you've got a long way to paddle to get to your fishing spot, or want a PFD which stays out of the way while you stand in the sun, the V-Eight Fisher gives you total freedom of movement.
On the front, there's a pocket large enough for phones and other essential items, while on the other side there's a stow point for your tools, complete with a clip so you don't lose track of them. There's also a pocket for a folding knife, and a lash point for fixed-blade knives. With this well thought out storage, you'll always know where your equipment is while you're out fishing.
---
Stohlquist Fisherman – Best Tool Management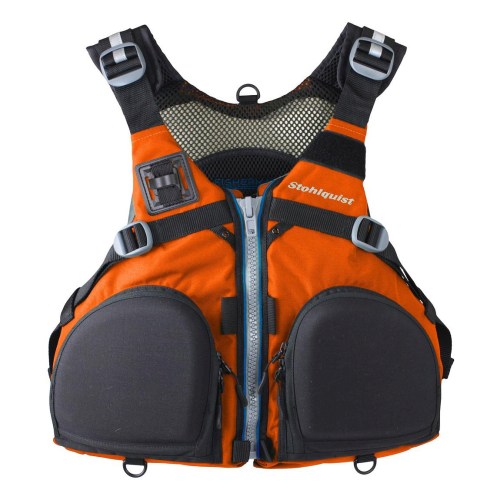 Buoyancy: 16.4 lbs. (7.44 kg)
Weight: 1.9 lbs. (0.86 kg)
USCG Rating: Type III
The workhorse of the range, the Stohlquist Fisherman PFD is designed for serious anglers who want a vest which will not only be comfortable and cooling to paddle in, but which will give them maximum workspace.
Pockets are always of primary interest to anglers. The front mounted tool pockets are organised for you to be able to easily find and use your kit without dropping it into your boat, or worse. These pockets have a protective EVA stiffened shell, which is not only protective, but can be folded down to make small workstations.
Beyond these pockets, there are multiple attachment points for tools and safety knives, so everything you need is close at hand and secure.
The Fisherman has a half mesh back, so you not only stay well ventilated on the water, but you can enjoy the full comfort of the high backed seat your kayak manufacturer went to such lengths to design.
This is a highly adjustable PFD which cinches down at the chest to stop it riding up. With a snug fit and comfortable foam dispersion, you'll have everything you need and nothing getting in the way or your fishing.
---
Astral Sturgeon – Best Storage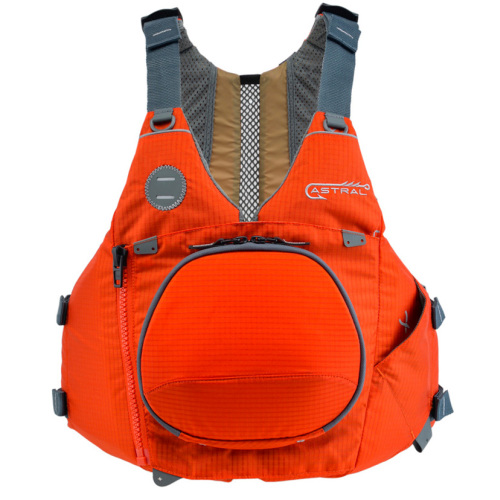 Buoyancy: 16 lbs. (7.26 kg)
Weight: 1.63 lbs. (0.74 kg)
USCG Rating: Type III
Ever been fishing and forgotten which pocket you've put your pliers in? Or where your phone is this time? With the Sturgeon, Astral have solved your problems by consolidating five pockets into one enormous clamshell style pocket. This might sound confusing, but when the pocket itself can be used as a shelf, and with the level of internal organisation that Astral have included, it's easy to find anything you need.
Now, some things need to be accessed one handed, and as quickly as possible. With this in mind, the Sturgeon has a tool stow, a knife pocket, and a lash point. These can be attached onto the PFD, leashed to d-rings, so that if you do let go, you won't have to watch your pliers sink to the bottom of the lake.
One look will tell you that the Sturgeon is well thought out for fishing, but it's so much more than that. This is a PFD which is comfortable and ventilated enough to wear all day, even in the warmest conditions. The Thin Vent back keeps you cool on the water, and stops you getting pushed out of your seat as you paddle. The Sturgeon is made from foam which contorts to your body shape, giving you all the movement you need for paddling and fishing.
---
Stohlquist Spinner Youth – Best Youth PFD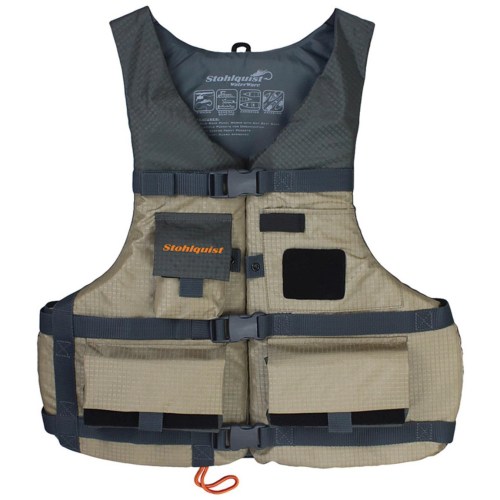 Buoyancy: 16 to 18 lbs. (7.26 to 8.16 kg)
Weight: 1.5 lbs. (0.68 kg)
USCG Rating: Type III
Stohlquist Spinner Youth is a simple, high mobility vest for kayak fishing, paddling, general boating and personal watercraft use. The sculpted front and back foam panels create more mobility for angling and paddlesports.