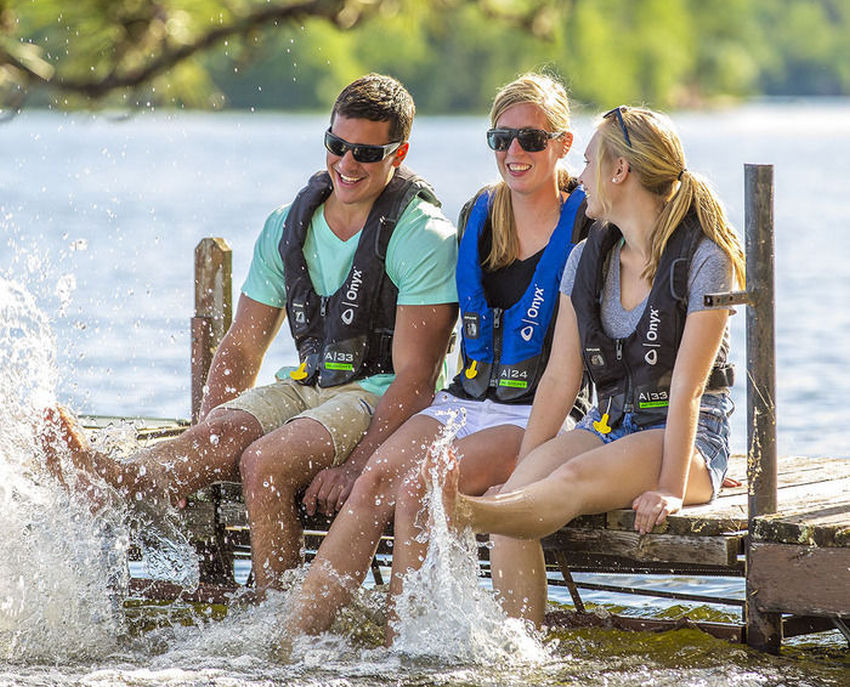 The right life jacket is essential for staying safe on the water. Whether you choose to kayak on the sea, your local lake, or on rivers, accidents can happen any time and you should always be ready. The best life jacket is the one you will choose to wear every time.
Inflatable life jackets aren't particularly common in kayaking. There are some situations, though, where they can be a great choice. Inflatable PFDs are highly comfortable and give you lots of movement and breathability.
In this article, we will look at the pros and cons of the best inflatable life jackets and highlight some of our favorites.
In a hurry? Here are our top picks:
What Is an Inflatable Life Jacket?
Inflatable life jackets have no inherent buoyancy. These jackets come packed down into either a waistband or a vest-style life jacket. When fired, a CO2 cartridge fills the vest with gas, inflating it to float the user.
There are different styles of inflatable life jackets, which we will describe shortly. Any life jacket you plan to wear for kayaking should be certified by the US Coast Guard.
USCG Ratings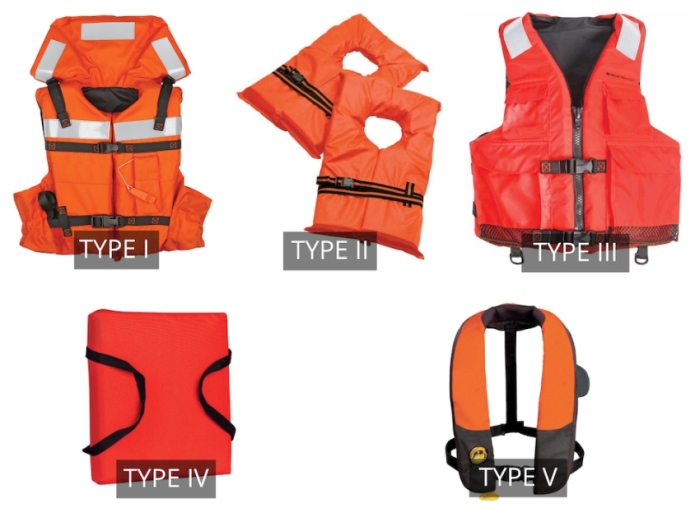 The USCG categorizes personal flotation devices into five different categories.
Type I – Have the most inherent buoyancy and are designed for rough conditions or offshore. These PFDs are designed to turn unconscious casualties into a safe position.

Type II – Designed for calmer waters or nearer shore and have the ability to turn some casualties onto their back.

Type III – Not designed to turn casualties over but only to provide flotation.

Type IV – Thrown devices to aid a struggling person to either assist rescue or keep them afloat while they await rescue.

Type V – Sport-specific or condition-specific PFD. Each of these devices has its own specific use.
Emergency and rescue inflatable life jackets are usually classified as Type I or II. These jackets are designed to turn the wearer onto their backs, keeping the airway clear no matter the levels of consciousness.
Most inflatable kayaking PFDs are type V. They are categorized as specialized equipment, but once inflated they offer Type III performance. They won't turn you automatically onto your back, but you will still have enough movement to swim and climb back onto your kayak.
How Much Buoyancy Do Inflatable Life Jackets Have?
Type I inflatable PFDs tend to have around 22 lbs of buoyancy. Type II and III PFDs have around 15.5 – 16.5 lbs of buoyancy. This lower buoyancy is designed for calmer water and areas where you are active in the water.
Manual or Automatic Inflation?
All inflatable PFDs require a CO2 cartridge to be pierced, filling the chamber of the life jacket with the gas. Inflatable life jackets come in either manual or automatic inflation.
Manual Inflation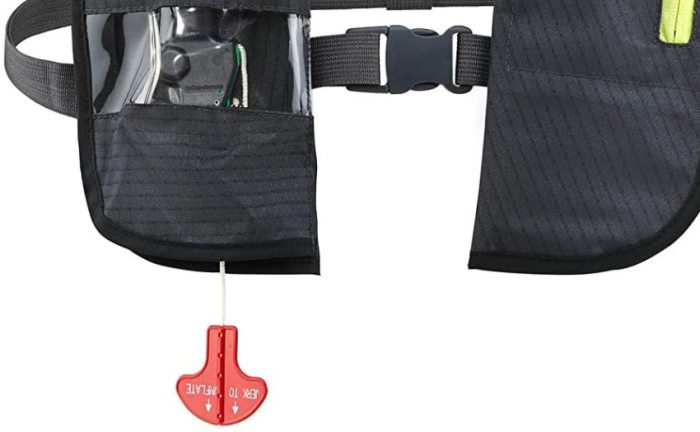 A manual jacket has a toggle which, when pulled sharply, activates a firing pin. The pin pierces a CO2 cartridge that inflates the vest. A manual life jacket requires the user to be conscious and in a state to pull the cord.
Automatic Inflation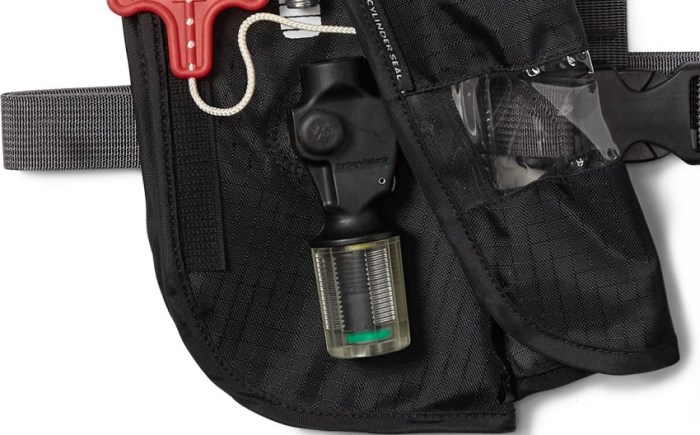 Automatic life jackets do not require any human intervention to set off the firing pin. On these vests, the pin is blocked with a soluble 'pill', which dissolves in contact with water. Once dissolved, the firing pin deploys and the jacket inflates.
Can Everyone Wear an Inflatable Life Jacket?
The US Coast Guard does not recommend that people under 16 wear inflatable PFDs. There is a short period of time while the jacket inflates where some ability to swim is required. It is also important that the wearer can stay calm to pull the toggle if a manual inflation jacket is worn. USCG warns that inflatable lifejackets are not appropriate for weak or non-swimmers.
Most inflatable life jackets are not designed to fit young kayakers. If you are looking for a PFD which will float the wearer on their back, there are lots of foam-filled youth life jackets on the market.
When to Wear Your Inflatable Life Jacket
Inflatable life jackets are still not common among kayakers. This is, in part, because they are single-use and require rearming between inflations.
Inflatable life jackets are most popular among kayak anglers and paddle boarders. Anglers benefit from the freedom of movement and comfort of an inflatable PFD and tend to stay well clear of the water at all times. Paddleboarders usually prefer a waist-mounted PFD, keeping it as a backup flotation. They usually prefer to use the board itself to support them in the water.
When NOT to Wear an Inflatable Life Jacket
Because the body section of inflatable vests is often long, these life jackets often don't sit comfortably with a closed cockpit-style kayak. Automatic life jackets are not suitable if you're kayaking in heavy rain or in waves. The pill can dissolve accidentally and the jacket can inflate when you're least expecting it.
A manual inflation PFD is not suitable in any situations where you may become incapacitated. For example, if you are sea kayaking around rocks or whitewater kayaking, there is the risk of injury or unconsciousness. Moreover, in these situations there's an additional risk that an inflatable PFD may get punctured on sharp rocks.
Different Types of Inflatable Life Jackets
Vest Style Jackets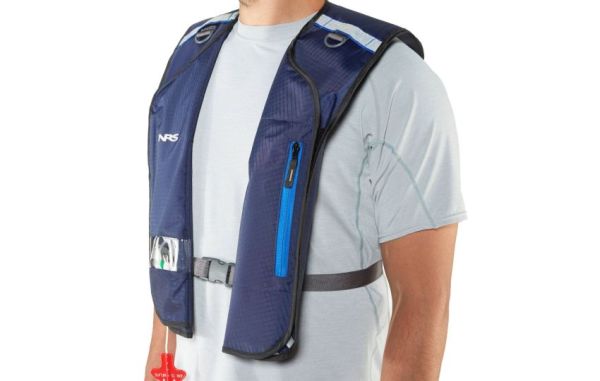 The most traditionally recognized style of inflatable life jacket is the vest-style inflatable PFD. It sits like a collar. You put it on and wear it at all times, unlike some other styles which you put on once inflated.
These vest-style jackets give a good level of freedom and comfort with higher seating positions or standing positions. These PFDs are the only ones normally equipped with automatic inflation.
Waist Belts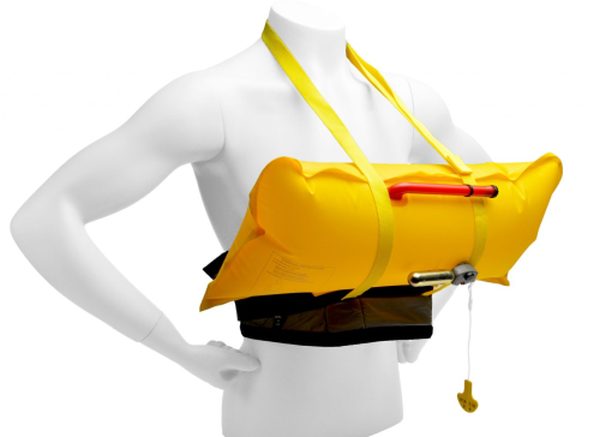 Most popular among paddle boarders, inflatable waist belts are the closest to not wearing a PFD while still carrying a flotation device with you. These waist belts pack away to almost nothing and are inflated by a manual pull toggle. Once inflated, these are then attached around the waist or neck of the user to keep them afloat.
Snorkeling Vests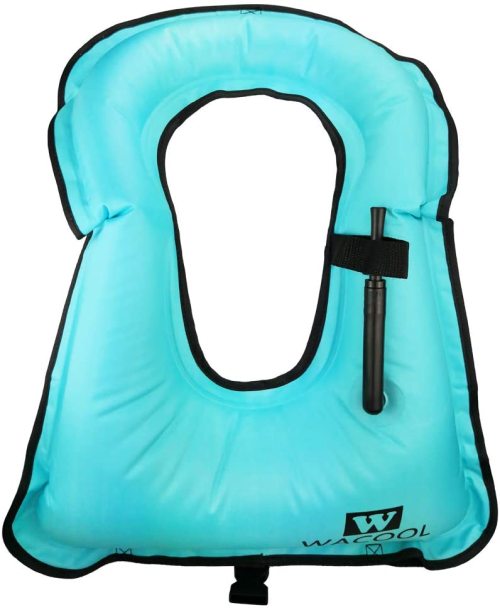 Snorkeling vests are not certified by the US Coast Guard. These specialist vests can be inflated by mouth via a tube. Snorkeling vests are designed to let you control your buoyancy and swim face down in the water without sinking.
Snorkeling vests are not PFDs. They should not be used for kayaking.
Rearming your Inflatable Life Jacket
After each inflation, your life jacket will need to be rearmed. Most inflatable life jackets have specific rearming kits that you can purchase separately. To rearm your life jacket, you have to install a new CO2 canister and fold away the inflatable vest into its original packaging.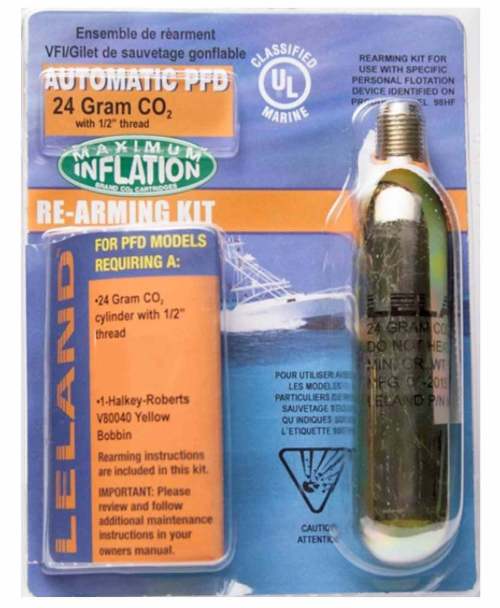 At home, this is a straightforward task, but you should avoid rearming your life jacket on the water. Other than being difficult while afloat, it leaves you vulnerable for a period of time. While your life jacket is deflated and you are rearming, you do not have a source of personal flotation with you.
Sizing Your Inflatable PFD
While most inflatable PFDs come in one size, you should make sure the life jacket fits before you make your purchase. They usually have adjustable straps you put around your waist and over your shoulders to keep the PFD secure. A life jacket that is loose may come off. A PFD that's too tight can make it difficult for you to breathe or swim.
If you require extra security, a crotch strap is a must. This strap keeps the life jacket from riding up over your head in the water.
Top Rated Inflatable Life Jackets for Kayaking
NRS Matik – Best Overall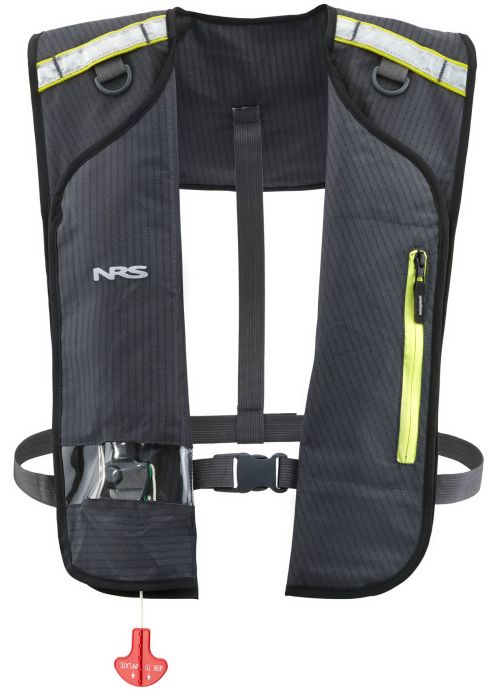 Buoyancy: 22.5 lbs. (10.2 kg)
Weight: 1.8 lbs. (0.81 kg)
USCG Rating: Type V. Meets requirements for Type III when worn.
NRS Matik PFD resembles the more traditional life jacket. This inflatable PFD is sometimes preferred by those who want pure freedom when they're kayaking, but require immediate floatation if they fall overboard. Offshore kayak anglers sometimes benefit from the enormous amounts of flotation these PFDs offer, too.
The Matik is worn around your neck and secured at the waist so that the PFD remains secure, even when fully inflated.
Inflation on the Matik happens when you pull on the big red toggle on the right hand side, which engages a pressurised CO2 container. These canisters are one time use, so it's good practice to keep one on hand to rearm your PFD after each inflation. Remember, you might fall in more than once in a day.
The Matik has a zippered pocket with an internal tether for keys, so they can always remain secure. This pocket also contains the manual inflation valve, in case your PFD needs a little more air.
The whole design is comfortable, light wait and as unobtrusive as possible.
---
NRS Otto Matik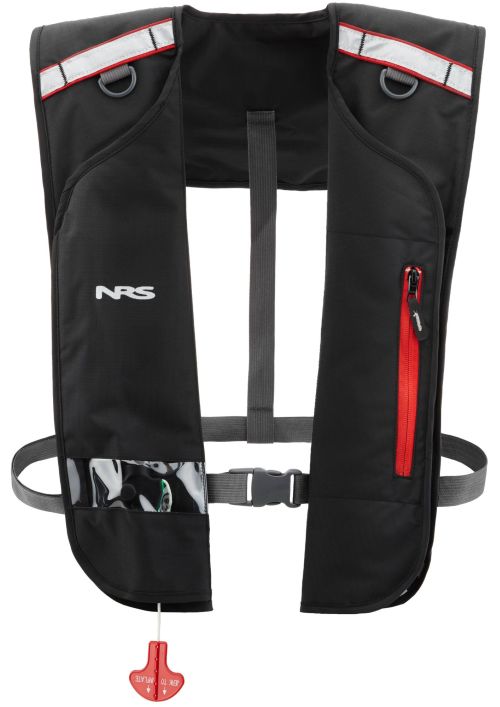 Buoyancy: 22.5 lbs. (10.2 kg)
Weight: 1.85 lbs. (0.84 kg)
USCG Rating: Type V. Meets requirements for Type III when worn
NRS Otto Matik. Get it? The Otto Matik, like the infamous Otto Pilot from cult favourite Airplane!, is a self-inflating automatic alternative to human operation. In simpler terms, when you hit the water, your PFD inflates and floats you back to the surface.
Of course, there are situations where this is an enormous positive, however there may be times where you're planning on spending your day in and out of the water, and you don't necessarily want your PFD to be inflating unless you decide the situation requires it. Consider your needs carefully before deciding whether automatic inflation is necessary.
Unlike the Matik, the Otto Matik requires rearming as well as CO2 cartridge replacement. Again, it's good practice to keep a spare re-arming kit to hand, otherwise your PFD is useless after one swim.
---
Astral Airbelt – Best for Stand-up Paddleboarding

Buoyancy: 22 lbs. (9.98 kg)
Weight: 0.78 lbs. (0.35 kg)
USCG Rating: Type V
There are times where vest style PFDs are either too warm or cumbersome, or perhaps you just want to wear something smaller. The Air Belt is designed for use in warm weather, on calm water, usually by paddleboarders or kayak anglers who like to stand in their boats.
This waist mounted PFD sits well out of the way until you need it. Should you fall in and require floatation, simply spin the Air Belt onto your front and pull the yellow toggle. This inflates a giant air bubble which can be secured to you with adjustable shoulder straps.
If you want to float a little higher, the manual valve allows you to blow more air into your bubble.
The Air Belt requires re-arming once it's been deployed. Remember to carry a re-arming kit on the water with you, otherwise the Air Belt is only good for one swim.
---
NRS Zephyr Inflatable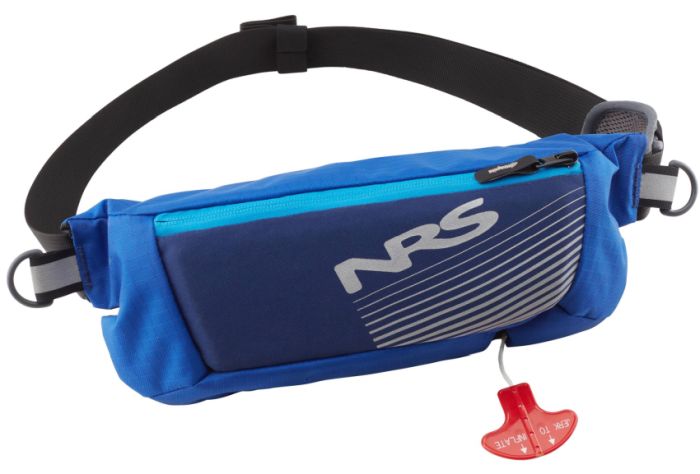 Buoyancy: 27.8 lbs. (12.6 kg)
Weight: 1.3 lbs. (0.59 kg)
USCG Rating: Type V. Meets requirements for Type III when worn
Most commonly worn by paddle boarders, the waist-mounted NRS Zephyr PFD is an alternative to the collar-mounted Matik model.
In the event of a swim, simply spin the Zephyr to the front so it sits like a fanny pack, then pull the toggle and fit the inflated PFD over your head. Straps attaching the inflated PFD to the waist belt can be adjusted for a customised fit. As with all inflatables, there's a manual back up valve should you need it.
Spare CO2 canisters are available and should be carried to rearm your PFD after a swim, otherwise you're without buoyancy for the remainder of your day.
There's a stretch pocket on the waistband with a tether for keys.
---
Absolute Outdoor Onyx M-24 – Most Popular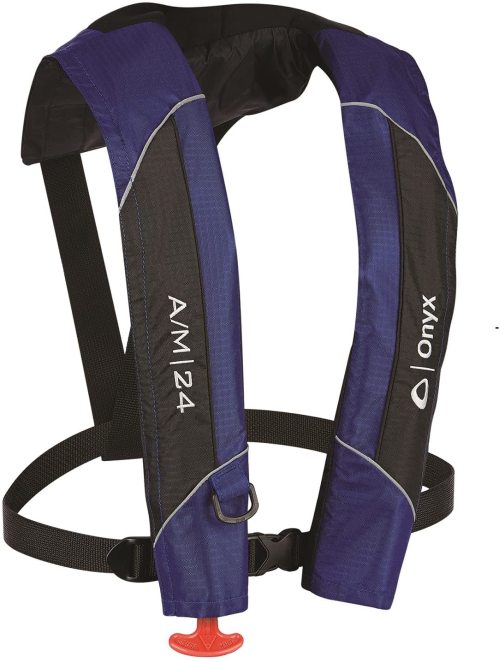 Buoyancy: Not stated
Weight: 1 lbs. (0.45 kg)
USCG Rating: Type III
The Onyx M-24 is an automatic and manual inflation life jacket. This lightweight, comfortable PFD inflates when the toggle on the front is pulled. It is also set up to automatically inflate if you hit the water, so remember not to leave it in your boat locker if it gets wet in there.
---
Mustang Survival M.I.T 100 Auto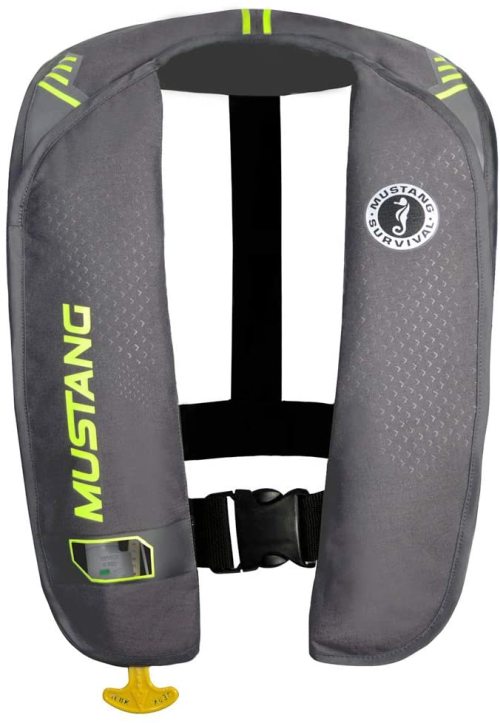 Buoyancy: 22.5 lbs. (10.2 kg)
Weight: 0.2 lbs. (0.09 kg)
USCG Rating: Type V. Meets requirements for Type III when worn
The Mustang Survival M.I.T 100 is an extremely lightweight, comfortable life jacket. This vest features membrane inflatable technology, which works to reduce the weight of the vest. The 100 Auto is an automatic inflatable vest, which gives Type III performance but can be used as a Type V commercial vest.
---
Bluestorm Gear Cirrus 26 – Best Budget Choice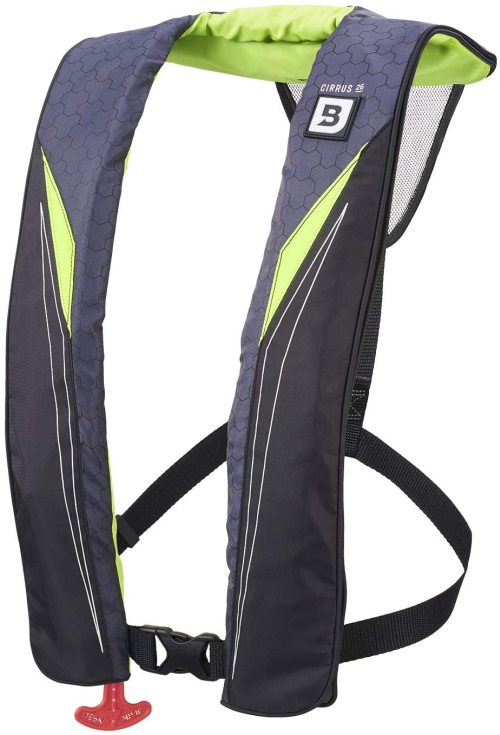 Buoyancy: 26 lbs. (11.8 kg)
Weight: 2.2 lbs. (1 kg)
USCG Rating: Type V. Meets requirements for Type III when worn
The Bluestorm Gear Cirrus 26 is a lightweight, affordable life jacket. This automatic inflation vest also has a manual inflation toggle and a backup oral inflation tube. This vest meets USCG type V and gives Type III performance once inflated.
---
Onyxx Unisex Belt Pack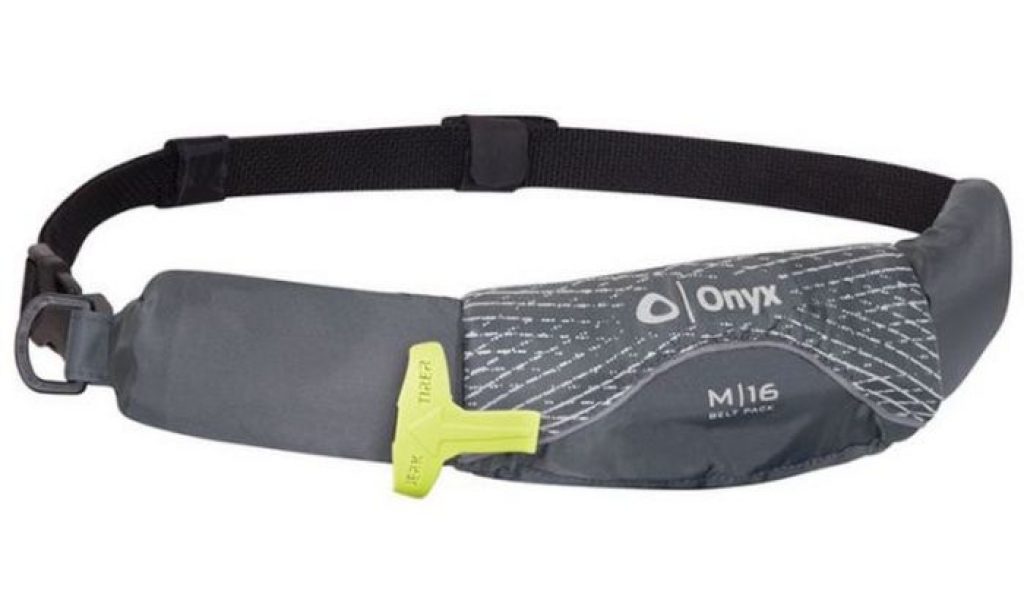 Buoyancy: 17 lbs. (7.71 kg)
Weight: 0.45 lbs. (0.20 kg)
USCG Rating: Type III
The Onyxx Unisex Belt Pack is a Type III backup personal flotation device that packs down to a small and lightweight pack. This manual inflation belt provides 17 lbs. of buoyancy, which can be topped up to 26.2 lbs. with the manual inflation tube. Secure straps attach the inflated vest around the back of your neck.