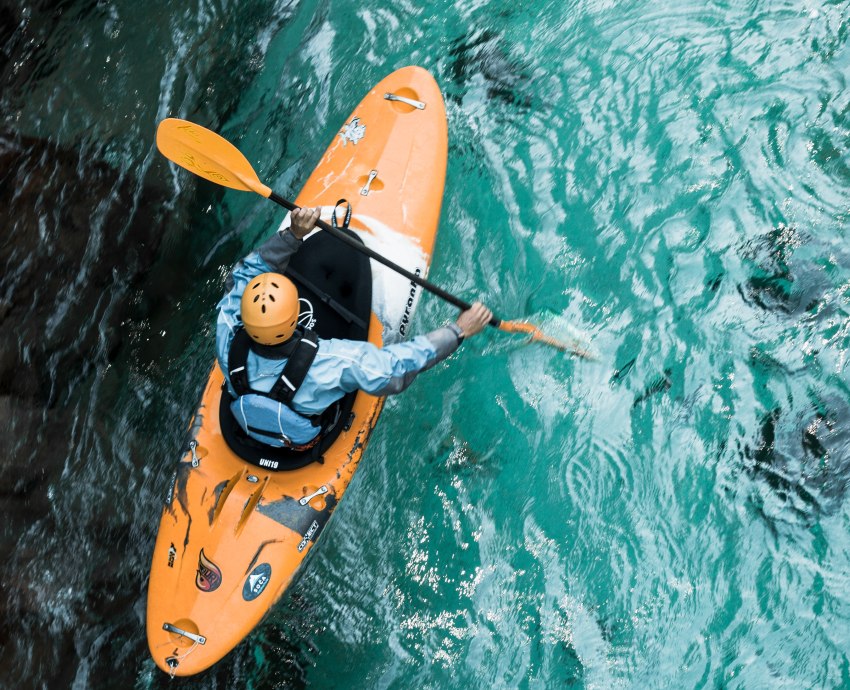 If you're just starting out with whitewater kayaking, it's easy to get overwhelmed with the different styles of boats on offer. River runners, creek boats, playboats – how do you choose the one that's beginner-friendly but will also let you progress?
In this article, we've reviewed our top picks for beginner whitewater kayaks. You'll also find a comprehensive guide to help you decide which one is best for you.
What Are The Types of Whitewater Kayaks?
Whitewater kayaking comes in a lot of different flavors, and so do whitewater kayaks. They are built for specific purposes and have characteristics that are optimized for different activities. Let's find out what the different styles of whitewater kayaks are.
Creek boats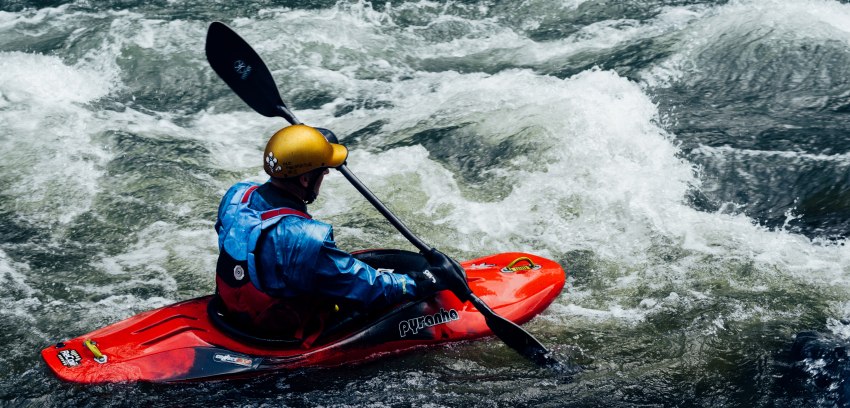 Creek boats are large-volume, highly maneuverable kayaks designed to negotiate twists and turns of steep creeks. These kayaks usually have displacement hulls. The rounded hull shape makes them more reliable and forgiving in technical environments.
Aggressive rocker profiles at the bow and stern keep the kayak on top of the water and keep the paddler in control. These boats range from around 7 feet to 9 feet and are perfect for big rapids, long trips on technical white water, and steep technical gorges.
More recently, some creek boats are being designed with semi-displacement hulls, or even with planing hulls. This, coupled with altered rocker profiles, means that these boats still excel in tight, steep gorges, but are equally at home on lower grade or even high volume rivers, where edges and carving turns are necessary.
River runners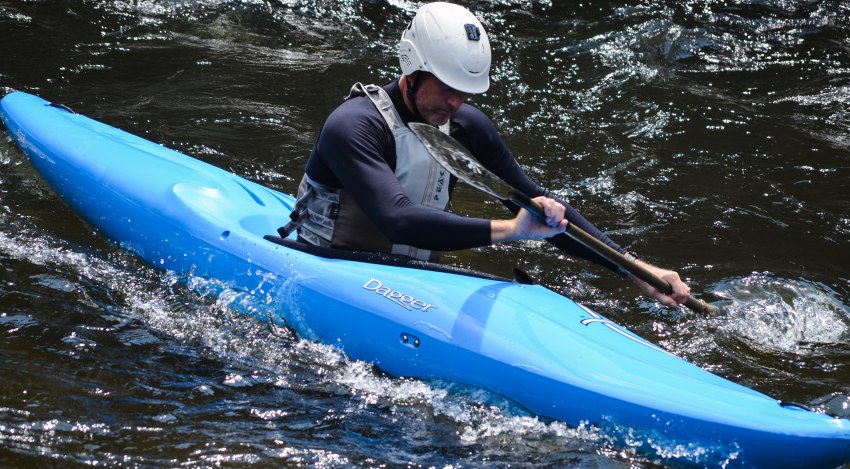 River runners, or downriver kayaks, are designed to be stable and reliable, punching through waves and larger features, while carving turns and spinning on eddy lines. These river runners are often seen as the perfect territory for beginners.
They may look more difficult to paddle than a creek kayak, but there are two major advantages to a river runner. Firstly, they don't get bounced around unexpectedly in waves and on boils. These kayaks are designed to track and grip the water, even if they have a planing (flat) hull. Secondly, they rely on good technique and positive paddling to perform, so if you learn to kayak in a river runner, you tend to develop a more refined technique, rather than relying on volume to carry you through the rapid.
Like creek boats, these river runner kayaks vary from around 7 feet to 9 feet. Modern longer models often have a similar front end to that of a creek boat, making them fast and forgiving. The shorter models, known as river playboats, can perform downriver tricks like stern squirts, as well as surfing effortlessly.
These smaller versions, or river playboats, are edgy, tippy, and hard to get used to, a bit like the playboats we're about to move onto. The advantage to this is that with all this extra time upside down, your rolling and brace strokes will improve quickly.
Playboats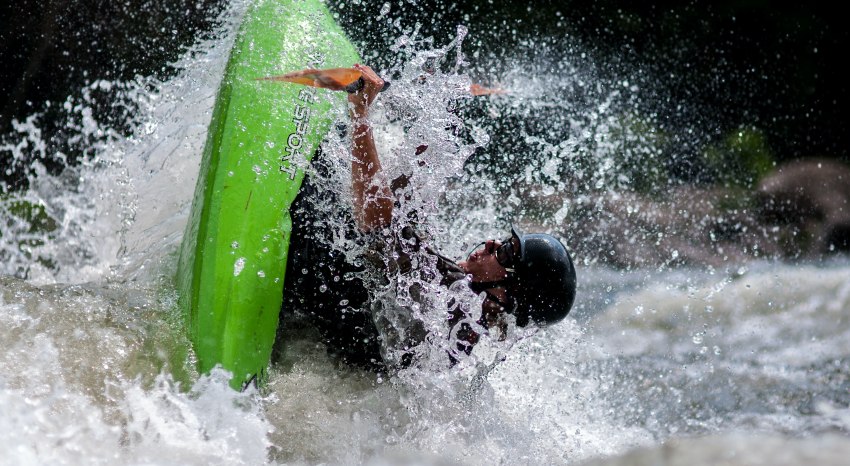 Once upon a time, these were known as rodeo boats. Since then, they've become smaller and stubbier. These playboats are designed for acrobatics, performing cartwheels, loops, aerial screws, and many others, all in holes or on big waves.
These boats are designed to be highly maneuverable and very tight-fitting, for maximum control. The hulls of playboats are designed to plane, this allows them to carry speed down the face of a wave so you can throw big moves.
Volume is displaced around the kayak, depending on the move it's mostly designed for, whether big aerial loops or spins, or whether it's designed to catch the water for blunts. Generally, though, these are low volume, small kayaks.
Playboats, though fast on the face of a wave, are slow downriver when compared with other styles of kayaks. They are unstable and can be difficult for beginners to get used to, as well as being uncomfortable for long periods of time. However, these kayaks have been paddled down the biggest volume rivers in the world, relying on punching through enormous waves and rolling regularly to get down.
If there's one guarantee about learning to kayak in a playboat, it's that you'll learn to roll very, very quickly.
Crossover kayaks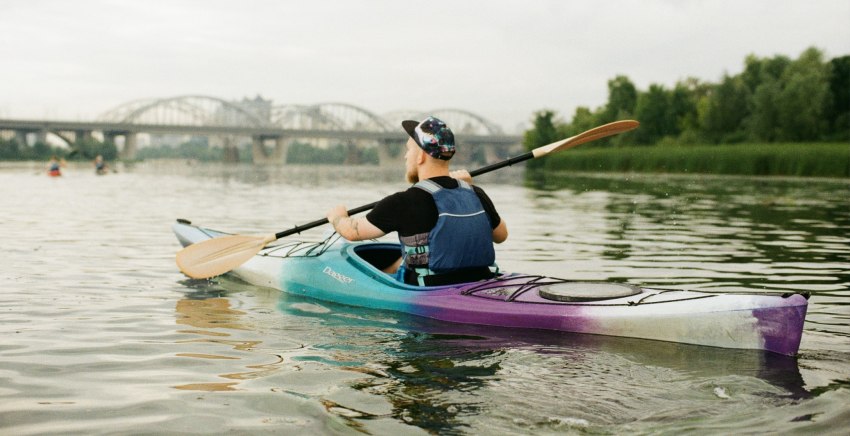 These aren't always included in a list of white water kayaks, but crossover kayaks are very much a class of their own, nowadays at least.
Creek kayaks have been used for expeditions for many years, their high volume making them perfect to fill with all the kit you need for long weeks on the river. Fluid even made a version of their popular Solo with a hatch in the stern, to make accessing this kit easier. This is all great stuff, but as we said earlier, creek kayaks aren't always the optimal choice for a river, especially if that river includes long stretches of low-grade white water or flat water sections.
Crossover kayaks fill that gap. They're longer and narrower than other river kayaks and have hatches at the rear to fit enormous amounts of expedition gear. The hull often has a more refined keel line, to help it track through open water sections. There's usually a skeg system, too.
As with any all-rounder, there's some compromise. In the pursuit of comfort and movement, some companies limit the outfitting a little to stop you from feeling too closed in on the journey. These kayaks, too, often lack some of the safety features you might want to enter into class IV and V water, especially narrow creeks.
Our five beginner picks
It's a tough task to narrow down the entire market of whitewater kayaks to five top picks, but here we are. This is not an exhaustive list, but a selection of kayaks that we think would give you a great opportunity to develop your paddling skills. 
Dagger Mamba
A staple kayak around the world for many years now, it's hard to look past the Dagger Mamba as potentially the best all-around creek kayak on the market.
What makes this kayak unusual for a creek boat is the planing hull which, coupled with defined edges, makes this boat carve and spin effortlessly on eddy lines. The bow and stern rocker profile is more of a kick than a curve, which makes it forgiving without being uncontrollable.
The Mamba is comfortable, forgiving, and easy to paddle. It performs really well on rivers of every grade, and if you're looking for a kayak that you can take from day one, all the way through to your wildest dreams, then the Mamba is ideal.
The only downside is the weight. These are heavy beginner's boats, and for some environments can feel like too much kayak. The forgiving nature can make it just too easy.
Mamba 7.6
Length: 7′ 6″ (231 cm)
Width: 25″ (65 cm)
Weight: 44 lbs (20 kg)
Paddler Weight: 121 – 170 lbs (55 – 77 kg)
---
Mamba 8.1

Length: 8′ 1″ (246 cm)
Width: 26″ (68 cm)
Weight: 48.5 lbs (22 kg)
Paddler Weight: 150 – 220 lbs (68 – 100 kg)
---
Mamba 8.6

Length: 8′ 6″ (259 cm)
Width: 27″ (70 cm)
Weight: 50 lbs (23 kg)
Paddler Weight: 174 – 260 lbs (79 – 118 kg)
---
Jackson Zen
Similar to the Mamba, the Zen is a whitewater kayak that bridges the gap between a river runner and a creek boat. The Zen is a favorite choice of kayaks schools around the world for its forgiving nature and general do-it-all design.
High sidewalls and a strong rocker profile give you an incredibly stable and confidence-inspiring platform to start from. The Zen has well-defined edges, perfect for learning to carve in and out of eddies and to move around the flow.
This might all seem out-and-out creek, but the planing hull gives you maximum upstream capabilities, the Zen surfs and zips around the river effortlessly.
Jackson kayaks are notoriously light, too, so you won't be hauling too much bulk around with you. It will also feel nimble and easy to paddle. They're also known for the superbly comfortable outfitting that they outfit all their boats with. Coming from a freestyle background, Jackson knows how to keep you connected and comfortable, so you are in control throughout the day.
Some people find that the rope and cleat system Jackson uses, instead of more traditional ratchet straps, can slip sometimes. The flip side to that is that it stops you from over-tightening yourself in the kayak and cramping up.

Small
Length: 8′ 1″ (246 cm)
Width: 25.5″ (65 cm)
Weight: 44 lbs (20 kg)
Paddler Weight: 80 – 160 lbs (36 – 72 kg)
Medium
Length: 8′ 5″ (256 cm)
Width: 27″ (68 cm)
Weight: 47 lbs (21 kg)
Paddler Weight: 140 – 220 lbs (63 – 99 kg)
Large
Length: 8′ 11″ (271 cm)
Width: 27.8″ (70 cm)
Weight: 50 lbs (22 kg)
Paddler Weight: 200 – 280 lbs (90 – 127 kg)
---
Dagger Axiom
As far as river kayaks go, it's difficult to look past the Axiom as one of the most complete on the market. Okay, so the Rewind, Dagger's newest boat, has a much more aggressive rocker profile. But as a beginner, we want reliable control, not a wayward rocker.
A new generation of the ever-popular RPM series, the Axiom has more bow volume and a wider, more stable stern, making it more beginner-friendly. The Axiom has rails that run the entire length of the boat, so this kayak carves like a dream, perfect for hitting eddies or cruising down the face of a river wave.
The tapered stern of the Axiom gives you scope to develop into some downriver freestyle moves, like stern squirts, but it also gives the boat length and speed, without diminishing control. As with any low profile stern, it's susceptible to being caught out in higher volume water, so unlike the Diesel or Mamba, you are more likely to end up needing to brace or roll. This may seem daunting, but it's all part of your development and will help you to become a much better kayaker.
Axiom 8.0

Length: 8′ (244 cm)
Width: 24.5″ (62 cm)
Weight: 37.5 lbs (16 kg)
Paddler Weight: 90 – 150 lbs (41 – 68 kg)
---
Axiom 8.5

Length: 8′ 6″ (259 cm)
Width: 25.5″ (65 cm)
Weight: 42 lbs. (19 kg)
Paddler Weight: 130 – 209 lbs (59 – 95 kg)
---
Axiom 9.0

Length: 9′ (274 cm)
Width: 27″ (69 cm)
Weight: 46 lbs (21 kg)
Paddler Weight: 180 – 265 lbs (82 – 120 kg)
---
Pyranha Ozone
While we've stayed away from putting an out-and-out playboat on the list, we couldn't resist having something that blurred the lines between river running and river playing. The Ozone is Pyranha's newest river playboat from a series that include notable names like the Inazone, Prozone, and Z.One.
One look at the Ozone and you know you're in for a fun, but wet ride. This is a medium-length kayak, which has been designed with a progressive rocker profile. What this all means is that when you're pointing this boat downstream, you can still punch through waves and features, riding the river as you would expect, without things getting too sporty.
The Ozone can carve in and out of eddies and there's no doubt that as a beginner, your learning curve will be steep but efficient. You'll spend a lot of time rolling and bracing, but once you get the hang of it you can carve the wave and begin to throw this thing around effortlessly.

Small
Length: 7′ 3″ (221 cm)
Width: 24.5″ (62.5 cm)
Weight: 33 lbs (15 kg)
Paddler Weight: 77 – 155 lbs (35 – 70 kg)
Medium
Length: 7′ 5″ (226 cm)
Width: 25″ (63.5 cm)
Weight: 33 lbs (15 kg)
Paddler Weight: 132 – 198 lbs (60 – 90 kg)
Large
Length: 7′ 8″ (234 cm)
Width: 26″ (67 cm)
Weight: 37 lbs (17kg)
Paddler Weight: 176 – 265 lbs (80 – 120 kg)
---
Liquid Logic Remix XP
A few people would have been surprised to see the Remix missing from the top of this list. If anything is going to rival the Mamba as a beginner-friendly, top-end kayak, it's the Remix.
We missed it out for a simple reason; we wanted to include the XP instead. There are other crossover kayaks, like the Dagger Katana or the Pyranha Fusion, but the Liquid Logic Remix XP is the most whitewater-oriented of the bunch.
It retains the semi-displacement hull of the Remix series and the responsive edges, so you can still run the big stuff, steep stuff, and hit all the eddies along the way. This is a stable and speedy choice, designed to cover maximum ground with heavy loads, and the spring-loaded skeg keeps you going in a straight line on open water, or on the meandering sections of the river.
Liquidlogic set out to defy the idea that no single kayak can perform well and still take all your camping gear with you, and they've come up with trumps. If you want a crossover kayak, fancy a bit of camping, but are primarily paddling white water, the Remix XP might just be your perfect kayak. It doesn't hurt, too, that the outfitting is just about the most comfortable on the market.
XP 9

Length: 9′ 2″ (279 cm)
Width: 26″ (66 cm)
Weight: 46 lbs (21 kg)
Paddler Weight: 100 – 220 lbs (45 – 100 kg)
---
XP 10

Length: 10′ 3″ (312 cm)
Width: 28″ (71 cm)
Weight: 49 lbs (22 kg)
Paddler Weight: 180 – 300 lbs (82 – 136 kg)