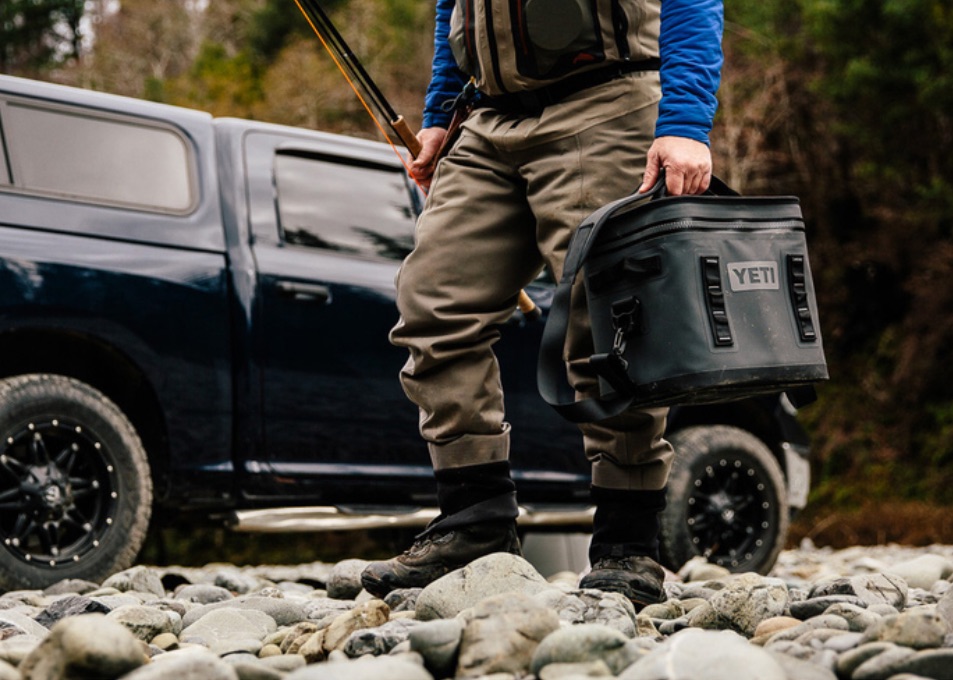 A cooler is an essential piece of kayak fishing equipment. It's always a good idea to keep your food, beverages, and fish cold, especially on those sweltering hot summer days.
Regardless of the reason why you want a cooler on your kayak, selecting the right one is not always easy as there are hundreds of models to choose from.
Finding the right cooler for your needs requires a decent amount of research. We've combed through some of the most popular models to compile this list of the best kayak coolers for 2021.
Quick Answer: Best Kayak Coolers for 2021
We believe that the following kayak coolers are worth your attention in 2021:
Comparison Table: Best Kayak Coolers for 2021
---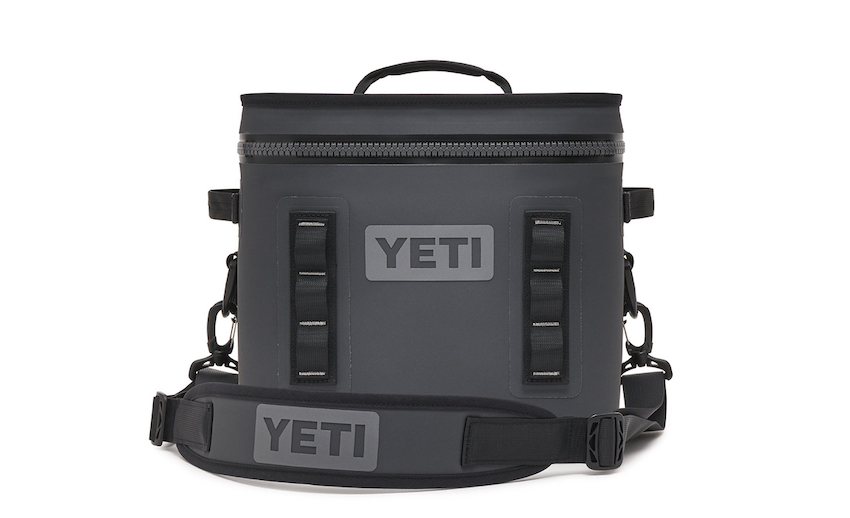 Type: soft-sided
Closure: zipper
Size: 12.6″ x 11.5″ x 10″
YETI has solidified itself among the best brands in the cooler industry by offering products that perfectly fulfill the needs of the user with the best quality components. The YETI Hopper Flip 12 is arguably the best kayak cooler as it has a super compact size but still is capable of holding everything from cold drinks to fish. 
One of the only real drawbacks of this product is the expensive price tag, but anglers who are willing to shell out a few extra coins to get the best possible product will likely view this model as a worthy investment.
The YETI Hopper Flip 12 operates using specialized ColdCell insulation that will keep the contents cool no matter what the weather outside offers. The closed-cell foam locks out exterior heat and humidity that would otherwise find its way into the interior of a cooler as it would with more cheaply-made products.
This cooler will not only block any potential elements that might spoil your catch or other items inside, but it will also keep everything sealed safely inside your cooler so you don't run the risk of having fishy smells seeping out when you want to keep them inside. The leakproof HydroLok zipper technology helps to prevent any liquids or anything else from getting out.
As with all other YETI products, the Hopper Flip 12 is constructed with material that is well-known for its rugged durability. Having a waterproof cooler is a must for serious anglers, and the YETI Hopper Flip accomplishes this as well by featuring a DryHide shell that will guard against anything that might tear or puncture your cooler, as well as any potential for mildew or other undesirable elements.
This cooler is capable of keeping fish fresh for multiple days with an ample amount of ice or other coolants. For anglers looking to get their hands on the best kayak cooler, the choice is clear and the YETI Hopper Flip 12 is tough to beat.
See YETI Hopper Flip 12 on Amazon
---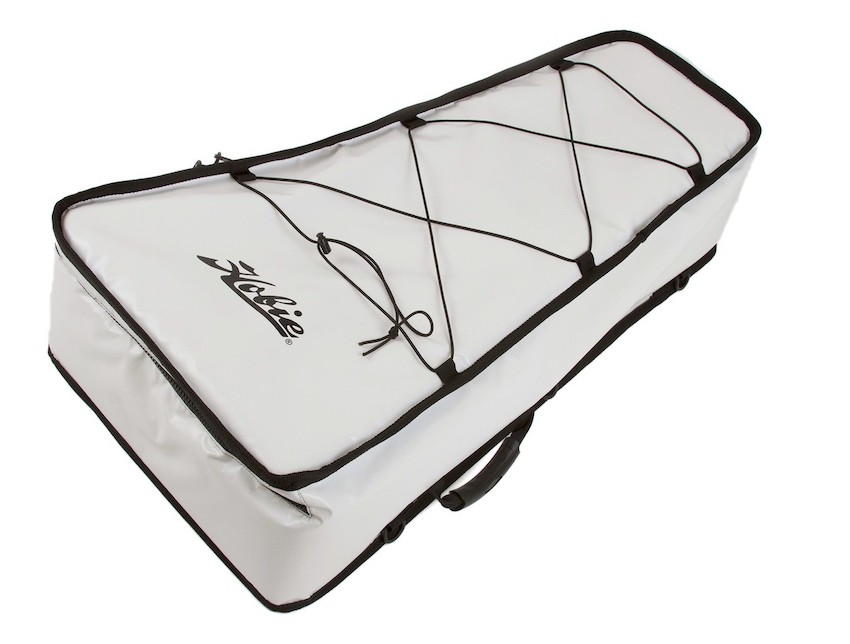 Type: soft-sided
Closure: zipper
Size: 48" x 10" x 12" – 30"
It's no secret that Hobie is among the top kayak makers in the world, but they haven't drawn the line at just producing top-notch watercraft. We think that the Hobie Insulated Bag is one of the best fishing coolers on the market for several reasons. 
This cooler is perfect for anglers who are looking to make the most out of every bit of free space in their kayak. The Hobie Insulated Bag can perfectly fit into the often underutilized large open well area in the stern portion of most models. While this cooler is designed for Hobie brand kayaks, it is capable of fitting into other models as well.
Made with half-inch closed-cell foam, this cooler is more than capable of keeping anything you want cold for extended periods of time. The shape of the Hobie Insulated bag makes it perfect for storing larger fish that often won't easily fit into coolers, such as mackerel, mahi-mahi, and other saltwater game fish. 
The exterior is made with vinyl-coated polyester to protect against anything that might rip or puncture the cooler and render it useless on the water. The Hobie Insulated Bag is capable of holding up to 120 quarts and offers a UV resistant exterior material to ensure anything inside never gets hot.
See Hobie Insulated Large Fish Bag/Soft Cooler on Amazon
---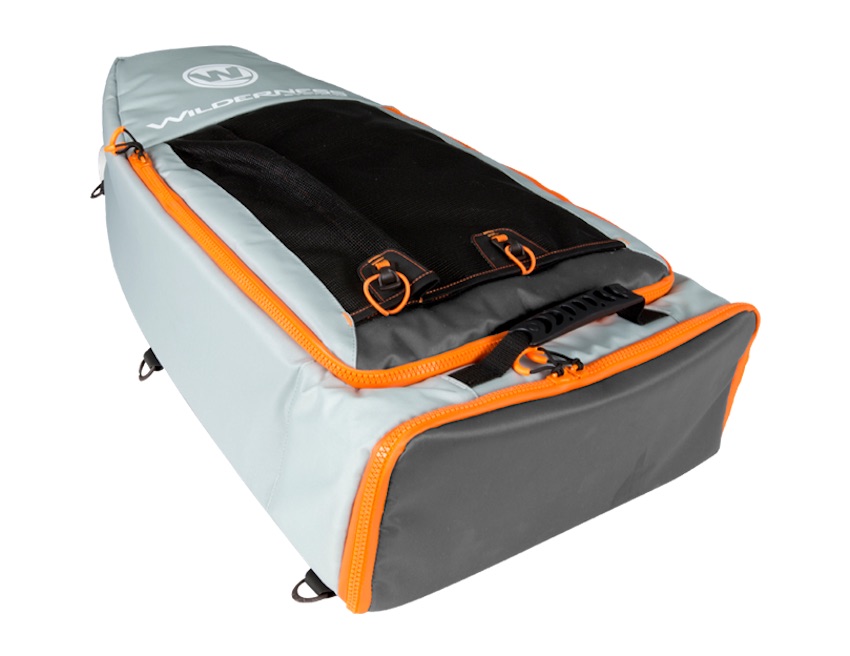 Type: soft-sided
Closure: zipper
Size: 29″ X 16″ X 7″ (tapered)
Wilderness Systems is well-known for making products that are tailored specifically to kayak fishing. It's a fact that many kayak coolers can't offer the perfect storage location for food and drinks, fish, and anything else you need to have with you for a full day of fishing. The Wilderness Systems Insulated Catch Cooler for Kayaks does just that.
This cooler is specially made to fit inside the open storage well on the stern portion of most kayaks. It features specialized pockets that allow users to stash things inside and not worry about everything getting mixed. After all, nobody wants food or drinks that have been chilling in fish slime all day, right?
The expansive main cooler portion is lined with 420-denier nylon to ensure that pointy fish fins don't puncture the bag. A separate pocket is ideal for stashing sandwiches, drinks, chocolate bars, and anything else. The cooler also has an exterior mesh pocket for storing things that don't have to stay cold all day.
With the high level of versatility and quality components, it's easy to make the case for the Wilderness Systems Insulated Catch Cooler as one of the best kayak coolers on the market.
See Wilderness Systems Insulated Catch Cooler for Kayaks on Amazon
---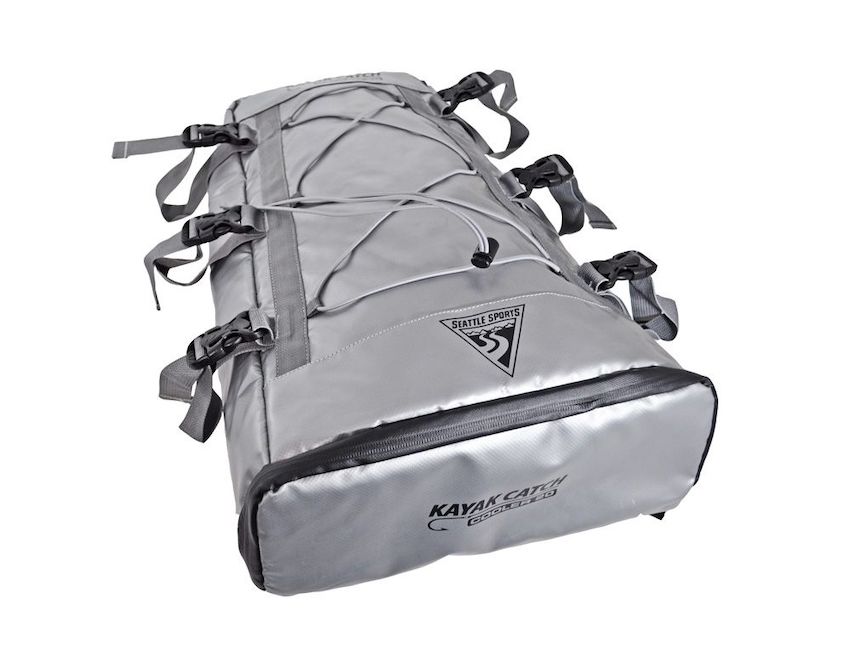 Type: soft-sided
Closure: latches, zipper
Size: 19″ X 12″ X 5″
There are few coolers on the market in 2021 that are specifically designed for kayak fishing, but the Seattle Sports Kayak Top Catch Coolers does fit that bill. This soft-sided kayak cooler is specially made to fit in the open well space on the kayak's stern section and is ideal for keeping fish cold in any kind of weather.
This cooler is one of the few models that are designed for kayaks that features compartments for fish, as well as food and drinks. It's designed with a closed-cell foam insulated interior that locks in ice and other coolant devices to make sure your fish stay chilled throughout the day. The Seattle Sports Kayak Insulated Deck Top Catch Cooler also offers a heat reflecting exterior to repel the harsh UV rays that often render a soft-sided cooler ineffective in some cases.
This cooler has easy-to-access compartments whether you're reaching for a snack or putting another fish on ice. This model also has a removable inner pocket that makes it easy to clean up after you've had fish sitting inside for a full day.
See Seattle Sports Kayak Insulated Deck Top Catch Cooler on Amazon
---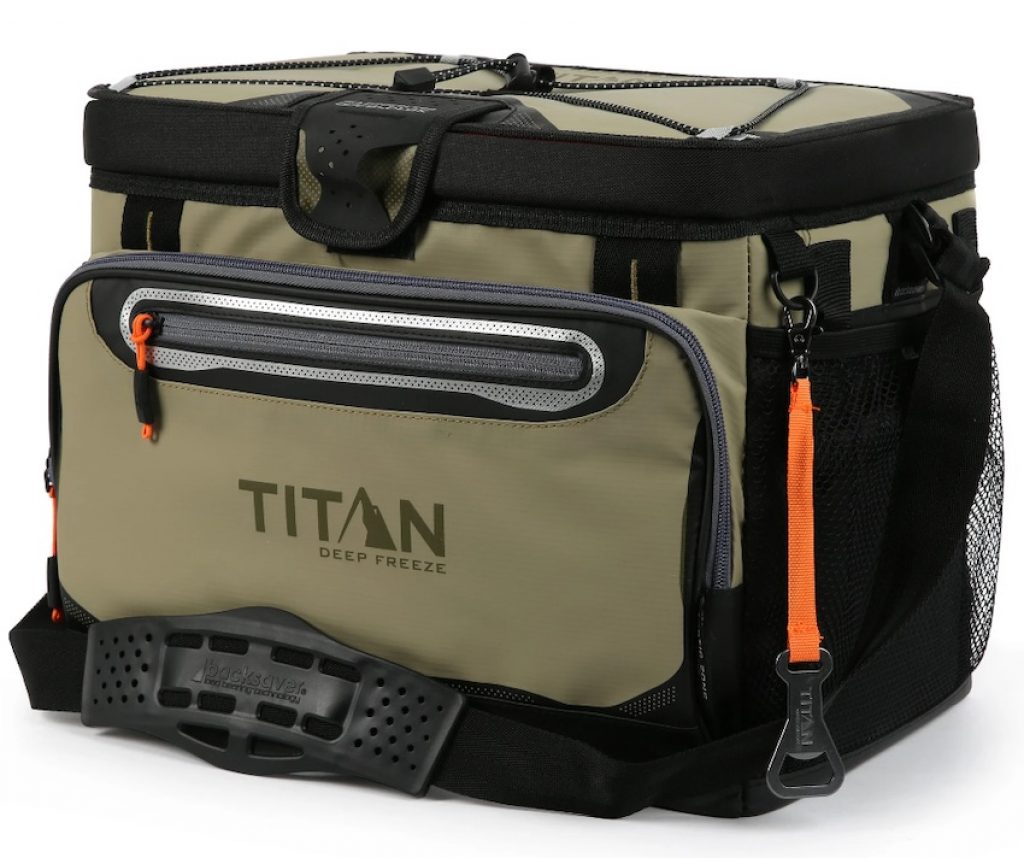 Type: soft exterior, hard case interior
Closure: latch
Size: 16.5″ x 11″ x 12.8″
A kayak cooler doesn't have to carry an expensive price tag to be a valuable tool for anglers. The Arctic Zone Titan Deep Freeze Zipperless Hardbody Cooler is priced at under $50 and offers plenty of reasons for kayak anglers to take a closer look at this model.
Many anglers know the problems that can arise from a faulty zipper on a cooler. For starters, if the zipper malfunctions while you're on the water, you can bet that the contents of your cooler won't stay cool if the temperature outside is moderately warm. This cooler by Arctic Zone is available as a zipperless model, which means you won't have to worry about struggling to open or close it and keep your fish safe and secure.
This cooler has a soft exterior that is encased around a hard shell that won't bend or allow the food and drinks inside to get smashed if you do happen to put some weight on it. It does have some zippered compartments and a drink shelf that keeps your cans and bottles from having to be stored in the bottom of the cooler. Considering the price, this is an excellent choice for novice anglers who are looking to start with a good inexpensive cooler.
See Arctic Zone Titan Deep Freeze Cooler on Amazon
---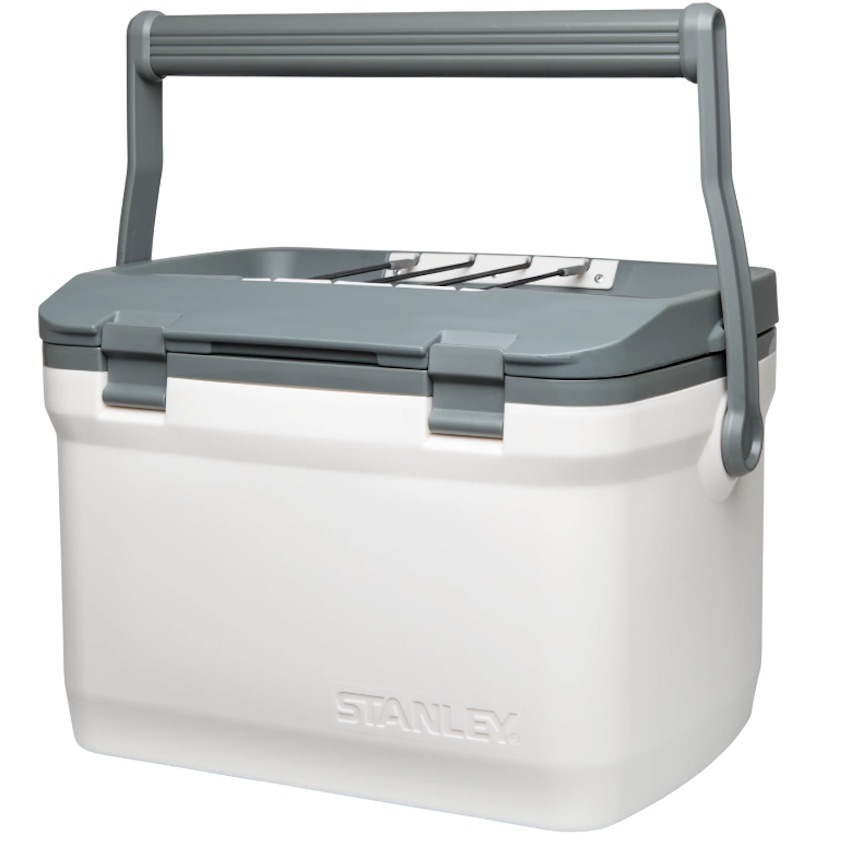 Type: hardshell
Closure: latch
Size: 21.3″ x 18.5″ x 15.5″
Hardshell coolers may have gone out of style a few years ago, but that doesn't mean they aren't still fully capable of providing everything you need when it comes to a good quality kayak cooler. The Stanley Adventure Cooler is a simple, yet effective model that fits perfectly on any fishing kayak's stern section.
If you're worried that a soft-sided cooler won't be enough to properly protect what you need to store inside, this is a great option that's relatively affordable. The polypropylene shell body is durable and keeps the sun from heating the contents inside this cooler. With double-wall foam insulation, you can keep fish, food or drinks cold all day regardless of the weather outside.
The Stanley Adventure Cooler holds up to 21 cans and is perfect for kayak anglers looking for a medium-sized cooler that easily fits onto their kayak. It also has convenient bungee cables on the lid for extra storage.
See Stanley Adventure Cooler on Amazon
---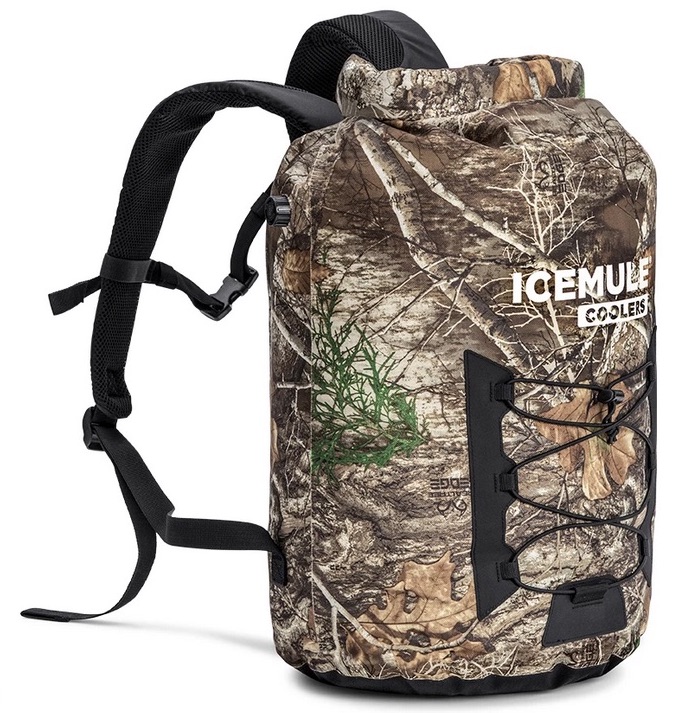 Type: soft-sided
Closure: roll top
Size: 17″ x 14″ x 11″
Like most other gear items related to fishing, coolers have taken on a newer, more modern form in some cases. Certain brands like Icemule have developed a unique style of cooler that can double as a backpack and easily fit onto the bow or stern of a kayak. The Icemule Pro is an excellent choice of cooler for anglers who also like to venture out on camping trips with their kayaks.
With a 23-liter capacity, the Icemule Pro offers enough size for food and drinks, but it isn't quite capable of holding your day's catch inside. This model should also be appealing to kayak anglers since it's able to float.
Featuring Polarlayer insulation, the Icemule Pro will have no problem keeping the contents inside ice-cold, even in the hottest weather. It offers backpack straps which means you can easily take it along should you decide to leave your kayak on the shoreline and walk around a bit.
See Icemule Pro Cooler on Amazon
---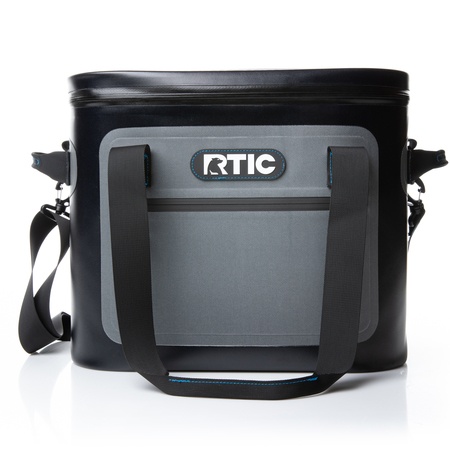 Type: soft-sided
Closure: zipper
Size: 12.9″ x 13.4″ x 17.3″
Few brands have been able to match the superb quality of companies like YETI, but RTIC is one that many kayak anglers consider to be of equal or better value than its competitors. The RTIC Softpak 30 has a soft-sided vinyl exterior that helps prevent UV rays from spoiling the interior contents.
Capable of holding up to 20 cans, the RTIC Softpak 30 has a no-leak construction that's advertised to be able to hold ice for up to 5 full days. Many users report that this is often not the case if you're using the cooler in a hot environment, but it still manages to hold ice for a few days, which is very useful to anglers who intend to be on the water for a few days at a time.
The cooler has many different smaller compartments and the main compartment is surrounded by 2 inches of foam insulation, which keeps food and drinks ice cold for extended periods of time.
See RTIC Softpak 30 Cooler on Amazon
---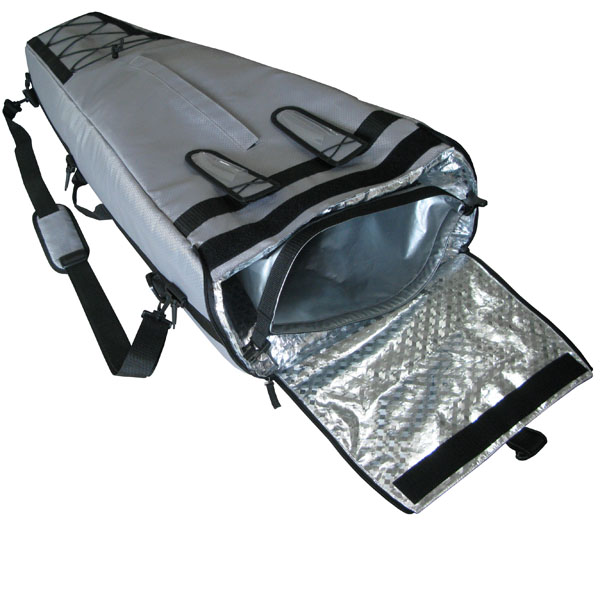 Type: soft-sided
Closure: velcro
Size: 15.75″ x 9.75″ x 42″
There are few kayak coolers that are specially designed to hold large species of game fish, but the Precision-Pak Tournament Kayak Fishing Catch Cooler is designed to do just that. This cooler serves as an insulated fish storage system that's perfect for tournament anglers, or pleasure fishing.
Made of super-durable 420D/PU ripstop polyester, this cooler is fully padded and lined with reflective thermal material that ensures the sun's UV rays won't spoil your catch. It features a removable dry tube that's made of 0.2mm Eco-friendly PEVA material and offers specialized compartments that are great for storing food and drinks that won't be mixed in with your fish.
The central hatch features a long velcro-secured opening that allows you to have quick access when you need to get the fish inside your cooler. The cooler features six heavy-duty locking clips that let you secure it to your kayak so that it won't slide around or go into the water.
See Precision-Pak Tournament Kayak Fishing Catch Cooler on Amazon
---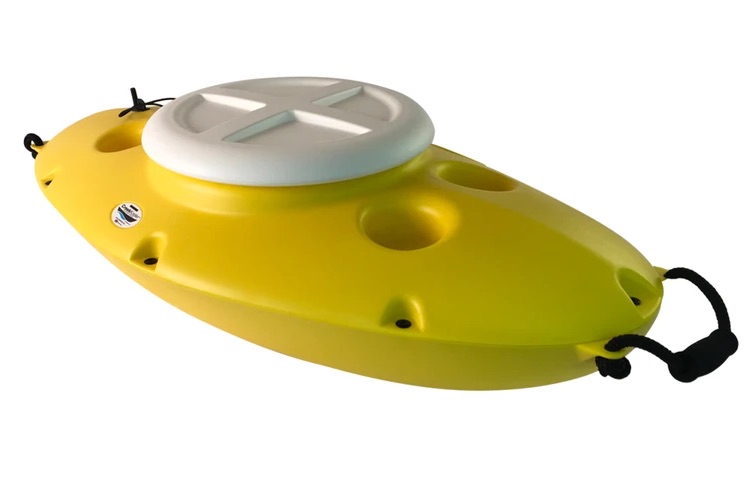 Type: hard shell
Closure: sealed lid
Size: 39.5″ x 21″ x 12″
Most anglers prefer to have a cooler that can be stored on the bow or stern of their kayak, but others see the advantages of having a floating cooler that is tethered to your kayak and floats a short distance behind your vessel.
These coolers are more common with recreational kayak enthusiasts, but some anglers prefer them as it allows the user to pack more gear onto their kayak. Other users prefer to have a model like the CreekKooler Floating Cooler as an extra aboard their kayak as they can have one cooler for food and drinks and another for either bait or their day's catch.
Either way, this cooler is truly unique and offers exceptional quality and value. It's able to hold ice for up to 48 hours and the lid is sealed with an o-ring that helps keep water from getting inside. It also features 4 drink holders for days when you might want to enjoy a few beverages on the water.
See CreekKooler Floating Cooler on Amazon
---
Kayak Cooler Buyer's Guide
Type of Cooler
There are a few different style coolers that kayak anglers commonly choose that each have a specific purpose. Be sure to determine exactly what you need in your kayak cooler and whether it will be more important to keep food and drinks inside, fish, or both. As we've already noted, some of these coolers have a special design to be able to hold large game fish such as ones that are commonly caught around coastal areas.
Size
Remember that you're always going to be limited when it comes to space if you're fishing from a kayak. Most anglers do an exceptional job of making use of the space they have available and many professional kayak anglers agree that knowing how to utilize space is a trait of a truly great kayak fisherman. It's often a good idea to take measurements of the space where you intend to store your cooler on your kayak to be sure that it will fit properly.
Material
Soft-sided coolers are all the rage for most kayak anglers, but there are still many users who prefer the solid nature of a hard shell cooler. Knowing what kind of material your cooler is made of will also give you an idea of how well it can preserve fish and hold ice to keep food and drinks cold throughout the day.
Closure
Pay close attention to the method each specific kayak uses to close or seal the opening. This can be crucial when you're considering buying a kayak cooler for the purpose of using it during fishing tournaments as having a velcro hatch will allow you to quickly open it and place your fish inside without worrying about zipping the compartment shut.
Conclusion
Whether you're looking to bring a small cooler along on your trip to stash a few snack in, or you're looking to purchase a large ice chest that's capable of storing food and drinks for a few days' journey, knowing what to expect out of your kayak cooler is the first step in choosing the right one. As with most other gear and equipment associated with kayak fishing, you're very likely to get back what you're willing to invest in a given product. In other words, if you purchase a cheap cooler, don't expect it to perform like some of the premium brands and models we've mentioned on our list.
We hope you can use this list as a starting point for purchasing a kayak cooler that's ideal for your needs and helps to make your fishing trips much more enjoyable by offering a great place to store food and drinks, as well as fish.
Now that you know more about kayak coolers and how to choose one, here's our table again to help you find a model that suits your needs: