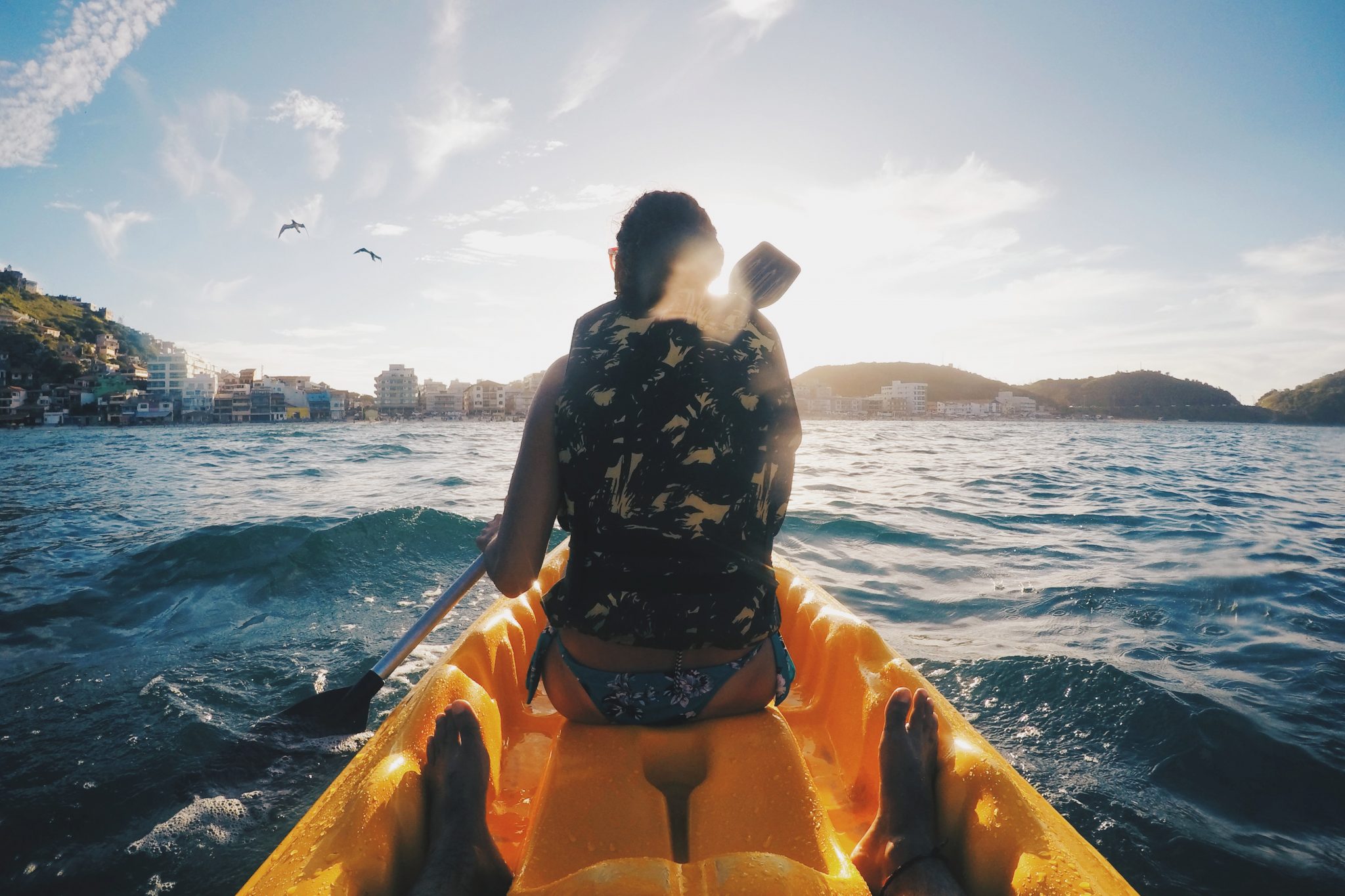 So you want to paddle with a friend, a kid, or a partner? Or perhaps you want the option to have two persons in a kayak when conditions dictate. Awesome!
Just like solo kayaks, double kayaks come in all different shapes and sizes. There are tandem boats that are designed for covering long distances, for fishing, for families, or for white water.
Picking the best tandem kayaks is not easy. We have chosen some great models for 2 people to help you narrow down your search. There is also a comprehensive buying guide to help you make the right choice.
In a Hurry? Here are our top picks:
Crescent Crew – Best Tandem Kayak

Length: 13' (396 cm)
Width: 35" (89 cm)
Weight: 79 lb (35.8 kg)
Capacity: 600 lb (272 kg)
First introduced in 2020, Crescent Crew takes the best from the popular LiteTackle model and adds enough capacity and room for family, kids, and dogs.
This 2-person kayak is 13 ft (396 cm) long and weighs just 79 lb (35.8 kg), so it's not too huge even as a solo boat. Still, it offers a generous capacity of 600 lb (with scupper plugs), two comfortable frame seats, and an open, clean deck, so you can easily take a couple of kids and a dog with you.
Crescent Crew features molded footrests in the front, four molded cup holders, flat spots for gear tracks, adjustable footrests for the rear paddler, and five sturdy carrying handles. A huge tank well on the stern can hold a lot of fishing or camping gear (not every tandem has that).
The kayak can be converted from tandem to solo in a matter of seconds. You can also reverse the front seat for a face-to-face seating position. It retains the awesome paddling performance of the LiteTackle model and is equally great as a recreational kayak or (with some modifications) as a tandem or solo fishing platform.
---
Intex Excursion Pro – Best Buy

Length: 12' 7" (383.5 cm)
Width: 37" (94 cm)
Weight: 39 lb (17.7 kg)
Capacity: 400 lb (180 kg)
Intex Excursion Pro is a step up from other Intex kayaks. Unlike cheaper 2 person models that are made from vinyl, the Excursion Pro is made from 3-ply PVC laminate with a polyester core. This material is way more abrasion-resistant and durable.
Intex Excursion Pro is 12'7" (383.5 cm) long and 37" (94 cm) wide. At 39 lb (17.7 kg), it is the heaviest kayak in Intex's line but still pretty lightweight.
The capacity of 400 lb (180 kg) means that the kayak can take two smaller persons with limited gear or one average-sized adult with a reasonable amount of fishing or camping gear.
Intex Excursion Pro comes with two inflatable seats that slide fore and aft on velcro strips and can be easily removed. It also includes one removable seat booster that lets you sit higher.
Other features include two collapsible paddles that you'd better replace ASAP, a hand pump and a pressure gauge, adjustable footrests, two skegs (a large one and a small, shallow water skeg), and even a mounting bracket for your fishing accessories. There are also two flush-mount rod holders but those are hardly usable.
Overall, Intex Excursion Pro is pretty well equipped for its price. The better, more durable construction makes this kayak suitable for longer fishing trips or even overnight camping trips – if you paddle it solo, of course.
---
FeelFree Lure II – Best Fishing Tandem

Length: 14' 2" (431.8 cm)
Width: 36" (91.4 cm)
Weight: 105 lb (47.6 kg)
Capacity: 500 lb (227 kg)
If you need a stable, comfortable, and versatile fishing kayak for two people, take a look at the FeelFree Lure II tandem kayak.
The most attractive feature of the Lure II is the super-comfortable Gravity seats. These padded, adjustable seats offer as many as ten height adjustment points and are perfect for long days on the water. The front seat can be removed if you want to paddle the kayak solo.
Another unique feature is that the Lure II is pedal drive and rudder-ready, which gives it a lot of versatility.
Other features include multiple gear tracks, two sonar pods (I can't think of any other tandem that offers those), adjustable footrests for both paddlers, a dry storage hatch, two flush-mount rod holders, a sizeable rear tank well, and FeelFree's patented Wheel in the Keel for easier handling.
With its 36-inch beam and 500 lb of capacity, the Lure II can hold a lot of gear and is stable enough to stand on. At 105 lb (47.6 kg), this kayak is not exactly ultralight but still manageable for two adults.
---
Perception Tribe 13.5 Tandem – Best Sit-on

Length: 13' 5" (408 cm)
Width: 34" (86.4 cm)
Weight: 79 lb (36 kg)
Capacity: 500 lb (226 kg)
A tandem kayak that will leave you so relaxed you won't want to get out at the end of the day, the Tribe is a brilliant flatwater cruiser thanks to the longer and more defined keel line than that of Perception Rambler.
The Tribe is fitted with Perception's fully adjustable, reclinable seats which can be moved quickly between engaged, relaxed, and near-horizontal if you just want to lay back and let your partner do all the work. There's also a molded kid's seat in the middle so you can take your youngsters out with you.
While comfort is arguably the most prominent feature of this boat, it also has loads of storage at the front and rear, as well as small day hatches in front of each paddler. There's also a couple of recesses for the solo mounts, so you can accessorize your ride.
---
Wilderness Systems Pamlico 135 – Best Sit-in

Length: 13' 6" (411 cm)
Width: 31" (79 cm)
Weight: 72 lb (32.7 kg)
Capacity: 500 lb (227 kg)
Wilderness Systems Pamlico 135T is a recreational sit-inside tandem kayak that also performs well as a day touring boat. While it does not have a ton of features, it does offer great speed, tracking, and stability for recreational paddlers. It is also very comfortable with soft thigh pads and fully adjustable Phase 3 AirPro seats.
At 13' 6" (411 cm) long with a 31" (79 cm) beam, the Pamlico 135T is relatively short for a tandem. This may limit the legroom for taller paddlers but also makes the boat easier to store and transport. The kayak can be converted into a solo configuration easily.
The kayak weighs 72 lb (32.7 kg) and can carry up to 500 lb (227 kg), which is enough for two average-sized individuals and some gear. If you're on the heavier side, there is a longer model, the Pamlico 145T, which is rated at 550 lb (249 kg).
---
Driftsun Voyager – The Lightest Tandem Kayak

Length: 11' 2" (340 cm)
Width: 35″ (89 cm)
Weight: 32.5 lb (14.7 kg)
Capacity: 400 lb (181 kg)
Driftsun Voyager is a relatively cheap two-person kayak for short recreational trips. At 11'2″ long and 35″ wide, it is a stable platform for relaxed paddling and having fun on the water.
The kayak has a dual-layer construction with air bladders inside 840D coated nylon oxford fabric covers. The heavy-duty PVC tarpaulin bottom protects it from abrasion and punctures. There are three separate air chambers (two on the sides and one on the floor) to increase safety.
Driftsun Voyager comes with two adjustable padded seats, two aluminum paddles, a double-action hand pump, a carrying bag, and a removable skeg on the bottom to improve tracking. Overall, it's a great package for the price and a fun kayak that can bring some great moments on the water.
---
Sea Eagle 380X Explorer – The Most Stable 2 Person Kayak

Length: 12′ 6″ (380 cm)
Width: 39" (99 cm)
Weight: 40 lb (18 kg)
Capacity: 750 lb (340 kg)
How about a kayak that can carry 3 people or 750 lb, is tough as nails and suitable for up to Class IV white water, yet only weighs 40 lb and fits into a trunk? Meet Sea Eagle 380X.
This inflatable kayak is made from 1100D reinforced PVC and can take a beating. In fact, Sea Eagle recorded a video where they dropped cinder blocks on it and even ran it over with a Jeep!
The Sea Eagle 380X has three separate air chambers for extra safety, a drop-stitched floor, self-bailing scupper holes that can be closed for a drier ride in calm waters. A removable skeg on the bottom improves tracking.
The kayak is incredibly versatile and comes in a number of different configurations, including a solo version, a 2-person version with either inflatable or padded high-back seats, a rowing package, a motorized configuration, and even one with a sail! There's literally no limit to what you can do with your Sea Eagle 380X Explorer.
---
Advanced Elements AdvancedFrame Convertible – Best of the Rest

Length: 15' (457.2 cm)
Width: 32″ (81.3 cm)
Weight: 52 lb (23.5 kg)
Capacity: 550 lb (249 kg)
Advanced Elements AdvancedFrame Convertible is a 15-foot day touring/expedition tandem kayak that offers excellent performance and great versatility.
Just like the solo version of the AdvancedFrame, the Convertible combines an inflatable hull with aluminum ribs that form a sharp keel on the bow and the stern, improving speed and tracking. The ribs are pre-installed so there's no assembly required.
The AdvancedFrame Convertible can be paddled as a tandem or solo. It also converts from an open-cockpit to a closed-cockpit kayak in a matter of seconds with optional single or double decks. Both decks offer D-rings and bungees for storage, while the single deck also has a rear cargo hatch.
The AdvancedFrame Convertible can be used with two optional accessories for the floor. One is an aluminum keel beam called the BackBone. It goes under the inflatable floor and creates a V-shaped bottom to improve speed and tracking. The other is a drop-stitch floor that is placed over the regular floor. When inflated, it creates a very rigid form, which gives the kayak extra stability. You can use one or the other but not both at the same time.
---
Vibe Skipjack 120 Tandem

Length: 12' (365 cm)
Width: 34.5" (88 cm)
Weight: 72 lb (33 kg)
Capacity: 500 lb (227 kg)
The two-person version of the ever-popular Skipjack, this kayak retains all the ease of the solo boat and is a perfect recreational kayak for the occasional anglers. The shorter waterline with bow and stern rocker makes this boat really maneuverable and perfect for exploring lakes and slow-moving rivers, as well as some small surf too.
The Skipjack Tandem is a very comfortable, supportive option for long days out on the water, with ergonomically designed seat backs and cushions. It is also relatively easy to move around off the water thanks to the four molded carrying handles.
In terms of fishing prowess, the Skipjack keeps it relatively basic. Two rod holders are located behind the rear paddler, while there are also two mounting points for rectangular base accessories and a selection of paddle stowing options. For storage, there are small bungee areas front and rear. There are also two small hatches, one for each paddler.
The Skipjack really is a recreational dream, but if you want to get into some proper tandem fishing, the Yellowfin Tandem might be more suited to you.
---
Perception Cove Tandem

Length: 14' 6" (442 cm)
Width: 31.25" (79 cm)
Weight: 71 lb (31 kg)
Capacity: 550 lb (249 kg)
Tandem paddling is great, but some conditions just don't lend themselves to a sit-on-top kayak. This is where the Cove, Perception's only closed cockpit tandem kayak, comes into its own.
It might be closed at either end, but the entire middle of the boat is wide open, allowing you easy access and a level of security beginners often miss from proper closed-cockpit kayaks. The Cove is slightly more touring-focused than Perception's other tandem boats, and the longer, narrower waterline will allow it to cover more water with ease.
The seats are padded and the backrests are supportive, although maybe not quite as luxurious as those in the Tribe, and the padding around the knees means you can be both connected and comfortable. Both seating positions also have adjustable footrests; not always the case in a larger, open tandem kayak.
---
Sea Eagle 370

Length: 12' 6" (381 cm)
Width: 34″ (86.4 cm)
Weight: 33 lb (15 kg)
Capacity: 650 lb (295 kg)
Sea Eagle 370 is marketed as a 3-person kayak. In reality, it offers enough space for 2 adults to sit comfortably.
The 370 model is made from the same K80 PVC (Polykrylar) material as the shorter Sea Eagle 330 and also features three separate inflatable chambers. The 5-tube I-beam floor has two skegs that help the kayak track better. This kayak is NMMA certified.
The kayak comes in several configurations, including the Pro package with better inflatable seats and two paddles, the Solo Fishing package with one seat and a multi-purpose storage box, and even a QuikSail package with a small sail.
Sea Eagle 370's larger interior and extra capacity make it possible to load the boat with gear. However, for longer touring or camping trips, we would recommend looking at models made from reinforced, multi-layer PVC material with better protection against abrasion and punctures.
---
Choosing a Tandem Kayak: Things to Consider
According to the BoatUS Foundation, participation in paddle sports is one of the fastest growing recreational activities in the United States. What's more, kayaking ranks as number one among those!
With so many new people getting into the sport, it's important to help them choose the right kayak for their needs.
As with choosing any type of kayak, you need to start with the one question which then guides the rest of your decisions. Where, and how, do you want to use your tandem kayak?
Sit-on-top vs Closed Cockpit
Are you looking for a kayak for paddling around on secluded lakes, basking in the sunshine? Or perhaps you're looking for a fishing platform for two. A sit-on-top kayak is often the perfect choice for a tandem kayak, they give you plenty of space to move around, get comfortable and they tend to be the most adaptable boats.
But there are times when a closed cockpit is the answer. If you're looking to take on long journeys through waves, down frothing torrents of white water, or in cold climates, then a closed cockpit will protect you from the elements.
Length
Now obviously a two-person kayak is going to be considerably longer than a solo boat, but they still come in a variety of lengths.
Speed, Stability or both?
A longer two-person kayak will usually carry more speed through the water than a shorter one. The shorter option, though, is usually far better at making tight twists and turns.
If you're hoping to cover long distances on the water, a longer kayak will help you get there with much less effort. These longer kayaks are also usually far better at tracking through the wind, which means you won't be pushed around quite as much as you can be in shorter boats.
A wide, short tandem kayak however is perfect for rivers and for bodies of water where you need to twist and turn or weave between rocks.
Length and width are two of the key features which dictate how stable a kayak is. A wide kayak is usually a stable kayak, and many recreational and fishing two-man kayaks are far wider than their solo counterparts, to make up for the movement of two people.
Hull shape, too, will affect how stable your kayak is, as well as how fast it goes.
If you want to get a bit more technical with types of stability, check out our Kayak Anatomy piece from our Learning Center. Without getting too technical here, a wide, flat hull, as you find on most sit-on-top kayaks, is incredibly stable.
Meanwhile, a rounded hull is less stable, but maybe more appropriate for tight turns and rivers. A V-shaped hull is even less stable but perfect for slicing through the water on long journeys and carrying maximum speed.
There are balances to be found on all of these, so weigh up what you need most.
Comfort
Outfitting
Kayak outfitting will affect the level of control you have over your boat. Thigh straps, a backrest, and footrests will all allow you to drive the kayak more effectively, and give you more connection, meaning it is easier to turn the kayak. This is especially useful in rough conditions or strong currents.
However, outfitting is also important when we choose our kayak because it will allow us to be comfortable in our kayak on long days out on the water.
A supportive seat, or two supportive seats in this case, as well as footrests to hold you into those seats, are the minimum standard you want to look for. Supportive doesn't necessarily mean the most engineered, or most expensive seat. Some seats are molded into the plastic design of the boat and can be perfect for shorter trips or for family splash-arounds.
Think about how long you want to spend on the water, whether you prioritize connection and control, or comfort, and select your seating from there.
Legroom
From the rear position of a two-seater kayak, it's unlikely you're going to struggle for legroom, though some closed cockpit designs are worth a test.
In the front seat, however, it can be a different story. Some bow designs taper off quickly to a point and can limit the amount of room you have for your legs.
Reviews of kayaks, or testing the boat can be essential, especially if you're planning on putting two large adults into one kayak.
Capacity
How heavy are you? How heavy are your potential paddling partners?
What about all your gear, your dog, your lunch, and your clothing?
You don't want to buy a kayak only to find that once you've loaded everything into it, it sits way too low in the water.
Every boat has a maximum capacity, and many have a minimum, too. For best performance, it is recommended not to exceed 70% of the maximum capacity, even with all your stuff!
Storage Space
Along the same lines as capacity, how much room is there for all of your gear?
If you're in a closed-cockpit tandem, is there internal storage for overnight equipment, or for the technical gear you need for fishing or river kayaking? Can this be accessed easily and safely? Is it secure if you have an out-of-boat experience?
In a sit-on-top two-seater, how much gear can you fit? Is there bungee or recesses to secure your gear and make sure it doesn't blow away or fall overboard?
This question goes back to the first point; what do you need your kayak for?
There are discipline-specific tandems, in the same way as there are solo kayaks, and they will come with a setup that is perfect for the sport.
Solo Configuration
Are all your kayaking buddies busy, but you still want to take to the water? Not to worry, a lot of double kayaks don't require two people to paddle them.

There's a couple of options here. Many of them can be paddled from the rear seat without too much difficulty. You may just have to put a bit of weight up front to account for the missing person if it's windy.
Many two-man sit-on-top kayaks are easy to adapt to fit just one person. With an extra seating position in the center of the kayak, you can just pop out the two seats and fit one of them back into the middle, giving you optimum solo control of the kayak.
Child Seat
Two-person kayak? Or three people?
That central position often comes with an optional child seat, perfect for taking your little one out on the water. This means you can have family adventures without feeling cramped or confined.
Rudder
These longer, often wider kayaks can be really difficult to turn, especially in enclosed spaces.
Not only are they enormous, but it takes coordinating two people into the turn, especially difficult if you're planning on executing lean-turns.
Many double kayaks come with rudder systems, controlled by the stern paddler. These can save hundreds of arguments while out on the water and really help you get to where you want to go.
Comparison Table: Best Tandem Kayaks
---
Tandem Kayaks FAQ
Are tandem kayaks more stable?
Two-person kayaks are often designed with stability in mind, but they come in a range of models just like solo kayaks. If stability is important to you, try looking for kayaks with wide, flat hull designs which have a large capacity.
Are 2 person kayaks faster?
On its own, a tandem kayak will go no faster than a solo kayak; it's all about who is in them. They can be faster, but remember, it's double the propulsion, but there's a lot more kayak to propel! If you prioritize speed, try finding a sleek, longer, and narrower double kayak. A V-shaped hull can also help your tracking, minimizing drift, and maximizing efficiency.
Can a tandem kayak be paddled solo?
Yes, with varying degrees of success. Many tandem kayaks can be paddled from the stern seat, but this can make them harder to control in wind and waves. Others have an extra seating position and moveable seats, which means you can position yourself in the middle of the boat for maximum control. Remember, these kayaks are designed to be paddled by two people and may be harder to control with just one paddler, especially in the wind where you're likely to sit quite high out of the water.
Where should the heavier person sit in a tandem kayak?
Usually, it's easier if the heavier paddler sits in the rear of the kayak. This means the bow will ride slightly higher and give you a smoother, dryer ride. It also means the bow will not dive and grip the water, which can spin and even tip a kayak.
Are tandem kayaks more difficult to transport?
Tandem kayaks are bigger and therefore heavier, so they can be harder to move around. However, there's likely to always be two of you to lift these kayaks onto your car or trailer, as well as to get to the water. Remember to consider the length and weight of the kayak and make sure your car can support it before you place it on the roof. If you have a short vehicle and the roof rack is close together, it can warp the kayak.
Is a tandem kayak better than two single kayaks?
Every kayak is perfect in the right situation. Two-person kayaks can be easy to paddle, really accessible, and save having to have two kayaks to move around. They're also great for families and to assist people with mobility issues to get kayaking. Solo kayaks come with their own sense of freedom and can be more maneuverable and sometimes more sociable, but this all depends on the situation.

Think about what you value from a kayak and from being on the water, and decide what best suits your needs.