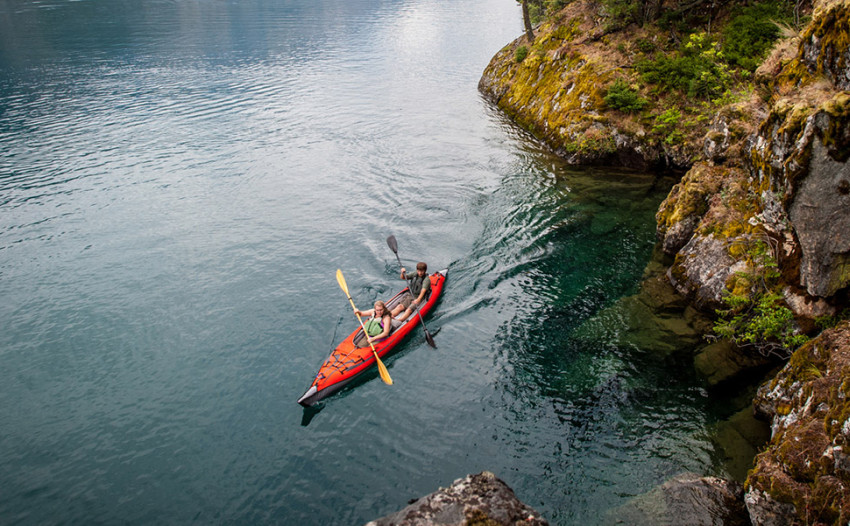 Kayaking has exploded in popularity over the last several years. Inevitably, so have inflatable kayaks. Several companies make high-quality inflatable kayaks that are easier to transport, cost less, and easier to store than traditional kayaks. They are constructed from tough materials that resist punctures and abrasion.
In this ultimate guide to inflatable tandem kayaks, we will walk you through what you should consider before you purchase, the benefits of this style of kayak, and the characteristics that make a good inflatable kayak for 2 persons.
If you're in a hurry, here are our top 10 tandem inflatable kayaks:
Comparison Table: 10 Best Inflatable Tandem Kayaks in 2021
Intex Excursion Pro

Length: 12' 7" (383 cm)
Width: 37" (94 cm)
Weight: 39 (17.7 kg)
Capacity: 400 lb (181.44 kg)
The Intex Excursion Pro came on the market in early 2019. It provides enough space and features to seat two people with additional fishing gear comfortably. It comes with nearly everything you need to get on the water, a pump, two paddles, two skegs, and removable/adjustable seats.
It also features two fishing rod holders, a bracket to mount other fishing gear and removable footrests. The provided pressure gauge ensures you will inflate your kayak to the proper pressure. The carrying bag makes for easy transport and storage.
The storage space at the bow and stern provides the space for each person's additional gear. The kayak is constructed of laminate PVC with a polyester core, allowing it to handle some of the harshest conditions.
---
Intex Explorer K2

Length: 10' 3" (312 cm)
Width: 36″ (91.5)
Weight: 30.6 lb (13.9 kg)
Capacity: 400 lb (181.44 kg)
A more basic and less expensive model than the Intex Excursion Pro, the Explorer K2 is ideal for day trips for two people. It doesn't offer all of the other features that the Excursion Pro does, but it still comes with two paddles, a high-output pump, a carry bag, a removable skeg, and removable, adjustable seats.
It is more compact, so it doesn't offer extra storage space. If you are a smaller statured person, the smaller size might be ideal for you, but if you're larger and you want to bring along extra gear, you might want to consider another kayak.
It is built from tough puncture-resistant vinyl, so you don't have to be constantly worrying about what sharp objects might lurk under the water! Or, if you prefer to bring a four-legged friend, you won't have to worry about their claws popping your kayak.
The three separate air chambers will be a massive benefit if you happen to get a hole in one chamber. It won't completely deflate on you before you make it back to where you can patch your kayak.
---
Sea Eagle 370

Length: 12′ 6″ (381 cm)
Width: 33.8″ (86 cm)
Weight: 33 lb (15 kg)
Capacity: 650 lb (295 kg)
The Sea Eagle 370 is one of the most spacious kayaks on our list. It has the capacity for three people, but it comfortably seats two people and their gear. You can store your gear at the bow or stern. The extra space is great for larger people. Even if you think you won't need the extra space all the time, it's nice to have it when you do need it.
It can handle class III rapids because it is made from durable PVC materials. The two keels are not removable but do add to the handling capabilities of the kayak. It comes with two moveable kayak seats, two paddles, a foot air pump, and a carry bag.
This kayak is tough enough to handle most of your adventures ranging from river kayaking, fishing, or day trips with the family.
---
Sea Eagle 380x

Length: 12' 5" (380 cm)
Width: 39" (99 cm)
Weight: 40 lb (18 kg)
Capacity: 750 lb (340 kg)
The Sea Eagle 380x is larger and can carry more weight than the 370. However, it does not offer the additional third seating option. It does come with two paddles, an air pump, and a carry bag.
The two provided seats are adjustable so that you can set them most comfortable for you. There are storage compartments in the bow and stern for your additional gear. Unless you are carrying gold, we doubt you will ever reach the weight capacity for this kayak.
It can handle most, if not all, of your kayaking adventures, from solo trips down the river to taking the family out for a nice paddle around the lake. If paddling isn't your thing, you can also purchase a motor mount and install a trolling motor on the 380x.
It's made from heavy-duty PVC to avoid punctures from rocks and sticks. So even your dog can enjoy a trip out on the water with you!
---
Advanced Elements AdvancedFrame Convertible

Length: 15′ (457.2 cm)
Width: 32″ (82.3 cm)
Weight: 52 lb (23.6 kg)
Capacity: 550 lb (248.5 kg)
The Advanced Elements AdvancedFrame Convertible is a sit-inside kayak. Made from PVC and polyester with polyurethane laminate means it is very durable. The built-in aluminum ribs in the bow and stern help with maneuverability.
The kayak comes with two adjustable seats, a carry bag, and an owner's manual. So don't forget to purchase your paddles and an air pump!
This inflatable kayak is targeted more towards the intermediate kayaker than the beginner. However, it is still very beginner-friendly with lots of space and stability. It's great for sea kayaking, day trips, or trips out on the lake.
You can purchase additional accessories to customize it to fit your needs.
---
Driftsun Rover 220

Length: 12′ 6″ (381 cm)
Width: 36″ (91.4 cm)
Weight: 28 lb (12.7 kg)
Capacity: 600 lb (272.2 kg)
The Driftsun Rover 220 can handle your kayaking adventures, including Class IV rapids. The kayak is made from reinforced PVC. You can take it out on the lake without worrying about running into a sharp rock or stump, or you can paddle down the river with it.
It comes with two adjustable seats, seven self-bailing drain plugs, an action camera mount, two paddles, a carry bag, and a removable keel. You will be nearly ready to get on the water once the kayak arrives.
You can easily carry two adults and a small child or a four-legged friend plus your gear for the trip in this kayak without exceeding the weight capacity.
---
Driftsun Voyager

Length: 10' (304.8 cm)
Width: 35" (88 cm)
Weight: 27 lb (12.2 kg)
Capacity: 400 lb (181.43 kg)
When you purchase the Driftsun Voyager, you also get two removable/adjustable seats, two paddles, a dual-action pump, a removable keel, and a carry bag—setting you up for a great time on the water as long as you purchase a few other pieces of the necessary gear, such as PFDs.
The smaller design means a lower weight capacity. You can bring another adult with you, but you will be limited on space and available weight for gear. However, if you often paddle solo, then you will have plenty of room and weight available.
Despite being under three feet wide, it will still be stable, so feel free to bring along a furry friend or another person on your adventure. It's designed for recreational use. Going out to the lake and paddling around should be the primary use, not whitewater kayaking.
---
Elkton Outdoors Steelhead

Length: 12' 6" (381 cm)
Width: 39.5" (100.33 cm)
Weight: 44 lb (20 kg)
Capacity: 600 lb (272 kg)
The Elkton Outdoors Steelhead can handle all of your kayaking adventures. From Class III rapids to fishing in saltwater, you can do it all in this kayak. It can even be used for a lightweight waterfowl hunting kayak.
It's constructed from PVC materials, has a drop-stitch floor, seven hard mounting points for rod holders or other fishing accessories, and a bow spray shield to keep your gear dryer.
With a load capacity of 600 lbs, you can load a tremendous amount of gear and another person to go fishing for the day or kayak camping for the weekend. It's a stable kayak that offers additional features that others don't provide, like the ability to stand and fish.
It comes standard with two paddles, a removable keel, a carry bag with backpack straps, two adjustable seats, two footrests, and a dual-action air pump.
---
Sevylor Coleman Colorado

Length: 10' 9" (327.7 cm)
Width: 39" (99 cm)
Weight: 41 lbs (18.6 kg)
Capacity: 470 lbs (213 kg)
Designed with anglers in mind, the Coleman Colorado has several standard features that the other kayaks don't. Anglers will enjoy the built-in rod holder, paddle holders, adjustable seats, and the capability for a trolling motor.
However, a few basics are missing for all the standard features it has when purchasing this kayak. The kayak does not come with paddles or an air pump. The rod holders can get in the way while paddling, and it does not handle windy conditions well.
The design allows for one or two-person paddling but doesn't leave much space for extra gear if two people are present. The materials are puncture-resistant but can warp, causing tracking issues.
Because it is designed specifically for anglers, it might not be the best tandem kayak for other situations, such as paddling a river with rapids.
---
Hobie Mirage I14T

Length: 14' (430 cm)
Width: 36″ (91 cm)
Weight: 67 lb (30.4 kg)
Capacity: 550 lb (249 kg)
The Hobie Mirage I14T is a high-end inflatable kayak. It offers features that other kayaks don't, but that is expected, considering the price. It is the only inflatable on our list to have two pedal drive systems and a rudder. No other inflatable kayak on this list could fit a pedal drive system.
It offers the option of one or two-person kayaking, adjustable seats, and comes with two paddles. Since it is 14' long, you have plenty of space to bring along your gear and a kayaking buddy.
While it is marketed as a fishing kayak, it lacks several features that would better suit it for kayak fishing. However, it is ideal for recreational use in slow rivers and lakes.
It is incredibly stable, but it is also slower and more difficult to turn compared with some hardshell kayaks. It stores easily in the rolling storage bag that comes with the kayak. The 1,000 denier PVC used to construct the Mirage means it can handle those occasional run-ins with rocks and logs.
---
Choosing a Tandem Inflatable Kayak: What you Should Consider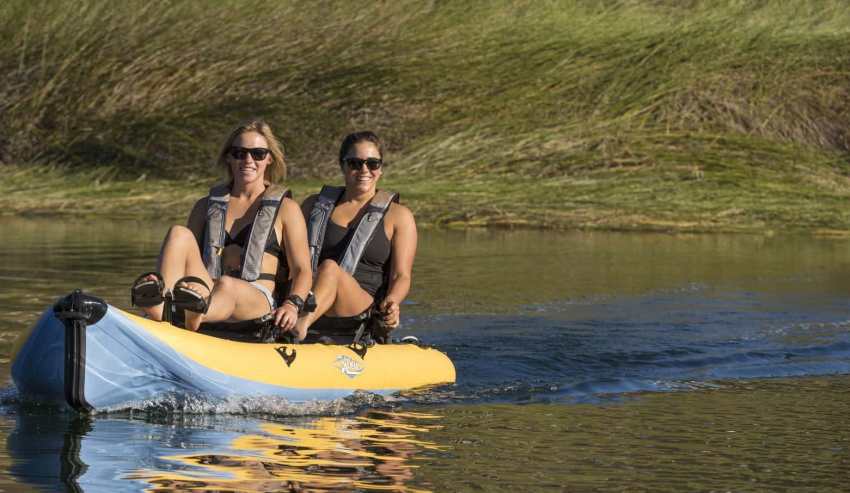 A kayak's desired features and characteristics will evolve as you deepen your knowledge and experience as a kayaker. What's essential as a beginner might not be as important as an expert.
However, there are consistent considerations no matter what stage of experience in which you currently find yourself.
Safety
No matter what level of experience you have, your most significant consideration should be safety. Safety can mean several different things to different people. The main thing to keep in mind for a beginner is stability—the ability of the kayak to keep you in the boat and out of the water.
The weight limit is another safety factor to consider. Never overload the kayak. It will become unstable and difficult to handle if you exceed the weight limit.
Price
Price should always be considered because, as a beginner, you don't want to spend a fortune on a kayak, only to realize you don't have the time to go or you don't enjoy the sport of kayaking. Find a kayak that's in your price range and fits your style and needs.
Durability
Along a similar trajectory as the price is durability. If you invest in a kayak, you want it to last several years, not several trips. While the durability of a kayak often increases with price, we have tried to maintain a balance of high durability and a beginner-friendly price tag in our top 10 list.
Why a Two-Person Kayak?
Tandem kayaks open up more options for the paddler(s) at a lower price point. Having the option to bring a passenger or more gear expands the opportunities you have for adventures. Instead of purchasing, storing, and transporting two kayaks, you can use one slightly larger kayak to meet all your kayaking needs.
If you're a solo paddler that loves to kayak camp or fish from a kayak, having the extra space made available by a tandem kayak for more gear is a game-changer.
Not only do two-person kayaks provide more space, but they are also often more stable than single-person kayaks. So you will be safer while on the water in a tandem kayak.
If you're the person in the back, you can sit back and relax while the person in the front paddles! Actually, on second thought, that's an excellent way to get splashed, so be warned. It is a huge benefit to have the option of someone else to paddle if one becomes unable to paddle.
Benefits of Tandem Inflatable Kayaks
Inflatable tandem kayaks offer many benefits contrasted to traditional hardshell kayaks. In this section, we will take a deeper dive into those benefits.
Transportation
Transporting an inflatable kayak is much easier than hauling a rigid kayak. You don't need a roof rack, pickup truck, or trailer. An inflatable kayak will fit in the trunk of most cars.
Once deflated and placed back into the carrying case, one person can easily handle it and put it in a small car.
Storage
Once deflated, inflatable kayaks take up minimal space, so you can store them in a closet if you need to, unlike traditional kayaks that require much more space in storage. It's recommended to deflate your kayak and store it DRY in a controlled environment out of the sun.
Cost
On average, they are less expensive than a hardshell kayak. However, they can still get pricey when you look into the high-end price range. So if you're concerned about the price of a kayak, begin with an inflatable kayak. If you end up not enjoying using it, you won't be out nearly as much money.
Stability
Due to their design, Inflatable kayaks are much more stable than hardshell kayaks, making them safer for beginners or people who quickly lose their balance. Fishing kayaks especially offer excellent stability. You can often stand and fish in a fishing kayak.
Lightweight
Tandem kayaks are heavy. However, inflatable kayaks are incredibly lightweight compared to other styles of kayaks. Rarely do inflatable kayaks weigh more than 50 lbs. One person can carry most inflatable kayaks. That can't be said about tandem hardshell kayaks.
Characteristics of a Good Inflatable Tandem Kayak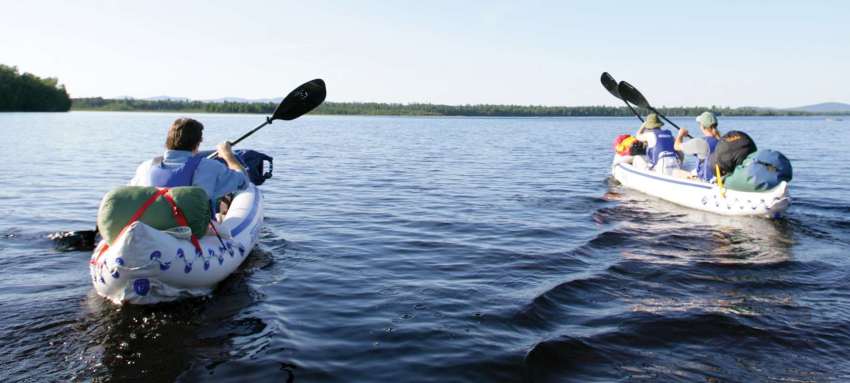 What makes a "good" inflatable tandem kayak? Many factors contribute to the quality of a kayak. Below, we discuss the characteristics that determine what makes a good inflatable kayak. If you ask five different people, you will probably get five different answers, but most agree with these six factors.
Durability
We want your purchase to last you many adventures. Don't waste your money on a kayak that isn't durable. You will inevitably run into sharp rocks or sticks, so purchase a kayak that can withstand those encounters.
Stable
Safety is a primary concern of ours. Be as safe as possible on the water with a stable kayak. Having two people in a small watercraft means you will need more stability than the average kayak. Owning a kayak that one person can stand up in while on the water is ideal.
Capacity
You never want to max the weight limit out on a kayak. This is not only dangerous, but it also lowers the performance of the kayak. It makes kayaking more difficult and less enjoyable. We recommend staying below 70% of the total load capacity.
Affordable Price
We all have a budget we'd like to stick to, so let's help you purchase the best kayak within your price range. An excellent inflatable kayak will be priced affordably based on its handling, durability, and weight capacity.
Ease of Paddling
Struggling to paddle all day will likely mean you won't want to use your kayak again. It'll be much more enjoyable if the paddling is easy. Inflatable kayaks are not known to have the best handling. However, some outshine the others.
Available Space
You purchase a tandem kayak to bring along another person or extra gear. You want to be able to use all the available space. Some kayaks might be rated for two people, but they don't provide the space needed for two people and the gear they might need for the trip.
FAQs
Are inflatable kayaks worth it?
Yes! If you are limited on storage space or transporting capabilities, inflatable kayaks are an incredible alternative.
Can one person use an inflatable tandem kayak?
Yes. One person can paddle a two-person kayak. However, it might be slower and slightly more challenging to maneuver.
Do inflatable kayaks pop easily?
No. Even less expensive inflatable kayaks are made from materials resistant to popping or ripping.
Where should the heavier person sit in a kayak?
The heavier person should sit at the back of a kayak. For optimal performance, the weight needs to be distributed evenly across the kayak.