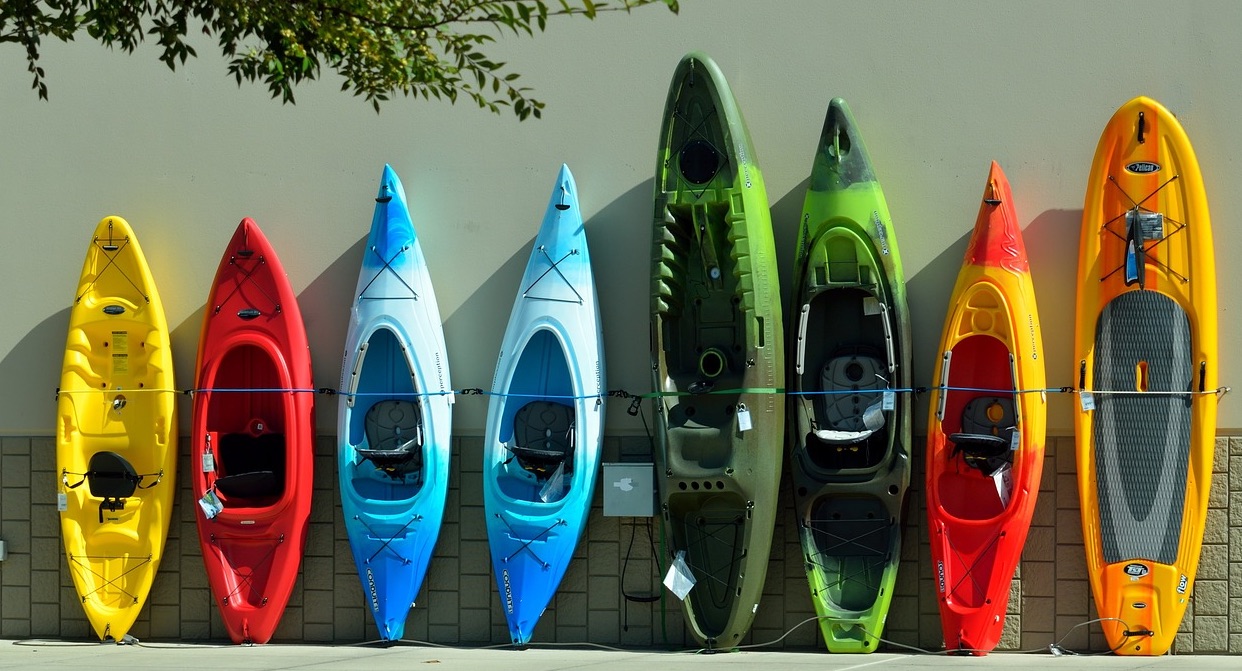 Kayaking is quickly becoming more popular worldwide, and for good reasons. It is one of the most inclusive sports that offers clear health benefits. It is also a lot of fun.
But if you're just getting into it, buying your first kayak is a daunting task. There are so many great beginner kayaks on the market today, but which one is right for you? We understand how difficult it is to choose a kayak that best suits your needs, especially if you're new to the sport.
We've put together this buying guide to help you choose your first kayak. We have also reviewed some popular models that we think are the best kayaks for beginners.
Note: don't forget to also check our buying guides on PFDs and paddles.
Quick Answer: What are the Best Kayaks for Beginners?
No time to read the whole thing? After carefully researching a lot of beginner-oriented kayaks that the market offers today, we decided that the following models are great options as your first kayak:
Comparison Table: Top Rated Kayaks for First-time Paddlers
Model
Specs
Price

Wilderness Systems
Pungo 120
LxW: 12'2″x 29″
Weight: 49 lb
Capacity: 325 lb
See on Amazon

Lifetime Tamarack Pro 103
Size: 12'3″ x 31″
Weight: 57.5 lb
Capacity: 300 lb
See on Amazon

Perception Drift 9.5
LxW: 9'6″x 28.5″
Weight: 40 lb
Capacity: 300 lb
See on Amazon

Old Town Dirigo 106
LxW: 10'6″x 27.8″
Weight: 42 lb
Capacity: 300 lb
See on Amazon

Pelican Trailblazer 100 NXT
LxW: 10'x 28″
Weight: 35.6 lb
Capacity: 275 lb
See on Amazon

Perception Rambler 13.5
LxW: 13'6″x 34″
Weight: 78 lb
Capacity: 550 lb
See on Amazon

Vibe Skipjack 90
LxW: 9″x 32″
Weight: 46 lb
Capacity: 300 lb
See on Amazon

Sun Dolphin Aruba 10
LxW: 9'6″x 28.5″
Weight: 40 lb
Capacity: 300 lb
See on Amazon

FeelFree Moken 10 V2
LxW: 9'6″x 28.5″
Weight: 40 lb
Capacity: 300 lb
See on Amazon

Sea Eagle 330
LxW: 9'6″x 28.5″
Weight: 40 lb
Capacity: 300 lb
See on Amazon
How to Choose Your First Kayak: Factors to Consider
Buying a kayak for beginners isn't always as easy as it might seem. That's because you want to be sure that you get a boat that's stable and comfortable enough for your first few years of adventures on the water.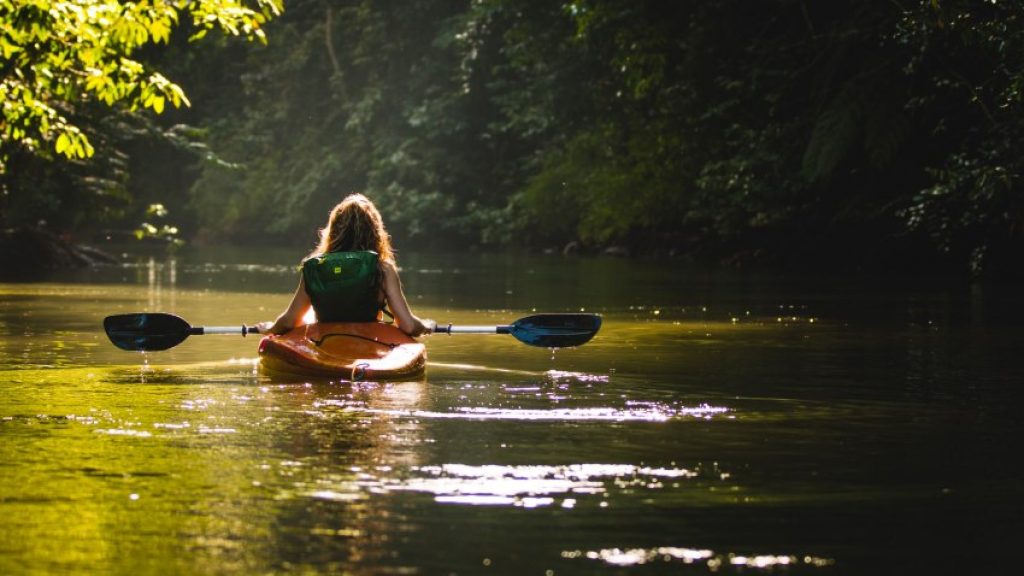 To help ensure that you get the best beginner kayak for your needs, here are some of the most important features and design points that you should consider when shopping around.
Tandem vs. Solo
Perhaps the first major decision you need to make when buying your new kayak is whether you'd like a solo or a tandem model. In reality, this is very much so a personal decision as it depends on whether or not you can reasonably expect to have a willing and excited padding buddy available for your adventures.
With that in mind, it's worth noting that there are some advantages and disadvantages of choosing a single or a tandem kayak as a newer paddler.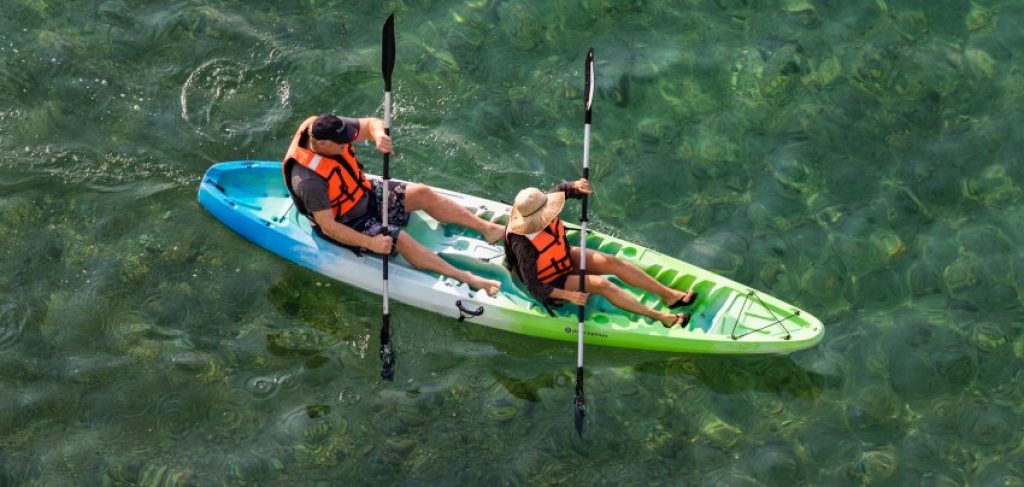 For example, tandem kayaks tend to be more stable and better at tracking, partially because they are usually longer and wider than their solo counterparts. However, this extra width and length comes at the expense of portability.
Moreover, tandem boats can be both frustrating and fun to paddle if you're just starting your kayaking career. While having a buddy in the boat with you can be calming if you're feeling a little nervous, it can also be frustrating to feel like you're only going in circles because your paddling timing is out of sync.
At the same time, a solo kayak is often better from a skills progression point of view because you'll need to develop proper technique on your own without relying on anyone else to make corrections for you.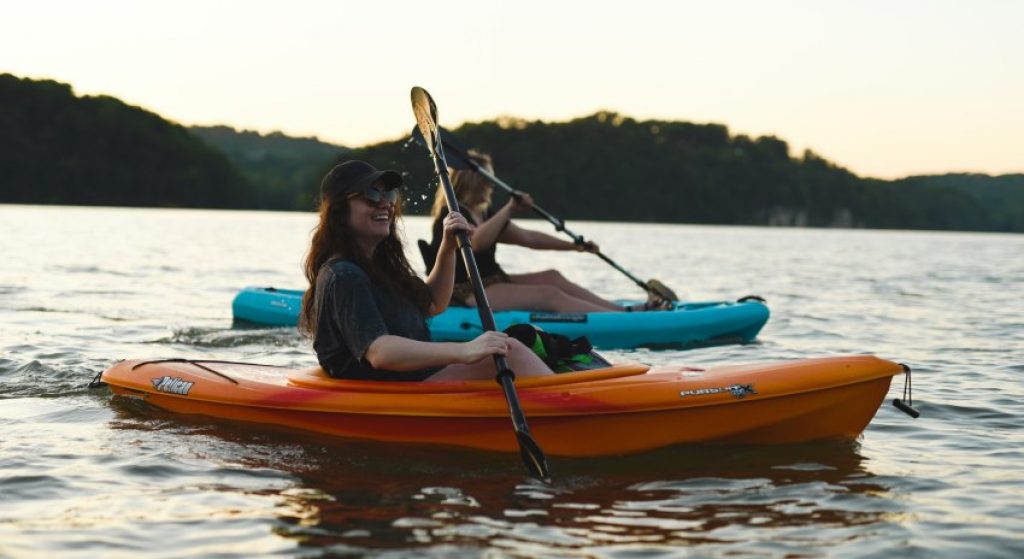 What does this mean for you?
Well, if your main goal for kayaking is to just enjoy yourself on the water with your friends and family, or you're only interested in purchasing 1 boat for 2 people, a tandem might be the best option. Alternatively, if you'd like to really hone your paddling technique, a solo kayak is going to give you the best opportunity to do so on the water.
Sit on Top vs. Sit In
After you decide whether you'd like a tandem or solo kayak, your next big decision is whether you'd prefer a sit on top or a sit in kayak. Here's what you need to know about the advantages and disadvantages of each type of boat.
Sit on Top Kayaks
Sit on top kayaks are perhaps the more popular option for beginner kayak because they offer easy entry and exit and plenty of space to sit back and relax. The open deck of a sit on top kayak is also ideal for larger paddlers or anyone that often feels claustrophobic inside a sit in kayak.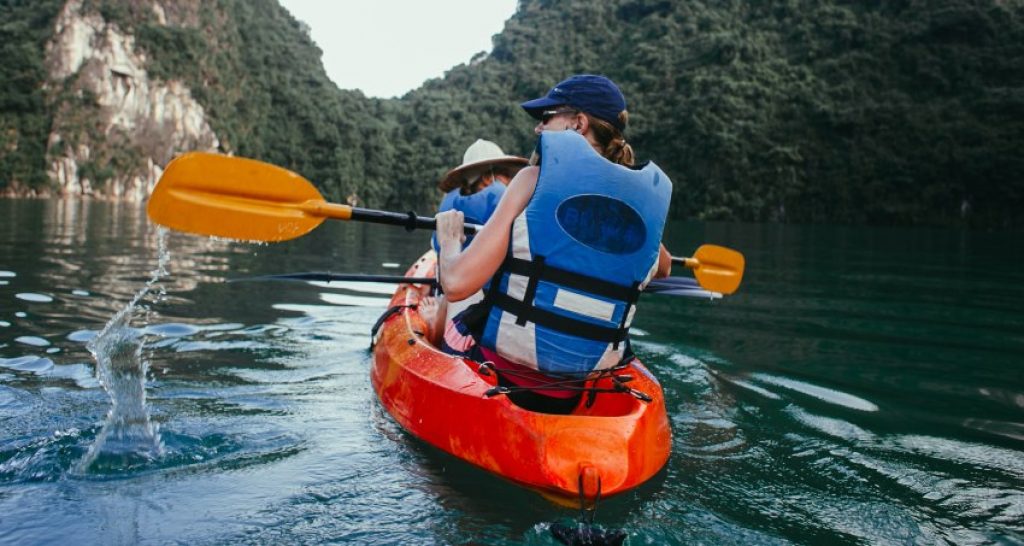 Moreover, from a beginner paddler's perspective, sit on top kayaks are quite user friendly. If you do happen to capsize, you don't have to worry about trying to slide out of a cockpit while you're underwater. Plus, most sit on top boats are self-bailing, which is nice if you do end up going for a swim.
That being said, sit on top boats aren't a great choice if you don't like to get wet while paddling. They're also less ideal in choppy conditions, though, to be fair, most beginner kayaks aren't designed for harsh weather, anyway.
Sit In Kayaks
Sit in kayaks are the more traditional choice as they have a cockpit area that encloses most of your lower body. While expedition and touring-style sit in kayaks tend to have very narrow cockpits, however, most beginner-friendly models have fairly wide cockpit openings.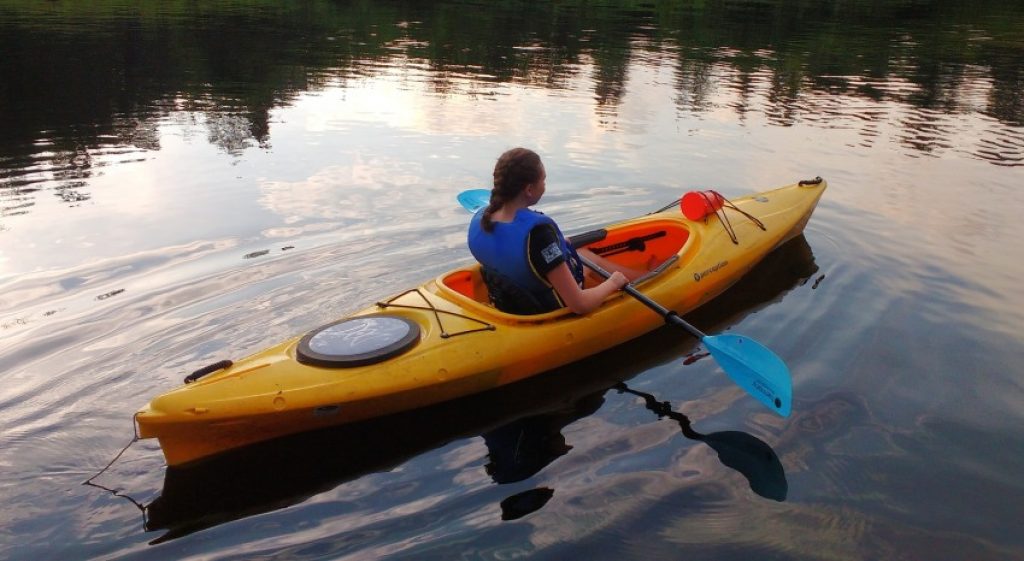 The primary advantage to a sit in kayak is that you're better able to brace your knees on the side of the kayak for improved maneuverability and more efficient paddling in choppier waters. You also tend to get less wet in a sit in kayak because your lower body is mostly protected by the cockpit.
Of course, this added protection comes at the expense of ease of entry and comfort. Unless you purposefully buy a sit in kayak with a wide cockpit opening (which is common on most beginner models), it can be trickier to get in and out of the boat.
Hull Shape & Design
The vast majority of beginner-friendly kayaks come with a mostly rounded hull. This is not a coincidence as wide, rounded hulls tend to be best from a stability point of view.
For new kayakers, feeling comfortable and confident in your boat is a top priority. Therefore, most manufacturers opt for rounded hull designs which offer the most in terms of stability.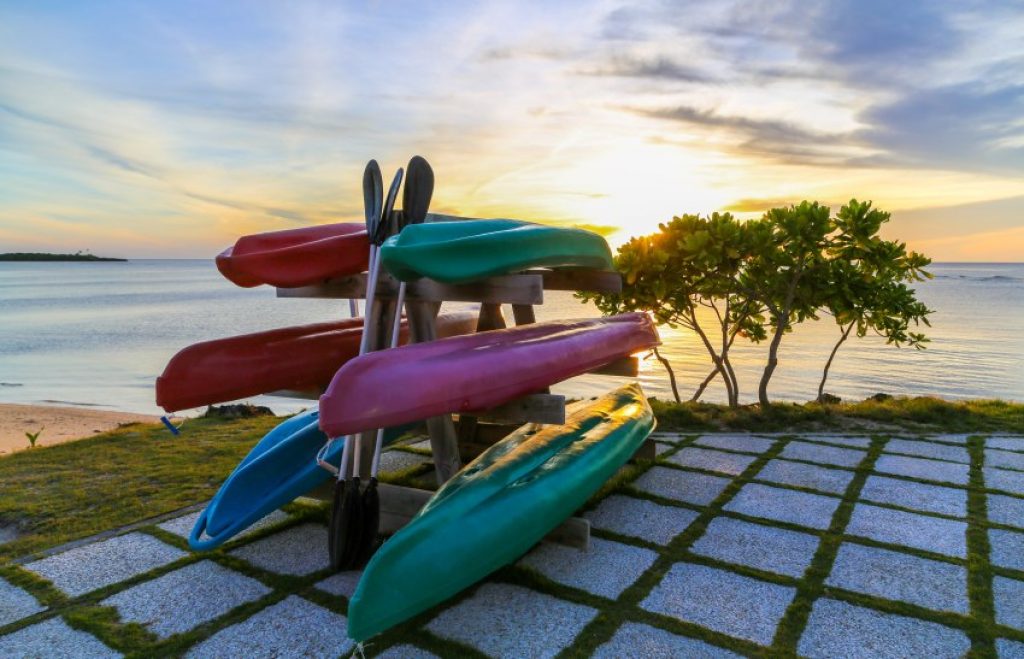 Keep in mind, however, that this rounded hull design, while nice from a stability and maneuverability point of view in calm water, is less ideal for tracking over long distances.
Moreover, boats with rounded hulls, while stable in mostly flat water (called primary stability), have minimal secondary stability. This means that they're quite tippy in choppy water as the boat rolls up onto its side.
Does this mean you shouldn't buy a boat with a rounded hull?
Not at all. Rather, it means that it's important to understand the limitations of your boat's hull construction. Therefore, most beginner kayaks are best used in sheltered areas in mostly calm conditions.
Kayak Size & Weight
A kayak's size and weight is mostly a concern when it comes to portability, though the length of your boat can also have an impact on it's natural tracking ability.
For example, shorter, lighter boats are highly portable, which is ideal if you have to frequently carry your kayak to and from a put-in. However, this portability comes at the expense of your boat's tracking ability, which means that it's often harder to paddle in a straight line.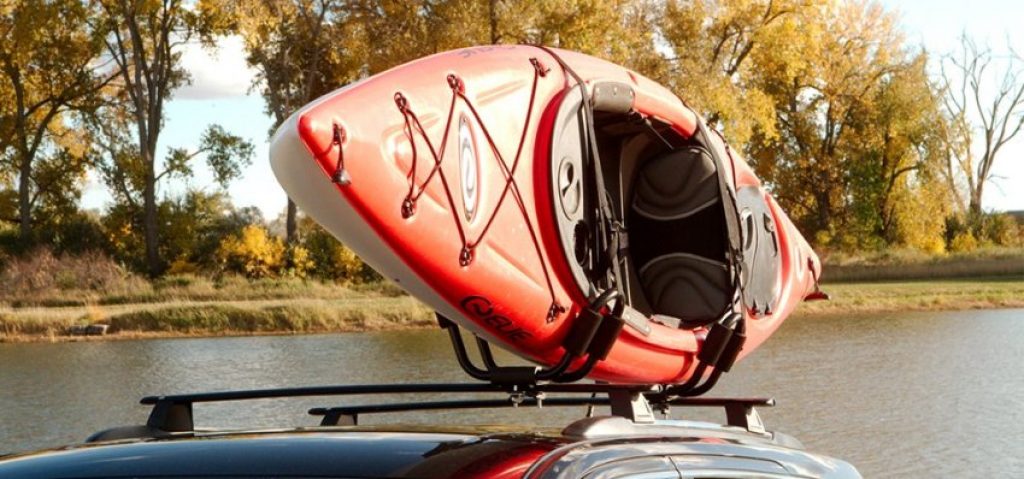 Smaller boats also have smaller gear storage capacity, which may be a concern if you're looking to spend long periods of time on the water.
A longer boat can offer more in terms of gear storage and natural tracking ability. However, these kayaks are heavier and may be harder to cartop. You may even need a kayak trailer and a kayak cart to handle it.
Therefore, the size and weight of your kayak is a trade-off between portability, gear storage, and tracking ability.
Maximum Weight Capacity
Every kayak comes with a stated maximum weight capacity, which is an important factor to keep in mind as you shop. For maximum performance in your new boat, it's best not to load it beyond 80% of the manufacturer's listed weight capacity.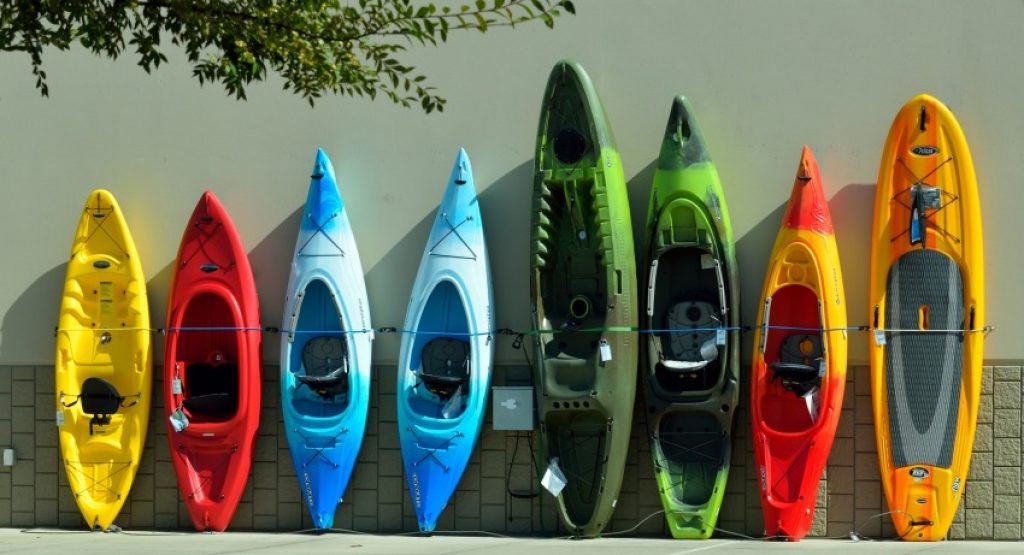 When deciding which kayak is best for you, be sure to account for your weight and the weight of your gear when determining if a given model is suitable for your paddling needs. Additionally, if you're looking to buy a tandem boat, you'll need to factor in the weight of your paddling partner to ensure you get a model that's appropriate for both of you.
Comfort
Comfort is key for new kayakers as you want to feel calm and collected when on the water. Indeed, no one wants to go kayaking if they know that they'll be uncomfortable the whole time, so getting a boat that feels nice to paddle is ideal.
With kayaks, comfort is a function of both legroom and seat padding. Sit on top kayaks tend to be best for maximizing legroom, due to their open decks, though there are plenty of beginner-focused sit in kayaks that have spacious cockpits for you to enjoy.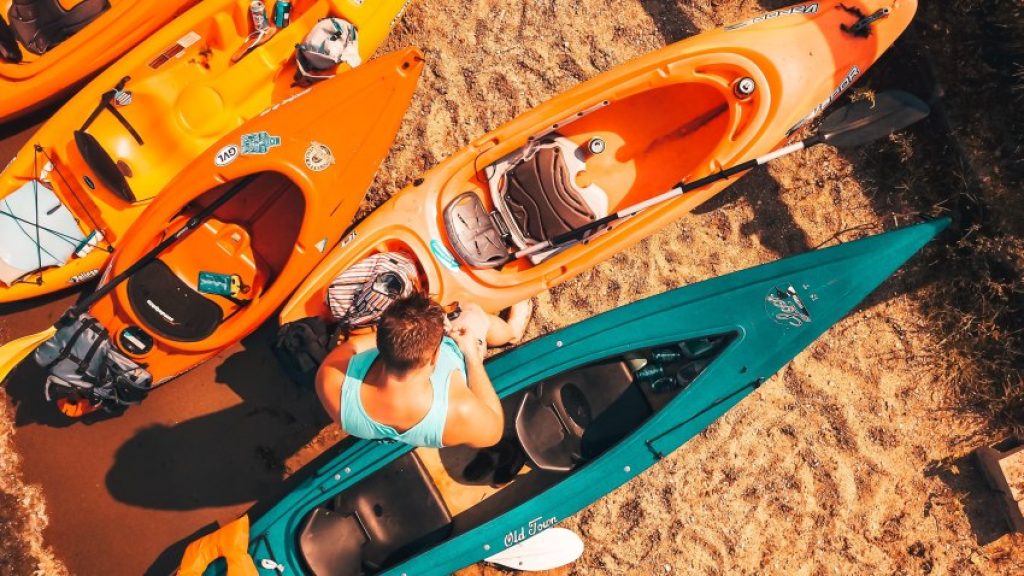 You'll also want to consider a boat that has a well-padded foam seat for longer days on the water. An adjustable seat is also advantageous if you want to fine-tune your boat to best meet your needs while paddling.
Gear Storage Options
Depending on what you plan to use your kayak for, you may find that gear storage is an important feature in your new boat. For folks that like to fish or go on longer paddles, having a bit of gear storage space is a must in a kayak.
Most kayak gear storage comes in the form of an open tankwell or a closed hatch. Tankwells are best for people looking to pack bulky gear, like coolers, while hatches are best for protecting or storing smaller bits of gear. Keep in mind, though, that you'll often pay extra for gear storage space on your kayak, especially if you want covered dry hatches.
---
Our Top Beginner-Friendly Kayaks for 2022

Weight: 49 lbs (22 kg)
Length: 12'2" (371 cm)
Capacity: 325 lbs (147 kg)
Type: Sit in
An absolute classic of a boat, the Wilderness Systems Pungo 120 is a long-time fan favorite among beginner and intermediate paddlers that want enhanced tracking performance.
The Pungo 120 features Wilderness Systems' proprietary hull design which blends a wide base with a relatively flat bottom. Additionally, since the front and rear of the boat feature a slight chine, this kayak screams stability on the water without sacrificing its inherent tracking prowess over longer distances.
Wilderness System also made this kayak beginner-friendly by including their Phase 3 AirPro seating system which integrates an ergonomic, adjustable, and well-padded seat for improved comfort. It also has a set of thigh pads around the cockpit and a built-in dashboard which provides plenty of storage space for snacks, water bottles, and other accessories.
Finally, the Pungo 120 comes with bungee rigging on the fore and aft decks for ample gear storage as well as a secure stern hatch for longer trips. It also has a generous 325 lb (147 kg) maximum weight limit, which makes it appropriate for the majority of kayakers.
Key Features
Phase 3 AirPro seat for comfort
Built-in dashboard provides gear storage
Proprietary hull design for tracking and stability
What we like
Plenty of gear storage options
Thigh pads on the cockpit
Longer length improves tracking
Comfortable enough for longer paddles
What we don't like
---

Type: Hard-shell sit-on
Material: High-density, UV-protected polyethylene
Size: 12′ 3″ (312.42 cm) x 31″ (78.7 cm)
Weight: 57.5 lb (26 kg)
Capacity: 300 lb (136 kg)
The Lifetime Tamarack Angler is an great kayak for those who want to try kayak fishing. This boat has just the right amount of fishing-specific features and comfort at a price that's hard to beat.
The Tamarack Angler is relatively lightweight at just 51 lbs (23 kg), meaning it will be easy to load on a roof rack or into your truck. There isn't an abundance of storage space, but this model does offer two dry storage hatches—one in front of the seat and one behind.
Crafted from UV-protected high-density polyethylene, the Tamarack Angler is designed to be a rigid, durable kayak that performs well on the water. Many users report that the kayak offers enough stability to allow them to stand while fishing. At just 10' (304.8 cm) in length, the Tamarack Angler is a great throw-and-go boat that will shine on smaller lakes or calm rivers.
Pros:
Great maneuverability
Lightweight
Good stability
Cons:
Limited capacity
Seat lacks padding
---

Weight: 40 lbs (18.1 kg)
Length: 9'6" (290 cm)
Width: 28.5″ (72 cm)
Capacity: 300 lbs (136 kg)
Type: Sit in
A solid entry-level boat for new paddlers that crave a stable platform for enjoying their time on the water, the Perception Drift 9.5 is a relatively budget-friendly option for casual paddles.
When it comes to beginner-centric performance, the Drift 9.5 doesn't disappoint. It has a soft-chined slightly V-shaped hull that provides forgiving stability in the water without affecting your maneuverability. This makes it a nice option for folks that want to improve their paddling skills while still getting the stability that comes with a mostly rounded-hull beginner kayak.
Plus, Perception built this boat with a variety of helpful design features, such as a comfortable padded seat and a large cockpit opening. As a result, getting in and out of the boat is relatively straightforward and it's fairly comfortable for longer paddles on your local lake or flat river.
If that wasn't enough, this kayak also comes with a plethora of storage for a 9'6" (290 cm) boat. It even boasts 2 flush-mounted rod holders behind the seat as well as a stern hatch so you can pack enough gear for a day of paddling as you improve your kayaking skills.
Key Features
Stern hatch for gear storage
Padded seat for comfort
2 flush mounted rod holders
What we like
Stable hull design
Large cockpit opening
Fairly maneuverable
Reasonably priced
What we don't like
No thigh pads around the cockpit
---

Weight: 42 lbs (19.1 kg)
Length: 10'6" (320 cm)
Capacity: 300 lbs (136.1 kg)
Type: Sit in
When performance and portability are top priorities in your new kayak, the Old Town Dirigo 106 is hard to beat. Although it's on the pricier end of the spectrum for a beginner kayak, Old Town crafted this model with some features that are designed to help novice kayakers improve their paddling abilities.
In particular, it has a mostly V-shaped hull with a rounded midship, which provides the stability that newer paddlers enjoy without detracting from maneuverability on the water. The boat also comes with a set of Glide Track foot braces for improved control as you turn.
Thanks to its large cockpit opening, which makes entry and exit a bit easier, the Dirigo 106 is a nice choice for newer paddlers. While its fully adjustable seat is perhaps not as well padded as other models, it does also provide a molded cup holder so you can stay hydrated on longer paddles.
Additionally, the Dirigo 106 has a large stern hatch, a smaller day hatch in the cockpit, and plenty of bungee cords on the deck to provide ample gear storage as you start to paddle further afield.
Key Features
Large cockpit opening
Performance hull
Glide Track foot braces
What we like
Lots of cockpit gear storage
Easy entry and exit
Stable hull design
Highly maneuverable
What we don't like
Seat isn't very well padded
Somewhat expensive
---

Weight: 35.6 lbs (16.2 kg)
Length: 10' (305 cm)
Capacity: 275 lbs (125 kg)
Type: Sit in
Simple, yet affordable, the Pelican Trailblazer 100 NXT is one of the most popular beginner-focused kayaks on the market.
While this isn't the most feature-heavy of boats, it comes with a no-nonsense price point that's sure to impress. Despite being 10' (305 cm) long, the Trailblazer 100 NXT weighs in at just 35.6 lbs (16.2 kg), which makes it a highly portable option, even if you don't have a friend to help you with carrying the boat to the water.
This kayak is made with durable RAM-X high-density polyethylene and it has a mostly rounded hull for improved stability. At the same time, it has a slight chine toward the bow and stern, which allows for improved tracking over longer distances.
Although the Trailblazer 100 NXT doesn't come with much in terms of gear storage, it does have a rear tankwell that can carry small amounts of gear as you paddle. It also has a wide, comfortable cockpit space which allows for plenty of legroom and easier exit and entry while on the water.
Key Features
Oversized cockpit area
Durable RAM-X hull construction
Rear tank well for gear storage
What we like
Affordable price point
Wide, spacious cockpit
Lightweight and portable
Stable, yet decent tracking ability
What we don't like
Doesn't have any dry storage
Slightly lower weight capacity
---

Weight: 78 lbs (35 kg)
Length: 13'6" (412 cm)
Capacity: 500 lbs (249 kg)
Type: Sit on top
A beginner-focused tandem for duos that like to take to the water together, the Perception Rambler 13.5 is one of the most affordable 2 person kayaks on the market.
Featuring a wide, mostly rounded hull that offers impeccable stability in calm conditions, the Rambler 13.5 is a solid choice for paddlers that enjoy sticking to sheltered waters. Its spacious deck area and high maximum weight capacity are able to accomodate 2 adult paddlers, plus a child or dog, making it a nice option for adventurous families.
Although the Rambler 13.5 is a bit heavier than many other similarly sized tandems on the market at 78 lbs (35 kg), since you'll always paddle this boat with a partner, it's still easy enough to load onto a vehicle.
However, as Perception designed this boat to be affordable and beginner-friendly, it doesn't come jam-packed with features. But, it does have a small rear tankwell that can hold a cooler with refreshments for a day on the water, as well as 2 padded seats for improved comfort while paddling.
Key Features
Spacious deck area
Stern tankwell for gear storage
Adjustable, padded seats
What we like
Wide, mostly rounded hull for stability
Affordable for a tandem kayak
Space for a child or dog
High maximum weight capacity
What we don't like
Fairly heavy, even for a tandem
---

Weight: 46 lbs (20.9 kg)
Length: 9' (274 cm)
Capacity: 300 lbs (136 kg)
Type: Sit on top
If you're looking for a shorter entry-level kayak that is easy to transport and store but also stable enough for stress-free fishing, Vibe Skipjack 90 is a great option. It's not the fastest boat around, nor does it track perfectly, but with its low weight and great maneuverability, it makes an excellent "throw and go" fishing machine.
Key Features
Molded carry handles
Bow and stern tank wells with bungees
Quarter-turn day hatch
Flush-mounted rod holders
What we like
Very stable
Easy to store and transport
Padded, adjustable seat
What we don't like
Not very fast
Somewhat limited capacity for a fishing kayak
---

Weight: 50 lbs (18 kg)
Length: 9'6" (292 cm)
Capacity: 250 lbs (113 kg)
Type: Sit in
No-frills, yet functional as can be, the Sun Dolphin Aruba 10 is an über-popular kayak for beginners and intermediate paddlers, alike.
Made with a thick layer of UV-stabilized Fortiflex high-density polyethylene, the Aruba 10 is meant to last throughout years of use by the whole family. It has a spacious cockpit for easier entry, plus a well-padded, fully-adjustable seat and thigh pads for improved comfort on the water.
With this boat you get a set of adjustable foot braces, which are hard to come by at this price point. As a result, you can start to get a feel for maneuvering your kayak through tricky terrain, which will help you improve your technique over time.
Moreover, the Aruba 10 has a rear storage compartment and a cockpit water bottle holder for convenience on longer paddles. Finally, although the boat isn't the lightest on the market, its 2 handles make it fairly simple to lift and transport at the end of your paddling day with the help of a friend.
Key Features
Fully adjustable seat
Large rear storage hatch
Adjustable foot braces
What we like
Durable Fortiflex hull
Spacious cockpit
Padded seat and integrated thigh pads
What we don't like
Low maximum weight capacity
---

Weight: 68 kg (30.8 kg)
Length: 10' (305 cm)
Capacity: 440 lbs (199.6 kg)
Type: Sit on top
When casting lines and snagging your next catch while paddling along calm waters is your ideal way to spend a weekend, the FeelFree Moken 10 V2 might just be what you need. This angler-friendly sit on top kayak packs a whole lot of comfort and functionality into one compact boat.
As far as performance goes, this fishing kayak has a wide, rounded hull for maximum stability in the water. In fact, it's designed to be so stable in calm conditions that it has a reinforced, non-slip standing platform for casting lines.
Moreover, when it comes to comfort, this kayak doesn't disappoint. It has an EZ Rider height-adjustable seat with an ergonomic backrest for longer days on the water. The Moken 10 V2 also comes stock with 2 flush mounted rod holders, and multiple Uni-Tracks which are ideal for attaching various fishing-specific accessories to enhance your time on the water.
Oh, and the Moken 10 V2 has one of the largest maximum weight capacities on the market for a solo kayak, with the ability to accommodate up to 440 lbs (199.6 kg) of weight. Since it also comes with bow and stern tankwells, plus multiple storage areas for your gear, this boat is ideal for anglers that expect to reel in an impressive catch at the end of the day.
Key Features
EZ Rider height-adjustable seat
2 flush mounted rod holders
Multiple Uni-Tracks for accessories
What we like
Impressive weight capacity
Very stable hull design
Plenty of gear storage space
What we don't like
---

Weight: 26 lbs (12 kg)
Length: 11'2" (340 cm)
Capacity: 500 lbs (227 kg)
Type: Sit on top
Versatile to the core, the Sea Eagle 330 is an inflatable tandem kayak that's great for fun-loving paddlers.
Featuring a 3 chamber design that provides a stable hull for casual paddles, the Sea Eagle 330 is an excellent boat to start your kayaking career. Its I-beam construction floor offers durability throughout years of use while also improving the boat's paddling performance.
When inflated, the boat's soft-chined hull is surprisingly rigid, allowing for increased speed and tracking, which is helpful for new paddlers. It also comes with 2 rear skegs to improve your tracking ability without detracting from your maneuverability in windy conditions.
Meanwhile, the sit on top style design of the Sea Eagle provides ample legroom for both paddlers. Since this is an inflatable boat, the 2 high-backed seats in this kayak also provide ample lumbar support when properly inflated for a more comfortable paddling experience.
Key Features
2 rear skegs
I-beam floor construction
Comfortable high backed seats
What we like
Lightweight and highly portable
Spacious cockpit
Tracks well for a boat this size
Soft chined hull for improved stability
What we don't like
Seats aren't adjustable
No dedicated gear storage