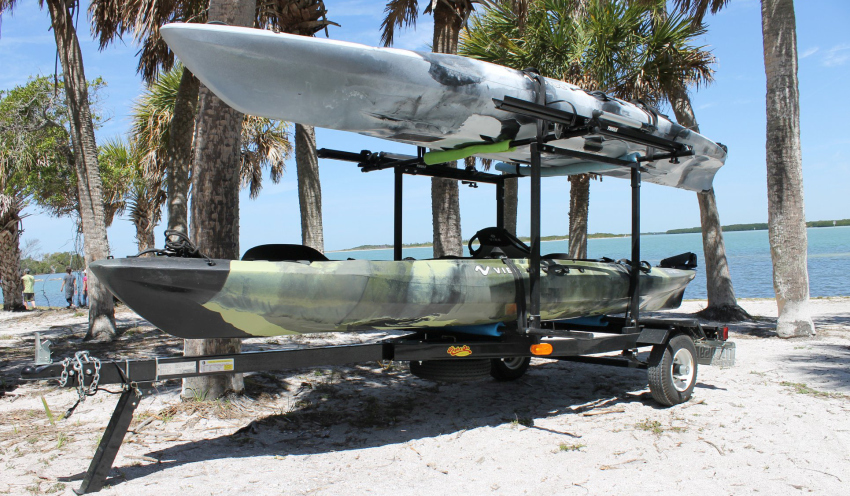 Having to unload and load a heavy kayak is often cited as the #1 problem people face when planning a kayaking trip.
Even if you're working with a lightweight fiberglass or thermoplastic kayak, it can still be quite the ordeal to lift it up high and put it on a roof rack. I'm 6' 6" tall and though it's not too much work for me to heft my 10-foot Pelican Summit, I struggle quite a lot more when loading my much heavier 14-foot Azul Riot onto my roof rack alone. I can't begin to imagine how impossible it would be for my 5' 3" wife!
But loading and unloading a kayak doesn't have to be that hard. A kayak trailer is an easy way to transport a kayak—even several kayaks, canoes, paddleboards, and all your other water sports gear.
In this post, we've analyzed and reviewed some great kayak trailers to make transporting your kayaks a whole lot easier. Read on to find out what kayak trailers are highest recommended for their durability, versatility, and ease of use, as well as how to choose the best kayak trailer for your specific needs.
Quick Answer: The Best Kayak Trailers for You
---
Choosing a Kayak Trailer: Top Factors to Consider
Trailer Size: What's the Right Trailer for Your Kayak?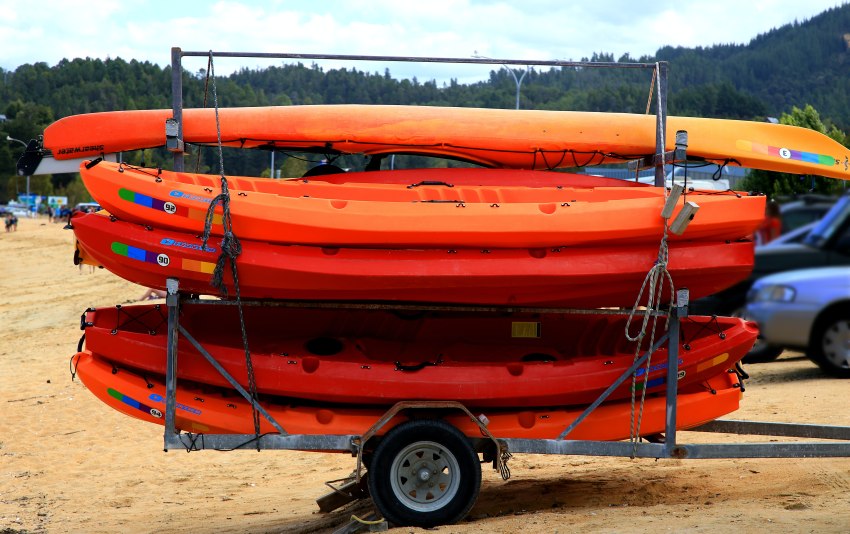 As with most things, size does matter!
The right size kayak trailer will be able to carry all of the kayaks (and other watercraft) you need to transport to and from the lake/ocean/river.
There are a few size-related factors to consider when shopping for a kayak trailer:
How many kayaks will you transport?
This is the first—and most important—question to answer when shopping for a kayak trailer.
If you're just hauling one or two kayaks, you'll find that most trailers are a great option. But when you start adding more kayaks, that's when the shopping process gets more complicated.
There are a handful of kayak trailers that can carry 4 to 6 kayaks (great for a small family), and some sized to hold up to 12 kayaks (perfect for large families or groups).
Think about how many kayaks you'll be transporting regularly—not just for your solo or couple trips, but every time you want to go with family and friends on a kayaking trip—and find a trailer that can accommodate that many kayaks.
What size is your kayak?
Are you transporting child-sized 6-to-8-foot kayaks, standard 10-foot kayaks, or oversized kayaks over 12 or 14 feet long? Single or tandem kayaks?
Most kayak trailers are sized to accommodate standard kayaks—anything up to 12 feet should fit with no problem. However, if you're working with extra-long fishing kayaks or tandem kayaks, you'll find that not all trailers will suit your needs.
It's important when shopping for a kayak trailer to take a closer look at the specifications to ensure that the trailer can, in fact, accommodate larger (and heavier) kayaks. It's dangerous to exceed the trailer's weight limits—so dangerous we strongly recommend against it.
You also need to make certain the kayak isn't hanging out too far over the trailer's edges. You could cause an accident with another vehicle, or the kayak could get dislodged and fall off.
The good news is that most kayak trailer manufacturers will include dimensions and maximum kayak length in their product details. Read those specs carefully to make sure your kayaks fit!
How much weight can the trailer hold?
Exceeding a trailer's weight limit can be very dangerous.
Overloaded trailers put excessive pressure on the wheels and axles, which increases the risk of tire blowouts or causes the trailer to sway. It also causes the tires to wear out faster and makes it more difficult to stop your vehicle safely. If a cop suspects your trailer is overloaded, they can pull you over and ticket you for unsafe driving.
Always make sure to check the trailer's weight capacity when shopping. You need to be certain the trailer can safely (and legally) handle the weight of all your kayaks.
Not sure how much weight you need to carry?
On average:
Single recreational kayaks weigh around 35 pounds
Tandem recreational kayaks weigh around 65 pounds
Fishing kayaks can weigh anywhere from 40 to 120 pounds
Just to be safe, search online to find the specs for your kayak and look for where the product page lists the weight. That will tell you how much your kayak weighs. Add up the weight of all your kayaks, and voila, you know the necessary weight capacity for your kayak trailer.
The good news is that most kayak trailers have a weight capacity that far exceeds your needs. For example, my #1 best kayak trailer overall pick, the Malone MicroSport 2 Kayak Trailer Package, is rated to carry up to 800 pounds. That's more than enough for even the heaviest wooden kayaks on the market!
Note: Pay attention to weight distribution, too! An imbalanced or extremely uneven load could cause the trailer to tip, wobble, or make it more prone to flipping. When loading, try to distribute the weight as evenly as possible.
Beyond kayaks: what other gear will you carry?
How much more gear are you carrying? Are you transporting paddleboards, canoes, mountain bikes? What about paddles, PFD, and the other equipment you'll need for kayaking?
Some kayak trailers will have enough space that you can safely strap down a container filled with all your kayaking gear, or additional rack/bars that will allow you to mount extra equipment like bikes or paddleboards.
Trailer Storage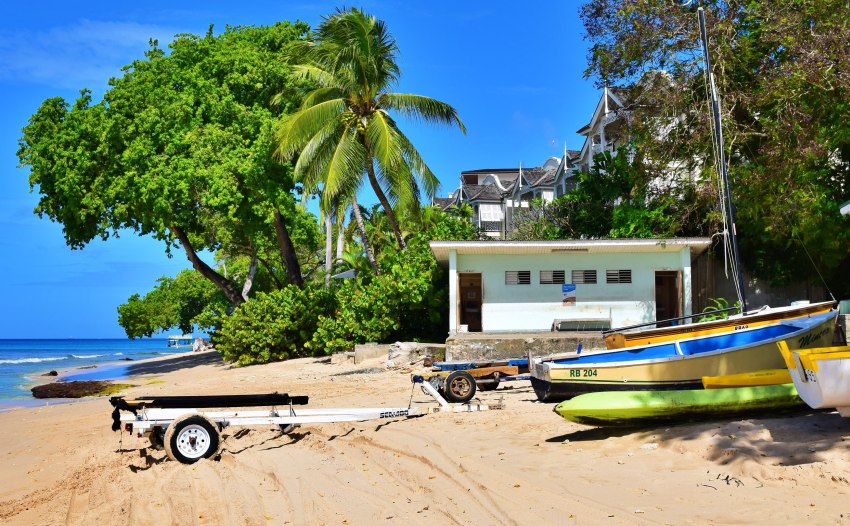 This is a very important factor to consider when shopping for a kayak trailer.
A kayak trailer won't spend its life hitched to the back of your vehicle. Between kayaking trips, it will probably sit somewhere on your property: in your garage, beside your house, on the driveway, in the backyard, etc.
If you live on a large property, you can park the trailer with the kayaks still loaded. Otherwise, you'll need to unload the kayaks and tuck the trailer out of your way.
Make sure that you've got a plan for where to store the trailer before you buy it. Also, measure the available storage space so you can find a trailer in the right dimensions to put away when not in use.
Foldable Kayak Trailers
If you are tight on storage space, it's a good idea to consider a foldable kayak trailer.
For example, the Yakima Rack and Roll 66 is designed to fold up and be stored upright tucked away in the corner of your garage or property. It's an incredibly convenient option if you want a trailer but don't have lots of storage space available.
Types of Kayak Trailers
Now that you know what you need to haul and how much storage space you're working with, it's time to look at the various types of kayak trailers:
Low bed kayak trailers
Low-bed kayak trailers are built in a frame that runs low to the ground. These trailers tend to be both lightweight and very easy to load/unload. They're great for smaller vehicles with a lower towing capacity (such as a light truck, car, or small SUV).
Typically, they utilize a simpler frame: an extending tongue connected to two crossbars and two outer bars sitting on top of an axle with 12" wheels.
Stacked trailers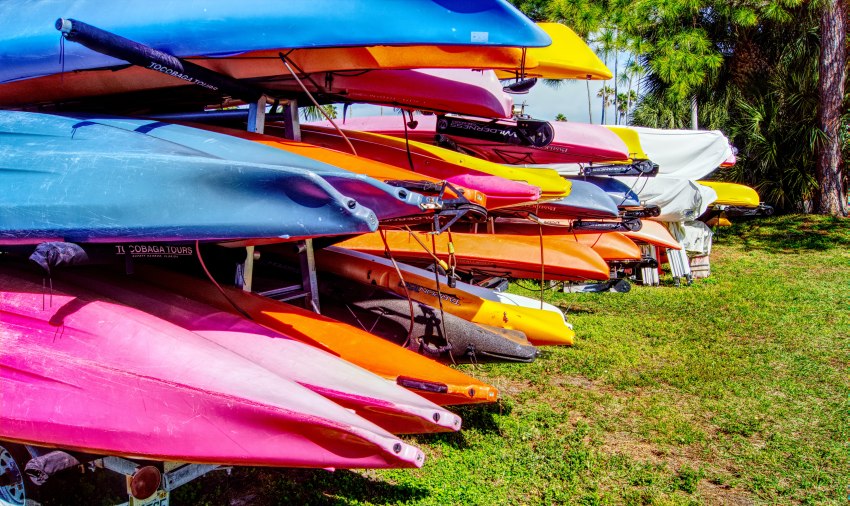 Stacked trailers are typically low-bed frames with multiple racks you can use to stack kayaks on. If they are sized for a lot of kayaks (6+), they'll typically use a heavier-duty elevated frame and larger wheels (14" or more) with an axle that offers better suspension. The galvanized steel racks/stacks are capable of supporting the weight of multiple kayaks.
Multisport trailers
These trailers are designed to carry not only kayaks, but canoes, paddleboards, and mountain bikes. In addition to the standard kayak racks (bars, cradles, or J-racks), they also integrate racks to carry your mountain bikes or are sized to accommodate paddleboards.
Trailer top kayak carriers
This is an interesting option if you already have a simple, standard box trailer but want to add kayak storage. Trailer-top kayak carriers are bars (typically aluminum or galvanized steel) that can be installed on top of a trailer to serve as an elevated rack for your kayaks.
Side-by-side kayak trailers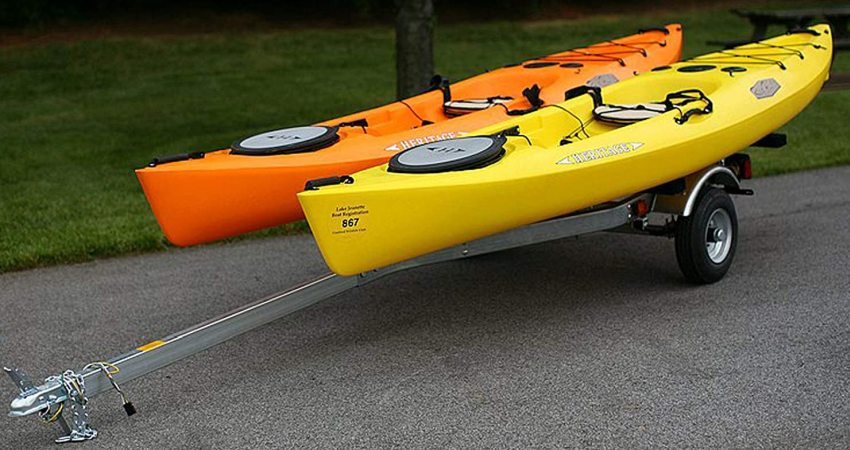 Side-by-side kayak trailers are wider and are designed to accommodate multiple kayaks (up to 4) lying flat side by side, rather than sitting on J-racks or cradles that carry the kayaks turned onto their sides. They're a good option if you've got a larger truck or SUV with great hauling power.
What Brands Make Good Kayak Trailers?
There are a few brands that dominate the kayak trailer industry due to their quality, pricing, and user-friendliness:
Trailer Construction and Materials
Most of the kayak trailers you find on the market will be built from either aluminum or steel.
Aluminum is an extremely lightweight metal that is also highly versatile, flexible, and resistant to corrosion. It's also surprisingly strong and has a high weight capacity without being excessively heavy itself.
Steel is, of course, an excellent quality metal, but it's also heavier and prone to rust. Stainless steel is rust-resistant and incredibly durable, but expensive. Galvanized steel is a lighter-weight option that is corrosion-resistant, reliable, and cheaper than stainless steel. Powder-coated steel uses a special rustproof finish to protect the metal beneath, offering both a long lifespan and excellent durability.
Best Kayak Trailer: Other Important Features to Consider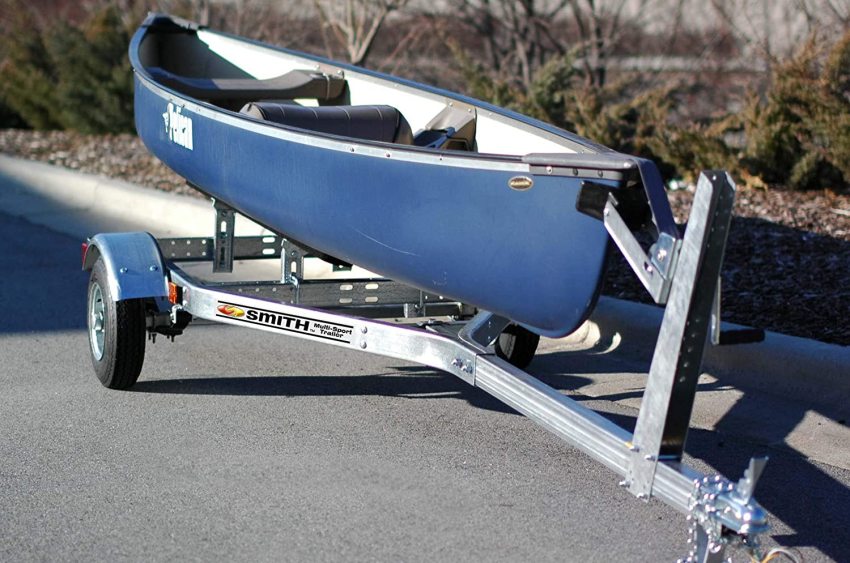 Tongue Length
Most kayak trailers are fixed-tongue trailers, which means the tongue that connects the trailer to your vehicle cannot be extended or retracted. Fixed-tongue trailers account for roughly 95% of trailers on the road.
According to the experts at TrailerSauce, the tongue of your trailer needs to be "at least as long as half the tow vehicle's width".
The average car/small SUV is roughly 5 to 6 feet wide, which means you need a tongue at least 2 ½ to 3 feet wide. For safety's sake, it's ideal to add another 8-12 inches on top of that length to make sure it has a good clearance margin when making turns.
The good news is that most tongue lengths are between 4 and 6 feet. Look for one upwards of 4' 6" for best results.
Suspension
Good kayak trailers come with some form of suspension to protect your kayaks from impact, absorbing the dips and shocks from the road.
There are two standard types of suspension used:
1. Torsion suspension uses a rubber torsion arm system within the axle tubes.
2. Leaf-spring suspension uses a series of stacked curved springs (called leaves) that are secured to the underside of the axle.
However, be warned: not all kayak trailers have suspension. For example, the Right On Multi-Sport Trailer doesn't include either torsion or leaf-spring suspension. This means there is nothing to cushion impact or shock, so your kayak may be at risk.
Wheel Size
Wheel size will vary from manufacturer to manufacturer. Some, like Malone, will use larger and heavier-duty wheels on 12-inch rims. Others, like Trailex, will use wheels on 8-inch rims. Some budget models even use motorcycle-type tires.
What's the difference?
· Bigger wheels are better suited for heavier loads. Typically they'll be used for heavier-duty steel frames with multiple kayak racks.
· Smaller wheels are suitable for lighter loads. You'll often find them on aluminum frames and trailers with a 2-kayak carrying capacity.
Assembly
If you're buying your kayak trailer online, it's going to be shipped to your home for YOU to assemble yourself. It stands to reason that you'll want to find a trailer that is easy to assemble with clear, easily understandable instructions and how-to guides available online.
Before you buy any kayak trailer, do a quick search through their reviews to see what other consumers said about assembly. Also, search on YouTube for "assembly + TRAILER BRAND/MODEL NAME" to see what others have struggled with when putting together that particular model.
Easy to move by hand
Smaller trailers are light enough that you can move them by hand, which makes it much easier for you to hitch/unhitch them from your vehicle and move them around your property.
Of course, the heavy-duty frames (made using stainless steel) may be too heavy for you to move around by hand. You may need to opt for a lighter-weight aluminum frame.
What Accessories Will I Need for a Kayak Trailer?
Cam Straps
Cam straps are a great choice to strap your kayak to the trailer. They're both safer than ratchet straps (which can damage the hull of your kayak) and tend to cost less. The NRS 1″ Heavy Duty Tie Down Strap 2 Pack is one set I've used for years to strap down my kayaks. Made from polypropylene with stainless steel cam buckles, they're UV-protected, highly durable, and rated to hold up to 1,500 pounds.
Watch this short video on how to properly strap a kayak on a trailer to make sure you're doing it right:
Tow Flag
Both the US and Canadian Departments of Transportation require that you use a tow flag to warn vehicles of oversize and overweight loads. This applies mostly to cargo trucks, but if you're hauling an extra-long kayak, it's worth using a tow flag in order to ensure the safety of the other cars sharing the road with you. This YakAttack Get Hooked Logo Tow Flag is a cheap but highly visible tow flag that will serve you well.
Receiver Lock
I've had bad experiences hauling trailers in the past, so I'm always extra cautious when it comes to safety. I like using a receiver lock like the Master Lock 2866DAT Swivel Head Receiver Lock to make double sure the hitch is locked in place. It not only keeps the trailer from coming unhitched while I'm driving, but it prevents theft, too.
Cable Lock
Another great choice for security is a cable lock like the Commando Lock 8-foot Brass Cable Lock. I can use it to lock my kayaks in place on their racks, lock the hitch in place, even lock the wheels.
Here's a video from a guy who got serious about kayak security:
Kayak Cover
If you want to transport an expensive kayak over long distances, it makes sense to invest in a good kayak cover. It will protect the boat from the elements, dirt, even rocks and gravel flung up by passing vehicles. The Wilderness Systems Kayak Cover is my go-to cover. It's sized for kayaks 9-15 feet long, made from very durable 600 denier nylon, and can withstand up to 500+ hours of UV exposure.
Best Kayak Trailers Of 2021: Reviews & Recommendations
Best Kayak Trailer Overall: Malone MicroSport Trailer with a Two Kayak Transport Package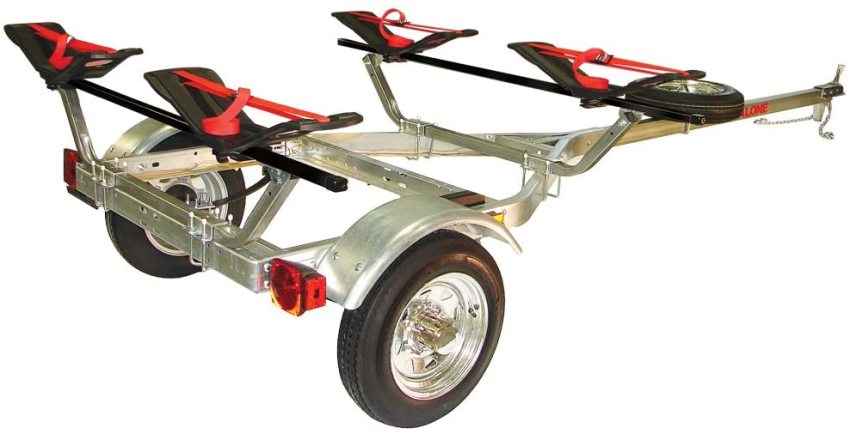 Midweight, durable, and reliable—that's exactly what you get with my #1 pick for kayak trailers!
Sized for kayaks up to 20 feet long, it's built with a heavy-duty steel frame and lightweight aluminum crossbars. It also comes with two pairs of SeaWing Kayak Carrier cradles that will keep your kayaks securely in place no matter how bumpy the road gets. And, as if that wasn't enough, you've got space for a smaller, slimmer kayak between the two mounted on the cradle.
Assembly time is roughly 2-3 hours, but the instruction manual is easy to understand and walks you easily through the process. Even the tool-challenged will find it a simple task.
Sized for: Up to 20-foot (609 cm) kayaks
Weight Capacity: 800 lbs (362.87 kg)
Number of Kayaks: 2 kayaks (+1 on its side between the cradles)
Trailer Weight: 240 lbs (108.86 kg)
Construction: Galvanized steel frame, aluminum cross-rails
Pros:
Solid frame, resistant to rust and corrosion
No maintenance needed
Easy, straightforward assembly
Excellent price for a quality product
More durable than rival brands
Cons:
No VIN supplied for easy trailer registration
Tail light kit feels cheap
---
Best Kayak Trailer for 4 Kayaks: Malone MicroSport Trailer 4-Kayak Transport Package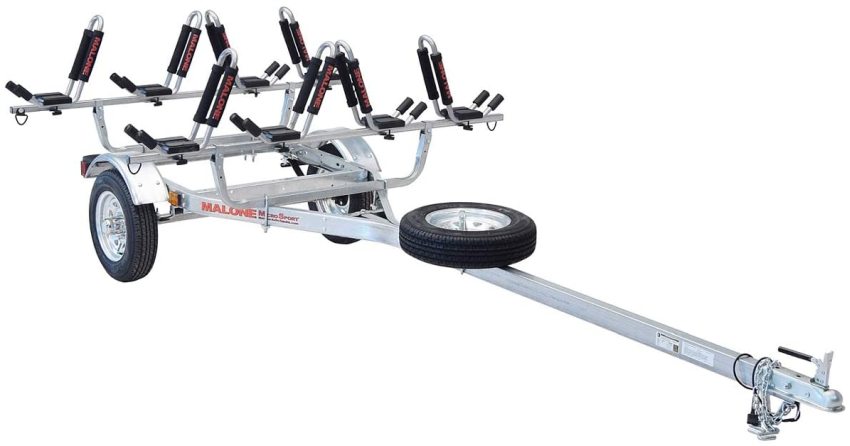 If you've got a family and need a trailer sized to transport more kayaks, Malone has got you covered. This MicroSport trailer comes with a 4-kayak transport package: 4 J-racks set side by side on a low-bed trailer that is easily hitched to your vehicle and built for maximum stability.
Made from marine-grade pre-galvanized stainless steel and powder-coated steel cross rails, the frame is very durable and more than capable of withstanding all the rigors of long-haul travel—perfect for a cross-country kayaking vacation. Plus, there's even room to install an additional storage box/container (purchased from Malone) to carry all your gear.
It may not have the greatest weight capacity, but it's perfect for anyone with a smaller truck, car, or SUV looking for a super lightweight kayak trailer.
Sized for: 20' (609 cm) kayak (or canoe)
Weight Capacity: 350 lbs (158.75 kg)
Number of Kayaks: 4
Trailer Weight: 197 lbs (89.35 kg)
Construction: Marine-grade pre-galvanized stainless steel/powder-coated steel
Pros:
Lightweight; you can easily move it around by hand
Durable and built for reliability
Can accommodate extra storage box/container
Rides very well; no bouncing, even when empty
Handles highway speeds well
Trails straight
Cons:
Doesn't include a license plate holder
Assembly isn't complicated, but time-consuming
---
Best Kayak Trailer for Multi-Sport Use: Right On Ruff-Sport Trailer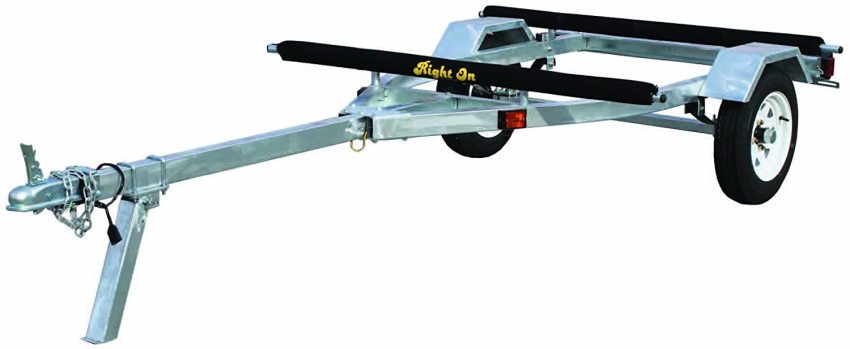 If you're planning to kayak, paddleboard, and bike on the same trip, you're going to want this trailer.
On its own, it's a simple low-bed trailer with a sleek, well-built galvanized steel frame. But what makes it so versatile compared to the other models on this list is the fact that it is compatible with Yakima and Thule racks. So if you've already got a bike or kayak rack for your car, it can be mounted onto this trailer easily.
It's wide enough to store two kayaks side by side, or you can stack your kayaks and carry paddleboards and/or bikes as needed. It's the ideal versatile choice if you're planning to enjoy a wide variety of outdoor activities.
Best of all, when you're doing using it, you can fold it up and store it upright in the corner of your garage.
Sized for: 20' (609 cm) kayaks
Weight Capacity: 600 lbs (272.15 kg)
Number of Kayaks: 2 (+2 mountain bikes)
Trailer Weight: 201 lbs (91.17 kg)
Construction: Galvanized steel
Pros:
Compatible with Yakima and Thule roof rack accessories
Ideal for carrying bikes, SUPs, and kayaks all in the same load
Compact, foldable frame; easy to store
Soft springs absorb impact/shocks
LED light kit is submersible/waterproof
Foldable for easy and compact storage
Cons:
All racks, cradles, and attachments have to be purchased separately
Assembly isn't very easy
---
Best Kayak Trailer for Compact Storage: Yakima Rack and Roll 66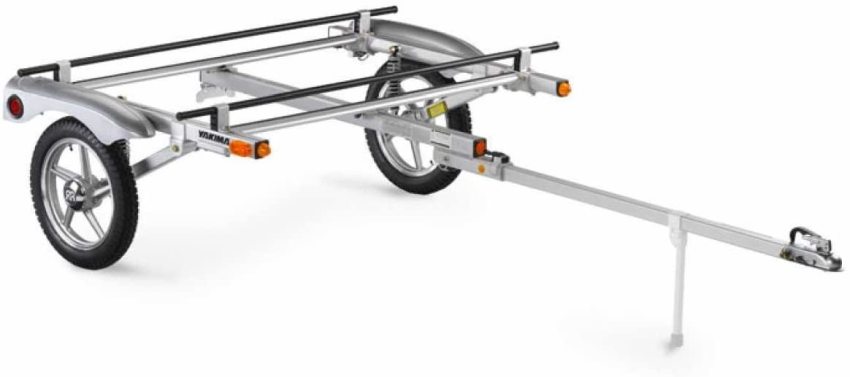 When you've got limited storage space in your garage or shed, you need the Yakima Rack and Roll 66. Weighing in at just 150 pounds, it's lighter than the other trailers on our list, but still solid thanks to its durable aluminum construction. When folded and stored upright, it will occupy just 66×22 inches of floor space in your garage—perfect for keeping things tidy during the cold winter months when you can't get out on the water.
The trailer has the option to add heavy-duty shocks (for an additional fee) that will increase its carrying capacity to 350 pounds. Thanks to the carrying handles, you'll never have trouble moving the trailer around by hand.
Sized for: up to 15' (457 cm) kayaks
Weight Capacity: 250 lbs (113.4 kg), 350 lbs (158.75 kg) with heavy-duty shocks
Number of Kayaks: 2
Trailer Weight: 150 lbs (68 kg)
Construction: Aluminum
Pros:
Carrying handles make moving the trailer by hand a breeze
Lightweight but very durable
User-friendly assembly instructions
Well-balanced; smooth performance and arrow-straight tracking
Foldable and compact; easy to store
Cons:
Low weight capacity
Additional shock absorbers are pricey
Quality control issues; some reviewers found product arrived with parts damaged or broken
---
Best Kayak Trailer Weight Capacity: Ironton 4ft. x 8ft. Steel Folding Utility Trailer Kit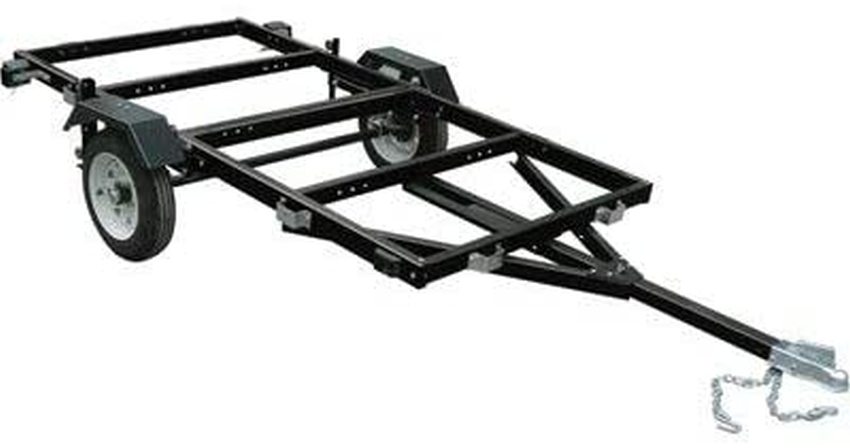 If you have extra-heavy kayaks—tandem kayaks, wooden kayaks, heavy-duty fishing kayaks, etc.—you're going to want this Ironton trailer for sure.
There are few kayak trailers that can match this one's heavy-duty frame for reliability and durability. It's also one of the heaviest on our list, but that's to be expected from such rugged steel.
What's cool about this trailer is that it's designed to fold in the middle, between the wheels, rather than stand upright. This makes it even more space-saving than you'd expect—great if you're working with limited storage options.
Sure, you'll have to purchase all the racks/cradles separately, but given that it has the highest weight capacity of any trailer on our list—up to 1400 pounds!—it's worth the cost.
Sized for: 20' (609 cm) kayaks
Weight Capacity: 1176 lbs (533.42 kg), max 1400 lbs (635 kg)
Number of Kayaks: 4
Trailer Weight: 253 pounds
Construction: Steel
Pros:
Super durable and stable
Powder coating makes it resistant to rust, corrosion, and weather damage
Easy to fold up in the middle; stores surprisingly small
Study 12-inch wheels and leaf-spring suspension
Road-ready right out of the box
Cons:
Doesn't include any racks or cradles
Only road-legal up to 45 MPH
Assembly process can be complex; instructions and labels unclear
---
Easiest Kayak Trailer to Assemble: CE Smith Multi-Sport Trailer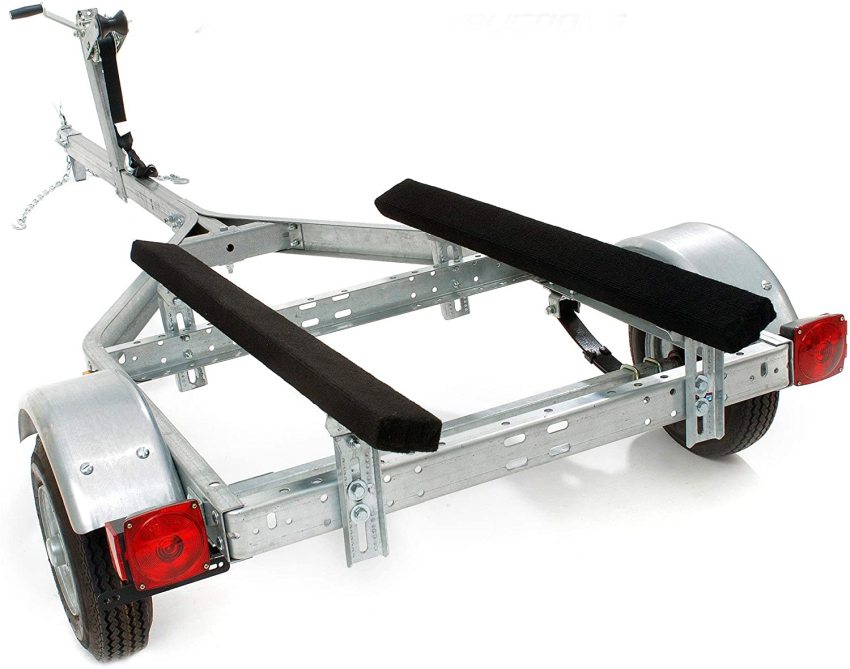 What do you do if you're tool-challenged or struggle to put together even simple devices? You order the CE Smith Multi-Sport Trailer!
This frame comes ready to assemble right out of the box, with clearly legible and easy-to-follow instructions. It's going to take roughly the same time as the other kayak trailers on our list (expect 2-3 hours), but the process will be hassle- and headache-free. The manual will walk you through the steps easily, and you'll find that building has never felt so easy.
Once assembled, hitch this galvanized steel trailer to the back of your vehicle, load up your kayak (just ONE, sadly), and hit the road!
Though it's built for heavier boats (up to 12-footers), it's definitely capable of transporting your kayak anywhere you want to take it.
Sized for: 12' (365 cm) kayaks
Weight Capacity: 800 lbs (362.87 kg)
Number of Kayaks: 1
Trailer Weight: 200 lbs (90.7 kg)
Construction: Galvanized steel
Pros:
Heavy-duty frame with DOT-approved lights
Includes winch, winch stand, hook, and strap
Carpeted bunk boards are adjustable to accommodate the width of your kayak, canoe, or boat
Assembly is a breeze
Compatible with all personal watercraft (kayak, canoe, boat, inflatable, etc.)
Cons:
Only fits one kayak
Heavy; hard to maneuver around by hand
---
Most Durable Kayak Trailer: Malone LowMax™ 4 Kayak Trailer Package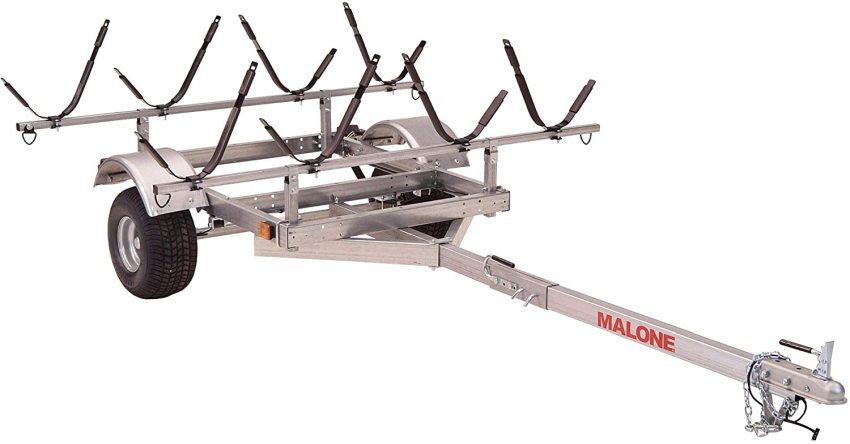 Looking for the only kayak trailer you'll ever have to buy? That's what Malone aims to deliver in the LowMax.
Built from high-grade galvanized steel with an integrated leaf spring suspension system, the low-bed trailer can handle speeds up to 70 MPH. It's capable of carrying up to 600 lbs, with extra-wide crossbars perfect for carrying gear as well as kayak cradles/racks.
Thanks to its low-riding frame, loading and unloading will be a breeze. Though assembly time is a bit longer than average, it's still an easy process that requires only "normal shop tools". Plus, it's backed by a 5-year warranty. One trip with this bad boy hitched to your vehicle, and you'll know it's a truly tough-and-rugged choice!
Sized for: 17' (518.16 cm) kayaks
Weight Capacity: 600 lbs (272.15 kg)
Number of Kayaks: 2 (plus bikes and/or SUPs)
Trailer Weight: 206 lbs (93.44 kg)
Construction: Marine-grade galvanized steel
Pros:
DOT/Transport Canada-approved
Road-worthy up to 70 MPH
Made with hyper-durable marine-grade metal
Low-bed frame makes for easy loading/unloading
Extra-wide crossbars allow for additional carrying capacity
Durable axle + spring leaf suspension
Cons:
4 to 5-hour assembly time
Cam load straps are low-quality
---
Greatest Kayak Trailer Carrying Capacity: MAGNETA UKCT12 – 12 KAYAK TRAILER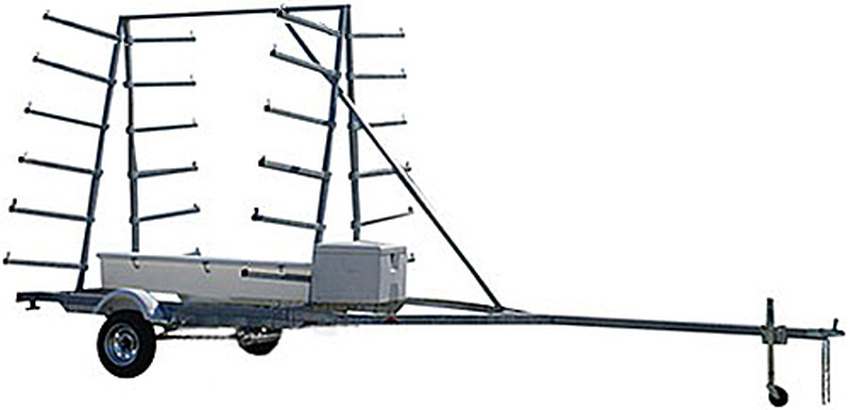 How many kayaks do you need to carry with you? 4? 6? 8? How about 12?
That's right, this kayak trailer can transport up to TWELVE kayaks or canoes. With five levels of storage racks, it's easy to carry 10 kayaks or canoes lying flat. However, if you've got smaller, sleeker kayaks, you can carry two side-by-side on the top rack—for a total of 12.
Made from galvanized steel and using a rugged, all-terrain tubular steel frame, this is a heavy-duty trailer. And it's got the weight to match! At over 800 pounds, this will be too heavy for you to move around by hand. You'll have to treat it like any box trailer or RV, but it's worth it to carry so many kayaks at once.
Assembly is easy though time-consuming, and once it's built, you'll find it occupies a lot of space. But it's worth it so your friend group or large family has enough space to transport all the kayaks for your adventure trips.
Sized for: 10' (304 cm) to 20' (609 cm) kayaks
Weight Capacity: 1175 lbs (533 kg)
Number of Kayaks: 10 standard (up to 12)
Trailer Weight: 825 lbs (374.2 kg)
Construction: Galvanized steel
Pros:
Carry up to 12 kayaks or canoes in one trailer
Ultra-rugged tubular galvanized steel frame
Tongue can be removed for easy storage
Pre-wired; lights are waterproof/submersible
Sturdy and stable
Cons:
Too heavy to move by hand
Takes up a lot of space
---
Best Ultralight Kayak Trailer: Trailex SUT-220-S Single Boat Trailer Kit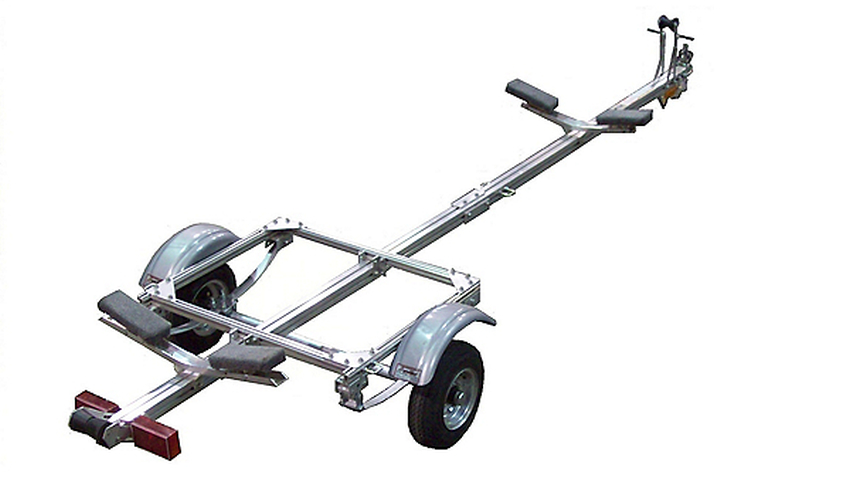 Looking for an ultra-light trailer that you can easily move around your property and store out of the way during the winter months? Look no further!
The Trailex Single-Boat trailer kit is only sized for one kayak (or boat), so not great if you've got a big family. But if you're only hauling one boat, it's just what you need. It's lightweight and compact enough that it can fit into nearly any corner of your garage or shed. And you'll find it's very easy to maneuver into place to hitch to your vehicle.
Made from lightweight but highly durable aluminum, it's a long-lasting and budget-friendly choice for sure.
Sized for: 18′ (548.64 cm) kayaks
Weight Capacity: 220 lbs (99.8 kg)
Number of Kayaks: 1
Trailer Weight: 125 lbs (56.7 kg)
Construction: Aluminum
Pros:
Lightweight, easily maneuverable by hand
Leaf-spring suspension provides excellent shock absorption to protect kayaks
Vehicles use less gas with every trip
Can be used as a launch trolley
Versatile and durable
Cons:
Due to high demand, order wait times can range up to months
Only fits one kayak
FAQ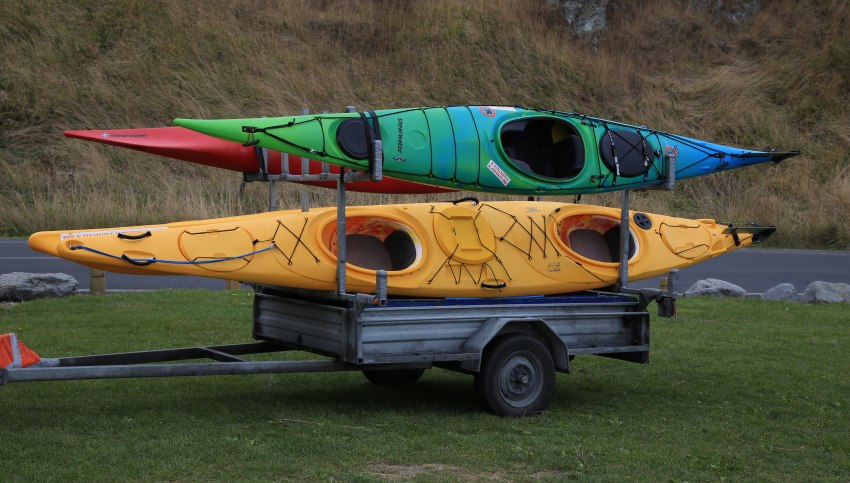 Can I use a boat trailer to haul a kayak?
Absolutely! You'll have to look for a trailer sized for smaller boats/PWC, but the cradle that carries the boat will also carry your kayak. Just take note: boat trailers may be pricier than kayak trailers. But if you've already got a boat trailer handy, it can serve double-duty and transport your kayak for you.
Is a kayak trailer better than a roof rack?
Roof racks are cheaper, easier to store, and take up less space on the road than kayak trailers. However, kayak trailers will make it easier to load/unload your kayaks. It will also be easier to secure the kayaks safely onto a trailer than a roof rack. You won't have to worry about roof clearance when parking indoors or going through a drive-through, either.
Do I need to register a kayak trailer?
Some U.S. states require you to register your kayak trailer and display license plates, but not all. All Canadian provinces require that your kayak is registered.
Begin Boating has a complete list of requirements for all 50 US states.
For Canadians—or U.S. visitors to Canada—contact the local Service Canada office for the province where you'll be operating the trailer.