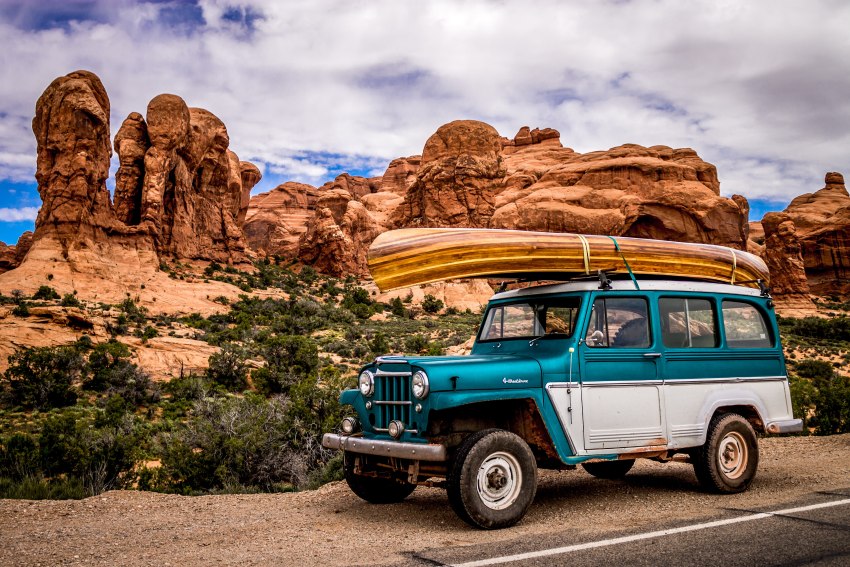 Plan to haul a kayak in a truck? There are quite a lot of options to do that. We've put together a comprehensive guide to help you choose the best kayak rack for your truck. We've also reviewed some models that we believe are worth looking at.
Quick Answer: Top Rated Kayak Racks for Trucks
No time to read the whole thing? Here are our top picks:
Types of Kayak Roof Racks
In this section, we will talk about the different types of kayak racks and how they differ in purpose. This will help you determine which one is most suitable for your kayak and truck.
Bed Rails
One of the most common kayak racks is the bed rail rack. It is very versatile. It also has the advantage of resting up high, leaving room on the truck bed for more load to be carried. Plus, its long rails are very helpful for tying down kayaks to keep them safe in place.
Bed Extenders
Bed Extenders are best for those who need to haul longer kayaks but only have an average-sized truck bed. This type of rack acts as a removable wall to extend the length of your truck bed by pulling down the tailgate. It is also important to keep in mind that cam straps are the ideal belts for use with bed extenders instead of ratchet straps.
Roof Racks
Among all types of kayak racks, roof racks are the easiest to install and remove. That is why this type of rack is recommended for kayakers who are not regularly paddling.
Roof racks also come in different styles you can choose from. There are crossbar, saddles, J-style, stackers, rollers, and pads. All of these require straps and belts to secure your boats.
Lumber Style
Regular paddlers might want to consider lumber-style racks. Since they're fixed to your truck, they're strong and have a good grip. They also don't require frequent adjustments once they are attached to your truck.
A lumber-style rack is a great option for those who have big kayaks. Due to its structure, there are many rails for tying the straps.
Buying Kayak Racks: Things to Consider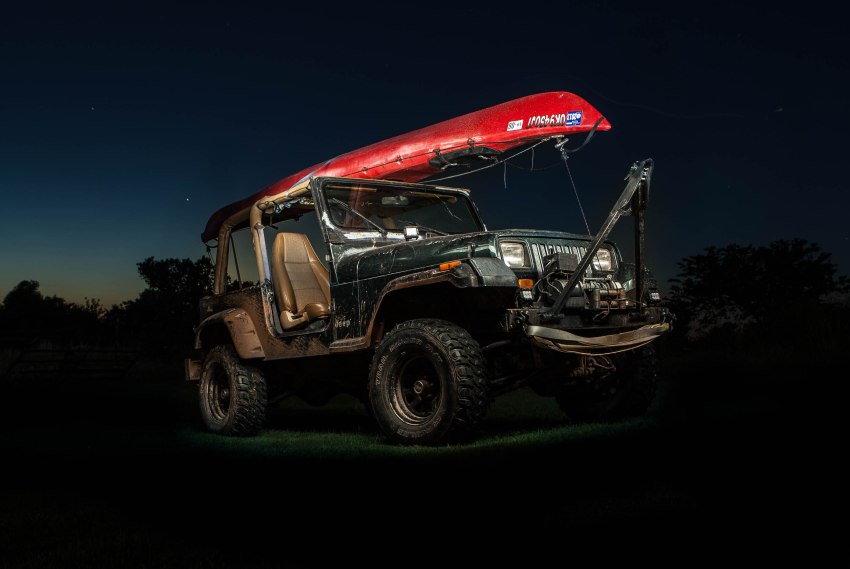 Your Vehicle's Base Roof Setup
Knowing the base roof setup of your vehicle must be the first step in deciding on which type of kayak rack you are going to buy. There are four different types of car base roofs, namely, bare or naked roofs, side rails, factory crossbars, and aftermarket crossbars.
There are some types of base roofs that do not fit some kayak types, and buying the wrong one is definitely not something we want to do. Just like their bolts and nuts, base roofs have the perfect kayak rack.
Materials
Durability is one of the most expected features a kayak rack must have in order to carry heavy kayaks. These are mostly made of aluminum and steel because of their durable structure.
Aluminum materials are the best when it comes to convenience and lightness. Although it is fairly light, it is just as durable as other metal products. Due to this quality, aluminum is more expensive than steel.
If you're on a tight budget but still aim for a quality product, steel racks would be the best choice. With its excellent strength, it can carry heavier boats while still loading some cargo.
Weight Capacity
Another crucial factor in finding the best kayak racks is their maximum weight capacity. You have to make sure that the product you buy can support all your equipment. The number of kayaks you have to load and their total weight must be considered. The maximum weight capacity should be greater than the total weight of your boats.
Number of Kayaks You Plan to Carry
Prior to getting a kayak rack, make sure to consider how many kayaks you intend to load. If you have only one average-sized boat, you can choose between lumber-style or bed rails. However, if you plan to haul two or more kayaks, you might want to consider roof racks, especially stackers.
Travel Distance
If you're on a vacation and planning to go lake-hopping, it would be better if you would choose a kayak rack that is sturdier and more secure. In this scenario, the best choice would be saddles or J-style racks, as they provide more stability for your kayak.
Top Rated Kayak Racks for Your Truck
Out of the hundreds of kayak racks on the market, our experts have picked the top 10 models. We've included the key features, pros, and cons of every product. There is also a comprehensive buying guide at the end of the article. Keep an eye out for that!
AA-Racks X35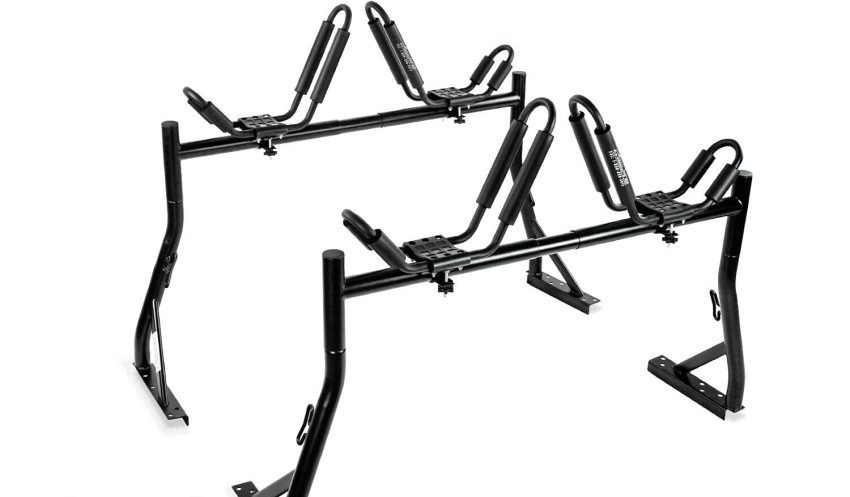 Length: 28" to 30.5" (71.12 cm to 77.47 cm)
Width: 51" to 71" (129.54 cm to 180.34 cm)
Weight: 73.2 lbs (33 kg)
Capacity: 300 lbs (136 kg)
This AA-Racks X35 is known for its easy setup. Unlike some kayak racks, this one does not involve drilling holes into your truck. It can support up to two kayaks and comes with eight C-clamps for maximum grip. However, take note that this kind of setup is not compatible with trucks that have utility tracks systems.
Along with it come four packs of 16-feet long ratchet lashing straps, and four packs of adjustable stern tie-down straps. These belts secure your kayaks and canoes firmly in place, preventing them from falling during transport. You can tie these straps on rope hooks on all of the uprights.
With The AA-Racks X35, the safety of your kayaks is guaranteed. Its base is covered with high-quality rubber and foam that helps in absorbing shock when driving on bumpy roads. Aside from that, the rack is also durable, and both water and heat-resistant. The rubber padding prevents unwanted scratches on your kayak and has an anti-slip quality, ensuring their stability.
Moreover, the size compatibility of the rack and your truck is never an issue. Even though it is not foldable, The AA-Racks X35 has an adjustable top bar that allows it to perfectly fit your truck bed. There are also a number of bolts included for easier installation.
---
Lund 601021 Hitch Mounted Bed Extender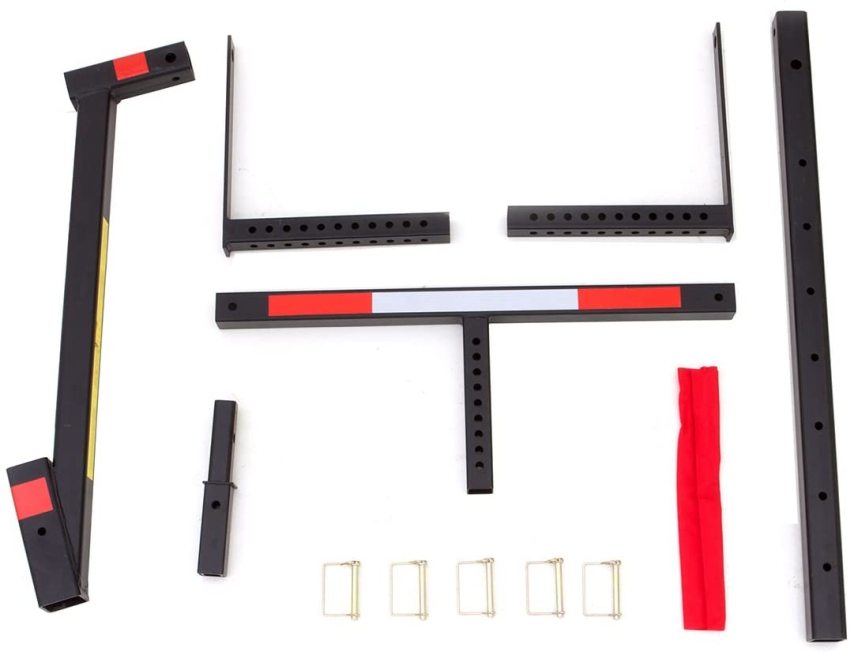 Length: 56" (142.24 cm)
Width: 30" to 50" (76.2 cm to 127 cm)
Weight: 46.2 lbs (21 kg)
Capacity: 750 lbs (340 kg)
The Lund Hitch Mounted Bed Extender is another excellent choice for kayak racks. It is highly recommended if you have kayaks that are 14 feet long and above. This rack is designed to fit a standard two-inch receiver hitch, which allows you to extend the length even more.
For added security, it has two vertical arms that can be adjusted from 27 to 49 inches (69 to 124 cm). They will help prevent your kayaks from moving sideways and falling off your truck. It also has a 7-inch ground clearance and comes with a flag and reflective tape to keep your kayak visible.
The Lund Hitch Mounted Bed Extender has a lightweight design but is extremely strong and durable when assembled. It is made from high-density steel and can support up to 750 lbs. Thanks to its foldable construction, this rack can easily fit into any storage space. You can also adjust it vertically to support roof-mounted kayaks on your SUVs, vans, and trucks.
---
Thule Xsporter Pro

Length: 71" (180.34 cm)
Width: 29" (73.66 cm)
Weight: 57 lbs (26 kg)
Capacity: 450 lbs (204 kg)
Thule's Xsporter Pro is a highly robust product made from durable aluminum materials. It can withstand heavy loads up to a maximum of 450 lbs. There are also adjustable load stops integrated on its top bar to accommodate and secure even wider cargo.
Another significant feature of The Thule Xsporter Pro is its ease of assembly. Attaching this to your truck won't require drilling. It has an integrated locking system that allows you to carefully attach your rack to your truck bed. Each leg has a OneKey lock cylinder which can be easily locked and unlocked.
This kayak rack comes with adjustable knobs on each side to customize its height. It also features an aerodynamic design and a height of 16 inches. Plus, its WindDiffuser technology disperses the airflow, reducing noise and drag, and minimizing the possibility of accidents. The Thule Xsporter Pro also allows you to easily add accessories to it, especially if they're from the same brand, because of the same integrated locks.
Changing the height of the rack allows you to have extra storage on your truck bed while still having enough room for your kayaks. Overall, the Xsporter Pro is a very good choice because of its versatility.
---
TMS Adjustable Utility Rack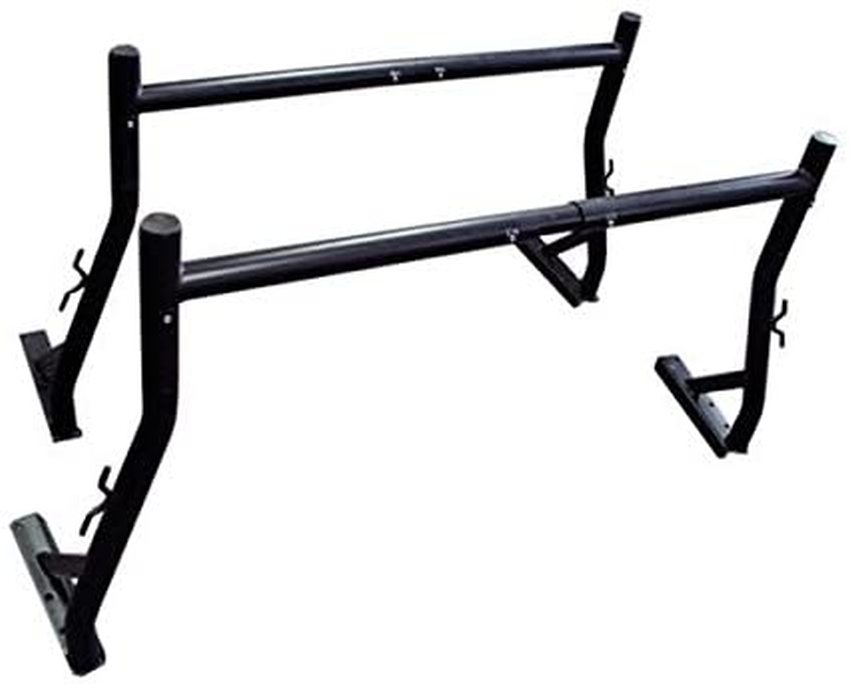 Length: 51" (130 cm)
Width: 26.25" (67 cm)
Weight: 50.4 lbs (23 kg)
Capacity: 800 lbs (363 kg)
The TMS Adjustable Utility Rack is one of the best heavy-duty racks that you can find on the market, which means it can accommodate larger and heavier kayaks. It is made from heavy-duty steel that can withstand cargo weighing up to 800 lbs.
Its width can be extended from a minimum of five feet to a maximum of seven feet for most pickup trucks. This makes it perfect for wide kayaks to fit properly even without the use of straps and belts. Its wide size also guarantees the security of your load. However, heavier objects can leave dents in the rack over time, and since it doesn't have powder coating, it is prone to scratches.
To install them without drilling, you may use C-clamps to mount them on the truck. But for maximum base support, drill two holes on each base and use the provided bolts and screws that come with the purchase.
---
Apex Aluminum Universal Truck Rack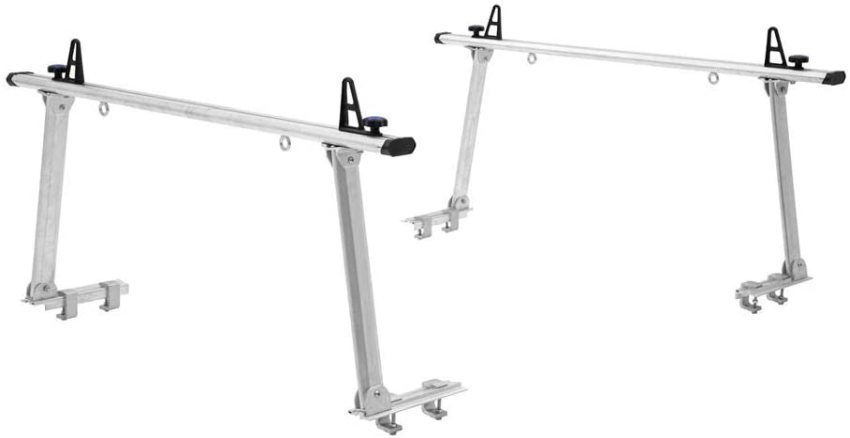 Length: 14" (36 cm)
Width: 66.5" (169 cm)
Weight: 87.7 lbs (40 kg)
Capacity: 800 lbs (363 kg)
If you prefer easy and quick installation on your truck bed, the Apex Aluminum Universal Truck Rack is also a great choice. It is supported by a C-clamp design, so it doesn't require you to drill holes during installation. In addition to being convenient, its high-strength aluminum clamp also guarantees a sturdy, tight grip on your truck, all while leaving it unscathed.
Adjusting this rack is a breeze. Its top bar can be extended up to 65 inches wide to perfectly fit the standard size of a truck bed. Each one also includes ladder stops which can be fully locked using a knob after repositioning it. They are adjustable up to 52 inches wide to reduce sideways movement.
To secure your kayaks in place, each pair of kayak racks has built-in eyelets for tie-down straps, so scratches from tightly wrapped ropes won't take place. They are made of anodized aluminum and can also support the weight of the kayak, due to their durability.
Another good thing about The Apex Aluminum Universal Truck Rack is its 34 inches elevation from the surface of the truck bed. With this height, it leaves enough room underneath the rack for other luggage.
---
YAKIMA BigCatch Kayak Rack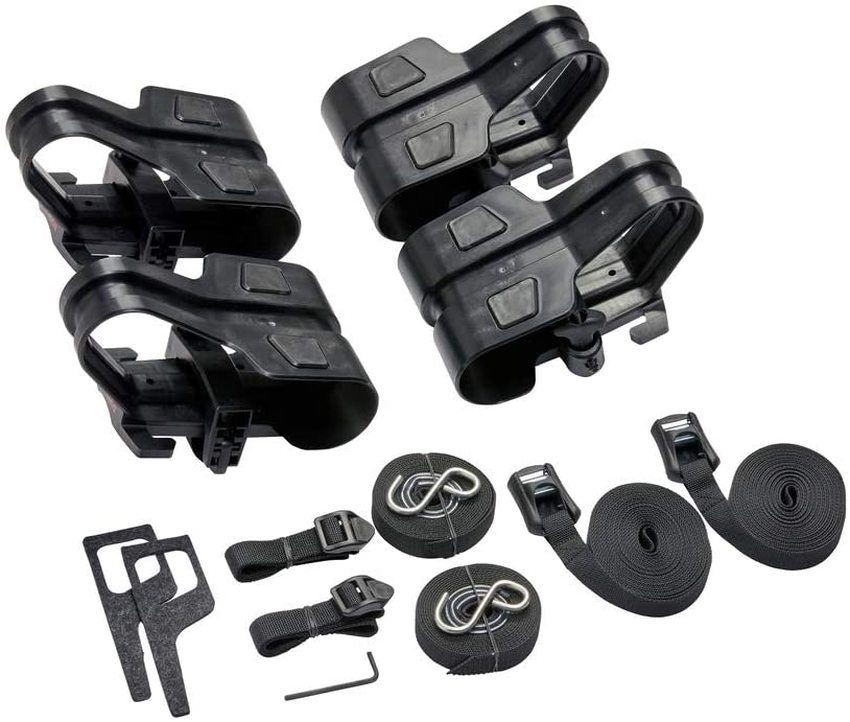 Length: 6.25" (15.87 cm)
Width: 9" (22.86 cm)
Weight: 8.5 lbs (3.8 kg)
Capacity: 150 lbs (68 kg)
If you have fishing and sit-on-top kayaks, which are heavier than more common ones, then Yakima's BigCatch Kayak Rack is your best bet. It has soft, yet durable rubber pads that will protect your kayaks from damages. Its oversized cradles are also designed to accommodate a wide variety of hulls.
Although it can only hold one kayak at a time, it can support the weight of the heaviest ones at 150 lbs. The Yakima BigCatch Kayak Rack fits well with almost all SUVs. It also has an easy-to-install mechanism, except if your car has T-slot crossbars.
For the safety of your boats, this rack comes with heavy-duty straps, a bow, and stern tie-downs. Felt pads are also included to assist with loading and help prevent denting.
---
AMP Research 74802-01A BedXTender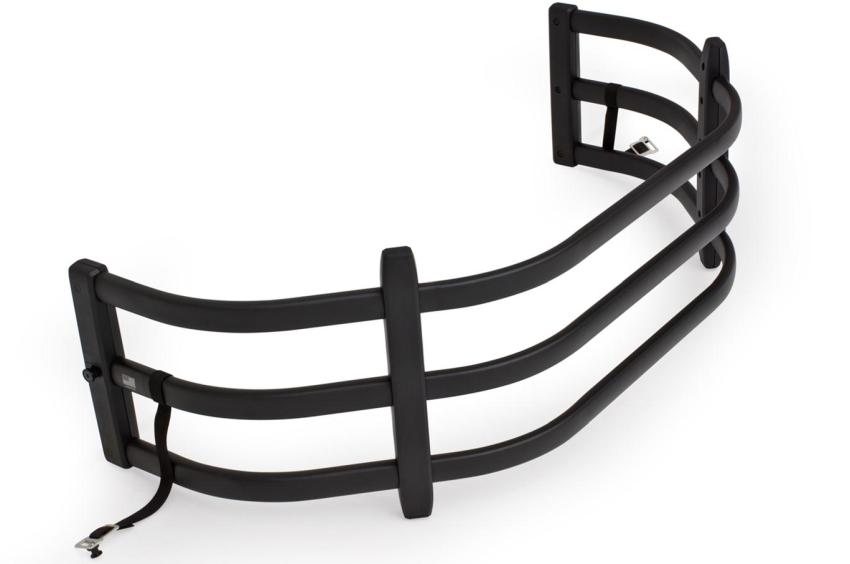 Length: 47" (119 cm)
Width: 14.5" (37 cm)
Weight: 14 lbs (6.3 kg)
Capacity: 1000 lbs (454 kg)
The AMP Research 74802-01A BedXTender is a V-shaped gate that has a torque-resistant, clam-shell design, made with aircraft-grade aluminum tubing. Its material, the 6063 T6 aluminum alloy tube, is ideal for crafting products that need to be lightweight yet durable.
The BedXTender is one of the best options if you have short kayaks and vehicles without a hitch. It provides an extra two feet of space for you to put all your belongings together with your boat.
The only disadvantage of this rack is that you can't prevent your things from moving around, so you may want to secure your kayak through other means like straps and tying. Its design is solely intended to act as a barrier around the truck bed to prevent your kayak from falling off. It also has a silver or black powder-coated finish which protects the rails from scratches.
---
AA-Racks Model X39 Short bed Truck Ladder Rack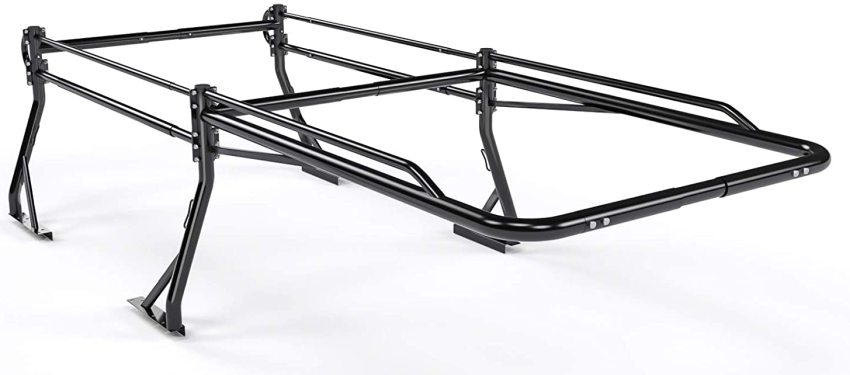 Length: 53.5" to 90" (147.3 cm)
Width: 51" to 71" (129.5 cm to 180.34 cm)
Weight: 119.7 lbs (53.87 kg)
Capacity: 1000 lbs (454 kg)
The AA-Racks X39 Short Truck Ladder Rack is highly customizable, so all pieces can be manually adjusted to fit your load exactly. It also has a massive load capacity, with a clearance of 30.5 inches, giving you plenty of room to load your other gear. This is a great choice if you frequently haul a lot of gear along with your kayak.
Installing the AA-Racks' X39 on your vehicle requires some drilling. But, to make it convenient for you, the base already has some holes ready to avoid cuts on the inner metal sheet. For optimal strength, brackets are connected with four or six bolts built specially for X35 bars.
In addition to the railings installed on your truck bed, there is also a separate over cab extension that can be extended from 45 to 53.5 inches. This supports the framework of the entire rack. On the other hand, the sidebar extensions can be adjusted from 53.5 inches to 90 inches.
To ensure the kayaks are in their proper places, X39 has a built-in front rope hook design where you can tie the ropes once you haul your boat on top of the rails. It also has a unique bracket bar with a tight grip reinforced with bolts and screws.
---
MaxxHaul 70423 Aluminum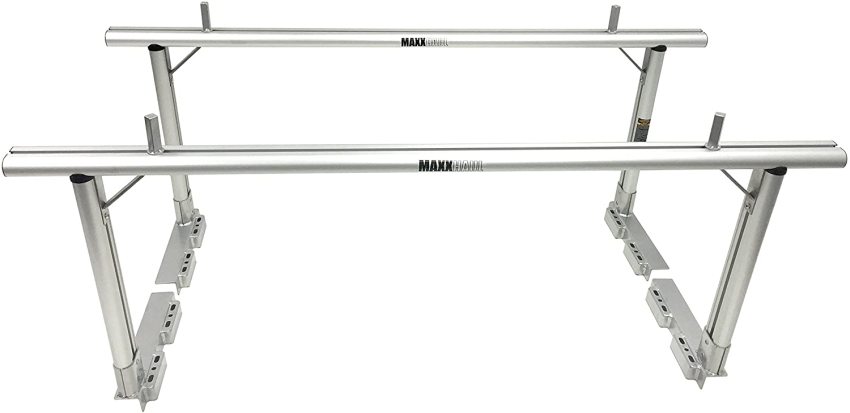 Length: 71" (180.34 cm)
Width: 3.5" (8.9 cm)
Weight: 63 lbs (28.6 kg)
Capacity: 400 lbs (181.4 kg)
The MaxxHaul Aluminum is made from aluminum, ensuring durability and a lightweight design. With a powder-coated finish, you will have a rust-free guarantee with your kayak racks. This is crucial since water residue on these racks during your commute is essentially inevitable.
Even with a lightweight design, it is guaranteed that these pairs of racks can carry your kayaks safely. The bases are made from heavy-duty steel that also has a powder-finish coating. With its 400 lbs loading capacity, you can put two kayaks on it at once.
Adjustable stopper bumpers are located on both ends of the crossbars. This prevents sideways movement and collisions between your items, especially when taking sudden turns at high speeds.
The Maxx Haul Aluminum's crossbars can be extended up to 70 inches to perfectly fit most full-size truck beds. Along with this, its maximum height is up to 26 inches. With this, you can still load your truck bed with other gear such as your camping bags and more.
---
FAQ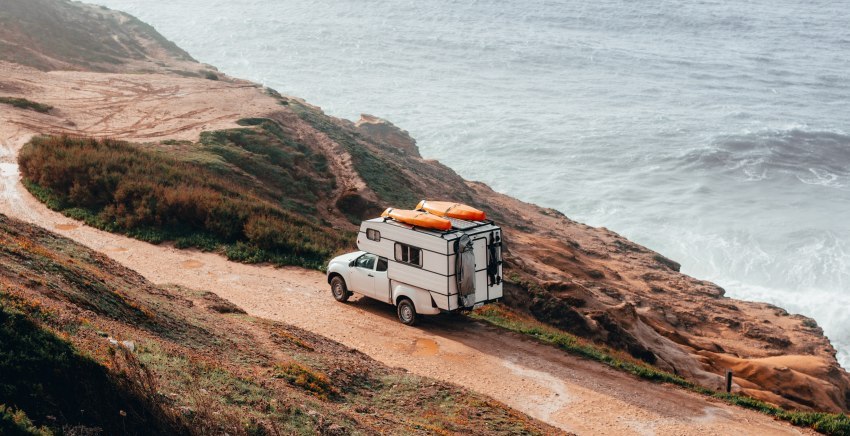 Should a kayak be transported upside down?
Kayaks that have hulls made of composite materials need to be placed on your roof upside down. Sudden impacts and tensions can cause them to have cracks and deformation. Also, its features differ from kayaks made of materials like plastic, which can be positioned in any position.
How many kayaks can fit in a truck?
Your ability to haul multiple kayaks at the same time depends on your truck's size and your kayak's size. Naturally, bigger trucks can carry more kayaks, most times it has a maximum of four boats. Even small trucks can carry two kayaks if they open their tailgate, which is where bed extenders come in handy.
How do you secure a kayak to a truck rack?
The kayak should be placed upside down in an equally balanced position with a two-inch clearance from the roof of your truck. Wrap the belt strap around the top bar and then to the kayak. Make sure it is not too tight or too loose.
Do I need a truck bed extender for my kayak?
Bed extenders are most practical to have if you have a very long kayak and a small truck bed. Your tailgate gives extra space for your boat to fit in, while the extender will serve as the new tailgate. Alternatively, you can choose a different type of kayak rack for your truck.