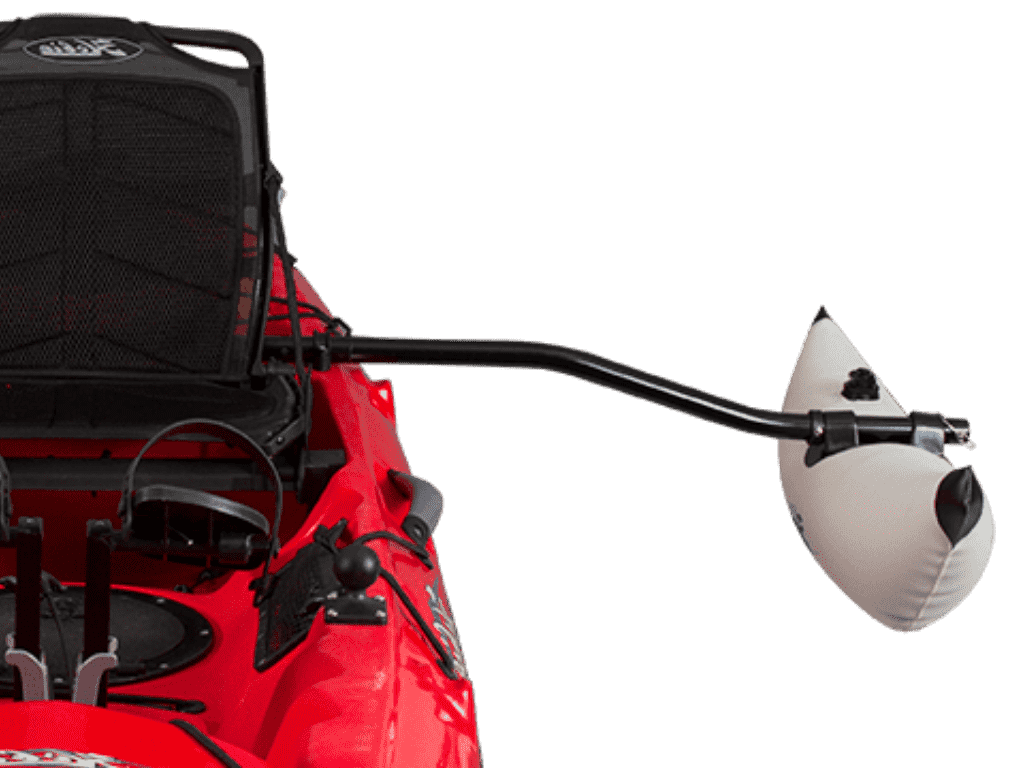 Let's face it: a kayak is not the most stable watercraft out there. It is a narrow boat that can tip quite easily if you're not careful.
While advanced kayakers may actually enjoy playing with primary and secondary stability and mastering their Eskimo rolls, this is definitely not something you want to think about if you're just out to fish or to enjoy a recreational paddling trip.
Many paddlers are looking for ways to increase the stability of their kayaks. And that's where kayak outriggers, or kayak pontoons, often come to mind.
Quick Answer: What is the Best Kayak Outrigger?
We analyzed several popular kayak outrigger models for this review. Here's our opinion:
Hobie Sidekick AMA Kit is the best kayak stabilizer. It is easy to install, does not need a pump, feels extremely solid, offers three height settings, and can be stored inside the hull.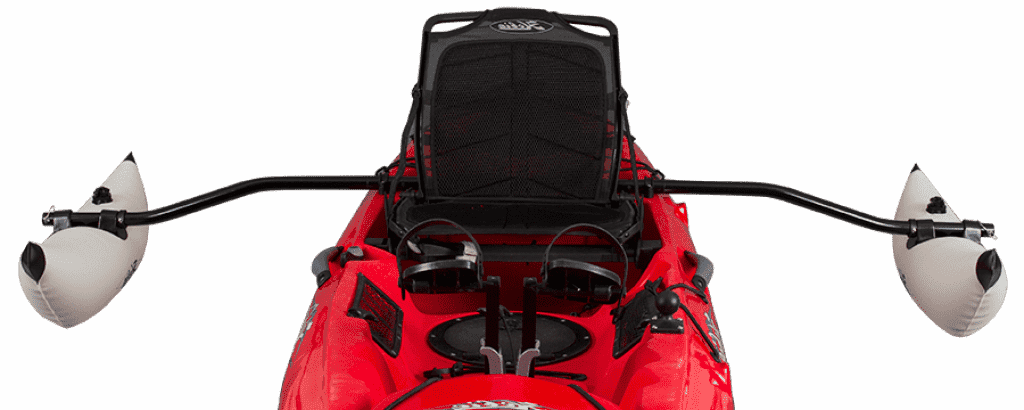 Weight: 5 lbs
Type: Inflatable
Material: PVC floats, aluminum crossbar
Price: Around $200.00 (check current price)

Hobie Sidekick AMA Kit is the best kayak stabilizer because it is very easy to install, does not need a pump, feels extremely solid, offers three height settings, and can be stored inside the hull.
The Hobie Sidekick AMA Kit has been around for quite a long time but is still a very popular model for a number of good reasons. It weighs about five pounds, feels very solid, and can be installed in just a couple of minutes.
Installation
To install the outriggers, you need to mount the central crossbar on your kayak.
Choose the position of the crossbar carefully. Unlike other models, the Hobie Sidekick AMA outriggers can not be adjusted fore and aft, so first, test the position on the ground and make sure the stabilizers won't interfere with your paddle or your rods. Also make sure the central crossbar does not cover your rear tank well, interfering with coolers, bags, or milk crates you normally put there.
Once you have determined the position of the crossbar, drill four ⅜ inch holes and secure the crossbar with the included clamps and well nuts for waterproof attachment.
Inflate the floats partially so that it is easier to mount them on the bar. Once you put them on the bar, secure them with the included pins and inflate to the desired pressure. Make sure you don't over-inflate the floats. You should be able to press about an inch into the float with your thumb. Remember that the sun will heat up the air inside and the float might burst.
Each float has a two-point attachment to the crossbar to make sure it is always parallel to your kayak and does not slow you down more than necessary. The stabilizers also have three height settings so you can lift them out of the water when not needed to reduce drag.
Usage
Using the Hobie Sidekicks is easy. Inflate the floats by mouth (no pump needed!), connect the side arms to the central crossbar, and select the desired height by rotating the side arms. The arms lock in three different positions.
After use, there's no need to remove the floats from the side arms. Simply disconnect the side arms from the central crossbar, deflate the floats by opening the two-way valves, wrap them around the side arms, and put them away for storage (you can even store them inside the hull of the kayak). Easy!
What we like
No pump needed
Easy to install
Wobble-free design
Can be stored inside the hull
Three height settings
What we don't like
The central crossbar stays mounted all the time and can interfere with other gear
Can't be adjusted fore and aft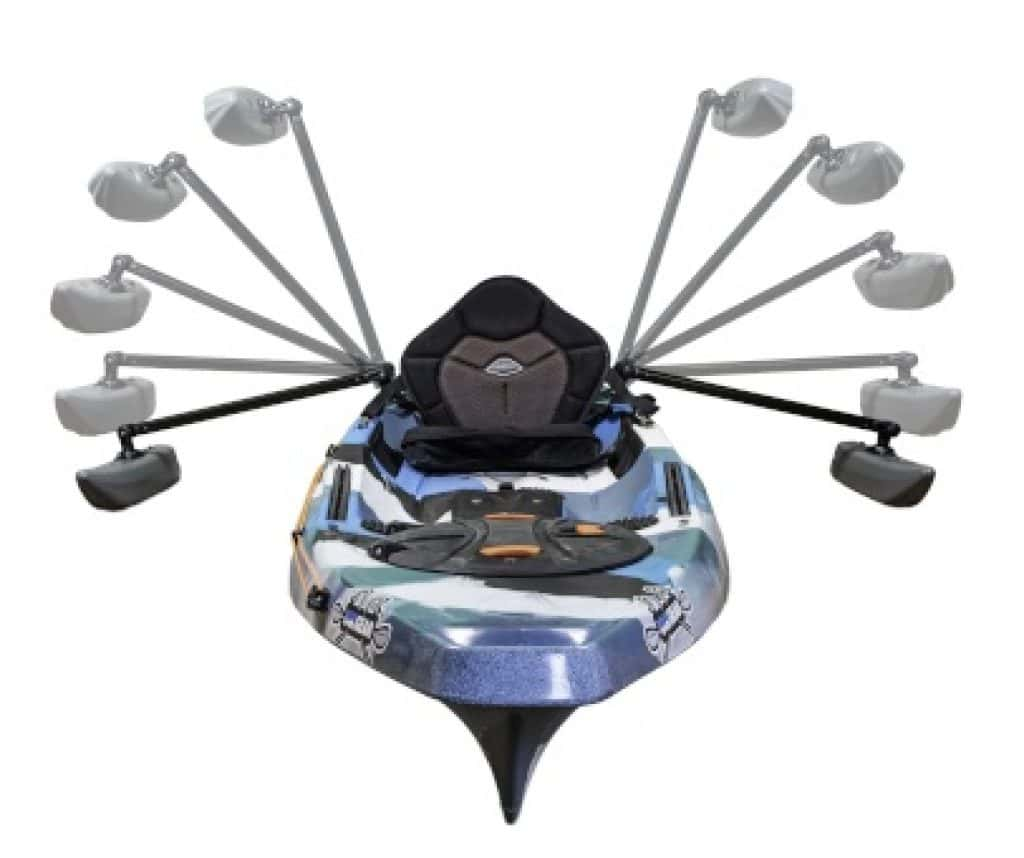 Weight: 9 lbs
Type: Rigid
Material: Rigid plastic floats, aluminum arms
Price: Around $175 (check current price)
The YakGear kayak and canoe outriggers are easy to install, can't be punctured, and offer additional spots to mount your GoPro. They are not very easy to adjust while on the water and have some play when installed.
The second generation of YakGear's popular stabilizers consists of two rigid plastic floats and 30-inch adjustable arms that provide a float base about 22 inches from sides of your kayak. The whole kit weighs about 7 pounds and uses standard Railblaza StarPort mounts. The floats also have inserts for Railblaza camera mounts (not included), which is a nice feature if you like to film your outings.
Installation
To install the outriggers, you will need to mount two Railblaza StarPort HD bases (included) on your kayak. Each base comes with four 5-mm machine screws. However, we recommend drilling ⅜ inch holes in the hull and using some well nuts. You'll get a much better grip and water protection that way.
A nice feature of the Railblaza StarPort HD base is that it is exactly the same size as popular Scotty, RAM, Cannon, Fish-On, and many other mounts. If your kayak comes with pre-installed mounts, chances are you won't have to drill extra holes to install the Railblaza bases.
Another option is to get a RAILBLAZA StarPort HD TracMount Kit (around 9 bucks on Amazon) and mount the base right on your gear tracks. However, keep in mind that an outrigger arm can put a lot of force on the gear track and bend or even break it, so be careful here.
Once you've got the bases in place, installation is a breeze. Just pop the arms into the mounts and into the floats and you're all set.
Usage
The outrigger arms are adjustable both for height and position (fore and aft). You can set your floats to be just above the water so that they don't create drag while you're paddling. You can also adjust them while on the water, but you'll have to reach back, creating a potentially unstable situation.
YakGear outriggers get mixed reviews (as I am writing this, the product has 3.7 out of 5 stars on Amazon). Some complaints include flex and play in the installation, difficulty adjusting the height while on the water, and a lot of stress on the gear tracks. You can read full customer reviews here.
What we like
Less expensive than others
Easy to install
Can't be punctured
Adjustable for height and position
What we don't like
Need more space for storage
Don't feel as solid as some alternatives
Put a lot of stress on the gear tracks (if track-mounted)
See YakGear Kayak and Canoe Outriggers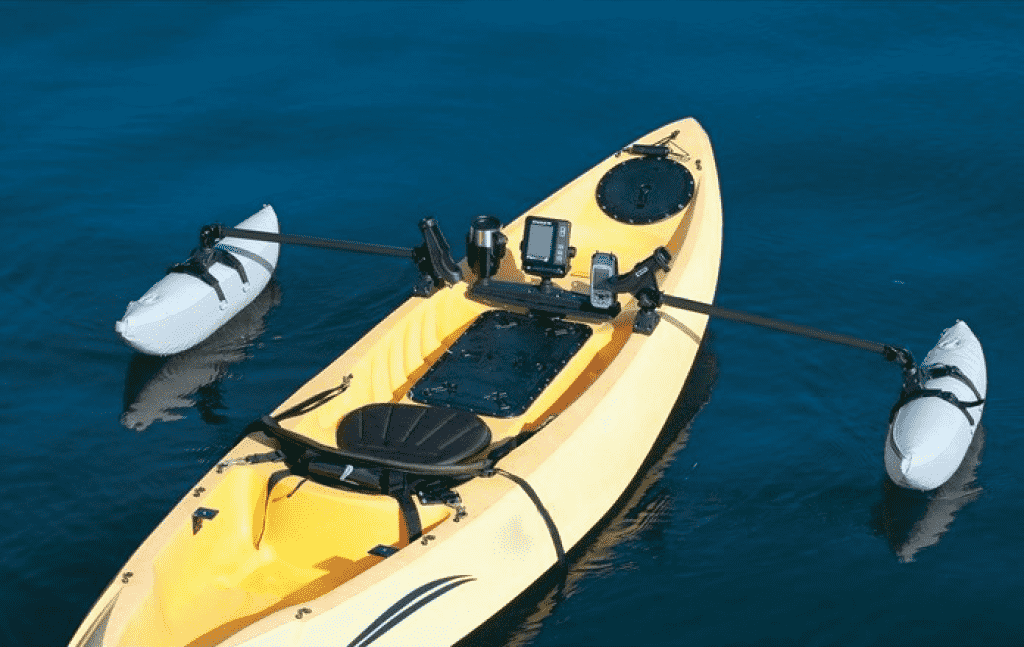 Weight: 10 lbs
Type: Inflatable
Material: PVC floats, anodized aluminum arms
Price: Around $240.00 (check current price)

Scotty #302 Kayak Stabilizer System features rugged two-layer PVC inflatable pontoons and anodized aluminum outrigger arms mounted on standard Scotty bases.
Another popular option in the kayak outrigger market is the Scotty #302 Kayak Stabilizer. Its design is somewhat similar to the YakGear model, but Scotty chose inflatable pontoons over rigid ones. The outrigger features durable PVC bladders with an extra PVC shell for extra durability.
The pontoons are attached to 28-inch aluminum arms which are mounted on standard Scotty 241 locking bases. An interesting feature of this model is that the mounts come with integrated rod holders so you get not only extra stability but also extra functionality.
Installation
As with any kayak outriggers, make sure you carefully select the position of the mounts before you drill any holes. Test everything on the ground, make sure the floats and arms won't get in the way of your paddle or rods.
Installing the outriggers is as easy as attaching two Scotty mounts to your kayak. Note that the stabilizer does not come with the hardware needed to mount the bases so you'll have to buy some well nuts, washers, and screws.
Once you install the bases, the rest is a no-brainer. Simply pop the arms into place, inflate the floats, and you're good to go.
Note that Scotty uses spring-loaded valves on its kayak pontoons. That means you will need a pump with the right attachment to inflate them. Remember not to over-inflate the pontoons, especially in hot weather. Hot air expands and can burst your floats.
Usage
The Scotty kayak outriggers are adjustable for height and position (fore and aft). However, it is not easy to do any adjustments on the water as you need to reach back. Also, because of the construction of the mounts (they have plastic "teeth" and can only be adjusted in certain increments), it is difficult to fine-tune the position of the pontoons. Sometimes they end up plowing through the water and creating a lot of drag.
Most users are happy with their Scotty 302 kayak stabilizers. Amazon customers gave it a 4.1 out of 5 stars. You can read the customer reviews here.
What we like
Durable two-layer construction
Easy to store
Integrated rod holders
What we don't like
Needs a pump to inflate
Mounting hardware not included
See Scotty #302 Kayak Stabilizer System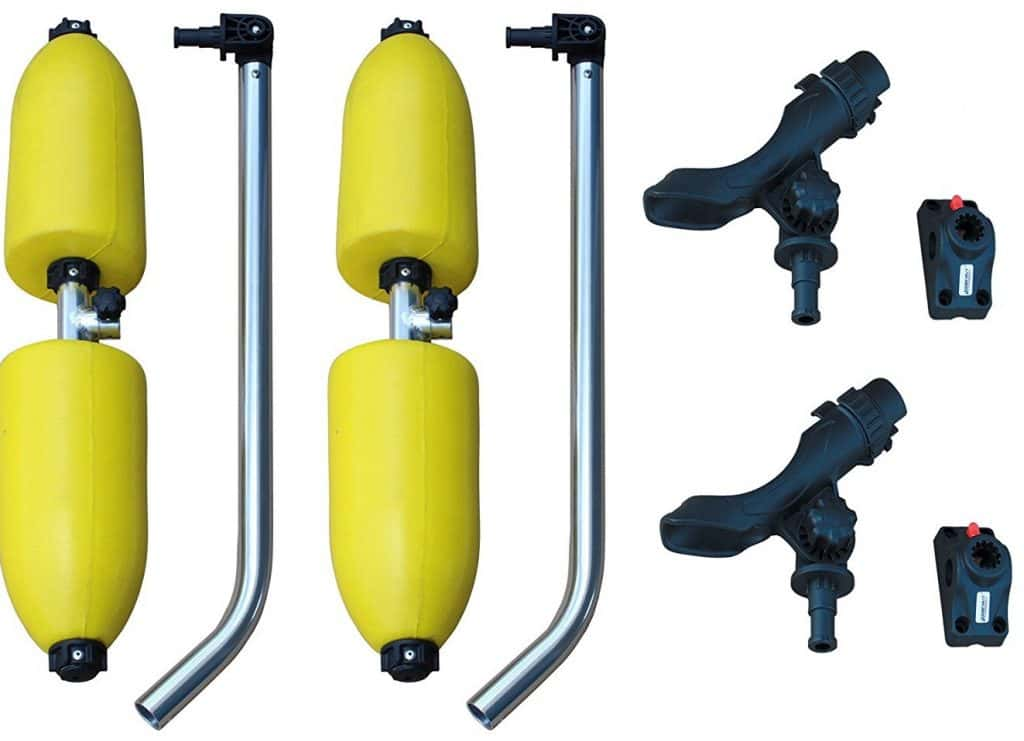 Weight: 5 lbs
Type: Rigid
Material: Molded PVC floats, marine-grade aluminum arms
Price: Around $160.00 (check price on Amazon)
Brocraft Kayak Outriggers feature rigid PVC floats and 32-inch aluminum outrigger arms mounted on Scotty-style locking bases.
The Brocraft kayak stabilizer system is another option for those who prefer rigid outrigger floats. The model has two molded PVC pontoons and two 32″ aluminum arms mounted on Scotty style locking bases. There's also a track-mounted version (We'd be very careful about mounting any outrigger to a gear track. Long outrigger arms can put a lot of force and bend or even break the track.)
Installation
Like most other models, you install the Brocraft outrigger by carefully choosing the position of the mounting bases and then screwing them to the hull. After that, you simply pop the arms into the locking bases and attach the floats to the arms using thumbscrews.
With the track-mounted version, you simply screw the mounting plates to the bases and install them on your gear tracks.
Usage
The outriggers are adjustable for height, so you can set them to ride just above the water and minimize drag. Some users complained that the height is only adjusted in 9-inch increments, but the company attempted to solve that with the new aluminum adapter.
Unlike some other models, this stabilizer can't be adjusted fore and aft (unless you have the track-mounted version). The pontoons are attached to the outrigger arms at a 90-degree angle, so to keep them parallel to the hull, the outrigger arms need to be perpendicular to the centerline of the boat. This is an important limitation to keep in mind.
Another thing we don't like is the shape of the floats. Each pontoon consists of two halves, and while the front element is more streamlined, the rear one plows through water and creates additional drag.
What we like
The least expensive model in this review
Rigid pontoons that can't be punctured
Track-mounted option
What we don't like
Deck-mounted version can't be adjusted fore and aft
Awkward pontoon shape will slow you down
Overall, users are pretty happy with this model. It has a 4.1 out of 5 stars rating on Amazon. You can read full user reviews here.
What Are Kayak Outriggers?
An outrigger is a float parallel to the hull of a boat that improves its stability. The history of the outrigger dates back 5,000 years! Outrigger boats were originally invented by Austronesian people for sea travel in Southern Asia, Australia, and New Zealand.
Today's kayak outriggers are usually inflatable or solid PVC floats with stainless steel or aluminum crossbars. They help increase the stability and buoyancy of a kayak.
Do I Need Kayak Outriggers?
In most cases, you can do just fine without outriggers. After all, if kayaks were too tippy or dangerous without them, stabilizers would have come standard, which is not the case. You do need some practice to start feeling the balance, but after that, it's like riding a bike.
However, there are some situations when a set of stabilizers can really help. We will discuss those in this section.
Training Wheels for Beginners
Remember the little wheels you had on your first-ever bicycle? If you're just starting kayaking and you have a hard time finding your balance, a set of outriggers can become your training wheels and give you additional peace of mind. Later on, as you get more confident, you can decide whether to keep them or remove them.
Stand-Up Fishing
Many people like to stand up while kayak fishing. Standing up is great for sight fishing, fly fishing, or any type of fishing that includes casting lures and fighting big fish.
While there are fishing kayak models that are stable enough for most people, standing up in a kayak does require a good sense of balance and a certain degree of agility.
What if your boat does not provide enough stability to stand and fish comfortably? Before you upgrade to a larger model which will also be heavier and harder to transport, think about a pair of stabilizers as an easier and less expensive alternative.
Powerboats Nearby
Surprisingly, this is a popular reason for getting kayak pontoons. If you paddle or fish in an area with a lot of motorboats going at high speeds and creating large waves, consider getting a pair of outriggers for extra safety. Situations where kayaks get turned over by a passing speedboat are not that uncommon.
Too Much Weight
In addition to better stability, outriggers provide about 30 pounds of extra buoyancy, depending on the model. That can come handy if you need to carry a lot of gear and your kayak just does not have enough weight capacity. It can also provide a drier ride on sit-on-top kayaks as less water will get onto the deck through the scupper holes.
Padding with Kids or Dogs
If you often paddle with a kid or a large dog, kayak outriggers can become a great safety net. We know how hard it is for kids or dogs to sit still. (A word of caution here. Never take kids with you if you're not an experienced paddler yourself. There should be one adult for every child that goes on a trip. Start small and go slowly as your skills develop. Here's some great expert advice on kayaking with kids).
Kayak Sailing
Some people like to put sails on their kayaks. While the idea of covering large distances without paddling is tempting, note that sailboats usually have large and heavy keels to counter the power of the wind. That's something a kayak does not have, so you need to give it additional stability. Kayak outriggers are an easy way to do so.
If after reading this post to the end you still haven't made up your mind about which kayak outriggers to get, here's our table again: