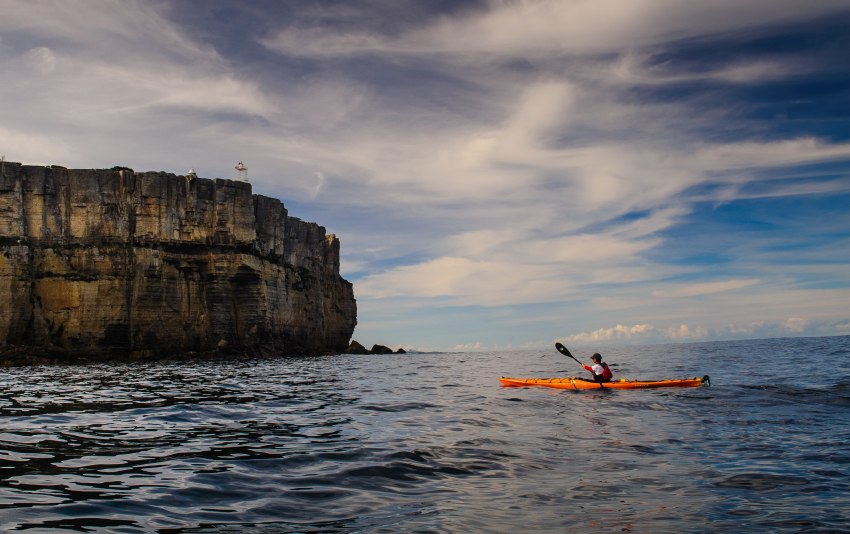 Are you ready to take your kayaking adventures to the next level?
Do you have what it takes to leave behind the placid calm of your favorite lake, and trade it for the rough and thrilling waters of the open sea?
Sea kayaking is a true adrenaline rush, an experience you'll never forget. There's nothing but you, your courage, and your kayak facing off against the unrivaled power of the open ocean.
So you can imagine why choosing the best sea kayak for this particular adventure is important!
Below, we're going to walk you through the process of selecting a sea kayak worthy of your epic battle with the ocean.
You'll learn what separates sea kayaks from lake or river kayaks, what features to look for, what factors to consider, and what safety gear you must ABSOLUTELY have with you.
And, of course, we'll include a list of the top-rated kayaks specifically designed for open-sea use.
By the end of this page, you'll be ready to challenge the ocean's might and paddle away victorious.
Quick List:
Ultimate Guide to Sea Kayaks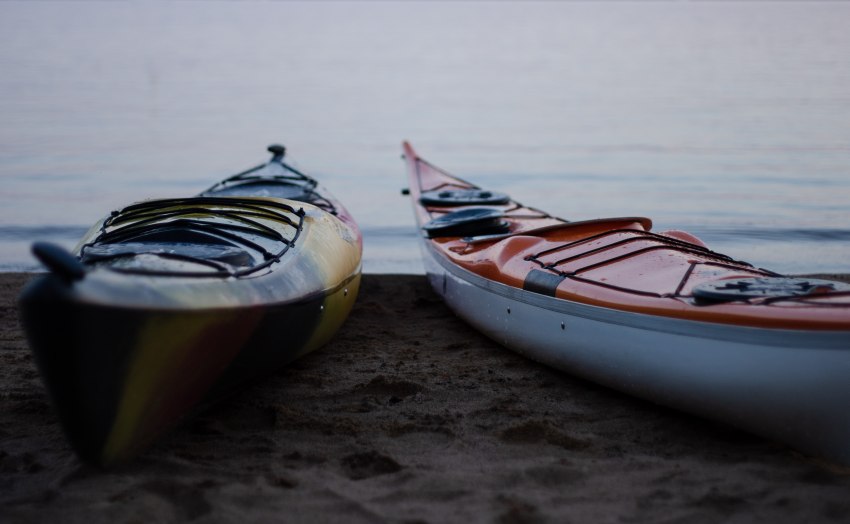 You might be wondering, "Do I actually need a special kayak for ocean paddling? Can't I just use the same kayak I use for river or lake paddling?"
The truth is that though you can use a regular kayak for sea trips, it's better to use one specially designed to handle the ocean surf, sprays, wind, and currents.
Sea kayaking is significantly more dangerous than lake or river kayaking—more so even than whitewater kayaking (though the dangers are different).
You've got rip currents, strong winds, changing tidal patterns, waves, even ocean wildlife to consider.
With the wrong kayak, you run a very real risk of capsizing. And if you capsize, you're very far from land, with little hope of rescue beyond self-rescue.
Sea kayaks are designed with all of this in mind. They're built to be used specifically on the open ocean, factoring in all the various potential dangers and hazards you'll face.
Using the right sea kayak can, quite literally, save your life!
Sea vs. River vs. Lake Kayaks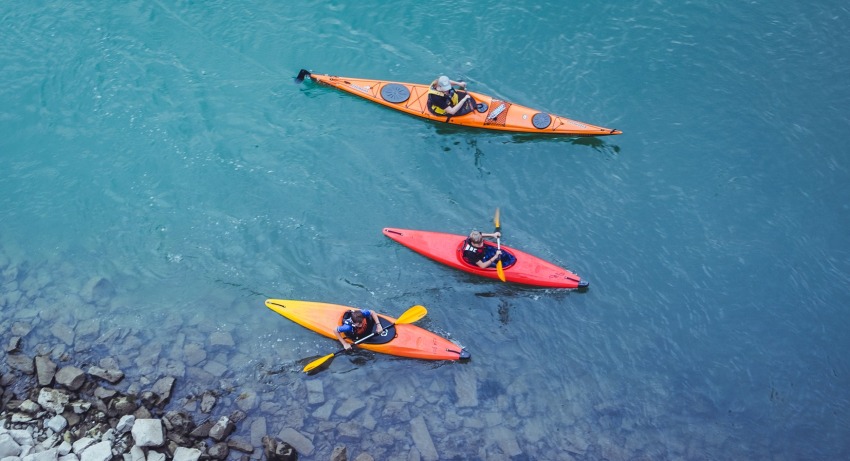 The design of a sea kayak is different from a river or lake kayak in a number of ways:
Dimensions
Sea kayaks tend to be very long and very narrow. This enables better tracking and faster speeds, but makes turning extra difficult. They're also longer to provide more storage space for all the supplies that will prove essential on long-haul ocean trips.
Balance
Sea kayaks will usually feel a bit less stable, but they're designed that way in order to counteract the rough water. Thanks to their "tippiness", you'll be less likely to capsize in rough waves because the kayak kind of rolls with the swells and troughs.
Hull Shape
Sea kayaks typically feature either a round hull (which reduces resistance and increases speed) or a V-shaped hull (which cuts through water more effectively and tracks straighter).
V-shaped hulls will either have hard or soft chines (a stiff "backbone" at the tip of the hull's V-shape). Hard chines increase primary stability, while soft chines give you better edging capacity when dealing with choppy waters.
Cockpit Design
Sea kayaks will typically feature a sit-inside cockpit, providing additional stability and protection against the elements.
However, some kayaks will be designed in the sit-on-top style to allow the water to flow over and off of you while you paddle.
Typically, these are used for paddling closer to shore, while sit-in kayaks are better suited to open-water paddling.
Seats
Sea kayaks will usually feature a seat that is affixed to the cockpit itself, with a seat bottom separate from the seat back. The seat backs are also lower, providing support only for your lower back.
This low-profile design is necessary to keep you safe on rough, choppy water. It is compatible with spray skirts and will let you roll the kayak if needed.
Storage
As mentioned above, sea kayaks tend to be longer and narrower than lake and river kayaks. This allows for more storage compartments, including bulkheads that offer waterproof dry storage and extra buoyancy.
You'll have greater carrying capacity, too, ensuring you've got room enough on the kayak to haul all the supplies you'll need for a day out on the open ocean (and extra in case of emergency situations!).
Portability
Sea kayaks are probably the least portable of all kayaks. You'll need to factor that into your travel when planning to transport your kayak.
Because of their high weight and extra length, you'll need a kayak roof rack capable of carrying an oversized/heavy kayak.
You may want to opt for a kayak trailer, instead, which will usually have higher weight capacity and can handle longer kayaks.
It will be a factor in your decision when choosing kayak storage racks for your garage or shed. And, of course, you might want to think about using a kayak cart to help you transport it from your vehicle to the ocean and back.
As you can see, the differences between sea kayak and river/lake kayaks are pretty noticeable. It's clear that you should be using a specific type of kayak for sea paddling. Now comes the fun part: choosing the right one for you!
Sea Kayak Buying Guide: Critical Factors to Consider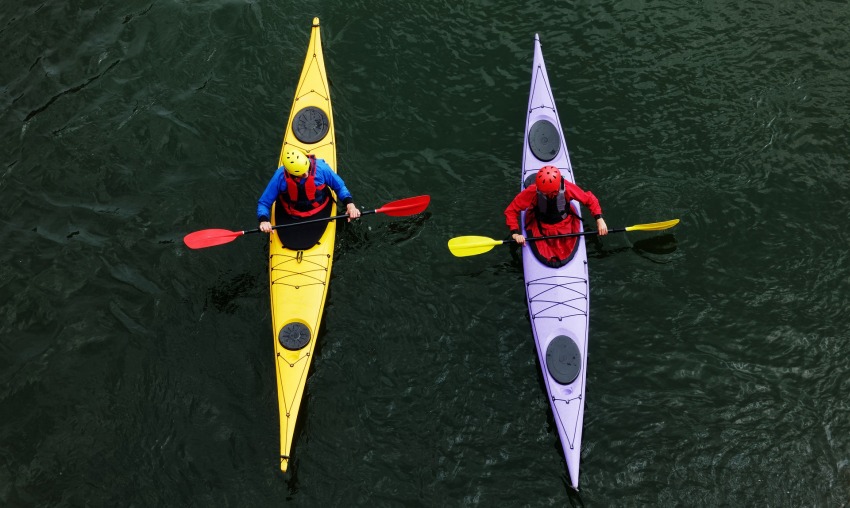 Materials
Let's start off with the basics: the material your kayak is made from.
Typically, sea kayaks are made with one of the following materials:
Polyethylene
This is the cheapest and most commonly used material, due to its high flexibility, decent abrasion-resistance, and, of course, the low cost of manufacture.
Rotomolded polyethylene kayaks are tough and require very little maintenance. Be warned, though, that polyethylene can be damaged by prolonged exposure to UV light. When storing it on your kayak storage rack outdoors, make sure to cover it with a tarp or use a kayak cover to protect it from degradation.
Polycarbonate
Polycarbonate is a step up from polyethylene, though it's still considered a "cheaper" alternative to premium fiberglass. It looks virtually identical to polyethylene, and though it's lightweight and can handle greater speeds, it's not quite as tough or impact-resistant as polyethylene.
ABS
ABS is a thermoplastic polymer with greater longevity than polyethylene, meaning it will last longer even when exposed to UV light. It's lightweight, too, and well worth the higher price tag. Some high-end kayaks are thermoformed from thin sheets of ABS plastic, which makes them super lightweight yet very strong.
Fiberglass/Carbon Fiber
Fiberglass and carbon fiber are the materials used for most high-end kayaks. They are far more durable than polyethylene and polycarbonate, are more resistant to UV damage, and are both flexible and speedy. Expect to pay top dollar for a top-rated product!
Kevlar
It's not common, but you will find a few sea kayaks made using Kevlar (yes, the same stuff used in body armor). It has an incredible stiffness but offers excellent tensile strength. On the other hand, it's not only pricey (more expensive than carbon fiber or fiberglass), but also harder to repair any damage sustained.
Length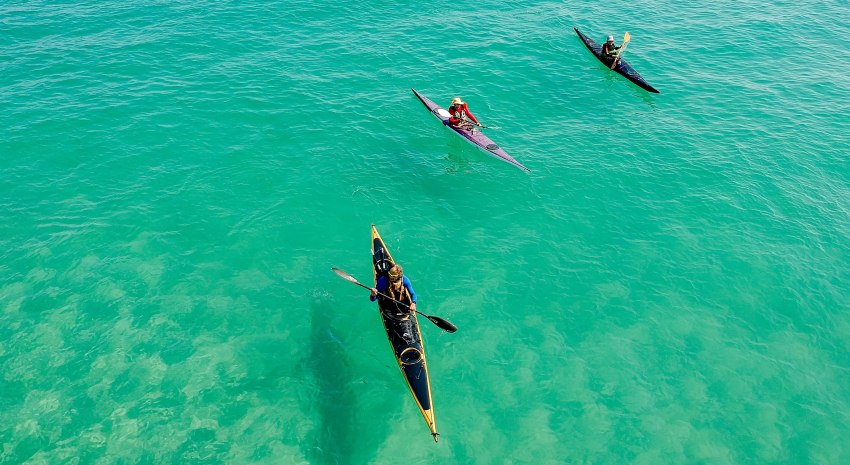 In our article "What Size Kayak Do I Need?", we take a deep dive into choosing the right kayak length according to your height, weight, and paddling adventures.
You can check out the article for a truly in-depth look at kayak length, but for the sake of brevity in this article, here's what you need to know:
1) Longer kayaks are usually faster and better for covering longer distances, while shorter kayaks are more maneuverable in the water and turn more easily.
2) Wider kayaks are more stable, while narrower kayaks are faster.
3) Kayak "volume" refers to the amount of space inside the cockpit. Low volume kayaks are ideal for smaller paddlers (under 5'6" and 140 pounds), medium volume kayaks are ideal for the "average" paddler (under 5"10 and 190 pounds), and high volume kayaks are best-suited for taller and heavier paddlers (anyone over 6" and 190 pounds).
Sea kayaks are typically in the 12 to 20-foot range. They're extra-long to cut through waves, provide faster speeds, and give you greater storage capacity.
Typically, "average" sized users will fit best in a sea kayak between 14 and 17 feet. The heavier and taller you are, the longer your sea kayak should be.
Primary and Secondary Stability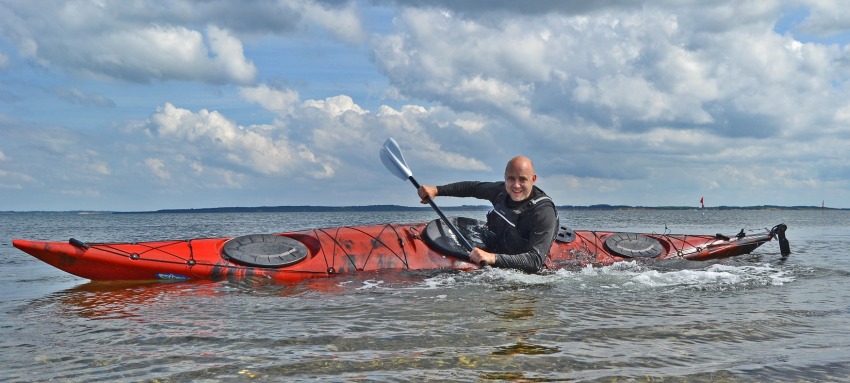 If you're going to spend a lot of time out on rough, choppy, and tide-swept waters, you're going to want a kayak that offers both primary and secondary stability.
What do these terms mean?
Primary stability refers to the kayak's stability when it's in the upright position.
Secondary stability refers to the kayak's stability when tipping on its side.
Stability is determined largely by both the hull shape and the type of chines the hull is designed with. We talked a bit about both above, but I wanted to examine it a bit more deeply to make sure it's clear how these factors affect your paddling.
Round-bottom hulls typically look like the underside of a torpedo. It offers less resistance when cutting through the water, so you can reach higher speeds.
This particular hull shape decreases primary stability (so it will feel more "tippy") but increases secondary stability. This is the preferred hull shape for high-performance sea kayaks intended to be used closer to the shore (look up kayak surfing—it's an absolutely real and badass thing!).
V-shaped hulls are more effective at slicing through the water, and they tend to track straighter than round-bottom hulls. They're typically used for expedition-style sea kayaks (the sort used for long-distance travel or island-hopping). Like round-bottomed hulls, they offer less primary stability and more secondary stability—making them ideal for rough ocean waters.
V-shaped hulls have either hard or soft chines:
Hard chines have a gentler angle with very little rounding, and they typically feature a crease that separates the bottom of the boat from its sides. They are better for primary stability and speed.
Soft chines are more rounded but still have a very prominent meeting of the two edges, though there is no crease separating the bottom and sides of the boat. They contribute to better secondary stability, making them ideal for rough waters, but they're not as suitable to high-speed paddling as hard chines.
Kayak Weight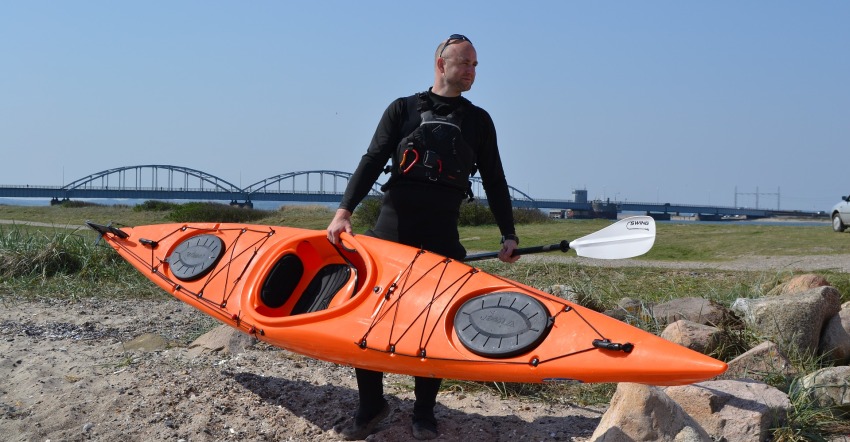 How heavy your kayak is will definitely factor into your decision to transport and store it (as mentioned above). But it will also play a role in handling on the open water, and how much effort is required to paddle.
Sea kayaks will typically be made from very lightweight materials (like fiberglass, polycarbonate, or polyethylene), but will still be heavier than your average lake kayak due to its extended size. Make sure that you've got a kayak roof rack on your truck or car capable of handling that much weight, as well as a kayak storage rack in your garage/shed.
Weight Capacity
Sea kayaks usually have a higher weight capacity than lake or river kayaks because they're designed for multi-hour/multi-day use. It's expected that you'll be bringing along a lot of gear, food, water, and other supplies when venturing out onto the open water.
However, you still need to consider weight capacity when kayak-shopping. The boat needs to be able to handle your weight PLUS another 50-100 pounds in order to be useful for long-haul ocean trips.
(Note: Weight capacity is less important if you're staying near the shore, but you still want to make sure your kayak can handle the weight of emergency supplies on the off-chance you get pulled out to sea by a rip tide.)
Sinkage Level
The term "sinkage level" refers to how much weight it takes to make the kayak sink 1 inch into the water.
High sinkage levels typically indicate greater stability.
Low sinkage levels means the craft is more likely to take on water, especially in rough or choppy surf, meaning you're more prone to capsizing.
Rudder/Skeg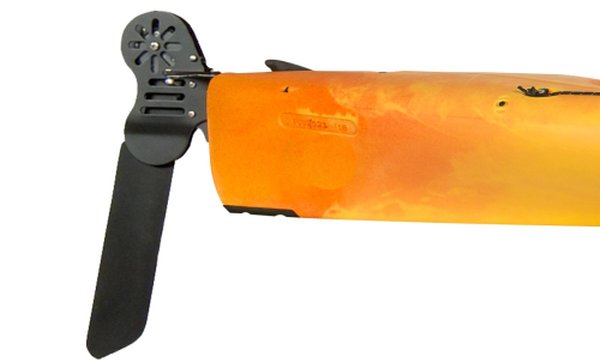 Having a built-in steering system—a rudder and/or a skeg—will help to improve both tracking and handling on the open ocean.
Skegs are simple fins placed near the stern end of the kayak hull, which help to keep you on-track as you slice through the water.
I highly recommend a "retractable" skeg rather than a "fixed" skeg. Retractable skegs allow you to adjust how the skeg handles, giving you a way to correct for tides, winds, and currents.
Rudder systems are typically mounted on the stern of the kayak and are operated by foot pedals or a handle.
Some sea kayaks come with both skeg and rudder systems, but many will usually only feature one. Both help to improve handling, but rudder systems are always more expensive than skegs.
Bulkheads/Storage
Sea kayaks typically come with extra-large bulkheads.
Bulkheads are airtight compartments that offer both additional storage space and buoyancy.
They are an essential design component of the kayak, helping to keep you afloat even when flooded with water. Bulkheads also provide dry storage for food, spare clothes, and other gear that should not get wet. A word of caution here: bulkhead or not, ALWAYS put your gear in dry bags.
Make sure the kayak you're buying has at least two hatches that allow you to access the front and rear bulkheads. Some models also have a day hatch within easy reach for small items that you may need on the water.
Bonus points if the kayak also has additional bungee cords built onto the deck for extra storage space. You can secure waterproof gear on top of the kayak, allowing you to carry even more!
Cockpit Design
As we mentioned above, most expedition and touring sea kayaks will feature a sit-inside cockpit, offering protection against the cold water and high ocean winds. These are ideal if you plan to paddle away from the shore and out into the open sea.
However, if you want to stick close to shore and just enjoy the surf and sunshine, you can opt for a sit-on-top kayak. The scupper holes built into the kayak will allow water to drain right out, so you will stay stable and steady even in heavy surf.
Braces
Thigh and foot braces are a valuable addition to any kayak.
When you paddle on rough water, you press your feet against the pedals/braces and use the strength of your legs to stay stable.
Your thighs also press against the sides of the kayak to control it, especially for advanced moves such as edging. Without padding or braces, long hours of paddling can be quite painful on your thighs.
Perimeter Deck Lines
Perimeter deck lines are lines (ropes) that run along the outer edge of your deck, all the way around your kayak. These are an absolute must to have when sea kayaking, because they're designed to make it easier to self-rescue in case of capsizing.
Basically, the ropes are designed to fit snugly against the kayak's body, with just room enough for you to slide your fingers underneath. You can use them to first right the kayak, then haul yourself back into the cockpit.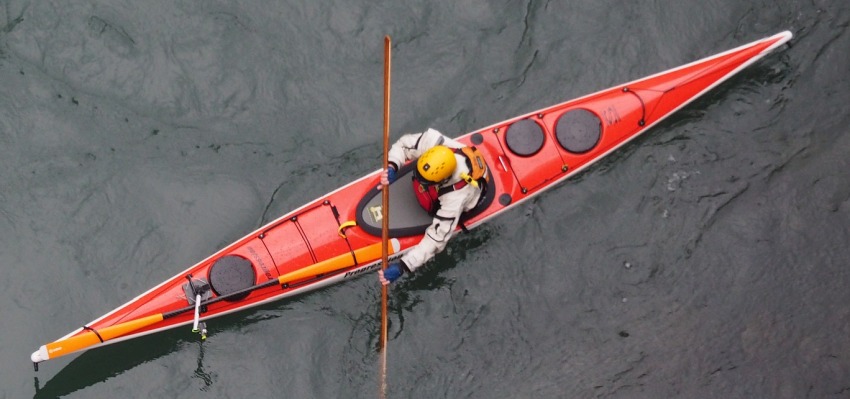 Spray Skirt Compatibility
Spray skirts are an important addition to your sea kayak gear. They are literally the only thing that will stop the ocean spray and splashing waves from spilling over the sides of your cockpit and filling up your kayak. Plus, they protect your body from the (potentially very cold) ocean water, too.
Most sea kayaks are designed to be compatible with spray skirts, but it's worth doing a bit of quick research to make sure that you can find a spray skirt to fit the kayak you're choosing. The last thing you want is to be grounded on shore because the only spray skirt compatible with your sea kayak is out of stock or no longer available.
Level of Experience
Your level of experience is a critical factor to consider!
If you're new to sea kayaking, it might not be wise to go for a multi-day trip on your own. It's safer to paddle along the coastline, within sight of the shore. For close-to-land paddling, you'll want a kayak that can handle surf and navigate choppy waters easily.
However, for more experienced paddlers, expedition-style kayaks are a great way to explore the open ocean far away from the shore.
Water Conditions
Finally, you need to consider what kind of waters you're dealing with.
If you're expecting to paddle chiefly on calm waters (think the Gulf of Mexico or the Mar de Cortes), you won't have to worry about rough surf. Your focus will be on speed and handling.
On the other hand, if you're thinking of venturing out into the Pacific or Atlantic Ocean, you could come face to face with some pretty harsh water conditions and high waves. Open-ocean sea kayaks need more stability, and you will definitely need more safety gear!
Must-Have Gear for Sea Kayaking
If you're going kayaking on the open ocean, you're going to need to take the right safety gear with you. That includes:
Sea Kayak Safety Tips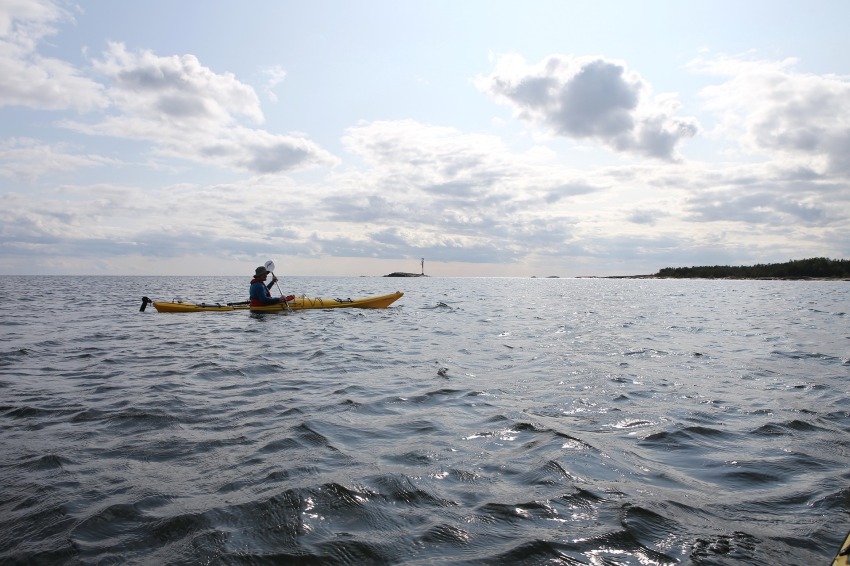 Before you head out onto the ocean, it's imperative that you understand the potential threats you'll face on the open seas—not just turbulent waters, but also powerful currents, high winds, even marine wildlife. The dangers are real!
Here are a few safety tips that you should always keep in mind:
Make sure all your self-rescue items are conveniently placed. If it's not within reach in case of an emergency, it's useless.
Always bring a radio, satellite phone, or some means of calling for help. Being able to contact the Coast Guard in an emergency can literally save your life.
Always wear your PFD, and consider additional buoyancy aids.
Dress appropriately for the outing. Consider a dry suit or wetsuit and gloves/water shoes, as well as additional layers of quick-drying, moisture-wicking, clothing on top. Bring a waterproof jacket or windbreaker for a top layer, and make sure you've got a hat and sunscreen to shield you from the sun.
Make sure someone knows where you're going. Show them your planned route and the estimated timeframe for your paddle. That way, they'll know when it's time to call for help, as well as where you might be located.
Get training before you head out onto open seas. Your local canoe or kayaking club will likely have courses you can take to gain sea kayaking experience.
Always check the tides and weather report before heading out. Don't just do it in the days leading up to your trip, but on the day of, too. That way, you'll know if there are any sudden storms or tidal changes that could make the trip too dangerous.
Finally, don't push yourself beyond your level of experience. There is no need to risk your life and those of anyone accompanying you.
Safety is your FIRST priority when sea kayaking! Despite the thrill of the open ocean, it's far more dangerous than lakes or rivers. Make sure you're prepared for every worst-case-scenario before you head out onto the water.
---
Our Complete List of the Best Sea Kayaks:
Best Sea Kayak Overall: Wilderness Systems Tempest 170

Length: 17' (518)
Width: 22" (56 cm)
Weight: 57 lbs. (25.85 kg)
Capacity: 325 lbs. (147 kg)
Mid-sized paddlers will find this kayak has ample leg room, great weight capacity, and industry-leading comfort. Everything from the Phase 3 AirPro seating to the integrated thigh padding to the TruTrak adjustable skeg makes kayaking on the open water easier. If you want superior performance and handling, this mid-sized sea kayak is just what you need.
It's not the best option for heavier/larger users, due to its moderate weight capacity (325 lbs). If you are a larger person, Wilderness Systems Tsunami 175 will be more suitable as it is rated for up to 400 pounds. 
However, the award-winning kayak offers ample storage space (both in bulkheads and the deck bungee system) and a design guaranteed to have you slicing through the water at top speeds.
Pros:
Superior handling and tracking
Great primary and secondary stability
Not too heavy; easy to transport and carry
Award-winning design
Maximum comfort
Cons:
Moderate weight capacity
Cockpit is too small for extra-tall/extra-heavy users
---
Best for Beginners: Perception Expression 15

Length: 15' (457.2 cm)
Width: 24" (62 cm)
Weight: 57 lbs. (25.85 kg)
Capacity: 325 lbs. (147 kg)
Looking for a great sea kayak at an even better price? You've found your top pick in the Perception Expression 15, a 15-footer that is as much at home on calm coastal or lake waters as in the open ocean. The shorter length means you'll sacrifice some speed, but the extra maneuverability and increased stability of the slightly wider hull make the Expression 15 a great choice for beginners. The kayak is much more forgiving on choppy water while still handling like a dream.
The dual seating systems can be adapted to your preferences, perfect for short-haul trips or multi-day voyages. You get not only good lumbar support, but great cushioning on the seat, an adjustable leg lifter to keep your legs from going numb, and thigh padding to make it easier to brace yourself while paddling in rough conditions. The TruTrak retractable skeg makes handling and tracking a dream, or you can opt for the additional Tip-Toes foot-controllable rudder.
Thanks to its beautifully designed V-shaped hull, rounded chines, and smooth rocker, the kayak will be both stable and handle dynamically in surf or waves.
Pros:
Excellent handling, dynamic edging
Good stability on calm or turbulent water
Impressive acceleration and next-level speed
Comfortable, reduce pressure on your legs and thighs
Compatible with both skeg and rudder system
Excellent price tag!
Cons:
Not suited to very tall paddlers with long legs
---
Best Performance Sea Kayak: Eddyline Fathom

Length: 16' 6" (500.38 cm)
Width: 22" (56 cm)
Weight: 50 lbs. (22.7 kg)
Capacity: 340 lbs. (154.2 kg)
Looking for a sea kayak to take your ocean voyages to the next level? Push your skill and challenge yourself in this beautiful, sleek Eddyline kayak. Every seam is fusion-welded for maximum durability, and the combination of hard chines and a light rocker makes this a truly next-level performance hull. Though it doesn't include a built-in rudder, the skeg is fully retractable to optimize tracking.
The Infinity Seat System ensures excellent lumbar support and comfort for all-day trips, and the bulkheads offer great storage capacity and easy access to your most important items through the small day hatch directly behind your seat. Thanks to the many deck bungees, you get extra storage and sturdy perimeter lines to help you re-enter in case of capsizing.
Pros:
Sturdy ABS composite hull
Performance design, capable of reaching excellent speeds
Retractable skeg makes for straighter tracking
Three hatches, including a convenient "day hatch" to access smaller stored items
Very comfortable seat and padding
Cons:
Easily marked up/scuffed
Will yellow if left in the sun
---
Best for Surf: Dagger Kaos 10.2

Length: 10' 2" (312 cm)
Width: 26.5" (67 cm)
Weight: 43 lbs.(19.5 kg)
Capacity: 250 lbs. (114 kg)
This sit-on-top kayak is exactly what you need to tackle even the biggest waves. At just over 10' long, it's a compact vessel that will slice through the surf with ease, and you'll love how well it handles when gliding through a barrel or breaking over a cresting wave.
Thanks to the built-in scupper holes, water will slide right off you and your kayak so you're never slowed down. The extra bow rocker makes it easier to slice through even choppy surf and tackle waves smaller, lighter kayaks couldn't handle. Though the seating is a bit basic (emphasis on efficiency over comfort), the built-in thigh and foot bracers will keep you stable and give you optimal control over your craft.
Pros:
Well-designed hull, strikes the perfect balance between maneuverability and speed
The perfect surfing kayak for even big waves
Stable and built specifically for surfing
Excellent rocker profile for slicing through waves/choppy surf
Lightweight, but with decent weight capacity
Cons:
May be uncomfortable for longer periods
Not suited to open water
---
Best Sea Kayak for Deep-Sea Fishing Trips: Hobie Mirage Revolution 16

Length: 16' (488 cm)
Width: 27.5" (70 cm)
Weight: 75.5 lbs. (34 kg)
Capacity: 350 lbs. (159 kg)
Looking for a great kayak for your next deep-sea fishing trip? Give this Hobie kayak a try and you'll never regret it. Though it's a sit-on-top design rather than sit-inside, it's ideal for warm-weather ocean voyages, where you want nothing but open air between you and the water. The hull itself is lightweight but beautifully durable, designed for optimum speed and great stability.
Though it's a fishing kayak, it will handle both surf and open water surprisingly well. It comes with three built-in dry storage compartments, plenty of bungee cord on the deck for added storage, and even a pair of bottle holders to keep your drink within easy access. It even comes with a sail/bimini mount, a built-in rudder system that offers excellent maneuverability on the open water, and the MirageDrive forward-reverse propulsion system that will take the speed up a notch. If you're headed out to catch some fish, this is the kayak for you!
Pros:
Fishing kayak ideal for deep sea fishing
Useful for multi-day touring or long-haul trips, too
Durable and reliable
Beautifully comfortable Vantage CT seat
Low drag, high speed
Cons:
Water may splash up through the scupper holes and drive well
Low maneuverability
---
Most Portable Sea Kayak: Oru Coast XT Foldable Kayak

Length: 16' (488 cm)
Width: 25" (63.5 cm)
Weight: 36 lbs. (16.3 kg)
Capacity: 400 lbs. (181.4 kg)
Yes, you read that title right: this is a FULLY foldable kayak designed for maximum portability. You'll never need a roof rack or trailer again. Just fold it down into its carry case and slide it into your trunk for easy transportation. When the time comes to hit the water, unfold it in a matter of minutes and get paddling.
This isn't any ordinary kayak—despite its convenient design, it's tough, reliable, and built for serious paddlers planning to hit harsh open waters. It can handle multi-day ocean voyages and handle all but the biggest waves. You'll find it handles surprisingly well, and it offers up to 180L of storage space with a total weight capacity (you + gear) of 400 lbs. It's certainly not cheap, but it's definitely worth every penny!
Pros:
Foldable, compact
Sturdy and reliable performance
Comfortable thanks to built-in thigh braces, seat pad, and adjustable backrest
Durability on par with any mid-range sea kayak
Cons:
Initial assembly can be challenging, even when watching the instructional video
Low primary stability
---
Best Sea Kayak for Rough Waters: Delta 16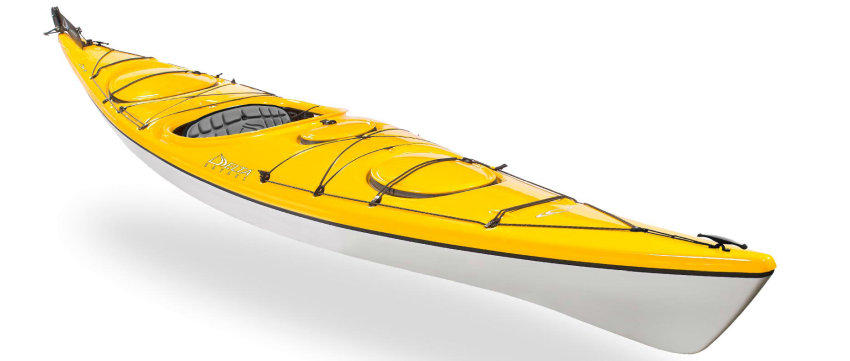 Length: 16' (488 cm)
Width: 22" (55.9 cm)
Weight: 49 lbs. (22.2 kg)
Capacity: 330 lbs. (149.7 kg)
If you're expecting to hit rough waters, you'll want the Delta 16 as your kayak of choice. Its V-shaped hull offers excellent balance, tracking, and maneuverability despite its size, and you'll have no trouble staying on-course even when the ocean turns ugly. Built for speed and handling, it's also sized just right to give you plenty of storage space without being excessively heavy or unwieldy. You even get to choose between a built-in skeg or rudder system according to the conditions of your trip.
It's particularly effective for edging, allowing you to stay upright no matter how high the waves get. Though it's sized for a medium-weight paddler, you have ample weight capacity to accommodate plenty of gear for a multi-day trip.
Pros:
Great storage capacity, decent weight capacity
Beautifully maneuverable for its size
Nimble and stable
Choose between rudder and built-in adjustable skeg
Low profile, very sleek
Cons:
Hatch lids are difficult to get off/put on
Seat adjusters prone to breaking
---
Best Sea Kayak for Large Kayakers: Baffin 3 HDPE P3 Kayak

Length: 17' 7" (539.5 cm)
Width: 23.75" (60.3 cm)
Weight: 69 lbs. (31.3 kg)
Capacity: 348 lbs. (157.85 kg)
Boreal Design built the Baffin 3 HDPE P3 model specifically for larger and heavier kayakers. Not only is the polyethylene hull tough and sturdy, but it has a high-volume cockpit (109 gallons), extra storage space, and high weight capacity. Overall, the kayak is definitely one of the heaviest on our list, though, a whopping 69 pounds, so you'll want to keep a kayak cart handy for transporting it to and from your vehicle.
The Baffin 3 comes with a built-in skeg system, self-rescue straps and bungee cord that serves as both deck safety line and extra storage, and two large-capacity bulkheads with a third day hatch for easy access to your most important gear. The seat is incredibly comfortable and can be easily adjusted to suit your height and leg length.
Pros:
Surprisingly agile for its size and weight
Specifically designed for larger/heavier paddlers
Excellent deck rigging—even comes with a place to set a compass
Comfortable seating and knee/thigh pads
Plenty of storage and cockpit space
Cons:
Adjustment knob for the skeg is iffy
Heavy
---
Best Sea Kayak for Long Trips: Dagger Stratos 14.5

Length: 14' 6" (442 cm)
Width: 24.5" (62 cm)
Weight: 53 lbs. (24 kg)
Capacity: 300 lbs. (136 kg)
If you're planning a multi-day trip across the ocean, this compact 14' 6" Dagger kayak may be just the vessel you need. Though it's small for a sea kayak, it definitely offers maximum performance and a sturdy design that just won't quit. The reinforced hull beam will withstand serious impact, and you'll find the hard chine delivers decent primary stability and gives you amazing edging power when the open sea turns rough.
The combination of ConTour CFS Seating System, Slidelock XL Foot Braces, and adjustable thigh braces ensures you can customize the cockpit to your comfort according to your size. It's a kayak perfect for lake, river, and ocean paddling, with excellent speed, superior tracking, and next-level maneuverability.
Pros:
Sturdy design guaranteed to last for years of hard use
Capable of impressive speeds for a touring kayak
Versatile and easily maneuverable
Beautiful handling in calm or choppy water
Cons:
Heavier than average
Beginners may struggle with balance/stability at first
---
Best Budget Sea Kayak: Old Town Castine 145

Length: 14' 6" (445 cm)
Width: 26.5" (67.3 cm)
Weight: 56 lbs. (25.4 kg)
Capacity: 450 lbs. (204 kg)
This is a well-sized sea kayak perfect for even heavier/larger users, but compatible with paddlers of all sizes. It's solidly built and though it's a bit heavy (just under 60 lbs.), it's surprisingly maneuverable and strikes the perfect balance between performance and comfort.
Intermediate and advanced kayakers will find it one of the most comfortable, roomy kayaks they've ever sit in, with decent primary and excellent secondary stability. Built for day touring, it features a super-soft ACS2 seat and adjustable thigh braces that maximize comfort no matter how choppy the surf gets. With a lifetime hull warranty, it's a kayak you know will last you for many happy years of sea paddling to come. Best of all, it's designed for not only sea voyages, but rivers and lakes, too.
Pros:
Lifetime hull warranty
Excellent price, well-built kayak
Supreme maneuverability, great handling/tracking
Three different models/sizes to choose from
All-day comfort meets superior performance
Cons:
Doesn't include skeg or rudder system
Seat tilt adjustment is difficult to use
FAQ:
Do I need to wear PFD while sea kayaking?
Absolutely! Out on open water, you're not only more at the mercy of the elements (wind, waves, and marine life), but you're too far from land to easily receive help in emergency situations. Your PFD will literally save your life. I cannot overstate the importance of wearing PFD from the moment you start paddling until you're back on dry land.
Can you use a regular kayak in the ocean?
You can use a regular river or lake kayak in the ocean, but you'll find that kayaks designed for calm waters may have a harder time handling in waves or choppy surf. Lake and river kayaks are built with greater primary stability but less secondary stability, meaning they're more prone to tipping over if the wind kicks up the waves.
Can you get swept out to sea in a kayak?
It's not common to be dragged miles and miles out to sea by a riptide or strong tidal current, but it does happen. If you get caught in a riptide, you can usually paddle out of it (to the side, not back to shore), then ride the ocean's natural currents back into shore.
It's a good idea to research the beach where you're going to put into the water to make sure there are no tides or currents that will sweep you out to sea. This small measure of prevention can do wonders to help you avoid serious emergency situations!
What size waves can kayaks handle?
Kayaks will usually do well in 2 to 3-foot waves. However, more experienced paddlers can handle waves between 6 and 12 feet. Any taller than that, and your risk of capsizing increases exponentially.
When should you kayak in the ocean?
The answer is simple: when the weather is fine and the ocean condition is calm. Sunny weather will warm up the water, making your trip more pleasant. Calm oceans with little wind will be far less turbulent, so you can enjoy the paddle a lot more without having to fight powerful waves and blinding ocean spray.