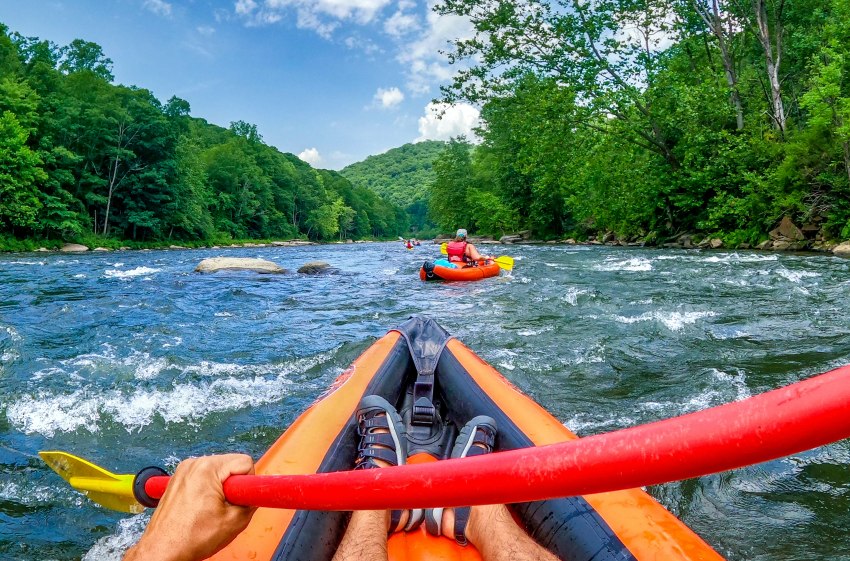 Shoes are a critical component of literally EVERY sports outfit!
Think about it: basketball shoes give you a bit more jump, soccer cleats help you dig into the turf for those really zippy turns and jukes, and running shoes reduce impact and encourage better stability.
And, because kayaking is absolutely a sport (some might argue the BEST sport!), it requires a good pair of shoes.
Kayaking shoes are as versatile and varied as any other sport shoe: some are light and mobile, some are grippy and heavier, some offer insulation against the cold, and some even protect you from getting wet.
Finding the right pair of kayaking shoes can be a game-changer for your paddling trips all year long.
Get ready for our list of the best kayaking shoes for your specific needs, and enjoy the Buying Guide and FAQs section that will walk you through exactly how to choose the right shoes for you.
As an affiliate of Amazon and other retailers, we may earn a small commission when you buy via our links, at no additional cost to you. Thank you!
Quick Answer: Best Kayak Shoes
How to Choose Shoes for Kayaking: The Ultimate Buying Guide
Whether you're a casual paddler, hardcore expedition kayaker, or brave whitewater rapids on the regular, a good pair of kayaking shoes can be a game-changer.
Kayaking shoes serve a few very specific purposes:
They protect the soles of your feet from the kayak. Your heels are resting on the hull of your kayak, and your forefoot and toes pushing against the pedals. After a few hours of paddling barefoot, you'll feel the muscles, soft tissue, and even bones starting to bruise. A good pair of kayaking shoes, however, provides a layer of protective rubber between your feet and hard plastic. No bruises or pain, just more driving power to paddle harder!
They protect your feet from terrain. Remember: you have to transport your kayak from your car to the shoreline, and back again when you're done. If you're hunting or angling, you may have to make landfall on scrubby, grassy, or rocky terrain. A good pair of kayaking shoes will protect your feet from rocks, gravel, twigs, branches, sharp grass, and anything else potentially painful on dry land.
They provide insulation. If you're going paddling in cold weather/water, your feet are among the first body parts to feel the cold. A good pair of shoes, however, provides a layer of insulation (and possibly waterproofing) against the cold. If you're paddling in cool or cold weather—anywhere from late fall to early spring—you'll likely want shoes to stay warm. Also, check our post about the best kayaking gloves.
As you can see, they're a critical part of your kayaking outfit, which is why it's important that you choose the right pair for your needs.
Types of Kayaking Shoes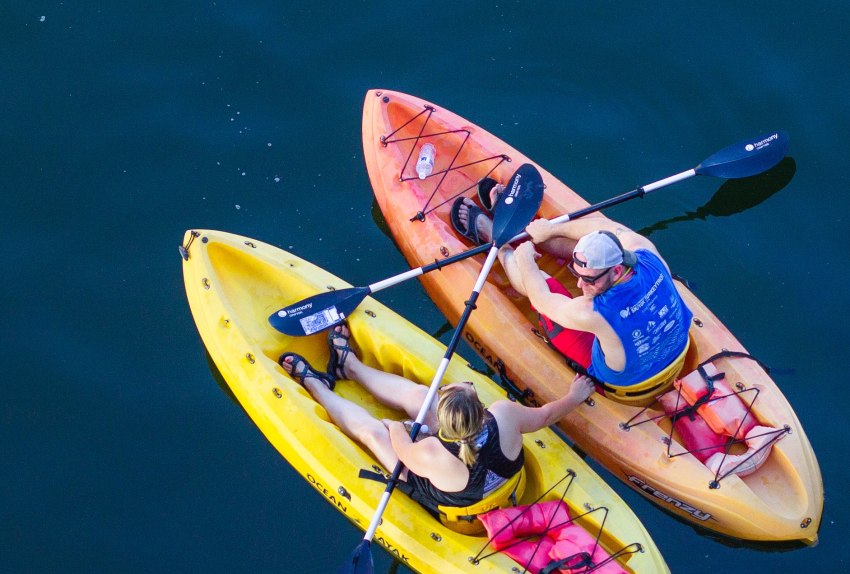 When it comes to kayaking, you have five basic choices of footwear:
Flip-Flops
Flip flops are the perfect summer shoe: lightweight, versatile, inexpensive, quick-drying, and easy to slip on and off. Unfortunately, many flip flops get slippery when wet, and the fact that you can't secure them in place on your feet means they may not protect your heels, only the soles of your feet.
Sandals
Sandals are the next step up from flip flops. They're grippy, include straps that allow you to secure them on your feet, have thick soles that protect both your heels and soles, but are still lightweight, inexpensive, and versatile. They're also better than flip flops for crossing rocky or treacherous terrain—they're almost as good as shoes, just lighter and better ventilated.
Water Shoes
Water shoes are a popular choice for beach-goers as well as kayakers, because they're light, slim, drain easily, but have a thick enough sole to protect your feet. They're closed-toe by design, but dry quickly and won't retain water. The thin mesh doesn't offer a lot of insulation, though, and the simpler shoes (without straps, laces, or drawcords) won't really grip your feet securely enough to be used on rougher terrain.
Water Booties
Water booties are an excellent choice for insulation as well as all-day comfort. Made from thick neoprene, they are either wetsuit-style (allow a bit of water to get in, then warm it up using body heat to serve as an insulating layer) or drysuit-style (totally waterproof and block out all moisture). They are likely too heavy for hot summer days, but great if you're going to be doing cool- or cold-weather paddling.
Rain Boots/Waders
If you really want to keep out the cold and water, you can consider upgrading to heavier footwear. Rain boots are fully waterproof (typically made with rubber), and their calf- or knee-height design prevents water from sliding down and soaking your feet. Waders are a full-length outfit that come with boots built in. Wear warm socks inside your rain boots or waders, and you'll never have to worry about the chill.
How to Choose Paddling Shoes: Factors to Consider
When shopping for the best kayaking footwear, here are the most important things to consider:
Weather/Temperature
Would you really take a pair of flip-flops paddling in the dead of winter, or a full waders outfit in the middle of summer when the sun is blistering hot and the water is refreshing?
Always consider the weather and temperature when choosing kayak shoes.
For summer, flip flops, sandals, and light water shoes are the better choice because they're lightweight, keep your feet cool, but still offer protection.
For cool- and cold-weather paddling, consider thicker water shoes, water booties, or rain boots/waders to keep out the cold.
Remember: You are dressing for the WATER TEMPERATURE, not the AIR TEMPERATURE.
Size
Finding the right size shoe is absolutely critical for both your comfort and the shoes' longevity.
Think about it: if the shoes are too tight, they'll pinch your toes, cause cramps, and the pressure of your toes will stretch and ultimately break the tip of the shoes. If the shoes are too large, on the other hand, they'll slip off when wet or slide around and rub the back of your heel, leading to blisters.
Most water shoes are designed to run slightly on the smaller size because they're intended to hug your feet tightly. The fit should be glove-like: tight enough to stay put, but not so tight they constrict or cause pain.
Closure
For kayaking shoes, you have a few closure types:
Slip-on shoes, like lightweight water shoes, are easy to pull on and off, but don't offer as much stability and support when on land.
Shoes with Velcro straps offer a more secure fit and closure—typically used for sandals, water boots, and booties.
Laces aren't very common on water shoes (because repeatedly getting wet/drying out can weaken the fabric), but they are occasionally used. As with regular lace-up shoes, they offer a secure fit, but take time to put on/take off.
Bungee-lacing and drawcords are a happy medium between straps/laces and slip-on shoes. They can pull tight but are easy to loosen to slip on/off.
Slip-on shoes are great for lounging on the beach and spending your full day in the kayak, but if you plan on walking or hiking through rough terrain, you may want to upgrade to shoes with a more secure closure.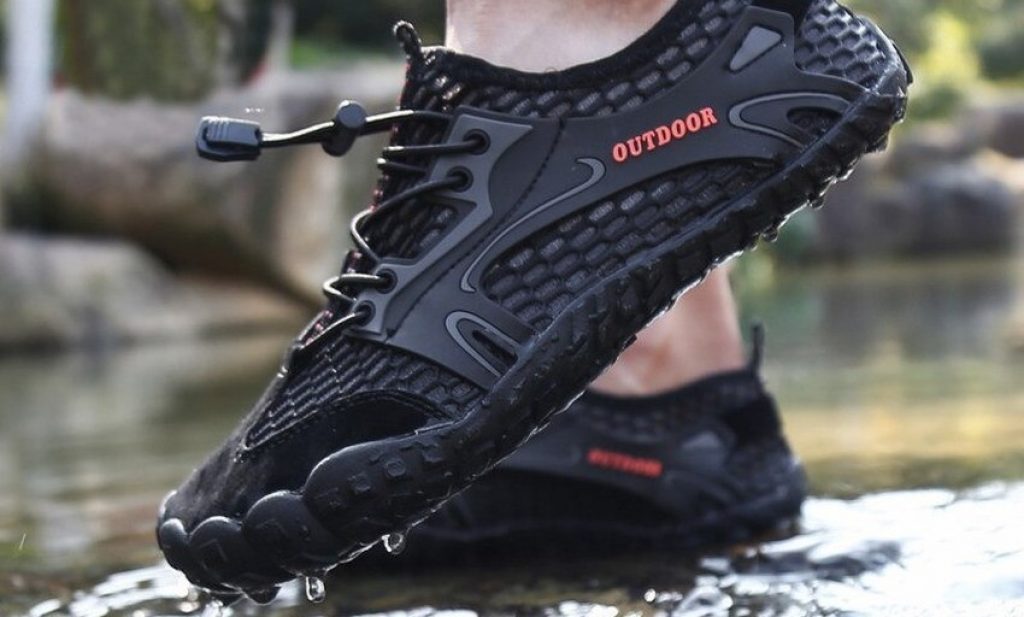 Fabric
Synthetic fabrics are an absolute MUST for any item of clothing that regularly comes in contact with water.
Cotton will get soggy and rot, and real leather will develop mold and break easily.
The ideal choices are quick-drying, moisture wicking synthetic fabrics like polyester and Lycra/Spandex (elastane). These won't get water-logged, but will allow water to drain out and dry easily—perfect for warm-weather paddling.
RELATED: Best Kayaking Pants
For waterproof shoes intended to keep your feet dry—such as water booties—you'll want either nylon or neoprene (a synthetic form of rubber). These are thicker, more durable fabrics that are highly effective at preventing water from entering. They also offer far better insulation (especially neoprene) than the lighter, airier fabrics.
Sole
Your shoes absolutely need a thick sole! That thick, protective layer of rubber is the only thing between your feet and the hard plastic of the kayak hull and foot pedals, as well as the potentially sharp rocks and branches you'll be walking over.
A good sole will protect your feet both in the kayak and on dry land, and will provide good stability and balance as you haul your kayak to and from your vehicle.
Grip
Good traction is another crucial factor to look for in good kayaking shoes.
You need shoes that can grip the foot pedals and the wet, slippery bottom of the kayak's cockpit. The shoes also need to have traction on dry land—that means wet wooden docks/jetties, water-slicked stone, rugged dirt trails, thick sand, and wet lakeside/oceanside grasses.
Versatility
If you're a casual kayaker who goes from the beach/lakeshore to the kayak and back again, you might only need a simple pair of water shoes, sandals, or flip flops.
However, if you have to hike to your kayaking destination, portage your kayak between lakes/rivers, or make landfall to set up camp, you'll likely want a pair of water shoes or sandals sturdy enough to be useful for all your daily activities. There are plenty of tough-and-rugged kayaking shoes that can transition between hiking, camping, and trekking seamlessly.
Insulation
Insulation may not be necessary if you're only kayaking during the hot summer months, though there may be days when the water is chilly enough that you'll welcome a bit of extra protection to keep your feet warm.
During the fall, winter, and spring months, however, a pair of well-insulated booties, boots, or water shoes can literally save your feet. Neoprene and rubber are the two best options for thick, waterproof insulation—either in the wetsuit-style footwear, or a dry-suit/rain boots/wader style that keeps the water out completely.
Comfort
The right pair of shoes will keep your feet comfortable all day long.
This isn't just about size (though sizing does play a role in comfort), but about how well the shoes can keep up with the specific movements/positions of your specific kayaking and kayak-related activity.
For example, when I first started kayaking, I bought a budget pair of water shoes from Walmart, the Athletic Works Men's Water Shoes. They were the perfect choice for summer paddling: lightweight, well-ventilated, quick-drying. And, of course, cheap.
But after just a few all-day paddling trips, I realized that they weren't the right choice for me because of the shape of the heel cradle. When I rested my heels against the kayak and pushed against the pedals, the mesh uppers would stretch so much that my heels slid down and ground against the rubber heel cradle. I developed blisters—absolutely no fun when paddling 5 miles back to my landing spot!
Thankfully, when I upgraded to the Keen's Newport H2 Sandals, the problem went away and I've never had to worry about comfort since. (That's why it's my top pick for this list!)
Smell Resistance
Stinky feet are no fun! Just ask my wife…
In all seriousness, the last thing you want is a pair of water shoes that develops mold or bacteria (which is what causes odors), because it could lead to bacterial or fungal infections on your feet. Plus, bad-smelling shoes are unpleasant for everyone who has to ride in the car with you on the way home from your paddling trip.
Thankfully, most kayaking shoes are designed with synthetic fabrics that are treated with bacteria- and odor-resistant coatings. However, just to be certain, make sure to read through the reviews and look for any mention of "smells bad" or "stinky". If the water shoes are prone to malodorousness, you may want to consider another option.
Price
I'll admit it: I'm a cheap bastard. I don't want to spend $100 on a pair of water shoes or sandals that I'll use for a few months out of every year.
That being said, I will also admit that a good pair of water shoes or sandals can be absolutely game-changer. Take my top pick, the Keen Newport H2, for example. It's far from the "budget" end of the spectrum, but it's a pair of sandals I can use all year long (yes, we Canadians really do wear socks and sandals in the winter!) for many different activities. I've used them for hiking, jogging, playing soccer with my sons, swimming, and paddleboarding. Because they're versatile, they're worth the expense.
When looking at the price of your water shoes, consider the cost vs. value.
A pair of premium kayaking shoes may cost more initially, but end up delivering higher value in the long run due to greater versatility and higher durability (they last longer).
A pair of budget kayaking shoes will cost less initially, but break more quickly or be less comfortable, forcing you to buy another pair sooner rather than later.
Top-Rated Kayaking Shoes
Best Kayaking Shoes Overall: KEEN Men's Newport H2 Sandal Water Shoe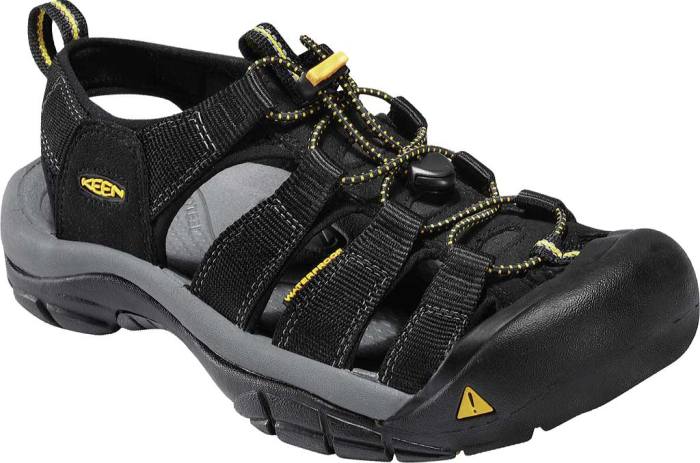 Material: Polyester upper, rubber soles
Closure: Bungee cord
Style: Sandal
Weight: 15.2 ounces (0.43 kg)
If you want a pair of kayaking shoes that can handle dry land and rugged terrain as easily as water and muddy shores, give these Keen sandals a try. They're tough, sturdy, and incredibly comfortable, with a well-designed cushioned footbed that provides reliable arch support and a very grippy outsole that will offer excellent traction even on wet and slippery terrain.
The shoes are made using hyper-durable polyester for the uppers, and are finished with a PFC-free coating that is both water-repellent and adds to the shoes' toughness. The bungee cord closure ensures the fit is nice and secure, even if you're scrambling over rocks or swimming in fast-flowing waters. Thanks to the quick-drying sole, your feet will stay dry and fresh all day long.
They're certainly not the cheapest shoes on our list, but they're among the sturdiest, most reliable, and most versatile options—really, the best option overall.
Pros:
Soles take years to wear out
Sturdy webbing uppers that provide secure grip
Reliable traction, solid rubber outsole
Great for heavier, larger users
Dry quickly
Cons:
Quality control issues with the stitching (may fray/break at the seams)
On the heavier side
---
Most Durable Kayaking Shoes: Merrell Men's All Out Blaze Sieve Water Shoes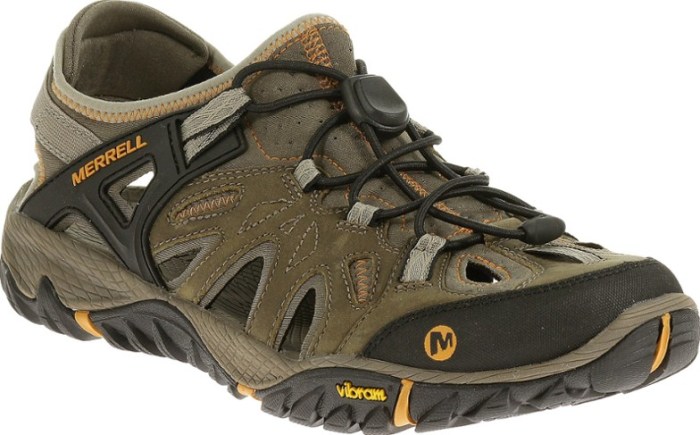 Material: Synthetic leather, rubber, and neoprene
Closure: Integrated lacing
Style: Sieve-style water shoe
Weight: 1 pound (0.45 kg)
What makes this such a great option to take on your paddling trips is the fact that it's designed like a truly sturdy, durable hiking shoe, but with holes in the sides and rear that allow water to drain out and fresh air to flow in. The interior is quick-drying and moisture-wicking, with a neoprene layer that offers both insulation and added comfort to the shoes. Thanks to their Vibram rubber sole, they're perfect for use on any trail, campsite, or even at work.
The uppers are made with a super-tough synthetic leather that won't wear out or fray even after repeatedly getting wet, and they're designed with enough arch support and cushioning to be used as a minimalist-style running shoe. It's comfortable on both wet and dry terrain, perfect for scrambling over rocks, clearing a campsite, or paddling down whitewater rapids.
Users have complained that the shoes lose a bit of traction on wet wood, and struggle through thick clay mud. However, they're an excellent choice for anyone who wants a long-lasting pair of protective, supportive kayak shoes.
Pros:
Super tough; will last for 5+ years
Incredibly comfortable, even when wet
No blisters, chafing, or rubbing
Secure protection and fit, but with good ventilation and drainage
Cons:
Slippery on wet wood, can't handle thick, deep mud
Heavy
---
Most Versatile Kayaking Shoes: Columbia Men's Drainmaker Iv Water Shoe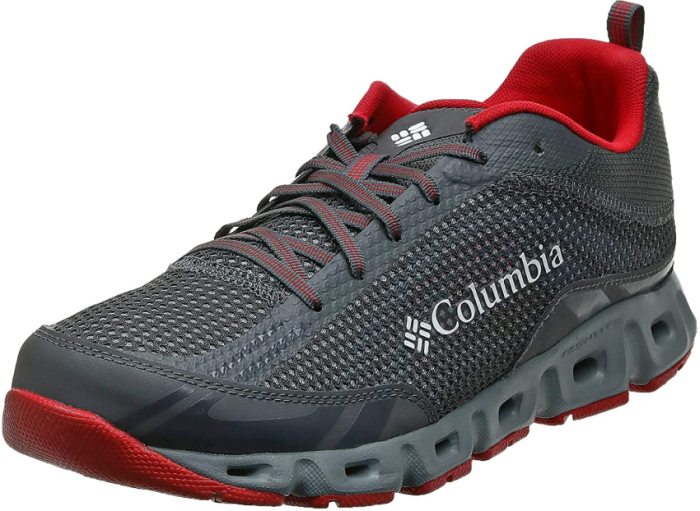 Material: Synthetic mesh upper, rubber outsole
Closure: Integrated laces/straps
Style: Water shoes
Weight: 12 ounces (0.34 kg)
Whether you're hiking through the mountains, trekking across jungles, wading rivers, or paddling downriver, you'll want these shoes on your feet. They're beautifully lightweight but provide sturdy traction and excellent support for those all-day hikes, and are designed to stay dry even if your kayak gets water-logged.
The synthetic mesh upper is both breathable and quick-drying, with special drainage holes that allow water to flow out. The rubber outsole is grippy and has a nicely aggressive tread perfect for rugged terrain, but is still flexible enough to climb over rocks and trees. Thanks to the midsole, you have great arch support to reduce joint fatigue, as well as reliable ventilation to keep your feet dry.
Users have noted that the sizes run a bit small and the toes chafe when wet, but that is a problem mostly for people with extra-wide feet. Whether you wear them with or without socks, they'll be a comfortable, sturdy choice that'll come in handy for any outdoor activity.
Pros:
Comfortable barefoot or with socks
Can handle wet and dry terrain with equal ease
Versatile; use for any environment or activity
Sport-friendly, great for running, hiking, and water sports
Cons:
Sizes tend to run small and on the narrow side
Rubs against your pinky toe when wet, may cause chafing
---
Best Lightweight Kayaking Shoes: Speedo Men's Water Shoe Surfwalker Pro 3.0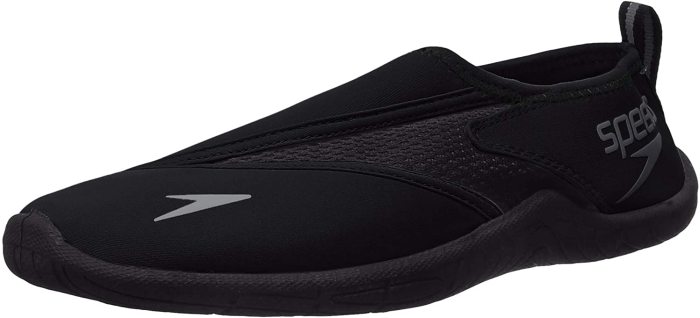 Material: Neoprene upper, rubber sole
Closure: Slip-on
Style: Slip-on water shoes
Weight: 10 ounces (0.28 kg)
Looking for a light, user-friendly pair of water shoes for kayaking, paddleboarding, and canoeing? Give these bad boys a try! They're slim, sleek, and weigh next to nothing, with a mesh upper that will dry quickly and offer supreme breathability. However, thanks to their rubber sole, you have good protection for the bottoms of your feet.
They're certainly not hiking or running shoes, but you can use them for any water sport. The Speedo-brand neoprene is surprisingly warm, even in cool water, and the elastic fabric will fit snugly on your feet once you slip them on, ensuring they don't cause friction or rub your feet raw.
You'll love how affordable they are, though they won't deliver maximum durability. Just a light, inexpensive shoe perfect for summer days at the beach or lakeside.
Pros:
Lightweight, slim
Easy to slip on/off, but stay securely in place
Quick-drying and very breathable
Inexpensive
Cons:
Not the most supportive sole or sturdiest upper
Sizes run small, fit is tight
---
Most Comfortable Kayaking Shoes: Crocs Swiftwater Closed Toe Sandals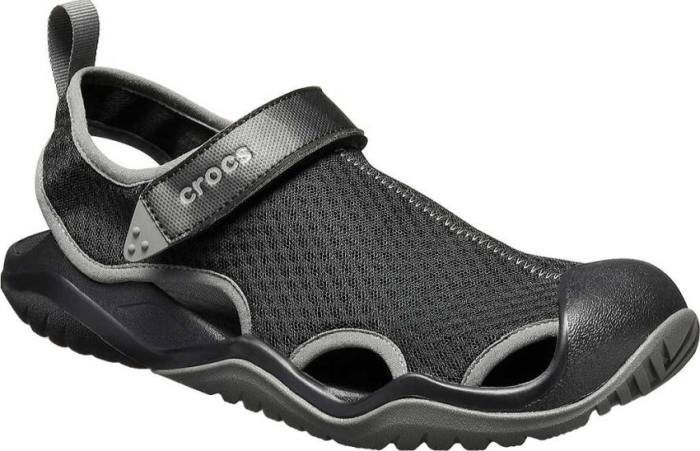 Material: Synthetic mesh upper, sturdy synthetic rubber outsole
Closure: Elastic closure with Velcro strap
Style: Closed-toe sandal/water shoe
Weight: 9.4 ounces (0.26 kg)
Crocs may not be the prettiest-looking brand around, but they know how to make a truly comfortable pair of shoes. These water shoes marry Crocs' signature comfort with a sport-friendly design your feet will absolutely love.
The shoes include both the elastic aperture that allows you to slip your feet in/out with ease and a Velcro strap that will keep the shoes firmly on your feet. The mesh upper is breathable, quick-drying, and allows water to drain out, and you'll find the sturdy footbed is both incredibly tough and supremely comfortable for all day use. Thanks to the herringbone traction, you'll have good grip on wet and slippery surfaces.
Some users found that the sole was a bit too stiff, so they lacked flex for scrambling over rocks or fallen logs. Others complained that the sole wore out and the mesh uppers ripped too quickly. But though they're not the best-quality shoes, they're certainly among the most comfortable you'll ever wear kayaking.
Pros:
Affordable price tag
Incredibly comfortable
Decent support and cushioning
Quick-drying, breathable
Cons:
Not the sturdiest or longest-lasting shoes
Sizes run large
---
Best Fast-Drying Kayaking Shoes: ALEADER Quick Drying Aqua Water Shoes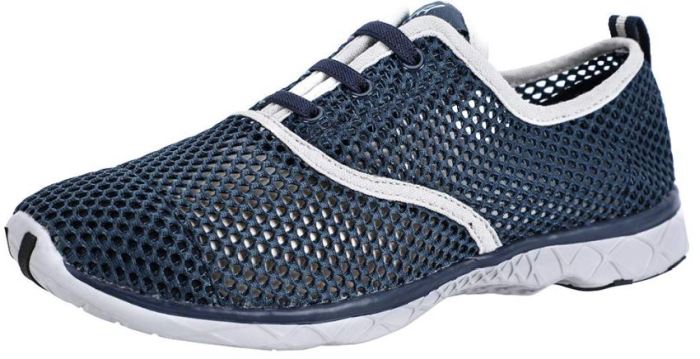 Material: Synthetic mesh upper, synthetic rubber sole
Closure: Integrated lace system
Style: Water shoe
Weight: 11.2 ounces (0.31 kg)
These are unlike any other water shoe you've seen! They don't just come with drainage holes in the side, but also built into the soles. That means water drains out in an instant, and plenty of air can flow into the shoes to accelerate their drying time. Add in the hyper-quick-drying synthetic mesh upper and the water-resistant sole, and you have a shoe that dries faster than any other you've worn to date.
The shoes are fairly lightweight and minimalist in their design, though they are designed for running, grass sports, and water sports as well as kayaking. The integrated lacing system keeps them securely on your feet no matter how active you are, and they're beautifully easy to slip on and off.
On the downside, their quality certainly isn't the best—it's a Chinese-made shoe that suffers all the usual quality control issues—and they're not going to bear up under long hikes across rocky terrain. However, if you just want a good-looking pair of shoes to wear for summer paddling, they're an amazing choice.
Pros:
Inexpensive
Dries faster than any other water shoes on the market
Comfortable and supportive
Fast drainage, excellent ventilation
Cons:
Not the sturdiest; quality control issues abound
May fill up with sand, dirt, and small rocks
---
Best Kayaking Shoes to Use for Paddleboarding: Body Glove Men's 3T Barefoot Cinch Water Shoe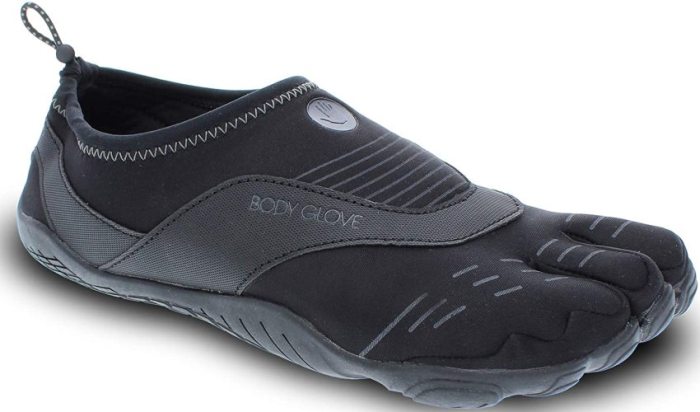 Material: Neoprene upper, rubber sole
Closure: Slip-on, with adjustable strap
Style: Slip-on water shoes
Weight: 1.2 pounds (0.54 kg)
If, like me, you're a kayaker who also loves paddleboarding, these are an amazing pair of water shoes to have handy. They're slim enough that they won't get in your way while standing or kneeling on your paddleboard, but the grippy outsole offers excellent traction even on the water-slicked deck. Add in the minimalist support, and you've got a pair of shoes that will keep you comfortable for hours of paddling.
The neoprene upper offers a snug fit, and you'll find they stay securely in place without slipping or sliding around—so no worries about chafing or blisters. Despite being neoprene, however, they don't offer any sort of insulation against the cold, so you'll want to keep them for warm-weather use.
Pros:
Super slim, low profile, versatile
Sturdy Vibram sole with ultra-grip
Secure fit thanks to neoprene upper and adjustable strap
Priced competitively
Great for swimmers, paddleboarders, and kayakers
Cons:
Not suitable for cold-weather kayaking
Ankle closure may dig in and cause pain
---
Best Lightweight Kayaking Water Sandal: Chaco Men's Z2 Classic Athletic Sandal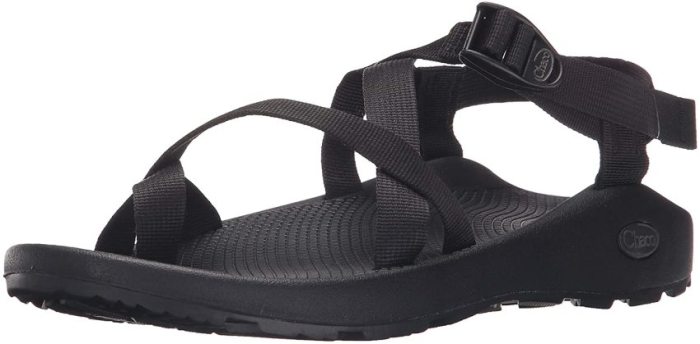 Material: Polyester webbing, rubber compound sole
Closure: Buckle straps
Style: Sandals
Weight: 1 pound (0.45 kg)
If you're a sandals person, you'll love how light and sleek these are. Even the webbing is slim, but grips your forefoot and ankle hard enough to keep your feet securely in place all day long. Thanks to their well-cushioned, dual density midsole, you get good arch support to prevent the joint wear common with flip flops and sandals. Plus, the Chaco rubber compound sole is very grippy, with a 3.5mm lug traction depth that will keep your feet firmly planted on dusty, rocky, or slippery ground.
They're not comfortable right out of the box—you'll have to wear them for a few days to break them in—but once broken in, you'll find they're great for paddling, walking, hiking, or even running. They're also quick-drying and fit wide feet well. However, fair warning: your feet may slide around when the footbed is wet, so move with caution.
Pros:
Decent quality for the reasonable price tag
Versatile and comfortable (once broken in)
Good wet-to-dry transition thanks to the grippy outsole and deep traction
Lightweight, supportive, and stable
Cons:
Footbed gets slippery when wet
Chaco-brand sole is less durable than Vibram rubber
---
Best Neoprene Kayaking Water Booties: NeoSport Wetsuit Boots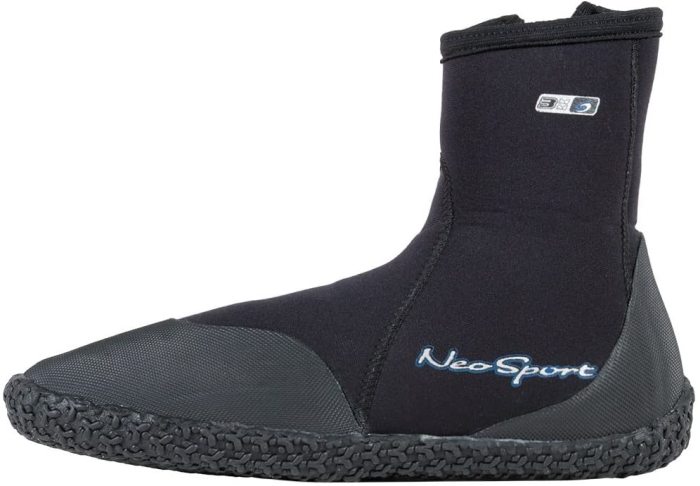 Material: Neoprene upper, rubber sole
Closure: Zipper
Style: Water booties
Weight: 1.45 pounds (0.66 kg)
If you're looking for water booties to wear for cool-weather or cold-weather paddling, these may be just what you need. They're made with sturdy neoprene and come in three thickness options—3, 5, and 7 millimeters—so you have options depending on just how sturdy and insulated you want the shoes to be.
The fit is snug and secure, and you'll love how solidly they stay on your feet once they're zipped up tight. Plus, the water-entry barrier behind the zipper will maximize insulation and prevent water from getting in.
The upper isn't the most durable (a common problem with easily punctured or torn neoprene), but the rubber sole is thick, sturdy, and grippy. Users love how they're comfortable even for walking, and they're sized for people with both extra-long and extra-wide feet.
Pros:
Comfortable for all-day use, walking up to 5 miles
Suitable for cold-weather paddleboarding and kayaking
Sturdy, reliable waterproofing
Aggressive tread, great traction
Cons:
Neoprene is easily damaged
Thin sole may not provide sufficient cushioning from sharp rocks or underwater debris
---
Best Budget Kayaking Shoes: Northside Unisex Brille II Athletic Water Shoe

Material: Neoprene upper, rubber outsole
Closure: Bungee lacing system
Style: Water shoe/aqua sock
Weight: 11.2 ounces (0.32 kg)
If you want a good pair of entry-level water shoes to take out kayaking, you'll love these bad boys. They're designed to slip on, fit snugly like an aqua sock, but include a bungee lacing system that allows you to customize the fit according to the shape of your foot.
The neoprene upper is both quick-drying and well-ventilated, and the rubber outsole offers decent traction on wet surfaces. The built-in EVA insole provides just enough cushioning to keep your feet comfortable all day long, with a toe bumper that makes them suitable for biking, hiking, and sports.
Considering their price, they're a very good choice, though not without their flaws. Users have complained that the shoes slip on wet pool decks, the shoes fill with sand, mud, and dirt, and durability suffers thanks to quality control issues. However, they'll be just what you need to get you started kayaking—and you can always upgrade in a year or two.
Pros:
Quick-drying, breathable, comfortable
Unisex design, sized for both male and female feet
Good arch support and cushioning
Toe bumper protects your toes when walking, hiking, or cycling
Cons:
Quality control issues impact durability
Prone to filling with debris and sand
FAQs
Can you wear sneakers for kayaking?
I don't recommend it, for one simple reason: sneakers aren't designed to get wet. Sneakers are typically made using natural fabrics like canvas, leather, cotton, and wool that a) get very soggy when waterlogged, and b) decompose/break more quickly with repeated exposure to water. You'll waste a good pair of sneakers taking them kayaking. Keep those bad boys for dry land, and buy yourself a pair of shoes specifically for use on, in, and around the water.
Are Crocs good for kayaking?
Crocs may not be the prettiest of shoes, but they're incredibly comfortable, durable, and supportive. They're also made using a super-tough synthetic thermoplastic material that is quick-drying, and their open-toed design allow water to drain out easily. I will say that the Classic Clog has a heel cradle that may be a bit uncomfortable given the position of your feet, but the All Terrain Clog is a sturdier, more secure option to consider, or you could try the Classic Sandal if you like kayaking in flip-flops.
Should I wash my water shoes?
Absolutely! Water shoes are designed to get wet, so it won't damage them any more to wash them. Washing them will get rid of any bacteria, mold, spores, dirt, dust, mud, animal poop (a VERY real problem here in Canada, thanks to all the geese), or debris that could damage or accelerate their deterioration. Wash them in fresh water when you get home, and hang them up to dry in a dark, cool environment. Only put them away once they're fully dry.
How often should I replace my water shoes?
A sturdy, comfortable pair of water shoes can last anywhere from 1-5 years. The sturdier and better-built the shoe is, the longer its lifespan. And, of course, cheaper "budget" shoes will typically break faster. Your activity will also affect its longevity. If you only use it for kayaking, a good pair of shoes can last up to 10 years. However, if you take them hiking, play sports, or run in them, they may break, forcing you to replace them sooner.