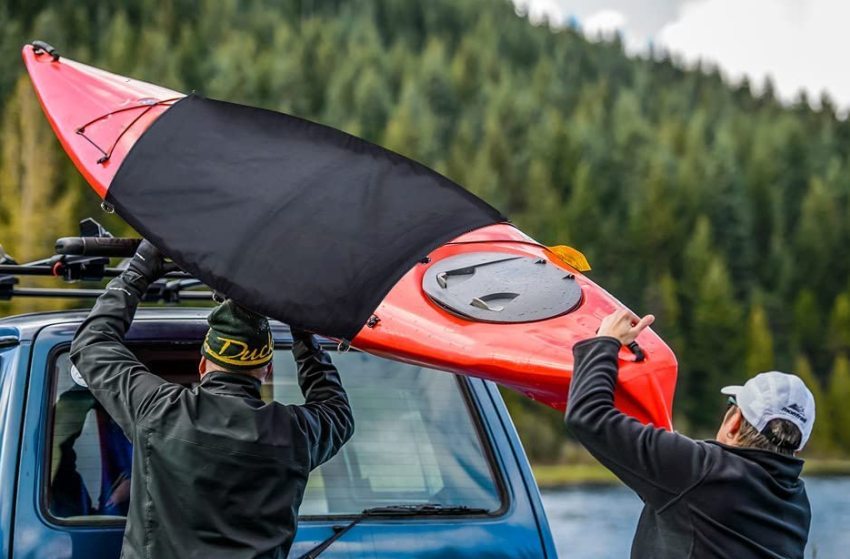 Cockpit covers. Often forgotten or ignored, these simple pieces of gear can go a long way to increasing the lifespan of your kayak. 
A good cockpit cover keeps dust and moisture out of your kayak while in storage. It prevents damage to your outfitting and seat over time. Dust and moisture also cause deterioration of bolts and all the adjustable bits of your boat.
A cockpit cover also stops any rodents seeking shelter over winter from nesting inside your kayak. This means that come spring, you won't get any nasty surprises from your boat. This is also important if you're kayak camping. You don't have to wake up to find insects or snakes taking up residence in your upturned kayak.
Cockpit covers also make a big difference when in transport. They help prevent drag and make your kayak more aerodynamic. Fitting a cockpit cover reduces noise during transport and will slightly increase fuel efficiency. It also stops high winds and rain from damaging your outfitting.
Quick Answer: The Best Kayak Cockpit Covers in 2021
Why You Need a Cockpit Cover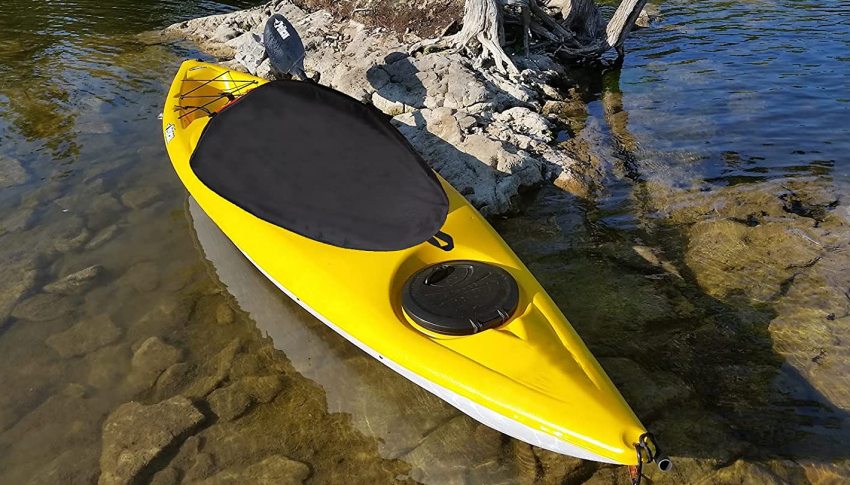 Storage
We all have to store our kayaks. If you live somewhere warm year-round, this might only be for days at a time. If where you live gets rough winters, you might have to put your kayak to bed for six months at a time.
If you store your kayak in the garage, or outside, it spends time exposed to the elements. Damp and dusty conditions corrode outfitting over time. A kayak that spends its time outside will deteriorate far quicker than one which lives covered up.
A kayak can make a cosy den for any critters who want to stay warm. A long winter of nesting in your boat can make for a lengthy cleanup operation come spring. A kayak cover will help prevent rodents, insects and anything else looking for a watertight winter home out.
Some people like to store some equipment in their boats. These covers prevent your kit from getting damaged in storage. Remember to empty your PFD pockets. Rodents love the smell of a snack and will chew through a cover to get to your half-eaten chocolate bar.
Sometimes storage is really short term. Remember to take your cockpit cover with you when you go kayak camping. That way, when you wake up, your seat will still be dry and insect-free.
Remember if you buy a waterproof cover, it works in both directions. Make sure your kayak is fully dried before fitting the cover to avoid mildew and other mould from building up over time.
Transportation
Protection from Dirt
We've all done it. You get your kayak out of the garage for the first paddle of the year, clean and dry. By the time you have driven to the lake on roads wet with snow melt, your kayak is full of grubby water. A cockpit cover means you start with a dry, comfortable ride. You also don't have to spend time drying the inside of your boat, when you could be kayaking.
Reduced Wind Resistance
Keeping your cockpit covered in transport limits wind resistance.
Let's unpack that a bit. Why is wind resistance so bad?
Firstly, anything which adds drag uses more fuel. We all want to be as environmentally responsible as we get out kayaking. And we all want to save money on fuel.
There's more, though. Wind whipping into your kayak over a long time can damage your outfitting. Seat backs and straps are particularly susceptible to being rattled around and wearing over time. If your boat isn't tied down 100%, it can also cause your boat to come loose over time and even come off your roof or trailer.
Noise Reduction
A cockpit cover also reduces the noise. The sound of air in a kayak can become grating after just a few minutes. If you're driving for hours to go on a long trip, put your cockpit cover on and save yourself the mental anguish.
Before you head off anywhere, make sure your cockpit cover is on properly. We cover this in detail below, but you don't want it flying off halfway down the road.
How to Choose a Cockpit Cover for Your Kayak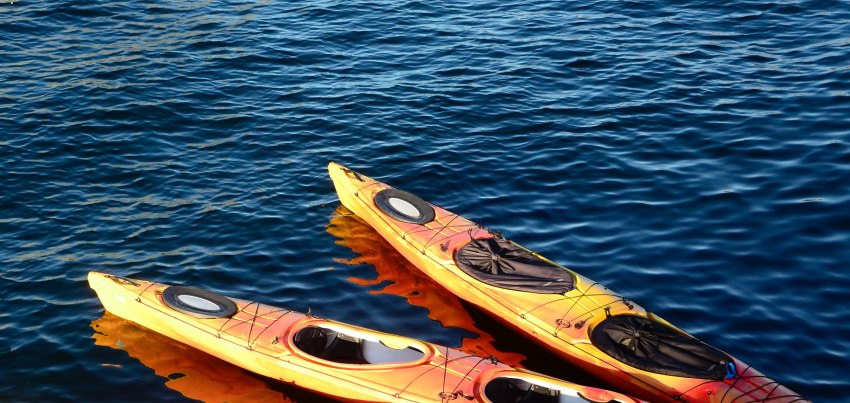 As with everything, there's a lot of options when it comes to kayak covers. There are styles, materials and sizes to consider before you order anything.
If you're planning to store your kayak outside, it's important to pick a cover that is waterproof and UV protective. The same goes if you're going to transport your kayak. For transport, you need a cover that is tight-fitting and not going to damage or come loose.
If your kayak lives in a garage, you may just need a cover that keeps out dust and insects and so may not worry about waterproofing.
Cockpit Cover Materials 
Cockpit covers are very similar to spray decks. Most of them are made from either nylon or neoprene. Others are made from polyester or similar, often with a PVC coating or layer.
Nylon
Nylon is arguably the best suited, all-around material. It is waterproof as well as being dust and UV proof. Nylon cockpit covers range from covers to drapes, which we look into further below. 
Nylon comes in different deniers, or thicknesses. The higher the denier, the more durable your nylon cockpit cover is going to be.
If you're travelling with a nylon cockpit cover, you should ensure the bungee is firmly tightened. You should also make sure your cover is secured elsewhere. Nylon doesn't stretch like neoprene and is therefore more likely to come off in the wind.
Neoprene
Neoprene is heavier duty and more durable than nylon. Neoprene cockpit covers are excellent at keeping out pretty much everything. They're not quite as waterproof as nylon if you're going to be storing your kayak outside, though. 
The major advantage to neoprene cockpit covers is how secure they are. They just stay on the kayaks really well. This is especially important if you travel a lot with your kayak.
PVC
PVC cockpit covers are the most waterproof option out there. The PVC is usually a layer, or coating, on another fabric such as polyester or nylon. These have very similar features to the nylon covers, but are more waterproof and can be more durable. 
How to Size a Cockpit Cover
If you're selecting a cockpit cover that fits around the rim of your kayak, it's important you pick the right size.
Measuring your cockpit is easy. Most manufacturers work off length and width, with some including circumference. Remember, all measurements go to the outside edge of your cockpit rim.
Length is measured from the back to the front of the cockpit.
Width is measured from side to side, at the widest point. This is usually somewhere around where your hips would sit.
Circumference is the measurement around the outside of the cockpit. If you have a malleable measuring tape, run it around the outside edge of the cockpit. If you do not, use a piece of string. Run the string around the outside edge of the cockpit and mark the endpoint. Lay the string out, flat on a bench, and measure.
Many cockpit covers are either universal or fit a range of sizes. Some companies have size charts on their site. While neoprene covers, and to some extent nylon covers, can stretch, it's important they fit your kayak properly to avoid undue wear. 
Cockpit Cover vs. Cockpit Drape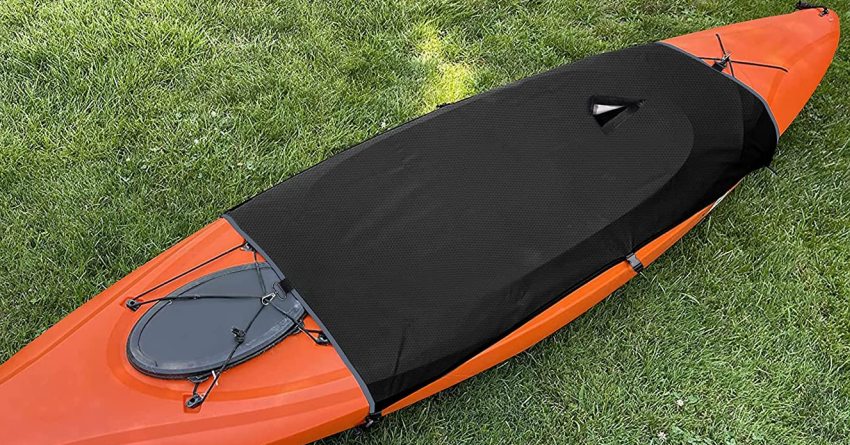 If you look through the choices, you'll see that there are cockpit covers or drapes. Cockpit covers look like a traditional spray skirt, without the waist tube. Cockpit drapes are rectangles of fabric, secured with straps.
Of course, there are pros and cons to each.
Cockpit covers offer the highest level of protection. These fit tight around the cockpit rim and are secured with bungee. This tight fit stops any moisture, dirt or critters from entering your boat.
Cockpit covers are not universal though. Your cockpit cover must be the right size for your kayak and there is no guarantee it will fit multiple models.
For boats with really niche cockpit shapes or sizes, a cover may not be available. A cockpit drape isn't a tight fit, but a large covering piece of fabric secured with bungee or clips. This makes them universal, fitting any kayak.
This universality is great if you have multiple kayaks you need to use this cover for. It also works to cover the seat of a sit-on-top kayak.
These don't travel as well and aren't as tight, though. They may not keep out critters or dust quite as well.
Features to Look For
Design features are the difference between an average and a quality cockpit cover.
Firstly, most covers will come with a grab loop at the front. This makes it much easier to fit and remove the cover. Most will also come with a tether clip. This clip attaches the cover to your deck rigging so it doesn't get lost during transport. 
While neoprene deck covers are tight and spring into place, most nylon covers will come with a bungee tightener. This allows you to fit the cover easily and tighten the bungee to keep it in place.
If you're looking for a cover to stay in place on long journeys, look for one with a hull strap. This simple clip really helps prevent high winds from ripping it off as you drive. 
How to Put on a Cockpit Cover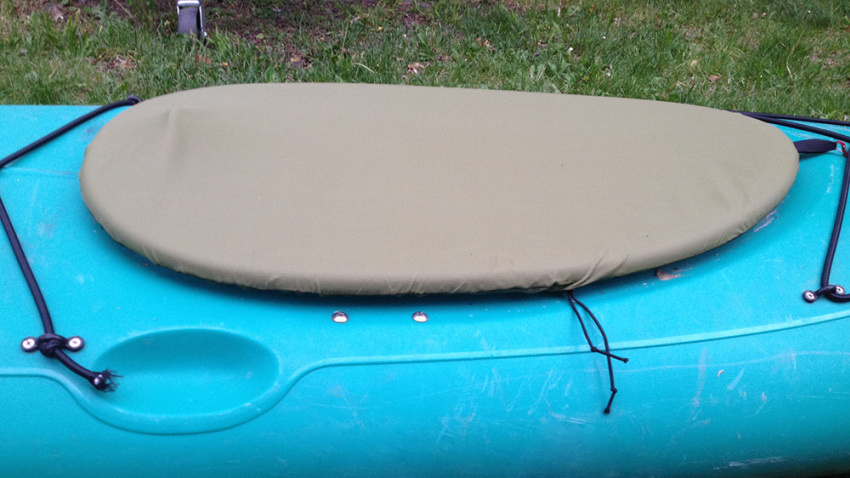 There are loads of videos online which can help show you how to fit your cockpit cover, but here we will go through some basic steps.
Many people choose to straddle their kayak to fit their cockpit cover. If you do, remember that putting weight on your boat on the land can damage the hull.
Start from the rear of the cockpit
Unfurl your cockpit cover. Make sure your cover is in the right way and all handles and straps are outside the boat.
Fit the bungee under the rear of the cockpit rim. There is usually a seam line or similar to show you the centre point.
Work each side around the rear corners of the cockpit. Keep the bungee along the rear edge taught.
Work the sides along the cockpit towards the front of the boat. Before slipping the front edge over the cockpit, ensure any handles are outside the cover.
Once you have fitted the front of the cover, check along the sides to ensure a tight fit. Square up the cover if necessary.
Tighten the cover and attach any clips or tethers.
Using a Kayak Cockpit Cover: Helpful Tips
Always make sure clips, straps and handles are on the outside of the cockpit before you fit the cover.
Dry your kayak thoroughly before fitting your cockpit cover to prevent mildew and mould.
Store your kayak on its side to avoid puddles forming. Over time, a spray skirt can sag and eventually leak if a puddle forms.
If you have to store your kayak upright, place something inside the boat to create a slight peak, or bulge, in the cover. This will help your cover shed water.
Double-check your cockpit cover before transporting your kayak. Always make sure your cover is clipped to a deck line to avoid losing it.
Best Kayak Cockpit Covers: Top Models Reviewed and Rated
Seals Cockpit Seal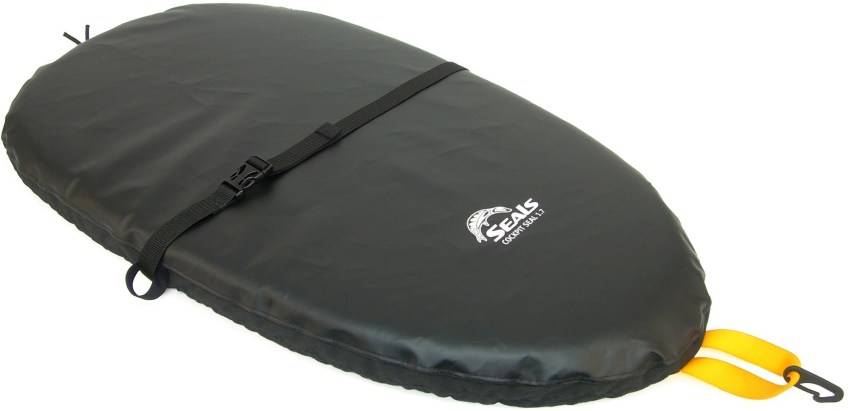 The Seals Cockpit Seal is a nylon reinforced, PVC design. This tear-resistant cover is durable, fully waterproof and gets a snug fit over the cockpit. Thick bungee keeps this secure and a hull-strap makes it extra secure in transit.
What we like: The hull strap. This keeps your cockpit cover really secure when it's top loaded.
What we don't like: The Seals range comes with a lot of different sizes. This means that you get a perfect fit, but you need to be extra certain you're ordering the right size. Here's a sizing guide for Seals products.
---
NRS Super Stretch Neoprene Cockpit Cover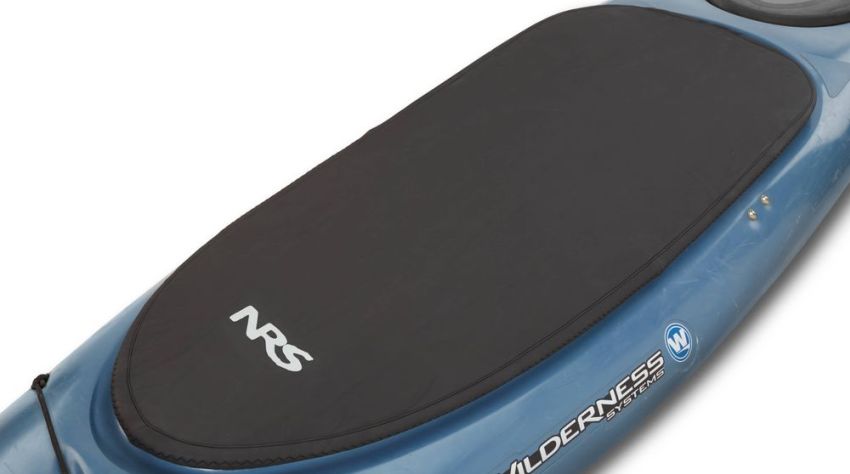 The NRS Super Stretch Neoprene Cockpit Cover is a universal neoprene model. The 1.5 mm neoprene is durable and waterproof. The adjustable shockcord lets this cover fit a range of sizes, from 28 to 40 in. A Universal Plus is available at 40 – 57 in.
What we like: A universal fit and durable neoprene.
What we don't like: No handle on the front or tether point.
---
Seals Neoprene Kayak Cockpit Cover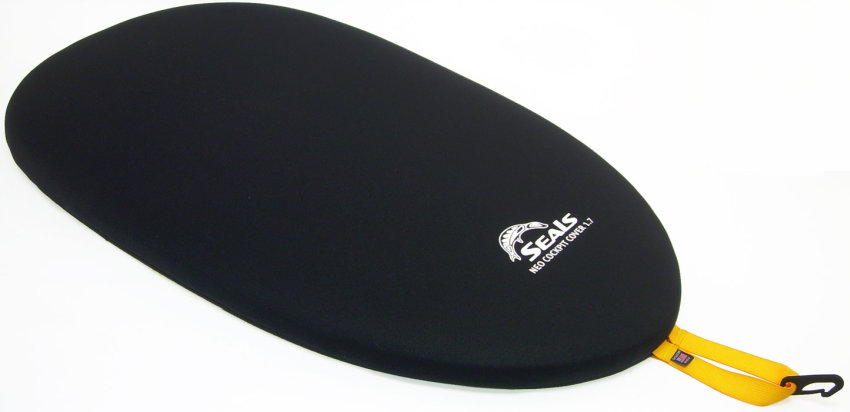 This basic looking, neoprene cockpit cover is the high quality design you would expect from Seals. The 3.5 mm neoprene material is extremely durable and highly effective at keeping out water and dust. 
What we like: Thick and durable design.
What we don't like: Extra thick neoprene can make it difficult to fit initially because it creates such a tight seal.
---
Seals Nylon Cockpit Cover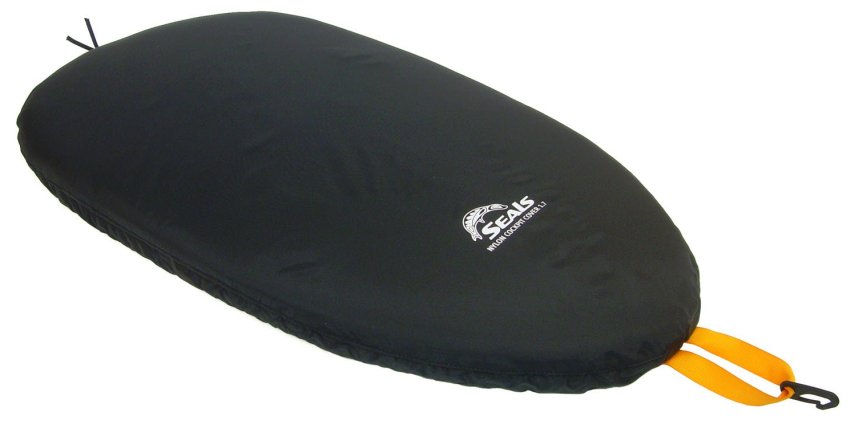 Basic but effective, the Seals Nylon Cockpit Cover does everything you need it to. This nylon cover has an adjustable bungee at the rear to create a snug fit. The handle and tether at the front make it easy to fit and secure this cover. Seals covers come in loads of different sizes. It's worth spending the time checking that you are buying the right size for your kayak. You can find Seals' sizing chart here.
What we like: The simplicity. There's nothing overly complicated about this design, it just works.
What we don't like: Sizing information can be confusing.
---
Wilderness Systems TrueFit Cockpit Cover

The TrueFit Cockpit Cover is a urethane covered nylon design. This material is highly durable and suited to keeping dust and critters out of your kayak. These covers are designed primarily to fit particular Wilderness Systems kayaks. They will fit other kayaks with cockpits of the same dimensions, though.
What we like: Sticky edging to fit snugly and grip the cockpit rim.
What we don't like: Not suitable for car top transportation
---
Perception TrueFit Kayak Cockpit Cover

Similar to the above design, this is a cockpit cover specifically designed to fit Perception kayaks. The TrueFit cover is a fully waterproof, durable urethane-coated nylon design. These have sticky edging to create a snug fit around the cockpit and to remain in position.
What we like: Kayak specific sizing gives the cover a snug fit to keep your boat clean and dry.
What we don't like: Not designed to be used in transport.
---
Harmony Gear Cockpit Cover

Made from durable urethane-coated nylon, this is a simplistic and effective spray skirt. This Harmony cockpit cover comes in a range of sizes but has an adjustable shock cord to create a snug fit. The Harmony cockpit comes in a huge range of sizes and even includes a tandem fit.
What we like: Good waterproofing and available in tandem sizes.
What we don't like: Very snug fit on larger designs and not intended for in-transport use.
---
Seals Cockpit Drape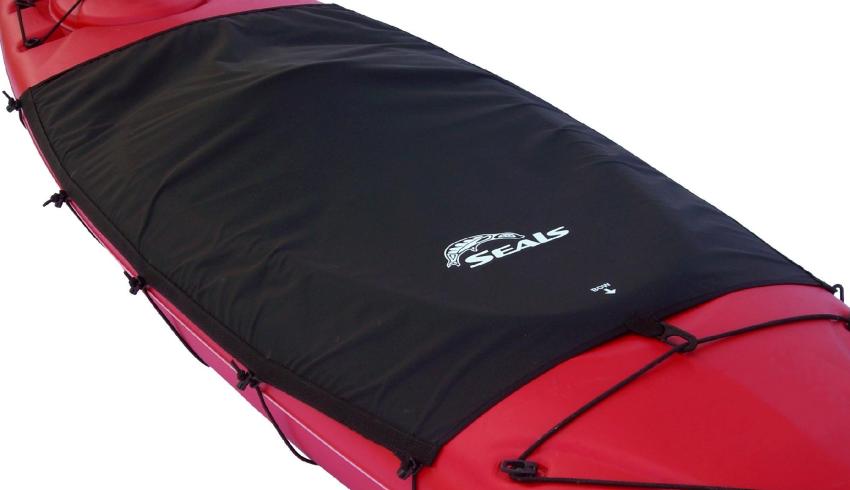 The cockpit drape from Seals is an easy way to get a universal cover for your kayak, without precise cockpit sizing. This nylon design fits over the top of your kayak and secures with adjustable bungee. Once in place, just adjust the bungees to create a snug fit.
What we like: Universal fit for a range of kayaks or difficult to fit kayak cockpits.
What we don't like: Drapes don't fit as tightly as covers and may not keep out water or critters as effectively.
---
Explore Land Universal Kayak Cockpit Drape (2 Pack)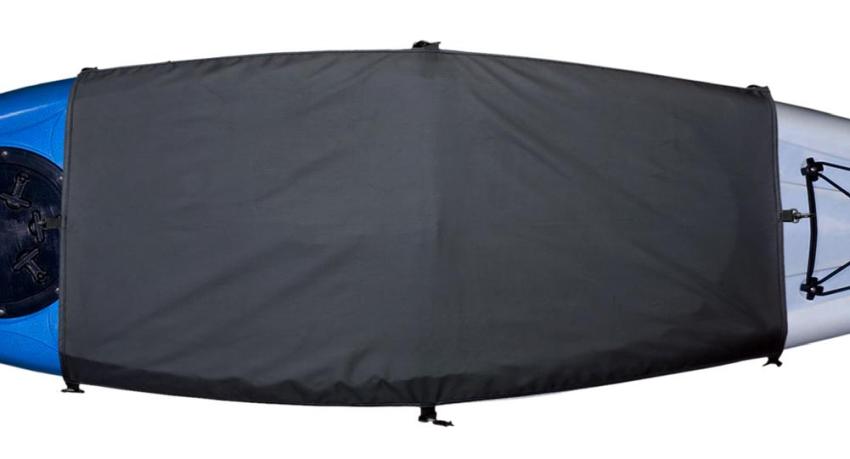 The Explore Land Universal Kayak Cockpit Drape is an easy to use, universal cover for all kayaks. This 600 denier, marine grade, waterproof lined polyester design can keep out just about any weather. Adjustable bungee cords can be cinched tight to keep a snug fit. This is especially useful in transporting your kayak.
What we like: Simple, durable and fits a huge range of kayaks.
What we don't like: Drapes don't prevent all moisture, just rain. A really determined critter might make its way in, too.
---
Seals Tandem Cockpit Cover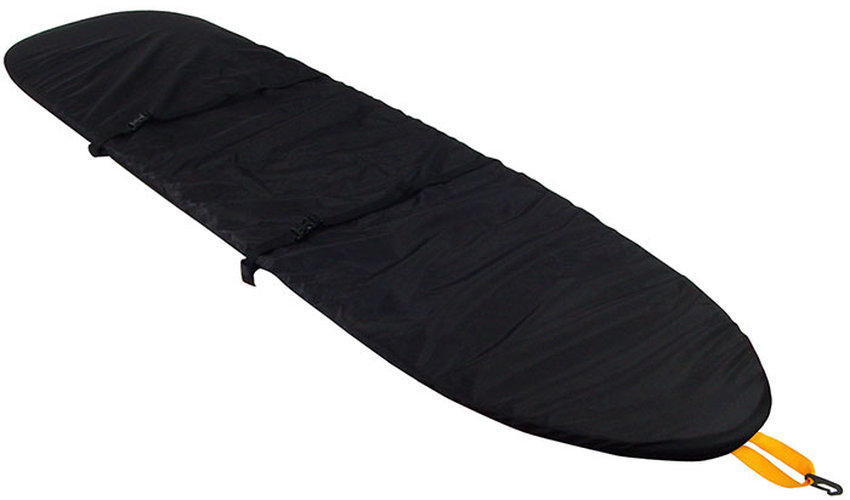 Open-cockpit tandem kayaks have a lot of room for water and dirt to accumulate over time. The Seals Tandem Cockpit Cover fits snug over the tandem cockpit and the security straps keep it in place in transit. This urethane coated nylon is lightweight and durable.
What we like: Secure and watertight cover which can be used in transit.
What we don't like: Sizing has to be spot on to get the right seal.
---
Docooler Cockpit Cover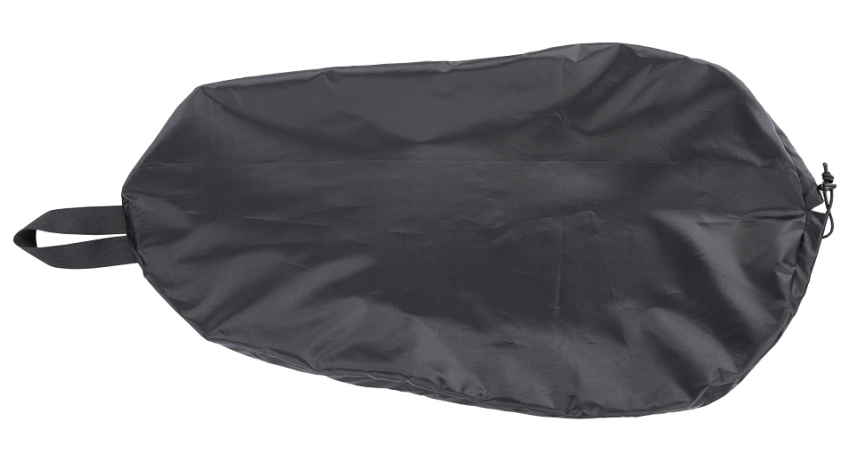 The Decooler Cockpit Cover is an affordable option that does the job. The oxford cloth design keeps out dust and some rain. It's most effective at preventing UV damage and letting your kayak breathe. For long term storage, this is important to prevent mould build-up.
What we like: Affordable and straightforward.
What we don't like: Oxford cloth isn't totally waterproof. This model does the job but doesn't create the tightest seal.