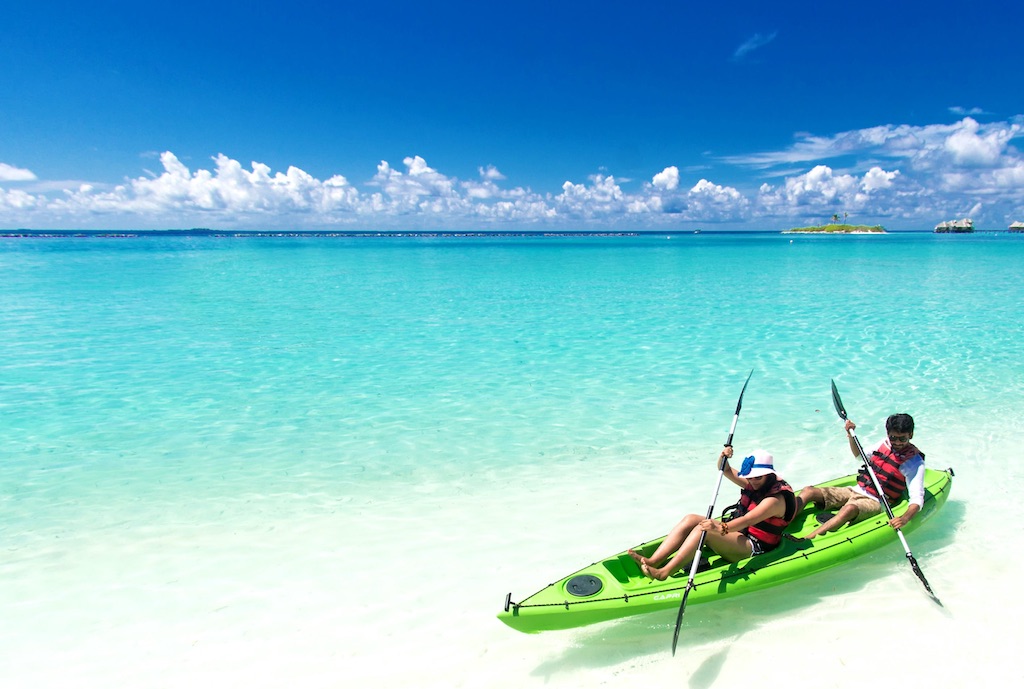 Kayaking is an excellent way to get out and enjoy some quality time on your local lake or river. But with so many great options to choose from, finding just one kayak for your needs can be a challenge.
Things get even more complicated when you have to decide between a sit on top kayak (SOT kayak) and a sit in kayak for your adventures. Although everyone has their own personal preferences, sit on top kayaks are popular because they're stable, offer plenty of legroom, and are easier to get in and out of.
We know how tricky it can be to get the right sit on kayak for your needs, which is why we've put together this review of the best models on the market today. Up next, we'll walk you through our top ten picks and then offer some tips for selecting the best model for your needs.
Quick Answer: Best Sit on Top Kayaks in 2021
Comparison Table
Kayak Reviews

Weight: 48.5 lbs (22 kg)
Length: 9'5" (287 cm)
Capacity: 300 lbs (136 kg)
Providing a fantastic mix of affordability and performance for newer kayakers, the Perception Tribe 9.5 is a great model for testing the waters in a sit on top boat.
Featuring a compact length and a reasonable weight, this boat is easy enough to transport and carry to and from the water. It's made from high-density polyethylene using rotational molding technology which allows for an ultra-durable kayak that can be used in up to Class II rapids.
The Perception Tribe 9.5 may not be loaded up with features, but it does have an adjustable seat for a bit of extra comfort. It also comes with two deck wells for gear storage, in addition to a small dry hatch in the cockpit for stashing smaller bits of equipment.
Wrapping up the Perception Tribe 9.5's list of features is its broad, rounded hull that provides ample stability in flat water and plenty of maneuverability in moderate river rapids.
Key Features
Two deck wells for gear storage
Adjustable seat
Rotomolded construction
What we like
Easy to transport
Plenty of gear storage
Durable materials
Stable and maneuverable
What we don't like
Doesn't track well
Not ideal in windy conditions
---

Weight: 68 lbs (30.8 kg)
Length: 10' (304.8 cm)
Capacity: 440 lbs (199.6 kg)
Offering stability, comfort, and an impressive maximum weight capacity, the FeelFree Moken 10 V2 is a good option for paddlers that need a comfortable boat for shorter trips on the water.
Although it's a bit heavy for a 10' boat, the Moken 10 V2 is still light enough for transport and it does offer a respectable 440 lbs maximum capacity for larger paddlers. It also has two sizable deck wells for storing all the equipment you might need for the day.
Despite its relatively small size, the Moken 10 V2 still offers a lot in the way of comfort. Its EZ Rider seat is fully adjustable and pairs well with the boat's foot braces for added control on the water.
As one of the best sit on top fishing kayaks around, this model boasts a wide, stable hull and non-slip deck pads to help you maintain your balance as you cast your lines. It also has two flush mounted rod holders, as well as multiple attachment points for your fishfinder and other accessories.
Key Features
Flush mounted rod holders
Compatible with fishing accessories
Fully adjustable seat
What we like
Wide, stable platform for standing
Comfortable, adjustable seat
Foot braces for added control
High weight capacity
What we don't like
Somewhat slow on the water
---

Weight: 88 lbs (40 kg)
Length: 13'5" (411 cm)
Capacity: 600 lbs (272 kg)
For paddling duos that want the most out of their kayak, the Wilderness Systems Tarpon 135T is hard to beat. This fully-featured tandem sit on top boasts a nice list of different comfort and performance-related characteristics that are ideal for frequent kayakers.
Right off the bat, the first benefit we can spot with this kayak is the amount of legroom and space it offers to each paddler. With 2 fully adjustable seats, 2 cockpit dry storage hatches, and 2 deck wells, as well as plenty of space to stretch your legs, the Tarpon 135T is a good choice for kayakers that don't like to feel cramped on the water.
At 88 lbs, the Tarpon 135T is also a reasonable weight for a tandem kayak. When combined with its two rigid carry handles, it's a relatively easy boat for two paddlers to transport to and from the car.
Finally, this kayak has a wide, rounded hull, which allows for plenty of primary stability in calm conditions. Its long length and slightly V-shaped bow also provide improved tracking through the water.
Key Features
Two dry storage hatches
Comfortable and adjustable seats
Rigid carry handles
What we like
Great primary stability
Relatively lightweight
Lots of gear storage
Slightly improved tracking
What we don't like
Not very stable in windy conditions
---

Weight: 57 lbs (26 kg)
Length: 10'6" (323 cm)
Capacity: 326 lbs (147 kg)
When you need a general all-purpose kayak for any outdoor adventure, the Perception Pescador 10.0 is ready to answer the call.
Designed to be one of the best sit on top kayaks for beginners and intermediate paddlers, alike, the Pescador 10.0 is also a good option for anglers that don't want to spend a fortune on a new boat. It has a variety of fishing-specific features, such as 2 flush-mounted rod holders and 2 YakAttack gear tracks, which make it easy for you to mount accessories and electronics.
The Pescador 10.0 is also one of the few budget-friendly options that offers a padded seat for comfort as well as adjustable foot braces. Moreover, the boat comes with a large rear deckwell and a dry hatch in the bow for ample gear storage while on the water.
Overall, this kayak's rounded hull and stability makes it a solid choice for recreational paddlers that want to have just one boat that can handle a wide range of paddling activities and that doesn't break the bank.
Key Features
Flush mounted rod holders
Accessory attachment system
Dry hatch for gear storage
Adjustable foot braces
What we like
Compact size for transport
Angler-specific features
Good primary stability
Relatively affordable
What we don't like
Not great at tracking
Somewhat slow in the water
---

Weight: 47lbs (21 kg)
Length: 9'6" (290 cm)
Capacity: 250 lbs (113 kg)
Budget-friendly to the core, the Perception Rambler 9.5 is a solid choice for older kids and new kayakers.
The Rambler 9.5 is rotationally molded from high-density polyethylene and has a one-piece construction that's burly enough to last through years of use. At 47 lbs (21 kg), this boat is quite light and portable, making it an easy kayak to load onto your car. The Rambler can carry up to 250 lbs (113 kg).
When it comes to features, the Rambler 9.5 is decidedly slim on the extra frills due to its affordable price. However, it does have a small rear deck well with a bungee cord for storage and molded foot braces for added control on the water.
Additionally, the Rambler 9.5 has a very wide, rounded hull, which provides excellent stability in calm waters. While it's not a great option for very choppy seas, it's a great boat for fun afternoons out on the water for the whole family.
Key Features
Molded foot braces
Small stern storage area
Compact size
What we like
Very affordable
Durable rotomolded construction
Highly stable in calm conditions
What we don't like
Seat is not very comfortable
Doesn't track well, especially in the wind
---

Weight: 43 lbs (20 kg)
Length: 10' (305 cm)
Capacity: 300 lbs (136 kg)
Crafted specifically to be one of the best sit on top kayaks under $300, the Pelican Challenger 100 Angler is a beginner-friendly boat that doesn't skimp on features.
Boasting one of the most affordable price points on the market, the Challenger 100 Angler is also surprisingly light for a 10' (305 cm) long boat. It also has a solid 300 lb (136 kg) weight capacity, which makes it a good choice for older children and adults, and a round hull for stability.
Despite its cost-effectiveness, this boat still has a relatively comfortable adjustable ERGOFORM seat with a large backrest for lumbar support. It also has molded foot braces for improved control over the boat while maneuvering.
To make your fishing experience easier, the Challenger 100 Angler has two flush mounted rod holders behind the seat. Moreover, the boat boasts a large self-bailing tank well in the stern that's just the right size for lashing down a milk crate full of tackle or a fish cooler to hold the day's catch.
Key Features
Self-bailing rear tank well
Adjustable foam seat
Two flush mounted rod holders
What we like
Lightweight and compact
Stable in calm conditions
Very affordable
High weight capacity
What we don't like
Does not track very well
Slow in the water
---

Weight: 82 lbs (37.2 kg)
Length: 12' (370 cm)
Capacity: 400 lbs (181.4 kg)
Crafted by sportsmen for sportsmen, the Old Town Predator MX is the go-to sit on top kayak for fishing and hunting from the water.
Featuring Old Town's proprietary Tri-Hull design, the Predator MX is one of the most stable boats. However, unlike many flat-hulled boats, this model doesn't sacrifice speed in exchange for stability.
Plus, the Predator MX comes with a host of different angling-specific features, such as a slip-resistant exo-ridge deck so you can stand upright to cast your lines. Other great fishing features include rod tip holders, rod-retainer bungees, and dual tackle holders for storing all your gear.
While this kayak isn't exactly the lightest on the market, it does have a completely removable seat. It's also accessory-compatible, so you can quickly mount a fish finder or GPS and head right out on the water.
Key Features
Tri-Hull design for stability
Slip-resistant deck
Fishing rod holders
Removable seat
What we like
Very stable hull design
Relatively fast for a sit on top boat
Fishing accessory compatible
What we don't like
---

Weight: 95 lbs (43 kg)
Length: 14'1" (169 cm)
Capacity: 550 lbs (250 kg)
Blending a large carrying capacity with precision maneuverability, the Wilderness Systems A.T.A.K. 140 is an all-around quality kayak that can also handle longer days on the water and day touring trips on your local lake or river.
Thanks to its 14'1" (429 cm) length, this boat is naturally inclined to track well in the water. Of course, this added length translates to added weight, but Wilderness Systems designed the A.T.A.K. 140 with two rigid carry handles for easier transport.
Where this boat really shines is in terms of its smart design. It has a comfortable AirPro MAX seating system that can be reclined and adjusted to provide you with better visibility of the water and a large cockpit for standing and casting lines.
Additionally, the A.T.A.K. 140 has 2 SlideTrax Accessory Systems for quickly mounting your favorite pieces of gear. Rounding off its list of features is two large dry hatches for gear storage so you can bring whatever you need to enjoy your time on the water.
Key Features
AirPro MAX seating system
Large dry hatches
Accessory mounting systems
What we like
High weight capacity
Very spacious cockpit
Tracks well, even without a rudder
What we don't like
Quite heavy
High center of gravity is less stable in choppy waters
---

Weight: 92 lbs (41.7 kg)
Length: 14'2" (431.8 cm)
Capacity: 500 lbs (226.8 kg)
One of the burliest sit on top kayaks on the market today, the Jackson Big Tuna is a versatile boat for fun days on the water.
This kayak can be paddled either solo or tandem, thanks to its flexible seating options. Each seat is built with sturdy air mesh that allows for plenty of breathability and lumbar support at the same time.
For added performance, the Big Tuna has a rounded hull toward the center of the boat but quickly transitions into a V-shaped hull at the bow for better gliding through the water. It's even fully rudder compatible so you can get improved tracking on longer paddles.
The boat also comes with a number of flush mounted rod holders and a large enough deck space for casting lines. For ease of use it even has a sizable deck well that can be used to hold a cooler or as a live fish well, depending on your needs.
Key Features
What we like
High weight capacity
Can be paddled solo or in tandem
Plenty of deck space for casting lines
Versatile deck well
What we don't like
Very heavy
Rudder sold separately
---

Weight: 104 lbs (47.2 kg)
Length: 10'6" (320 cm)
Capacity: 525 lbs (238.1 kg)
A premium motorized kayak for long days on the water and short overnight fishing trips, the Old Town Sportsman 106 Powered by Minn Kota is a boat for situations where hauling in a big catch is a top priority.
The Sportsman 106's 45 lb (20.4 kg) thrust 212V saltwater Minn Kota motor provides all the umpf you need for convenient forward propulsion. It's also coupled with a powerboat-style throttle to allow for an easier driving experience.
When it comes to features, this boat has 3 flush mounted rod holders as well as 4 different accessory mounting tracks. For added convenience, the Sportsman 106 is even compatible with rechargeable batteries so you can keep your GPS unit or fish finder powered at all times.
If that wasn't enough, this kayak has pre-installed hull wiring kits and a universal transducer mount so you can quickly hook up your fish finder without the need to drill into the hull. It also comes with a custom tackle box and plenty of storage space for all your gear.
Key Features
Minn Kota motor
Universal transducer mount
Powerboat-style throttle
Custom tackle box
What we like
Intuitive motorized driving experience
Pre-rigged for a fish finder
Lots of gear storage
Easy to mount various accessories
What we don't like
---
How to Choose the Best Sit on Top Kayak
Selecting the right sit on top kayak for your needs is no walk in the park. With so many great options available, it's critical that you know what to look for as you shop.
To get you started, here are the most important things to keep in mind as you choose your next sit on kayak.
Intended Use
The very first thing to consider before you buy a kayak is what you intend to use it for. As you can imagine, if your primary goal is to go out on a short afternoon paddle around the lake, your ideal boat is going to be different from someone looking to go on overnight fishing trips.
Once you have an idea of what you'd like to use your boat for, you can start to narrow down your different options based on their various features and designs.
Tandem vs. Solo
After you know what you'll use your kayak for, you'll have to decide whether you'd like a tandem or a solo kayak. The majority of paddlers opt for a solo kayak because it provides you with more flexibility to paddle whenever and wherever you choose. But, if you're keen to paddle with a friend or partner, or you only have the budget for one boat, a tandem is a solid option. Many tandem kayaks can be paddled solo with a lot of room for gear.
Overall Size & Weight
Sit on top kayaks come in a wide range of different weights and sizes. In general, boats that are smaller will also be lighter, though extra features will almost always add weight to a kayak.
While a shorter boat often means weight savings and enhanced portability, it comes at the expense of tracking ability and gear storage capacity. Thus, if you're looking to carry a lot of gear or you'd like a boat that's easier to paddle in a straight line, a longer, slightly heavier kayak might be a good choice.
Weight Capacity
Maximum weight capacity is an important measurement to keep in mind because it tells you how much load a kayak can handle. For maximum performance, one should not load a kayak beyond 80% of its stated weight capacity.
So, when shopping for a boat, keep in mind both your weight – and your paddling partner's weight, if you're getting a tandem – as well as the weight of your gear. Then, be sure that you choose a model that provides more than enough weight capacity to accommodate you on the water.
Comfort
No one wants to be uncomfortable while paddling, so finding a kayak that's designed with comfort in mind is key. Since sit on top kayaks naturally offer quite a lot of legroom, much of the comfort in these boats comes from the quality of the seat.
In general, a seat that's made from durable foam and mesh provides a good mix of padding and breathability. An adjustable seat is also ideal because it allows you to get just the right amount of lumbar support for a day of paddling.
Gear Storage
If you're planning to go out on a fishing trip or an overnight camping adventure in your boat, you'll need plenty of gear storage space to stash all your equipment.
Many sit on top kayaks come with tank wells, which are open-top storage areas where you can place coolers and other bulky items.
Alternatively, if you want to keep your gear dry and secure, a boat with purpose-built dry hatches is a must. These hatches are generally only found on kayaks with higher price points, so there's a bit of a trade-off here in terms of affordability.
Fishing-Specific Features
The anglers among us will want to pay attention to the fishing-specific features that some sit on top kayaks offer. While features vary from boat to boat, flush mounted rod holders, tackle box storage areas, and accessory mounting panels are all must-haves for avid anglers.
Other great features include a universal transducer mount for a fish finder and a large enough storage space for lashing down a fish cooler. High-traction, non-slip decks are also useful if you like to stand up frequently to cast your lines.
Performance
Paddling performance is important to anyone that buys a kayak, but it's also a somewhat difficult thing to quantify. This is because performance is not just one feature of a boat, but the result of many smaller design choices. Here are a few things to keep in mind when it comes to performance in a sit on top kayak:
Hull Design
The hull design of a boat has a direct impact on the kayak's stability and speed in the water. That said, the majority of sit on top kayaks have a fairly rounded hull, which means they offer excellent primary stability in calm conditions. Conversely, they are not as great in windy conditions because they lack secondary stability.
This rounded hull can be detrimental to the speed of the boat, though it does allow for increased maneuverability. Keep in mind that many high-end sit on top kayaks have more of a V-shaped hull toward the bow and the stern, which allows them to better glide on the water.
Tracking
Tracking refers to the ability of a boat to maintain a straight line in the water. While some of this is a result of paddling ability, it's also a reflection of the length of the boat and whether or not it has a rudder.
Longer boats are naturally better at tracking and those with rudders or skegs are even better at staying on course in the wind. Most paddle-propelled sit on top boats don't come with a rudder, but many are compatible with after-market rudder options. For pedal-powered kayaks, a rudder comes standard as it is the only way to turn the boat.
Conclusion
If you made it to the end, congratulations! Here's our summary table again: