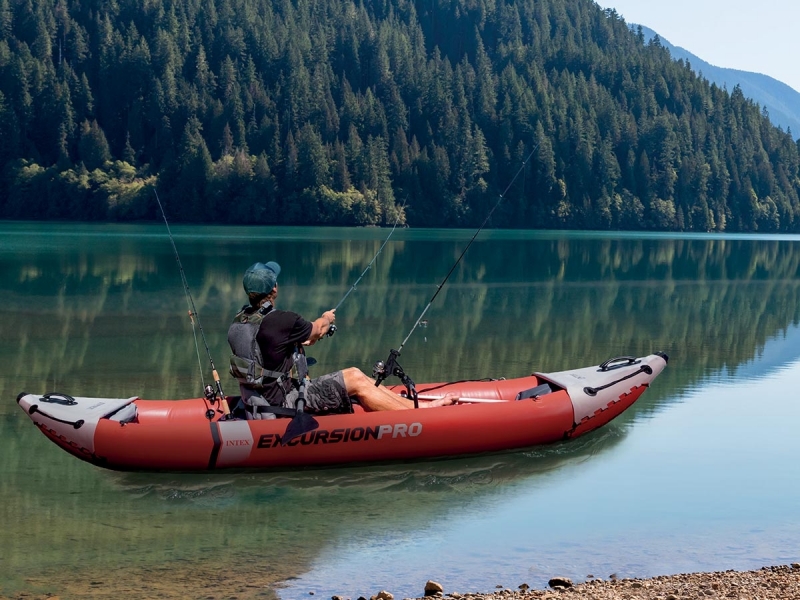 Getting into the kayak fishing game doesn't always mean you should spend a small fortune to purchase a cool, feature-packed boat. Since kayak fishing has exploded in popularity over the last few decades, many of the industry's top brands have worked hard to produce kayaks that are more budget-friendly. For those who are brand new to the sport, or just trying to save a few bucks, there are some great models out there that won't break the bank.
RELATED: Best Fishing Kayaks: Reviews and Ultimate Buying Guide
It's no secret that—like anything else in the fishing industry—you'll get what you pay for. A premium fishing kayak will typically cost $1,000 or more, which is quite an investment (see our overview of the best fishing kayaks under $1,000). That said, you might be surprised to learn that there are some rather impressive kayak models out there that are available for less than $500.
It can be a tall task for someone who's totally new to the sport of kayak fishing to determine whether or not a certain kayak model is actually a good deal. We've taken the time to comb through some of the most prominent brands in the industry, along with a handful of the newest companies out there to compile this list of the best buget fishing kayaks for 2021.
Quick Answer: Best Budget Fishing Kayaks in 2021
We think Intex Excursion Pro is the best fishing kayak you can buy for under $500. It offers a lot of versatility, has great capacity, is very sturdy, and is portable enough to go with you about anywhere.
There are some really cool fishing kayaks you can buy for less than $500:
Comparison Table: Best Cheap Fishing Kayaks in 2021
---
Lifetime Tamarack Angler

Length: 10′ (305 cm)
Width: 31″ (78.7 cm)
Weight: 51 lb (23.1 kg)
Capacity: 275 lb (124.7 kg)
The Lifetime Tamarack Angler is an outstanding option for anglers on a budget. It is a fishing kayak that takes care of business and offers just what you need for catching fish. While this model lacks some of the more modern comforts, the features it does have are worth noting.
The Tamarack Angler is relatively lightweight at just 51 lbs (23 kg), meaning it will be easy to handle outside the water and also cartop if you choose to. There isn't an abundance of storage space, but this model does offer two dry storage hatches—one in front of the seat and one behind.
Crafted from UV-protected high-density polyethylene, the Tamarack Angler is designed to be a rigid, durable kayak that performs well on the water. Many users report that the kayak offers enough stability to allow them to stand while fishing. At just 10' (304.8 cm) in length, the Tamarack Angler is a great option for budget-minded anglers or kids.
What we like:
Great maneuverability
Lightweight
Good stability
What we don't like:
Limited capacity
Seat lacks padding
See Lifetime Tamarack Angler on Amazon
---
Intex Excursion Pro

Length: 12'7″ (384 cm)
Width: 37″ (94 cm)
Weight: 39 lb (17.7 kg)
Capacity: 400 lb (181 kg)
Having an inflatable kayak is a major advantage if you like to travel light and take your boat with you into the furthest reaches of the wilderness in search of game fish. The Intex Excursion Pro is an excellent choice for anglers who are looking for a reasonably priced fishing kayak. It is made to be very durable and can accommodate two users.
The Intex Excursion Pro makes a strong case for being the top kayak on our list. It's made from reinforced 3-ply PVC with high-pressure spring-loaded valves that allow for quick inflation and solid rigidity which makes it feel and handle just like a rotomolded kayak in some cases. This kayak can be used in saltwater or freshwater without deterioration.
The Excursion Pro also comes with removable and adjustable mounting brackets that allow you to install accessories such as fish finders, camera gear, rod holders, and more. This is a great option to include in an RV, or for couples who want to pack their fishing gear in their vehicle and hit the road.
What we like:
Highly portable
Can be used as a tandem or solo
Good handling
Quick inflation time
What we don't like:
Lacks storage capacity
Low seat position
See Intex Excursion Pro on Amazon
---
Pelican Sentinel 100X

Length: 9'5″ (290 cm)
Width: 30″ (76 cm)
Weight: 45 lb (20.5 kg)
Capacity: 275 lb (125 kg)
Pelican is known as one of the top brands when it comes to producing budget-friendly kayaks. The Sentinel 100x is a super lightweight, compact kayak that's ideal for young anglers or those who want a model that's easy to cartop or load into the bed of a pickup truck.
This kayak has a decent amount of storage space and offers many features that are commonly found on premium fishing kayaks. Users report that the Sentinel 100x outperforms most other affordable kayak models and stays true to Pelican's reputation for being easy to maneuver. It's even possible to stand and fish in this model as long as you're in calm waters.
It has extra storage compartments that come in quite handy for seasoned anglers who need to bring a decent amount of gear with them. This model is a solid choice for anglers of any skill level and an easy addition to our list of the best fishing kayaks under $500 for 2021.
What we like:
Lightweight and compact
Good storage capacity
Adjustable seat
What we don't like:
No dry storage
Not suitable for standing in choppy conditions
See Pelican Sentinel 100X on Amazon
---
Vibe Skipjack 90

Length: 9′ (274 cm)
Width: 32″ (81.3 cm)
Weight: 46 lb (20.9 kg)
Capacity: 300 lb (136 kg)
The Vibe Skipjack 90 is a great choice for anglers who prefer a shorter, wider framed boat that is lightweight enough to be easily cartopped or loaded into a truck bed. At just 9' (274 cm), this model is ideal for kids as it is easy for them to handle on the water and focus more on fish instead of fighting to position their kayak.
The Skipjack 90 offers a surprisingly comfortable seat with an adjustable backrest that helps you get the right reclining position for all-day fishing trips. Users report that they can stand and fish in most conditions, but it's often hard to stand up and sit back down due to the seat being positioned so low.
The lightweight kayak's wide frame helps novice anglers feel safe and protected from flipping over. While it lacks the amount of speed that experienced users might desire, the Skipjack 90 is relatively easy to maneuver and feels right at home in calm reservoirs and slow-moving rivers.
What we like:
Lightweight, compact
Good stability
Moderately comfortable seat
What we don't like:
Lacks speed
Low seat position
See Vibe Skipjack 90 on Amazon
---
FeelFree Move Angler

Length: 9′ (274 cm)
Width: 30" (76 cm)
Weight: 40 lb (18.1 kg)
Capacity: 242 lb (109.7 kg)
FeelFree's Move Angler kayak is another inexpensive option. It comes in a compact 9' (274 cm) body with the right features for any angler. It's a short and nimble fishing kayak that has the ability to go just about anywhere you want to take it.
At just 40 lbs (18.1 kg), this is an outstanding option for anglers who are in the market for a lightweight option that can easily be transported just about anywhere. FeelFree's patented Wheel in the Keel gives this model a surprising amount of maneuverability, so even a teenager should not have any problems moving it around.
Note that this model isn't the best if you plan to cover a significant amount of water, because it is rather slow compared to other kayaks due to its short hull.
What we like:
Lightweight and compact
Good maneuverability
Good stability
What we don't like:
Slow
Limited storage space
See FeelFree Move Angler on Austin Kayak
---
Perception Sound 10.5

Length: 10'6″ (320 cm)
Width: 29.5″ (75 cm)
Weight: 46 lb (23 kg)
Capacity: 335 lb (152 kg)
Sit-on-top kayaks are usually the most popular style when it comes to fishing models. However, there are some sit-inside models that are capable of functioning as either recreational or fishing kayaks. Perception Sound 10.5 is one of those. It has plenty of features and offers exceptional tracking and speed compared to other models on our list.
This compact model is right at home in lakes, rivers, and anywhere else you want to go. At just 10'6" (320 cm) long, and only 46 lbs (23 kg), you won't have any problem handling it outside the water and launching from just about anywhere.
It's not advisable to stand up while you fish in this one, but if it's speed you're after, the Perception Sound 10.5 is likely the top option on our list of the best fishing kayaks under $500 for 2021.
What we like:
Good speed
Gear tracks and ample storage
Lightweight
What we don't like:
Not made for standing
No skid plate
See Perception Sound 10.5 on Amazon
---
Sevylor Coleman Colorado

Length: 10'7″ (326 cm)
Width: 36'5″ (92.7 cm)
Weight: 32.9 lb (15 kg)
Capacity: 470 lb (213.2 kg)
The Sevylor Coleman Colorado is an outstanding option for budget-minded anglers who like to bring a fishing buddy (or a lot of gear) along with them on the water. Made from super thick 18-gauge PVC with a tarpaulin bottom, this two-person kayak is designed to go just about anywhere you want to take it.
The seats can be adjusted and the Coleman Colorado can actually be used in solo or tandem mode. While it lacks the same amount of storage capacity you might find in common fishing kayak models, there are plenty of mesh pockets on the sides that allow users to stash their gear in.
This is another great option for anglers who want to have the ability to take their kayak almost anywhere without much hassle.
What we like:
Great portability
Solid feel when fully inflated
Includes rod holders
What we don't like:
Limited storage
Be careful not to over-inflate
See Sevylor Coleman Colorado on Amazon
---
Pelican Argo 100XP Angler

Length: 10′ (305 cm)
Width: 29″ (74 cm)
Weight: 41 lb (18.5 kg)
Capacity: 300 lb (136 kg)
The Pelican Argo 100XP Angler is another sit-inside option that offers good speed and has the hull design to cut into the water. It lets anglers cover considerable amounts of water during their fishing trips.
This model is good for recreational kayaking down rivers and across lakes, but can also function as a simple fishing kayak just about anywhere. The Argo 100XP is a super compact, lightweight boat that has a surprising 300 lbs (136 kg) of overall load capacity.
This kayak doesn't offer the best stability when compared to sit-on-top kayaks on our list, but you'll definitely make every paddle stroke count as it does feature excellent tracking and speed.
What we like:
Good speed
Solid tracking
Limited lifetime warranty
What we don't like:
Limited stability
Limited storage space
See Pelican Argo 100XP Angler on Amazon
---
Sun Dolphin Journey

Length: 9'5″ (291 cm)
Width: 29.5″ (75 cm)
Weight: 44 lb (20 kg)
Capacity: 250 lb (113.5 kg)
The Sun Dolphin Journey is designed to function as a go-anywhere kayak that's right at home on swift rivers, coastal regions, or serene freshwater lakes. This model's hull design is able to cut through the water in a way that doesn't produce as much drag as the more widely designed options on our list.
With a capacity of just 250 pounds, large users might want to look elsewhere for a capable option. However, for kids or small adults, this kayak has everything you need for casual fishing trips.
The Sun Dolphin Journey offers an oversized dry storage stern hatch, and adjustable foot pegs that let users get extra leverage when paddling.
What we like:
Good tracking, speed
Quality features
Ample storage
What we don't like:
Lacks seat padding
Limited capacity
See Sun Dolphin Journey on Amazon
---
Aquaglide Chinook 100

Length: 10′ (305 cm)
Width: 37″ (94 cm)
Weight: 23 lb (10.4 kg)
Capacity: 400 lb (181 kg)
Another model that is able to function in solo or tandem mode, the Aquaglide Chinook 100 is designed to perform in rivers or lakes. This option might not be the most stable on our list, but users will find it to be relatively sturdy in calm waters.
The Chinook 100 is ideal for novice or young anglers who are just entering the sport of kayak fishing. It can be inflated and deflated within a few minutes and features a weedless fin that functions as a rudder and helps to improve tracking.
With comfortable, breathable seats, the Chinook 100 will keep users dry and let them focus on catching fish on all-day journeys across lakes and rivers.
See Aquaglide Chinook 100 on Amazon
---
How to Choose a Budget Fishing Kayak Under $500: Things to Consider
Where You Fish
The kayaks on our list are made for fishing on smaller lakes and other bodies of water as they lack the extra storage capacity needed for extended, multi-day journeys. When choosing your kayak, it's important to keep in mind the particular bodies of water you plan to fish and make sure your boat is stable enough to keep you above the water. If you normally fish on rivers or places where the water can be rough and choppy, make sure to get a kayak that has a high level of stability.
Kayak Type: Sit-on-Top vs. Sit-inside
Sit-on-top Kayaks
Sit-on-top kayaks are becoming the most popular options when it comes to fishing models. This is mainly due to better stability, which sometimes allows users to stand up while fishing. Standing provides anglers with a distinct advantage, giving them a greater field of visibility and allowing for longer casts.
If you do happen to tip over in a sit-on-top kayak, it's fairly easy to get back on top of your vessel and out of the water quickly. These types of kayaks are most often recommended for novice anglers as they allow them to enjoy a higher sense of confidence in their kayak and focus on fishing rather than staying afloat.
Sit-inside Kayaks
Sit-inside kayaks are the more traditional designed versions that have the user seated much lower to the water. This low center of gravity helps to give the user more leverage when paddling, which allows them to have greater overall speed when compared to the more widely-built sit-on-top versions.
The main issue most anglers find with sit-inside models is the lack of features that are suited for fishing. Sit-inside kayaks don't typically offer as much storage as their sit-on-top counterparts and there can sometimes be a lack of flat space on top to allow for the installation of electronic equipment, rod holders, camera gear, and other items.
Hard-shell vs Inflatable
Thanks to advancements in technology and design, many of the industry's top brands are able to produce inflatable kayaks that offer surprising amounts of features and on-the-water performance. Some of the top professional anglers in the kayak industry see inflatable kayaks as the future of the sport in many ways thanks to their ability to be transported just about anywhere.
Many of the top inflatable kayaks are now crafted from rugged, puncture-resistant PVC material that can stand up to just about anything you'll encounter on the water. One of the main complaints with inflatable kayaks is the lack of comfortable seats and storage capacity.
That said, hard shell kayaks, mostly thermoformed or rotomolded from polyethylene plastic, still dominate the industry. This material is tough, flexible, and lightweight enough to make great fishing kayaks that last for many users.
Thermoformed models are now increasing in popularity. These models are formed over a mold (with rotomolded kayaks, you pour the material inside a mold which is then rotated). There are various methods to produce thermoformed kayaks and the industry's major brands are creating models that are more and more efficient each year.
Portability
It's important to consider just how you'll get your kayak to and from the water's edge. This can be a major factor in getting to the best fishing locations. A compact, lightweight model will be especially easy to mount on top of a vehicle or secure in the bed of a pickup truck. The ease of portability is part of the reason why so many users are opting for inflatable kayaks that can be carried in a backpack-style bag.
Capacity
Pay close attention to a kayak's overall capacity rating as this will indicate just how much gear you'll be able to pack into your boat. If you weigh more than 225 pounds, capacity should be a major concern and you may need to take a detailed inventory of your gear items and the total weight you will put on your kayak. Many of the models listed here offer limited capacity, which may not be enough for large users or those who like to bring along a lot of gear.
Features
When you're choosing among cheap kayaks that are available for under $500, there will inevitably be certain features that are not included on some models. The most popular premium fishing kayak models will come with all the bells and whistles, but boats that are priced at under $500 typically offer the bare minimum amount of fishing features.
The seat on a budget-friendly fishing kayak is usually much less comfortable than the high-priced options. When looking for a kayak, keep in mind whether you can picture yourself being comfortable for hours at a time when sitting in each model. The more padding, the better.
Storage is also a crucial component of a fishing kayak. You'll need a lot of space to bring along your tackle boxes, cooler, bags and other items. Some of the more popular models will offer dry storage hatches which allow anglers to stash items inside and keep them protected from the elements. Look closely at each model you're considering for purchase and note whether it offers smaller gear pockets and other areas that are capable of storing fishing tackle.
Installing electronic equipment (such as a fish finder) on a budget-friendly kayak is often pretty tricky. There is a limited surface area to mount electronic displays, as well as difficulties associated with installation of a transducer, battery, and cables.
Conclusion
Even if you don't have a lot of money, that does not mean you can't go kayak fishing. You can buy a good boat for just a few hundred bucks and explore new places, catch new trophies, and experience the great outdoors in new, exciting ways.
Now that you know what to look for in a cheap fishing kayak, here's our comparison table again to help you make the choice: