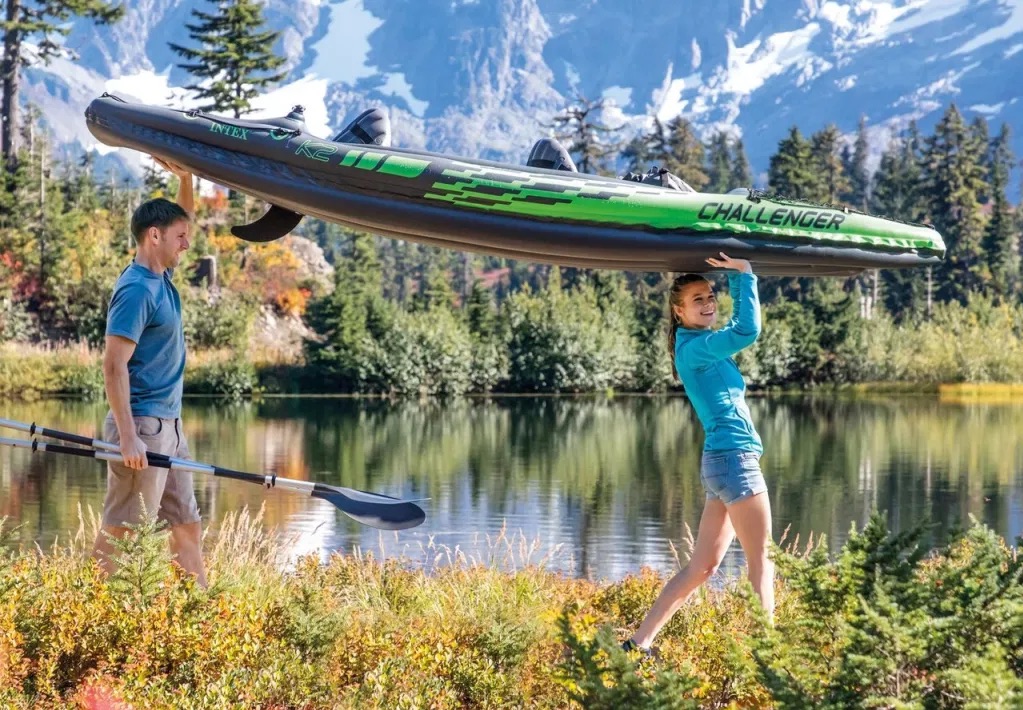 Whether it's a six-person raft careering down raging torrents, a series of rubber rings cruising lazily down a hazy river on a sunny day or a paddle board surfing up the sandy beach, inflatables have a rich and varied history on the water. In fact, just a few years ago the famous kayaker Rafa Oritz rode a pool toy down a 70ft waterfall.
Inflatable kayaks are nothing new, but while older designs lacked structure and integral strength, new materials and stitching styles mean these boats are increasingly progressive and can compete with their rigid counterparts.
With so many models to choose from, how do you find the best inflatable kayak for your needs? We have reviewed the most popular models that we think will dominate the market in 2021. Enjoy!
Quick Answer: Top Rated Inflatable Kayaks
Intex Challenger – Best Budget Kayak
Intex Explorer K2
Sevylor Quikpak K1 – Best Lightweight Inflatable Kayak
Advanced Elements AdvancedFrame – Best Recreational Inflatable Kayak
Advanced Elements AirFusion Evo – Best Performance
Driftsun Almanor 110
Advanced Elements StraitEdge
Sevylor Coleman Colorado
Advanced Elements StraitEdge Angler
Sea Eagle 385fta FastTrack Angler – Best Inflatable Fishing Kayak
STAR Pike – Best Inflatable Sit-on-Top Kayak
Driftsun Rover 120
Sea Eagle SE300X Explorer
Advanced Elements Attack Pro – Best Inflatable Whitewater Kayak
Intex Excursion Pro – Best Buy
Driftsun Almanor 146 – Best Inflatable Tandem Kayak
Advanced Elements AdvancedFrame Convertible
Driftsun Voyager
Sea Eagle 330
Sea Eagle 370 – Best Weight Capacity
BOTE Deus Aero – Most Innovative Design

Comparison Table: Best Inflatable Kayaks
Picture
Model
Specs
Price
Intex Challenger
Size: 9' x 30"
Weight: 27.2 lb
Capacity: 220 lb
Amazon
Intex Explorer K2
Size: 10'3" x 36"
Weight: 30.6 lb
Capacity: 400 lb
Amazon
Sevylor Quikpak K1
Size: 8'7" x 3'
Weight: 18 lb
Capacity: 400 lb
Amazon
Advanced Elements AdvancedFrame
Size: 10'5" x 32″
Weight: 36 lb
Capacity: 300 lb
Amazon
Advanced Elements AirFusion Evo
Size: 13' x 24″
Weight: 32 lb
Capacity: 235 lb
Amazon
Driftsun Almanor 110
Size: 11' x 34″
Weight: 23 lb
Capacity: 300 lb
Amazon
Advanced Elements StraitEdge
Size: 9'8" x 35″
Weight: 34 lb
Capacity: 300 lb
Amazon
Sevylor Coleman Colorado
Size: 10'9″ x 39″
Weight: 40 lb
Capacity: 470 lb
Amazon
ADVANCED ELEMENTS StraitEdge Angler
Size: 10'6″ x 38.5″
Weight: 45 lb
Capacity: 400 lb
Amazon
Sea Eagle 385fta FastTrack™ Angler
Size: 12'6″ x 36″
Weight: 48 lb
Capacity: 635 lb
Amazon
STAR Pike
Size: 12'8″ x 38″
Weight: 48 lb
Capacity: 375 lb
Austin Kayak
Driftsun Rover 120
Size: 8'6″ x 36″
Weight: 22 lb
Capacity: 300 lb
Amazon
Sea Eagle SE300X Explorer
Size: 9'10" x 3'3″
Weight: 30 lb
Capacity: 395 lb
Amazon
Advanced Elements Attack Pro
Size: 9'9" x 35"
Weight: 25.5 lb
Capacity: 225 lb
Amazon
Intex Excursion Pro
Length: 12'7" x 37"
Weight: 39 lb
Capacity: 400 lb
Amazon
Driftsun Almanor 146
Size: 14'6" x 40"
Weight: 33 lb
Capacity: 600 lb
Amazon
Advanced Elements AdvancedFrame Convertible
Size: 15' x 32″
Weight: 52 lb
Capacity: 550 lb
Amazon
Driftsun Voyager
Size: 11'2" x 35″
Weight: 32.5 lb
Capacity: 400 lb
Amazon
Sea Eagle 330
Size: 11'2" (340 cm)
Width: 34″ (86.4 cm)
Weight: 26 lb (12 kg)
Capacity: 500 lb (227 kg)
Amazon
Sea Eagle 370
Size: 12'6" x 34″
Weight: 33 lb
Capacity: 650 lb
Amazon
BOTE Deus Aero
Size: 11' x 33″
Weight: 41 lb
Capacity: 300 lb
Amazon
Inflatable Kayak Reviews
Intex Challenger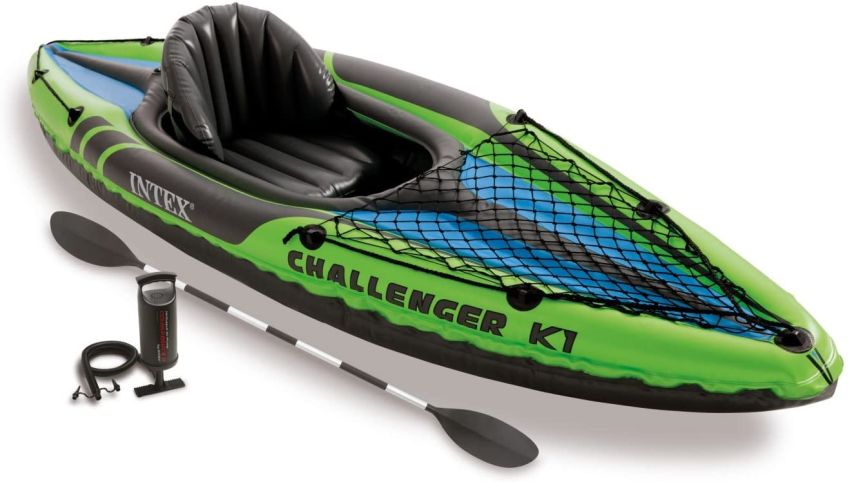 Length: 9' (274 cm)
Width: 30" (76 cm)
Weight: 27.2 lb (12.3 kg)
Capacity: 220 lb (99.8 kg)
Intex Challenger is probably the most popular entry-level inflatable kayak. Simple, portable, and easy to inflate/deflate, it is a viable option for occasional recreational paddlers looking to save space and money.
The kayak measures 9' (274 cm) by 30" (76 cm) and weighs 27.2 lb (12.3 kg). It packs away nicely in the included carry bag. With the capacity of 220 lb and somewhat limited legroom, it is geared towards smaller paddlers with minimal gear.
Intex Challenger is made from vinyl, which makes it light and compact but not nearly as durable as higher-level inflatable kayaks made from reinforced PVC. Two separate inflatable chambers (plus the inflatable seat) help with safety, but we still recommend staying close to the shore.
Features include a cargo net on the bow for your gear, an inflatable seat with a relatively high back, and a plastic skeg on the bottom that helps it track better. The kayak comes with a hand pump and a 3-piece paddle which you'd better replace as soon as possible.
There is also a tandem version of this kayak, the Intex Challenger K2.
See Intex Challenger on Amazon
---
Intex Explorer K2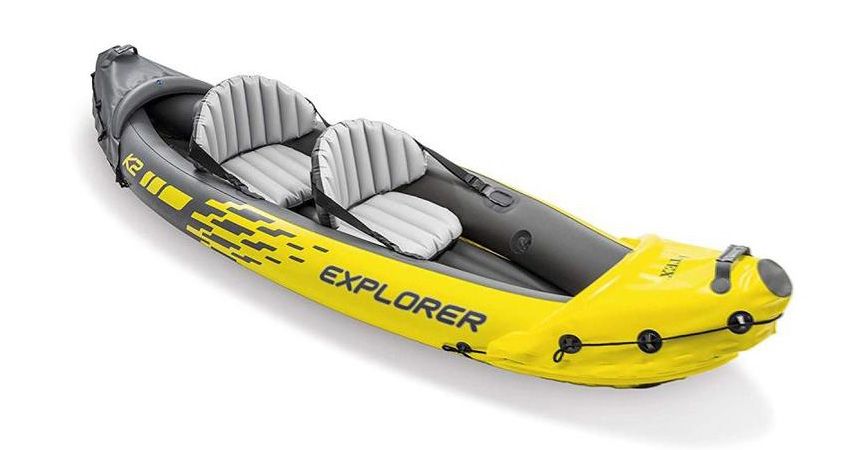 Length: 10'3" (312 cm)
Width: 36" (91 cm)
Weight: 30.6 lb (13.9 kg)
Capacity: 400 lb (180 kg)
This budget 2-person kayak is 10'3" (312 cm) long and 36" (91 cm) wide. It has an open, canoe-like design with small decks on the bow and the stern.
Tipping the scales at 30.6 lb (13.9 kg), the Explorer K2 is rated for up to 400 lb (180 kg). 400 lb is not that much for two people, so it's best suited for smaller paddlers.
The boat is made from vinyl and includes 3 main inflatable chambers (2 sides and the floor). The two inflatable seats are attached with velcro strips on the bottom and side straps that provide back support.
Features include a removable skeg that helps with tracking as well as grab lines and carrying handles on the bow and the stern. The kayak comes with two aluminum-shaft paddles, a hand pump, a repair kit, and a carry bag.
Intex Explorer K2 is best used for short recreational paddles on small, calm bodies of water. Its compact size, lightweight construction, and low price make it an easy first step into kayaking. Whatever you do, do not go far from the shore in it, and always wear your PFDs.
For longer trips, look for models made from reinforced PVC, which is much more durable and puncture-resistant. Also bear in mind that this kayak is pretty short for a tandem, so it provides limited legroom, storage space, and capacity.
See Intex Explorer K2 on Amazon
---
Sevylor Quikpak K1 1-Person Kayak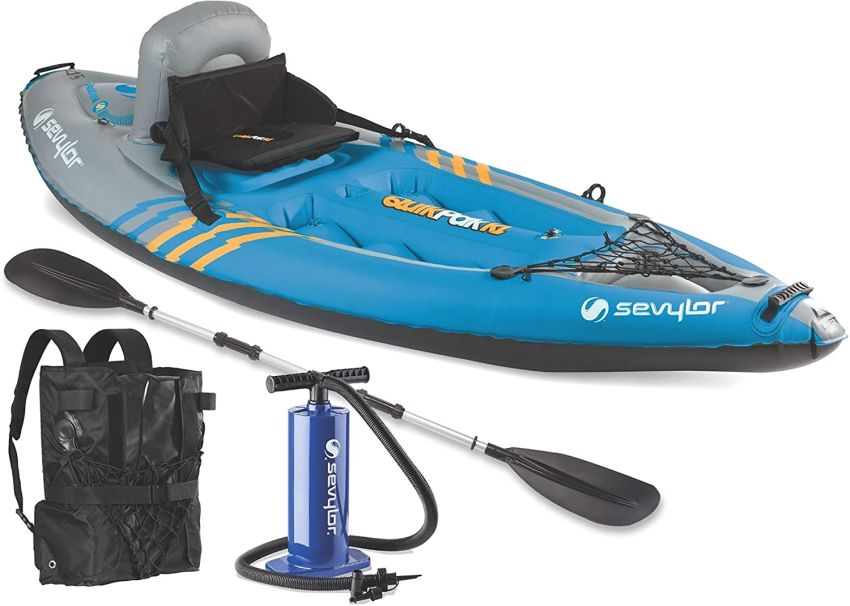 Length: 8'7" (262 cm)
Width: 3' (91 cm)
Weight: 18 lb (8 kg)
Capacity: 400 lb (181 kg)
Sevylor Quikpak K1 promises a five-minute setup, a backpack that turns into the seat, a durable PVC construction with a puncture-protected floor, multiple air chambers for safety, and even integrated, inflatable footrests.
This small sit-on-top boat is 8'7" (262 cm) long and 3' (91 cm) wide. Weighing only 18 lb (8 kg), it is light enough to carry for about any adult. The capacity of 400 lb (181 kg) is more than impressive for such a small vessel. The kayak features 5 inflatable chambers if you count the backrest and two inflatable footrests, so it will let you get to the shore even if you puncture one of the chambers. Still, the vinyl hull is not as durable as PVC used on higher-priced boats, so we would not recommend going far from the shore in it.
The kayak comes with a hand pump and a cheaply made collapsible paddle which you'd better replace immediately. Other features include a bungee net on the bow, a small flat storage platform behind the seat, a paddle holder, and two carrying handles.
The kayak's sit-on-top design and generous capacity mean that even larger people will have enough legroom and feel safe while paddling.
Sevylor Quikpak K1 is a short and wide boat with a flat bottom (other than two tiny skegs that don't do much), so you can't expect to get any speed or tracking out of it. It also tends to be blown around by the wind quite a bit. In terms of stability, you should be OK on flat water, but this boat is not suitable for waves, wind, or current.
Overall, Sevylor Quikpak K1 can be recommended if you just want to try kayaking and see if you like it, or if you live in a small apartment with very limited storage space. It also makes a great beach toy. Its portability and low weight let you throw it in the trunk and leave it there just in case you need it.
See Sevylor Quikpak K1 on Amazon
---
Advanced Elements AdvancedFrame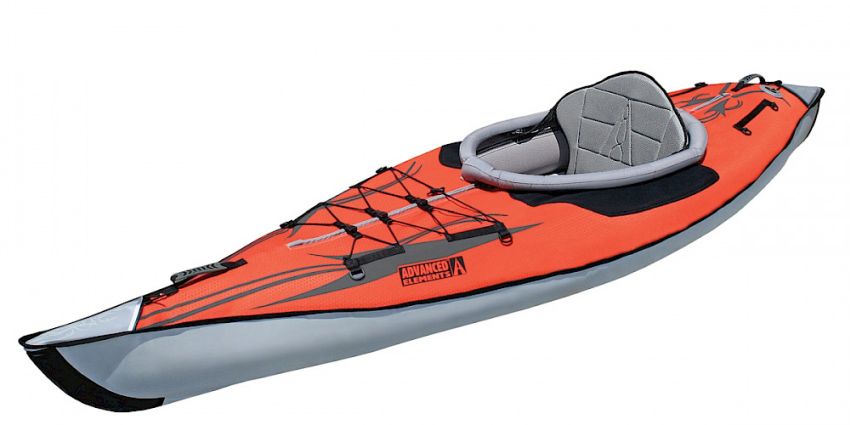 Length: 10'5" (317.5 cm)
Width: 32″ (81.3 cm)
Weight: 36 lb (16 kg)
Capacity: 300 lb (136 kg)
If you're looking to step it up and get a kayak that can go the distance, Advanced Elements AdvancedFrame is a strong contender.
It combines rigid aluminum frame elements with inflatable air chambers to achieve the portability of an inflatable kayak with some performance characteristics of a hardshell boat. The sharp keel on the bow and stern pierces through the water, ensuring excellent speed and tracking. The reinforced 3-layer PVC material is tough as nails, while multiple air chambers improve safety on the water even if you manage to puncture the hull.
A big advantage of the AdvancedFrame is that although it does have aluminum ribs on the bow and the stern, they are pre-installed so you don't have to do any frame assembly. Just inflate the air chambers, and you're good to go.
Tests have shown that the AdvancedFrame delivers on its promises. It glides through the water seamlessly and can handle some wind and waves. It is stable, fast, and fun to paddle. It is also very comfortable, allowing you to stay on the water for hours.
At 36 lb, it is not the lightest boat in our review (although still completely manageable). Nor does it offer a lot of storage space, so it's probably not the best choice for camping trips. However, if you just want to paddle around on your favorite lake and enjoy your time on the water, you'll be hard-pressed to find a better solution.
See Advanced Elements AdvancedFrame on Amazon
---
Advanced Elements AirFusion Evo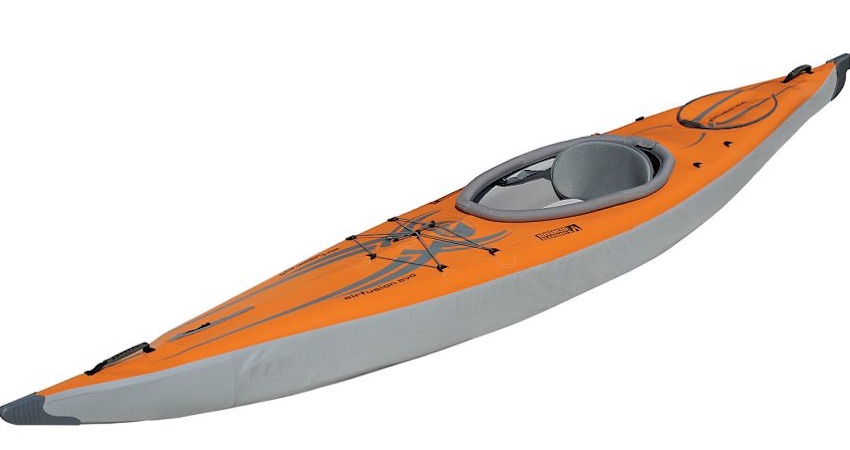 Length: 13' (396.2 cm)
Width: 24″ (61 cm)
Weight: 32 lb (14.5 kg)
Capacity: 235 lb (106 kg)
The Advanced Elements AirFusion Evo pushes the limits of a recreational kayak and is equally great as a day touring boat.
Unlike the super-popular AdvancedFrame model, the AirFusion does need some assembly, including some fumbling with aluminum poles, inflation tubes, etc. It also has drop-stitched walls which must be inflated to about 6 psi, which takes some effort. But once you're on the water, the AirFusion Evo rewards you with great speed and tracking.
At 13′ by 24″, this kayak is pretty long and narrow, so it's not as stable as some wider, beginner-friendly boats. The capacity of 235 lb (106 kg) is also something to be aware of.
If your priority is performance and you're OK with weight limitations and some assembly time, the Advanced Elements AirFusion Evo might be a great choice.
See ADVANCED ELEMENTS AirFusion Evo on Amazon
---
Driftsun Almanor 110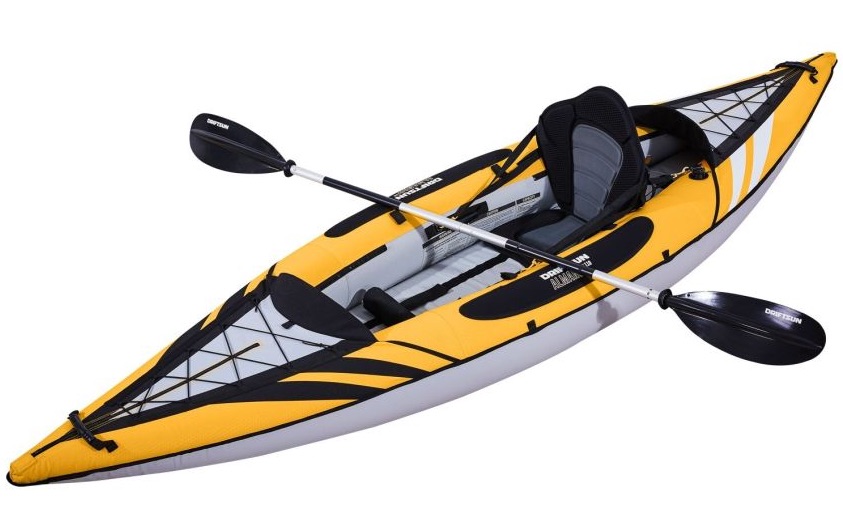 Length: 11' (335.2 cm)
Width: 34″ (86.3 cm)
Weight: 23 lb (10.4 kg)
Capacity: 300 lb (136 kg)
Driftsun Almanor 110 is a recreational inflatable kayak for flat water and light waves. It is 11′ long and 34″ wide, weighs only 23 lbs and can carry up to 300 lbs.
The hull of the Almanor is made from rugged 600D polyester and 24 gauge air bladders. The boat has three inflation chambers, one on each side and one on the floor.
Features include an EVA padded seat with a high adjustable backrest, an adjustable footrest, and a removable skeg for better tracking. The kayak comes with a dual-action high pressure pump and a travel bag.
See Driftsun Almanor 110 on Amazon
---
Advanced Elements StraitEdge

Length: 9'8" (312 cm)
Width: 35″ (89 cm)
Weight: 34 lb (15 kg)
Capacity: 300 lb (136 kg)
Looking for an inflatable kayak that is ready for some adventure? The Advanced Elements StraitEdge may be the answer. It's a crossover kayak that is equally at home on calm waters and in mild rapids (up to Class III).
The boat is 9'8" (312 cm) long with a 35″ (89 cm) beam. Tipping the scales at just 34 lbs (15 kg), it is very easy to carry to and from the water. The overall capacity is 300 lbs (136 kg), which should be enough for average-sized adults with a reasonable amount of gear.
StraitEdge's most prominent design feature is that it is self-bailing. The floor is above the water level, and any water that gets into the cockpit will drain out through small holes near the bottom. This is useful in white water where you get wet anyway, while in calm conditions or colder weather, you can close the self-bailing ports and enjoy a drier ride.
The kayak is made from durable PVC and has aluminum ribs that form a sharp keel on the bow and stern to improve speed and tracking.
See ADVANCED ELEMENTS StraitEdge on Amazon
---
Sevylor Coleman Colorado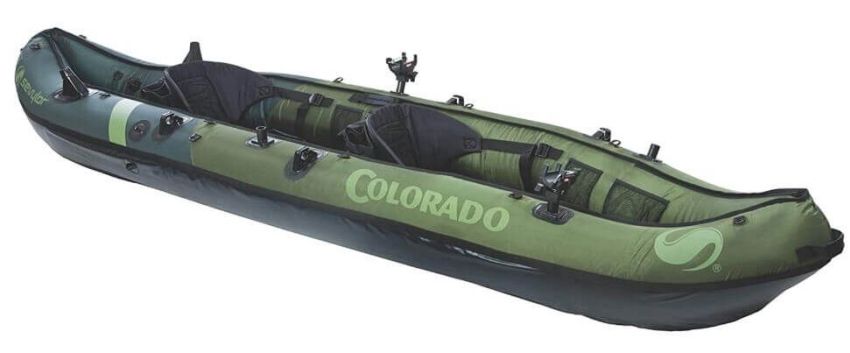 Length: 10'9″ (328 cm)
Width: 39″ (99 cm)
Weight: 40 lb (18 kg)
Capacity: 470 lb (213 kg)
Sevylor Coleman Colorado is a great and affordable option for those that want to get into kayak fishing. Very portable and durable, it comes with fishing-specific features such as four rod holders and has enough capacity to carry large paddlers with a lot of gear or two small to average-size adults on shorter trips.
Sevylor Coleman Colorado is 10'9″ long and 39″ wide, which gives it incredible stability and lets you concentrate on fishing and not on staying afloat. The impressive capacity of 470 lb means you can pack a ton of fishing gear or maybe take a kid or a dog with you.
The kayak is made from 18-gauge PVC with a protective layer of 840D nylon on the side tubes and a 1000D tarpaulin bottom. Its rugged construction will give you peace of mind even on extended trips. The kayak is NMMA certified.
Features include 6 rod holders, multiple D-rings on the side tubes to secure any gear or accessories, paddle holders on both sides, adjustable moderately comfortable seats, and even fittings for Sevylor's trolling motor.
Marketed as a tandem, this kayak is a little short for two full-sized adults. But if you paddle it solo, it offers plenty of storage room for camping or fishing gear. You can also take a kid or a dog with you and paddle in great comfort.
See Sevylor Coleman Colorado on Amazon
---
Advanced Elements StraitEdge Angler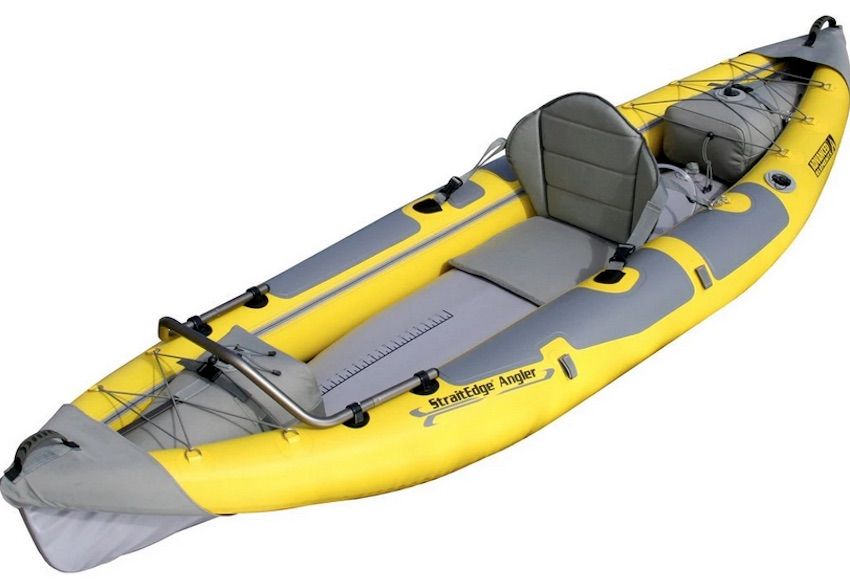 Length: 10'6″ (320 cm)
Width: 38.5″ (98 cm)
Weight: 45 lb (20.5 kg)
Capacity: 400 lb (180 kg)
StraitEdge Angler PRO is a capable fishing kayak and a huge step up from the budget models. Its wide beam and drop-stitched floor let you make casts and fight fish comfortably, even while standing. 5 separate air chambers and a durable PVC material add to the peace of mind.
The kayak is 10'6" (320 cm) and 38.5″ (98 cm), which gives you a stable fishing platform. It weighs 45 lb (20.5 kg) and has an impressive 400 lb (180 kg) capacity.
The boat features a sharp keel on the bow and the stern (there's an aluminum piece inside to give rigidity), which lets it pierce through waves and track better. There's also a removable fin for windy days or choppy waters. The frame seat offers great back support for long days on the water. Two accessory frames let you mount rod holders, electronics, or anything you want.
See ADVANCED ELEMENTS StraitEdge Angler PRO on Amazon
---
Sea Eagle 385fta FastTrack Angler

Length: 12'6″ (381 cm)
Width: 36″ (91 cm)
Weight: 48 lb (21.8 kg)
Capacity: 635 lb (288 kg)
Sea Eagle 385fta FastTrack Angler is another strong player in the inflatable fishing kayak market. With its bullet-proof construction and tons of fishing-specific features, it should be on the list of anyone shopping for an inflatable fishing kayak.
The 385fta is 12'6″ (381 cm) long and 36″ (91 cm) wide, which gives you a pretty sizeable and very stable fishing platform. The hull weighs just 45 lb (20 kg) while offering an incredible capacity of 635 lb (288 kg). Big guys out there looking for a fishing kayak, take notice!
The FastTrack Angler features a bomb-proof construction with a 1000D hull material double-layered on tubes and bottom for extra protection, non-slip crocodile hile EVA padding on the floor, and 4 separate air chambers. The kayak is NMMA certified.
Another distinctive feature of the 385fta is its low profile. The side tubes are only 10′ (24 cm) high, which means you don't get pushed around by the wind as much, a known disadvantage of most inflatable kayaks. The performance is further improved thanks to a large removable skeg on the bottom.
Sea Eagle offers multiple configurations of the 385fta, including a choice of an inflatable seat or plastic swivel chair, a tandem package with two high-back seats, and even a version with a side-mounted Watersnake Asp T24 trolling motor. Each version comes with a paddle (or two paddles in the tandem configuration).
See Sea Eagle 385fta FastTrack™ Angler on Amazon
---
STAR Pike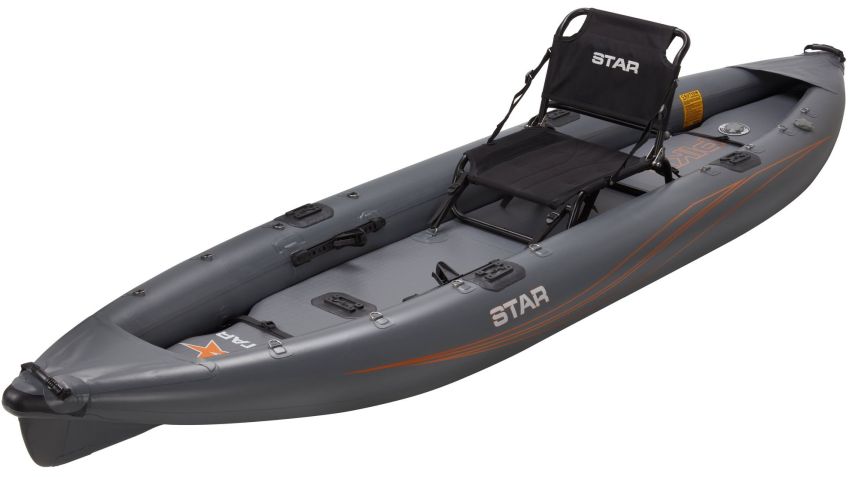 Length: 12'8″ (386 cm)
Width: 38″ (96.5 cm)
Weight: 48 lb (21.8 kg)
Capacity: 375 lb (170 kg)
STAR Pike is a very interesting model for demanding kayak anglers. It features an open, drop-stiched deck that you can stand on, rigid keel inserts on the bow and stern for better performance, and multiple gear mounting options.
The 2021 model ditched the self-bailing design that could let some water in through the scupper holes. Instead, it now offers adjustable footrests that were not available earlier.
The Pike offers a very comfortable frame seat that is positioned pretty high above the deck, giving you better visibility into the water. The stern of the kayak was designed to accommodate a milk crate or cooler. Five YakAttack® SwitchPad™ mounts let you attach rod holders, fish finders, anchor locks etc. Last but not least, 16 stainless steel D-rings on the side tubes let you secure any fishing or camping gear you take with you.
Other features incude sturdy carrying handles on the bow and the stern and a removable skeg to improve tracking.
The drop-stiched floor inflates to 8-10 PSI and side tubes inflate to 3 PSI, so you need a high-pressure pump for this kayak. Luckily, Star Pike comes with a pump, a carry bag, and a repair kit.
The durable 1000D PVC used on side tubes and the floor can take some beating, so the Pike will last for years. The kayak comes with a 3-year warranty for retail buyers.
---
Driftsun Rover 120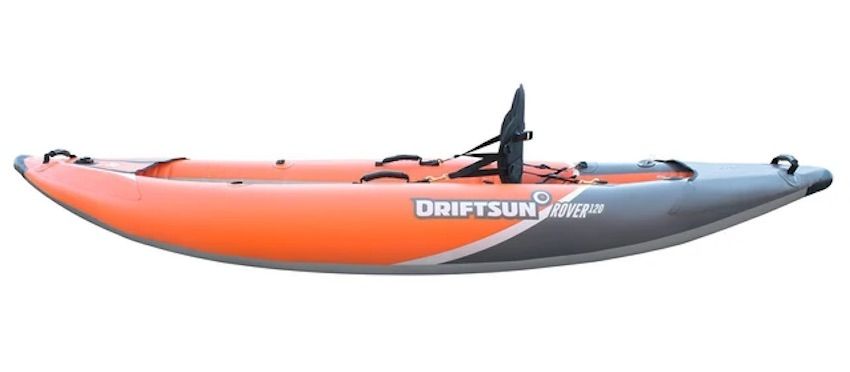 Length: 8'6″ (259 cm)
Width: 36″ (91 cm)
Weight: 22 lb (10 kg)
Capacity: 300 lb (136 kg)
Ready for some whitewater fun? The self-bailing Driftsun Rover 120 can take you in up to Class IV rapids and, more importantly, bring you back safely.
At 8'6" (259 cm) long and 36" (91 cm), this little boat is very maneuverable. The heavily rockered hull is made from 1000D reinforced PVC on the side tubes and very tough PVC tarpaulin on the bottom to protect you from sharp rocks and branches. The drop-stitched floor improves the rigidity of the boat, which is important in rough conditions.
Despite the heavy-duty materials, the Rover 120 is still very light, weighing only 22 lb (10 kg). It can carry up to 300 lb (136 kg), so you'll have some capacity left for the gear.
The boat comes with an adjustable EVA padded seat, a 2-piece paddle, a removable skeg that improves tracking, and a double-action hand pump.
See Driftsun Rover 120 on Amazon
---
Sea Eagle SE300X Explorer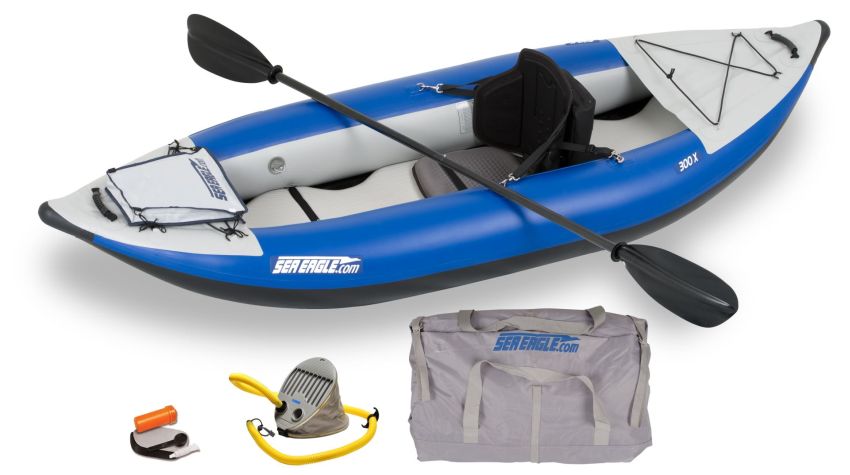 Length: 9'10" (300 cm)
Width: 3'3″ (100 cm)
Weight: 30 lb (14 kg)
Capacity: 395 lb (179 kg)
With a 1000 Denier reinforced PVC hull, a high-pressure drop-stitched floor, and 16 self-bailing valves, Sea Eagle 300X Explorer is tough as nails and ready for up to Class IV white water, ocean surf, as well as fishing and recreational trips.
The heavily rockered hull profile makes it incredibly agile in rapids and tight places, while a removable skeg improves tracking on flat water. The optional high back seat is adjustable and features a rear pouch for storage.
Sea Eagle offers several configurations of the SE300X Explorer. You can even get a rowing package with a swivel seat and two Scotty rod holders to turn this little kayak into a highly portable fishing platform!
See Sea Eagle SE300X Explorer on Amazon
---
Advanced Elements Attack Pro

Length: 9'9" (312 cm)
Width: 35" (91 cm)
Weight: 25.5 lb (11.5 kg)
Capacity: 225 lb (102 kg)
Advanced Elements Attack Pro is ready for some fun on the water, no matter how rough the conditions can get. Its heavily rockered hull is stable and responsive, while the self-bailing construction drains the cockpit quickly. Three separate air chambers, including a drop-stiched floor, improve the safety even more.
Features include adjustable footrests, thigh straps, an adjustable high-back seat, and anti-abrasion rails on the bottom. At 25 lbs, the kayak is very lightweight, so you won't have any problems portaging it.
See Advanced Elements Attack Pro on Amazon
---
Intex Excursion Pro

Length: 12'7" (383.5 cm)
Width: 37" (94 cm)
Weight: 39 lb (17.7 kg)
Capacity: 400 lb (180 kg)
Intex Excursion Pro is a step up from other Intex kayaks. Unlike cheaper models that are made from vinyl, the Excursion Pro is made from 3-ply PVC laminate with a polyester core. This material is way more abrasion resistant and durable.
Intex Excursion Pro is 12'7" (383.5 cm) long and 37" (94 cm) wide. At 39 lb (17.7 kg), it is the heaviest kayak in Intex's line but still pretty lightweight.
The capacity of 400 lb (180 kg) means that the kayak can take two smaller persons with limited gear or one average-sized adult with a reasonable amount of fishing or camping gear.
Intex Excursion Pro comes with two inflatable seats that slide fore and aft on velcro strips and can be easily removed. It also includes one removable seat booster that lets you sit higher.
Other features include two collapsible paddles that you'd better replace ASAP, a hand pump and a pressure gauge, adjustable footrests, two skegs (a large one and a small, shallow water skeg), and even a mounting bracket for your fishing accessories. There are also two flush-mount rod holders but those are hardly usable.
Overall, Intex Excursion Pro is pretty well equipped for its price. The better, more durable construction makes this kayak suitable for longer fishing trips or even overnight camping trips – if you paddle it solo, of course.
See Intex Excursion Pro on Amazon
---
Driftsun Almanor 146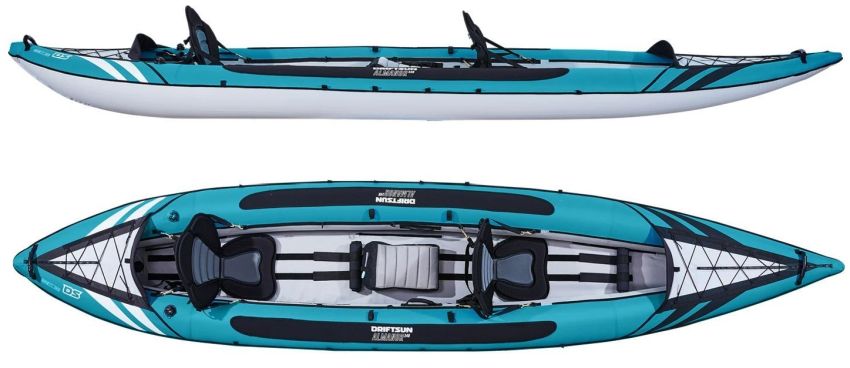 Length: 14'6" (442 cm)
Width: 40" (101.6 cm)
Weight: 33 lb (16.3 kg)
Capacity: 600 lb (272 kg)
If you need a recreational kayak for family trips, take a close look at Almanor 146. With its 2+1 configuration (there are two full-size seats plus one small child seat in the middle), this kayak has a place for everyone!
At just 33 lb (16.3 kg), the Almanor is super light for a tandem and offers a generous capacity of 600 lb (272 kg). This 14'6″ long kayak is made from 600 denier polyester with industry-standard 24 gauge air bladders inside.
Features include EVA padded high-back seats, adjustable footrests, four carrying handles, and splash guards on the bow and the stern with bungees for extra storage. The kayak comes with two paddles and a large carrying bag that will easily fit the kayak itself, the pump, and even inflatable life jackets.
See Driftsun Almanor 146 on Amazon
---
Advanced Elements AdvancedFrame Convertible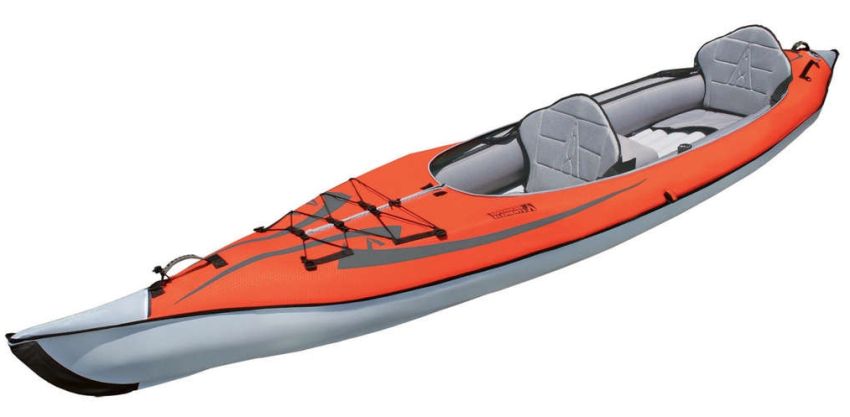 Length: 15' (457.2 cm)
Width: 32″ (81.3 cm)
Weight: 52 lb (23.5 kg)
Capacity: 550 lb (249 kg)
Advanced Elements AdvancedFrame Convertible is a 15-foot day touring/expedition tandem kayak that offers excellent performance and great versatility.
Just like the solo version of the AdvancedFrame, the Convertible combines an inflatable hull with aluminum ribs that form a sharp keel on the bow and the stern, improving speed and tracking. The ribs are pre-installed so there's no assembly required.
The AdvancedFrame Convertible can be paddled as a tandem or solo. It also converts from an open-cockpit to a closed-cockpit kayak in a matter of seconds with optional single or double decks. Both decks offer D-rings and bungees for storage, while the single deck also has a rear cargo hatch.
The AdvancedFrame Convertible can be used with two optional accessories for the floor. One is an aluminum keel beam called the BackBone. It goes under the inflatable floor and creates a V-shaped bottom to improve speed and tracking. The other is a drop-stitch floor that is placed over the regular floor. When inflated, it creates a very rigid form, which gives the kayak extra stability. You can use one or the other but not both at the same time.
See Advanced Elements AdvancedFrame Convertible on Amazon
---
Driftsun Voyager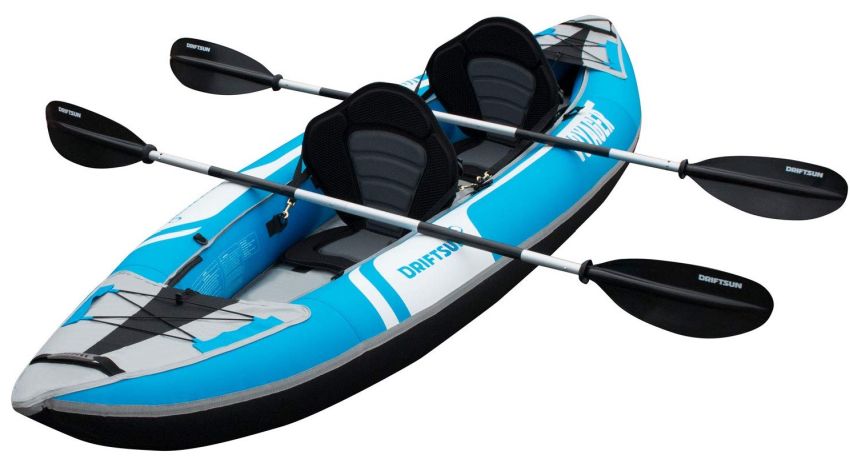 Length: 11'2" (340 cm)
Width: 35″ (89 cm)
Weight: 32.5 lb (14.7 kg)
Capacity: 400 lb (181 kg)
Driftsun Voyager is a budget-friendly 2-person kayak for short recreational trips. At 11'2″ long and 35″ wide, it is a stable platform for relaxed paddling and having fun on the water.
The kayak has a dual-layer construction with air bladders inside 840D coated nylon oxford fabric covers. The heavy-duty PVC tarpaulin bottom protects it from abrasion and punctures. There are three separate air chambers (two on the sides and one on the floor) to increase safety.
The kayak comes with two adjustable padded seats, two aluminum paddles, a double-action hand pump, a carrying bag, and a removable skeg on the bottom to improve tracking. Overall, it's a great package for the price and a fun kayak that can bring some great moments on the water.
See Driftsun Voyager on Amazon
---
Sea Eagle 330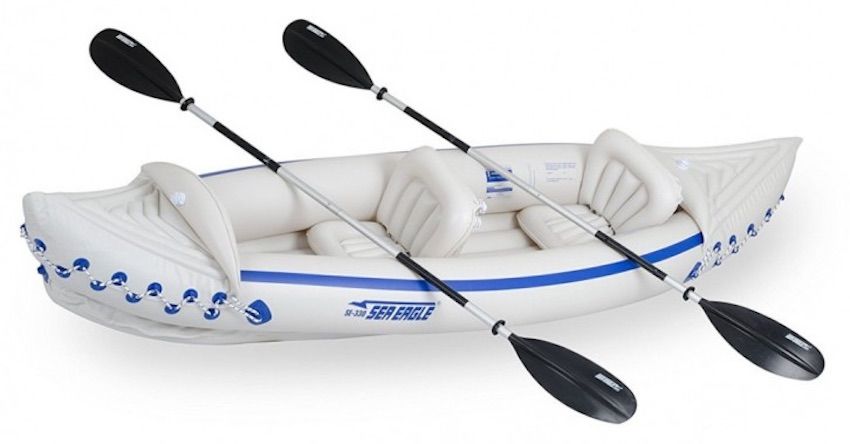 Length: 11'2" (340 cm)
Width: 34″ (86.4 cm)
Weight: 26 lb (12 kg)
Capacity: 500 lb (227 kg)
Sea Eagle SE330 is a budget-friendly, lightweight tandem kayak for short recreational trips. It weighs just 26 lbs but can carry up to 500 lbs.
Made from K80 PVC (Polykrylar) material, Sea Eagle 330 may not be as tough as reinforced PVC kayaks but is durable enough for recreational use. Three separate inflatable chambers (two sides and the floor) plus inflatable seats provide extra safety on the water.
The kayak is 11'2" (340 cm) long, which is pretty short for a tandem. As a result, the front paddler has limited legroom, so it's best to reserve the front seat for a child or a small adult.
Sea Eagle SE330 comes in several configurations, including the Pro Package with better seats. You can also opt for a solo version with one seat and one paddle.
---
Sea Eagle 370

Length: 12'6" (381 cm)
Width: 34″ (86.4 cm)
Weight: 33 lb (15 kg)
Capacity: 650 lb (295 kg)
Sea Eagle 370 is marketed as a 3-person kayak, but in reality it offers just enough space for 2 adults to sit comfortably.
The 370 model is a bigger brother of Sea Eagle 330. It is made from the same K80 PVC (Polykrylar) material and also features three separate inflatable chambers. The 5-tube I-beam floor has two skegs that help the kayak track better.
The kayak comes in several configurations, including the Pro package with better inflatable seats and two paddles, the Solo Fishing package with one seat and a multi-purpose storage box and even a QuikSail package with a small sail.
Sea Eagle 370's larger interior and extra capacity make it possible to load the boat with gear. However, for longer touring or camping trips, we would recommend looking at models made from reinforced, multi-layer PVC material with better protection against abrasion and punctures.
---
BOTE Deus Aero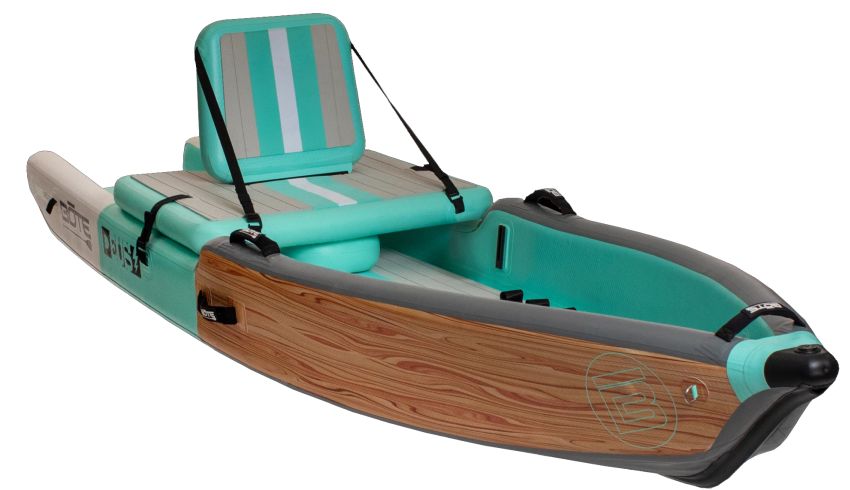 Length: 11' (335 cm)
Width: 33″ (83.8 cm)
Weight: 41 lb (18.6 kg)
Capacity: 300 lb (136 kg)
Like to think outside of the box? How about a vessel that converts between a kayak and a standup paddleboard (SUP) in a matter of seconds?
BOTE Deus Aero is an inflatable kayak that's fully made from drop-stitched panels. When inflated to the recommended 12-15 PSI, it is almost as rigid as a hardshell kayak.
Deus Aero is 11 ft (335 cm) long and 33" (83.8 cm) wide. It tips the scale at just 41 lb (18.6 kg) and carries up to 300 lb (136 kg).
This kayak has 3 separate air chambers (plus 2 more in the seat). Made from heavy-duty PVC, this boat is very tough, and there's no way you can scratch or puncture it easily.
Features include Scotty accessory mounts, sturdy grab handles, an adjustable footrest, a rubberized keel protector, and skegs on the bottom to improve tracking. The inflatable seat is pretty high above the bottom, so you can stand up and sit back down easily. It can also be removed, effectively turning the kayak into a standup paddleboard.
The drop-stitched hull takes up less space than traditional inflatable chambers, giving you a much wider platform to stand on.
The open stern drains out any water from the cockpit and serves as a swim-up platform. However, it can also mean a wetter ride if the boat is heavily loaded.
Overall, Bote Deus Aero is a very interesting option for those who want both a kayak and a SUP.
---
Why Would You Want an Inflatable?
Recreation time is at a premium and convenience is king. People increasingly live in cities, in small apartments or houses and with limited time. Whereas with a rigid kayak, you need plenty of space for storage and a vehicle capable of carrying it, an inflatable kayak can be deflated and stored in a cupboard or wardrobe.
Packing small enough to go in the boot of a vehicle isn't just great for saving space and money (you don't have to buy a big car or a roof rack), but reduces the security risk which may come from storing your boat on your roof. In fact, most inflatable kayaks are so portable that you could go for a day out paddling using public transport.
When you arrive at the water, you can have the kayak inflated almost as quickly as unloading a boat from the roof thanks to electric pumps. Of course, manual pumps take longer, but they're still quick.
Inflatables are extremely stable. The buoyancy sits all the way down either side, like a traditional dinghy, and it means you have to work pretty hard to turn them over. This makes them perfect for beginners and a safe experience, heightened by the fact that inflatable kayaks are usually really easy to control and get the hang of paddling.
Adding to the safety, modern designs have multiple air chambers, rather than a single tube. If the worst were to happen and the boat were to puncture, it wouldn't fully deflate, but would retain enough buoyancy to comfortably paddle back to the shore where it could be patched or repaired.
Any Downsides to Inflatables?
Sure. There are drawbacks to anything. The main one being control. While inflatables are getting there and beginning to compete with their plastic counterparts, there are technical limitations currently and more advanced paddlers may benefit from specific attributes only available on rigid boats. Inflatable boats, by their nature, also tend to be a bit bulkier on the water.
As we said above, these boats can puncture. They're designed to be robust and to endure their environment, but that doesn't make them infallible. Once you've bounced off rocks and walls enough, you may end up with a slow leak in areas of high abrasion, or they may simply be pierced by particularly sharp rocks or sticks. With an inflatable kayak, you should be careful when launching and landing on rocky beaches or around sharp branches
Standard inflatable kayaks are quick to deploy, just blow them up and away you go. Some, more technical, designs have interior frames which give them a greater level of rigidity and response, but these take some time to put together and disassemble at the end of the day.
Cleaning. Okay, we know we should clean our kayaks regularly, it will make them last longer, but this is imperative with inflatables. Not cleaning an inflatable kayak before storing it, especially longer term, will perish the materials.
What Are Inflatable Kayaks Made From?
There are several materials which inflatable kayaks can be made of, each of which has its own advantages.
PVC
Probably the most commonly used material, and certainly the cheapest, is PVC. PVC can be more easily mass produced than other materials, so may suffer from some quality issues, although that's more common in the rafting world than kayaks.
It may be cheap, but PVC is still relatively durable, although is more susceptible to temperature change and UV damage than other materials. Bear this in mind if you're rolling it up on cold days or thinking about where to store your boat.

PVC has become almost a taboo word in an increasingly environmentally aware world and allegedly the fabric secretes chemicals over time as it degrades.
Hypalon
Hypalon is a synthetic rubber which is particularly noteworthy for its resistance to chemicals, temperatures and UV damage, meaning you're less likely to return to your stored boat to find it's perished.
Hypalon is more expensive than PVC. However, it is easy to repair on the go and is more pliable than PVC, which makes these kayaks much easier to roll up at the end of the day, especially when it's cold outside.
Hypalon boats are often glued at the seams, rather than being plastic welded, so there's a chance of them peeling and coming apart at the seams. This necessity to be glued makes these boats harder to repair, especially if you're out on the water or an expedition.
Nitrylon
Nitrylon is a lamination of natural and synthetic rubber over a 1200 denier, low stretch polyester. This design makes it much more environmentally friendly than PVC designs, while also being incredibly strong and hard wearing.
Nitrylon is puncture- and abrasion-resistant and known to last an incredibly long time. However, the layered design makes it much heavier than its counterparts. Because of this, it's more commonly used on larger boats than kayaks and even then, mainly as resistant patches or on external sections which require more protection.
TPU (Thermoplastic Polyurethane)
TPU is the most progressive, and therefore the most expensive, material in inflatable kayak production.
Firstly, the seams on a TPU design can be welded, rather than glued. As well as making them more durable and longer lasting, this means the boat can be pumped up to a higher pressure. In turn, this means boats can be narrower and given more shape, leading to a more progressive level of design.
TPU is more robust and abrasion resistant than other materials. It also withstands temperature change even better than Hypalon. This extra strength and welded seams mean that TPU doesn't need to be as thick as other materials, so TPU boats are usually lighter and easy to roll up for transportation.
Different Types of Inflatable Kayaks
Similar to how traditional kayaks come in many varied forms, inflatable kayaks have branched out from recreational designs and, as technology advances, are increasingly competing with rigid designs.
Sit-on-Top or Sit-Inside Kayaks
In the world of plastic boats, the majority of designs have traditionally been closed cockpit, sit-inside boats which use a spray deck to keep water out. Recreational kayaks and increasingly more progressive designs, however, have been moving into the realms of sit-on-top kayaks, with sea kayaks, surf boats and even white water playboats available now in sit-on versions.
In the worlds of inflatables, however, the roles are somewhat reversed. Inflatables were born of designs similar to traditional dinghies; wide, open boats. While material and design have allowed for narrower and more directional boats to be made, they are often still open top designs, although increasing numbers of boats are offering spray skirt options.
It's not always obvious when you look at an inflatable kayak whether it's sit-on or sit-in. The differences are more subtle than in plastic designs.
Sit-in kayaks tend to offer some coverage, whether it's as extensive as a full surround and cockpit design, or a simple leg covering incorporated into the design. The primary aim here is to keep out as much water as possible and these are often used in more challenging environments such as the sea or on rivers.
Some sit-on-top kayaks could be easily confused for sit-in boats. The narrow seating area is often surrounded by high inflatable tubes, which keep out almost as much water as any skirt might.
As paddle board design has progressed, sit-on-top inflatable kayaks are progressing towards a similar model, with many manufacturers offering seating options for inflatable, recreational paddle boards. These are particularly good for relaxed trips, cruising around gentle waterways or on hot days, but may be limited when it comes to progressive attributes.
Recreational Kayaks
Recreational kayaks tend to be among the cheapest, easiest to paddle and most stable options on the market. They're designed to give everyone a chance to take to the water and whether they're sit-inside or sit-on-top design, tend to have large buoyancy chambers all around.
They are often long, relatively flat designs without much rocker. The seating is usually basic, designed to be relatively comfortable and lightweight enough that these kayaks can be transported easily.
Recreational kayaks are perfect for those just starting the sport, for families, or for anyone that wants to stay on calm water and enjoy a leisurely day out.
Fishing Kayaks
Inflatable kayaks designed for fishing tend to fall, first and foremost, into one of the other categories. You can get fishing-recreational kayaks, fishing-touring/sea kayaks, or fishing river kayaks. What sets these boats apart is their fishing-friendly extras, like storage space, rod holders and higher seating. There can also be mounts for fishing tech, and a skeg or keel to help the boat track. These features take the boat from a fishing-capable to a fishing-specific kayak, perfect for any angler.
The incredible stability of inflatable kayaks means they lend themselves excellently to fishing; many of them are already perfectly adequate for standing in. Being so versatile and easy to transport makes inflatable kayaks perfect for fishing. They can be rolled up and carried to almost any body of water.
Touring/Sea Kayaks
Paddling an inflatable kayak in the sea or on long touring expeditions can be an incredible experience. The lightweight design means you have to expend less effort to propel the boat. However, as we're getting into more technical realms, inflatables may not quite be challenging at the forefront of design just yet.
There are many recreational inflatable kayaks which are sold as being sea going, however these are usually open design and unsuited to longer distances. There are a number of closed cockpit style inflatable kayaks which are perfect for trips on open water and are designed to crash through waves.
Here, the TPU design and higher pressure chambers give the boat more structure and shape, while some designs have rigid interior frames which can even add some fairly competitive keel lines.
Outfitting is much more basic than in solid counterparts, but the seating in sea kayaks is usually designed to be much more supportive and comfortable than in recreational boats, and some even come with foot rests, which allow you to drive the boat more effectively.
It's worth being aware that the lightweight design of inflatable kayaks generally makes them harder to control in the wind and more likely to get caught up in drifts than plastic boats.
Whitewater Kayaks
White water kayaks traditionally have a good amount of bow rocker and a relatively flat hull, so it's hardly a surprise that inflatables took to white water so well. White water rafting has been a popular sport around the world for many years. As inflatables have become stronger and less likely to puncture, inflatable kayaks have seen a surge in popularity.
As well as the additional rocker, these boats often tend to be narrower, slightly lower profile and have outfitting designed to maximise your control. A supportive and connective backrest, foot rests for driving the boat and often thigh braces, secured with glued D-rings, offer about as much control as you could expect from an inflatable boat.
Being so stable and confidence inspiring, inflatable kayaks are increasingly used to take beginners on the river and are even perfect for multi-day white water trips on some gnarly rapids. Usually these boats are open design.
Pack Rafts
There was a gap in the market, and inflatables filled the void. Packrafts are not necessarily a category of their own; they can be recreational, ocean going, rapid running or a combination of all of these. They took the idea of lightweight and portable kayaks and ran with it to create the ultimate adventure add-on.
These are simple designs, usually with no seat, and are designed to augment a trip. They were popularised by mountain bikers looking for a way to cross larger bodies of water, and are now used across the world.
The lightest models weigh as little as 2lb 3oz (1kg) and are perfect to take in a bag, inflate and cross a lake or navigate a river before taking to the land again.
Packrafts often have spray skirts, as well as clever gear storage options which range from d-rings to secure your kit in front of you, to airtight zips so you can store your kit in the body of the boat itself and paddle in freedom.
These boats are worth checking out as part of a wider adventure, rather than a specific kayak trip.
How to Choose an Inflatable Kayak
It's all getting a bit more complicated than we thought, right? There's all sorts of materials to choose from, and all different kinds of boat, depending on how you want to use it. So other than your intended use, what is there to think about when picking your boat?
Well, unfortunately, there's a lot. But rather than complicating things, these can be used to narrow down exactly what you are searching for.
Your Skill Level
How much paddling have you done? This is a great starting place. If you've never been on the water before, you're probably going to want a different boat to someone who has a specific adventure in mind.
Recreational doesn't always mean beginner, but they are often more stable and accessible for novice paddlers than discipline-specific kayaks.
Beyond how much paddling you have done, how much are you planning? Are you looking for a boat which will allow you to progress and push into particular environments, or are you just wanting to float around lazily on a sunny day on your local pond?
How Accessible Is It?
How heavy is it? How long does it take to assemble and pump up? How small does it pack down?
All of these things will affect how you store and move the boat as well as how committed you are to using it. If you're a recreational user who is looking for a quick fix and something you can pick up when the feeling takes you, you're not likely to want to spend half an hour putting a frame together when you would rather be on the water.
Similarly, if you have to carry your boat a long way up and down stairs in an apartment block, or to get from your car to the water, it's important that it doesn't weigh too much.
Does it Have Enough Capacity?
Additionally, it's important to make sure the boat actually has the capacity to carry you and your kit on the water. Different kayaks have different weight ranges, and there's no use buying a boat because it's light and easy to carry, only to find it isn't big enough for you. Make sure there's plenty of legroom, too.
Single or Tandem?
How many of you want to go paddling? Do you need a tandem, or even a three person boat?
What Features Do You Need?
These are more prevalent in specific boats and each discipline has specific requirements. A good example of this is the fishing kayaks we mentioned earlier needing rod holders, storage capacity and a higher seating position.
More generally, features relate to the outfitting and how comfortable you're likely to be on the water. How good your seat is will affect how long you can stay on the water, as well as how much control you have. A thin pad may be suitable for a paddler out for a couple of hours of relaxing, but those in more advanced environments are likely to want a supportive seat with a backrest. Some discipline specific boats also have foot pegs and thigh straps to increase your control.
Some inflatables, specifically those for sea and white water, have optional spray skirts which keep the water from pouring into your boat. These are also good at keeping wind and spray off you and your kit and are commonplace in packrafts.
It's not just fishermen who need storage. Loads of kayaks come with storage, either secured or otherwise, and it's important that your storage suits your needs. Do you need access to your kit while you're on the water? Are you going on an overnight trip, or just a few hours out?
Accessories
We all love a bonus bit of kit to be thrown in, but what else do we really need?
Obviously to inflate a kayak, we need a pump. Does your kayak come with a pump? Is it electric or manual, and is it easy to get your boat to the required pressure with it?
Some inflatable kayaks are sold as part of a kit along with a paddle. These paddles usually break down into several pieces to maintain the portability of the set up. If it doesn't come with a paddle, you may need to get yourself one. If you're not sure where to start, check out our Paddle buying guide.
While these boats are hard wearing, they aren't immune to scrapes and punctures. Many inflatables will come with a repair kit and instructions, some of which can be administered on the go, while others require time to set. If you don't have an 'on-the-go' repair kit, it's worth putting one together, just in case.
Budget
Once you've thought about everything else, you need to work out how much you're willing to spend. The old adage 'you get what you pay for' is largely true in the world of kayaking, but that doesn't mean you need to break the bank to get out on the water.
Final Thoughts: It's a Lot to Think About
Now we've got through all that, it's worth grabbing a coffee, or something stronger, and thinking about what sort of boat would best suit you.
There's a lot to think about, and an enormous amount of options available to you. Long story short, anything that gets you out safely on the water is a great place to start, but having the right boat will make your trip much more enjoyable.
And don't forget your PFD. Just because your boat is inflatable doesn't mean you can go without one.