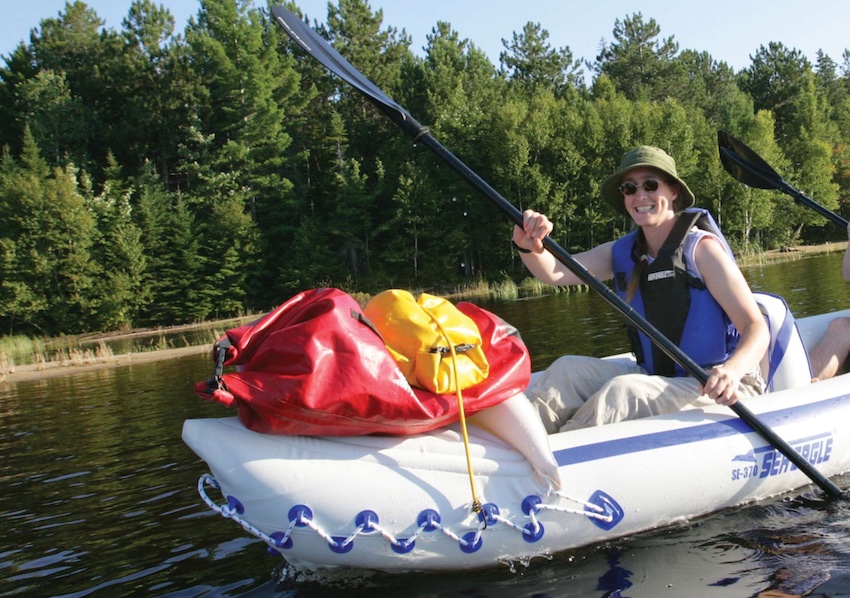 Since the company's inception in 1968, Sea Eagle have been designing cutting-edge inflatable boats. Their boats have been used throughout the world, on first descents of major rivers, exploratory geological surveys, and by thousands of recreational paddlers who want to enjoy kayaking.
Today is no different. Sea Eagle continues to be at the forefront of inflatable design. Their wide range of kayaks, canoes, and boards, including some high-pressure, drop-stitched ones, are robust enough for even the toughest expeditions. Combine this with their new ideas, like their Razorlite keel line, and you've got a range of kayaks that suits everyone.
In this overview, we take a look at Sea Eagle's model line in 2021.
Sea Eagle Sport Series
The Sport series is the entry-level option from Sea Eagle, but don't be fooled into thinking these are just the basic choice. These recreational kayaks are equally at home on rivers and in the ocean, as they are on tranquil lakes and bays. You can even use these for some quick, overnight camping trips.
The Sport kayaks are lightweight and when packed down, easily fit into the trunk of your car. These kayaks inflate in under 10 minutes, so you can spend more time on the water.
With enough bow rise to let you twist and turn easily, and a strong I-beam style floor, the sport range is beginner-friendly and really stable. The small skegs on the bottom of these boats give them enough tracking ability for recreational paddlers.
In both the two and three-person models, the seats are attached separately on D-rings. This allows you to easily adjust your setup, depending on whether you want a solo trip or a family day out.
The Sea Eagle Sports range represents true value and includes some of the most affordable high quality, multi-purpose inflatable kayaks on the market.
---
Sea Eagle Explorer Series
Sea Eagle Explorer series are the rugged option, for true adventurers seeking new places. These all-terrain kayaks suit those who want to do a bit of everything. Whether tackling ocean surf, raging rivers, camping, or fishing trips on the lake, the Explorer series has a kayak for you.
The sixteen drain bungs take your kayak from full, to empty, in no time at all. These can be left open for trips on the river, where taking on water is unavoidable, but closed for dry trips out on the lake. The skeg, too, is multi-use and can be removed when you need a shallower draft.
A separate drop-stitched floor is pressured to higher PSI than the side tubes. This makes the Explorer series more stable and responsive than other inflatable white water kayaks on the market.
Sea Eagle Explorer series is available in solo, tandem, and three-person options. D-rings around these kayaks give you the freedom to change up your ride. Turning your two or three-person kayak into a solo ride gives you loads of space for expedition equipment. This can be lashed down to the D-rings for river trips.
Sea Eagle haven't forgotten about the anglers either. The 350fx is a beefed-up Explorer, designed to withstand the hardships of a day out fishing. With an enormous load capacity, anti-slip flooring, rod and tool storage, and plenty of other fishing accessories, there's no end to what you can achieve with this boat.
---
Sea Eagle Razorlite Series
The same high-performance qualities of a traditional, rigid kayak but with all the convenience of an inflatable, the Razorlite series are perhaps the most accomplished open water inflatables on the market.
Sea Eagle have fitted the Razorlite series with their razor-sharp plastic bow and stern, designed to cut through the water. The drop stitch design lets the entire boat be inflated to a higher pressure for stability and responsiveness. This is a kayak far removed from the days of soft inflatables floating down lazy rivers.
As with most high-performance kayaks, this is a boat aimed at intermediate paddlers and above. The sleek hull shape doesn't lend itself to beginners, who would prefer the stability and ease of the Sport or Explorer series. But for those who want to cover ground on open water expeditions and long days out, the Razorlite is the boat of choice, with a top speed of six miles per hour.
Comfortable, supportive seating and Flex Brace footrest systems complete the lightweight setup and give you the control and responsiveness you need for long trips.
Sea Eagle Razorlite series is available in a single or a double version.
---
Sea Eagle FastTrack Series
Sea Eagle FastTrack series is an ultra-lightweight, inflatable touring kayak. Weighing just 35 and 45 lbs. The single and double versions of this boat are both really easy to pack away and load up into the trunk of your car. At home, this kayak fits easily in a cupboard, or stores away in a garage.
The FastTrack series has a high-pressure NeedleKnife keel which is attached to the rigid-feel drop-stitch floor. This keel system grips the water and slices through waves, keeping your kayak tracking straight, even in difficult conditions.
The separated floor means this kayak is more stable and responsive than other inflatable counterparts but is more suited to beginner paddlers than the Razorlite series. Sea Eagle pride themselves on versatile kayaks, and the FastTrack is no exception. These kayaks are suited to open water trips, rivers up to grade two, ocean surf, and fishing.
For serious anglers, the FastTrack Angler provides you with a high-quality touring platform specifically designed with fishing in mind. This extra tough version will stand up to hooks, rods, tools, and anything else you can throw at it. There's space to store all your equipment as well as built-in rod holders, and the grippy rubber floor lets you stand with confidence as you cast.
Sea Eagle FastTrack series comes in a two and three-person model, as well as the Angler.
---
Sea Eagle Travel Canoe
The canoe is the quintessential means of travel in North America. This humble boat is steeped in history and has carried generations of travelers on journeys far and wide and given thousands of families their freedom on the water.
But they're heavy, they're difficult to transport and they take up loads of space in the garage, right? Well, Sea Eagle have solved your problems with the Travel Canoe.
This full drop-stitched canoe inflates to 10 PSI, giving it a rigid feel that competes with traditional plastic boats. The TC paddles as fast and tracks as efficiently as its solid counterparts, too. This canoe is the ideal choice for covering long distances and is rugged enough to tackle challenging expeditions.
There's a hidden bonus, too. The inflatable hull means that if you do capsize, this canoe is easy to right and to climb back into. Once back aboard, you can empty your canoe through the open and close drain bungs before getting back on your way.
Stable, solid, and easy to transport. Sea Eagle has changed the face of canoeing forever.
---
Sea Eagle FishSUP 126
Perhaps the most freeing angling platform on the market, the Sea Eagle FishSUP takes paddleboarding to new levels. The stability and control come from the high pressure, drop-stitch design, the bow to stern rocker, and the swallowtail at the rear. A grippy, rubberized top-deck design lets you walk around and fish, without the worry of falling in.
For those who want the option of sitting, you can mount a swivel seat toward the rear of this board. FishSUP also comes with a removable transom so you can mount your electric trolling motor and cruise between sports.
Sea Eagle has included all the bells and whistles on this board. There's storage for your rods, boxes, and tools, all easily within reach from your position, either standing or sitting. The reinforced design means that you don't need to worry if you drop a hook or a tool, or even bounce over a few rocks on your journey.
---