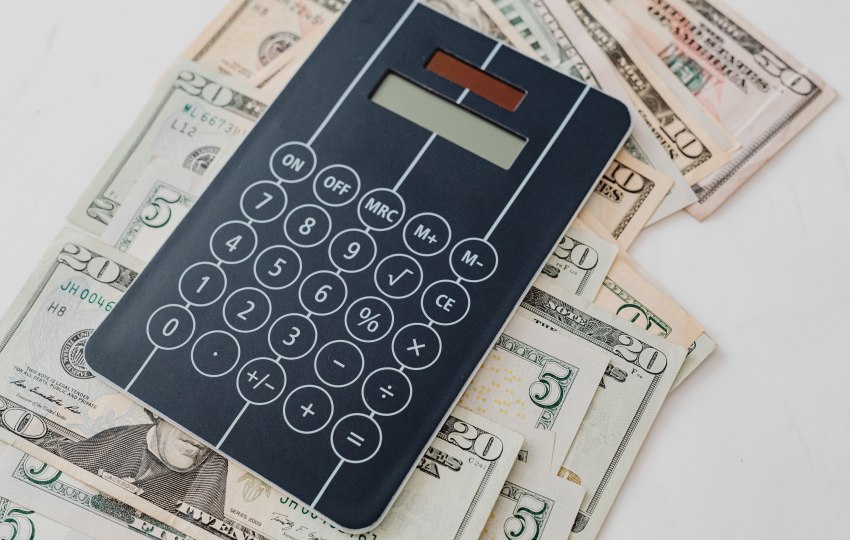 Kayaking is one of the greatest ways to enjoy the beauty of the many lakes and rivers in your area, or to tackle a new ocean challenge like nothing you've ever experienced before.
The basics are incredibly easy to master, and you can enjoy kayaking from the very first day you get out on the water. It's just the greatest of the water sports for adults, teens, and kids alike!
Unfortunately, it's not the cheapest of the water sports. You have to buy not only the kayak, but also a paddle, PFD, safety equipment, a roof carrying rack, and more gear than you might expect. You'll find that bills quickly start to add up.
But that doesn't have to be the case. Buying a budget kayak is a great way to get started without breaking the bank. Though you're not going to get the latest and greatest cutting-edge sport model, you will have no trouble finding a reliable, comfortable, versatile option that will get you out on the water TODAY—and you can worry about upgrading to a pricier model far down the road.
We've compiled a comprehensive guide on how to find the best budget kayak and included a list of our favorite low-price models for your consideration. (Just so you know, we chose the Intex Challenger K1 as our top pick, thanks to its absolute rock-bottom pricing and incredible versatility.)
Don't be fooled into thinking that "budget" equals "lower-quality" or "inferior". We made sure to include kayaks that deliver top-notch reliability and will serve you well for years to come.
A Quick Peek at Our Top-Ranked Kayak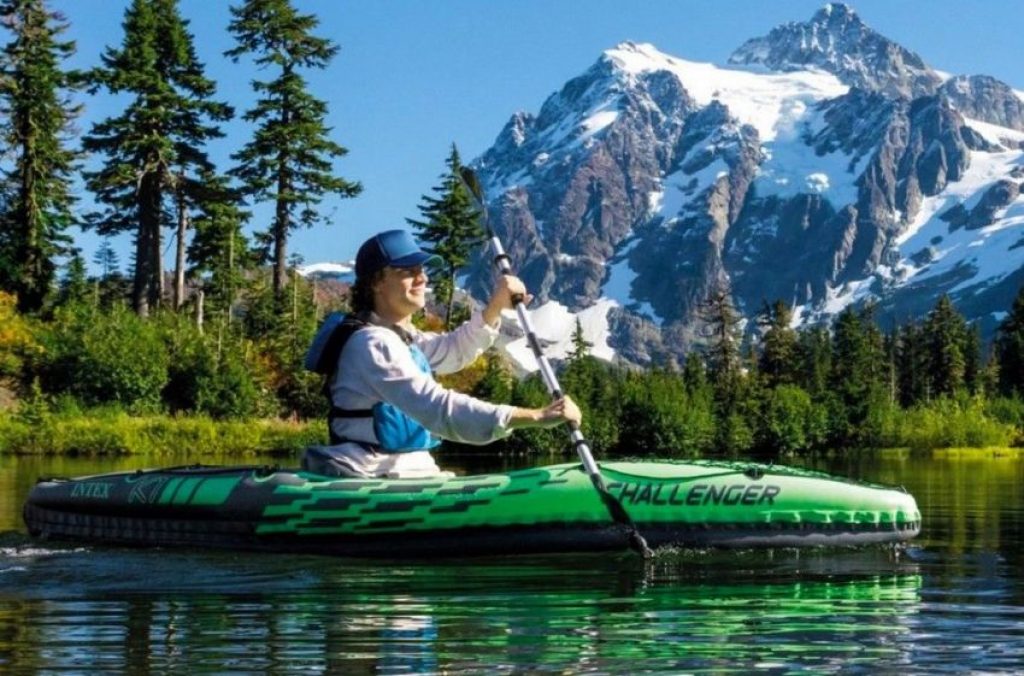 Don't have time to read the whole article? No worries! Here's why we chose the Intex Challenger K1:
Inflatable for easy transportation and storage—no roof rack needed
Super lightweight, no hassle carrying it to and from your car
Paddles and pump included (repair patch kit, too!)
Comes with removable skeg that improves handling and maneuverability
Up to 220-pound capacity
Nimble and surprisingly durable
Our top 12 list
Comparison Table: Top 12 Budget Kayaks
Are Budget Kayaks a Cheap Bargain?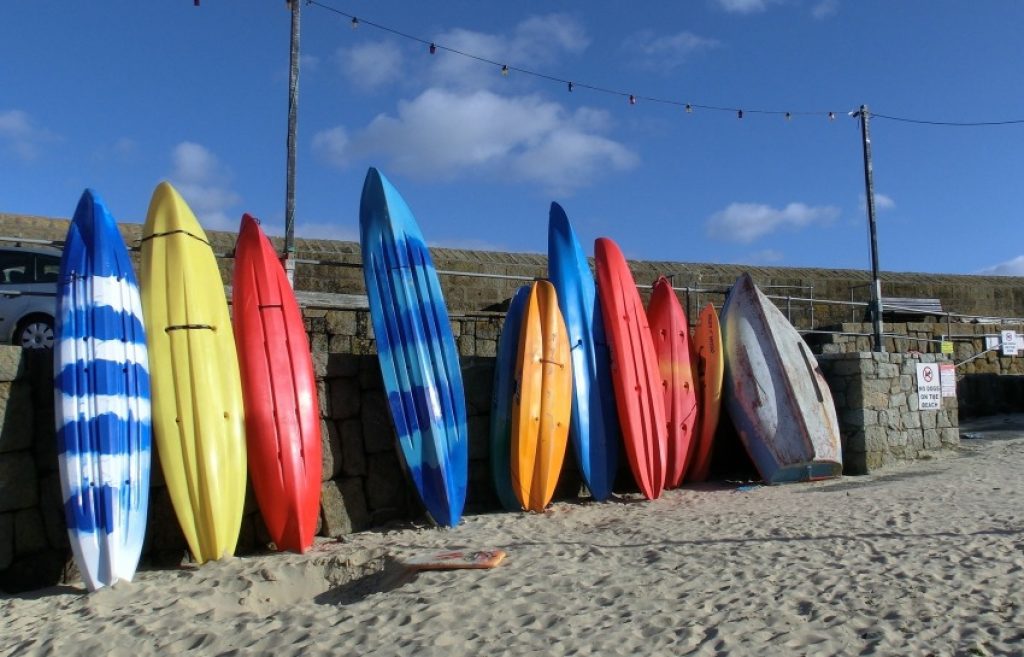 Walk through any boating or sporting goods stores, and you'll see that the best kayaks come with the highest price tags.
You can literally spend THOUSANDS of dollars on the latest sport model, complete with the built-in rudder system, cutting edge design, premium-quality materials, and all the other bells and whistles that jack up the prices.
Compare that price tag to the cost of a budget kayak, and you might think, "Is it even worth buying budget kayaks, or are they TOO cheap?"
One thing I want you to take away from this article is that a cheap price doesn't necessarily mean cheap quality.
The main reason budget kayaks are so much more affordable is due to the lower cost of materials used and fewer features. That's it!
Below, I'll get more into what materials are utilized to build your kayaks, and you'll see that, yes, some materials are better for athletic competitions, ocean voyaging, or whitewater kayaking than others.
But for the average person who just wants to get out on the water and enjoy themselves, a budget kayak is just as good an option as a top-of-the-line, premium-priced kayak.
Really, the only people who NEED those hyper-expensive kayaks are athletes and those who take their kayaking to a professional level. If that's you, then buying a top-tier kayak is absolutely worth the investment. But for most of us, it's absolutely worth saving a few bucks by going for a lower-priced model.
Yes, there are cheap kayaks that are "cheap" and inferior quality. Some brands make budget kayaks that leak, crack, chip, or are prone to flipping over. The same can be said for higher-priced kayaks—the price tag doesn't necessarily define the quality.
That's why we've gone through the hard work of researching all the best budget kayak options to bring you only the best, most reliable options.
You'll find that our list of budget kayaks below will keep you floating and enjoying lakes, calm oceans, and slower-moving rivers. You can always upgrade once you're taking your paddling to the next level and go hardcore adventure kayaking.
Initially, a budget kayak is the best way to get started with this wonderful and thrilling new hobby. The price tag is just a number; what you want—and what we've made sure to highlight in our reviews below—is QUALITY.
Paddling King Pro Tip: If you're not certain you want to invest in a kayak or you're on a very tight budget, consider buying a second-hand or used kayak. That way, you'll know for sure whether kayaking is a passing fancy or you love it enough to spend the money on a new kayak.
What Brands Make Good Inexpensive Kayaks?
There are a few brands worth mentioning, manufacturers who produce budget models that still offer good quality:
Intex Recreation Corp. — Intex is best-known for its above-ground swimming pools, but also its inflatables: boats, floating islands, rafts, etc. In the last few years, they have made a splash in the kayak market thanks to their tough, versatile, and surprisingly reliable inflatable kayaks. Intex products are well-made using rugged materials, but retail at a very affordable price tag.
Pelican Sport — Pelican is a name most watersport athletes will recognize—they make not only kayaks, but paddles, paddleboards, winter sleds, and a wide range of boating and paddle craft accessories. Pelican kayaks are renowned for their light weight and supreme flexibility, thanks to the proprietary RAM-X polyethylene used to build their craft. They're ideal for those who prefer an easy-to-carry option that don't want to struggle to load and unload their kayak from their roof rack. Plus, they're great for beginners taking their first paddle, and come in both sit-in and sit-on-top styles.
Lifetime — Lifetime is another name well-known for its budget kayaks. Their models are made using blow-molded, high-density polyethylene, a plastic that is virtually indestructible yet wonderfully lightweight. Their kayaks are well-suited to beginners and hobbyists looking for a bargain-priced entry into the world of water sports.
Perception — Perception is the brand responsible for pioneering plastic roto-molded kayaks, way back in the late 1970s. It manufactures fishing kayaks, recreational kayaks, and touring kayaks, all in a price range from budget-friendly to top-tier. They're all tough, user-friendly kayaks that place a premium on functionality, but never at the cost of keeping the design simple, sleek, and beautiful.
Sea Eagle — Sea Eagle kayaks are an excellent choice for those who want extra-light, ultra-maneuverable inflatable kayaks that can handle a bit of wear and tear. They're ideal for ocean and river kayaking, as well as floating on your favorite lake or exploring the cove of some gorgeous tropical island.
Field & Stream — Field & Stream is best-known for its impressive array of fishing, hunting, camping, and backpacking gear, but it entered the kayaking market with the Blade, a compact and rugged model that has become one of the best-selling kayaks retailing at DICK'S Sporting Goods.
These are all great brands to consider if you're looking for a bargain-priced option and want to start kayaking without breaking the bank.
Buying the Best Kayak for Your Buck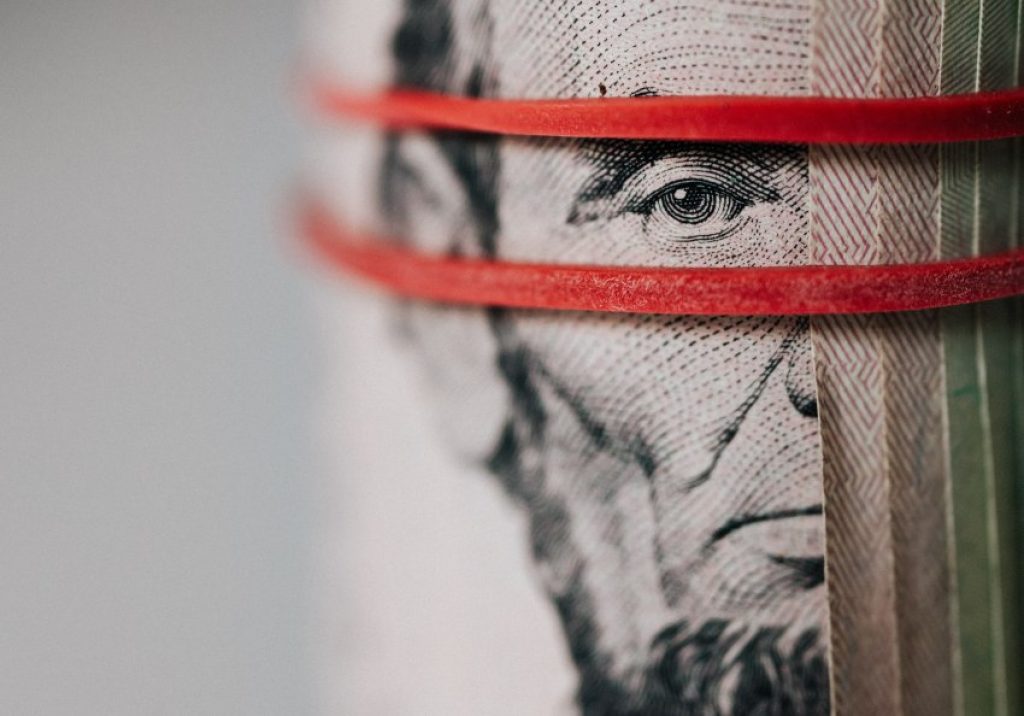 Kayak shopping is already tough enough—there are SO many options to choose from!—even before you throw price into the mix.
When you realize just how much the top-tier kayaks will cost, you'll find your options slim down pretty quickly. You can start feeling overwhelmed and struggle to pick the kayak that best suits your current skill level, your planned kayaking destinations, and all the other factors at play.
Take a deep breath, and let's break this down into small, bite-sized chunks.
Below, we'll walk you step-by-step through all the factors you need to consider when buying a kayak. We'll start with the most important one (your budget), then move down the list until we've narrowed down your options to the kayak that meets all of your needs best.
It may seem overwhelming at first, but by the end of this section, you'll know exactly what to look for and how to choose the best kayak for your buck!
The First and Most Important Factor: Price
Seeing as this article is all about budget kayaks, it's pretty clear that your main priority is to find a good kayak for a great price.
Kayaks at the premium end of the pricing range will go for upwards of $2,000-$3,000, and even the mid-tier kayaks will start at around $800-$1,000.
That may be a bit too much to pay for your first kayak, especially if you're buying a few kayaks for your spouse and kids.
Thankfully, the "budget" options are available for precisely this reason. Manufacturers know that not everyone is looking for the next-level fishing or touring kayak, but just want something simple, reliable, and affordable. They've made a wide range of excellent kayaks and retail them for a much lower price.
For hard-shell kayaks (you'll learn more about those in the "Materials" section), the starting price is roughly $200 to $300. For tandem kayaks (two people in one kayak), the starting price is a bit higher—around $400 to $500.
For inflatable kayaks (the real bargain budget option!), the prices start at around $100 and go upward from there.
Those prices aren't too bad, right? You can wrap your head around spending a few hundred dollars per kayak if it means you get all the necessary accessories (paddle, PFD, safety equipment, etc.).
Unfortunately, most hard-shell kayaks are sold alone, and accessories are sold separately. SOME retailers will do a bundle deal—buy a kayak and get a paddle on a special deal price—but most of the time, you'll have to buy the accessories in addition to the kayak.
Inflatable kayaks will typically come with the paddles included, as well as the pump required to inflate the craft. However, you'll need to purchase the PFD and other accessories separately.
How much will you spend on accessories?
Paddles typically start at $40 to $50 and go up from there, though you can find some as low as $30 on Amazon.
PFD/lifejackets typically start in the $40 to $60 range, though there are cheaper options. This is one accessory you DO NOT want to cheap out on. Buying a lifejacket sized for your specific weight and activity level is absolutely critical—it could very literally save your life! Read our guide on choosing a life jacket for kayaking.
Kayak safety kits (including rope, bailing bucket, whistle, and flashlight) start at $15 to $20, but get pricier if you include additional accessories (bilge pump, first aid kit, etc.).
These "extra" expenses are exactly why you're making the smart choice to shop budget kayaks initially. That way, you can have a kayak and all the necessary accessories right away without breaking the bank.
Which Kayak Type to Choose?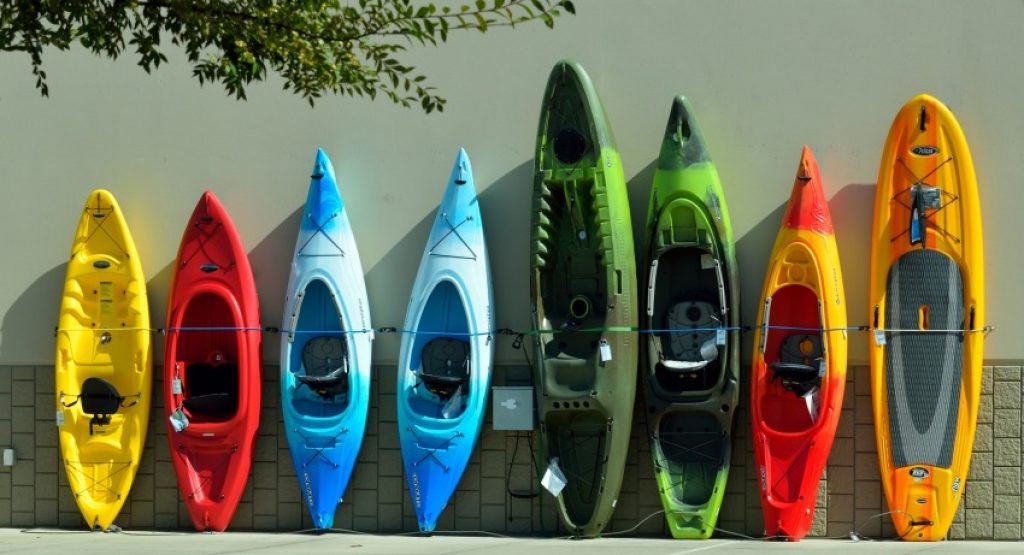 Now that you know the price range you're working with, you can move on to the type of kayak that best suits you.
There are two basic choices to get started:
Sit-In – These kayaks are designed so you sit inside, shielded from the elements by the kayak's hull (and spray skirt, if you so choose). They're great for cold-weather and cold-water kayaking, or when paddling close to the shore. However, if they flip, the cockpit can fill up with water and make righting yourself and getting back to paddling a lot harder.
Sit-On – Sit-on, or sit-on-top, kayaks are designed to be self-draining and easier to right should they flip, which makes them great for warm-water kayaking. Their low design makes them easy to launch and land. However, you are totally exposed to the water and elements.
Of course, when you start to drill down into kayak types, you also get into the two most common kayak designs:
Recreational kayaks tend to be of the sit-in variety, and are typically agile in the water and easily maneuverable, but with fewer additional features.
Fishing kayaks tend to be of the sit-on variety (though there are sit-in fishing kayak models) and are wider, more stable, and are designed to accommodate fishing gear (tackle boxes, fishing rods, landing nets, etc.).
Materials: What Are Budget Kayaks Made Of?
Kayaks are made from a wide range of materials: from wood to composite glass to plastic. For budget kayaks, you'll find there are four basic materials to choose from:
Rotomolded Polyethylene – For this type of kayak, pellet or powdered polyethylene is heated inside a kayak mold and rotated to form a single-piece kayak shell. This is typically the most budget-friendly option for hard-shell kayaks. The majority of budget kayaks will use a rotomolded polyethylene shell.
Thermoformed Polyethylene – For this type of kayak, the deck and hull of the kayak are thermoformed separately from sheets of plastic that have been vacuum-sucked onto a deck mold. This is the process used for more expensive kayaks (such as the Eddylines options), but budget brands like Pelican will use it to turn out cheaper options, too.
PVC – PVC is often used for the hulls of inflatable kayaks. It's incredibly tough and resistant to damage while also being lightweight and versatile.
Nylon/Synthetic Rubber – Some inflatable kayaks will use durable, lightweight nylon for the decks and water-resistant synthetic rubber (such as hypalon) for the hull. They are no less resistant to damage, but the material used is cheaper than plastic polyethylene.
Though less expensive than fiberglass, wood, carbon fiber, and Kevlar, these budget options are still incredibly durable and reliable.
Dimensions: Get the Right Kayak for Your Size
The size of your kayak will depend on two things:
1) You, the paddler. Larger and heavier kayakers will likely need a larger kayak. For example, I am 6' 6" and clock in around 260 lbs. Anything smaller than a 12-footer will be both too short for my long legs and have too low a weight capacity. (My current kayak is a 14-foot Azure Riot beauty that is more than big enough with a weight capacity of around 400 lbs—plenty for me and all my gear).
For "average" sized users (anyone under 6' tall and weighing under 200 lbs), the standard 10-foot kayak will typically suffice. For truly small paddlers (children and those under 5' tall), a short lightweight kayak is a great compact option to consider.
2) Your carrying capabilities. Larger kayaks tend to be heavier, and smaller kayaks weigh less. I have no trouble hauling around my 14-foot kayak, but my wife is much happier carrying her Summit Pelican 100X with its lightweight polyethylene frame.
You're going to have to not only carry the kayak to and from the water, but also load it onto your roof rack or in the back of your truck. Consider how much weight you can haul when buying a kayak.
Just remember:
Longer kayaks are typically faster and track better in the water, but are heavier when transporting them between your vehicle and the water.
Shorter kayaks are more maneuverable, weigh less, and cost less, but tend to be slower.
Wider kayaks are more stable but slower
Narrow kayaks are faster but less stable
Extra Features: What You Can Expect
A few "extras" that aren't entirely necessary but always nice to have include:
Storage space – Some sit-inside kayaks come with one or two additional watertight compartments (called "bulkheads") that allow you to transport gear, a dry bag, fishing box, water, food, etc.
Handles for easy carrying – This makes a huge difference when transporting the kayak to and from the water.
Handles for re-mounting – If you overturn the kayak in the water, having handles located on either side of the seat will make it easier for you to haul yourself back in once the kayak is righted.
Paddle/paddles included – Not all kayaks come with paddles included. A good paddle can cost an additional $40+, so if you can find a special offer that includes a paddle, you'll save a bit of extra money.
Pump – Inflatable kayaks typically come with their own pumps (and paddles). However, just check to make sure there's a pump in the box when you buy it.
Adjustable Seat – Being able to adjust the seat of your kayak enables you to adapt it to your specific height, weight, and comfort. If you plan hours-long trips, it will make a huge difference!
Fishing pole holder/mount – If you're buying a kayak specifically for fishing, see if there are options that come with a pole holder attached or a built-in fishing pole mount.
Skeg or Rudder system – Skegs are fins attached to the underside of the kayak to improve tracking and handling while on the water. Pricier kayaks may include a built-in rudder system that serves the same purpose. If you can find a budget kayak with either of these hardware options, you'll find paddling gets much easier. Or, you can simply buy your own skeg (like this one off Amazon) and attach it to your kayak using marine glue.
Top Rated Budget Kayak Reviews

Type: Inflatable sit-on
Material: Vinyl construction, tarpaulin hull
Size: 9' (274.3 cm) x 30" (76.2 cm)
Weight: 27.2 lb (12.33 kg)
Capacity: 220 lb (99.8 kg)
The Intex Challenger K1 isn't just a great bargain buy; it's also a highly maneuverable, surprisingly rugged, and great-looking inflatable kayak.
It weighs just over 27 pounds, easy enough to haul around with you anywhere you go, and is sized just right for all but the tallest paddlers.
The vinyl structure and tarpaulin hull are tough and will handle any casual use, though it's probably best not to take it down rapids or on long ocean voyages. Stick with lakes and calm rivers, and you've got a light, easily transportable kayak that will last you for years to come.
It comes with its own pump, a solidly-built aluminum paddle, and a detachable skeg that improves tracking and handling on the water. The carry bag feels a bit flimsy, sure, but the high durability of the kayak itself is what matters most.
If you're a smaller paddler looking for an absolute steal-price option to get kayaking right now, the Intex Challenger K1 is a great first kayak to try out.
Bonus: If you're looking for a budget tandem (two-person) kayak option, the K2 Challenger is a great option to get you and a partner out on the water at a steal price.
Pros:
Includes cargo netting for additional storage
Super lightweight
Comfortable, spacious cockpit
Skeg improves handling significantly
Nimble and highly maneuverable
Cheap
Cons:
Vinyl dries slowly
Can get almost painfully hot to the touch after hours in direct sunlight
Very low weight limit
---

Type: Inflatable sit-on
Material: PVC coated polyester
Size: 12'7″ (384 cm) x 37″ (94 cm)
Weight: 39 lb (17.7 kg)
Capacity: 400 lb (181 kg)
Pros:
Highly portable
Can be used as a tandem or solo
Good handling
Quick inflation time
Cons:
Lacks storage capacity
Low seat position
---

Type: Hard-shell sit-inside
Material: High-density polyethylene
Size: 10' (304.8 cm) x 28" (71.12 cm)
Weight: 35 lb (15.87 kg)
Capacity: 275 lb (124.73 kg)
The Pelican Summit 100X is quite literally EVERYWHERE in Canada where I live. It's sold at almost every sporting goods store in town and at a price low enough for anyone and everyone to afford.
It's also incredibly comfortable, lightweight enough that my wife can haul it on her own, but handles like a dream. It feels stable and hasn't yet tipped over, even when on choppy and rough water.
The polyethylene hull can take a beating without showing any damage, and it handles like a dream even for beginner paddlers like my wife.
And talk about extra features! It comes with a front storage platform and rear storage tank, both secured by bungee cords, and a built-in can/bottle holder to keep her summer drinks close at hand while paddling.
Pelican gives you a cheap and easy way to get paddling in a kayak built specifically for newbies and bargain hunters, but the Summit 100X is still one of the best kayaks I've ever owned/paddled.
Pros:
Beautifully lightweight
Easy to handle
Excellent for beginners
Virtually unbeatable price point
Tough and rugged construction
Cons:
No skeg
Tends to be slower
No waterproof dry storage
Prone to tipping if fills with water
---

Type: Hard-shell sit-inside
Material: RAM-X polyethylene
Size: 12' (365.76 cm) x 29" (73.66 cm)
Weight: 47 lb (21.3 kg)
Capacity: 375 lb (170 kg)
If you're a taller, heavier paddler (like me), you're going to need a longer boat with a higher weight capacity. And that's exactly what the 12-footer Pelican Mustang 120 EXO is!
This sit-inside kayak is a recreational kayak built using Pelican's proprietary RAM-X polyethylene, and it's tough enough to handle anything the lake, river, or even the open sea can throw at it.
The twin-arched multichine hull offers great stability, so you'll never have trouble handling it even in choppy waters.
There's enough storage space for all your gear, built-in handles for easy transportation, thigh pads for extra comfort, two flush-mounted rod holders for an occasional fishing trip, and even an integrated smartphone holder and bottle holder so you've got comfort and convenience at your fingertips all day long.
For those who want a longer kayak perfect for heavier and taller paddlers, the Pelican Mustang 120 EXO is a great option.
Pros:
Extra weight capacity
Very durable
Limited Lifetime Warranty
Soft thigh pads
Built-in fishing rod holders
Excellent storage space
Cons:
May be harder to load and unload from roof racks without help
Hull may warp if exposed to long-term heat (stored out in the open)
Fixed foot pedals cannot be adjusted
---

Type: Hard-shell sit-on
Material: Thermoform Polyethylene
Size: 10' (120 cm) x 30" (76 cm)
Weight: 43 lbs (19.5 kg)
Capacity: 275 lbs (124.73 kg)
For a sit-on kayak, the Pelican Sentinel 100X EXO is an awesome beginner-friendly and budget-friendly choice.
It comes with both a paddle and adjustable seat included, and it's lightweight enough anyone can load/unload it with ease. It's the perfect calm, flat-water kayak, great for warm weather lake paddling or slower-moving rivers.
Though not the most stable sit-on kayak, it's tough enough to endure bumps and impact without showing the wear and tear. It's a great choice for kids or newbies that just want to get out in the water and don't mind getting wet.
The removable storage compartment gives you enough space for a dry bag, water, food, and whatever gear you want to bring with you, and you'll find the side-molded carrying handles makes transporting this bad boy a breeze.
If you live in a hotter climate where the water is warm all year-around—or you just don't mind getting wet—this is a great sit-on kayak to consider for calm lakes and rivers.
Pros:
Self-bailing design allows water to drain out easily
Lightweight and easily maneuverable
Great for recreational and warm-water use
Comes with paddle and adjustable seat included
Higher-than-average weight limit
Ample storage capacity
Cons:
Quality control issues (users reported products arriving dented or damaged)
Seat provides insufficient lower back support
When carrying overhead, the storage case may fall out (isn't locked into place)
---

Type: Hard-shell sit-on
Material: High-density, UV-protected polyethylene
Size: 12′ 3″ (312.42 cm) x 31″ (78.7 cm)
Weight: 57.5 lb (26 kg)
Capacity: 300 lb (136 kg)
TO EDIT: The Lifetime Tamarack Angler is an outstanding option for anglers on a budget. It is a fishing kayak that takes care of business and offers just what you need for catching fish. While this model lacks some of the more modern comforts, the features it does have are worth noting.
The Tamarack Angler is relatively lightweight at just 51 lbs (23 kg), meaning it will be easy to handle outside the water and also cartop if you choose to. There isn't an abundance of storage space, but this model does offer two dry storage hatches—one in front of the seat and one behind.
Crafted from UV-protected high-density polyethylene, the Tamarack Angler is designed to be a rigid, durable kayak that performs well on the water. Many users report that the kayak offers enough stability to allow them to stand while fishing. At just 10' (304.8 cm) in length, the Tamarack Angler is a great option for budget-minded anglers or kids.
Pros:
Great maneuverability
Lightweight
Good stability
Cons:
Limited capacity
Seat lacks padding
---

Type: Hard-shell sit-on
Material: High-density, UV-protected polyethylene
Size: 10' (304.8 cm) x 30.5" (77.5 cm)
Weight: 53.5 lb (24.3 kg)
Capacity: 275 lb (124.7 kg)
Looking for a great inexpensive fishing kayak? Look no farther than this budget-friendly option!
The Lifetime Teton Angler offers excellent stability and great handling in the water. This kayak features paddle mounts and rod holders to make it easy to switch between rowing and reeling all day long.
Made with a special UV-protected polyethylene, the shell is tough enough to survive hard knocks without dents or dings, and the unique hull shape slices through the water with far less effort—you'll save all your strength for hauling in that prize-winning fish you're after.
The Teton Angler comes with both rear and front storage compartments secured by bungee cord, keeping your tackle boxes and fishing gear securely in place. Thanks to the universal track built into the side, you can mount a range of additional fishing accessories.
If you want a great fishing kayak option with a sit-on design, you'll find this one meets all your needs—and at a price you won't beat anywhere else!
Pros:
Excellent reliability
Comfortable and easily adjustable seat
Great storage options
Compatible with a wide range of fishing accessories
Paddle + fishing rod mounts
Great price point
Cons:
Heavier than the average sit-on kayak
Bungee system prone to breakage
Prone to scratching
---

Type: Hard-shell sit-in
Material: Polyethylene
Size: 10' 6" (320 cm) x 29.5" (73.66 cm)
Weight: 46 lb (20.86 kg)
Capacity: 335 lb (152 kg)
The Perception Sound 10.5 is six inches longer than a standard 10-footer, which means it offers better-than-average stability without adding too much weight. You'll find it's light enough to carry, launch, and load, but with a low center of gravity that keeps the kayak stable out on the water.
The tri-keeled hull adds even more stability, keeping you from tipping too far in either direction even out on rough or choppy water. It is prone to being blown around in strong winds, and handling isn't quite as great as you might like, but you'll find it does a great job of keeping you paddling all day long in calmer weather.
And for larger-sized paddlers, the roomy cockpit offers extra leg room and a very comfortable ergonomically designed seat.
The Perception Sound 10.5 is a recreational kayak specifically built for larger paddlers, giving you better comfort and more room to relax on the water.
Pros:
Slightly larger-than-average size offers better stability without compromising handling
Above-average weight capacity
Low center of gravity to keep it from tipping
Lightweight, easy to load/carry/launch
Roomy cockpit
Comfortable cushioned seat
Cons:
Seat isn't adjustable
Limited gear storage space
Handling suffers in high winds
---

Type: Hard-shell sit on
Material: High-density rotomolded Polyethylene
Size: 13' 6" (412 cm) x 34" (86 cm)
Weight: 78 lb (35 kg)
Capacity: 550 lb (249 kg)
Planning to take a partner out on the water with you but don't want to break the bank buying a pricey tandem kayak? Check out the Perception Rambler 13.5 Tandem, one of the cheapest hardshell tandem kayaks on the market.
This sit-on kayak has everything you need to enjoy your day out on the water: two comfortable seats, a roomy tankwell, and well-placed recessed storage space for your gear, dry bag, food, and water.
The seats are shifted just far enough forward that you can paddle it solo from the center seat—great if one of you needs to take a break or you just want to hit the water alone. You can even bring an extra compact-sized passenger (one of your kids, perhaps) to join you and your partner on the water.
It's as heavy as you'd expect from a tandem kayak but built to be the comfortable, stable, beginner-friendly option you're looking for.
This family-friendly kayak is just what you need to get out on the water in style and comfort.
Pros:
The best-priced tandem kayak around
Rear storage tray can accommodate a cooler
Self-draining; 10 built-in scupper holes
Comfortable removable Harmony Seats
Impeccable balance, excellent stability
Safe for three paddlers (two adults + child)
Cons:
Bow storage tray doesn't include bungee cords to secure your gear
Handles poorly on choppy water or strong currents
---

Type: Hard-shell sit-inside
Material: Polyethylene
Size: 12" (365.76 cm) x 29" (73.66 cm)
Weight: 55 lb (24.94 kg)
Capacity: 300 lb (136 kg)
This 12-foot kayak is just what you need if you're a heavier paddler looking for a budget-friendly option. It's not only one of the cheapest extra-large kayaks around—it's also one of the best for newbie paddlers.
The kayak comes with all the storage space you could ask for, a comfort-back seat, built-in rod holders, and an open rear well large enough to store a 5-gallon bucket.
The knee/thigh pads and adjustable footrests guarantee all-day comfort, and you'll love the additional seat padding, offering great lower back support.
With the dual paddle keepers, built-in cup holder, fishing rod mounts, and action camera mounts on the front of the deck, it's also great for an occasional fishing trip.
The Field & Stream Blade 120 Elite is great for heavier paddlers who want to enjoy all-day comfort on a stable, well-built budget kayak.
Pros:
Designed for all-day comfort
Hands-free fishing with the flush mount rod holders
Secure bungee cord storage
Excellent carrying capacity
Padding and adjustable foot rests ideal for larger/heavier paddlers
Cons:
Seat hump makes roof mounting difficult
Long-legged paddlers may find leg space limited
---

Type: Inflatable sit-on
Material: K80 PVC
Size: 12' 6" (381 cm) x 34" (86 cm)
Weight: 32 lb (14.5 kg)
Capacity: 650 lb (295 kg)
This is a tandem kayak built for maximum carrying capacity! If you want to take the whole family out for a paddle, load them into this bad boy and get paddling.
The inflatable kayak weighs just 32 pounds—easy enough for anyone to carry to and from the water—but has a capacity of up to 650 pounds. The rear seat has enough leg room that you can fit a child (or two) between you and the front seat.
It's not the most versatile or maneuverable vessel around, but you'll find it's amazingly stable and won't flip even if your kids are roughhousing or leaning over the sides. It's great for a weekend camping trip or fishing outing with your family—a great blend of form and function.
Pros:
Lightweight, easily transportable
Great weight capacity, sized for multiple passengers
Durable
I-beam construction floor offers excellent stability
Hull resistant to sun and saltwater
2 skegs offer better speed and tracking
Cons:
Unwieldy, may be hard to maneuver against strong currents
May be damaged by oyster beds, coral, or strainers
---

Type: Inflatable sit-in
Material: Polyester with polyurethane laminate + PVC Tarpaulin
Size: 10'5" (317.5 cm) x 32″ (81.3 cm)
Weight: 36 lb (16 kg)
Capacity: 300 lb (136 kg)
If you're looking to step it up and get a kayak that can go the distance, Advanced Elements AdvancedFrame is a strong contender.
It combines rigid aluminum frame elements with inflatable air chambers to achieve the portability of an inflatable kayak with some performance characteristics of a hardshell boat. The sharp keel on the bow and stern pierces through the water, ensuring excellent speed and tracking. The reinforced 3-layer PVC material is tough as nails, while multiple air chambers improve safety on the water even if you manage to puncture the hull.
A big advantage of the AdvancedFrame is that although it does have aluminum ribs on the bow and the stern, they are pre-installed so you don't have to do any frame assembly. Just inflate the air chambers, and you're good to go.
Tests have shown that the AdvancedFrame delivers on its promises. It glides through the water seamlessly and can handle some wind and waves. It is stable, fast, and fun to paddle. It is also very comfortable, allowing you to stay on the water for hours.
At 36 lb, it is not the lightest boat in our review (although still completely manageable). Nor does it offer a lot of storage space, so it's probably not the best choice for camping trips. However, if you just want to paddle around on your favorite lake and enjoy your time on the water, you'll be hard-pressed to find a better solution.
FAQs
What Size Kayak Is Best for Beginners?
Beginners typically find it easiest to handle either a 10-foot or 12-foot kayak. Larger users will need the additional weight capacity of the 12-footer, but the additional weight may make handling a bit more difficult initially. 10-foot kayaks are great for smaller/lighter paddlers and will be excellent for learning the basics of paddling, tracking, and handling.
Can one person use a two person kayak?
Tandem kayaks are typically designed for two-person use, but some are built so they can be handled (albeit with some difficulty) by one paddler, usually sitting in the rearmost seat. If you expect to use a tandem kayak on your own, make sure to research your options thoroughly to find one that is easy for solo paddling.
Do inflatable kayaks pop easily?
As long as you steer clear of underwater obstacles and excessively rough lake/ocean/river beds, you should have no fear of the inflatable kayak popping. Inflatable kayak hulls are made using super-tough hypalon or PVC, both of which are damage-resistant.
Are inflatable kayaks hard to paddle?
There are some who find it more difficult to steer inflatable kayaks because of the less-rigid sidewalls, which provide marginally less leverage to push against as you paddle. However, the light weight of the inflatable kayaks typically makes them easily maneuverable, especially on calmer water.
Conclusion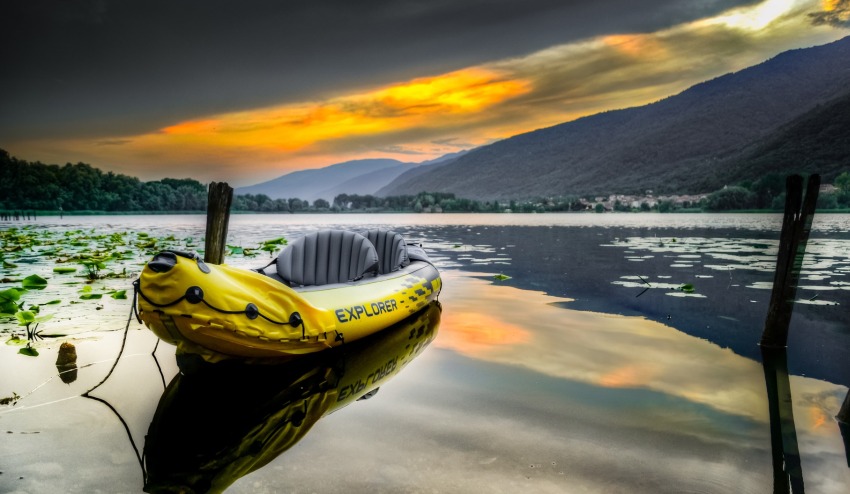 The one thing I want you to take away from this article is this: budget kayaks may cost less, but they're not always "cheap".
Sure, you won't find premium-quality materials (like carbon fiber or fiberglass) and the budget options aren't Olympic racing-class kayaks with all the bells and whistles.
But they are ideal for beginners who want to get out on the water without paying a fortune. They're tough, versatile, and a great choice to help you start kayaking today.
Once you've fallen in love with the sport, you can consider upgrading to a pricier model down the road. What matters is that the best budget kayak gives you the chance to start paddling and enjoy all the beauty of nature RIGHT NOW.
Happy kayaking!