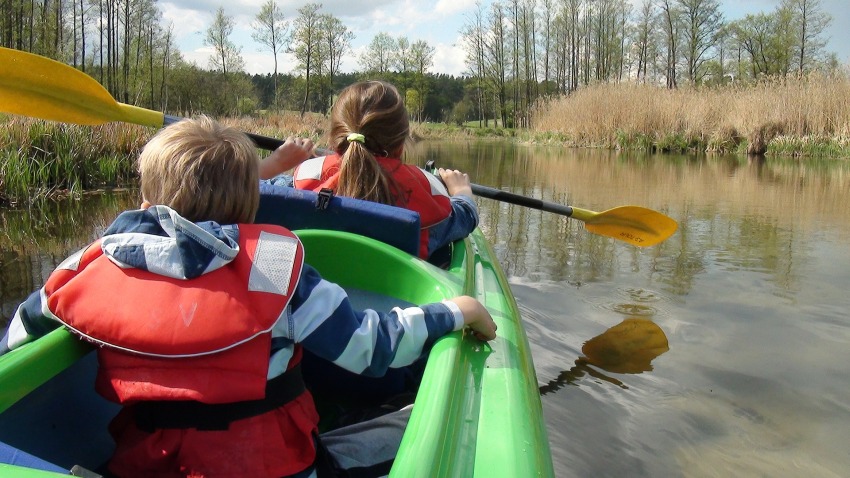 Family adventures in kayaks have never been more popular. Whether paddling with their parents in tandem kayaks or heading out on a paddleboard or a youth sit-on-top, it's important to make sure all your young paddlers are wearing a life jacket.
Getting children out on the water safely builds their confidence. Youngsters love splashing around and floating on the lake. Kayaking helps to develop balance, coordination, and fitness in children and can build a love of the sport that lasts a lifetime. That is, as long as it's done safely.
In a hurry? Here is the list of life jackets we recommend for kids:
Choosing a PFD For Your Child: Tips from the US Coast Guard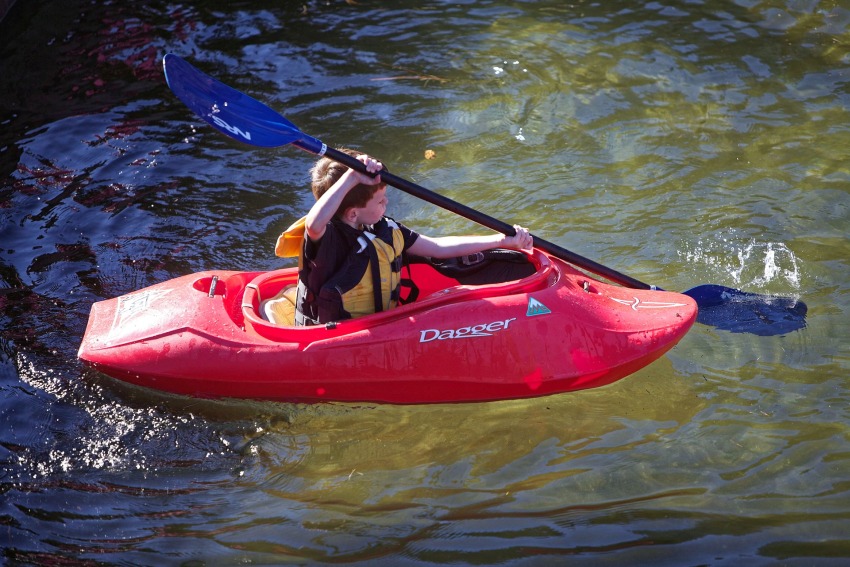 The United States Coast Guard offers the following advice on choosing a life jacket for your child:
Teach them how to put on a PFD and float in it
When kids fall into the water, they panic, often moving their legs and arms frantically. This makes it harder for them to stay face up, even if the PFD keeps them afloat. It is important to let them get used to wearing a PFD while floating in the water.
Make Sure the PFD Fits Snuggly
A life jacket that's too loose can ride up in the water and fail to keep your kid's head in the air. Even worse, the child might slip out altogether. To test if a PFD fits well, pick your kid by the shoulders of the life jacket. The child's chin and ears should not slip through.
A PFD Is Not a Babysitter
Just because your child is wearing a life jacket does not mean they can be left unattended. An adult should be nearby at all times. It is also important not to use inflatable toys, mats, or rafts in place of a PFD.
Test Your PFD Right After Purchase
All kids are different. A life jacket that works for one child may not work as well for another. USCG recommends that you test the PFD immediately after purchase in a swimming pool. Check if it can float your child reliably and keep them in a face-up position. Always remember that kids tend to struggle in the water, so keeping them face up is not easy. Make sure the PFD you bought can do that for your child. If a life jacket does not work well, try another style.
Why Should Children Always Wear Life Jackets?
Children are not as independent as adults on or around the water. Limited coordination and development can make it harder for children to float themselves in a safe position. Wind and waves can be challenging and without a PFD to keep them afloat, children may find themselves in difficulties.
Get Your Child Used to Wearing a PFD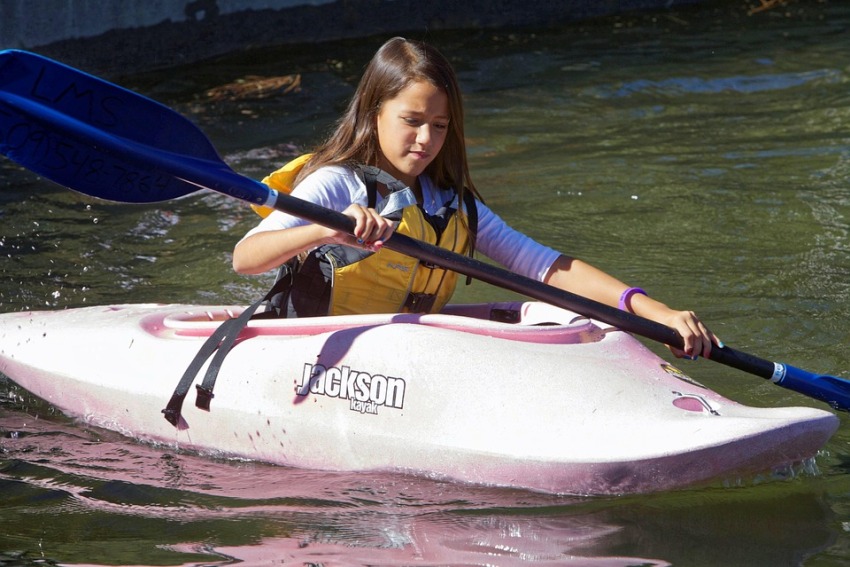 Kayaking can be a daunting sport when you're new to it. Wearing a life jacket will keep your child safe, but enjoying kayaking will leave them keen to get back on the water. Being comfortable is a big part of children enjoying a sport.
PFDs, or life jackets, might feel chunky and unusual. Before you take your child out on the water, it is worth getting them used to wearing it. It is a good idea to practice floating and water safety. Remember, spend time near the shore before heading further or on longer adventures.
What Types of PFDs Are Best for Kids?
The USCG categorizes personal floatation devices into five different categories.
Type I – Have the most inherent buoyancy and are designed for rough conditions or offshore. These PFDs are designed to turn unconscious casualties into a safe position.

Type II – Designed for calmer waters or nearer shore and have the ability to turn some casualties onto their back.

Type III – Not designed to turn casualties over but only to provide floatation.

Type IV – Thrown devices to aid a struggling person to either assist rescue or keep them afloat while they await rescue.

Type V – Sport-specific or condition-specific PFD. Each of these devices has its own specific use.
Most youth PFDs are either type II or III. Type III PFDs are the most common in kayaking and are the least restrictive. They allow the most freedom of movement both on the kayak and in the water and are preferred by confident water users.

Type II PFDs are more suited to younger children or infants, who may lack the ability to turn themselves the right way up in the water. They are also suitable to those with less confidence or environments with more challenging conditions, or which are further from shore. Remember to acclimatize and practice to make sure you are comfortable before you go into these conditions.
What to Look For in Your Child's Life Jacket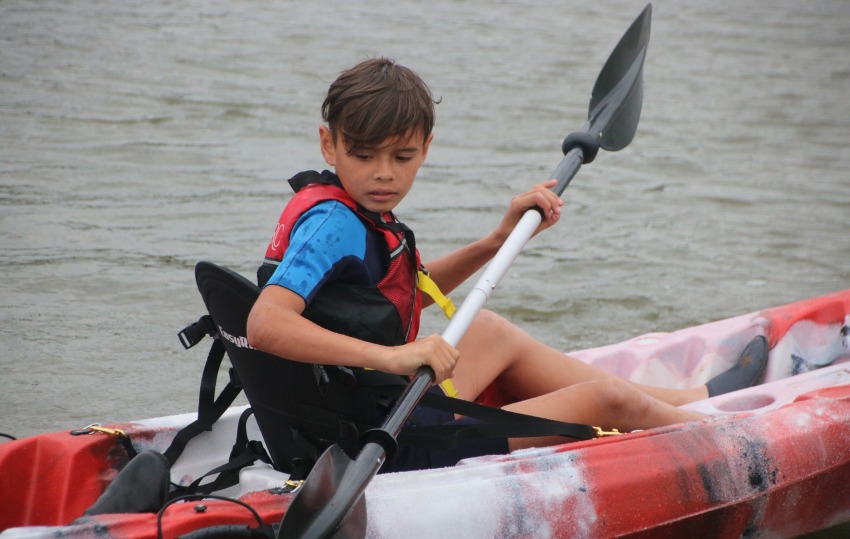 Size and Floatation
Children's PFDs come in a wide range of sizes and vary in their floatation. Most PFDs are sold for children's weight as well as their size. Children under 30 lbs. are more likely to fit a toddler or infant life jacket rather than a youth PFD.
The weight of your child will determine how much floatation they require in their PFD. As your child grows, so should their life jacket. Children's life jackets are designed to keep their heads clear above the water and low floatation can put them in danger.
Do not be tempted to buy a PFD for your child to grow into. Any PFD which is too large is not going to keep your child safe on the water. We recommend that you always buy a correct, fitted jacket.
Fit
Along with finding a PFD of the right size, you will need one which is a comfortable and safe fit. Different PFDs are secured with either clips or zips. Some have neck collars to support your child's head or to float them upright, while others have armband-style attachments.
Find a PFD which suits your specific purposes and child's needs and which they find comfortable. Zips may be more secure, but clips can give your child the ability to take responsibility for their safety. You should also think about how easy it is to get your child into their life jacket.
Features
Children's PFDs aren't as feature-laden as adult options usually are. However, they do have features that are either for safety or comfort which can make the difference.
Beyond the immediate fit of a PFD, you can add a crotch strap to many designs to stop it from riding up in the water. These are especially common on infant PFDs but are a good idea if you have any concerns about the fit. Children are often lacking definition under their ribs and shoulders and PFDs don't always stay as secure as they should.
Other children's PFDs may have pockets so that they can carry their own snacks and toys with them on the water. Some youth PFDs may have sport-specific features, like safety harnesses for white water or extra pockets for sea kayaking or angling.
Best Life Jackets for Kids
Stohlquist Drifter Youth – Best All-Around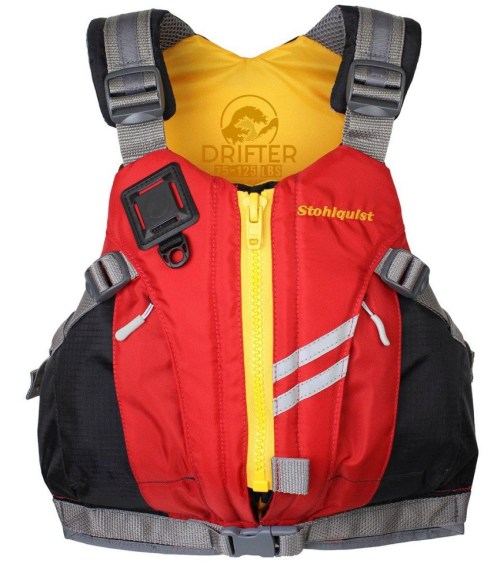 Buoyancy: 12 lbs. (5.44 kg)
Weight: 0.9 lbs. (0.41 kg)
USCG Rating: Type III
Stohlquist Drifter Youth is a top end youth PFD suitable for recreational, touring and even some whitewater paddling. With extra wide arm holes and panels which conform to your body, your young one will have loads of freedom to paddle without anything getting in your way.
The Drifter youth has loads of features, too, bringing it in line with Stohlquist's top adult PFDs. Cross-chest cinch straps help to keep the vest from riding up, perfect for any youth paddlers who want to paddle hard, or want to swim around without the PFD getting in their way.
The front pocket and lash tab give plenty of space to store equipment you need close at hand on the water. Inside the pocket is a d-ring, so you can secure items, safe in the knowledge you won't lose them as you find your camera.
A chunky zip and easy to use buckles mean your youth paddler can be responsible for putting the PFD on themselves, a key step to understanding safety on the water.
---
Stohlquist Infant and Child – Best Infant Type II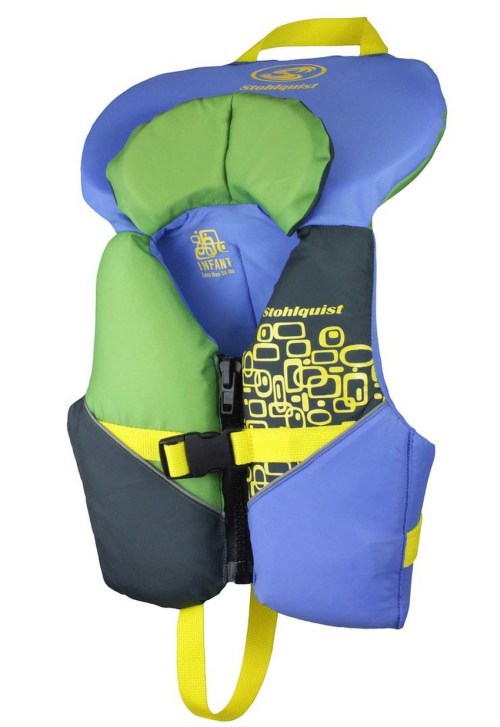 Buoyancy: 8.6 lbs. (3.9 kg)
Weight: 0.8 lbs (0.36 kg)
USCG Rating: Type II (Infant), Type III (Child)
Stohlquist Infant and Child PFDs are a perfect way to introduce your young paddler safely to the water. Dual support collars cradle the head to support them as they swim around, while a handy grab handle on the rear allows you to fish them out of the water when necessary.
The simplistic design, with most of the floatation on the front, is designed to maximise safety and a comfortable fit. Adjustable straps and crotch straps prevent the PFD from riding high and potentially coming off your child.
The easy to use zip and buckle system on the front means that as your child progresses, they can begin to take responsibility for their own safety. These PFDs come in a range of colours and styles, so not only will these keep your child safe, but they will be excited to put it on.
The Infant version is a Type II PFD, and will turn some children to be face up in the water. The Child version is a Type III PFD, not designed to do so, and is more suited to children with some swimming skills. These PFDs are not a substitute for adult supervision.
---
Stohlquist Fit Youth – Best Budget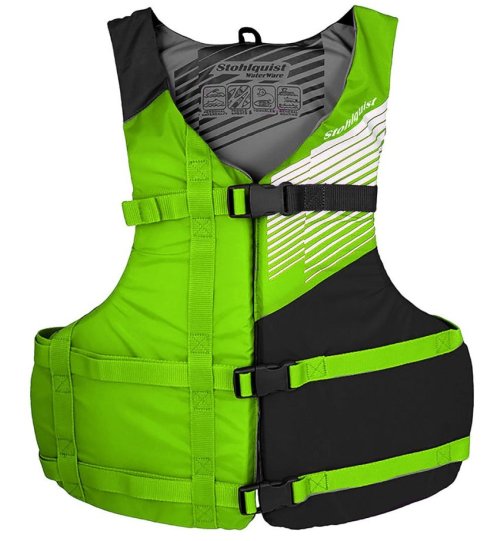 Buoyancy: 14 lbs. (6.35 kg)
Weight: 1.6 lbs. (0.72 kg)
USCG Rating: Type III
Stohlquist Fit Youth PFD is a high mobility vest for paddling, general boating and personal watercraft use. The sculpted front and back foam panels create a more appropriate fit for paddlesports, while still providing the ability to be used in other boating activities.
---
NRS Vista Youth – Best Recreational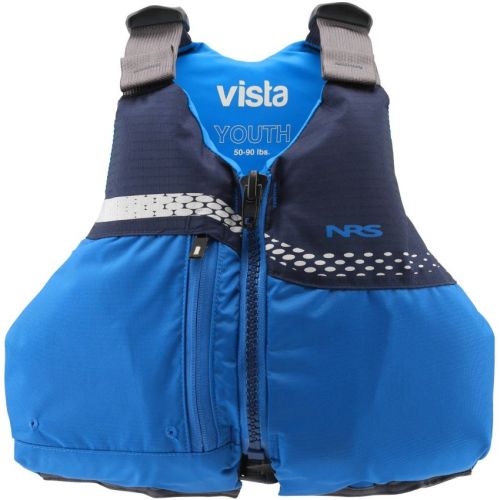 Buoyancy: 11.8 lbs. (5.35 kg)
Weight: 1.1 lbs (0.5 kg)
USCG Rating: Type III
NRS Vista Youth PFD is a stylish alternative to the Crew Youth, and comes with its very own snack pocket, so your young paddler can carry their own chocolate bars on the water.
This PFD is designed to fit children weighing 50 – 90 pounds and wraps snugly around their body for all day comfort and movement. The front zip entry allows your child to dress themselves, too, with chunky, easy to handle zips.
400 denier nylon gives this youth PFD the robustness you need for it to last for multiple seasons of wriggling, wrestling and writhing around in the water as your child learns to paddle and enjoy being out on their kayak.
---
NRS Crew Child – Also available as Youth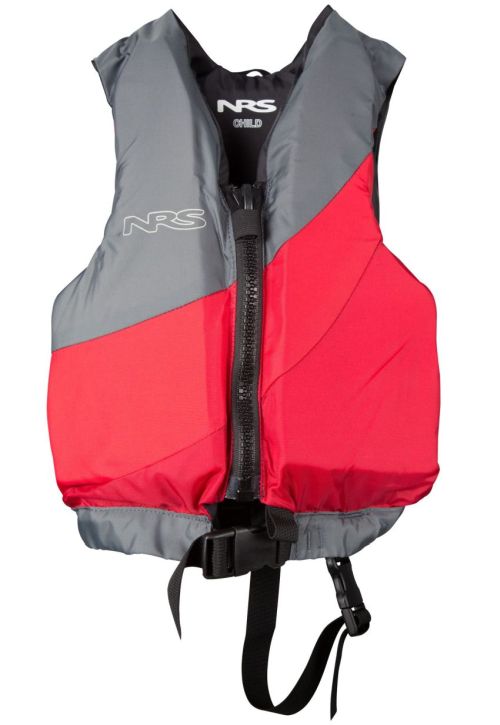 Buoyancy: 7.4 lbs. (3.36 kg)
Weight: 1,04 lbs. (0.47 kg)
USCG Rating: Type III
NRS Crew Child PFD gives your child that sense of having the same gear as the adults, awarding them the feeling of involvement and inclusion that they might otherwise lack.
This kids' PFD is designed for users weighing 33 – 55 pounds. It also includes adjustable leg straps, which prevent the jacket riding up on your child while they're in the water, keeping them even safer.
For larger kids weighing between 55 and 88 lbs, there is the NRS Crew Youth version of this PFD.
This PFD is approved under the new PFD certification system. It's dual certified, carrying both a US Coast Guard Approval through Underwriters Laboratories (UL), and a Transport Canada Approval through Underwriters Laboratories Canada (ULC).
---
Astral Otter 2.0 – Best Quality and Cut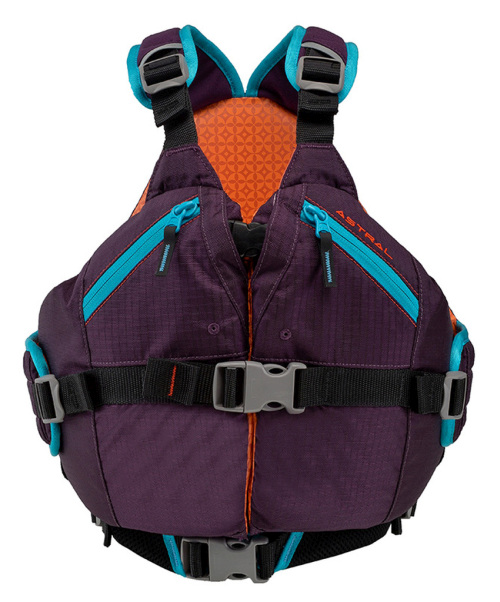 Buoyancy: 11.5 lbs. (5.22 kg)
Weight: 1.3 lbs (0.59 kg)
USCG Rating: Type III
Your young paddler needs a life vest that they feel comfortable and stylish in, and more importantly, one they will want to wear all day. The Otter 2.0 is a youth kayaking life jacket designed to fit paddlers weighing between 50 and 90 pounds.
Made from super soft, organic kapok material, this PFD wraps snugly around small bodies, keeping them secure and safe in the event of a swim. This design not only fits closely, but gives them maximum movement, so they can paddle freely as their skills develop.
The three large buckles on the front of the Otter are easy for small hands to secure, so your child can be a part of their own safety on the water. There are also two easy to use zippered pockets, so they can carry their own snacks too.
For adults, this PFD can give you a real sense that your child is safe. Thanks to Astral's manufacturing and design, it will also hold up well for a really long time.
On the back of the Otter there is a grab loop, so you can haul your child out of the water before they drift away. Additional leg loops, far more comfortable than many other designs, give extra security and stop the Otter from riding up on smaller kids.
---
Stohlquist Canyon Youth – Best Whitewater/Commercial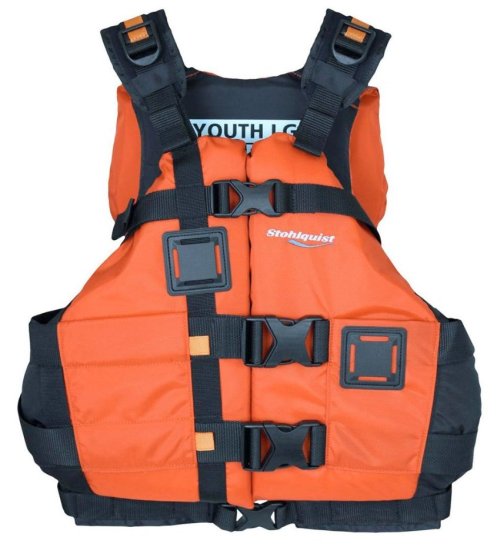 Buoyancy: 20 lbs. (9.07 kg)
Weight: 1.9 lbs. (0.86 kg)
USCG Rating: Type V
Stohlquist Canyon Youth is a high float PFD designed for commercial whitewater boating and rafting. It's an extremely low-profile, high mobility vest that offers big buoyancy for big water. A terrific fit for petite and younger boaters alike – perfect for teens and tweens.