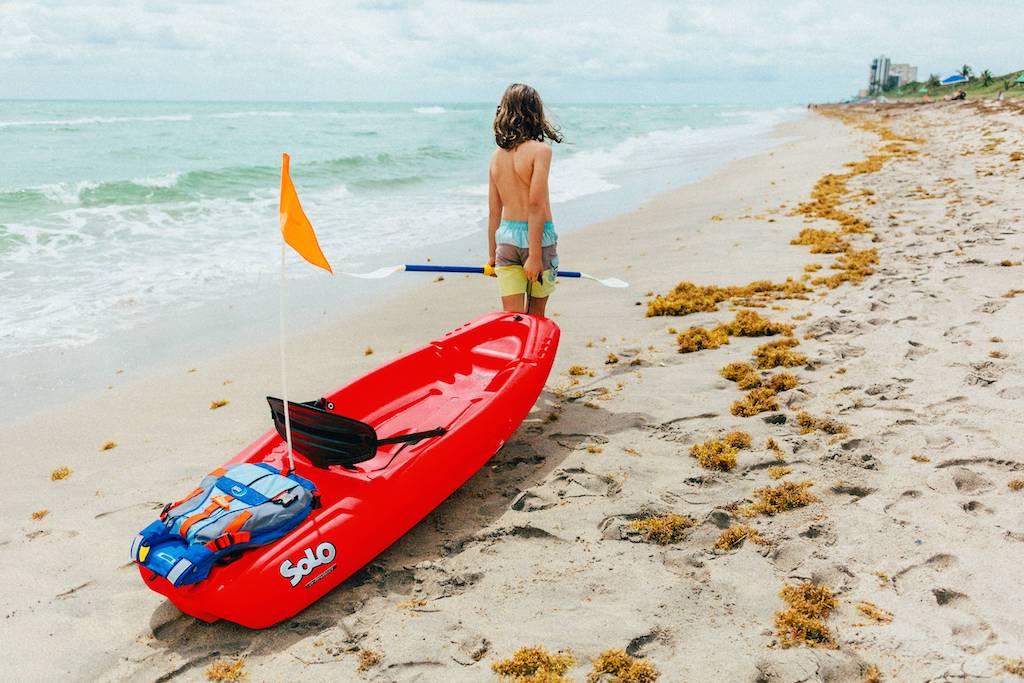 Kayaking with kids is truly a great experience. When you have a child old enough to start paddling their own vessel, it's crucial to get them into the right kayak. When kids have to struggle with a kayak that is not their size, too heavy, or too long, it makes it much less fun.
We have put together our top ten favorite kayaks for kids. In addition to our choices, please take a look at our guide for making sure you choose the proper one.
Quick Answer: Best Kayaks for Kids in 2021
Intex Challenger K1
Lifetime Wave
Pelican Solo
Perception Prodigy XS
Old Town Heron Junior
MaxKare Youth Kayak
Perception Joyride 10
Eddyline Sky 10
---
Intex Challenger K1

Length: 9' (275 cm)
Weight: 27.2 lb (12.3 kg)
Capacity: 220 lb (99.8 kg)
Intex Challenger K1 is an incredibly popular beginner-level kayak. This kayak not only has an appealing design for a child, but it is also a sturdy and stable model. The K1 is a comfortable unit with lots of space, and most importantly in a kayak for kids, it has lots of stability.
The Intex Challenger has a cargo net where you can store extra gear, and the seat is inflatable with a backrest. As your child grows, they can adjust this kayak to work correctly for them. The K1 is an inflatable kayak, and that is part of what keeps the pricing and the weight down for a child.
You can pump the kayak up in a matter of minutes using the included hand pump. The Intex also comes with a repair patch, but hopefully, you will not need that!
What we like
Perfect size for a kid
Great price
Very lightweight, yet stable
Comfortable seat
What we don't like
Always a chance of a hole in an inflatable kayak
See Intex Challenger K1 on Amazon
---
Lifetime Wave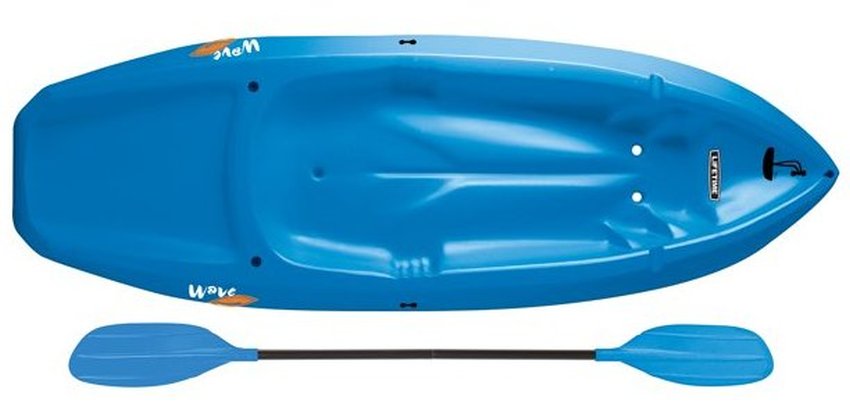 Length: 6' (183 cm)
Weight: 18 lb (8.2 kg)
Capacity: 130 lb (59 kg)
The Lifetime Wave kayak is made with high-density polyethylene. This is a very strong and stable kayak built just for kids. There are molded finger handles on each side that make it easy for even the youngest paddlers to transport their kayak.
As you will see on many of the kid's kayaks, there is a swim step that allows the child to get on and off with ease. If you want an excellent kayak for practicing and being able to get in and out of the water, the Lifetime Wave is a perfect choice.
There are multiple footrest positions so that as your child grows, they can still be comfortable in this kayak; you will also notice that it comes with a child-size paddle. This is an affordable and effective first kayak that should hold up for many years.
What we like
High-quality construction
Swim-up deck helps climb onto the kayak from the water
Multiple footrest positions
Lightweight
What we don't like
Not great for long trips
No backrest
See Lifetime Wave in our catalog
---
Pelican Solo

Length: 6' (183 cm)
Weight: 19 lb (8.6 kg)
Capacity: 100 lb (45.4 kg)
If you have a child that seems interested in kayaking, but you aren't sure you want to spend the money just yet, the Pelican Solo is a perfect way to test the child's genuine love for the sport.
This is a very affordable model that has lots of buoyancy and features to help a kid learn to kayak. The molded seat, bottle holder, and the swim-up deck make this a perfect model for a kid to play around with on the beach as well.
From a performance standpoint, the Pelican Solo is stable, but it is not built for open water or long trips. The best way to think of this model is that it is a teaching tool or learning aid for a kid. Since it is so lightweight and easy to manage, it works well for even the youngest of kayakers.
What we like
Very lightweight
Kids can climb on the back while it's in the water
Easy to manage
Great for young kayakers
What we don't like
As your child grows they will need to upgrade
More of a beach toy/learning tool than a true kayak
See Pelican Solo in our catalog
---
Perception Prodigy XS

Length: 10' (305 cm)
Weight: 26 lb (12 kg)
Capacity: 150 lb (68 kg)
The Perception Prodigy is one of the highest rated kayaks out there. The Prodigy XS has all of the great features of the Prodigy but in a smaller version and at a lower price. This is a lightweight kayak that is perfect for smaller adults and kids.
The Prodigy has some flotation foam that helps to improve buoyancy and keep kids above water while kayaking. There is plenty of room to adjust legs, and the footrests will move, so this works as a child grows as well.
The seat is adjustable and has thick padding. If you want maximum comfort in the kayak for your child, the Prodigy is a great choice. Since the Prodigy is so lightweight, it is easy for kids to get some speed and maneuverability as well.
What we like
Easy for kids to get up to speed
Lightweight
Easy to carry
Safe
Stable 
What we don't like
Still a little pricey for a kids kayak
See Perception Prodigy XS in our catalog
See Perception Prodigy XS on Amazon
---
Old Town Heron Junior

Length: 7' 5" (230 cm)
Weight: 26 lb (11.8 kg)
Capacity: 115 lb (52.2 kg)
Because of the low weight capacity on the Old Town Heron Junior, this is undoubtedly a kayak made just for kids or petite adults. Since the smaller kayaker was kept in mind when constructing this model, you will notice that it is effortless to carry.
There are rigid plastic handles on the bow and stern; you can also tow this kayak if you need to. With kids, this is always a possibility! We find that this is a very stable unit, especially with the foam flotation blocks inside the hull.
The seat on the Old Town Heron Junior is simple, and unfortunately, it can not be adjusted. The seat is rather comfortable, but if your kid doesn't like it, they won't have an alternative option.
What we like
Easy to maneuver
Just the right size for a kid
Lightweight
Easy to tow if needed
Not difficult to carry
What we don't like
Seat is not adjustable
No water bottle holder
See Old Town Heron Junior in our catalog
See Old Town Heron Junior on Amazon
---
MaxKare Youth Kayak

Length: 6' 1" (185 cm)
Weight: 20.5 lb (9.29 kg)
Capacity: 121 lb (54 kg)
The MaxKare brand Kayaks are not as well known as some others on our list, but if you are looking for an authentic youth kayak, this is a terrific option. Kids ages five and up should have no trouble managing the MaxKare.
There are three footrest positions to help make this more of a custom fit for your child. The folding backrest makes it easier for a child on a more extended trip, and the design will also help them for proper balance and paddling positions as well.
The MaxKare comes with cupholders and storage hatches as well. It is a lightweight model that kids can carry on their own. In addition to the front carrying handle, there are also handles on both sides to make it easier to pull and move the MaxKare around. This is an easy kayak to manage and maintain as well; they had the younger kayaker in mind when it was built.
What we like
Built for kids
Storage and cupholders
Good even for the younger child
Lightweight
Adjustability
What we don't like
Tracking is not all that great
Kids will eventually outgrow
See MaxKare Youth Kayak on Amazon
---
Perception Joyride 10

Length: 10' (305 cm)
Weight: 50 lb (22.67 kg)
Capacity: 275 lb (125 kg)
The Perception Joyride 10 is a perfect beginner kayak. A beginner kayak that has everything you need to take you from your start in kayaking to being a true weekend kayak warrior. Since this is a beginner model, it makes a perfect choice for a kid who is starting as well or a kid with a little bit of athletic ability and skill.
We would recommend this unit more for an older child since the kayak does weigh fifty pounds; it's going to require a little strength to carry around. The molded carrying handles do make it easier to move around.
When it comes to gear and usability, Perception 10 is a wonderful option. There are lots of spots where you can place your water, sunscreen, and even your phone. If you want to add some fishing rod holders to this kayak that is easy to do as well.
The seat on the Perception 10 is comfortable, and you even get a watertight hatch to keep valuable dry. This is not the fastest kayak on the water, but it has plenty of speed and stability for a child who is getting interested and good at kayaking.
What we like
Great stability
Decent speed for a kid
Longer kayak so it will last for many years
Easy to adjust the seat
Comfortable with lots of storage
What we don't like
A little heavier than some other options
Expensive for a kids kayak
See Perception Joyride 10 in our catalog
See Perception Joyride 10 on Amazon
---
Eddyline Sky 10

Length: 10' (305 cm)
Weight: 32 lb (14.5 kg)
Capacity: 250 lb (113.4 kg)
Last on our list is the Eddyline Sky 10. This is a top of the line and durable kayak; it just comes at a high price. If your child is serious about kayaking and you want to make sure they are getting a premium model, the Eddyline Sky 10 is a great choice.
The Eddyline is not going to sink, which will help give any nervous parent the peace of mind that they need to send their kid out to the sea. The seat in the Eddyline is very comfortable, and this model works well even for longer trips. If it turns out that your child loves kayaking, they will be able to use this model for many years.
The Sky10 is a very maneuverable kayak; you can get it to turn quickly and perform to your liking. This is a nice feature for kids who sometimes get easily frustrated by challenging to use kayaks.
What we like
Very high quality
A child won't outgrow
Comfortable
Plenty of speed
Won't sink
What we don't like
Much more expensive than other choices
A little heavier than some other youth models
See Eddyline Sky 10 in our catalog
---
How to Choose the Best Kayak for Kids
Now that you have a better understanding of the best kayaks for kids, how can you narrow down, which is the best for your family? There are a few key factors to consider when choosing a kayak for kids. Factors like a child's age, the price of the kayak, the weight of the kayak, and the size all should be considered.
Kid's Age
Kids of all different ages may start showing an interest in kayaking. One of the things that is important before a child starts kayaking is for them to have a relative understanding of the water and of the dangers of the water.
Kids should wear a life vest when kayaking and know how to swim. Some of the kayaks on our list are good for children as young as five or six years old. If you have kids younger than this that show an interest try bringing them on your kayak with you. Many kayaks have a jump seat for kids as well.
Generally speaking, the older a kid is, the more serious they will probably be about kayaking. As fun as the process looks (and it is fun), it is also hard work. Young kids are going to tire quickly, and they will probably need to keep the trips shorter in length.
Your kid's age may also determine the size of the kayak that you want to purchase. For a young child, anything over six feet of length is likely going to be too difficult to maneuver and control on their own.
Cost
As you probably noticed from our reviews, there is a broad range of pricing when it comes to kayaks for kids. Some of the kayaks for children are more for smaller adults and teenagers. These are the more expensive models and will probably cost well over $500.
Some kid's kayaks are going to be less than $200. The most important thing to think about when it comes to cost is whether or not you are going to get your money's worth out of the kayak. If your child is athletic and interested and you find a model that they can use for the next six years, that is $600; this may be a better investment.
Choosing something for $250 that works for a season, probably won't be worth it. When it comes to cost on a kayak, try to think about value and not just the price of the kayak.
Weight
Kayak weights for kids will range anywhere from around eighteen pounds to about thirty pounds. Some models are heavier than this, but those should be geared more towards the teenage child.
The youngest children are not going to be able to carry their kayak even if it only weighs around twenty pounds. You should keep in mind that purchasing a kayak with good handles and a solid material that will not damage when the kayak is being dragged is a smart purchase.
Kids are going to drag their kayaks. This is entirely acceptable and part of the deal with kids kayaking, but just make sure you keep this in mind when you buy them a kayak.
Length
Most of the models that are made specifically for kids are going to be six feet in length. This seems to be just about the right size to offer a child the stability and maneuverability that they need. As a kid gets older, the eight and even ten-foot kayaks will also work just fine.
If you give a child a kayak that is too long for them, they are going to get both frustrated and tired. If you have a brand new kayaker, the shorter length is going to help motivate the child to keep perfecting their skills.
Stability
A kayak specifically built for children is probably going to have some extra stability and safety features built-in. A wider kayak will undoubtedly help with stability, and so will foam inserts. Many of the children's kayaks will have foam inserts to add just a bit more buoyancy as well.
Another stability factor to consider is the open concept kayak. Most kids' kayaks are going to be more open in design, and that will help the child climb on and off without feeling as though they are going to tip the kayak.
Features
Kids don't need a lot of features when they first start kayaking. The only things that are good to look for are water storage and maybe a swim step as well. If you think your child will be learning to kayak and getting in and out of the water, the swim step can make it much easier for them to get on and off without tipping the kayak.
When it comes to the seat for a kids kayak, it matters most when you think there will be longer rides involved. For longer trips, make sure that your child's kayak has an adjustable seat with a back. This will allow them to get set up and not fatigue as quickly.
The last feature that is worth considering is towing ability. If your child gets tired, the ability to tow them around for a bit could extend the life of their kayaking career. If your child's kayak does not have the towing ability, you can probably still get creative and find a way to give them a bit of a break while out on the water.
Conclusion
Getting your kids on a kayak at an early age is one of the best things you can do for them. Nature, watersports, and a love for the outside world are so important to children. Hopefully, our list of the ten best kayaks for kids has helped you to narrow down some of the choices on the market. There are plenty of options out there, but we feel as though these ten offer some of the best value and performance.