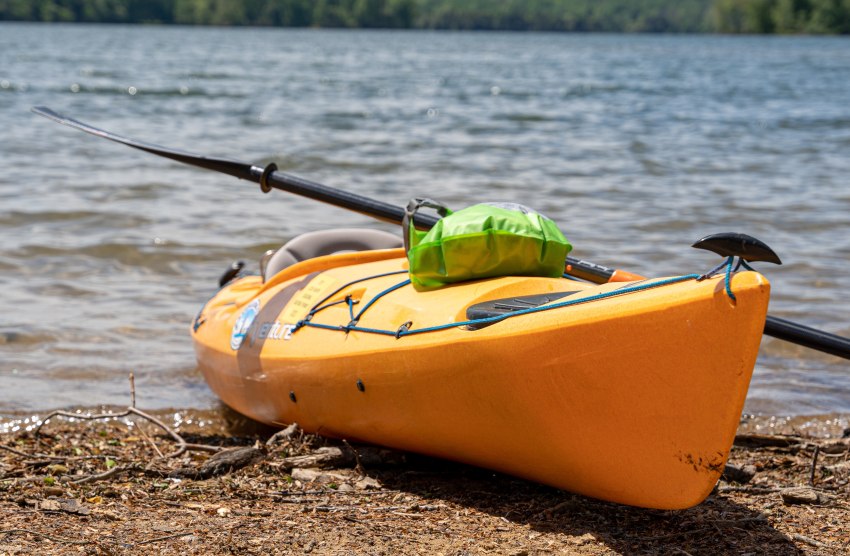 When you head out on the water, there are certain essentials you need to take with you. Whether you're carrying spare layers, snacks, or your phone, you need the best dry bag for kayaking to keep your gear safe on the water. A dry bag will keep your items safe against rain, dust, dirt, and to some extent, submersion in the water.
In this post, we take a look at the best kayaking dry bags currently available. There's also a comprehensive buying guide to help you choose the right dry bag for your paddling adventures.
As an affiliate of Amazon and other retailers, we may earn a small commission when you buy via our links, at no additional cost to you. Thank you!
Don't Have Time for a Full Read? Here is Our Complete List of the Best Dry Bags for Kayaking
Comparison Table: Best Dry Bags for Kayaking
WHY TRUST US:
Here at Paddlingspace.com, we spend more time on the water than we do in the office. We paddle, kayak fish, and camp as often as we can, so we know exactly what kayakers and kayak anglers need.
Each year, we independently research, review, and rate the best kayaks, canoes, and paddling gear. Our experts analyze hundreds of products to find out key differences, pros, and cons of each product. We only make money from ads or if you purchase through our links. No sponsored posts or biased reviews here, period.
The Best Dry Bags for Kayaking
Best for Electronics – Watershed Ocee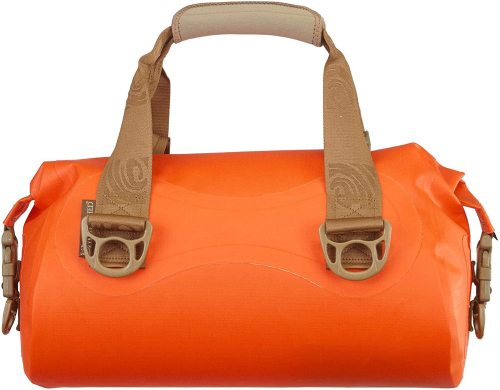 Style: Duffel
Closure: ZipDry
Material: 840 D Nylon with polyurethane coating
Sizes: 10 L
Watershed are the benchmark when it comes to making top-of-the-range dry bags. Their bags are trusted on the most hardcore expeditions around the world, from remote sea kayaking to extreme white water. The ZipDry closure system is fully airtight and combined with the fully reinforced seams, these bags stay dry for years.
The high price tag for such a small dry bag might be offputting to the recreational kayaker looking for something to keep a spare jacket secure, but if you need to keep tech dry, bags don't come better than the Ocee. In fact, Watershed sells special inserts for the Ocee with moveable foam so you can keep cameras safe from both water and impact out on the water.
---
Best for Expeditions – NRS Bill's Bag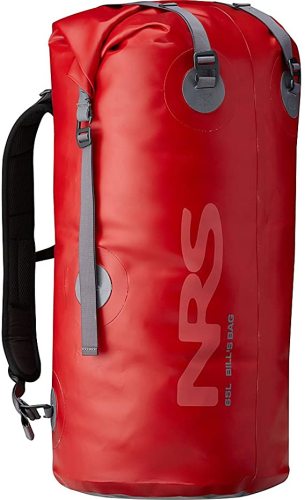 Style: Tube
Closure: Roll Top
Material: PVC polyester
Sizes: 65 L / 110 L
The Bill's Bag has been the flagship of NRS drybags since 1977 and has been relied upon by countless rafters and expedition kayakers alike. The heavy-duty PVC design can withstand even the most rugged use while aluminum buckles keep your straps secure without cracking.
When you reach the end of your trip, you can haul this bag up onto your back and head up the trail to the camp or bus. The extra storm flap from NRS gives their roll-top dry bags a more secure seal so that even if your Bill's Bag takes an unexpected trip of its own, you can rely on it to keep your gear dry.
---
Best Duffel – Yeti Panga 50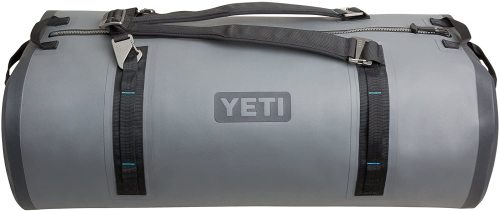 Style: Duffel
Closure: HydroLok Zipper
Material: Nylon
Sizes: 50 L
As far as expedition duffel bags go, the Yeti Panga is about the most comprehensive dry bag you can buy right now. The HydroLok Zipper is guaranteed to keep your gear dry inside and the thick skin nylon and TPU lamination is puncture-proof, ready to be used on the most rugged adventures. Add to that the thick base and metal buckles and you've got a bag that's just about indestructible.
Once you've loaded the Panga into your kayak, there are plenty of attachment points to keep your gear secure. The shoulder straps are low profile but have enough padding for you to haul your 50 liters of gear with ease.
---
Best Budget – Earth Pak Dry Bag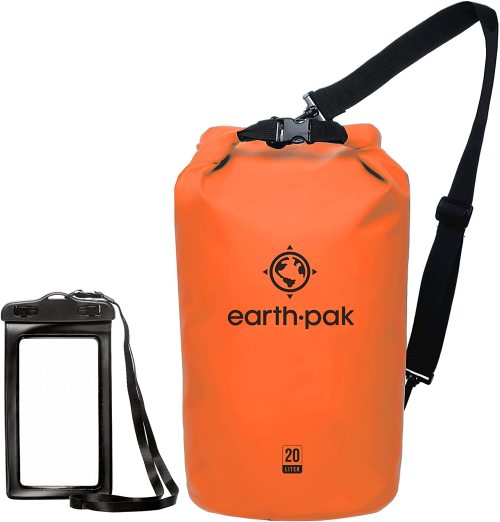 Style: Tube
Closure: Roll top
Material: 500 D PVC
Sizes: 10 L / 20 L / 30 L / 40 L / 55 L
You don't have to break the bank for a heavy-duty dry bag that can keep your gear dry. This budget model is made from heavy-duty PVC and relies on a roll-top to keep water out. They are simplistic and effective, but you might not be relying on them to keep valuable electronics secure on the water.
The good news is that you don't have to. That's because Earth Pak includes an IPX8 rated phone case with their dry bag. The smaller bags – 10 and 20 liter – come with a single shoulder strap, while the larger models in the range have full backpack systems for hauling your bags to and from your car.
---
Best for Day Trips – Piscifun Waterproof Dry Bag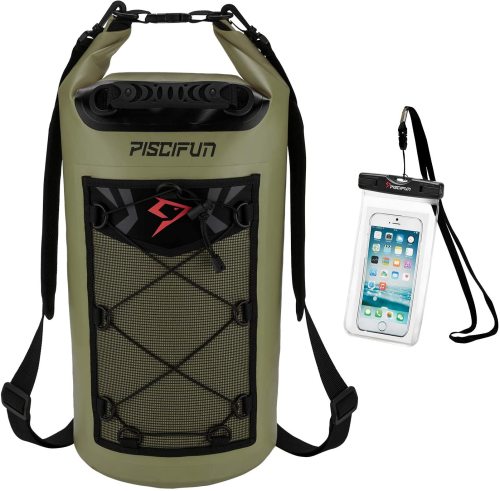 Style: Tube
Closure: Roll Top
Material: 500 D PVC
Sizes: 5 L / 10 L / 20 L / 30 L / 40 L
If you're heading out for the day, you want a single bag that can carry everything you need. The Piscifun dry bag comes in a range of sizes, from 5 L all the way to 40 L, and is designed to keep your gear dry on recreational kayaking trips.
The padded carrying straps let you haul your gear easily to and from the car, while for shorter trips there is a reinforced, rubberized carrying handle. As well as the fully waterproof compartment, made from 500 D PVC, there is a mesh pocket and shock cord for storing wet gear away from your dry equipment.
---
Best for Modular Packing – Sea to Summit Lightweight Dry Bag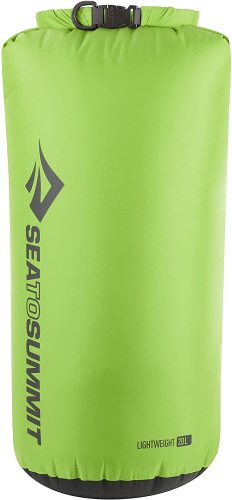 Style: Tube
Closure: Roll Top
Material: 70 D Nylon
Sizes: 1 L / 2 L / 4 L / 8 L / 13 L / 20 L / 35 L
The Sea to Summit Lightweight Dry Bag is among the best lightweight dry bags on the market. These are trusted by backpackers and kayakers around the world. The 70 D Nylon has a 10,000 mm hydrostatic head means that as a standalone dry bag, they are more than capable of withstanding spray and rain but are limited when it comes to submersion.
Where these dry bags excel is modular packing. If you're packing into a large, non-waterproof bag, or a kayak hatch, these will keep your gear protected against any water that may reach them. Once you get to camp, you can simply remove the bag you need and don't need to worry about your gear getting soaked in the rain as you pitch your tent.
---
Best pouch for phones and keys – Mandwot 2-pack Waterproof Pouch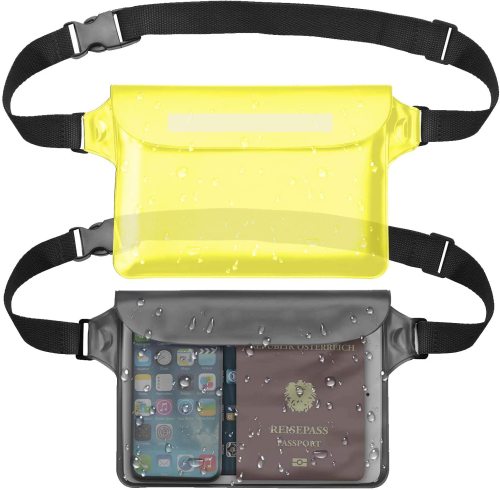 Style: Waist Pouch
Closure: 3 snap closure and fold over top
Material: PVC
Sizes: 8.5 x 5.8 inches
It might not fall into any of our dry bag categories, but sometimes all we need is a pouch to keep the essentials close at hand and dry on the water. A waist pouch is especially suited to paddle boarding and allows you to keep your phone with you in case you need to make any emergency calls. These fully IPX8 certified packs use a 3 snap closure and fold top to make sure that whatever valuables you put inside stay dry all day.
---
Are Dry Bags Waterproof?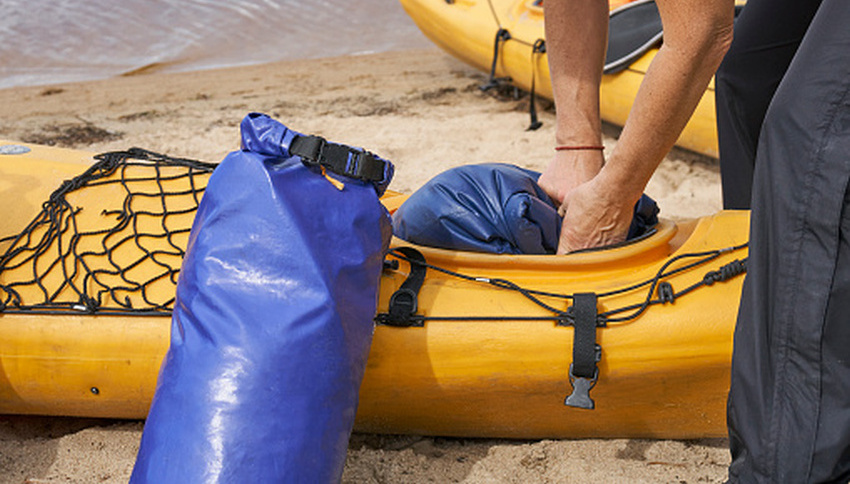 The name – dry bag – would suggest that your items are going to remain, well, dry. But there are different levels of dry bags, similar to how you get different levels of waterproofness in cags or even drysuits. Dry bag material and closure system impact how waterproof your dry bag is. We'll look at these shortly.
The conditions you're going to expose your dry bag to and the equipment you plan to store inside will affect how waterproof you need it to be. It might not come as a surprise to know that the cheaper the dry bag, the less waterproof they tend to be. However, some inexpensive dry bags will do a perfectly adequate job for most kayakers.
Dry Bag Design: How do dry bags close?
There are two main methods to close a dry bag: roll-top and zips. Each has its own advantages and disadvantages.
Roll Top
We can't put an exact figure on it, but a huge majority of dry bags on the market use a roll-top design to keep water out. By rolling over the top of the bag at least three times before securing the buckle, you can create a watertight seal. The quality of your dry bag and the seal will impact its ability to keep water out while submerged.
Securing a roll-top dry bag sounds simple enough, but a lot of people come unstuck through a few basic errors. A waterproof seal can only be achieved if your dry bag isn't overloaded and if you push out the majority of the air inside the bag. If you have to force out the third roll because your bag is overpacked, the seal may start to unroll itself at the edges during your trip.
Zips or zip locks
The best waterproof zips or zip-lock dry bags tend to be the most waterproof, as well as the most versatile option available. Waterproof zips on dry bags are similar to those on drysuits. In fact, most dry bags that feature zips are higher-end and fully submersible. There are some lower-end zipped dry bags that also use a roll-top to create a double-seal.
Waterproof zips do require regular maintenance. Make sure you clean out any dirt, sand, or salt after use. It is also important to regularly lubricate the zip.
Types of Dry Bags: Tubes, Duffels, and Tapered Bags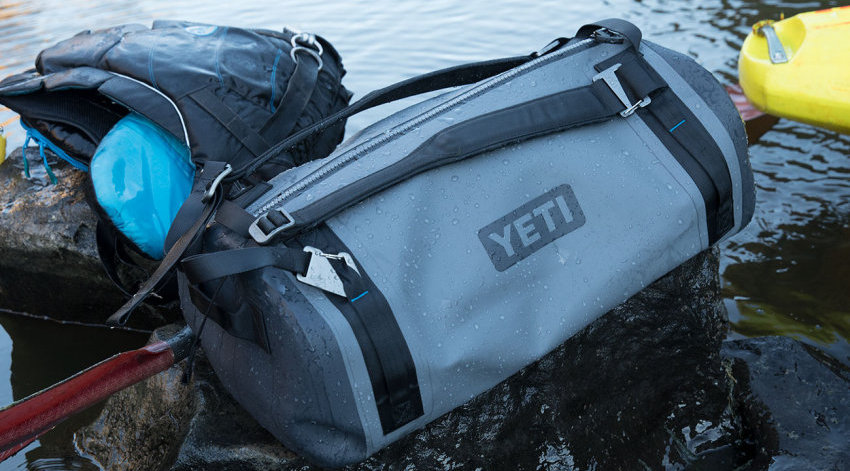 The style of your dry bag will affect how easy it is to use in certain situations.
Tube
Tube dry bags cover the widest range of sizes, from a few liters all the way to enormous multi-day bags. The larger versions tend to have a round, flat base, which allows them to stand upright while you find your gear.
Tube dry bags are among the strongest dry bags, with fewer seams than duffel dry bags. They are also almost always the cheapest style of dry bag available. The major downsides to tube bags are their reliance on roll-top systems, which can come unstuck in powerful water, and their cavernous feel that can make it hard to find gear at the bottom.
Duffel
Duffel dry bags look a lot like your usual duffel bag, except they're made from thick waterproof material. Most duffel bags use a zip or zip-lock style closure, though there are some more budget models that use a roll-top and buckles.
Duffel bags are better suited to expedition kayaking and offer excellent access for you to find your gear more easily. Because they have more moving parts and seams, duffel dry bags have more potential wear and fault points than a tube dry bag.
Kayak airbag/drybag
Kayak airbags are fitted in the back recesses of a kayak to prevent water from filling the void in the event of a capsize. These are most commonly found in white water kayaks, though they should be used with any boat without a waterproof bulkhead.
Expedition white water kayaking means packing your overnight gear into limited space and you need to know that your dry bags will stay secure, even in the most turbulent water. A handful of companies now make airbag drybags to fill the gap in the market. These shaped dry bags fit into the rear of your kayak and once they are sealed shut, you can inflate them to act as a traditional airbag.
Buying a Dry Bag for Kayaking: Things to Consider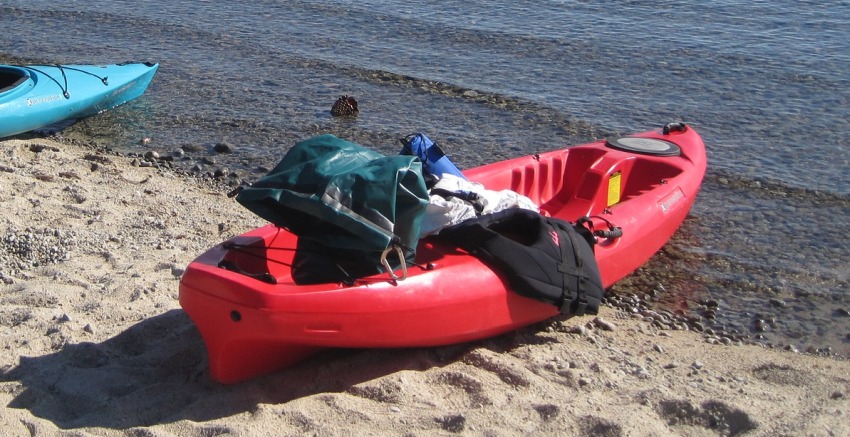 So now that we know what a dry bag is and how they work, what do we need to consider when we buy our dry bags?
Materials
In short, dry bags made with heavier duty materials are usually more waterproof. Dry bags made of lightweight nylon or polyester with a waterproof coating are usually capable of withstanding light showers and splashes but aren't designed for submersion.
Thicker coated nylon, PVC, or tarpaulin dry bags withstand much harsher conditions and water. They are also better at withstanding the sort of use and abuse that comes with overnight kayak trips or kayak fishing.
Color: Opt for High Visibility
The color of your dry bag might sound unimportant, but it is worth giving it a little thought before you go in for the purchase. If you use multiple small dry bags to pack into a hatch or large duffel, you can make your life much easier by buying a range of colors. Once you have a system in place, you will always know which color dry bag contains certain equipment.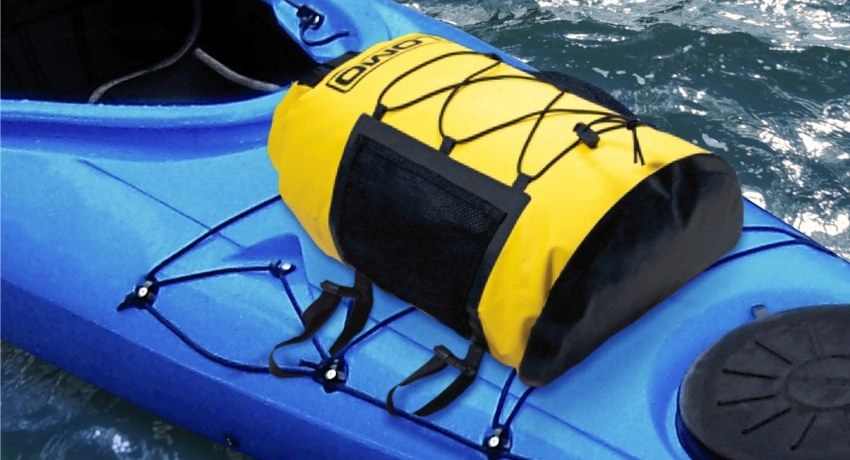 Different colors also hold temperatures in different ways. A black PVC dry bag on a hot summer day can become almost too hot to touch, just think about what that is doing to any food that you might be storing inside it.
Lighter color or transparent dry bags are easier to find gear in, too. In fact, some companies will make the inside of their dry bags white, to make your life easier.
Size
What are you planning to carry? Where do you need your dry bag to fit in your kayak?
Dry bag size is measured in liters, similar to backpacks. Not all dry bags are made equal, though, and a 20-liter dry bag can be short and squat, almost square, or tall and narrow, making them ideal for different spaces. If you buy a large dry bag, you will almost always fill it, but do you need to?
Straps
Do you need to carry your dry bag any distance? Expedition style dry bags often come with shoulder straps and some even come with full back systems, including a waistband. If you have to portage any distance or carry heavy loads, these make an enormous difference.
Some smaller dry bags have a single shoulder strap and can be carried like a satchel. These might not suit long distances, but free up your hands for carrying paddles or your kayak. These straps can also be used to secure your dry bag to your kayak so that if you capsize you don't lose your essentials.