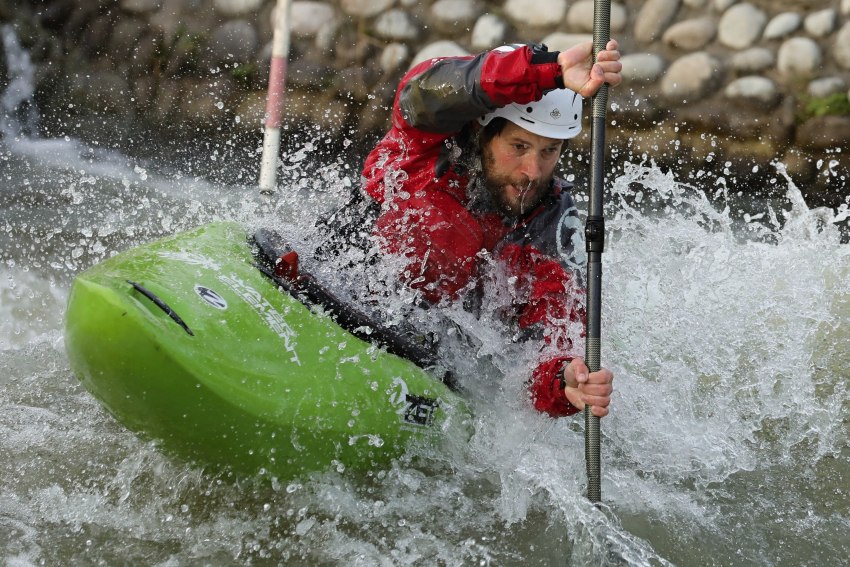 Who doesn't love warm-weather kayaking?
There's something almost magical about paddling on a calm lake or the open ocean when the sun is high, the day is warm, and there's just a hint of a cool breeze.
On days like this, it feels like all is right in the world.
But for many paddlers—especially those like me who live in Canada or the Northern United States—those days can be few and far between.
We've got to make do with cool (or even cold) days when the skies are spitting rain, the wind is up, and the water is freezing cold (literally and figuratively!).
There's simply no way we could paddle in our board shorts or bikinis, and not even a wetsuit will do.
Really, the only way it's safe (and comfortable) to kayak in this type of weather is with a good kayaking drysuit.
A drysuit does exactly what its name suggests: it keeps you bone-dry, acting as a shell that repels water and allows you to wear warm clothing beneath.
Below, I'll explain everything you need to know about kayaking drysuits, including what separates them from wetsuits, how to choose the best drysuit, and what factors to consider. I've also included a list of the top drysuits for kayaking on the market so you have a great selection to choose from.
By the end of this post, you'll be ready to choose the perfect drysuit for even the coldest-weather kayaking trips!
As an affiliate of Amazon and other retailers, we may earn a small commission when you buy via our links, at no additional cost to you. Thank you!
Quick Answer: The Best Kayaking Drysuits for You
Don't have time to read the whole article? Not a problem! Check out our condensed list to find the best choice for your specific needs:
WHY TRUST US:
Here at Paddlingspace.com, we spend more time on the water than we do in the office. We paddle, kayak fish, and camp as often as we can, so we know exactly what kayakers and kayak anglers need.
Each year, we independently research, review, and rate the best kayaks, canoes, and paddling gear. Our experts analyze hundreds of products to find out key differences, pros, and cons of each product. We only make money from ads or if you purchase through our links. No sponsored posts or biased reviews here, period.
---
Top-Rated Kayaking Drysuits for 2023
Best Kayak Drysuit Overall: Kokatat Men's Hydrus Swift Entry Drysuit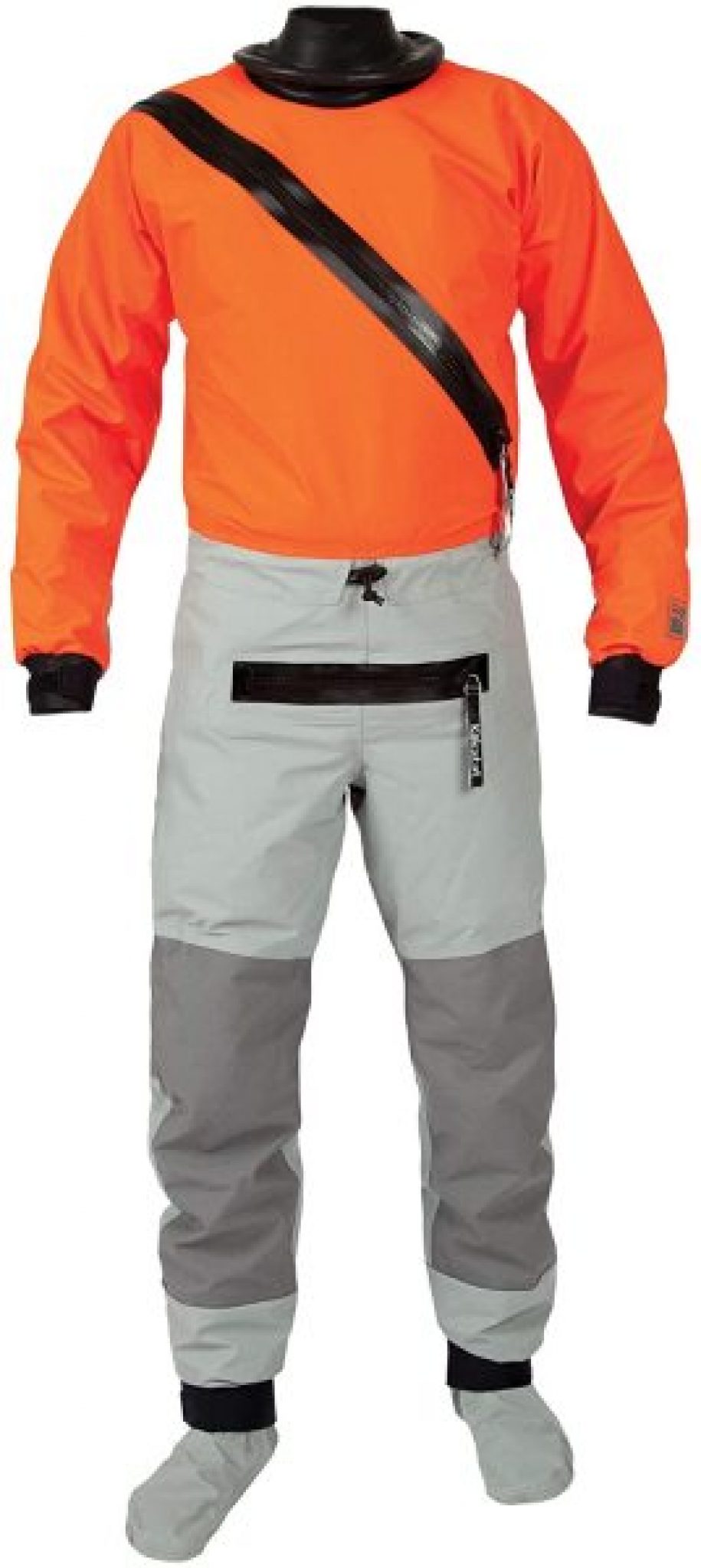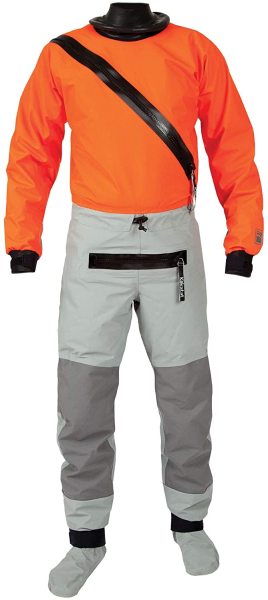 Entry System: Front Zipper
Color: Electric Blue, Tangerine
Seals: Latex gaskets, hook-and-loop cuffs
Fit: Comfortable
For kayakers who want a paddle-friendly drysuit, this is a great option. Not only is it incredibly easy to take off/put on (thanks to the front entry zipper system), but it's also got reinforced padding on the knees and seat to prevent friction damage over long hours spent sitting in a kayak.
The suit features latex gaskets at the wrist and neck, along with hook-and-loop closure cuffs that allow you to adapt the fit to your wrist size. It also comes with built-in socks—no need to worry about your feet getting cold or water leaking up the ankle opening.
It's one of the pricier drysuits available (though not as expensive as the elite-level Kotakat suits) and it's thin enough that you'll feel the cold without sufficient warm clothing beneath. However, considering its user-friendliness and comfort, it's a definite winner in my books!
Pros:
Easy to put on/take off
Reinforced seat padding and knees protects against damage
Lightweight and comfortable
Excellent waterproofing
Cons:
Pricey
Fabric is very thin; offers minimal insulation
---
Most Durable Drysuit: NRS Extreme Drysuit


Entry System: Front Zipper
Color: Salsa Red/High Vis Green
Seals: Neoprene-and-latex cuffs and neck, built-in water socks
Fit: Loose-fitting but adaptable
If you're looking for a good "forever use" drysuit, consider this one. Though it's certainly pricier than some of the others on our list, it's guaranteed to last a long, long time with regular maintenance and care.
It's a simple, reliable suit with no frills or fluff—practicality at its finest. The front-zipper makes it easy to pull it on/off, and you'll find that the thick, four-layered Eclipse laminated fabric is incredibly sturdy and resistant to damage. Thanks to the latex-and-neoprene gaskets at the neck and cuffs, you get just enough breathability that the suit won't cause you to overheat even after a full day of paddling.
The high-wear areas on the suit have been reinforced, and you'll love that the built-in socks maximize waterproofing on your feet. However, it's one of the most expensive suits on our list.
Pros:
Sturdy four-layered laminated fabrics
Combination of neoprene cuffs/collar and latex gaskets maximize waterproofing
Comfortable fit; can be adapted to your physique
Simple design, user-friendly entry system
Cons:
---
Best Budget Drysuit: O'Neill Men's Boost 300g Drysuit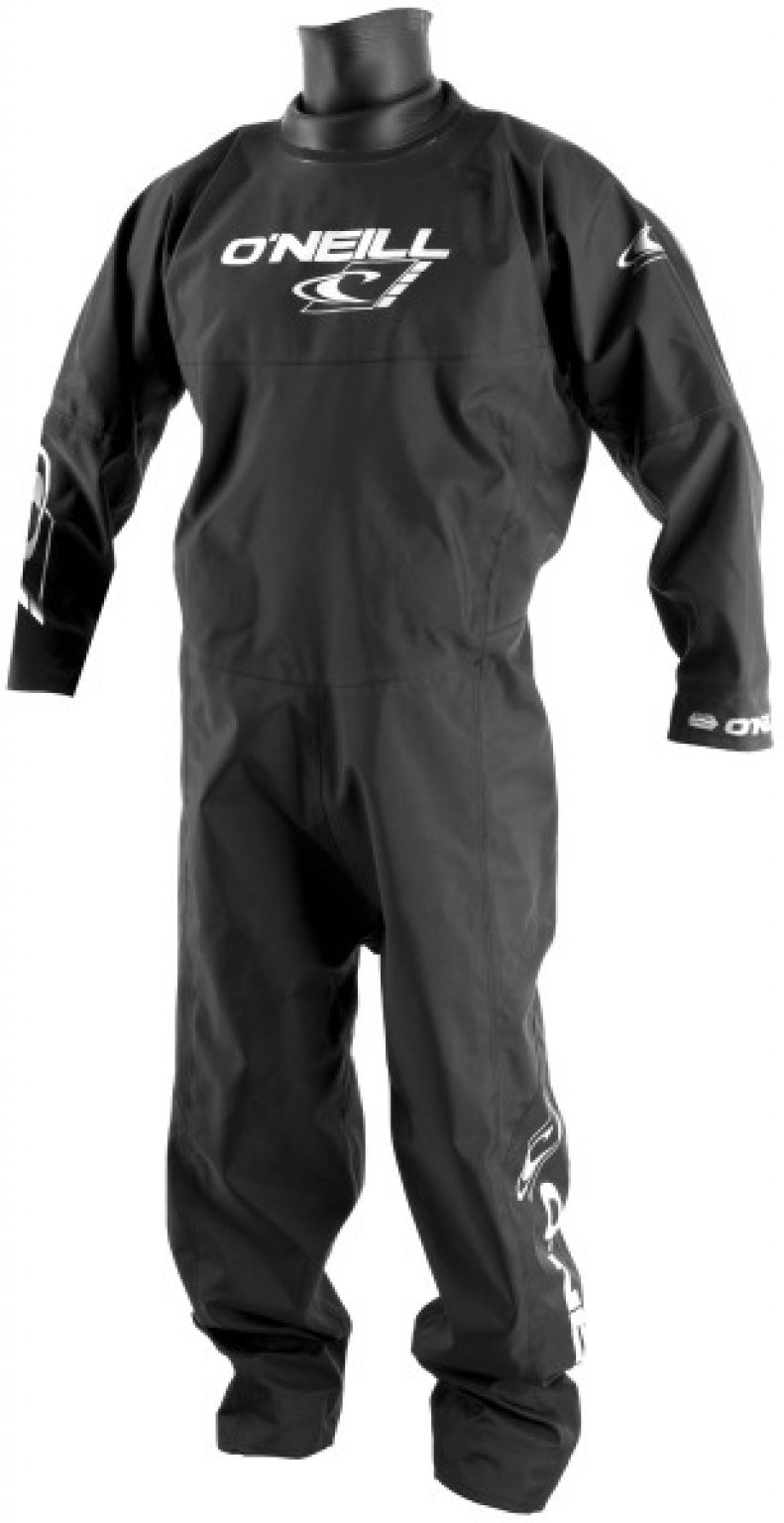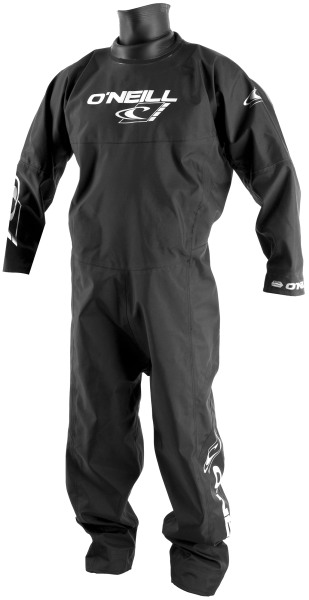 Entry System: Back Zipper
Color: Black
Seals: Latex wrist/ankle seals, neoprene neck seal
Fit: Loose Fit
This drysuit is built from a super-tough triple-layered nylon fitted with neoprene neck seal and latex wrist and ankle seals. Thanks to the loose fit, you'll have plenty of room to wear up to three light underlayers, and it's got good freedom of movement and just enough elasticity to make it a truly activity-friendly suit.
The back zipper features a special enhanced closure that increases waterproofing and prevents chafing. The seams have all been taped to maximize durability, making it a suit you can wear through even high-impact whitewater kayaking or wakeboarding.
Users love how easy it is to slip on, and how comfortable it is to wear multiple layers beneath. However, some complained that the back zipper was a bit too stiff and hard to pull up, and the fact that it's located on the rear of the drysuit means you'll need help to close tight.
Pros:
Super durable, reinforced seams and thick triple-layer nylon shell
Midweight (300 grams) fabric offers decent insulation
Roomy, loose fit, great for wearing multiple layers beneath
Sturdy and flexible enough for any watersport
Back zipper won't grind against your spine even when pressed against the kayak seat
Cons:
Zipper can be stiff and hard to pull up
---
Best for Extreme Cold Water: Stohlquist EZ Drysuit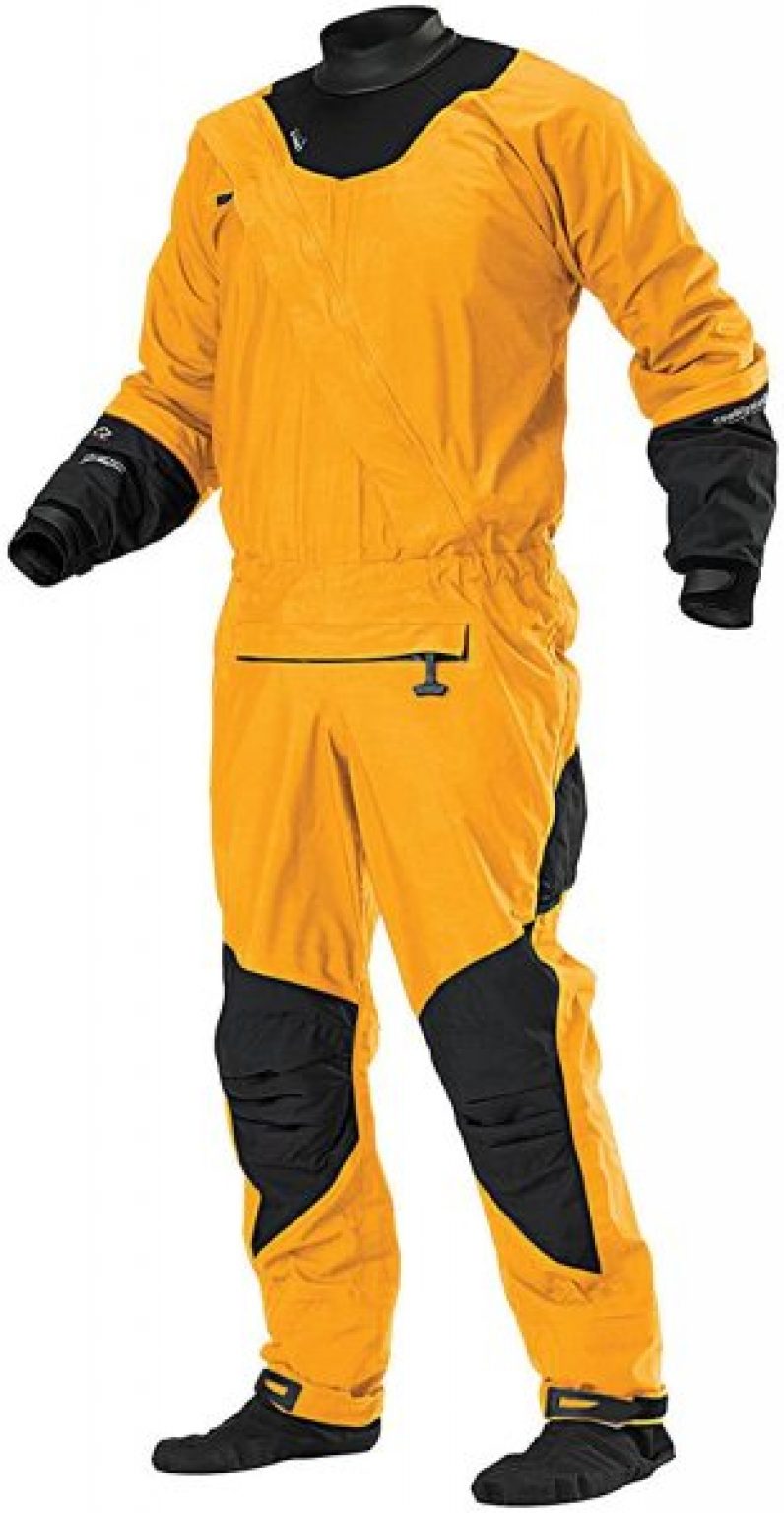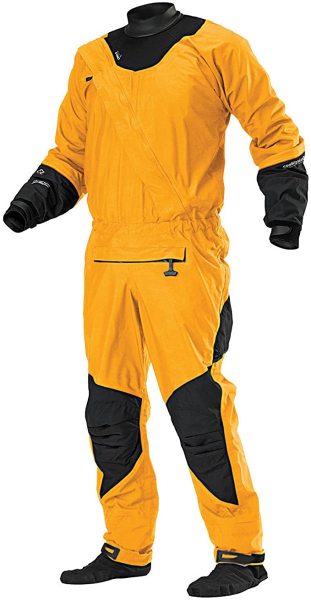 Entry System: Front Zipper
Color: Mango Yellow
Seals: Latex
Fit: Relaxed
Any kayakers who want to stay warm in extremely cold water should give this drysuit a closer look. As one YouTube reviewer showed, it can handle water as cold as 40 to 45 degrees F, making it the perfect winter kayaking drysuit.
It's not the easiest suit to pull on—you may struggle a bit, especially with the tight DuraSeal latex wrist gaskets—but once you're in, you'll be snug all day long. The suit is also UV resistant so it won't allow radiation to pass through or be worn down after repeated use. Thanks to its relaxed fit, you'll find it's one of the most comfortable drysuits you'll ever wear.
You may find that it's hard to "burp" (let out the air), so it may be a bit annoying to swim with. However, given how warm it is, it's well worth the minor annoyance.
Pros:
Incredibly warm, decent insulation against cold water
Roomy enough to wear multiple layers beneath
Sturdy four-layered fabric
Very well-sealed wrists and neck; includes built-in socks
Cons:
A bit difficult to pull on
Hard to "burp"; may fill with air and make swimming irritating
---
Best Waterproofing: Stohlquist Amp Drysuit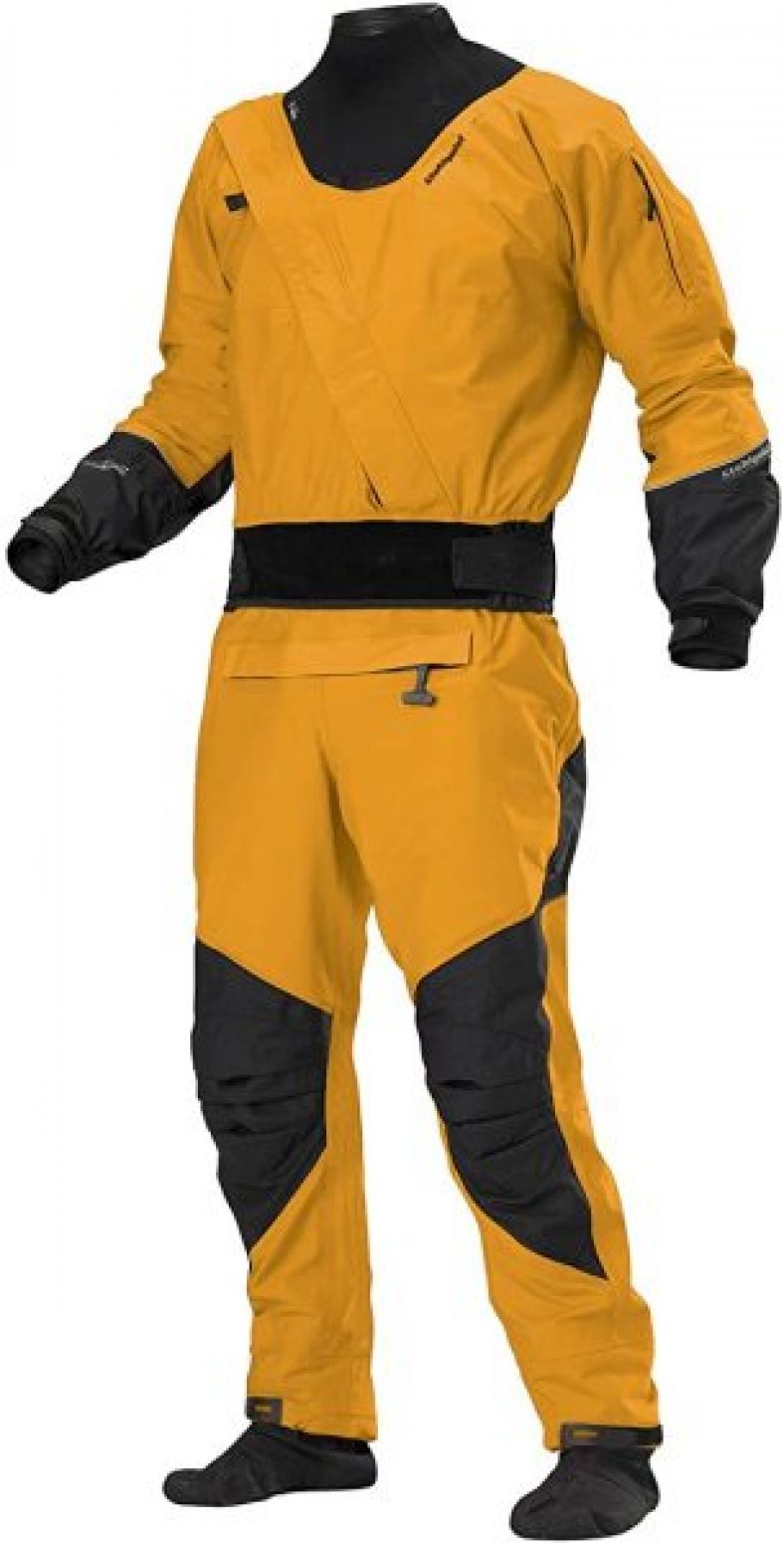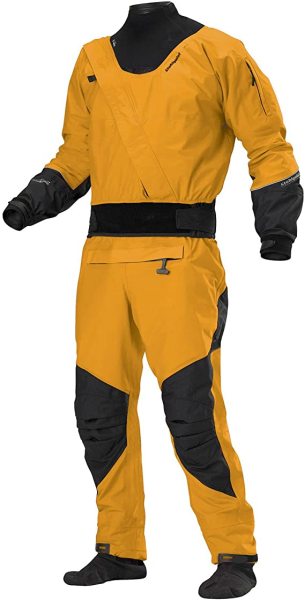 Entry System: Front Zipper
Color: Mango Yellow
Seals: DuraSeal latex
Fit: Relaxed, athletic fit
If you want a suit that you can trust to never leak, this Stohlquist drysuit is the perfect choice. It's built specifically for kayaking—both touring/expedition and whitewater—and the athletic fit will allow you to move easily while still offering good insulation for cold-weather use. It also features a double tunnel design that helps to keep water out of your kayak even when going down rapids or through choppy seas.
Anglers and hunters will love the built-in arm pocket, which has room enough to store all your most essential EDC items. The zippers are reinforced for maximum durability and covered with flaps to increase dryness and cleanliness. All of the friction points (knees and seat) feature Cordura nylon reinforcement on top of the four-layer Twin Sensor fabric for which the brand is so well-known. It also includes built-in socks, reflective details, and adjustable cuff covers that give you the best possible fit and closure for your paddling trips.
RELATED: Stohlquist PFDs 2023: the Ultimate Guide and Reviews
Best of all, the latex gaskets at the neck and wrist also feature a neoprene coating that protects the latex and offers UV resistance. However, some users found that the collar was too tight at the neck, making it both difficult to pull on and less comfortable to wear.
Pros:
Sturdy fabric, reinforced at the weak spots
Relaxed, athletic fit ideal for kayaking and paddleboarding
Waterproof arm pocket offers easy access to important gear
Decently priced
Cons:
Neck/collar gaskets are too tight, may reduce circulation/impair air flow
---
Best Drysuit for Expedition Kayaking: Gill Drysuit


Entry System: Front Zipper
Color: Black
Seals: GlideSkin latex
Fit: Comfortable but adjustable
This drysuit is specifically designed to withstand frequent contact with both saltwater and UV radiation. The triple-layered nylon fabric is incredibly tough. A polyurethane coating makes it resistant to the standard wear and tear of expedition kayaking. It has also been reinforced at the critical weak spots to make sure it's durable enough to withstand even a long-haul journey across the ocean.
The GlideSkin latex collar and cuffs are tight enough to guarantee waterproofing but are surprisingly easy to slide on/off. The elasticated waist and internal adjustable elastic braces let you adapt the fit to match your physique, so it won't be too roomy or too tight for your comfort. You also get built-in water socks and a waterproof thigh pocket.
Some users found that the sizes run a bit on the large side, but customer service (on Amazon and Gill's website) will make it easy to return and exchange it for a smaller, better-fitting size.
Pros:
Designed for saltwater/open ocean use
Reinforced seams and sturdy fabric
Comfortable, adjustable fit
Excellent waterproofing
Cons:
---
Best Drysuit for Kayak Fishing: Kokatat Men's Hydrus Supernova Semi-Dry Paddling Suit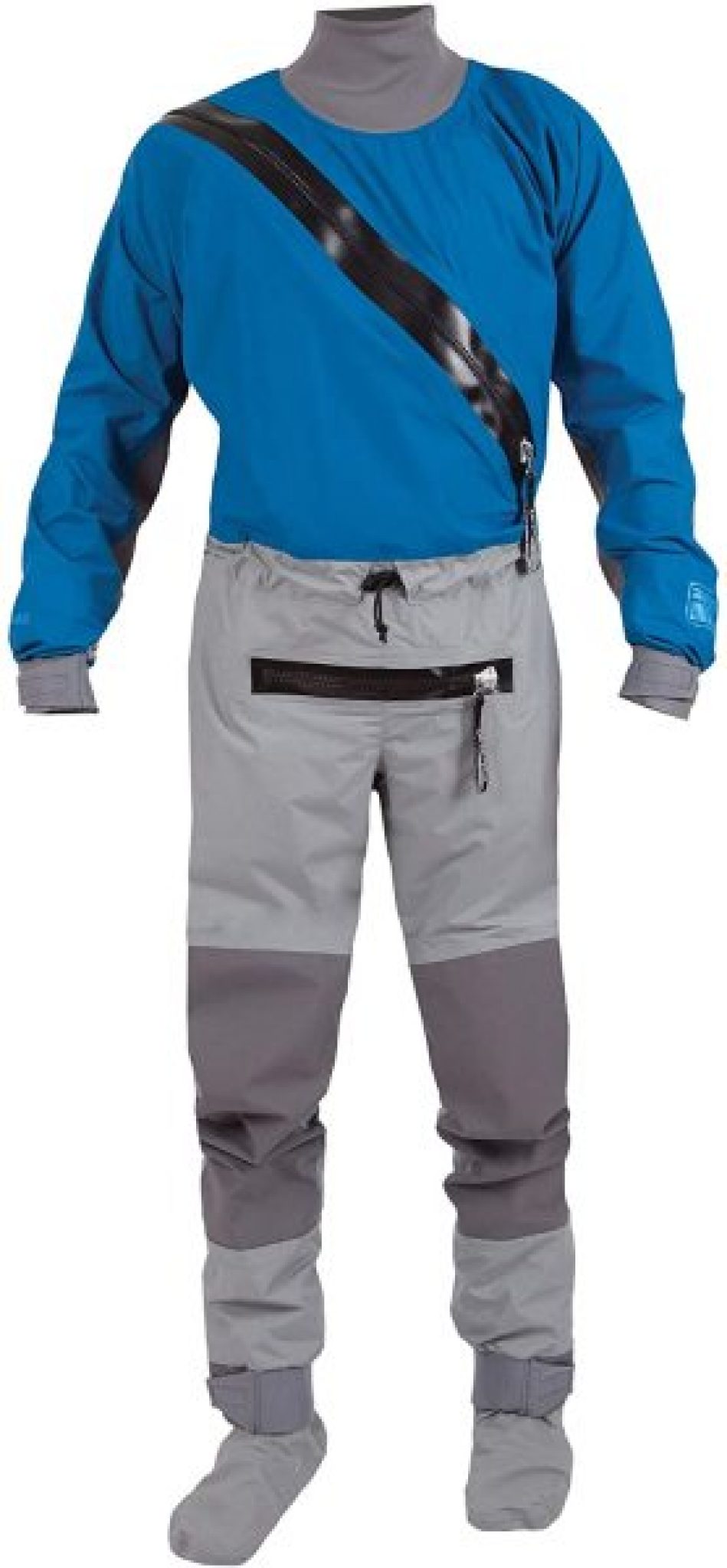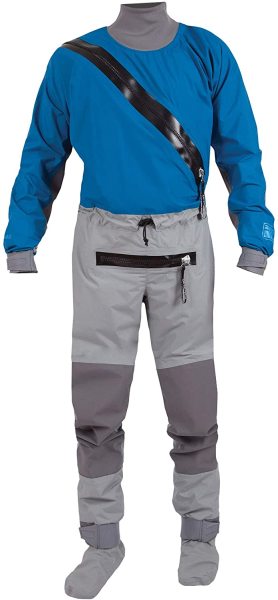 Entry System: Front Zipper
Color: Ocean Blue, Orange
Seals: Latex gaskets with neoprene overcuffs
Fit: Comfortable but adjustable
While this is technically a semi-dry suit, it's still an absolutely awesome addition to this list—and a suit I've loved wearing season after season.
The term "semi-dry suit" means it's not 100% waterproof (at the neck, though the latex wrist gaskets won't let in any way), so if you fall into the water, be ready to get some cold water down your spine. However, the suit won't leak so much that it puts your life in danger—it's just mildly uncomfortable.
You can opt for the fancier GoreTex version offered by Kokatat, but it's about 50% more expensive and doesn't really offer much better breathability. The Hydros 3.0 membrane does an amazing job of wicking sweat away from your body and keeping you dry even if you sweat heavily while kayaking (which I do).
The neoprene neck gasket, though not as waterproof as latex, is much more comfortable, and allows decent breathability. Thanks to the adjustable bungee drawcord waist, it's easy to adapt the fit to whatever feels best for you.
For the price, this is the semi-drysuit to beat.
Pros:
Sturdy and comfortable suit
Excellent breathability; won't cause you to overheat
Roomy, adjustable fit
Neck and wrist gaskets are supremely comfortable
Cons:
Neck gasket isn't fully waterproof; be prepared to get a bit wet
---
How to Choose a Dry Suit for Kayaking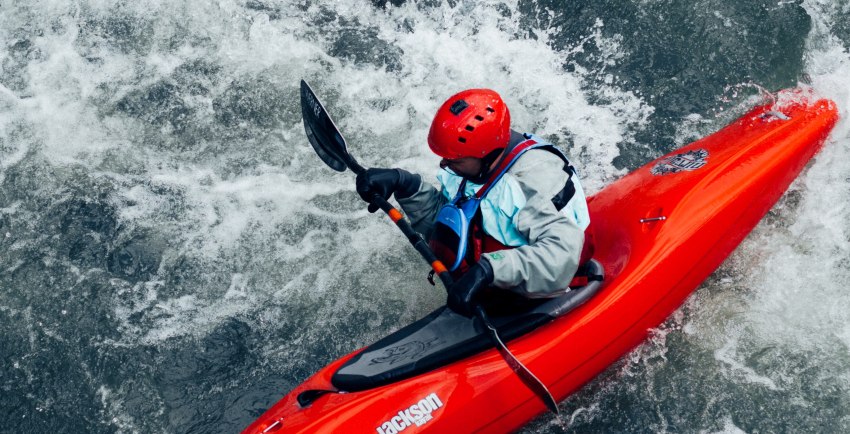 Let's dive into drysuits and take a closer look at everything you need to know about what they are, how they work, and what separates a "good" drysuit from a "bad" one.
First off, a question I had to ask the first time I heard of drysuits…
What's the difference between a dry suit and a wetsuit?
Looking at the two, the differences are pretty clear. However, if you've never seen a drysuit in person, you might not know what exactly they are.
Essentially, a drysuit is a full-body suit (with or without a hood) made from a sturdy waterproof fabric like nylon, rubber, or neoprene. It comes with tight seals at the neck, wrists, and ankles that prevent water from getting into the suit. Worn with waterproof boots, gloves, and a hat/helmet/hood, it's designed to keep your body completely dry even if you end up submerged in the water.
RELATED: 12 Best Kayaking Gloves for 2023
A wetsuit, on the other hand, is made from waterproof neoprene, but it's not sealed as tightly against water. The ankles, neck, and wrists are actually designed to allow a bit of water to get in, but not to get out. That way, once your body heats up the water, it acts as a layer of insulation to keep out the cold and any cold water that could try to get in.
A wetsuit is typically used by people who want to get in the water—surfers, paddleboarders, water skiers, wakeboarders, etc.—because of how effectively it insulates you when wet. Also, because they're not airtight/watertight like drysuits, there won't be air pockets/bubbles that expand when you're in the water (which can interfere with swimming). The thinner fabric is better-suited to cool and cold water conditions.
Drysuits are used by people who A) want to stay totally dry (such as when ocean kayaking or whitewater paddling) and B) people who are paddling in cold and freezing conditions. Because they are fully waterproof and sealed against water, you can typically wear additional layers of clothing beneath to add insulation. If you're going to do any winter kayaking, you'll likely do it wearing a drysuit to keep out the water and protect you from the extreme cold.
Do I Need a Drysuit for Kayaking?
Drysuits are ideal for water colder than 60 F. You'd really only need to use a wetsuit when the water temperature drops below 65 F (that's the expert recommendation), but wetsuits can't fully protect you from truly bone-chilling, brain-freezing water.
With a drysuit, you can stay warm in water as cold as 40-50 F, thanks to the waterproof shell and the loose fit that allows you to wear layers of clothing beneath.
What this means is that you probably want to own a drysuit in order to kayak between late autumn and early spring. Here in British Columbia, for example, the rivers and lakes still have a bit of ice floating on the top until late March/early April, and the water stays bitingly cold until May or June. Having a drysuit enables me to get out paddling even when the weather and water are too cold to swim (or even get wet) safely.
Factors to Consider When Choosing the Right Kayaking Drysuit
Materials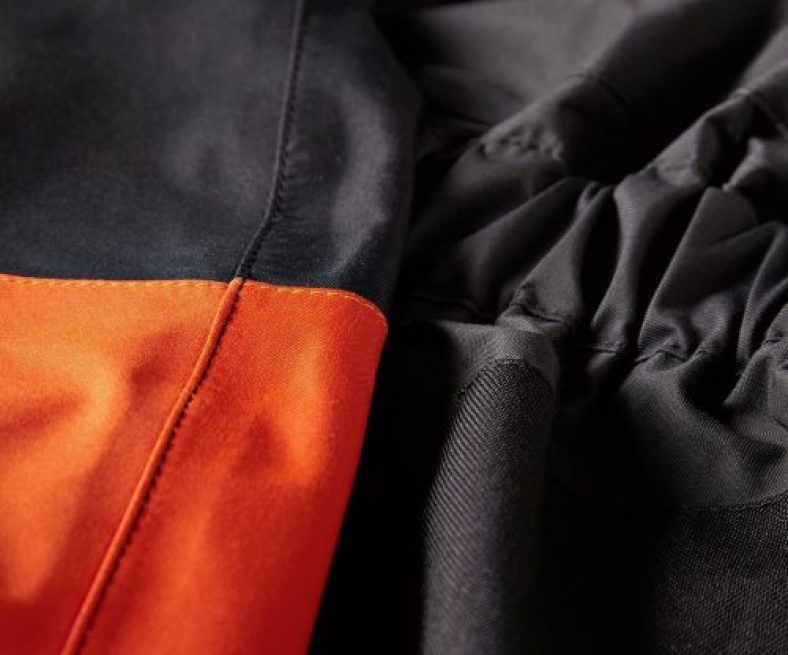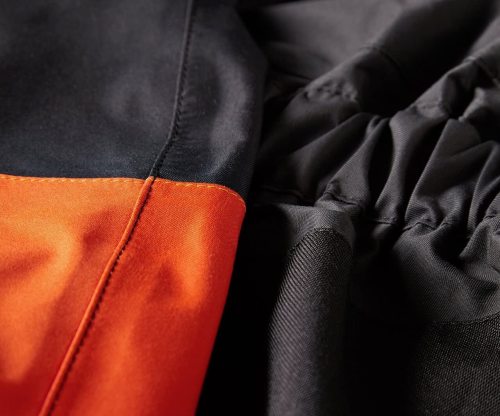 Typically, drysuits are made from one of three materials:
Nylon – This is the most commonly used material, primarily because it's cheap, durable, and highly effective at keeping out water. Ripstop nylon is resistant to tears, and may be coated with a urethane finish that seals water out. However, nylon isn't the most breathable fabric, so you might sweat heavily beneath your drysuit.
GoreTex – When it comes to durability, you can't beat GoreTex. This high-quality material is used in the top-of-the-line drysuits because it's not only incredibly tough, but also offers good breathability to keep you from sweating too heavily while paddling. Of course, expect to pay premium prices for the premium materials.
Laminated Materials – Some drysuit manufacturers use their own proprietary laminated materials, made using a variety of specially-produced synthetic fabrics unique to their brand. They may use only these fabrics or combine them with nylon or GoreTex. They may be less expensive than GoreTex and more breathable than nylon, so they're typically middle-of-the-pack drysuits.
Breathability
Think about it: a fully waterproof shell that keeps out water will also keep water in. All the moisture your body emits in the form of sweat will accumulate on the inside of your suit and make you both hot and damp.
You can wear moisture-wicking, quick-drying base layers beneath the drysuit, but if there is no breathability to the suit, it may end up feeling like the inside of a sauna or dutch oven.
That's why GoreTex drysuits are a popular choice among expert kayakers. GoreTex is fully waterproof but still offers excellent breathability and ventilation to keep you from overheating.
If you, like me, tend to sweat a lot and run hot, make sure to read the reviews on any drysuit you're considering, and pay attention to what users say about the breathability/ventilation! Look for wetsuits that include a breathable, semi-permeable mesh lining that allows sweat/heat to escape without leaking in water or cold air. They'll be pricier suits, but well worth the expense!
Fit
Drysuits are designed to be loose-fitting shells worn over another layer (or two) of clothing.
Because of their waterproof design, they offer good insulation against cold water, but they're thin enough that they won't keep out the cold air. Typically, you'll wear some kind of underlayer—thermal clothing, athletic wear, or even a simple pair of long johns—to provide added insulation.
RELATED: What to Wear While Kayaking: The Ultimate Dress Code for Paddlers
However, if you're not going to be paddling in freezing conditions, but you merely want to stay dry, you can opt for a tighter-fitting suit. For example, if you're whitewater paddling in the summer, you might wear a drysuit to keep from getting waterlogged, but it doesn't have to add a lot of extra insulation.
A tighter-fitting drysuit won't offer as much insulation (and less possibility of wearing clothes beneath), but you'll find it moves more easily in the water—making it better for swimming to safety in case you capsize.
Entry Systems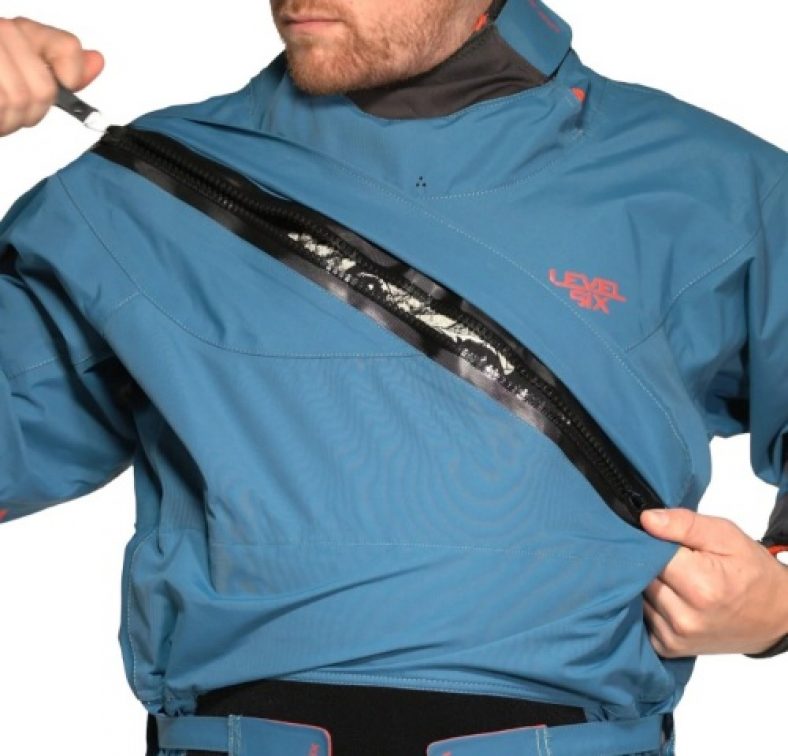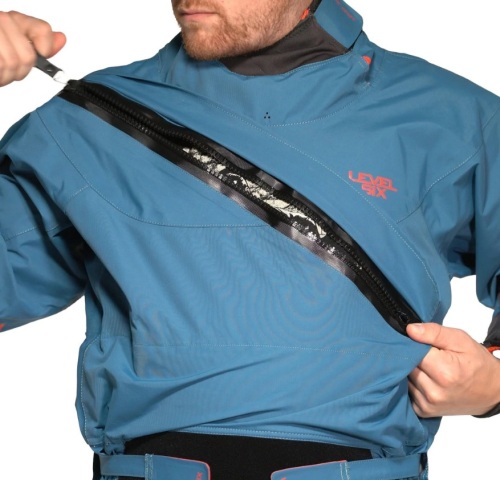 When people talk about drysuit "entry systems", they're talking about the zippers used to get in and out of the suit. There are three entry system types:
Front Entry – This features a zipper across or down the front of the suit, which is the easiest to get in and out of. However, some people find having the zipper in the front annoying due to the repeated motion of their arms as they paddle.
Back Entry – A zipper down the back of the suit is very common for wetsuits, so a lot of drysuit users are already accustomed to struggling to pull up/down the long tab/strap behind their back. They're harder to get in/out of, but once they're zipped up, they're less likely to get in your way while paddling.
Two-Piece – A two-piece drysuit features a zipper across the torso, which allows you to open the suit completely and slip off either the top or bottom. This is definitely the most convenient if you need to use the bathroom—no need to strip off the whole suit—but the larger seams are more likely to leak than the single-seam front or back-entry drysuit.
Thankfully, there's typically a solution for using the bathroom comfortably in a drysuit: a relief zipper!
Relief Zipper
The "relief zipper" is a special addition to your drysuit: a zipper at groin level that allows you to relieve yourself in a pinch.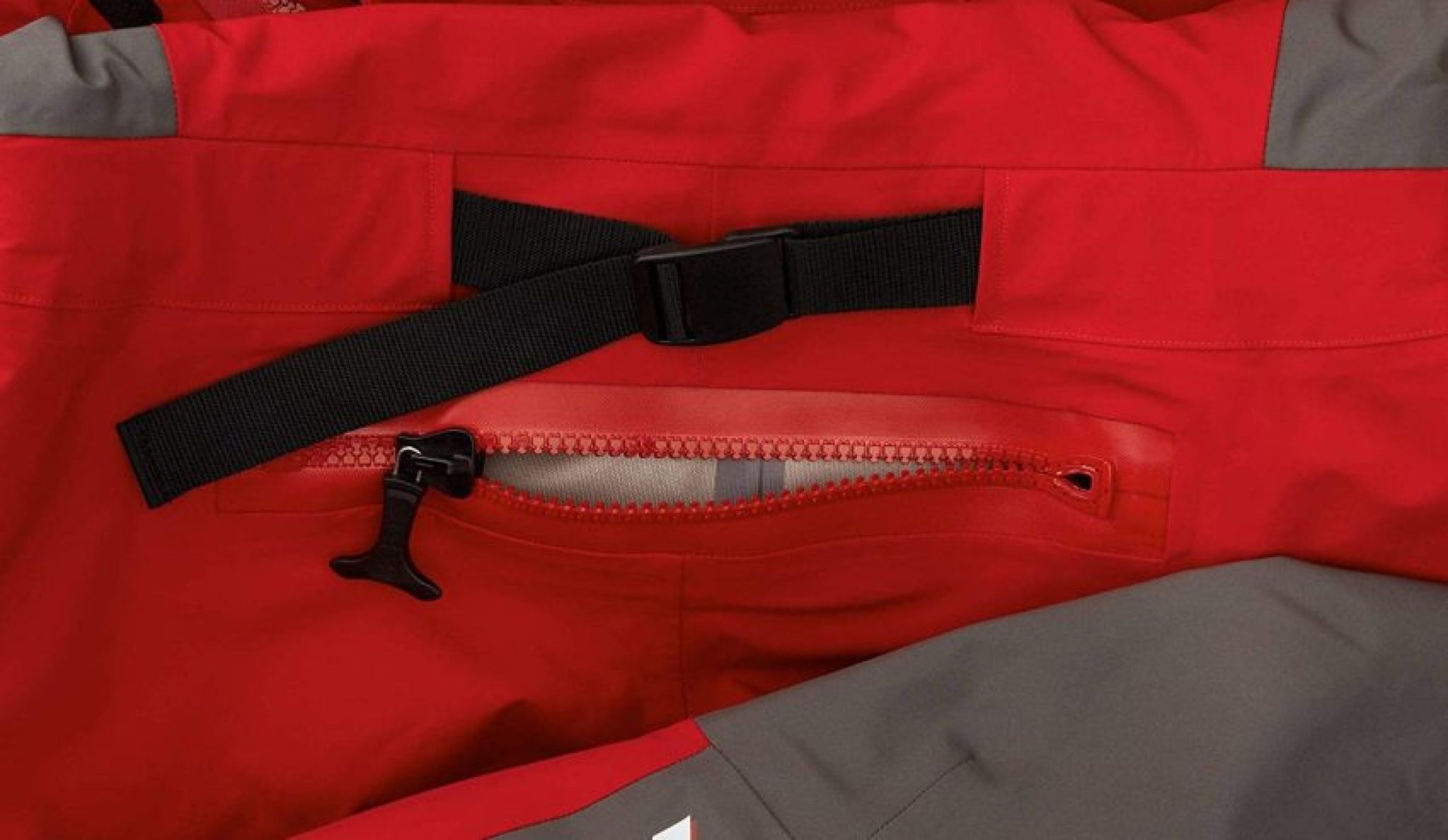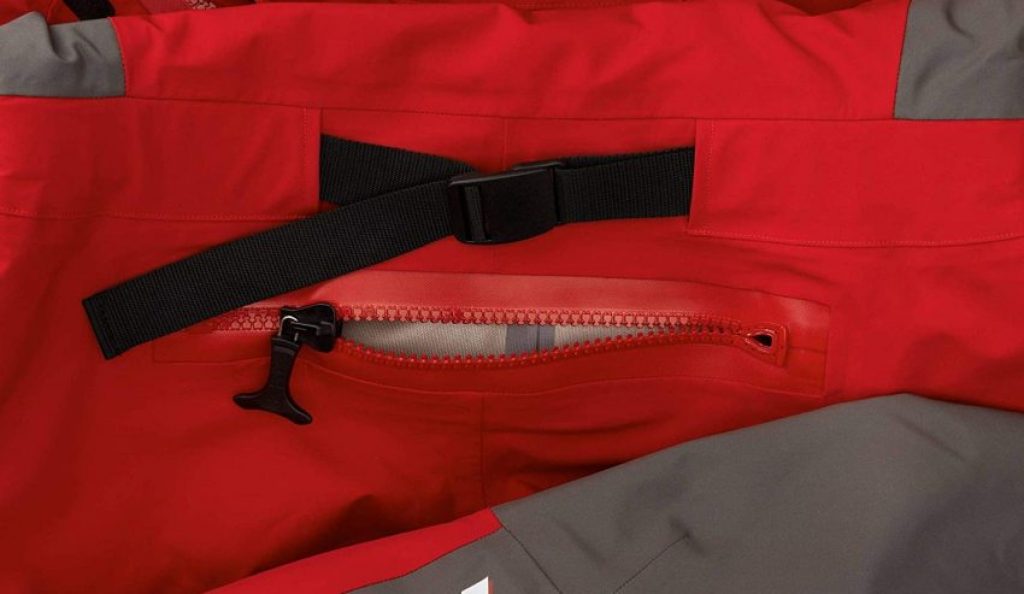 The zipper is typically horizontal and opens just enough that you can do your business without having to strip out of the drysuit.
The necessity of a relief zipper is a subject of great debate among divers, paddlers, and surfers. Some people insist that you can just go in the suit, but I've never been a fan of that particular form of relief. I'd much rather spend a bit more on a drysuit that includes a relief zipper so I can keep the inside of my drysuit as clean as possible.
Neck, Wrist, and Ankle Seals
The seals (or gaskets) around the wrists, ankles, and neck are absolutely critical for good drysuit waterproofing.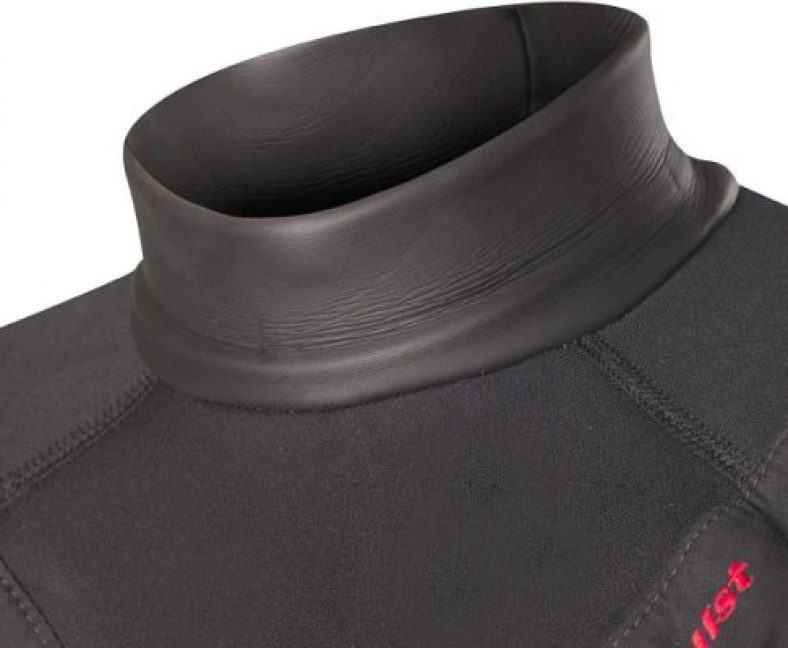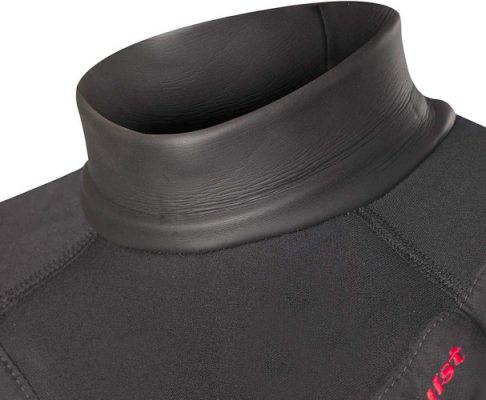 Typically, they're made using latex because of how effective latex is at keeping water out. The seals will be tight enough that they grip your wrists and neck firmly to prevent any water from slipping down the suit's weak spots.
Note: For people who are allergic to latex, there are drysuits that feature neoprene gaskets/seals. However, neoprene isn't as effective at keeping out water as latex, so these seals may be less waterproof.
Reinforced Seams and Patches
It's a given that you'll be using the suit for high-energy activity that involves a lot of repeated motion (in this case, paddling). That means the drysuit needs to be designed specifically to withstand the rigors of kayaking.
The best drysuits come with reinforced seams that can withstand additional wear and tear. These will last much longer than the standard seams on budget-price drysuits, and will require less maintenance to keep them from ripping and leaking.
They may also feature patches on the parts that are most prone to friction damage: the elbows, underarms, knees, and thighs. This will help to lengthen the drysuit's lifespan and protect it from fraying or ripping.
Waterproof Pockets
Most of your important items will be stored in a dry bag or your kayak's waterproof bulkheads/storage compartments. However, you may want to keep some of your gear or valuables close at hand—for example, your phone for listening to music, a digital camera for getting action shots, or a GPS device for navigating over long distances—and you may not be close enough to dry land that it's safe to strip out of your drysuit to get at these items. That's why it's a good idea to look for a drysuit that includes waterproof exterior pockets.
A pocket allows you to keep crucial gear handy and easily accessible, but protect it from getting damaged by water.
Double Tunnel (Overtunnel)
This is a very specific element utilized by whitewater kayakers. The "tunnel" refers to the mouth of a spray skirt, and a "double tunnel" (also called an "overtunnel") is a skirt-like ring of fabric sewn onto your drysuit that actually slides overtop the spray skirt tunnel. That way, it's a double seal that will prevent any water seeping into your kayak.
ALSO SEE: Best Kayak Spray Skirts for 2023: the Ultimate Guide
Watch this video by the good people at Cape Falcon Kayak for an explanation on when you'd want this feature, and when to avoid it.
Visibility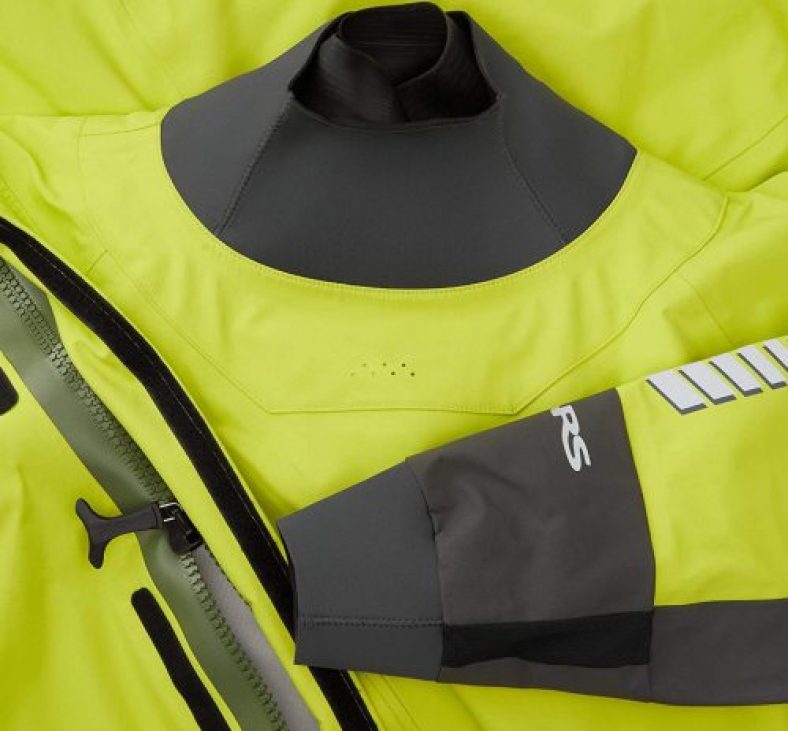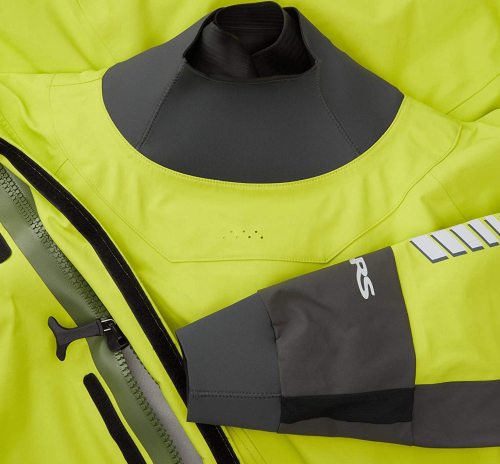 You'll notice that most (though not all) drysuits are bright-colored outfits in highly visible shades of red, orange, yellow, blue, and green.
This is because the more visible the color, the easier it will be for fellow paddlers and boaters to see you—both when sitting in your kayak and in the water in case of capsize.
This is particularly important if you're going to be whitewater kayaking or expedition kayaking across vast stretches of open ocean. In these circumstances, the chance of accident is higher, which means a higher possibility that you'll need to be rescued. Brightly colored drysuits are easier for rescue personnel to spot you, making rescue just that much easier.
Bonus points if the drysuit also has reflective details that make you more visible in low-light conditions!
Gear Loops
Gear loops are a very useful addition for anyone who plans to take their drysuit fishing or hunting. These loops—typically made from sturdy nylon—allow you to clip or hook gear onto your suit to keep them close at hand without the need for pockets. For example, anglers may use them to store their favorite tackle within easy reach.
They're not a must-have, but make for a practical addition to your dry suit.
Dry Socks
Dry socks are basically an add-on that eliminate the need for ankle gaskets. Rather than ending at the ankles, the drysuit includes these built-in socks that fully cover your feet.
They're certainly more waterproof—two less weak points for water to leak into—and are great for wearing with waterproof shoes or boots, especially in freezing cold weather. However, the sock fabric may be less comfortable/more slippery than water socks, so it may be marginally harder to walk around in a drysuit with built-in socks.
Hood
A hood may come in handy if you expect to get wet—either from whitewater rapid spray, heavy rain, or falling sleet/snow. It adds one more layer of protection for your head, and increases the waterproofing of your drysuit's neck aperture.
Some drysuits include a built-in hood (similar to a hooded wetsuit), typically used for extreme-cold weather paddling. You can also purchase a drysuit hood separately and wear it beneath a hat or helmet.
Price
A good quality drysuit will run you anywhere from $400-$1,000—definitely not cheap, by any stretch of the imagination.
However, think of them as a long-term investment. They can last for up to 15 years with proper care and maintenance (see the "Caring for Your Drysuit" section below). Plus, they'll allow you to paddle all year around, not just on warm summer days. Now that's an investment I, a paddling addict, can get behind!
What to Wear Under Your Paddling Drysuit
As you know, drysuits are designed to be loose-fitting so you can wear additional layers of clothing beneath—ideal for cold-weather paddling. The drysuit itself is just a waterproof shell, so it's vital that you wear the proper outfit when kayaking in the coldest months of the year.
Typically, you should wear the same type of clothes you'd take for any other winter sport activity (such as ice fishing, snowboarding, or cross-country skiing):
Base Layer – The base layer should always be a synthetic performance fabric that wicks moisture away from your body, dries quickly, and reduces chafing. Fabrics that get waterlogged (such as wool or cotton) are a no-no for your base layer! It's all about keeping your skin dry and cool.
Middle Layer – The middle layer can either be a synthetic performance fabric or a thicker, heavier, and warmer fabric like wool or cotton. Because it's not directly against your skin, it won't trap moisture close to your body (wasting body heat), but it can still keep you warm.
Outer Layer – If the weather is really cold, you might want to opt for three layers (in addition to your drysuit). With three layers of clothing (even light clothing), you'll find you can stay very warm even if the conditions are freezing cold—due to the fact that multiple layers trap body heat and keep out cold far more effectively than a single thick layer.
Caring for Your Drysuit
As I mentioned above, a good drysuit can last you easily 10 to 15 years with the proper care and maintenance. It's absolutely critical that you take time after every use to go through the following checklist:
Step 1: Rinse with fresh water
This is particularly important if you go paddling on saltwater. Saltwater can accelerate deterioration, weaken the seams, and make the suit wear out faster. However, lakes are also home to a lot of bacteria and algae that can degrade the fabric of your drysuit. A good rinse with clean, fresh water will eliminate any damaging particles.
Step 2: Wash using a mild soap or wetsuit/drysuit shampoo
You might not need to do this every time—maybe once every two weeks—but giving your drysuit a good shampooing can do wonders to eliminate dust, grime, germs, and salt.
Step 3: Hang the suit to dry in a cool, well-ventilated place, away from direct sunlight
Make sure the zippers are wide open, and hang the drysuit upside down so all the water can drip out. Once the exterior is dry, turn it inside out and let the interior dry thoroughly.
Step 4: To store, roll up loosely or hang from the legs
Rolling up the drysuit shouldn't damage it, but repeated rolling may strain the seams or cause microscopic cracks in the fabric over time. When in regular use, hang it from the legs, and only roll it up when you're putting it away in storage for a few months.
These four steps are critical for proper care, and you should do them EVERY. SINGLE. TIME.
However, you should regularly inspect and repair the drysuit as needed. This means:
Applying spray-on waterproofing treatments
Lubricating the zippers
A few minutes invested into the maintenance of your drysuit will go a long way toward protecting your investment!
Kayaking Drysuit FAQs
Does a dry suit keep you afloat?
Not exactly. Drysuits are designed to be waterproof and airtight, so they will naturally trap some air inside the suit, which will expand and form pockets/bubbles when you're in the water. For example, beginners to wearing drysuits often experience "floaty feet" when too much air fills up their built-in socks.

These air pockets/bubbles will add a bit of buoyancy, but you should not rely on those to keep you afloat for prolonged periods of time. It's still super important that you wear PFD while out on the water!
Can you swim in a dry suit?
Absolutely! Dry suits aren't as sleek and form-fitting as wetsuits, which is why they're typically used for activities on and around water rather than in it. If you're going to be swimming, it's usually recommended to wear a wetsuit. However, if you capsize or end up in the water while wearing a drysuit, you'll find it's slightly bulkier and more cumbersome but still easy enough to swim in.
How do I "Leak Test" a dry suit?
Make sure your drysuit is bone-dry before you test it. Test on a dry, clean surface, too.

Turn your drysuit inside out, and use taper plugs (or some other objects of a similar size to your wrists, ankles, and neck) to fully seal the suit. Pull the drysuit closed (from the inside), and insert a hose through the neck seal to fill with water. Make sure all of the seals and gaskets are fully taped off before you fill.

While the suit is filling, look around for any hints of damp or water leakage. If you find any leaks, use a marker or a bar of soap to mark the spot. Repeat until you're certain A) the suit doesn't leak, or B) you've identified all the leaks.

Empty the suit, dry thoroughly, and use Aquaseal or Seal Grip to repair any leaks.