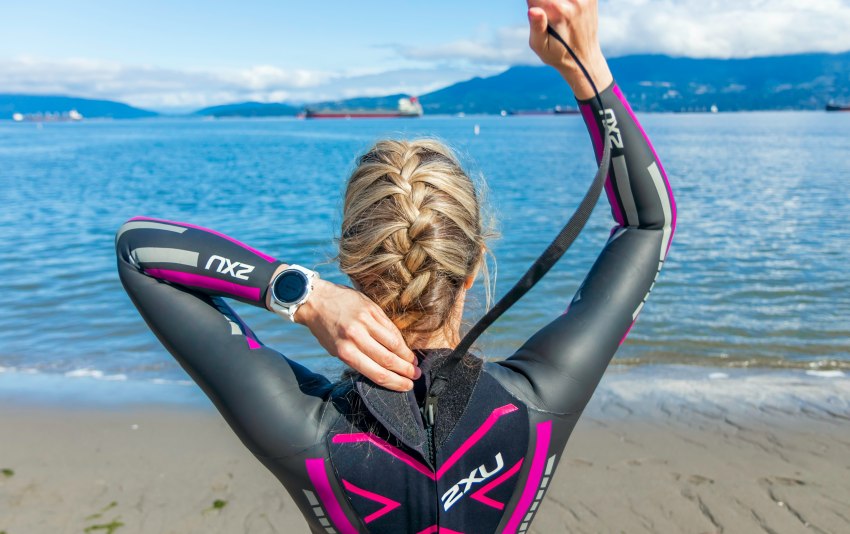 What do you love most about kayaking? If you're like me, chances are, it's the wind in your face and the soothing water all around you.
There's just something spectacular about being surrounded by a crystal blue lake or a sea-green ocean on a hot, sunny day. It's utterly relaxing yet still an amazing workout you can enjoy for hours—or days—on end.
Unfortunately, you only get so many hot, sunny days in a year. Spring and summer eventually turn to chilly autumn or freezing winter. Even the best paddling seasons have days where it's cloudy, rainy, and windy.
On these less-than-ideal days, you're going to need protection from the elements—both the cold wind and even colder water.
That's where a kayaking wetsuit can save your day!
A wetsuit gives you that one extra layer of insulation against the cold, keeping you warm and toasty even when the day is windy, overcast, or spitting rain. Or, if you're a brave madman who likes to kayak in the dead of winter, it can keep you from freezing on your seat.
Below, we've put together a list of the best kayaking wetsuits, as well as a complete buying guide to help you pick the wetsuit that suits your needs to perfection.
By the time you reach the end of this page, you'll have a good idea about which wetsuit is the right investment for your particular kayaking habits.
As an affiliate of Amazon and other retailers, we may earn a small commission when you buy via our links, at no additional cost to you. Thank you!
Our Top List of Kayak Wetsuits
Don't have time to read the whole article? Take a quick look at our list to help you decide which suits your needs best:
WHY TRUST US:
Here at Paddlingspace.com, we spend more time on the water than we do in the office. We paddle, kayak fish, and camp as often as we can, so we know exactly what kayakers and kayak anglers need.
Each year, we independently research, review, and rate the best kayaks, canoes, and paddling gear. Our experts analyze hundreds of products to find out key differences, pros, and cons of each product. We only make money from ads or if you purchase through our links. No sponsored posts or biased reviews here, period.
---
Top-Rated Kayak Wetsuits
Best Kayaking Wetsuit Overall: O'Neill Men's Epic 4/3mm Back Zip Full Wetsuit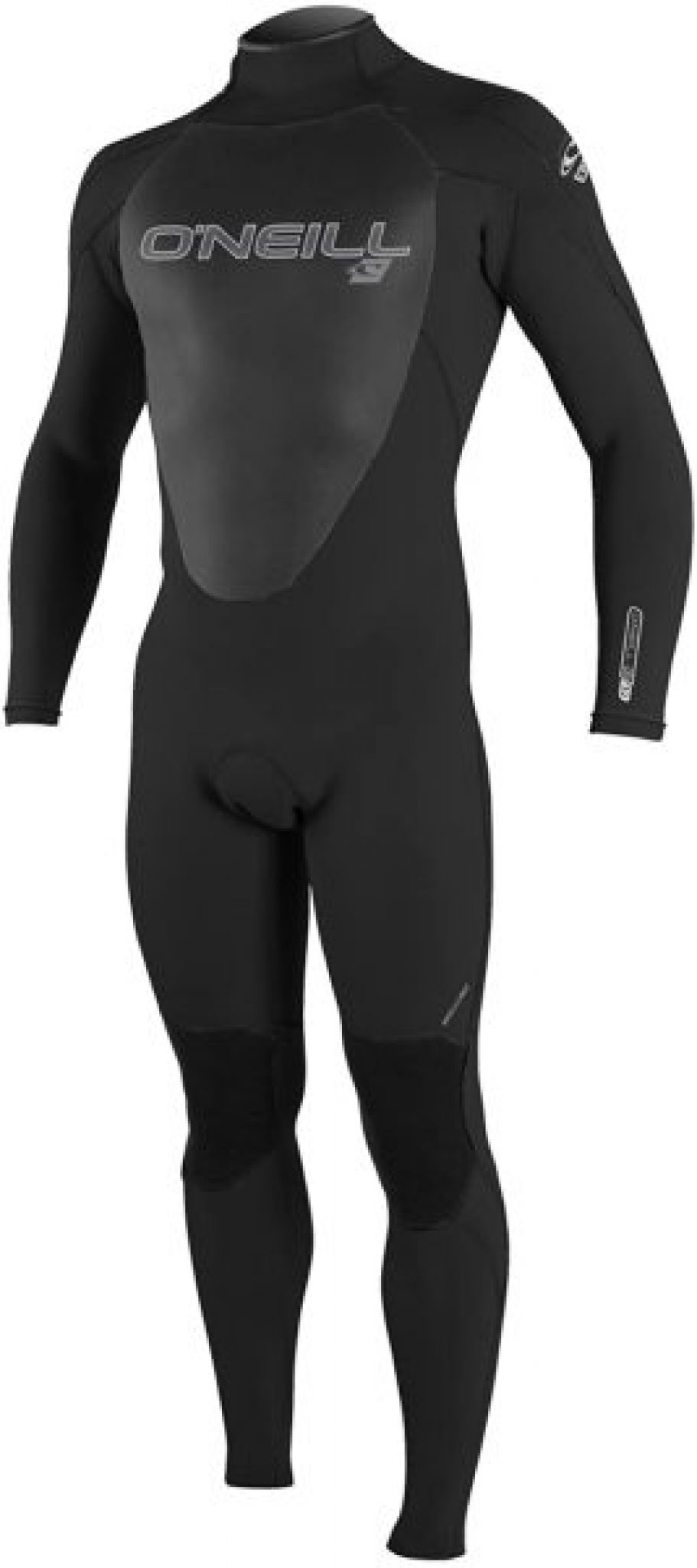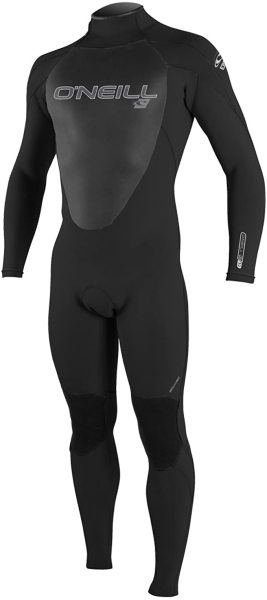 Style: Full Suit
Thickness: 4/3mm
Entry System: Back Zipper
Seams: Blind Stitched And Triple Glued
This is, hands down, the best kayaking wetsuit on the market. O'Neill is THE brand for wetsuits, the most recognizable name in the industry, known for making hard-wearing and long-lasting suits. User reviews praise the durability and comfort, with some reviewers claiming it's the "comfiest wetsuit they've ever owned".
The suit is built using 4/3mm-thick FluidFlex panels that offer excellent insulation, and the blind-stitched and triple-glued seams won't break no matter how active your kayaking adventure. The neoprene has just enough elasticity that it will bend and flex with your paddling, and it's soft enough on your skin you'll never have to worry about friction burns or chafing.
Be warned: it does have the classic neoprene "skunk" smell initially, though it will stop smelling after the first few uses. However, it's sized just right and will be comfortable for taller-than-average users, with a beautifully adaptive fit that will morph to your body type to fit like a second skin.
Pros:
Adaptive, comfortable fit
Excellent durability
Great for tall and heavy users
Warm even in 45 to 50-degree F water
Reliable, long-lasting, and damage-resistant
Cons:
Neoprene smell is very strong
Back entry system may be hard to zip up without help
---
Best Shorty/Spring Suit: SeaSkin 3mm Shorty Wetsuit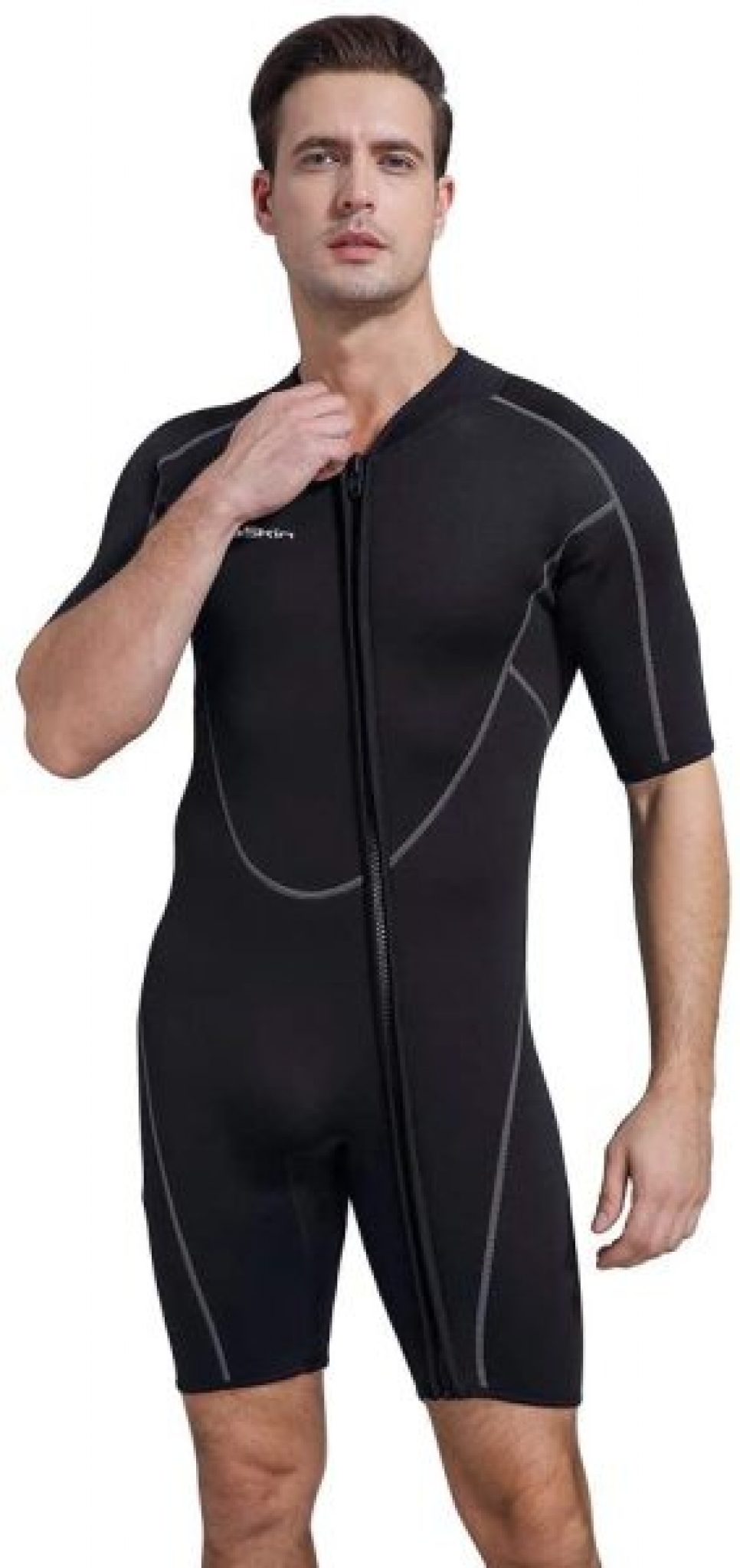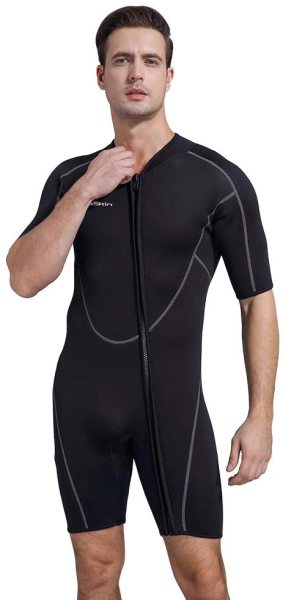 Style: Shorty/Spring Suit
Thickness: 3mm
Entry System: Front Zipper
Seams: Flatlock
This is our top pick for a summer/warm-weather wetsuit, comfortable enough that you'll enjoy paddling all day long without overheating, chafing, or drowning in sweat. The shorty/spring suit features flatlock seams that unite triple-layer fabrics: a nylon exterior, neoprene core, and thermal base layer to keep you warm even in cool water. It's thick enough to provide ample insulation but still lightweight and versatile enough for any water sport.
The fit is nicely snug but the fabric stretches and twists as you paddle. For your convenience, the entry system is located in the front so you can easily slip in and out of the wetsuit. The zipper doesn't let in much water, so you'll stay mostly dry while sitting in your kayak.
Some users complained about the sizing being "just right when dry, but too large when wet", even after following the provided size chart. Other issues include a too-loose back panel and midsection, as if it's designed for heavier users who need more room around the waist/belly/hips. Overall, however, it's a great spring suit to wear when the water's just a little too cold to swim in a bathing suit alone.
Pros:
Lightweight and comfortable
Decent insulation
Solid triple-layer build
Good mobility for your torso and extremities
Cons:
Sizing runs over-large
Loose fit around the midsection and belly
---
Most Durable Spring Suit: Lemorecn 3mm Shorty Jumpsuit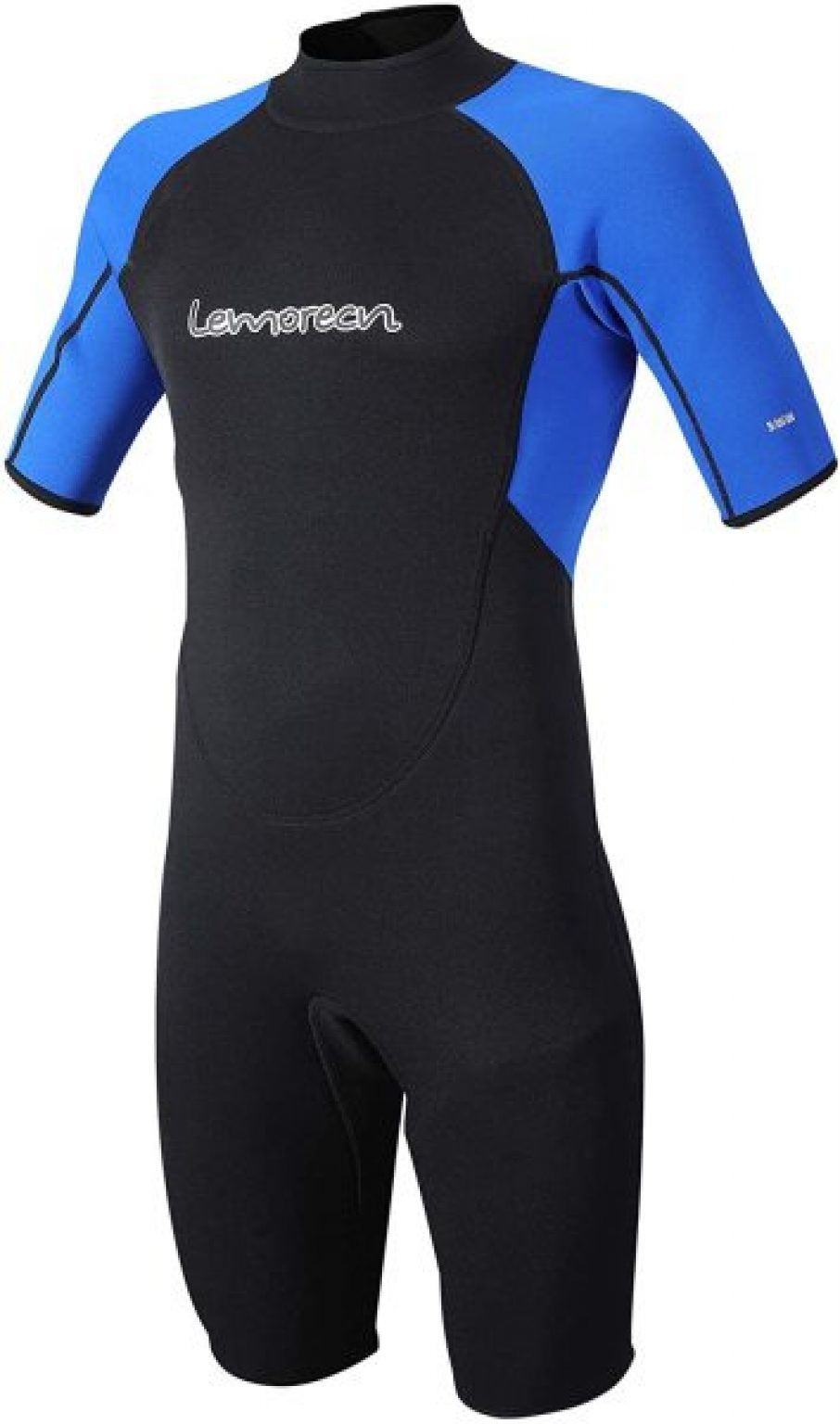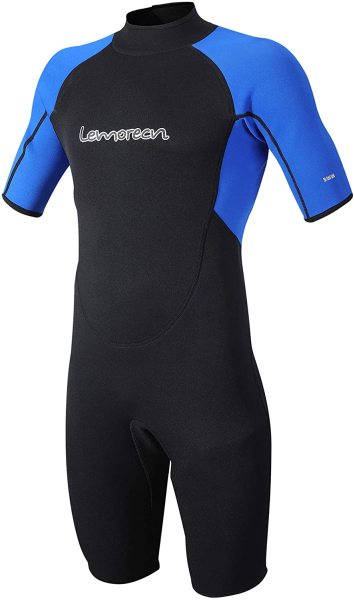 Style: Shorty/Spring Suit
Thickness: 3mm
Entry System: Back Zipper
Seams: Flatlock + Spot Taped
If you're looking for a lightweight wetsuit that will last you for years of active watersports, this is definitely my top recommendation. The fact that it's cut in the shorty/spring suit style makes it perfect for surfers, paddleboarders, kayakers, and divers alike, but it's made using 3 mm-thick neoprene to provide ample insulation against water as cold as 58F. Plus, thanks to the tape used to reinforce the flatlock seams (at critical points), it's a waterproof and hard-wearing suit that can withstand even high-speed activities (like waterskiing or wakeboarding).
The heavy-duty YKK zipper in the back will never rust or wear out, and the extra-long leash on the back makes it easy to zip and unzip. You can even slide out of the wetsuit in the water or let the suit flush if you're overheating.
It's not the most flexible suit, with a slightly stiffer-than-average neoprene material, but it's sized right and fits comfortably. Be warned, though: the suit will bleach out if used in a pool (chlorine), and may become brittle and split.
Pros:
Easy-to-use entry system
Great insulation and waterproofing
Tape-reinforced seams will hold up to hardcore use
Compatible with all water sports
Cons:
Stiff, lacking flexibility
Colors may run/bleed with regular exposure to chlorine
---
Best Short John: O'Neill O'Riginal 2mm Back Zip Sleeveless Spring Wetsuit


Style: Short John
Thickness: 2mm
Entry System: Back Zipper
Seams: Glued and Blind Stitched
This is the ideal warm-weather wetsuit, cut in the "Short John" style (i.e. sleeveless tank top and mid-thigh legs). It's not the thickest or warmest suit—featuring just 2mm panels for the body and 1.5mm FluidFlex neoprene for the legs—but it'll be great to use on the days when the water is just too cold to safely swim in your bathing suit.
It's cut in a cool "retro" style and built specifically for kayakers, with seamless "paddle zones" at all the places where the motion of paddling your kayak would rub or chafe your body. It's made for a snug fit but won't constrict or hamper your movement. Though not warm enough for true cold water, it's a great option to keep your body dry throughout a long day of kayaking.
The rubber on the chest panel is a bit sticky, making it perfect for surfers/bodyboarders but potentially annoying for kayakers. Some broad-shouldered users complained that the arm holes are uncomfortably tight. Overall, though, it's a wetsuit perfect for those slightly-too-chilly spring and autumn days.
Pros:
Lightweight, flexible, and chafing-free
Great for warm-weather use
Designed specifically to minimize friction for kayakers
Well-priced
Cons:
Sticky chest panel can be annoying when trying to paddle
Thin neoprene offers limited insulation
---
Best Long John: NeoSport 7mm Neoprene Waterman John Wetsuit


Style: Long John
Thickness: 7mm
Entry System: Front Zipper
Seams: Flatlock Seams + Spot Taped
When the weather turns truly cold and you want to stay warm, this Long John-style wetsuit may be just what you need. Made with 7mm-thick neoprene, it's one of the thickest wetsuits on the market, offering protection from your neck to your ankles. However, thanks to the sleeveless design, you can move and paddle easily without wrestling against your wetsuit.
The suit uses flatlock seams to join the neoprene panels, but adds spot-taping at the critical points to maximize durability. Diamond knee pads are also sewn into the legs to keep your knees comfortable while you're paddling, and the suit includes an internal key pocket to give you a bit more space to store critical items.
Users have complained that the sizes run smaller than expected and they aren't designed for bigger, broader-chested wearers, but for the price, it's a great wetsuit option to consider for those cold-weather paddling trips.
Pros:
Thick neoprene offers superior insulation
Sturdy, well-designed, and long-lasting
Easy front zipper entry system
Spot taping to reinforce seams/increase waterproofing
Cons:
Sizes run small
Potential weak spots at the knee pads
---
Best Wetsuit with Hood: REALON Men's 5 mm Full Wetsuit


Style: Full Suit with Hood
Thickness: 5mm
Entry System: Front Zipper
Seams: Glue and double-thread blind-stitching
Planning a plunge or paddle into polar waters? This is the wetsuit you'll want to be wearing. Not only is it made with thicker-than-average 5mm neoprene, but it also features a built-in hood you can pull tight to protect your head from cold shock.
The full body suit is made to be very sturdy, using glue to reinforce the double-thread blind-stitching that both keeps out water and prevents rips and tears in the neoprene. Thanks to the front-zip entry system, you can pull on/off the wetsuit with ease. And just to make sure you get maximum water-resistance, the suit even includes built-in zippers at the ankles and wrists.
Some users have complained that the zippers are made using cheap material and tend to break easily, while others claimed the sizing is "way off". However, for a truly freezing-weather wetsuit, you won't find much better than this!
Pros:
Great for VERY cold weather
Built-in hood protects your head, ankle/wrist zippers maximize waterproofing
Convenient front entry system
Sturdy and well-reinforced seams
Cons:
Sizing is "not even close"
Zippers may break/wear out quickly
---
Most Comfortable: Cressi Men's Front-Zip Full Wetsuit


Style: Full Suit
Thickness: 2.5mm
Entry System: Front Zipper
Seams: Braided Seal
If you're going to spend a lot of time in, on, or around water, you'll love how comfortable this wetsuit will be even after a day of intense paddling or swimming. Though it's not the best for insulation—using just 2.5mm-thick neoprene—the fabric is light and flexible enough that you can enjoy warm-weather watersports in comfort and style.
The full suit will offer decent water-resistance for kayakers, and if you choose to get in the water, will keep body-heated water close to your skin with little risk of "flushing" (losing the insulating water layer). The double-lined neoprene (interior and exterior lining) will be soft on your skin and chafe-free, and it's a surprisingly durable suit despite the lightweight material used.
The suit does suffer from occasional quality control issues (one reviewer found it arrived defective with the zipper already broken) and may prove difficult to take off once it's filled with water. However, in terms of full body protection, it's definitely worth the price and risk to get a truly comfortable wetsuit.
Pros:
Extremely comfortable
Easy to pull on
Well-designed to trap water inside/prevent "flushing"
Flexible, versatile, and lightweight
Cons:
Quality control issues/product may ship defective
You may struggle to take it off once wet/full of water
---
Best Budget Wetsuit: Hevto Men's 3mm Full Wetsuit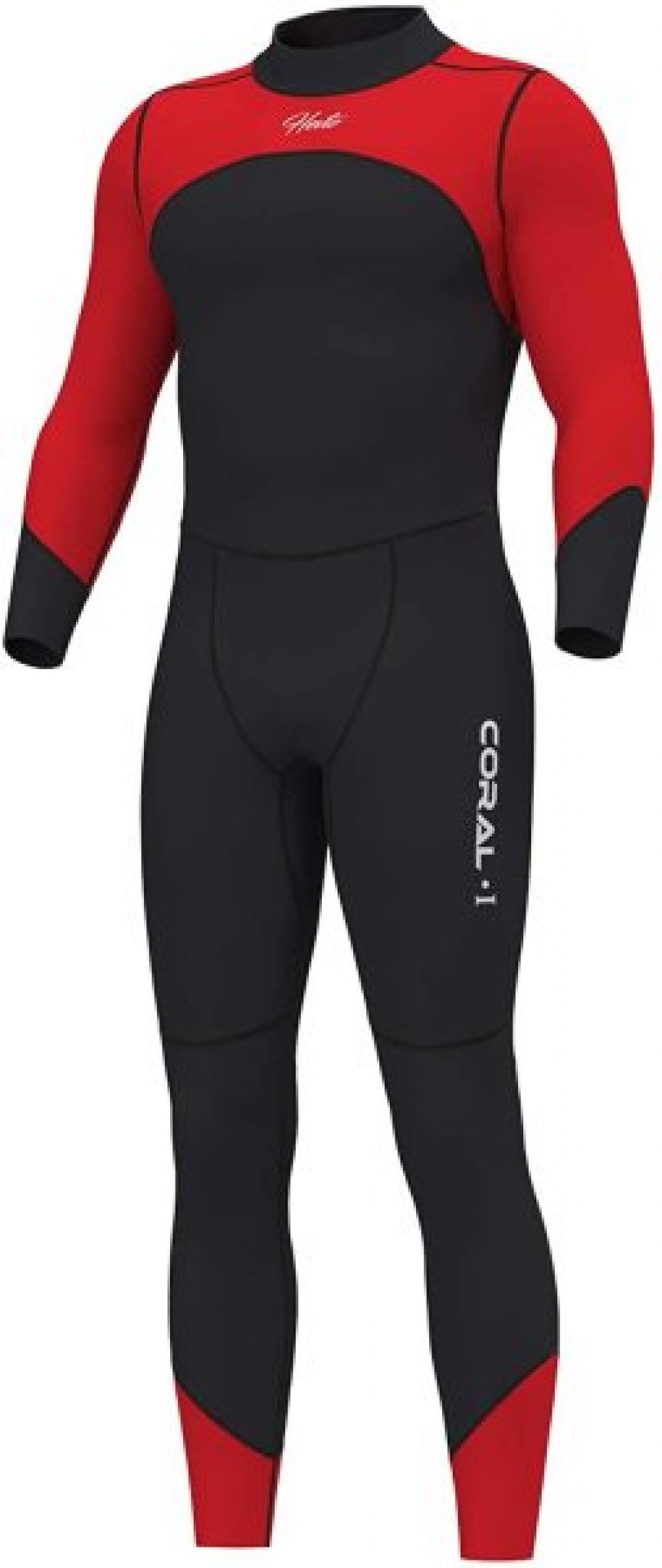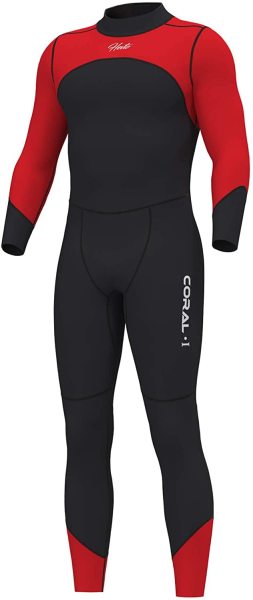 Style: Full Body
Thickness: 3mm
Entry System: Back Zipper
Seams: Flatlock
A low price is definitely one of this wetsuit's most attractive features, but not the only one worth considering. It's also comfortable, versatile, and surprisingly sturdy, built using 3mm triple-layered neoprene. The flatlock stitching will never rub or chafe, and you'll find the nylon zipper belt attachment makes it easy to slip the suit on and off.
The suit features beautifully bright and eye-catching red accents, as well as the "Coral-I" logo that is painted on in reflective paint that will make you visible even at night. The full-body design offers good insulation despite the thinner neoprene, and the high-quality materials used won't break or be worn down even with repeated friction from paddling.
As with many products made in China, the sizing isn't quite accurate and occasionally products do get shipped out defective or damaged. However, despite the sometimes-odd or incorrect fit, it's still a quality product at a price tag you can definitely love.
Pros:
One of the most affordable wetsuits on the market
Good quality overall, durable and comfortable
Decent full-body insulation
Cons:
Quality control issues/product defects
Sizing is incorrect
---
Your Complete Guide to Buying A Kayaking Wetsuit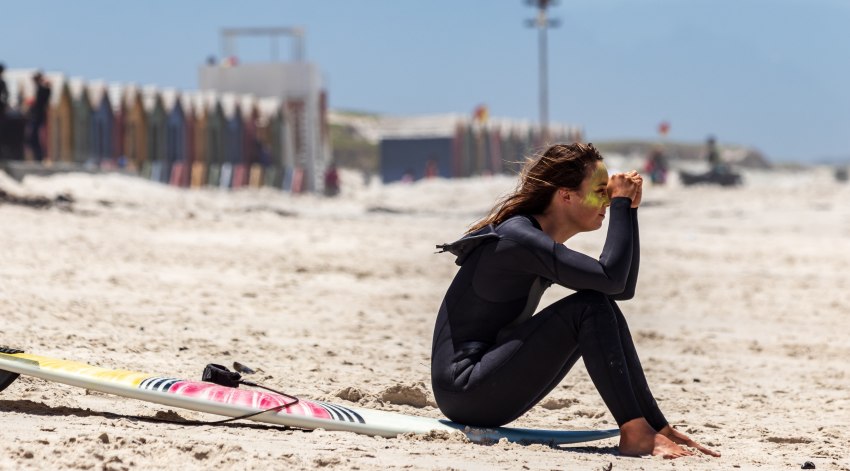 How Does a Wetsuit Work?
Let's start off with this simple, yet crucial bit of information…
The name "wetsuit" is actually kind of a misnomer. Wetsuits, as you probably know, are designed to keep you warm by trapping water inside the suit. The microscopic air bubbles inside the water gets heated by your body heat, and impedes "heat transfer" that would allow your body heat to escape. Thus, you remain warm all day long.
But wetsuits aren't only designed to retain water. They're made with water-impermeable neoprene, which can actually keep you dry very effectively. Sure, water will seep in through openings for your ankles, wrists, and neck, but only if you end up submerged in the water (in case of capsize, or if you decide to go for a swim).
In your kayak, the wetsuit should actually remain fully dry, and the neoprene (a synthetic form of rubber) acts as a layer of insulation to trap body heat close to your skin. Because the wetsuits are tight enough to stop water from escaping, they also stop air from leaking out, preventing heat loss.
A dry wet suit is noticeably warmer than a wetsuit that is filled with water. The thicker the neoprene, the better the insulation.
Some actually include a lining of fleece (made from polyester) that reduces the amount of water that can fill up your wetsuit. This reduces the amount of body heat that is expended to warm up the suit, and adds yet another layer of protection against the cold.
Types of Neoprene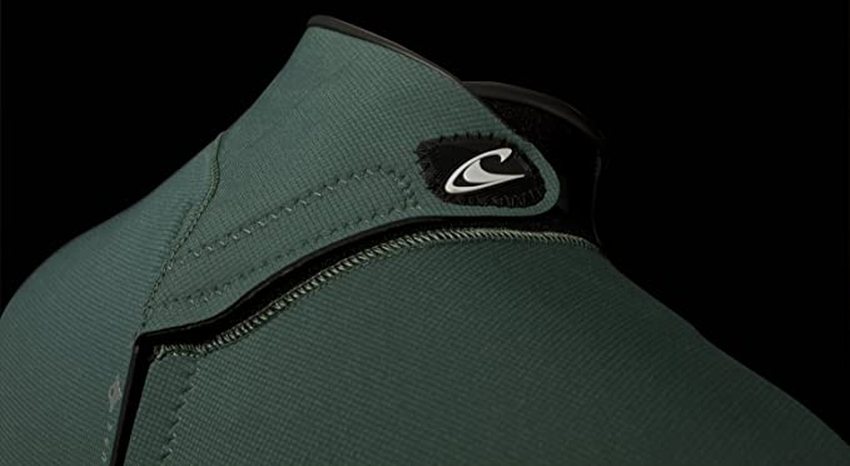 Whenever you shop for wetsuits, you're going to be looking at variations on essentially the same suit: a tight, close-fitting garment (either full-body or partial-coverage) made from neoprene of various thicknesses.
Neoprene, as I mentioned above, is a synthetic (artificial) form of rubber, a closed-cell material that doesn't allow heat to pass through, thus keeping it close to your body.
However, there are a few different types of neoprene used for wetsuits:
Nylon-Lined Neoprene – Using nylon with neoprene provides a soft, skin-friendly, friction-reducing inner lining that makes it easy to slide the wetsuit on and off. No need for talcum powder, and far less wrestling with your wetsuit. The nylon also doubles as an added layer of protection against UV damage, friction (from repeated paddling strokes), and the deterioration common with daily wear and tear.
Air Neoprene – Air neoprene is basically triple-layered neoprene; the two outer layers are the standard closed-cell material, but the middle layer includes tiny air pockets that prevent heat from escaping through the fabric. It's typically only used for the highest-end wetsuits (used by professionals), but it's a very well-insulated option.
Smooth Skin Neoprene –This type of neoprene is typically used for boots, hoods, gloves, and other accessories because it has a rubbery finish that is highly water- and wind-repellent. However, it's the least durable type of neoprene, and can easily get torn (even with just your fingernails). That's why it's incorporated into certain components of your wetsuit (like chest and back panels) or used in accessories.
Yulex – Yulex is a form of neoprene unique to the brand Patagonia. It's a plant-based form of neoprene that is equally flexible and well-insulated, but is produced with a much smaller carbon footprint than neoprene—essentially, a "greener", more sustainable form of neoprene.
Do I Really Need a Wetsuit for Kayaking?
Yes and no.
Confused? Let me explain…
If you're a summer paddler who likes to enjoy the hot, sunny days out on a calm lake, you're probably paddling in board shorts or a bikini. There's really no reason to wear a wetsuit because you're spending a few hours enjoying the bright sun and cool breeze.
But step up your paddling adventures a bit, and the game changes.
Let's say you're tackling whitewater rapids at the "best" time of year, when the water is at its fastest and most furious right after the winter snowmelt. The weather and water will still be on the colder side, and there's a pretty good chance you'll end up getting wet. To protect yourself, a wetsuit may be just what you need.
Or maybe you've decided to paddle out to an island a few miles off the coast of your city, town, or beach destination. We've all gone swimming in a cold ocean, but you never really understand how dangerous it can truly be until you're in a situation where you're stranded in the middle of the sea with no help in sight and risking hypothermia. For ocean paddlers, a wetsuit may be a critical life-saving piece of gear.
RELATED: When GPS Fails: Best Kayak Compass in 2023
And what of those who like to paddle during the "off-season"? Early spring, late autumn, and all of winter will be too cold for most casual paddlers, which means you have the water all to yourself. In these cold or freezing environments, a wetsuit is an absolute must to protect yourself from hypothermia.
In the end, it's all about preparing yourself for the right conditions!
How to Choose the Right Wetsuit: Factors to Consider
Now we come to the good stuff, the buying guide that will walk you step-by-step through all the factors you need to take into account when shopping for a wetsuit.
First off, we've got the single most critical factor to take into account:
Water Temperature
To put it simply: the colder the water, the more insulation you'll want.
The good folks over at Evo have a very simple guide to the ideal outfits according to the water/weather conditions.
Notice how the thickness of the neoprene is determined by how cold the water is. Thicker neoprene offers better insulation, which means better protection against frigid and freezing temperatures.
Always consider the water temperature first and foremost. Cold water will give you hypothermia far faster than cold wind or weather.
Nifty Trick from the Pros: If you're expecting to end up wet/submerged, pre-fill your wetsuit with warm water to reduce the amount of body heat required to maintain your body temperature. Expert surfers and whitewater kayakers will sometimes bring a thermos or hot water bottle from home to pour into their suits.
Materials
As you know, wetsuits are usually made using one of the types of neoprene I talked about above.
If you read the explanation, you know that smooth neoprene is better for insulation but not as durable, while air neoprene offers maximum insulation at a much higher price.
However, other materials may be incorporated into the wetsuit as well, for various reasons:
Polyester Fleece is added to provide an additional layer of insulation, as well as to reduce the amount of water that fills the suit. With less water filling the suit, less body heat is expended to warm up that water, and the fleece helps to trap the already-warmed water inside the suit.
Nylon may be added to make it easier to slip in and out of the wetsuit, as well as to add more durability (nylon is a tough fabric!) and waterproofing. Nylon may even provide more insulation and keep you warmer when submerged in cold water.
Lycra is sometimes added to increase the neoprene's stretch capabilities, making it more flexible than pure neoprene. Lycra can also increase the suit's durability and prevent rips, tears, and leaks.
These other materials aren't a must-have, but they may add to the comfort, versatility, and ruggedness of the wetsuit.
Design
Wetsuits come in a few different designs, each of which are worn according to the water temperature (look at the table above to see what I mean).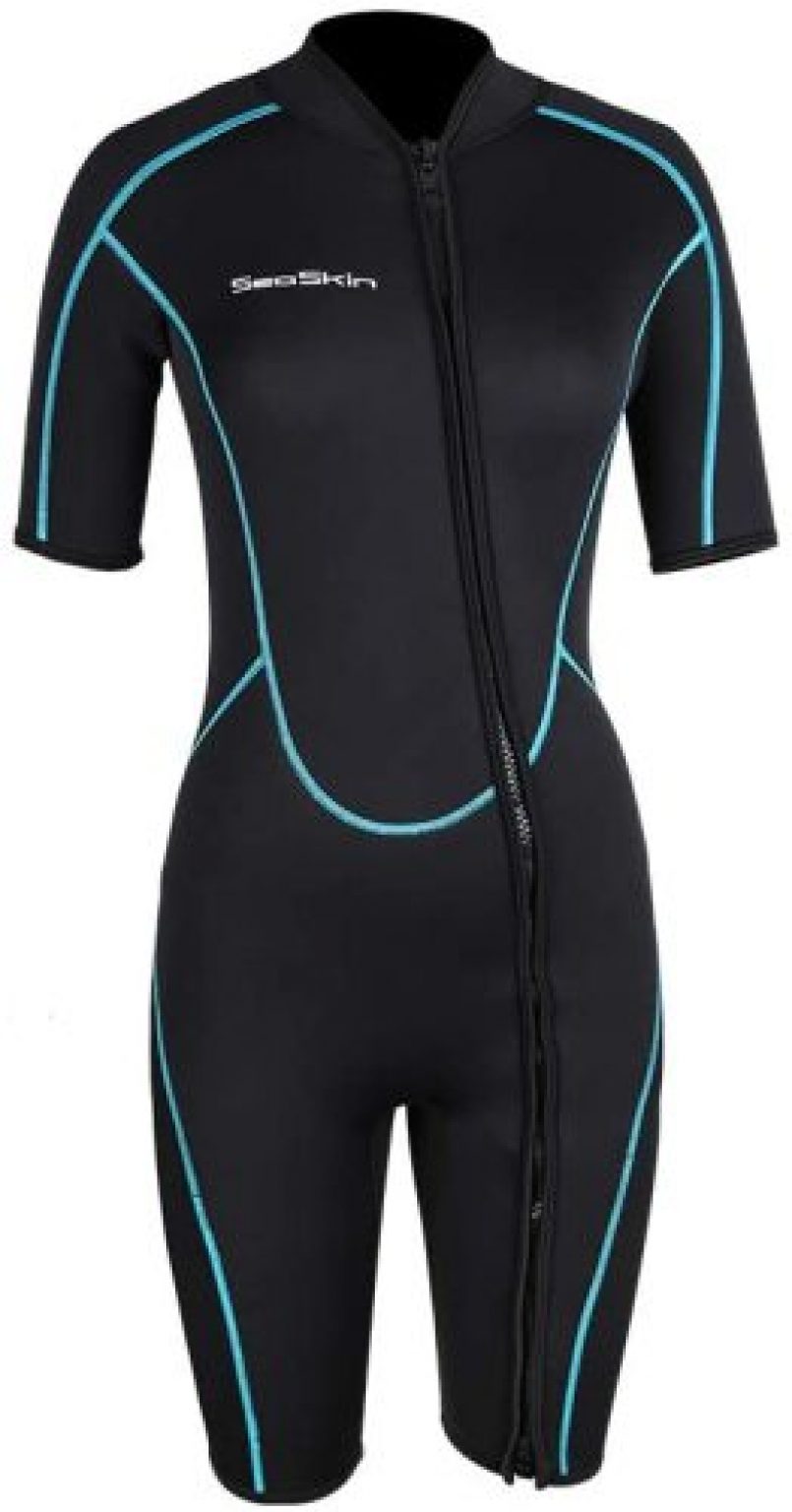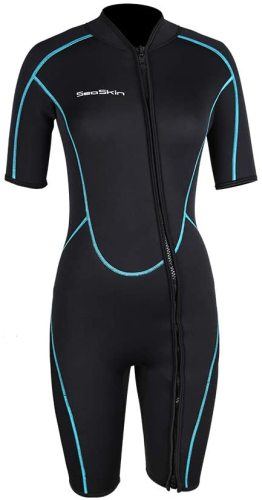 Shorties, also known as "spring suits", are short-sleeved wetsuits that cover your torso, core, hips, shoulders, and the upper halves of your arms and legs. They're best-suited to warm or medium temperatures that require only minimal coverage and protection against cold water temperatures.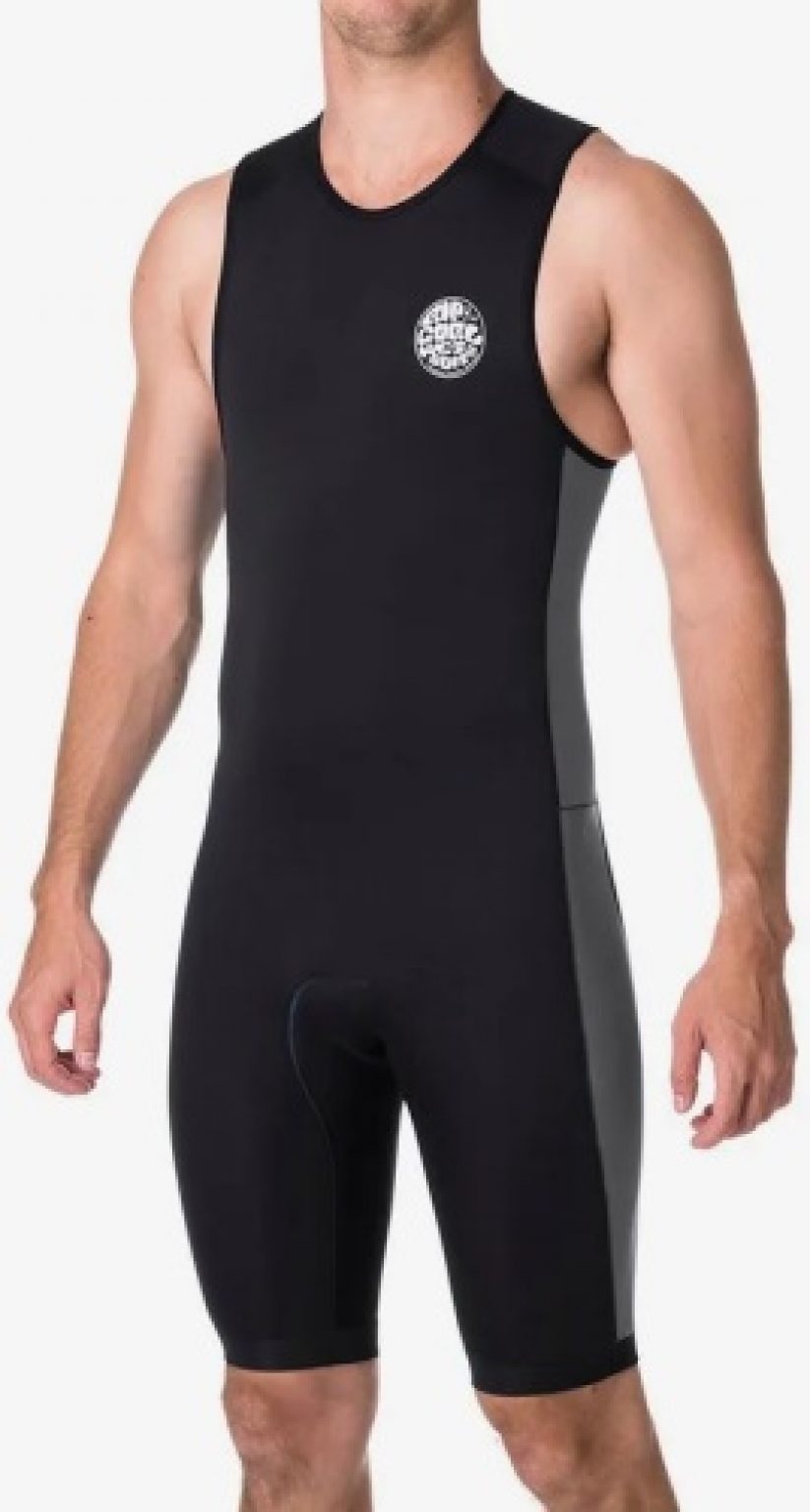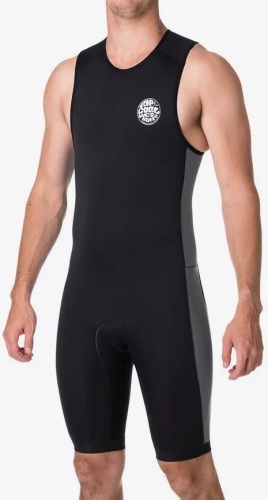 Short Johns are totally sleeveless and offer coverage on the upper halves of your legs. These are typically used by surfers, but kayakers often use them because they allow freedom of movement while still providing decent insulation.


Long Johns are also sleeveless, but provide coverage all the way down to your ankles. They're better-suited to cold water because they protect you all the way up to your chest, though your arms are still free to move easily and swing that paddle like a boss.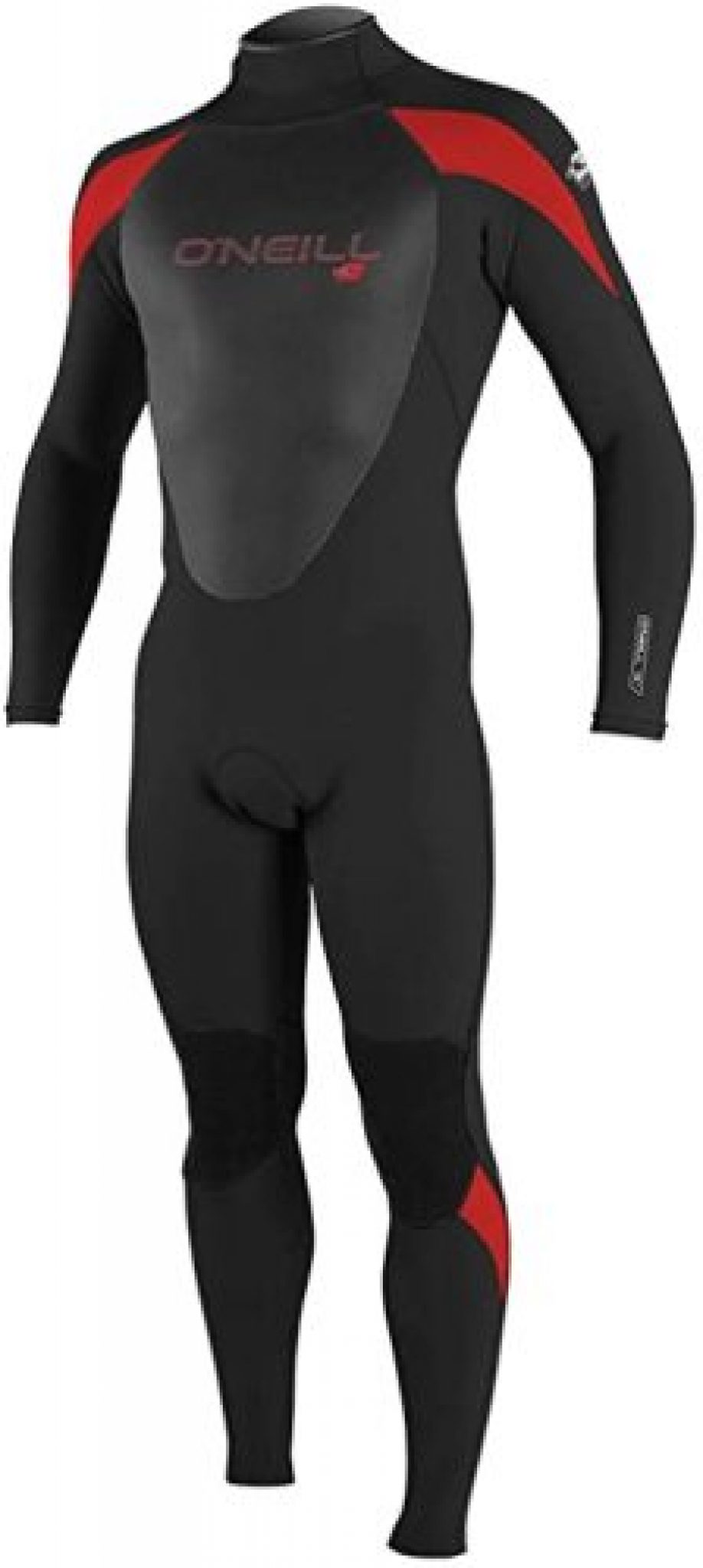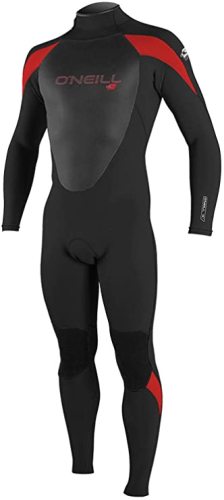 Full Suits cover your arms and legs completely, providing total protection from the cold. Divers and surfers use them in truly cold water, and kayakers will find that pairing a full suit with a pair of waterproof shoes can keep you totally dry (unless you get into the water).


Hooded Suits are full-body wetsuits that also include a hood that offers protection for your head. These are typically used in truly freezing/frigid conditions, along with gloves and boots intended to keep you bone-dry and warm even in winter.
Fit
Sizing is always important with clothes, but it's crucial when wetsuit-shopping.
If your wetsuit is too loose, it may catch on your kayak and tear, or it will fill up with water more easily.
If it's too tight, however, it can cut off blood flow through your body and actually make your extremities go numb.
Always test out your wetsuit before getting into the water to make sure it fits properly. Look for:
Bunching or folds in the fabric, particularly around your waist and behind your knees. This is a sign the wetsuit is too loose, and you should buy a size smaller.
Pain and restriction of movement anywhere in your body, but particularly in your arms and legs. This is a sign the wetsuit is too tight, and you should buy a size larger.
Excessive snugness in the crotch. If your suit rides up painfully in the crotch, buy a larger (or longer) size.
Full-length sleeves that end at the wrist bone and just above your ankle bone.
Your wetsuit should feel like a second skin, tight enough that it clings to you as you move but still feels natural and allows you to move easily. Remember, it will loosen up once it gets wet, so even if it's tight at first, it will become more comfortable as you wear it.
Entry System
The "entry system" is really just a fancy term for saying the zipper that allows you to pull the wetsuit on and off.
Typically, the zipper will be located either on the chest or back. Obviously, it will be easier to zip up a wetsuit that has a chest-mounted zipper—you might need a helping hand with a zipper on the back. Suits with a front entry are usually easier to slip into as well, and will be less likely to cause friction/rub your skin raw than a back-mounted zipper that grinds against your kayak seat.
However, there are two entry system alternatives to consider, too:
Zipperless or "zipper-free" wetsuits are made using neoprene with a higher amount of elastic fabric (like Spandex or Lycra) blended in, which allows you to slip it on without the need for a zipper. Typically, these are only the highest-end, professional-grade wetsuits.
Two Piece Wetsuits incorporate a horizontal zipper at stomach level rather than a vertical zipper on your back or chest. This allows you to pull on the wetsuit like your regular pants and shirt, then pull them tight and zip them up at your midsection. Historically, two-piece wetsuits have been more prone to leaking, but the latest-model offerings are much better designed and less likely to allow water to leak into your suit.
Hood
A hood is a useful addition for freezing-weather kayaking.
If the water is cold but not PAINFULLY so, you may not need head protection. However, if you're paddling in winter temperatures and near-frozen water, that additional layer of insulation for your head can be game-changing. A built-in hood will also prevent water from seeping into your collar, making your wetsuit just that much more waterproof.
Seams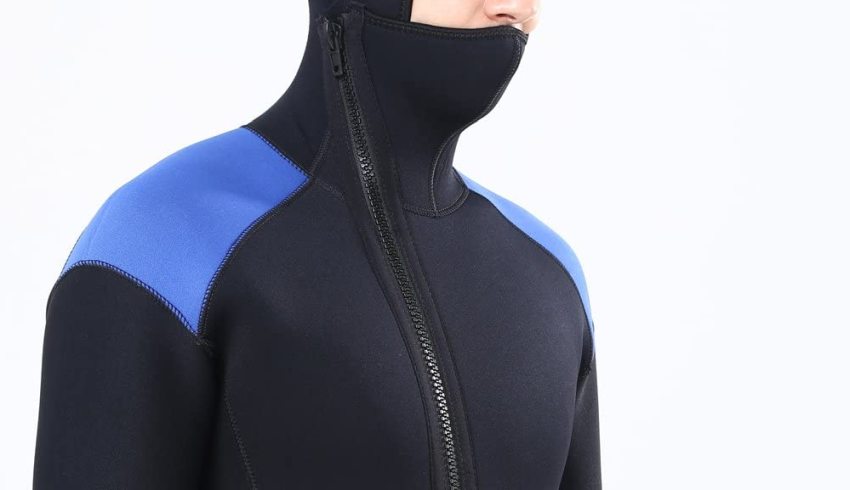 Neoprene wetsuits are made from "panels", individual pieces that have to be stitched together in order to make a complete, waterproof suit. No surprise, these seams are often the weak point—prone to breaking and leaking. The higher-quality the wetsuit, the sturdier and more waterproof the seam.
Flatlock Seams use a criss-cross stitching pattern on both the outside and inside of the suit. Sadly, the seam isn't 100% waterproof, which is why it's typically used for shorty suits/spring suits and warm-weather neoprene accessories. Some low-budget wetsuits will use flatlock seams, which means they'll be more likely to break and/or leak.
Fluid Sealed Seams are sealed using a fluid epoxy or adhesive that is essentially poured over the seams and allowed to dry. The seams are low-profile, flexible, and unlikely to crack, and provide excellent waterproofing. They're typically used for the highest-end wetsuits that are meant to be fully airtight, and they're the most comfortable type of seam.
Glued and Blind Stitched Seams use not only a blind stitch, but utilizes a layer of glue (adhesive) to maximize waterproofing and durability. You'll typically find this type of seam on entry-level and intermediate-level wetsuits.
Taped Seams use a special tape that reinforces the wetsuit's interior. The may be critically taped (on the parts most likely to be worn down or broken by repeated use), partially taped, or fully taped.
Interior Lining
An interior lining can:
Increase the wetsuit's insulation properties (nylon and fleece)
Make it easier to slip the wetsuit on and off (nylon)
Reduce the amount of water that fills the suit (fleece)
Enhance the neoprene's durability (nylon and fleece)
It's not a critical component, but it's definitely nice to have for cold-water kayaking.
How to Take Proper Care of Your Wetsuit
Proper maintenance and care of your wetsuit can extend its lifespan significantly, and prevent it from leaking, breaking, or being worn down. All it takes is a few minutes of your time, but that will be time well-spent!
Step 1: Rinse with fresh water after every use. This is especially important if you use the wetsuit in saltwater or water with high bacteria/algae content—both of which will accelerate deterioration.
Step 2: Scrub with wetsuit shampoo. Do this at least once every two weeks (of regular use) to make sure you've eliminated all salt particles, debris, dirt, mud, bacteria, or algae that could damage the neoprene.
Step 3: Hang it to dry. Use a wetsuit-specific hanger, which is designed to hang the suit without stretching out the shoulders. Make sure the suit is hung in a cool, dry place out of direct sunlight.
Step 4: Turn inside out. Once the outside is fully dry, turn the suit inside out and hang it again to let the interior dry fully. Only store once you know it's bone-dry!
Step 5: Store carefully. Folding the neoprene may lead to cracks forming at the folds, so only fold it when you know you're putting the wetsuit in storage until the next season. You can also store it hung up, but make sure to hang it upside down by the legs to stop the shoulders from being misshapen by the hanger.
FAQs
What is better: a dry suit or a wetsuit?
A dry suit is ideal for situations where you ABSOLUTELY HAVE TO STAY DRY (such as in extremely cold temperatures), and you're going to be doing most of your activity out of the water. See our dedicated post about dry suits here. Wetsuits are better-suited to in-water use, or where you run the risk of getting wet (such as whitewater kayaking).
Can you pee in a wetsuit?
You certainly can, but you probably shouldn't. Not only will it make the wetsuit's interior stink, but the urine's acidity will corrode the neoprene and the seams from the inside.

If you absolutely have to go, however, make sure to let the pee-filled water drain out and allow fresh, clean water to fill your suit. You'll also want to give the suit a thorough shampooing once you're done for the day.
Should you wear anything under a wetsuit?
Wetsuits are designed to be worn against your skin, so there's no need to wear a bathing suit or bikini underneath. However, some people may find the neoprene fabric or the seams chafe, so you can consider wearing sport underwear and/or a rashguard beneath the wetsuit to protect your skin.
Why do surfers (and kayakers) wear black wetsuits?
Simple: black provides an additional layer of protection against UV radiation. Neoprene is actually a white material, but carbon black is added to protect against sunlight, salt, and friction. Black resists UV radiation and absorbs heat more effectively than any other colors, so it just makes sense to use black for wetsuits!