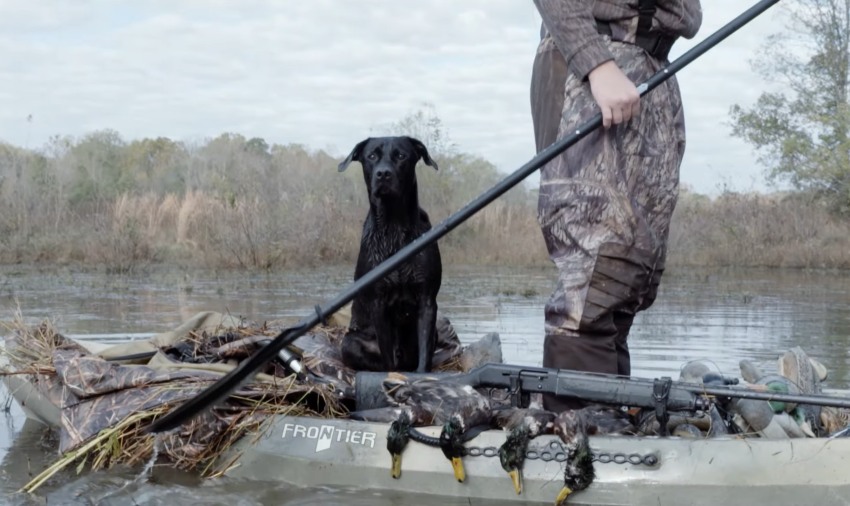 A duck hunting kayak can give you an edge over all your fellow waterfowl hunters!
Think about it: while they all have to hoof it through endless miles of swampy trails to find duck hunting grounds, you can just paddle downstream until you get to the right spot.
If you're smart (and a bit lucky), you don't even have to bother making landfall. Just keep your shotgun handy and you can pick off plenty of ducks right from on board your kayak.
And no more wading out into cold water to bag your ducks! You've got a shallow-draft boat to get you anywhere in the marshes and swamps, so retrieving the downed birds is a breeze.
Yes, duck hunting kayaks are an amazing addition to your hunting gear—which is why I wanted to do a deep dive into these specialized kayaks, their pros and cons, as well as some helpful advice to make you a better kayak-using waterfowl hunter.
Don't Have Time for A Full Read? Check Out Our Top Picks for the Best Duck Hunting Kayaks:
The Ultimate Guide to Duck Hunting Kayaks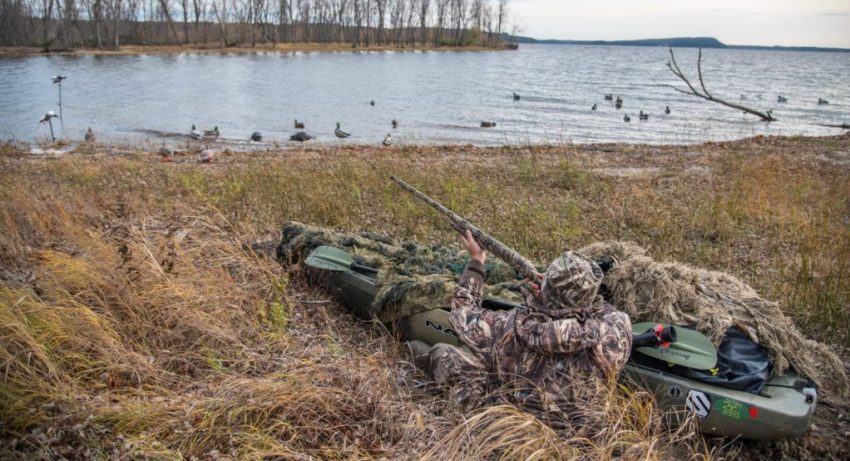 You might hear a lot of old-school duck hunters grumbling about duck hunting kayakers, calling them a "newfangled fad" or a "passing trend".
Then again, talk to a duck hunter who's started using a kayak, and I'm willing to bet they'll tell you it's an absolute game-changer and they'd never consider duck hunting with any other boat.
Why is that?
● Kayaks are lightweight. You can literally carry it on your shoulder or drag it with the rest of your hunting gear, slide it into the water, and get paddling anywhere in a matter of minutes. Compare that to a larger motorized boat, and you can see why the duck hunting trend is likely to stick around for years to come.
● Kayaks are maneuverable. You can paddle into any tight waterway, make sharp turns, or even navigate between or beneath thick foliage. They're incredibly easy to maneuver compared with any other boat around.
● Kayaks are easily transported. You really only need a kayak roof rack, and you can take your kayak anywhere you go. No need for a trailer, dock, or all the other essentials necessary for transporting a rowboat or motorboat. It's all just so much more hassle-free with a kayak!
● Kayaks are easy to get in and out. You can literally slide over the edge of the kayak if you need to get on and off-shore, then drag yourself right back on. Some duck hunting kayaks feature a sit-on-top design that allows any water that gets on board to drain away, so there's no need for bailing. Just get in and out with ease!
● Kayaks make for a less exhausting trek to and from your hunting spot. Think about it: other duck hunters have to hike over mountains, through forests, or across swamps to reach their hunting spot. All you have to do is launch your kayak upstream and let the river's current do the hard work of transporting you. You'll arrive at your hunting spot fresh and ready to hunt!
● Kayaks are great for remote, hard-to-reach areas. Bigger motorized boats won't be able to navigate shallow or narrow waterways, but a kayak certainly can. Thanks to its shallow draft and superior maneuverability, there's virtually nowhere a kayak can't go.
● Kayaks are stealthy running. No motor sounds, no panting or heavy breathing from the effort of rowing a ponderous boat. You can easily paddle quietly, or not paddle at all and let the current carry you along in perfect silence. The ducks will never hear you coming!
● Kayaks are cheaper than a boat. As you'll see from our list above, a top-rated duck hunting kayak costs just a fraction of what you'd pay for a larger rowboat, much less any type of motorized watercraft. But get this: some of them even allow you to install a small outboard motor. It's maximum value for the lowest possible price.
● Kayaks can handle all your duck-hunting gear. You can fit all your decoys, hunting gear, and accessories in a kayak. Your kayak can carry more than you ever could hoofing it on your back.
● Kayaks are useful all year around, everywhere you go. Once duck hunting season is over, you can still take your kayak fishing, paddle around your favorite lake, or explore the open seas. Kayaks are permitted in a lot of lakes, rivers, and streams where motorboats are illegal, so you can enjoy them all year around, in all sorts of amazing places.
Pretty clear to see why duck hunting with a kayak is definitely a good choice, right?
How to Choose a Kayak for Duck Hunting: Factors to Consider
If you're shopping around for a hunting kayak, there are a few things to keep in mind:
Stability
I'd argue that this is the single most important factor when choosing a duck hunting kayak. After all, you're going to be shooting from on board the watercraft, so it's got to be stable enough to keep you steady when you're adjusting your position and setting up your shot, as well as handle any recoil from your rifle or shotgun.
Typically, hunting kayaks have a wider-than-average beam, which creates a much more stable platform.
Take note: wider kayaks offer better primary stability (stability on smooth, calm waters), but if the waters get choppy or rough (in a storm or going down river rapids), the low secondary stability means you're more prone to tipping over.
Wider kayaks will also be slower than narrower kayaks, but you don't really need speed when duck hunting. The kayak's balance and stability on the water is the most crucial factor for a solid hunting platform.
Durability
Durability is, in my opinion, the second most important factor to consider when shopping for a duck hunting kayak.
Scratches – As you drag the kayak to and from the water, portage it, or navigate narrow and shallow waterways, your kayak is guaranteed to bump into obstacles (fallen logs, tree branches, rocks, etc.) and get some scratches or dents.
Typically, duck hunting kayaks are made from rotomolded polyethylene, which is a durable and impact-resistant material. However, you can find some inflatable options that are surprisingly durable, using thick reinforced PVC that can withstand a lot of damage.
That said, it may be a good idea to get a kayak cart and wheel the kayak instead of dragging it whenever possible.
Sun exposure – Your kayak is going to be exposed to a lot of UV radiation (from sunlight) when you spend all day out on the water hunting. Polyethylene is prone to degradation from prolonged sun exposure. You'll notice the paint begins to fade and the plastic will become more brittle, which means it's more easily cracked or damaged.
A good duck hunting kayak should have a layer of UV-resistant top coating to shield the plastic from the sun.
Note: For additional UV protection, we recommend using products like 303 Aerospace Protectant. It's a spray-on top coat that will reduce sun damage and extend the lifespan of your kayak significantly.
Camouflage
Ducks have incredibly good eyesight—up to 2 or 3x what humans can see. That means they're definitely going to spot you paddling along in a bright red, yellow, or blue kayak.
No surprise, then, that duck hunting kayaks feature dull or camouflage paint-jobs. Camo is always better—you'll blend in with your surroundings and be harder to spot—but even a dull brown, tan, or green will work.
Of course, if you really want to take it to the next level, you might want to turn your kayak into a mobile layout blind. You can create what is essentially a ghillie suit (using natural materials or synthetic fabrics) to encase your boat and make it look like one more patch of marsh or swamp land. As long as you're dressed in camo, too, you'll blend right into the background once you find a good place to hide yourself and your kayak.
Check out this awesome video from Central PA Outdoorsmen to see how you can transform your kayak into a waterfowl blind.
Weight
When considering duck hunting from a kayak, you've got to think about how much hassle it's going to be getting it in and out of the water—especially if you have to portage the kayak from one body of water to another.
You're already hauling all your hunting gear (rifle, vest, decoys, lures, etc.), so having to carry an ultra-heavy kayak ON TOP OF ALL THAT is definitely no fun.
If your hunts involve a lot of portaging, it's worth shopping around to find a lighter-weight kayak. You don't want to opt for anything too small (you need the extra width/length for better stability), which means you've got to be prepared for some additional weight. But keep the kayak's weight in mind as a factor because someone is always going to end up carrying it—and that someone is you!
Weight and Storage Capacity
This is another important consideration to take into account. You want to make sure your kayak has enough space to transport not just you, but everything else you're going to bring along. That includes all the decoys you'll be using, the blind (or materials to build the blind), your gun/s, hunting gear (dry bag, ammo), and, of course, your furry companion (duck hunting with a dog is game-changing!).
So, that means you first need to consider weight capacity. Can the kayak handle the weight of all the gear you're going to carry, plus you (and a dog), plus all the ducks you plan to bag? Duck hunting kayaks typically have a higher weight capacity (350-500 pounds) than recreational kayaks, thanks to their extra width and length. However, make sure to check the specs to know for sure just how much weight you can carry around.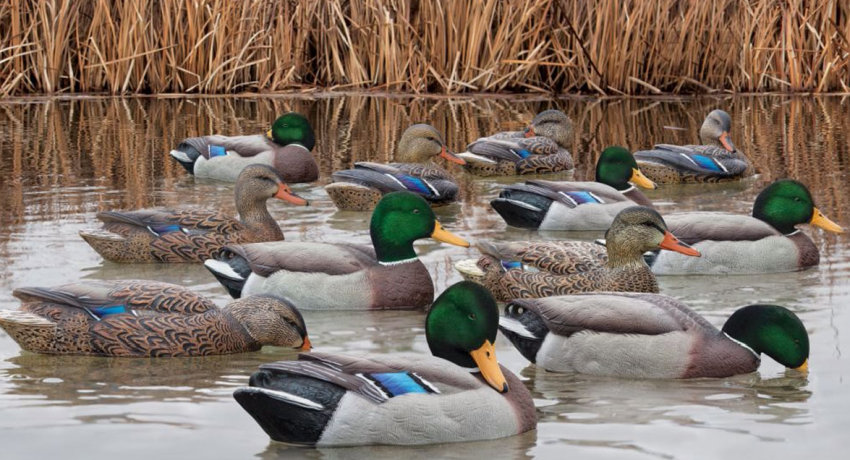 Storage capacity—and dedicated storage spaces—are also critical. You're probably going to haul around anywhere from one to three dozen decoys of various sizes. You'll need a place to keep them piled and ready for deployment; typically on the rear storage compartment of the kayak.
But you'll also need dry storage (typically in the front of the boat) and enough space inside the open cockpit to store all your other gear. Think about how much you'll be hauling with you, and find a kayak that offers the storage compartments and storage space needed to transport it all.
Maneuverability
As I mentioned above, duck hunting kayaks typically sacrifice maneuverability and speed for the sake of added stability. A wider beam gives the kayak excellent balance, but makes it slower and harder to turn.
Speed is rarely a critical factor when waterfowl hunting from a kayak, but you do want at least some maneuverability. After all, you're going to be paddling above and around underwater obstacles, through narrow waterways, and even backing into deep grass to set up your blind. If it handles like a barge, it's going to be more hassle than it's worth.
The Right Seat
When duck hunting, you're going to be spending your day in one of two positions: sitting upright, and lying on your back inside the blind.
Typically, you'll only sit upright if you have good camouflage (like a ghillie suit) and can hide yourself in tall grass, beneath a tree, or somewhere else ducks won't spot you. You'll be sitting upright to paddle in and out of your hunting spot, too.
If you're just using the kayak to transport you and your gear to your destination on dry land, you'll want a seat that offers good lower back support and cushioning to keep you comfortable while you paddle.
On the other hand, if you're turning your kayak into a mobile layout blind, you'll likely spend most of the day lying down to maximize your camouflage. You are better off with a seat that you can remove, giving you more space to stretch out and be comfortable.
This may make for some uncomfortable paddling—you'll have to paddle from a kneeling position—but it's worth it to reduce visibility and make those long hours spent lying down more comfortable.
Motor and Accessories Mount Options
Kayaks are silent-running, which makes it easy for you to sneak in and out of your hunting spot without drawing attention. But at the end of the day, you might have to paddle back upstream or cross a lake. Rather than using only your own muscle power, it's easier to use an outboard motor.
Some duck hunting kayaks (and fishing kayaks) will include or can accommodate the hardware needed to install a small trolling motor—like this compact 36 lbs model from Newport Vessels, for example. It will make getting to your hunting spot and back to your vehicle far less labor-intensive.
Even if you don't want a motor, it's worth considering other accessories to make duck hunting on your kayak easier. For example, paddle clips can keep your paddle close at hand but out of the way when it's not in use. Carabiner rings give you a place to clip on a compact anchor, net, or dry bags.
Tips for Duck Hunting on a Kayak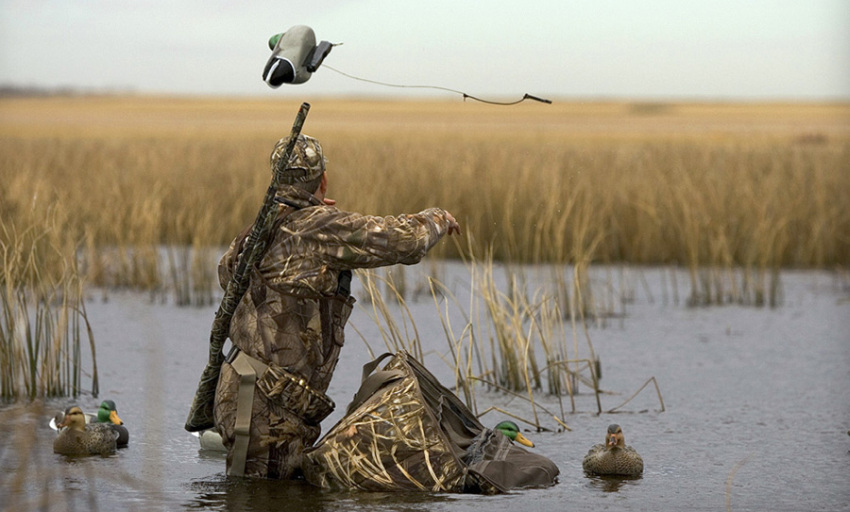 Planning on taking your kayak out to do some duck hunting? Here are some tips guaranteed to make every trip safer and more successful:
Wear a Proper PFD
It's not common, but kayak duck hunting has been known to lead to accidents. If the wind whips up the water or you accidentally lean too far the wrong way, the kayak can capsize. Seeing as most duck hunting takes place during the colder months (autumn and early winter), the water can be cold enough to cause hypothermia and lock up your muscles. Deep water can also be dangerous if you tip your kayak over and you're not a strong swimmer.
Always wear a proper PFD when kayaking, even in shallow and narrow waterways. A life vest can quite literally save you from drowning if you capsize.
If you're kayaking and duck hunting in colder weather, consider wearing a dry suit for extra safety. Always have a safety knife, just in case of an emergency. And make sure you've got enough warm clothing (gloves, hat, multiple layers, etc.) to keep out the chill.
Plan Your Gear Ahead of Time
Only take the supplies and gear you need; too much weight could cause the kayak to sink, or make it difficult to paddle and maneuver.
Pack the gear the night before, making sure you've got enough decoys, ammo, food, drinks, and other essentials. And practice loading up your kayak on land so you can get a good sense of weight distribution and placement before you head out on the water.
Choose Your Route Carefully
Because you're weighed down with a lot of gear, your kayak will be harder to maneuver and less agile. Avoid any places with strong currents or choppy water. Your risk of capsizing increases with every additional pound of weight you're carrying. Stick with calm water as much as possible.
Decide on Your Hiding Spot First
You always want to know where you're going to be tucked out of sight before you deploy your decoys. That way, you can deploy them in a location that gives you the best visibility of any approaching ducks without having to move from your hiding place.
Concealment is Critical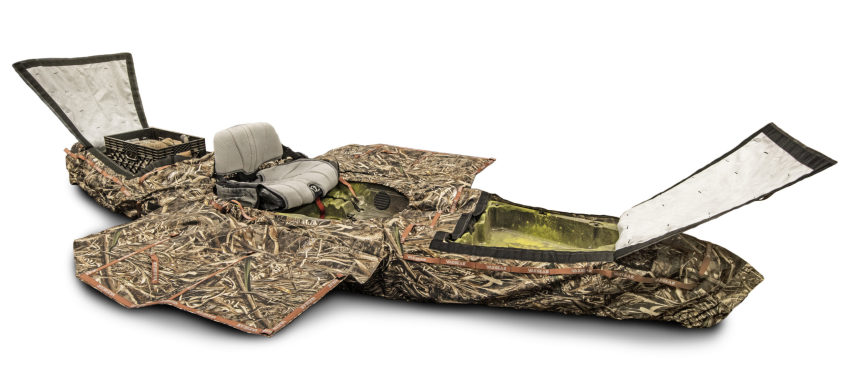 Ducks have excellent vision, so it's absolutely imperative that you're tucked away and out of their sight. There will typically be reeds, pond/swamp grass, or trees that will serve as a good hiding place. But if you're hunting from the kayak, you should use a blind to maximize camouflage.
Both Wildfowl Magazine and Old Town Canoe have great articles on how to DIY your own kayak duck hunting blind. Or, you can always buy one—like the Yakima Ambush Camo Kayak Cover and Hunting Blind—specifically made to fit your kayak.
Set Up Your Kayak to Shoot
Angle your kayak so you're shooting parallel to your hull, between 10 and 2 o'clock. This will reduce the risk of the recoil knocking you backward and tipping you over.
Angle the kayak slightly to the right if you are right-handed, and slightly to the left if you are left-handed. This will give you a better, more comfortable angle for aiming.
Pick Up Your Spent Casings
Spent shell casings are garbage and will pollute lake water just as much as empty beer cans or plastic wrappers. Always collect your spent shell casings before you paddle out to retrieve your game.
Wear Waders
You're going to be on and around water all day long, so waders will keep you dry and warm. Even if you don't get into the water, the waders will keep you dry as you pull the dripping wet ducks and decoys into the boat.
Pack to Keep Your Gear Dry
Always carry a dry bag with enough space for all your essentials (phone, keys, GPS, compass, etc.). Make sure you've got your ammunition in a waterproof ammo box, and a waterproof gun case for your shotguns. The last thing you want is to miss that perfect shot because your shells are wet and useless.
Note: Even with a gun case, be prepared for your gun to get wet. It's just part of being around so much water all day long. Make sure to clean and dry it thoroughly at the end of your hunting day.
Get Bigger Lights
You can kayak after dark with just a head lamp, but it's safer to use larger LED floodlights whenever possible. You'll not only have a wider radius of illumination/visibility, but you'll have an easier time navigating through treacherous waters.
Clean Your Kayak
Once you're back on dry land, make it a point to remove any vegetation and wash down the kayak (inside and out) to get rid of algae or bacteria. The last thing you want is to transport invasive species between different bodies of water.
Our Complete List of the Best Duck Hunting Kayaks
Jackson Kilroy HD

Length: 12′ 10″ (391 cm)
Width: 36″ (91.4 cm)
Weight: 98 lbs. (44.45 kg)
Capacity: 450 lbs. (204.12 kg)
Designed specifically with hunters and anglers in mind, the Kilroy HD is the latest-model offering by Jackson Kayak. Though it's a sit-inside kayak, it incorporates design elements from the sit-on-top kayak, including a comfortable  EZ Hi-Low Sliding seating system, plenty of protected storage space, a removable hard deck, and YakTrack accessory mount gear tracks all along its length.
It's also one of the toughest and most durable of the fishing/hunting kayaks around, capable of withstanding even the worst knocks and bumps sustained on tight, shallow waterways. With a dual-layered, sound-dampening standing pad, you can sit or stand in perfect silence—great for hunting ducks or reeling in a massive trout, or even paddling it like a paddleboard!
Pros:
Sturdy and stable
Stand up easily without tipping over
One-hand adjustable seat
Excellent gear storage space
Lightweight; easy to portage
Cons:
Seat is challenging to remove
No paddle keeper installed
---
Nucanoe Unlimited

Length: 12′ 6″ (381 cm)
Width: 41″ (104 cm)
Weight: 84 lbs. (38 kg)
Capacity: 650 lbs. (294.8 kg)
If you're looking for a kayak you can easily add a motor onto, this is a great choice. The Nucanoe Unlimited is compatible with bow mount, outboard, or Torqeedo motors, and can even incorporate the PIVOT Drive pedal system. All that costs extra (of course), but it's great just to have the option in case you want to upgrade—without having to make a lot of pricey (and potentially damaging) DIY modifications to incompatible kayaks.
The sit-on-top kayak is designed to maximize speed without sacrificing stability. It's sleek and short, suitable for even rough water. The seat can be easily removed if you want to lie down in your hunting blind, and the seven scupper holes guarantee that any water that leaks in drains out quickly, keeping you that much drier all day long.
With a weight capacity of 650 pounds, it's perfect for hauling all your hunting gear plus a dog. The GearPod removable storage solutions allow you to customize the layout of your deck just the way you want to transport everything. There's even customizable wiring access points that make it easy to install both lights and propulsion systems.
Pros:
Compatible with NuCanoe's pedal drive and various motor options
Open design, roomy and comfortable
Seat removes easily
Higher-than-average weight capacity
Good stability, speed, and tracking
Cons:
Heavier than the average hunting kayak
Seat can only be removed, not raised or lowered
Limited stern space
---
Ascend H12

Length: 12′ (365.76 cm)
Width: 32″ (81.28 cm)
Weight: 76 lbs. (34.47 kg)
Capacity: 450 lbs. (204.12 kg)
This kayak features a unique design that combines the stability of a sit-inside kayak with the extra storage space of a sit-on-top kayak. The advanced hull design gives you a roomier, more comfortable place to set up your blind and stay—sitting or lying down—all day long.
The cockpit is surprisingly large for the 12' length, and you'll love the combination of hard hatch and bungee hold-downs on the bow to maximize your gear storage. Unlike many other extra-wide hunting kayaks, the Ascend H12 is also designed for good secondary stability, thanks to the Hybrid Tunnel-style hull that gives the boat excellent balance even when the water is rough.
Whether you're taking this for a one-day hunting trip or a multi-day expedition, this duck hunting kayak will suit your needs. A 450-pound weight capacity and roomy design makes it ultra-comfortable.
Pros:
Comfortable and spacious
Good primary and secondary stability
Well-balanced; you can hunt and fish standing up
Steeped bow/keel design can handle surf and calm water equally well
Ample storage space for all your gear
Cons:
Heavy, slow tracking
Seat may slide out of its track
---
Old Town Discovery 119 Solo Sportsman

Length: 11′ 9″ (358 cm)
Width: 32.5″ (82.6 cm)
Weight: 56 lbs. (25.4 kg)
Capacity: 354 lbs. (160.5 kg)
Old Town does something truly unique with the Discovery 119: it combines the best of both kayaks and canoes into one amazingly multi-functional hybrid watercraft. Fishing, hunting, long-haul paddling, even camping in comfort—this kayak-canoe-combo can do it all.
The hull is made using a 3-layer construction that maximizes durability without being excessively heavy. In fact, it's one of the lightest kayaks on our list, meaning it's easy to portage between bodies of water or load onto/unload from a roof rack. Best of all, the hull comes with a lifetime warranty.
It's both dog-friendly and designed specifically for hunters, complete with a cup holder, padded armrests, and a shotgun shell ammo holder. You'll never get sick of paddling this well-crafted, sturdy duck hunting kayak, and you'll have all the storage space you need for your weapons, gear, and prizes.
Pros:
Unique design combines the best of kayaks and canoes
Stable, lightweight, and well-balanced
Durable, backed by a lifetime hull warranty
Perfect for hunting with dogs
Maneuverable and speedy
Cons:
Crossbeams can't be removed, so you can't lie down inside the boat
Brace too small for large feet (above Size 10)
Not suitable for standing up
---
Native Watercraft Ultimate FX 12

Length: 12′ 2″ (371 cm)
Width: 30.5″ (77 cm)
Weight: 65 lbs. (27.2 kg)
Capacity: 350 lbs. (159 kg)
If you're looking for a vessel perfect for both duck hunting and kayak fishing, you'll love the Ultimate FX12 by Native Watercraft. The unique design features an extra-wide beam and enough hull depth to keep the kayak stable. There's also a comfortable framed seat that can be adjusted fore and aft to trim the boat for the load.
The Tunnel Hull design maximizes secondary stability to help you keep your balance on open, rough water, but increases primary stability, too, so you can hunt or fish standing up. There is no dry storage, but the bow and stern storage compartments feature bungee hold-downs to keep your gear from getting loose or falling out.
Pros:
Perfect for hunting, fishing, and camping
Good speed, stability, and handling
Solid design, sturdy construction
Adjustable seat
Allows standing up
Cons:
---
Hobie Mirage Pro Angler 12 with 360 Drive

Length: 12′ (365.76 cm)
Width: 36″ (91 cm)
Weight: 132.5 lbs. (60.1 kg)
Capacity: 500 lbs. (227 kg)
If you want a hunting kayak that can go farther and faster, the Mirage Pro Angler 12 is just what you need. It features the MirageDrive360, a compact yet powerful pedal system that lets you slice through the water far faster than you could paddle.
Hobie's pedal drive uses fins instead of a propeller, which is a great advantage in shallow waters. The fins kick up when they run over an underwater obstacle, so you can safely pass over submerged logs where a prop would have been damaged.
The unique 360 Drive gives you infinite control over the pedaling direction, so you can literally turn on a dime and get into (and out of) the most constrained spaces.
As always, the Hobie quality comes at a price, but this kayak is worth every dollar you pay for it.
Pros:
Pedal and paddle-powered
Highly durable
Versatile, beautiful maneuverability even in the tightest places
Kick-Up Fins are perfect for shallow water where normal pedal drives might get stuck or broken
Ideal for covering a lot of distance quickly
Cons:
Blue coloring may be highly visible in ponds or swamps
Heavy
---
Sea Eagle 385 FTA

Length: 12′ 6″ (381 cm)
Width: 36″ (91 cm)
Weight: 44 lbs. (20 kg)
Capacity: 635 lbs. (288 kg)
If you're looking to maximize space and minimize weight, this is your top pick. This inflatable kayak from Sea Eagle weighs significantly less than most of the others on this list, but still gives you ample storage space and an impressive weight capacity—perfect for hauling all your hunting gear all day long.
It's sized for two people (comfortably), but is easy to handle on a solo paddle. You'll love how stable it feels—sitting, standing, or even lying down, the kayak will never tip over.
And don't think for a minute "inflatable" means "easily destroyed". The hull is made from 2000 denier PVC fabric, which is virtually indestructible even against sharp rocks and pointed branches. The deck features a crocodile hide EVA foam pad that is slip-resistant so you can stand safely even when the boat gets wet, and offers extra protection against punctures. Thanks to its pronounced keel and accompanying skeg (which is fully removable), the kayak tracks well and maneuvers brilliantly under any conditions.
Pros:
Super-tough inflatable kayak
Lightweight, easy to inflate/deflate quickly
Compatible with motor (extra cost)
Multiple seating options for up to three paddlers
Excellent handling, very responsive
Perfect for lying down all day long (seat is removable and deck is padded)
Cons:
Has to be inflated/deflated before/after every use
Can be blown around a bit in windy conditions
---
Kayak Duck Hunting FAQs
Is duck hunting in a kayak safe?
Absolutely! It's as safe as duck hunting in a canoe, rowboat, or motorboat. The only difference is that the vessel is smaller, which means both easier to paddle and less stable than larger boats. Going over the "Tips for Duck Hunting on a Kayak" section above, you'll find some really good tips on how to maximize stability to increase your safety on a kayak.
When is duck hunting season?
Duck hunting season varies from state to state. Typically, it's later in the year—autumn to early or mid-winter. MudBuddy has a complete breakdown of every opening and closing date for duck hunting in the United States.
For Canadian duck hunters, the Canadian government has a list of migratory bird hunting regulations on its website.
Can it get too cold to hunt ducks from a kayak?
Given that most duck hunting takes place during the colder months of the year, it absolutely can get too cold to hunt ducks from your kayak.
Take a look at some of the images posted to this article by Native Watercraft, and you can see one hunter out in light snowfall.
The trick to cold weather hunting is to wear A LOT of layers and protective gear. That could include:
Base and mid layers with moisture-wicking and quick-drying properties
A waterproof top layer (even a windbreaker or raincoat will do, as long as you have more layers beneath)
Waterproof gloves and hat
Cold weather-resistant boots
Waders (to keep the water out)
How do you transport and store decoys on a kayak?
There are a lot of different ways you can store or transport your decoys. Some people will pile them in the stern (open) storage compartment, while others will sling them in a net and drag them behind the kayak (to optimize the use of the storage compartments).
Our friends over at High Prairie Sportsmen and Midwest Flyaways both have great videos with smart tips on how to prepare and load up your decoys for safe, space-efficient transportation.