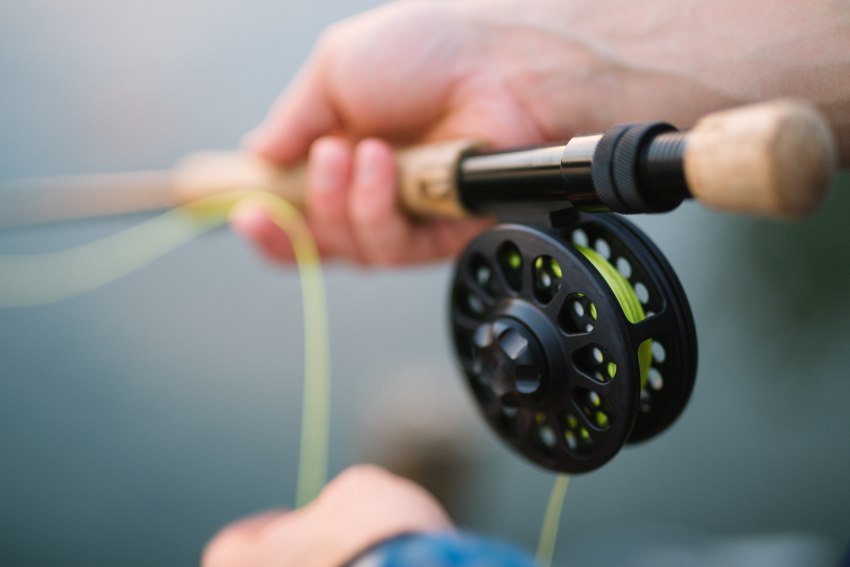 Fly fishing is one of the most challenging forms of angling in the world. It requires you to navigate rivers, streams, or the outer banks of a lake in order to find the best locations. Casting with a fly rod is an art form that demands grace and concentration to place your lure at just the right spot.
For many years, fishermen have struggled to get to the most promising fly fishing locations. A good set of waders will allow you to reach many spots, but not all of them. Kayak fishing has added a whole new element to fly fishing that brings with it a number of advantages.
Clearly, some kayaks are better for fly fishing than others. But what makes a good fly fishing kayak? What features should you look for?
In this overview, we'll give you a thorough guide for choosing the best kayak for fly fishing. We also review several kayaks that we believe are excellent as a fly fishing platform in 2021.
In A Rush? Here's Our Pick for The Best Fly Fishing Kayak: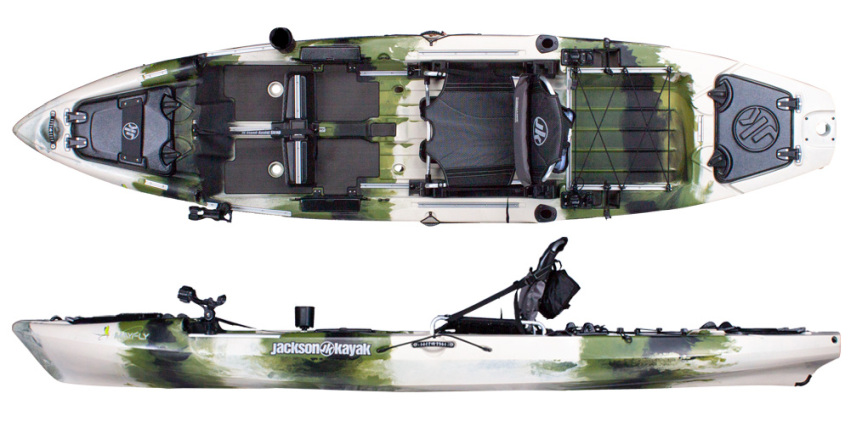 What Makes It the Best?
Designed specifically for fly fishing
Lots of storage
Clean deck to stand on
Low profile to minimize the effects of wind
All features are designed to avoid line snagging
Rod stagers optimized for long fly rods and large reels
Fly box storage
---
Why Fly Fish from a Kayak? Advantages of Kayaks for Fly Fishing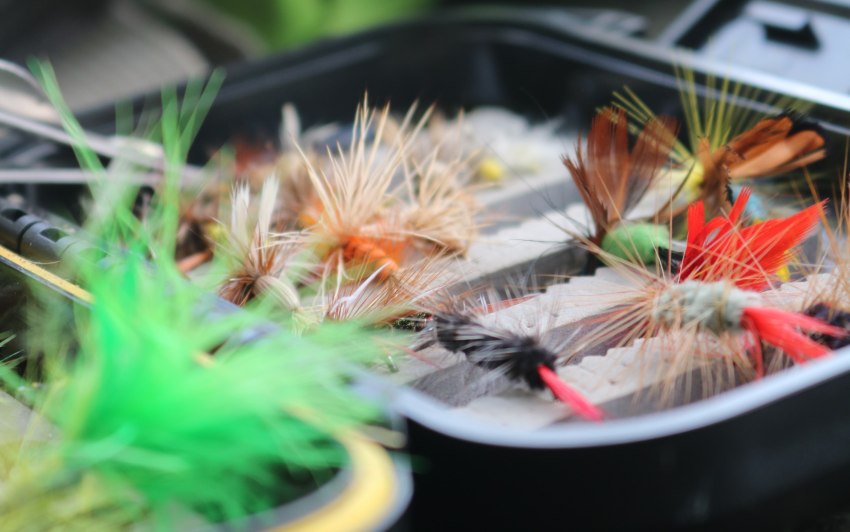 As fly fishing finally becomes more popular, some major brands in the kayak fishing industry have started to design and produce boats that are made for specific types of anglers—one group being fly fishing enthusiasts.
When you factor in what a kayak allows you to do with the basic tenets of fly fishing, you'll find that the two go hand-in-hand. Whether you're fishing along a slow-moving river that's deep in the mountains, or paddling along the saltwater flats and inlets of the coast, having a kayak can give you a serious edge compared to traditional forms of fly fishing.
Reach New Spots
For starters, a kayak will allow you to reach certain spots that previously were off-limits as they were simply too hard to navigate to on foot.
There are also locations on various waterways where a kayak will let you weave your way through tight passages or shallow waters where larger boats simply can't pass through.
This ability to reach such locations unlocks massive potential for catching fish in areas where they have never been pressured before.
Sneak Up On Fish
Another advantage of a kayak is the level of stealth with which you approach your target.
Any avid fly angler knows that making too much noise or movements close to the fish you're after can spook them and spoil your efforts. With the right kayak, you can get much closer to the fish you're trying to catch and better position yourself to make the right casts to draw a strike.
Launch Anywhere
The overall mobility and portability that comes with a kayak is another great way fly fishing anglers can step up their game.
When fishing from a boat, there are only a handful of locations you're able to launch from. This requires a good bit of planning and preparation.
With a kayak, you're highly mobile and can launch from virtually anywhere you can set the boat into the water without tipping it over.
Choosing a Kayak for Fly Fishing: Things to Consider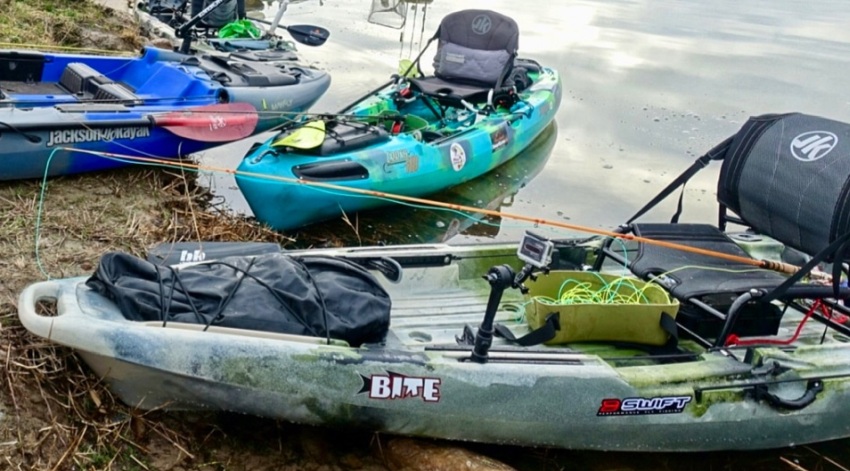 Primary Stability / Standability
While some kayak anglers argue that you don't need long casts in a kayak, I still believe it's almost impossible to make a decent cast while you're seated. Therefore, it's important to have a kayak where you can comfortably stand and make casts.
The initial stability (also called primary stability) of a kayak is a function of its width and hull profile. Look for a wider boat with a flatter hull and more volume towards the sides. You have to be aware that these kayaks will often be slower.
If you're a taller or heavier person, it might be a good idea to get a pair of kayak outriggers. These additional pontoons greatly improve the stability of a kayak. Check out our overview of the best kayak outriggers here.
Sit-on-Top Design
Having a kayak that gives you a sit-on-top design is an absolute must in terms of fly fishing. This is because you will typically have a greater amount of deck space in a sit-on-top model than you would with a sit-inside style kayak. Any fly fishing angler should be able to tell that a sit-inside style boat is not going to be super useful for fly fishing as there is no space for your line to fall and more potential for it to get tangled.
Clean Deck
One of the most common concerns that new anglers have in terms of fishing from any type of boat is having enough open space at their feet to give them ample casting room and a spot for their line to fall. Line snags are known to occur anytime you're fly fishing and it's important to try to limit them as much as possible.
Many kayaks feature gear tracks along the sides of the boat that open the possibility for anglers to install their own version of a stripping basket, which allows you to collect your line in an orderly fashion and avoid snags around your feet.
High Seat
You need a seat you can easily stand up from and sit back down into. As we've noted, you can't adequately cast a fly rod from the seated position, so you're going to need a seating position that doesn't make it too difficult to stand up or sit down.
Kayaks with higher seats are exponentially more easy to use when it comes to fly fishing because it makes standing and sitting much easier and effortless. You can opt for a kayak that has a lower seat that's closer to the deck, but be aware that you'll expend much more energy each time you stand up.
Low Profile
Fly fishing in windy weather is already enough of a challenge and you can expect it to be even more difficult when you're fishing from any type of boat. What makes fishing from any kayak tougher during windy days is the likelihood of your boat being blown around and the fact that you'll be fighting to reposition your vessel most of the time.
A kayak with a low profile is less susceptible to the wind, so you will need fewer corrections to stay in place as you cast. Be aware of the type of weather conditions you should expect for the kind of environments you plan to fish. If you're an angler who likes to use a fly rod and kayak around saltwater flats or inlets, you might want to consider a low-profile kayak that will help you maintain your position.
Another useful concept is to use a small anchor that can be affixed to the bow or the stern of your boat. If you have an anchor that's coupled with an anchor trolley, it will let you position your kayak exactly as you want it with very little effort.
Portability
If you plan to fly fish in tighter, hard-to-reach spots such as narrow rivers and creeks, you'll probably want a kayak that's easier to handle off the water and launch on steeper banks. A shorter and lighter kayak will do much better in these places as long as it is stable enough to stand in.
A longer and heavier kayak, however, will usually provide you with better overall stability in terms of standing and keeping your boat in the right position as you fish.
Best Fly Fishing Kayaks in 2021
Picture
Specs
Where to Buy

Jackson MayFly
Size: 12′1″ x 35″
Weight: 89 lb
Capacity: 450 lb
Water Outfitters

Perception Outlaw 11.5
Size: 11'6" x 35"
Weight: 77 lb
Capacity: 425 lb
Amazon

NuCanoe Unlimited
Size: 12'6″ x 41″
Weight: 84 lb
Capacity: 650 lb
Eco Fishing Shop

Native Ultimate FX 12
Size: 12′2″ x 30.5″
Weight: 65 lb
Capacity: 350 lb
Austin Kayak

Bonafide SS127
Size: 12'7″ x 33.75″
Weight: 94 lb
Capacity: 475 lb
FishUSA

Vibe Cubera 120
Size: 12′ x 33.5″
Weight: 72 lb
Capacity: 475 lb

Sea Eagle 385FTA
Size: 12′6″ x 36"
Weight: 45 lb
Capacity: 635 lb
Sea Eagle Boats

Jackson Bite
Size: 11'6″ x 36″
Weight: 74 lb
Capacity: 400 lb
Water Outfitters
Jackson MayFly – Best Overall

Length: 12'1" (368 cm)
Width: 35" (88 cm)
Capacity: 450 (204 kg)
Weight: 89 lbs (40 kg)
As the name indicates, the Jackson Adventures MayFly is a kayak that's built specifically for fly fishing. It has a lot of storage space and is relatively easy to paddle and control on the water.
But where the MayFly really shines is its solid deck to stand on and make casts. The deck is flat and has a soft padding that many anglers prefer to stand on barefoot in order to feel more sturdy and comfortable.
This kayak is about average in terms of weight and capacity, giving you plenty of room to load as much gear as you need to without greatly affecting the boat's maneuverability. It's described as one of the more fun kayaks to use as it is surprisingly nimble and tracks quite well considering the fact that it's only 12'1" in length.
The fly fishing features on the MayFly are what really captures attention. Everything on the boat was designed to provide you with the best possible experience using a fly rod and reel. The kayak features a fly line management system and a snag-free deck that is free of obstructions that you get your line tangled on. In addition to a large dry storage hatch on the hull and another on the stern, the MayFly even offers fly box storage and a tippet organizer.
Rod stagers on both sides are optimized for long fly rods with oversized reels. There are rod tip protectors on the bow so you don't have to worry about damaging your rods as you get to the most hard-to-reach fishing spots.
The price of the MayFly may put this boat slightly outside of the normal budget for beginner anglers, but experienced fly fishing enthusiasts will appreciate the overall value and the quality of features that this kayak is equipped with.
---
Perception Outlaw 11.5 – Best Value

Length: 11'6" (351 cm)
Width: 35" (89 cm)
Capacity: 425 lbs (193 kg)
Weight: 77 lbs (35 kg)
If you're looking for a kayak that's relatively lightweight and inexpensive, you'll want to take a close look at the Perception Outlaw 11.5. This kayak offers a somewhat mean, yet ergonomic look that delivers great on-the-water performance and stealth capabilities.
The Outlaw 11.5 offers a wide-open deck space that lets you make those wide, sweeping casts that are sometimes needed. The boat's distinct hull design gives it a decent amount of stability in choppy waters that you often run into when fishing rivers and saltwater flats. Be aware, however, that the Outlaw is not the fastest kayak around.
The elevated seat is another point of interest for anglers who like to have a higher position for better comfort and visibility.
The Outlaw does not have a dry storage hatch but offers spacious wells with bungee cords on the bow and stern where you can stash your gear.
---
NuCanoe Unlimited – Most Versatile

Length: 12'6" (381 cm)
Width: 41" (104 cm)
Capacity: 650 lbs (294.8 kg)
Weight: 84 lbs (38 kg)
NuCanoe is one of the best-known brands in the kayak industry. Their commitment to designing boats specifically for anglers has helped them to build a large fan base.
Introduced in 2021, the NuCanoe Unlimited is a fishing kayak that offers a new level of versatility.
In addition to paddling, you can opt for NuCanoe's PIVOT Drive pedal propulsion system. What's more, the Unlimited has a square stern that you can use to mount a trolling motor, a Torqeedo, or even a small gas outboard motor!
Still not impressed? The kayak is also compatible with bow-mounted trolling motors, including the GPS-equipped MotorGuide X3.
The Unlimited has an exceptionally wide hull that's 41" inches across, giving you plenty of room to make your casts without worrying about snags. The seat is very comfortable and can be adjusted forward and backward on the long gear tracks that run the length of the Unlimited's body.
With a whopping 650 lbs of weight capacity, you'll be able to load this kayak down with as much gear as you want. You can even mount a second seat and have two people in it!
This kayak is slightly more expensive and might seem like it doesn't match up well against some competitors. The lack of dry storage and other compartments is a downside, but the kayak's handling and lightweight feel in the water and on land is part of why so many fly fishing anglers love it. The slightly longer length gives the NuCanoe Unlimited greater tracking ability and the hull design helps it slice through the water with ease.
---
Native Ultimate FX 12 – Best Sit-Inside

Length: 12'2" (465 cm)
Width: 30.5" (77 cm)
Capacity: 350 lbs (159 kg)
Weight: 65 lbs (29.5 kg)
The Native Ultimate FX 12 is a kayak that's very similar to the NuCanoe's concept of a hybrid kayak/canoe model that's designed to provide you with ample stability and maneuverability on the water.
With a highly adjustable seat and a decent amount of standing room and space around your feet, the Native Ultimate FX 12 is a kayak that should appeal to fly fishing anglers who want to take their boat anywhere. It tips the scales at just 60 pounds, meaning it's an ideal 'throw-and-go' kayak that you can launch in a number of places where others might not be able to.
Anglers report having a much better level of comfort and stability in the Native Ultimate FX 12 than they expect in a hybrid canoe/kayak. When we take into consideration the price and all of the features, it's easy to see why this is such a popular model.
---
Bonafide SS127 – Best Fishability

Length: 12'7" (383.5 cm)
Width: 33.75" (85.7 cm)
Capacity: 475 lbs (215 kg)
Weight: 94 lbs (42 kg)
The Bonafide SS127 is a kayak that's all about stability and stealth. It gives anglers a range of opportunities when it comes to having a flat, open surface to stand on and make your casts. The 'SS' in the Bonafide SS127 kayak's name stands for 'Sit/Stand' and indicates that you'll have optimal comfort and stability for fishing from the seated position or standing.
Anyone who's fished out of a Bonafide kayak is well aware that it's one of the most stable kayaks you'll find in the entire industry. It also offers a good bit of dry storage, as well as open wells on the stern and a dry hatch on the bow for storing gear. The Bonafide SS127 also has decent on-the-water performance and doesn't require you to fight to maintain control over its maneuvering or speed and tracking.
At well under $2,000, we view this kayak as an outstanding value in terms of what it offers with features, as well as its overall on-the-water performance. It's a bit heavier than most others that are similar in size and scale, but it's hard to find a kayak that offers greater stability.
---
Vibe Cubera 120 – Fishing Kayak/SUP Hybrid

Length: 12' (365.7 cm)
Width: 33.5" (85 cm)
Capacity: 475 lbs (215.4 kg)
Weight: 72 lbs (32.6 kg)
The Vibe Cubera 120 is a truly unique kayak that blends elements of a typical kayak with a paddleboard version for a totally new and interesting feel and fishing experience. This design obviously puts you down closer to the water than just about any other fishing kayak, but it functions beautifully for fly fishing anglers as it provides more than enough casting space and overall stability.
Vibe describes this one as an 'unsinkable fishing platform that outperforms and delivers unrivaled sight-fishing access.' Anglers report that this one truly lives up to such a lofty description. You can very easily and effortlessly maneuver along while standing in the Cubera 120. It's a kayak design that's well outside the norm, but fly fishing anglers should recognize the value in its form and hull design as a true advantage for them.
---
Sea Eagle 385FTA – Best Inflatable for Fly Fishing

Length: 12'6" (381 cm)
Width: 36" (91.4 cm)
Capacity: 635 lbs (288 kg)
Weight: 45 lbs (20.4 kg)
When it comes to finding an inflatable kayak that delivers enough stability and features to function as a good fly fishing boat, it's tough to find one that has just the right ingredients.
The Sea Eagle 385FTA is the closest one you'll find that has enough space and stability to allow anglers to stand and make the wide, sweeping casts that fly anglers have to perform. The overall price is comparable to most of the typical kayaks that we've mentioned and there is serious value in an inflatable kayak that is as versatile as this one.
The Sea Eagle 385FTA offers a range of interesting features. It is easy to set up and has a hull design that makes it possible to fish virtually anywhere you want as long as the waters aren't too choppy.
The removable skeg provides better tracking. The reinforced sidewalls are tough enough for nearly anything you'll encounter on the water.
At just 45 lbs, this kayak allows for maximum portability and access to certain areas where a normal kayak might not be capable of traveling.
---
Jackson Bite

Length: 11'6" (350.5 cm)
Width: 36" (91.4 cm)
Capacity: 400 lbs (181.4 kg)
Weight: 74 lbs (33.5 kg)
Another solid option as a fly fishing platform is Jackson Bite. This kayak is packed with the features and capabilities you need for fly fishing. The Bite is more affordable than Jackson Mayfly, but it still offers a solid amount of characteristics that any fly fishing angler will see value in.
The Jackson Bite is slightly more lightweight but wider than the Mayfly. The extra width translates into more room to stand and strip the line while you're casting. The overall capacity is very close to what the Mayfly offers and there is virtually nothing on the deck or sides that will present a risk of getting your line snagged during casts.
This is a lightweight kayak that delivers plenty of room for standing, as well as the right level of stability you need for a good fly fishing kayak. It does not offer dry storage hatches, but you will find a few open wells where you can easily place your gear and smaller tackle items for quick and easy access.
There's a lot of reasons to be attracted to the Jackson Adventures Bite kayak. It's an outstanding option for newcomers who don't want to spend too much money on a good, solid fly fishing kayak. This is a high-value kayak that some anglers compare to the popular Crescent Lite Tackle as one of the best options you'll find for roughly $1,000.