Last price update was: November 30, 2023 2:03 pm
×
Product prices and availability are accurate as of the date/time indicated and are subject to change. Any price and availability information displayed on Amazon at the time of purchase will apply to the purchase of this product.
| | |
| --- | --- |
| Stability | 8.5 |
| Speed | 7.5 |
| Tracking | 8 |
| Comfort | 9 |
| Features | 8 |
| Portability | 8 |
The Perception Outlaw 11.5 fishing kayak was designed to be disruptive in every way. With its great stability, very high seat, and a walkable open deck, it is a very interesting fishing platform at a great price point 🏅.
Perception Outlaw 11.5 Prices
Description
The Perception Outlaw 11.5 fishing kayak was designed to be disruptive in every way. With its great stability, very high seat, and a walkable open deck, it is a very interesting fishing platform at a great price point 🏅.
PROS
Very stable
High seat is great for sight fishing
Walkable deck
Nothing to snag lines on
CONS
Not very fast
Seat lacks a low position
No footrests
Perception Outlaw 11.5, first introduced in 2019, offers great stability, standability, and a minimalistic but interesting feature set at an attractive price point.
Size and Weight
Perception Outlaw 11.5 is 11'6″ (351 cm) long, 35″ (89 cm) wide, and has a deck height of 16″ (41 cm). Weighing in at 77 lbs (35 kg), it is relatively light for a fishing kayak, so you should not have too much trouble transporting and storing the boat. The oversized molded-in carry handles on the bow and the stern, as well as two side handles, provide a firm grip and sturdy strapping locations for safe transportation.
The maximum capacity is 425 lbs (193 kg), which should be enough for an average adult and all the gear you need for a day of fishing. For comparison, Jackson Bite (a boat of a similar size that follows the same concept) can carry up to 400 lbs (181.4 kg).
Materials
Perception makes their kayaks from a proprietary High-Density Polyethylene material using the company-specific, one-piece rotational molding technology. The process involves pouring beads of polyethylene into the mold, which gets heated up and slowly rotated so that the material fills up every nook and cranny. After the mold cools down, you get a one-piece, leak-proof construction that is extremely rugged and durable.
Features
Perception Outlaw 11.5 does not blow your mind with its feature set. Rather, this boat emphasizes simplicity, a clean open deck, and hassle-free, snag-free fishing experience.
Starting at the bow, there is an oversized molded-in carry handle which also doubles as a paddle park. Molded-in handles are our favorite design because they provide additional strapping points during transportation.
The sizeable bow tank well secures your gear with a mesh cover that includes a strap for stowing your paddle.
This compartment also features a scupper hole that connects to the transducer scupper at the bottom. There is also a molded rectangular recess that could fit a fishfinder battery (but nothing to secure it with).
The Outlaw is rigged with three recesses for 1.5″ Solo Mount bases, one on each cockpit gunnel and one on the center console, where you can add custom gear or accessories.
The flat, walkable deck comes outfitted with two traction pads that also dampen any noises, helping you sneak up on fish without spooking them.
RELATED: Best Sit On Top Kayaks: Reviews and Buying Guide
One thing you'll notice here is that there are no footrests. All you get is a pair of fixed-position foot pads next to the side handles, but there is (obviously) no way to adjust those. Probably not a deal-breaker, but something to be aware of.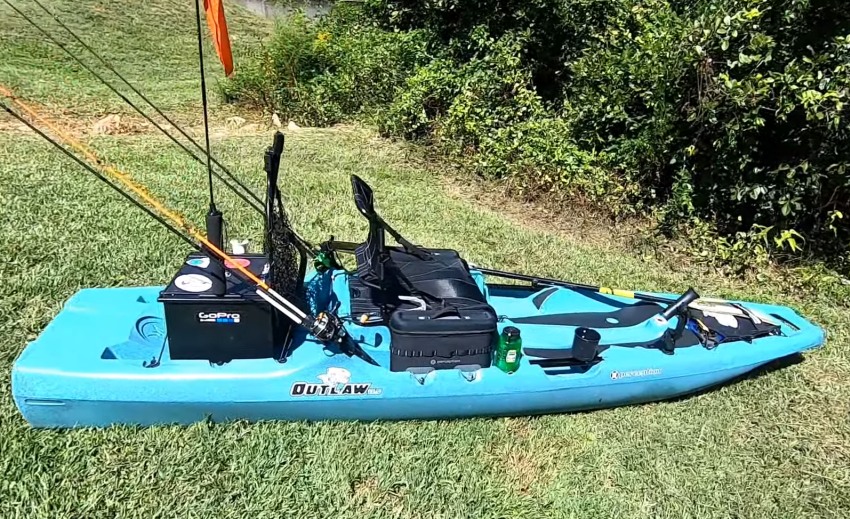 Moving back, there is a molded recess between the paddler's legs for adding a day hatch. There are also two gear tracks on the gunnels that double as carrying handles.
Next to the seat, you'll see two molded bottle holders and molded trays. The trays can be used for tools, lures, and accessories you need at hand. They also accommodate Perception's Saddle Bags.
Another interesting feature of Perception Outlaw 11.5 is the two "double-barrel" rod holders that can fit up to four fishing rods. They are angled backward and should be great for trolling.
The stern tank well is pretty large. Perception says the size of the tank well was optimized to fit the Perception Splash Kayak Crate, which is a very functional and feature-rich accessory.
At the back of the tank well, there is another molded recess for a small hatch. This one will come especially handy for DIYers that want access to the inside of the hull.
At the stern, there is a large flat area where you could mount a Power-Pole Micro shallow-water anchor. Note that the Outlaw 11.5 does not come with pre-installed inserts for an anchor, so that's something you'll need to figure out yourself.
Another large molded-in carrying handle at the stern makes it easier to handle the kayak during transportation and storage.
Seat
One thing you immediately notice about Perception Outlaw 11.5 is how high the seat is. The seat perch height is 16″ (41 cm), which is 5 inches above the deck height. Such a high position is great for sight fishing as well as effortless standing up or sitting down.
The frame seat is very comfortable. It is made from a breathable mesh material that provides excellent airflow on those hot summer days and dries very quickly. There is no cushioning, which is typical in this price segment.
The seat is easily removable. You can fold it and stow it in the specially designed slot at the back to maximize the standing area. You can also leave the seat at the shore and replace it with a 35-liter cooler to sit on for a SUP-like experience. That's where Perception Outlaw's versatility shines.
The main downside of the seat, as we see it, is the absence of a low position, which often is better for paddling performance and stability in rough waters. When waves and wind pick up, you generally want to lower your center of gravity as much as possible. With the Outlaw, you're pretty much stuck 16 inches above the bottom of the boat.
Performance
Perception Outlaw 11.5 provides incredible stability. Together with the clean open deck, it gives you a very easy to stand on, fishing-friendly kayak. It is an awesome option for fly fishing, sight fishing, etc.
That said, everything in this boat (such as the high-only seat or the absence of adjustable footrests) says that it was not designed to go fast and far.
The 35″ beam does not promise high speed, either, but due to the dual-arch hull design, the boat cruises at a good pace.
The tracking performance is outstanding due to the tri-keel hull with the elongated middle keel, which is particularly pronounced at the bow. This allows the kayak to smoothly cut the water and maintain direction while paddling.
When it comes to maneuverability, Perception Outlaw 11.5 is not a nimble kayak. However, it is responsive to paddle strokes and steers quite well. Its best application would be in shallow waters, on slow-moving rivers, and calm lakes and ponds.
Warranty
Perception kayaks are warranted against material or manufacturing defects in the hull and deck for 5 years from the date of the original purchase of the kayak. Parts, accessories, and outfitting are warranted for one year.
To learn more about Perception Kayaks' warranty terms and conditions, click here.
Further Reading
If you're interested in other kayaks that are similar to Perception Outlaw 11.5, check out our post on the best fishing kayaks under $1,000.
Perception Kayaks | Outlaw Features Overview
Perception OUTLAW 11.5 Fishing Kayak
NEW: Perception & Wilderness Systems Pedal & Paddle Kayaks
Too damn slow??? Perception Outlaw 11.5 fishing kayak water demo
Perception Kayaks Outlaw 11.5 "On Water Review"
Perception Outlaw 11.5 sit on fishing kayak. Review and Stability test.
Additional information
Specification:
Perception Outlaw 11.5
| | |
| --- | --- |
| Load Capacity (lb) | 425 |
| Cockpit type | sit on top |
| Technology | rotomolded |
| Propulsion | paddle |
| Crew | 1 |
| User Level | Advanced, Beginner, Intermediate |
| Intended Use | Fishing |
| Water type | Big lakes, bays, Slow rivers (Class I-II), Small lakes |
| Rod holders | 4 |
| Paddle holders | 1 |
| Warranty | 1 year on parts and accessories, 5-year limited warranty on hull and deck |