Fishing Kayaks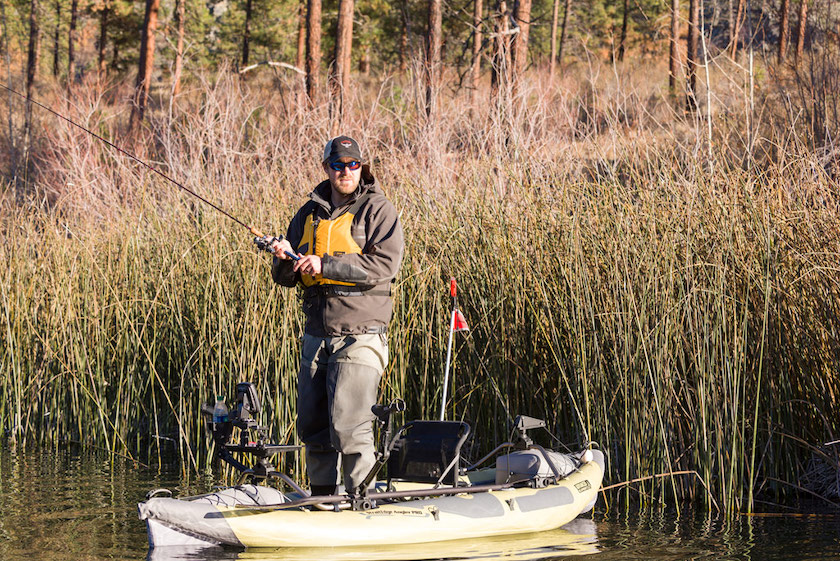 Kayak fishing exploded in popularity in the last two decades. The reason why kayaks have become so attractive is their ability to allow anglers to reach places that were previously off-limits in larger, heavier boats.
If you know what you want, just browse our catalog or use the filters on the right. If not, scroll down for our comprehensive guide to choosing the best fishing kayak.
Showing 1–12 of 164 results
How to Choose the Best Fishing Kayak
Kayaks allow anglers to approach their favorite spots with more stealth and precision than ever before. Whether you're using a paddle, a pedal drive, or even a trolling motor, a kayak is much quieter and less intrusive than boats that are traditionally associated with fishing.
When fishing kayaks began their meteoric rise in popularity among outdoor enthusiasts, they lacked many of the impressive features that fishing boats offered, such as the capability to install fish finders, to stand up while fishing, store gear in dry compartments, and other amenities.
Now, thanks to advancements in engineering and technology, fishing kayaks are able to be fitted with a huge variety of gear and equipment that will work as a boost to any angler's fishing game.
Whether you're a seasoned kayak angler looking to upgrade to the latest, most advanced ride, or a novice who's brand new to the world of kayak fishing—we've put this guide together to help you navigate the many different choices and select the one that's perfect for you.
Sit-on-Top Fishing Kayaks
Perhaps the most popular type of fishing kayaks is the sit-on-top kayak. These are the top choice for many anglers because they offer outstanding stability compared to sit-inside kayaks.
Sit-on-top kayaks are usually a bit wider than their sit-in counterparts, but this allows them to be designed with a greater weight capacity, which is also key for many kayak anglers. While traditional kayaks have long been designed based on a long, narrow frame, many sit-on-top kayaks can be built with a shorter, wider body.
These types of kayaks might not have the same level of on-the-water performance in areas like speed, tracking, and agility, but they are geared toward stability and greater capacity. Sit-on-top kayaks will feature scupper holes that act as a self-draining mechanism so that users aren't tasked with pumping water out of their vessel.
One of the main advantages of a well-designed sit-on-top kayak is the ability to stand up while fishing. This is a major asset as it relates to fishing because it allows the user to get a better field of view of their surroundings and also means anglers can have a better range of motion, which means longer, more accurate casts.
Sit-on-top kayaks are also now being designed to offer seats that can be placed in the "high" position, allowing users to sit more comfortably and to also stand with less effort.
Pros:
More stability
Greater overall capacity
High seating
Scupper holes
More ability to move and turn in the seat while fishing
Cons:
Heavier
Less performance
More likely to get wet
Sit-Inside Fishing Kayaks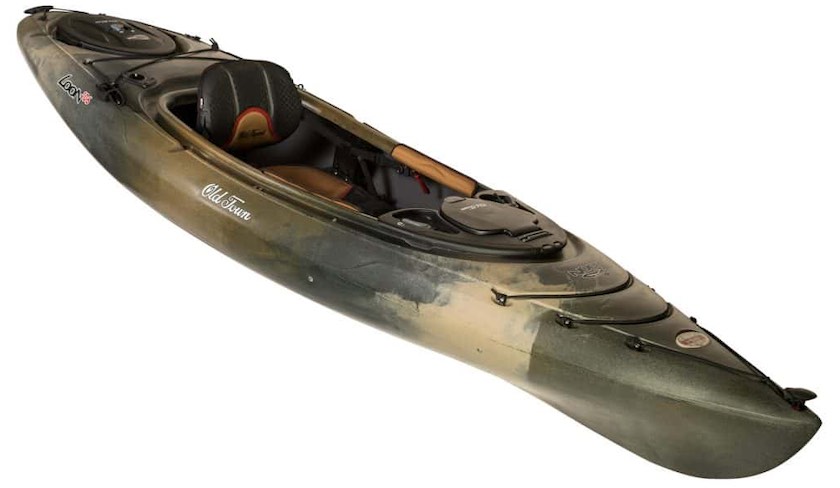 The first fishing kayaks were basically traditional sit-in kayaks that users had converted and customized to fish out of. These kayaks were designed for optimal on-the-water performance, but they are not ideal for fishing in most cases.
There are quite a few reasons why anglers usually opt for a sit-on-top kayak instead of the traditional sit-in models.
Sit-in kayaks typically aren't stable enough for users to stand up in, which means anglers will be limited to fishing in one, seated position at all times. If they do happen to take on water, you'll be forced to scoop it out, or use a bilge pump if you intend to stay dry.
These types of kayaks have less surface space for mounting things like rod holders, fish finders, or even camera gear. While sit-in kayaks usually have ample amounts of dry storage, most premium sit-on-top kayaks will feature a decent amount of storage space as well, making them the more suitable choice for most fishermen.
While not usually the best choice for fishing, sit-in kayaks do offer superb on-the-water performance. Many of them are designed to allow users to reach high speeds with little effort and also offer great tracking thanks to their sleek design.
Pros:
Great agility
Excellent speed and tracking
Dry storage
Lightweight
Cons:
Unable to stand up
No space for mounting equipment
Limited storage space
No scupper holes
Inflatable Fishing Kayaks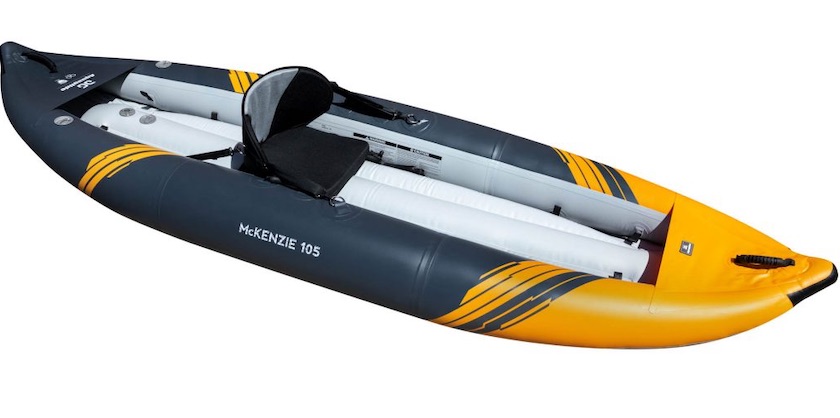 Arguably the most convenient version of fishing kayaks is the inflatable kayak. These can often be stored in a compact, easy-to-transport bag that is capable of being taken onto airplanes and anywhere else an angler might want to go. This means trips overseas with your own kayak are no longer out of the question.
Inflatable kayaks are much more lightweight and portable than their plastic counterparts, but they do come with their own limitations. For starters, inflatable kayaks aren't quite as durable as plastic kayaks and can lead to major problems if you have a leak or your kayak is damaged while on the water.
Most users will be able to stand up in some premium inflatable kayak models, but performance is also going to be limited with an inflatable kayak.
While they are usually much lighter than other kayaks, inflatable models will not be as fast, or have as much agility on the water as hard-shell models. Users should also prepare for a more taxing paddling experience with an inflatable kayak as they are usually windblown much easier than plastic models.
Pros:
Cons:
Lack durability
Slower
Less agile
Can be windblown more easily
Paddling, Pedal, or Motorized Kayaks?
With the many recent advancements in kayaks and their features, some brands have produced impressive models that are totally "hands-free" and can be driven with pedals, or even a trolling motor system.
Let's take a closer look at all three types and weigh some of the advantages and disadvantages that they offer to fishermen.
Paddle Kayaks
Traditional kayaks are all powered the same way canoes and other boats have been for thousands of years—by paddle. While this is easily the most inexpensive option, there are a few reasons why some anglers might choose a paddle kayak over other, hands-free models.
For experienced kayak anglers, paddle kayaks offer a more familiar feel and can sometimes allow them to have greater control over a kayak that utilizes pedals or propellers.
It can be argued that paddle kayaks are the stealthiest of all models due to the fact that they only make as much noise as the user wants them to, unlike the intrusive "humming" of a trolling motor, or the sloshing of a pedal-driven kayak.
In addition to having to work harder to reach your destination, you'll also be tasked with finding a place to put your paddle before you take that first cast.
One of the major advantages a paddle kayak has over other models is the ability to go into more shallow waters due to the fact that it has no low-hanging fins or propeller to accomodate for.
Pros:
Able to travel into more shallow water
Less expensive
Lighter
Easier to operate
Cons:
Requires greater physical fitness
Limited range
Pedal Kayaks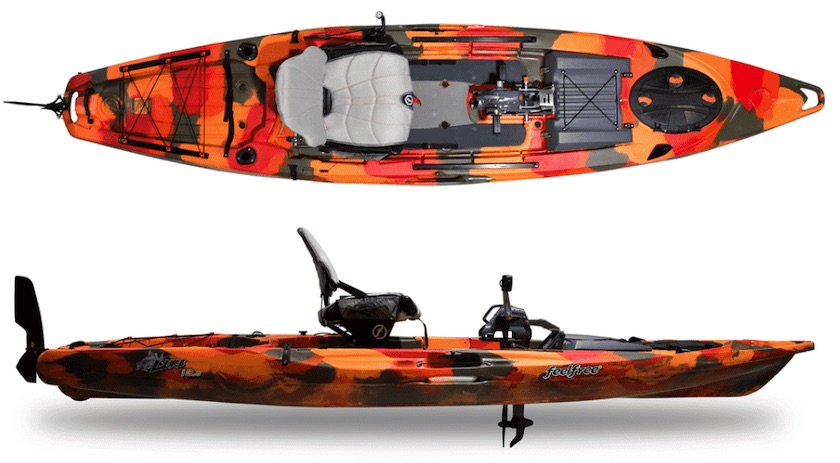 Pedal kayaks are quickly becoming one of the most popular versions of fishing kayaks as they allow users to freely travel while fishing. This is especially useful for anglers who prefer to "troll" or cast around docks while casually moving along at a decent pace.
Most pedal kayaks can easily be controlled using a small knob or lever on one side of the seat, leaving the other hand free to hold a fishing rod.
Users will also be able to travel greater distances using a pedal kayak as they are designed to reach optimal speeds with relative ease.
One of the only downsides to pedal kayaks is that their fins can sometimes become damaged if they forcefully encounter an underwater object. Some pedal-driven models that utilize a propeller can also become entangled in fishing line, moss, or anything else you might expect to find in any given waterway.
Pros: 
Easier to operate
Hands-free
More comfortable for some users
Cons:
Limited access to shallow waters
Heavier
More maintenance
Motorized Kayaks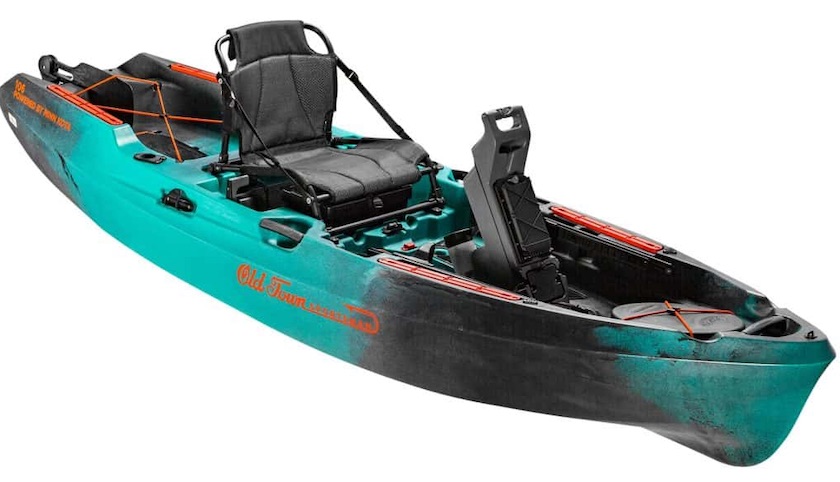 Every year, the top brands in the kayak fishing industry jockey for the top spot among the best fishing kayak in the game. Many anglers are beginning to consider motorized kayaks to be the "ultimate fishing experience" when it comes to fishing from a kayak.
There are numerous advantages to fishing from a kayak that's powered by an electric motor, the most obvious being the ability to travel anywhere on a given waterway without expending any effort.
A motorized kayak also allows users to reach greater speeds in less time, and maintain a steady speed more easily, which is ideal for trolling.
There are different levels of quality, even among motorized kayaks. Some of the latest models utilize GPS, Bluetooth, Wifi, and a litany of other kinds of technology to allow anglers to have an experience similar to some of the most advanced bass fishing boats.
As you might expect, these kayaks are much more expensive than other types and will mean that users will be faced with much more maintenance than a typical paddle kayak.
Pros:
Hands-free
Faster speeds
Effortless operation
Cons:
More maintenance
Heavier
More expensive
Less portable
Fishing Kayaks Under $1,000

If you're looking for a fishing kayak that can provide great experience without breaking the bank, a thousand bucks will open a lot of options. Most brands offer great models in this price range.
Read our review of the best fishing kayaks under $1,000
Fishing Kayaks Under $500


Even if the funds are tight, that does not mean you're out of the kayak fishing game. The market offers some really interesting models under $500 that won't let you feel inferior.
Tandem Fishing Kayaks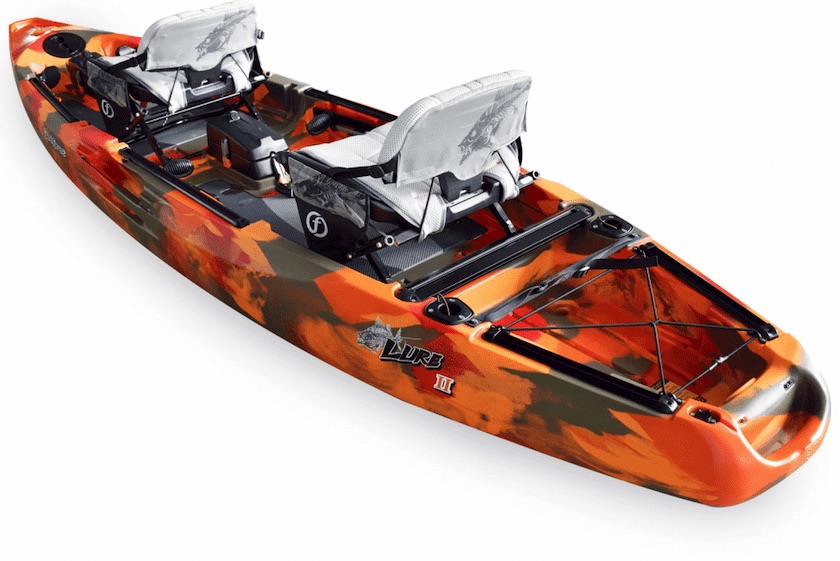 Want to share the experience with a friend, a kid, or your husband/wife? Tandem fishing kayaks let you paddle and fish together without having to bring two separate boats. Some of the tandem models can be used in a solo configuration for maximum versatility.
Key Features to Look for in a Fishing Kayak 
Regardless of the style of kayak you're looking for, there are a handful of areas to focus your attention on to get the most value and best features available. Here are a few of the main features to look for:
Stability 
If there's one single thing we would look for in a fishing kayak, it's stability. Regardless of any other features or items a kayak has to offer its user, if it's not stable enough to allow an angler to stand and fish comfortably, it's not going to give you the best experience on the water.
It's important to do your research before making any purchase and, in some cases, try it before you buy it. If you can find a reputable kayak retailer in your area, it's always advisable to go and take a closer look at the specific brand you're interested in before making a purchase.
Capacity
Another important factor is the total capacity of the kayak. When calculating the overall weight, it is important to consider not only your own weight but also your clothes, PFD, food/drinks, and all the fishing and camping gear you plan to take with you. The end result may surprise you.
Also, it is usually recommended not to load a kayak beyond 80 percent of its maximum capacity for a drier ride and better performance.
If you feel like you'll be pushing the limits of the kayak, it is always a good idea to choose a model with a higher capacity. You'll be glad you did.
Adjustable Seat 
According to most professional kayak anglers, the most important part of a fishing kayak is the seat. It's imperative to have a seat that's both comfortable and functional to make sure you're getting the best experience possible on the water.
Look for a seat that can be adjusted into multiple positions, from high and low to reclining, or even flipping the seat up altogether to allow for more standing room.
It's hard to have an enjoyable day on the water if you're not comfortable, so be sure that you're happy with a kayak's seat before purchasing one.
Dry Storage 
It's also very important to have ample amounts of dry storage on your kayak so that you can stash some gear away without worrying that it will be soaked. Whether you're a beginning angler, or a seasoned professional, making sure that you have the right kind of storage is essential to your kayak fishing experience.
Many premium kayaks will offer large, sealed hatches on the bow and stern, but it's also important to look for the smaller nooks and crannies that certain brands have found ways to utilize. Some kayaks offer excellent center console areas that are ideal for storing valuable items like wallet, keys and cell phones.
If you plan to go on overnight trips on your kayak, having plenty of dry storage is absolutely essential because you can't afford for some gear items to become drenched or to be exposed to the elements.
Transducer-Ready Design 
Years ago, it was unheard of for anglers to mount any type of fish finding equipment on their kayak. Now, with the latest advancements, it has become fairly easy for users to install their favorite electronic equipment on their new kayak.
Most brands have begun offering specialized compartments for batteries and other parts of electronic equipment, including pre-installed cables and mounting plates. If you plan to use any kind of electronic equipment, be sure to check and verify that your potential purchase will allow you to install your gear of choice without any additional headaches.
Some brands offer things like transducer plates and other items that protect your equipment and enhance its operation on the water.
Fishing Kayaks: Transportation and Storage
While it's tempting to choose a bigger boat with more features, always remember that you'll have to transport it to and from the water and store it somewhere. It is always a good idea to consider the transportation and storage options before you pull the trigger on the kayak.
Thankfully, the market offers a variety of kayak racks, kayak carts, and kayak trailers that will suit most needs easily. There are also different storage options, such as racks, stands, or kayak covers.
Whatever you choose, remember not to store your kayak under direct sunlight. UV rays are the worst enemy of just about any plastic.