Last price update was: September 1, 2023 1:40 am
×
Product prices and availability are accurate as of the date/time indicated and are subject to change. Any price and availability information displayed on Amazon at the time of purchase will apply to the purchase of this product.
Vibe Skipjack 90 is a popular entry-level fishing kayak. Short and wide, it is easier to store and transport yet offers enough stability for beginners.
Description
If you're looking for a shorter entry-level kayak that is easy to transport and store but also stable enough for stress-free fishing, Vibe Skipjack 90 is a great option. It's not the fastest boat around, nor does it track perfectly, but with its low weight and great maneuverability, it makes an excellent "throw and go" fishing machine.
RELATED:
Best Kayaks for Beginners: Reviews and Buying Guide
Size and Weight
Vibe Skipjack 90 is 9′ (274 cm) long and 32″ (81.3 cm) wide, so it's pretty wide for its length. The kayak weighs only 46 lbs (20.9 kg), which makes it easy to store, carry, or portage. You can literally grab it with one hand, take your fishing gear in the other, and walk out to the water.
The Skipjack 90 has a total weight capacity of 300 lbs (136 kg). This is not much if you take into account all the gear you normally take with you. This kayak is best suited for smaller to average paddlers that prefer to go light.
Features
As an entry-level boat, Vibe Skipjack 90 is not packed with features, but it has all you need for a fun, lightweight fishing trip.
Starting with the bow, there is a molded carry handle. We love molded handles because they are extremely sturdy, don't catch hooks, and also serve as additional latch points when transporting the kayak on top of your car.
Next, there's a small storage platform secured by a bungee cord. It's a great place to store stuff you may need on the water, such as rain gear, fishing gear, or a lunch bag.
Vibe Skipjack 90 has a molded central console with a couple of compartments for small items, a bottle holder, and a round day hatch. The hatch design was improved in 2019 and now offers a quarter-turn quick-lock mechanism and a dry bag inside.
The footrests are molded. Adjustable footrests would have made the kayak more comfortable and come standard on some other boats in this price range.
Small indentations on the gunnels serve as a paddle park, letting you quickly put your paddle across the deck and not worry about it rolling off. There is also a simple bungee-secured paddle holder on the right gunnel.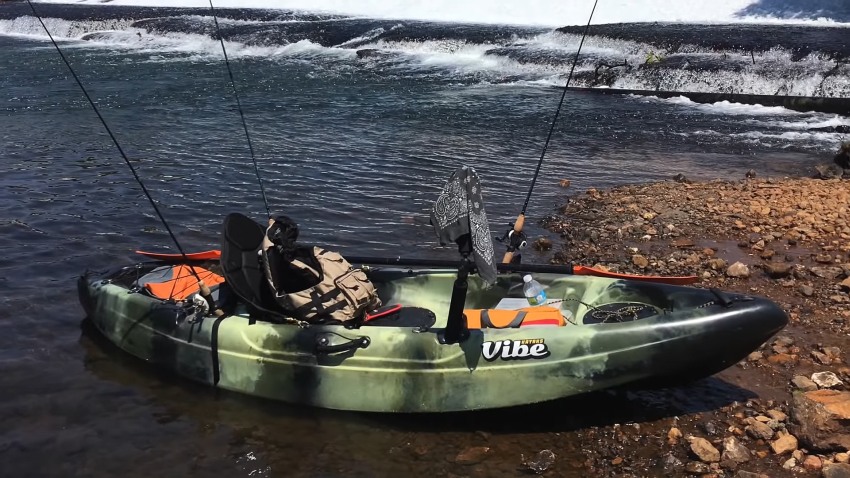 Vibe Skipjack 90 features four molded-in rod holders. As always, these are quite wide and shallow.
Behind the seat, there is a large tank well, also secured with a bungee cord. It can take a decent size cooler, milk crate, or dry bag. Just be aware of the weight capacity limit.
The rear handle is also molded, which is great.
Seat
Vibe Skipjack 90 has a padded seat with an adjustable backrest. The seat pad is quite soft and cushioned but since you're essentially sitting on the deck, there are no high and low positions, and the ride can get pretty wet in choppy waters. Also, standing up and sitting back down to such a low seating position is not an easy task.
The backrest is also cushioned. The tilt is adjustable via two side straps.
Performance
Vibe Skipjack 90 combines excellent portability with great stability. Its short, wide hull is great for beginners who want a lightweight and easy to store boat that will let them feel safe on the water.
Being short and wide, Vibe Skipjack 90 is not a racing boat by any means. If you want to paddle long distances, look elsewhere. This kayak shines on small bodies of water or tight, hard to reach places where you need maneuverability but not necessarily speed.
That said, the Skipjack 90 tracks pretty well for its length. Its pronounced keel and hard chines help it go in a straight line. It can get caught in the current or wind, but it is also easily corrected by a paddle stroke or two.
Construction and Materials
Vibe Skipjack 90 is made from High-Density Polyethylene using the rotational molding technology. Beads of polyethylene are poured into the mold as it gets heated up and slowly rotated so that the material fills up every nook and cranny. After the mold cools down, you get a one-piece construction that is extremely rugged and durable. Boats manufactured with the rotomolding process tend to be long-lasting and sturdy.
The downside of polyethylene is that it is a very non-stick material. If you manage to put a hole in the hull, you can't just glue a patch to it. The most effective way to patch the hole is to heat-weld new HWM PE or HDPE plastic pieces (or the same material) into the crack. It's best to use a flat surface such as a soldering iron or blow torch by utilizing welding techniques to bond the material for an air-tight lasting patch.
Warranty
Vibe provides a limited lifetime warranty for defects on all new kayak purchases and one year on the attached parts. This warranty covers only Vibe products that are purchased from an authorized Vibe dealer. This warranty applies only to the original purchaser and may not be transferred. Proof of purchase must be presented at the time of the warranty claim. Normal wear and tear are not warranted.
In case your Vibe kayak gets damaged during shipping, Vibe Kayaks recommends the following:
If you find any significant damage, such as holes or deep gouges, have the carrier document in writing a detailed description of the damages before signing anything, take pictures, return the damaged kayak to the driver, and contact Vibe immediately.
If you find minor damage, such as minor scratches, dings, and dents, note the damage on the Bill of Lading, take pictures and accept the shipment. You can contact Vibe with any questions.
If the product is signed for without damage being reported or if the driver leaves the property without the damage being reported, Vibe Kayaks won't be able to replace it. You will have to pay return freight charges (which range from $185 – $390) to get a replacement or accept the kayak as is.
New items are eligible for a full refund within 14 days of purchase.
To read the full terms of Vibe Kayak's warranty, click here: https://vibekayaks.com/pages/warranty
Vibe Kayaks Skipjack 90 Review || The Best Starter Kayak!
Vibe Kayaks Skipjack 90 Review - Lightweight Fishing Kayak
Vibe Kayaks Skipjack 90 Fishing Kayak Review
Additional information
Specification:
Vibe Skipjack 90
| | |
| --- | --- |
| Width (in) | 32 |
| Weight (lb) | 46 |
| Load Capacity (lb) | 300 |
| Cockpit type | sit on top |
| Technology | rotomolded |
| Propulsion | paddle |
| Crew | 1 |
| User Level | Beginner |
| Intended Use | Fishing |
| Water type | Slow rivers (Class I-II), Small lakes |
| Seat | Cushioned seat pad with adjustable cushioned backrest |
| Rod holders | 4 |
| Paddle holders | 2 |
| Footrests | molded |
| Warranty | Limited lifetime warranty on new kayaks; 1 year on attached parts. |