Jackson YuPIK, first introduced in 2019, is all about customizability. With an open-concept deck and tons of gear tracks all over, this boat is almost like a blank slate waiting for you to make it anything you want it to be.
Product
Specification
Photos
Deals
RELATED: Jackson Kayaks in 2021: Full Model Lineup and Reviews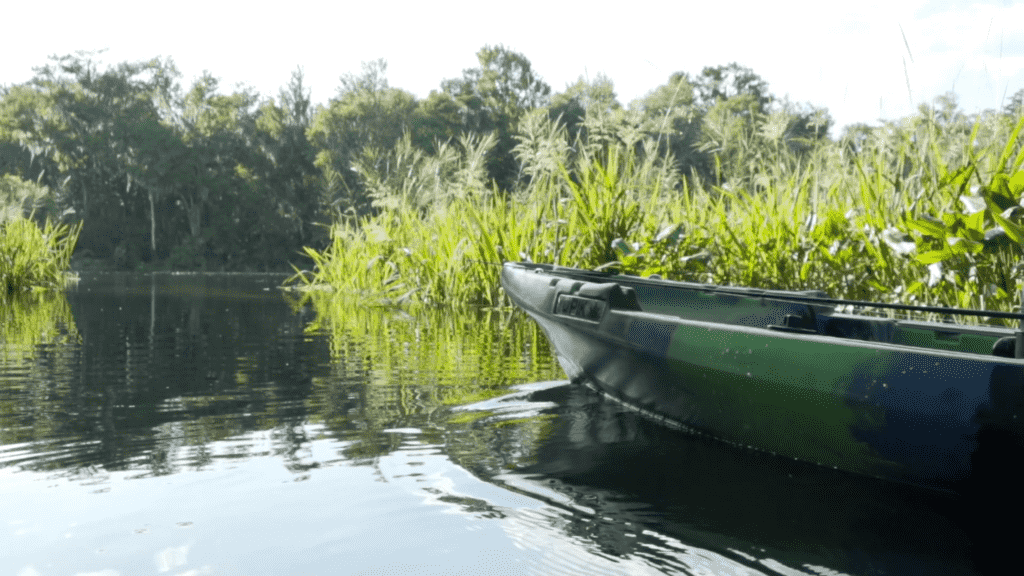 Pros:
Very versatile
Space for a child or dog
Large standing platform
Tons of gear tracks
Lots of cargo space
Cons:
Needs a lot of extras (even rod holders)
No dry storage
No in-hull storage
Size and Weight
Jackson YuPIK is 12'2″ long and 35″ wide. At 84 lbs without the seat, it is not the lightest to load on and off your vehicle alone. Get a friend to help you or use a kayak trailer.
Capacity
The YuPIK has a weight capacity of 425 lbs, which is pretty decent. Jackson Bite, for example, can carry up to 400 pounds while their largest boat, the Big Rig, is rated for up to 550 lbs. In any case, for optimal performance and drier ride, don't load your kayak beyond 75 percent of its max capacity. Also keep in mind that the weight includes not only yourself but also your clothes, PFD and all the gear you take with you.
Hull Design
The hull of Jackson YuPIK is a twin-arch design with a pronounced keel and hard chines. This profile gives the boat a lot of primary stability, which is great for flat water and also for standing. The keel becomes more prominent on the bow and stern, helping the kayak pierce through water and go faster. This design is also great for tracking. That said, it remains to be seen how the YuPIK will behave in choppier conditions where secondary stability is just as important.
Deck/Cockpit
Jackson YuPIK offers an open-concept deck that immediately reminds you of Jackson's other customization-focused kayak, Jackson Bite. The deck has non-slip padding and a gear track in the middle that goes all the way from front to rear.
The standing area is humongous. There's so much space that Jackson says you can put another seat for a child or even a cot for your dog! There's also an assist strap to help you stand up. Alternatively, you can remove the seat and even the platform it sits on to get a huge standing area.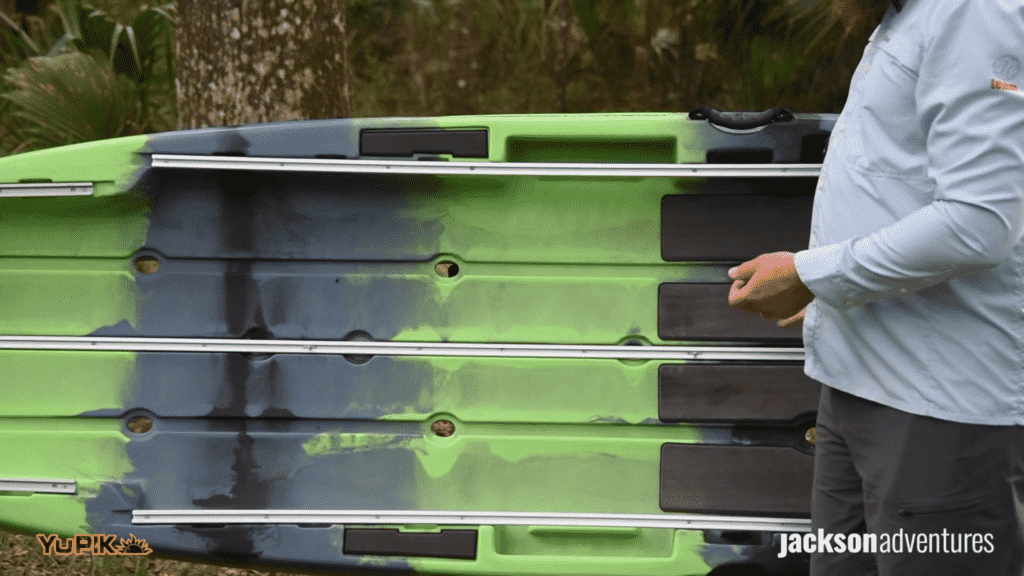 Equally impressive are two giant gear tracks on the sides. They run almost the entire length of the deck and can accommodate a crazy amount of gear. Even the footrests slide on those tracks.
Seat
With each iteration, Jackson makes small improvements to their seat construction. The YuPIK features a removable frame seat that slides fore and aft on a floor-mounted track. It has a high and low position. On Jackson's other boats, you had to remove two pins to reposition the seat. On the YuPIK, those were replaced with orange plastic latches that hold the seat in place. This is a more convenient solution but it is not clear yet how reliable they are.
Another welcome feature is a bottle holder that's integrated into the seat platform. It's also a great place to drop a couple of lures when changing them.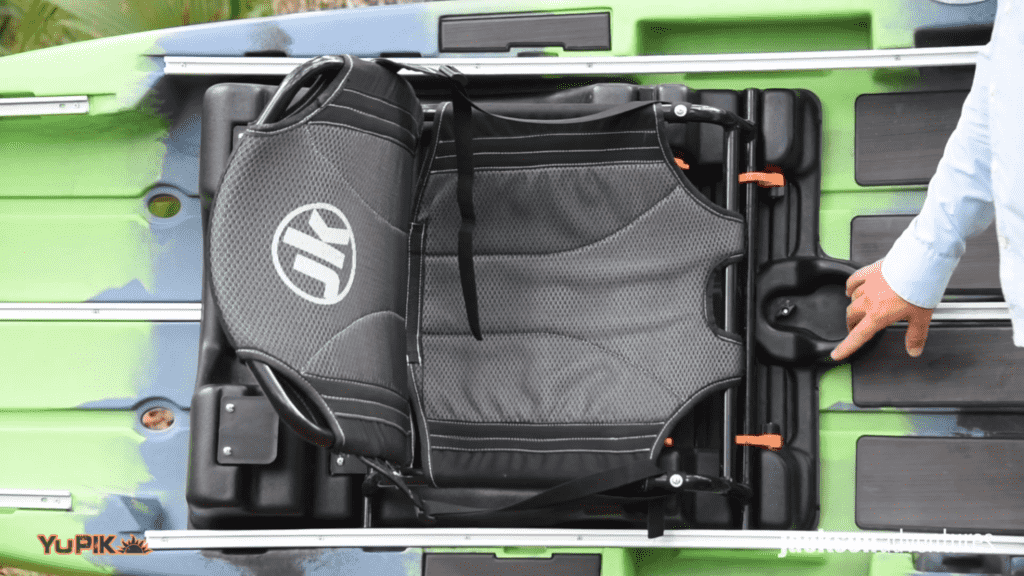 There's quite a lot of room underneath the seat, especially when it is in the high position. Even large tackle boxes will fit there without a problem. On the back of the seat, you'll find Molle straps that will take many compatible bags and pouches.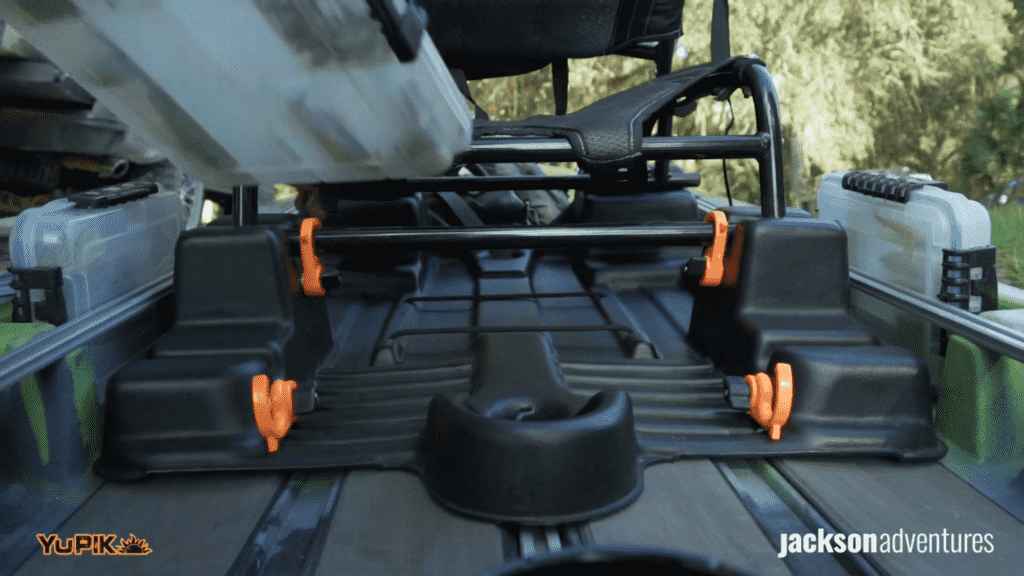 Storage
Speaking of storage, Jackson YuPIK is all about simplicity and versatility. There's not much out of the box but they give you a lot of options.
Starting with the bow, the front tank well has a scooped bottom that looks somewhat like an original dugout canoe. There are no bungee cords pre-installed but you can easily run your own bungee cord or strap under the gear tracks that go along the sides of the tank well. Some people just don't like any bungees at the front as they don't go well with treble hooks.
The front tank well is raised relative to the cockpit and any water that gets there will drain into the cockpit. Nice to keep your stuff out of the water but not so nice in waves.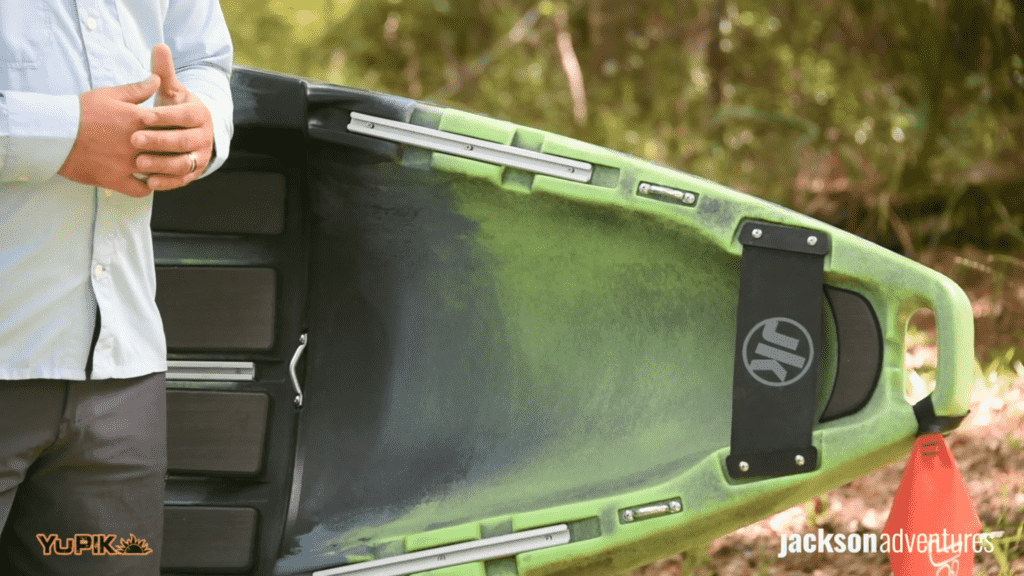 Going back, there are four tackle box slots cleverly molded in the sides and secured by gear tracks. Right at the seat level, there are two foam lure stagers. You can quickly set your hooks into them while changing lures.
As we mentioned above, there is a bottle holder in front of the seat and a lot of room underneath the seat.
Behind the seat, you've got a spacious tank well (with a flat floor this time) which will accommodate almost any size of milk crate or cooler. Again, it does not come with bungee cords but you can easily add your own if you so desire. Slide your seat a little forward, and you can load enough gear for a week-long trip. Just make sure you stay within the weight limit.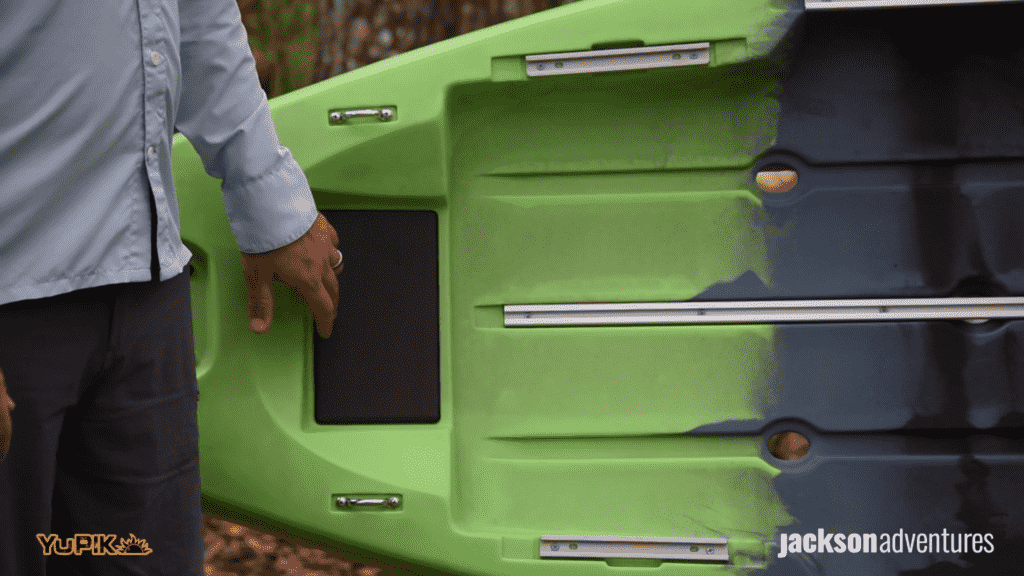 While we like the simplicity and versatility of this setup, we have to say that in-hull storage and waterproof hatches do have their advantages. Sometimes you just want your stuff out of sight, out of the elements and especially away from those treble hooks.
Gear Mounts
There's really not much to say about the YuPIK when it comes to gear mounts. This boat is all about gear tracks. Two small tracks on the bow, then three giant gear tracks spanning the middle section, and finally two more small tracks on the stern.
Apart from that, there are two transducer scuppers in the front that accommodate many transducer sizes, four eyelets (two on the bow and two on the stern), and a padded battery platform. The YuPIK is also pre-rigged for a Torqueedo motor or a Power Pole Micro anchor.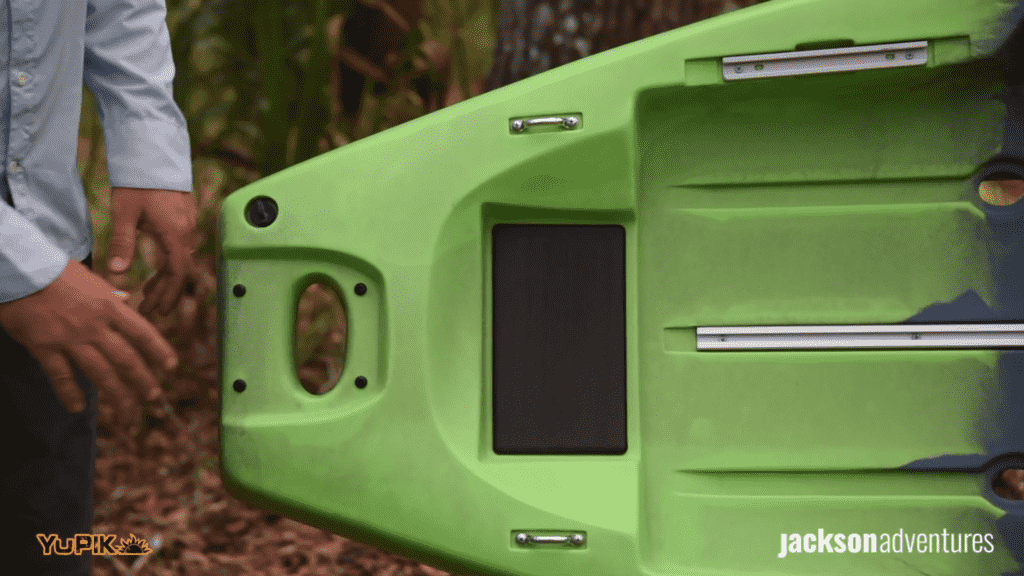 Rod Holders
A $1,300 fishing kayak with no built-in rod holders? The YuPIK does not have a rod staging system like Jackson's many other models have or even flush-mount rod holders. However, it does come with an Omega track-mounted rod holder. Want more? You'll have to buy rod holders separately.
Footrests
Jackson's quest for simplicity affected even the footrests. For YuPIK, Jackson developed unique, track-mounted foot pads. Slide them into any position you want or remove them completely when they're not needed. A simple and efficient setup that gives you complete freedom. Good job!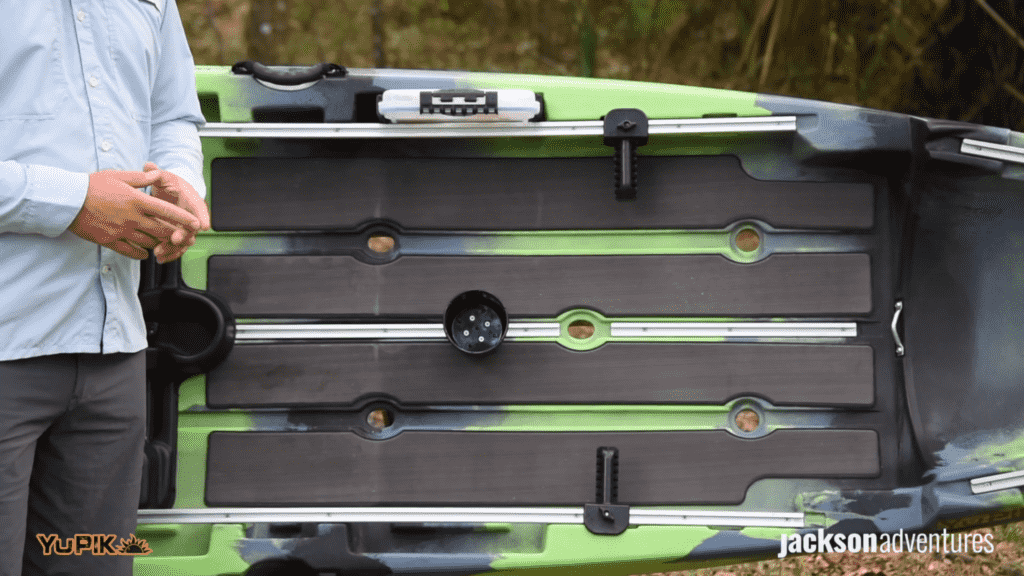 Paddle Holders
Surprisingly for this price range, Jackson YuPIK does not include any paddle holders other than the Hypalon paddle park on the bow. You can get a pair of YakAttack track-mounted paddle holders. Just keep in mind that the paddle will sit right above the track and it may interfere with any other gear mounted on the same track.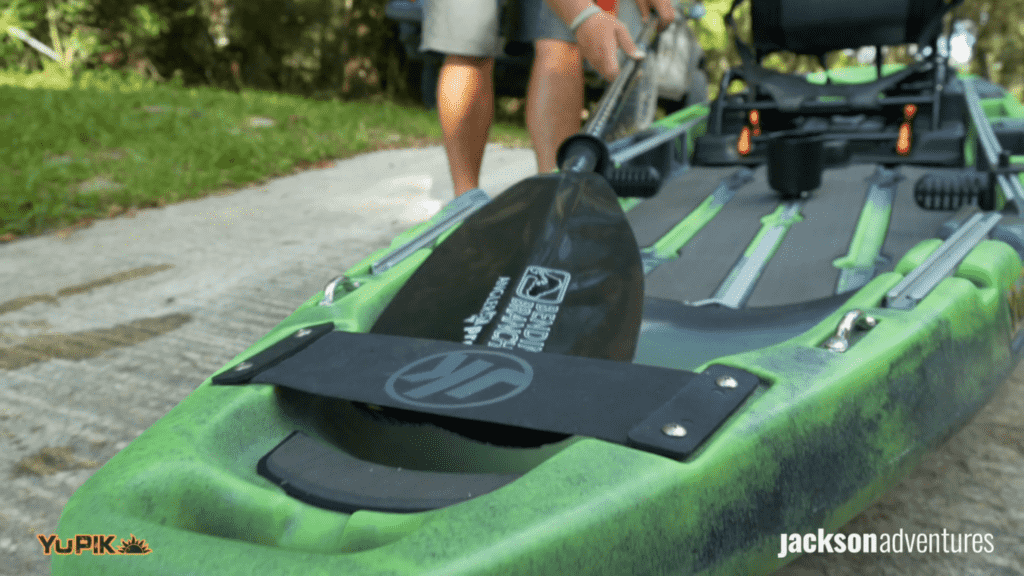 Handles
The YuPIK features molded handles both on the bow and the stern. We really like molded handles because they make excellent latch points when transporting the kayak on top of your vehicle and they can also be used to lock down your kayak on your roof rack or trailer in order to prevent theft.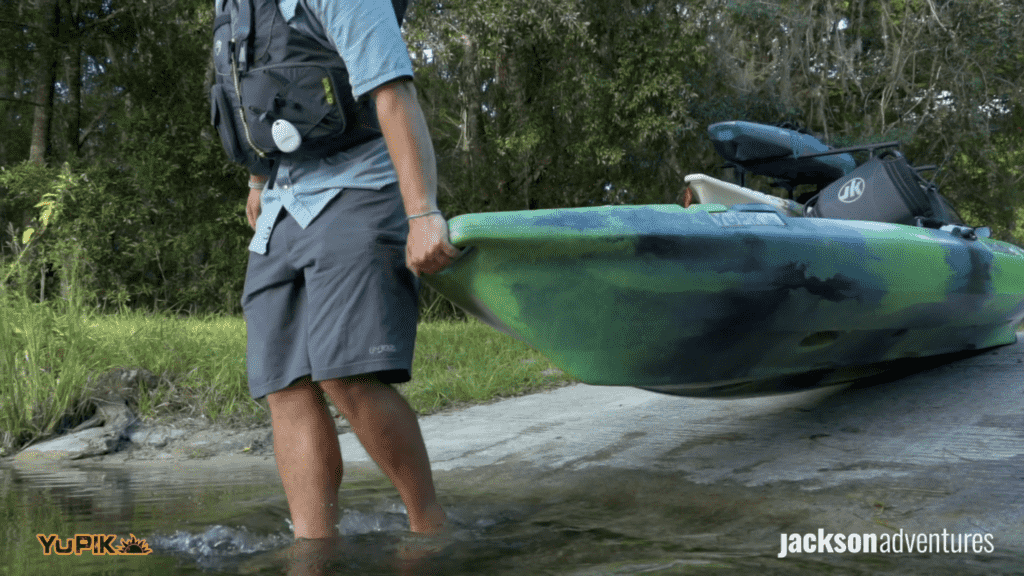 There are also two grab handles on the sides, so you should not have any problems handling the kayak.
Construction and Material
The Jackson YuPIK is made from High-Density Polyethylene using the rotational molding technology. Beads of polyethylene are poured into the mold, the mold is heated up and slowly rotated so that the material fills up every nook and cranny. After the mold cools down you get a one-piece construction that is extremely rugged and durable.
Jackson Kayak is known for their high-quality materials. Their kayaks last a very long time.
Care and Maintenance
Rotomolded kayaks are extremely durable and require minimum maintenance. However, here are some useful kayak maintenance tips:
You need to do some maintenance when you take your kayak out of storage before the season. Check the hull for damage, inspect all hardware and rigging, replace anything that is worn out, check and refill the emergency gear. It is also a great time to get the new gear you were dreaming of last year.
During the season, it is a good idea to quickly spray down your kayak after each trip (especially in saltwater conditions). Store the kayak away from direct sunlight or use kayak covers. Avoid dragging the kayak on its hull if possible. A kayak cart is a great and inexpensive accessory that can prolong the life of your boat.
When it's time to put the kayak away for storage, turn it upside down and wash it with mild soap and a sponge. Make sure you get any sand, dirt or dead bugs out. Dry the boat thoroughly. Check the rigging and see what needs replacement. Loosen any bungees or straps that can be loosened. Apply some corrosion protection (like WD-40) to metal joints, screws, and bolts.
Storage
Jackson recommends storing your kayak indoors standing up on its end and secured by a strap so that it does not fall. If that's not possible, store your kayak hull up on some flat surface. Worst case, just put it somewhere there's no direct sunlight and use a cockpit cover to protect the kayak from dust or critters.
Warranty
Watercraft Purchased 2019 and Earlier
For kayaks bought in 2019 and earlier, Jackson offers a 3-year limited warranty. For kayaks bought in 2020, the warranty period has been increased to 5 years.
The warranty covers substantial defects in materials and workmanship in the hull and outfitting components made by Jackson Kayak.
The warranty applies from the original date of purchase from an authorized dealer. For demo boats and used boats, the warranty begins from the date the kayak was shipped from Jackson.
Unlike with some other manufacturers, Jackson's warranty also applies to subsequent owners of the kayaks, not just the original owner.
Depending on the year of the warranty period, Jackson will repair or replace the hull and/or outfitting components, as follows:
Watercraft Purchased 2020 and After
First Year of Warranty: Jackson will replace or repair the hull for free (or replace the complete boat for 10% of the current MSRP), plus free shipping
Second Year of Warranty: Jackson will replace or repair the hull for 10% of current boat MSRP (or replace the complete boat for 30% of the current boat MSRP), plus shipping.
Third, Fourth and Fifth Year of Warranty: Jackson will replace or repair the hull for 30% of the current boat MSRP (or replace the complete boat for 50% of the current boat MSRP), plus shipping.
Note that some components are manufactured by independent companies and are covered by separate warranties. You can learn more by contacting Jackson.
To submit a warranty claim, you will need proof of purchase. Jackson may require you to provide photos of the damage or to return the product at your own cost.
International warranty claims are handled via Jackson's distributors. Warranty terms may be different in different countries. Please contact your local dealer to learn more.
For full Jackson's warranty terms, see Jackson's website at https://www.jacksonadventures.com/warranty/
About the Manufacturer
Jackson Kayaks was founded in 2003 by world champion and Olympic kayaker Eric Jackson, design partner David Knight and friend, Tony Lunt. Based near Rock Island, Tennessee, Jackson Kayak is well-known both in the kayak fishing world and among freestyle kayaking athletes. In fact, many of the world's leading freestyle kayakers use Jackson kayaks.
Product
Specification
Photos
Deals