Last price update was: August 7, 2023 5:57 pm
×
Product prices and availability are accurate as of the date/time indicated and are subject to change. Any price and availability information displayed on Amazon at the time of purchase will apply to the purchase of this product.
| | |
| --- | --- |
| Stability | 9 |
| Speed | 8.5 |
| Tracking | 8.5 |
| Comfort | 9.5 |
| Features | 9.5 |
| Portability | 8.5 |
The Shearwater 125 is Vibe's take on the ultimate, do-it-all fishing kayak that will not force you to choose one feature over another. They tried to cram as much good stuff as they could into one platform so that you can have it all. In this review, we'll see if they managed to pull that off.

Vibe Shearwater 125 Prices
Description
The Shearwater 125 is Vibe's take on the ultimate, do-it-all fishing kayak that will not force you to choose one feature over another. They tried to cram as much good stuff as they could into one platform so that you can have it all. In this review, we'll see if they managed to pull that off.
RELATED:
15 Best Pedal Kayaks for 2023: Reviewed and Rated + Buying Guide
Size, Weight, Capacity
Vibe Shearwater 125 is 12'6" (381 cm) long and 35" (89 cm) wide. It's a big boat, but not to the extent of becoming unmanageable. At 82 lbs (37 kg), it is relatively lightweight for a fishing kayak of this size, and you should be able to cartop it if you use the right technique and the right kayak rack.
The maximum capacity is 475 lbs (215 kg), which is more than decent, even for big guys and gals out there. Even if you only load the kayak to about 70 percent of its maximum capacity (which is recommended for better performance and a drier ride), you still have 300 lbs of available capacity, which is sufficient for most average-sized adults with a reasonable amount of fishing gear.
Features
As noted above, Vibe attempted to jam as many features as possible into the Shearwater so that you don't have to compromise. Let's walk through the features front to back.
On the bow, there's a rigid plastic carrying handle similar to what Vibe now puts on most of their models. These handles proved to be durable and reliable, so you shouldn't have any problems lifting the kayak.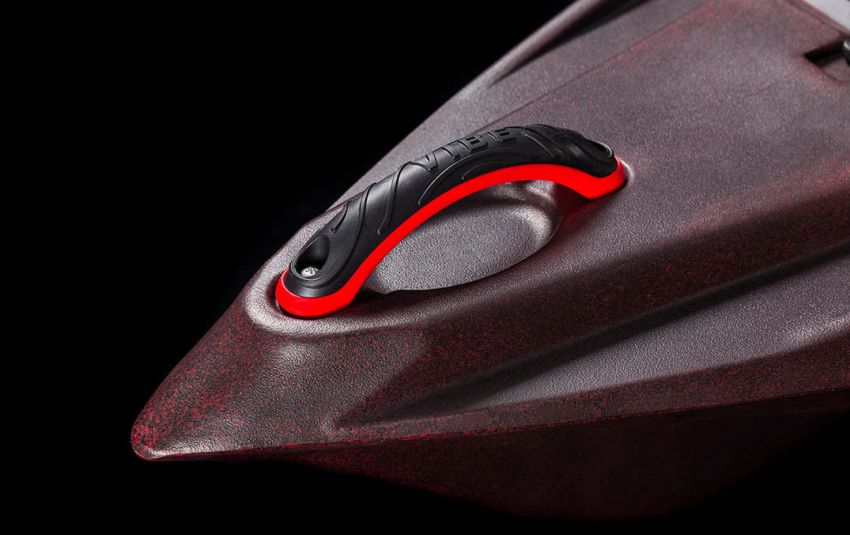 Next, there is a bow tank well with a soft cover that has an integrated paddle park. This is useful when you need to quickly stow your paddle somewhere but still have it at hand.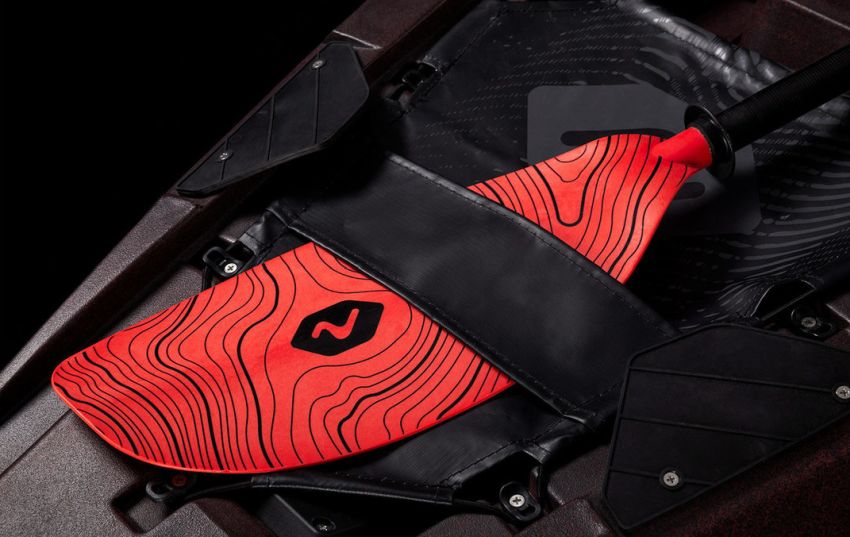 There are also two rod tip protectors on the sides. Strictly speaking, they do not protect the rod tips like tube-style rod tip protectors on some other models do, they just help to keep your rods in place when you store them horizontally.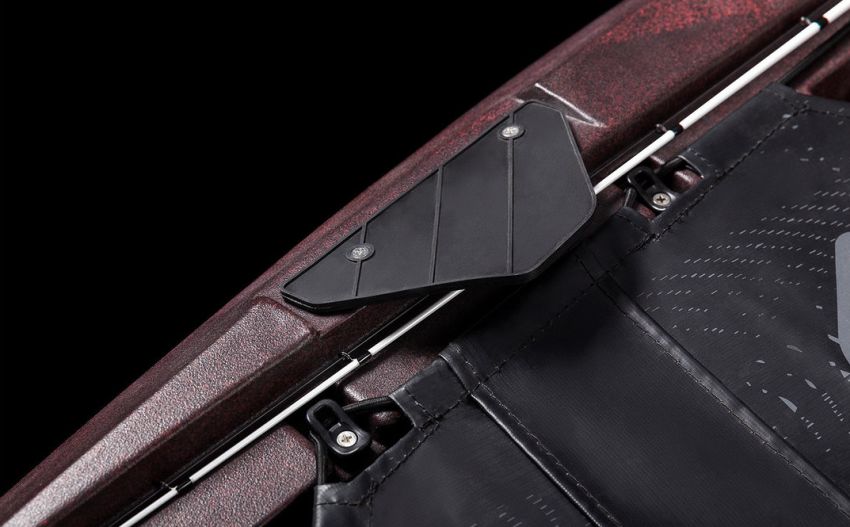 Fishfinder Pod
Moving back, there is a removable, watertight fishfinder pod similar to what we've seen on FeelFree Moken 12.5 V2 and some other FeelFree models. We really like this feature. Mount the transducer on the bottom (it has preinstalled brass inserts for the mounting bolts), install the head unit on the top (you'll have to drill into the cover), throw the battery and the cables inside, and you're all set. No drilling into the hull, no wires to mess with, no worries about your equipment getting stolen or damaged in transport. Well done!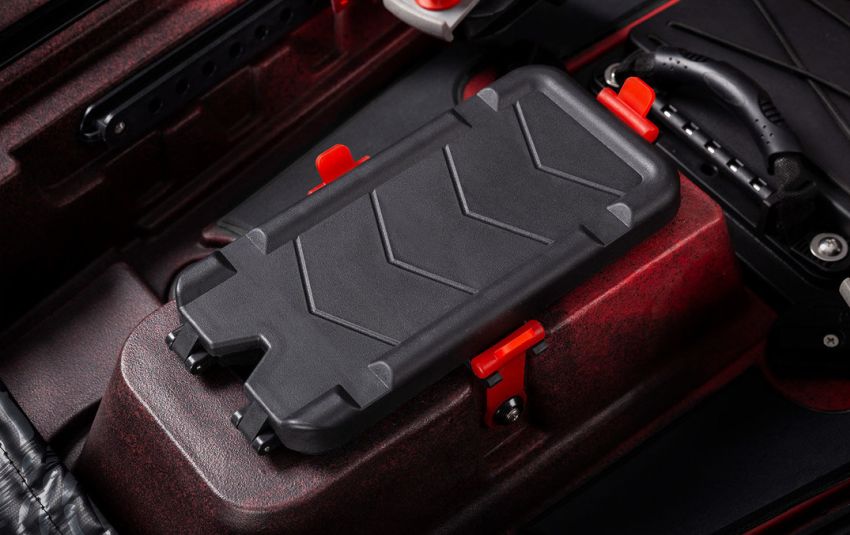 Central Pod
Further back, and it gets really interesting. In a bid to maximize the versatility of the Shearwater, Vibe came up with a deck design that supports three different configurations.
RELATED: Best Sit On Top Kayaks: Reviews and Buying Guide
The kayak comes standard with a flat cover they call the Base Pod. It sits flush with the deck and has the same soft paddling on the top, which creates a clutter-free open deck space. Vibe says this cover can support 200 lbs of weight, so don't worry about stepping on it and cracking the plastic. The clean deck is perfect for fly fishing.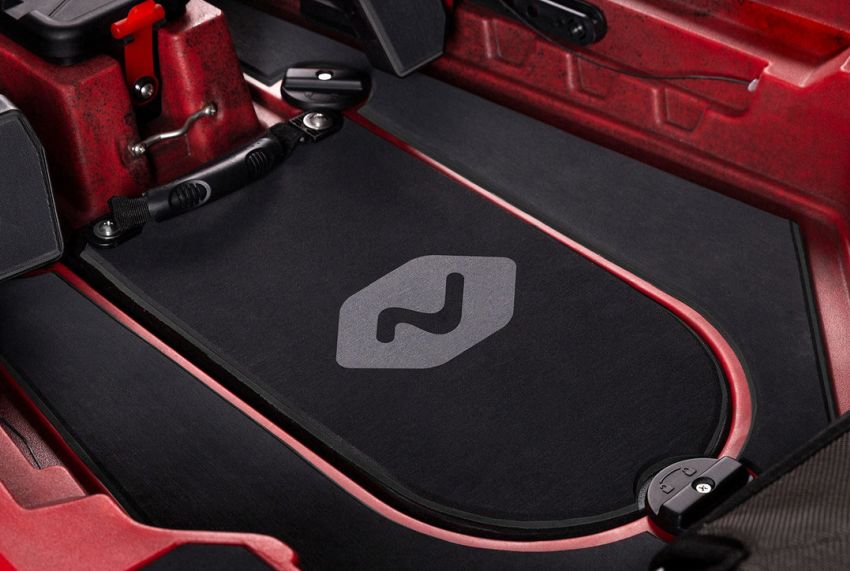 If you want a central console, you can have it. Just remove the base pod and pop in the optional Versa Pod ($79.99). It is a large watertight storage locker with a small bungee cord on top and a magnetic lure retainer.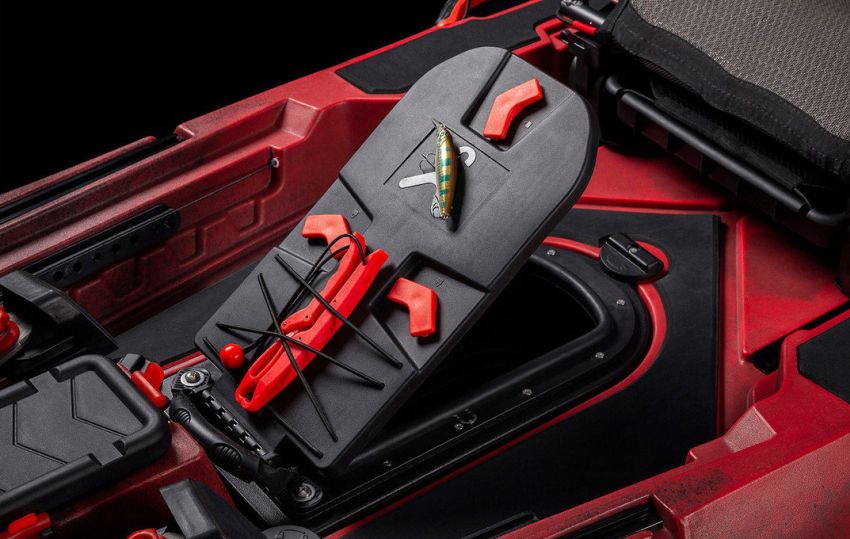 The third configuration is, obviously, the pedal drive. Install the pedal drive pod, pop in Vibe's X-Drive unit, and free your hands for fishing. (Well, it's not that simple since you also need to install the steering handle and reconnect the cables from the rudder which is normally controlled via the footrests. But you get the idea).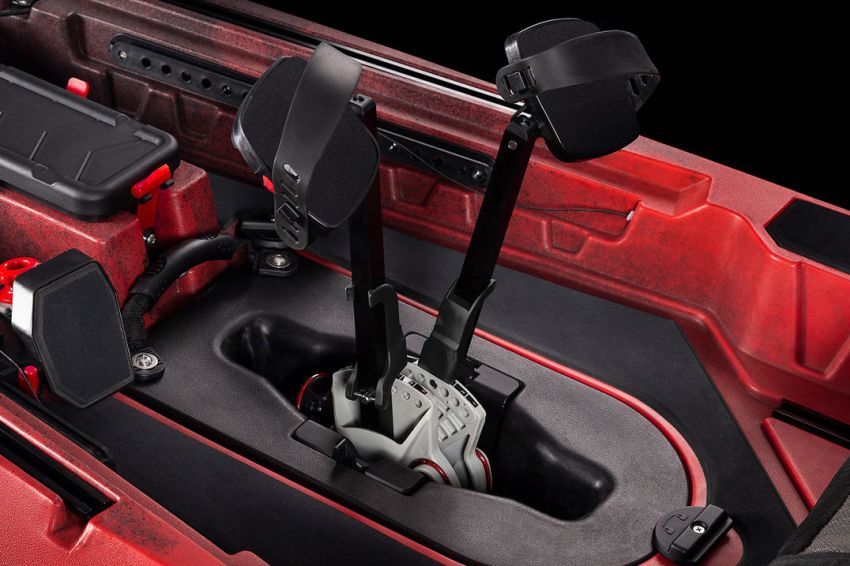 Seat
The Vibe Summit seat is also a big thing. For starters, it has as many as four positions (high upright, high reclined, low upright, low reclined). Not enough? With the optional Summit Perch ($89.99), you can fold the seat down, and there's a flat platform on the back that you can sit or even stand on (now that's a vantage point for sight fishing!).
The seat also slides fore and aft on gear tracks so that you can trim the boat for best weight distribution or adjust your pedalling position when using the X-Drive. And yes, you can remove the seat and use it as a beach chair.
Rod Holders
Vibe Shearwater 125 has four flush-mount rod holders behind the seat. They are tilted back, which is useful for trolling and in general for keeping the rods out of the way.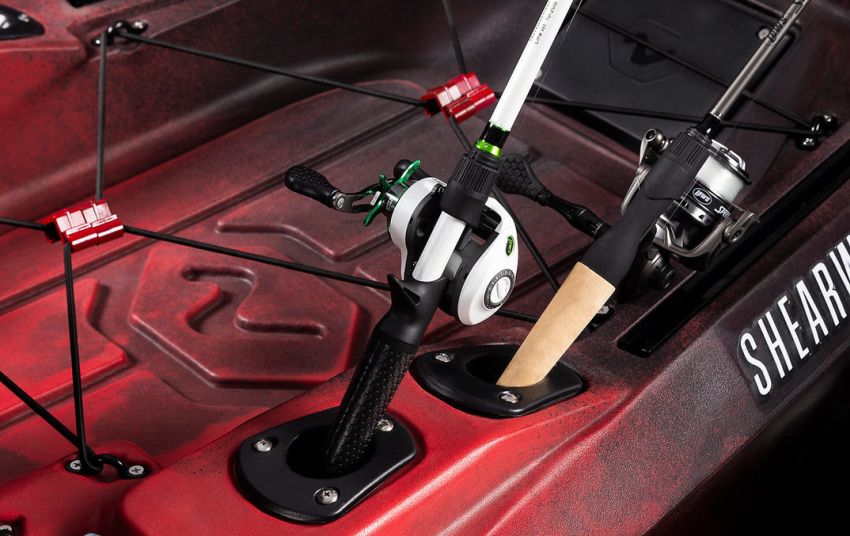 If you need to break through the surf or if you fish near (or under) trees, it makes sense to store your rods horizontally. You can store up to four rods this way on the Shearwater.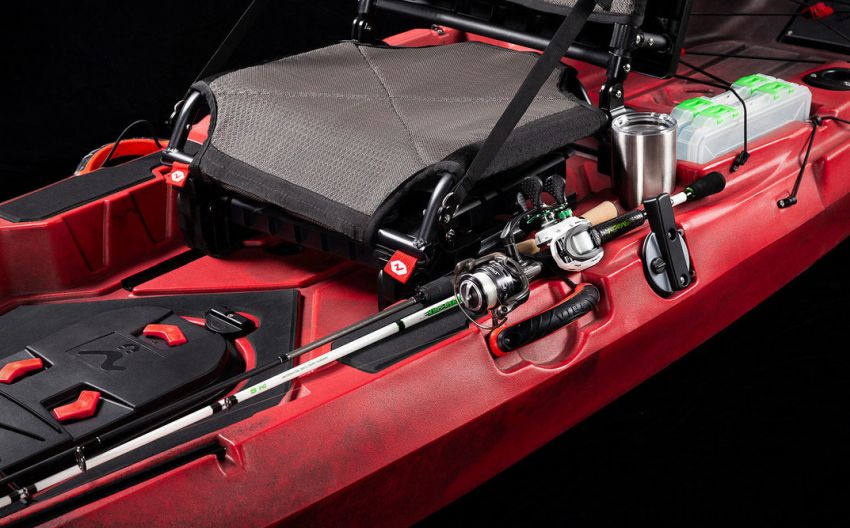 Storage
Vibe Shearwater 125 lets you store quite a lot of gear. In addition to the bow tank well that we already talked about, you get the usual tank well at the rear, complete with adjustable bungees.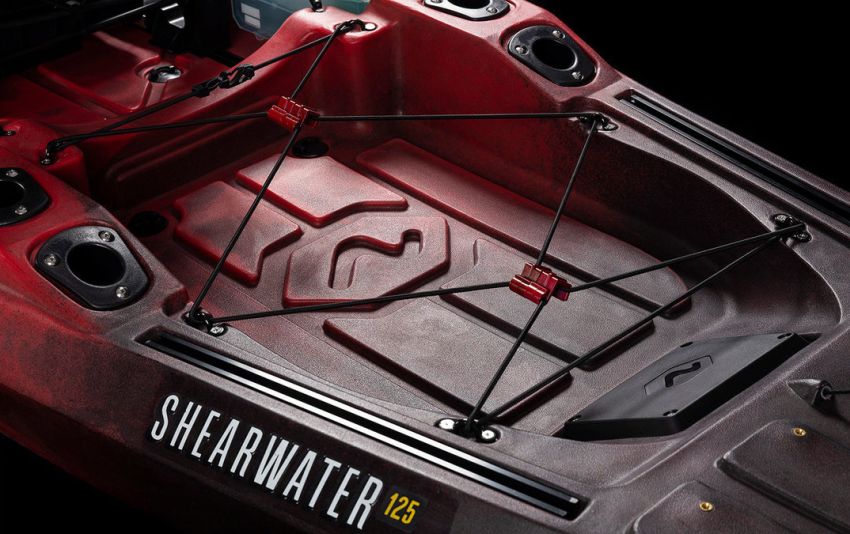 There are also recesses for up to four 3600 tackle boxes next to the seat. They have bungees to secure the tackle boxes so they don't go anywhere.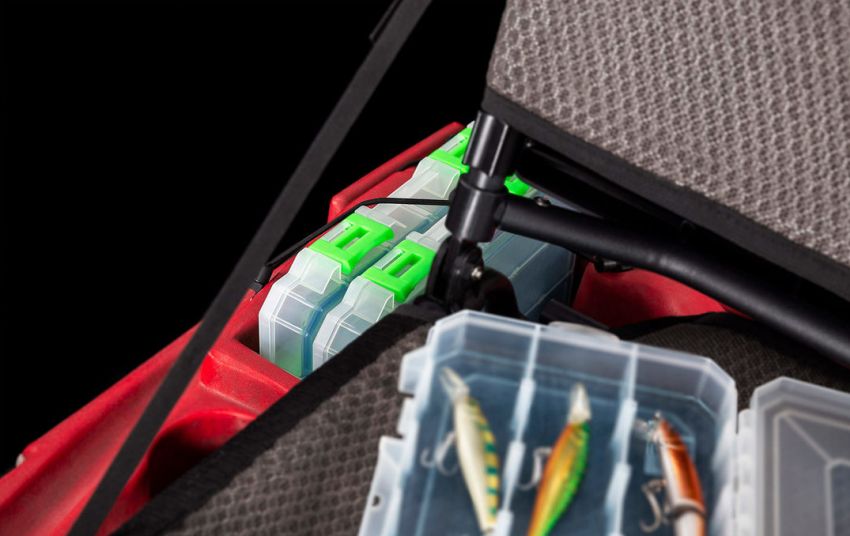 Finally, there is a plastic tray under the seat for more tackle. It has a mesh cover to help keep your stuff in place.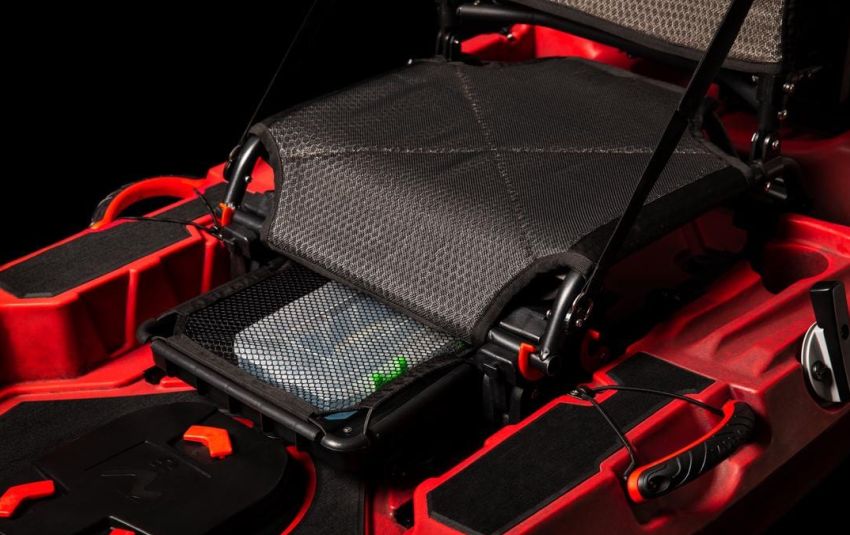 Pedal Drive
Vibe Shearwater 125 uses Vibe's X-Drive pedal drive. This fin-based drive is similar to Hobie's original Mirage drive. As such, it does not have reverse and the fins don't kick up on impact like they do on Hobie's newer drives.
However, if you're willing to pay extra for those features, the Shearwater is compatible with the newer Hobie MirageDrive 180 which has reverse and kick-up fins. There is also a version with Turbo fins that generate more power. The MirageDrive 180 is about $300 more expensive than the X-Drive, plus you will need the X-Drive pod and the hand rudder kit.
Bixpy Motor
The Shearwater is also compatible with the Bixpy J-1 electric motor. It mounts to the rudder and provides up to 32 lbs of thrust. The motor is powered by a rechargeable 25.9V lithium-ion battery which lets it run for 75 minutes at continuous max speed or up to 10 hours at trolling speeds.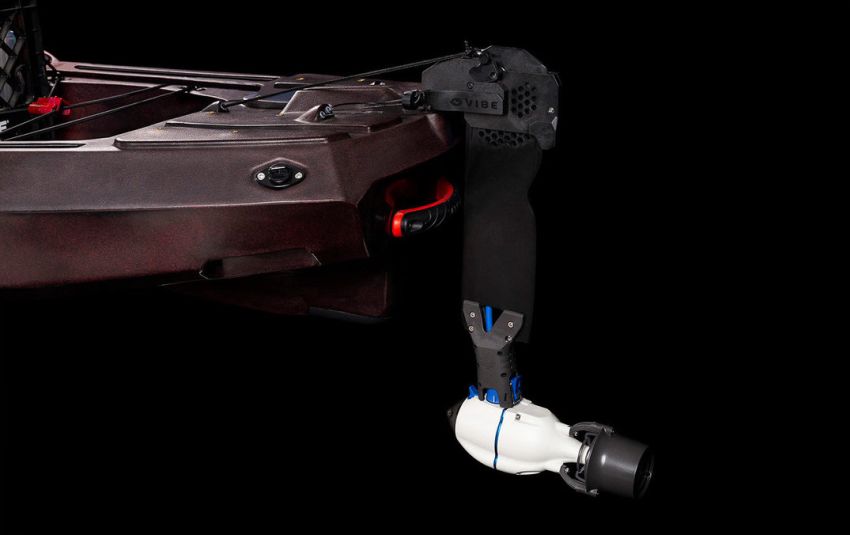 Best of all, the whole setup weighs less than 10 lbs. The downside is, of course, the price. The Bixpy motor kit will cost you a little over $1,000. Comfort comes at a price.
Final Thoughts
Overall, we think Vibe did a great job at building a boat that lets you have it all. Very versatile, comfortable, and packed with features, it can handle any type of water, from small rivers to the open ocean. Our only gripes would be that the rod tip protectors don't fully cover the rod tips, and we also wish the X-Drive had reverse.
VIBE SHEARWATER 125 REVIEW AFTER 6 MONTHS
Vibe Kayak Shearwater 125 Walk Around and On the Water REVIEW!
Vibe Kayaks Product Walkthrough — Shearwater 125
Vibe Shearwater 125 First Look X Drive Water Test and drone
Additional information
Specification:
Vibe Shearwater 125
| | |
| --- | --- |
| Load Capacity (lb) | 475 |
| Hull design | Tunnel Hull |
| Self-bailing | Yes |
| Cockpit type | sit on top |
| Technology | rotomolded |
| Propulsion | paddle |
| Crew | 1 |
| User Level | Advanced, Beginner, Intermediate |
| Intended Use | Fishing |
| Water type | Big lakes, bays, Open sea/ocean, Slow rivers (Class I-II), Small lakes |
| Seat | 4 position high-low Vibe Summit Seat |
| Front tank well | Yes |
| Rear tank well | Yes |
| Rod holders | 8 |
| Tackle box holders | 4 |
| Paddle holders | 2 |
| Footrests | adjustable |
| Rudder/skeg | Pre-Installed Gravity Rudder Kit |
| Warranty | Limited lifetime warranty on new kayaks; 1 year on attached parts. |