| | |
| --- | --- |
| Stability | 8.5 |
| Speed | 8 |
| Tracking | 8.5 |
| Comfort | 9 |
| Features | 9 |
| Portability | 7 |
FeelFree Lure 13.5 V2 is a sit-on-top fishing kayak that's versatile, comfortable, and capable on open waters.

FeelFree Lure 13.5 V2 Prices
Description
FeelFree Lure 13.5 V2 is a sit-on-top fishing kayak that's versatile, comfortable, and capable on open waters.
PROS
Stable
Comfortable
Pedal and motor drive ready
Rudder ready
Fast
Large storage capacity
CONS
Heavy
Hard to transport alone
Limited leg room for taller paddlers
Size and Weight
At 13' 6" long (411.48 cm) and 34" wide (86.36 cm), FeelFree Lure 13.5 is a capable open water voyager. Cut through some serious waves, all while you sit in a comfortable, height-adjustable chair.
Weighing in at 107lbs (48.53 kg), the Lure 13.5 is not exactly lightweight. You should be careful not to strain yourself while loading and unloading this kayak. That said, the extra weight helps stabilize the kayak in rough conditions.
Capacity
The Lure 13.5 V2 is perfect for long trips with its maximum capacity of 500 lbs (226.79 kg). You could pack a ton of gear into your kayak and not worry about weighing it down. Just remember, it is not suggested to load a kayak beyond 80% of its maximum capacity.
Features
The Lure 13.5 V2 comes with a wide variety of features, making it a worthwhile investment.
Keeping with the FeelFree tradition, the Lure 13.5 V2 has molded-in handles on the bow, stern, and along each side of the kayak. These handles give you firm grip points and can double as strap points when securing your kayak.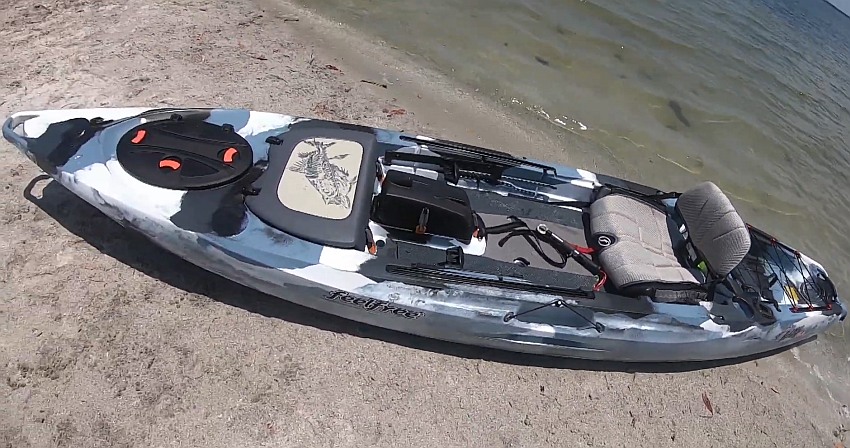 The Lure 13.5 V2 also has rod tip protectors for your fishing rods. No more worrying about your fragile rod getting caught and snapping!
An interesting feature is the insulated front console with a cutting board implanted on top. You can use this cutting board to cut up bait while keeping the rest of your bait cool within the console. If you're not packing bait, use the console as a small cooler to keep snacks at a crispy temperature.
As with many modern FeelFree fishing kayaks, the Lure 13.5 has a removable sonar pod. This sonar pod will safely hold the battery and cables for your fish finder. The transducer is mounted to the bottom of the pod, making the whole setup easily removable.
Better yet, Lure 13.5 V2 is Overdrive and Motordrive compatible, so when you're ready to upgrade to a pedal drive or even a motor, you can do that easily. Naturally, the Lure is also rudder-ready.
Moving into the comfortable cockpit, the Lure 13.5 V2 has easily adjustable foot pegs. These will help keep your legs from growing stiff during long trips.
Forewarning to you tall guys and gals, the Lure 13.5 V2 doesn't have the most leg room. You'll still have a comfortable ride, but it may be necessary for you to stand up from time to time to avoid stiffness.
When it comes to comfort, the Lure 13.5 V2 does not disappoint. The Gravity Seat installed in this kayak is adjustable from a flush sitting position to 10" (25.4 cm) off the deck. Add that to its adjustable backrest, and you have a comfortable ride ahead.
For you serious fishermen out there, the Lure 13.5 V2 comes with Uni-Tracks. These tracks can hold any accessory you may need during your trip and can be slid out of your way while paddling. It also comes with fishing rod holders and rod leashes to keep your rods secure and out of harm's way.
The Lure 13.5 V2 comes with plenty of storage room to match its 500 lbs capacity. A front oval hatch will keep your stuff dry, while the stern tankwell can carry a milk crate, a large cooler, or any other gear you may need.
Finally, FeelFree's signature Wheel in the Keel will help you transport the kayak to and from the water. This wheel keeps the hull of your kayak safe from dangerous scrapes all while making transportation much easier.
Performance
FeelFree Lure 13.5 V2 is a great performer. It is fast, fairly agile, comfortable and stable. This kayak is also capable of taking on some rough conditions, making it well suited for open water kayaking.
Additional information
Specification:
FeelFree Lure 13.5 V2
| | |
| --- | --- |
| Weight (lb) | 107 |
| Load Capacity (lb) | 500 |
| Hull design | Tri-hull |
| Self-bailing | Yes |
| Cockpit type | sit on top |
| Technology | rotomolded |
| Propulsion | paddle |
| Crew | 1 |
| User Level | Advanced, Beginner, Intermediate |
| Intended Use | Fishing |
| Water type | Big lakes, bays, Open sea/ocean, Slow rivers (Class I-II), Small lakes |
| Seat | Patented Gravity Seat |
| Rear tank well | Yes |
| Dry storage | 2 |
| Rod holders | 2 |
| Paddle holders | 2 |
| Footrests | adjustable |
| Rudder/skeg | Beaver Tail rudder ready |
| Warranty | 3 years on the hull; 1 year on accessories. |