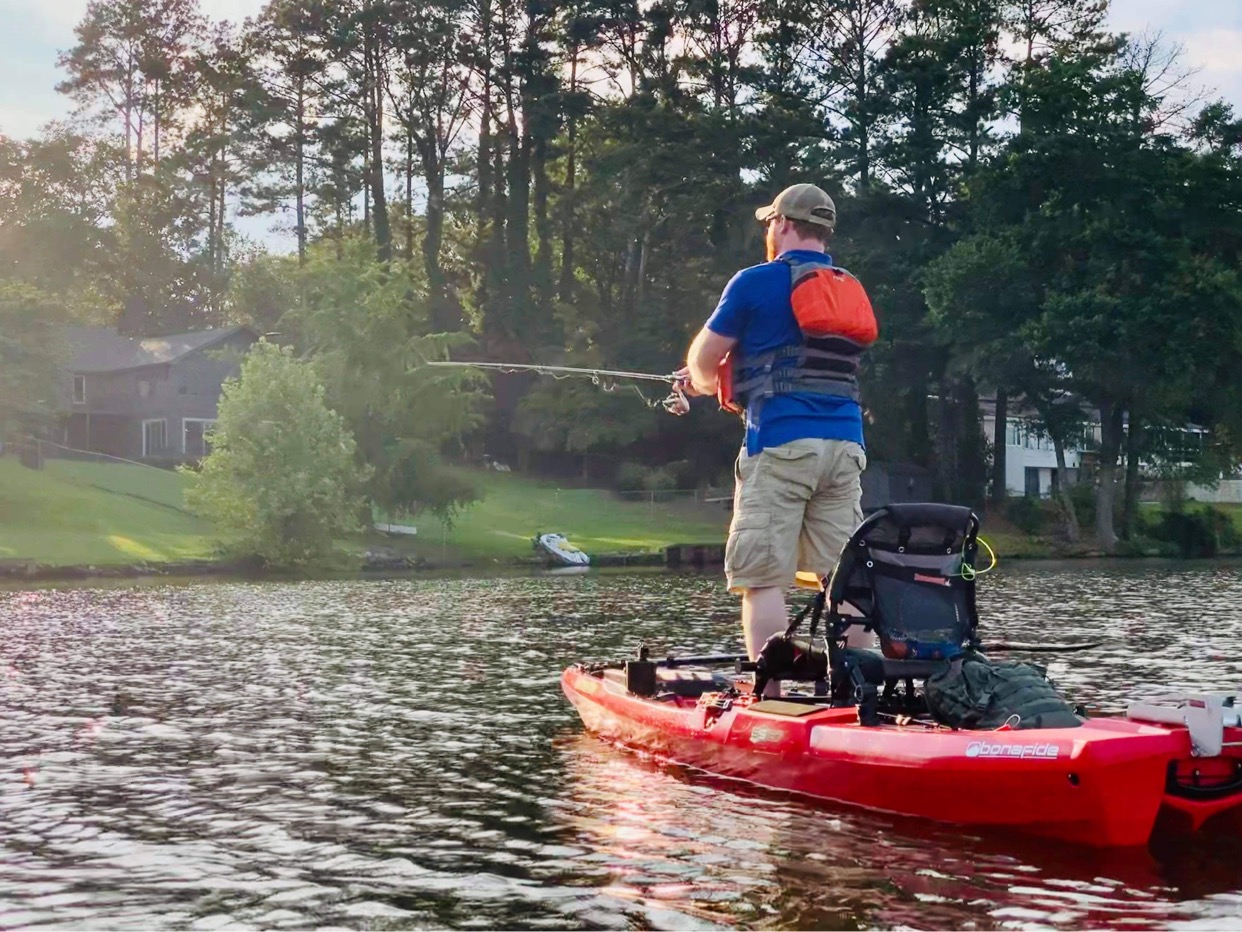 When Bonafide set out to design the ultimate fishing kayak, they put in years of research that would ultimately pay off in a big way. When they produced the final product, what they had was a kayak that was laser-focused to have one defining characteristic—Fishability. 
Recently, I was thrilled to meet up with Scott Beutjer of Westbrook Supply Company to experience for myself what Bonafide has coined as Ultimate Fishability and how the SS127 model delivers on it. 
It should be noted that Scott is an outstanding professional photographer and he's responsible for quite a few of the amazing kayak fishing photos you see online and in popular fishing magazines. He also took a few of the photos you see in this article. You can find out more about his work here. 
I'm not the most experienced kayak angler, but I've fished out of enough of them to recognize premium quality when I see and feel it. As I helped Scott prepare to unload his two SS127 kayaks, I couldn't help but notice all the attractive features this vessel had up close for the first time.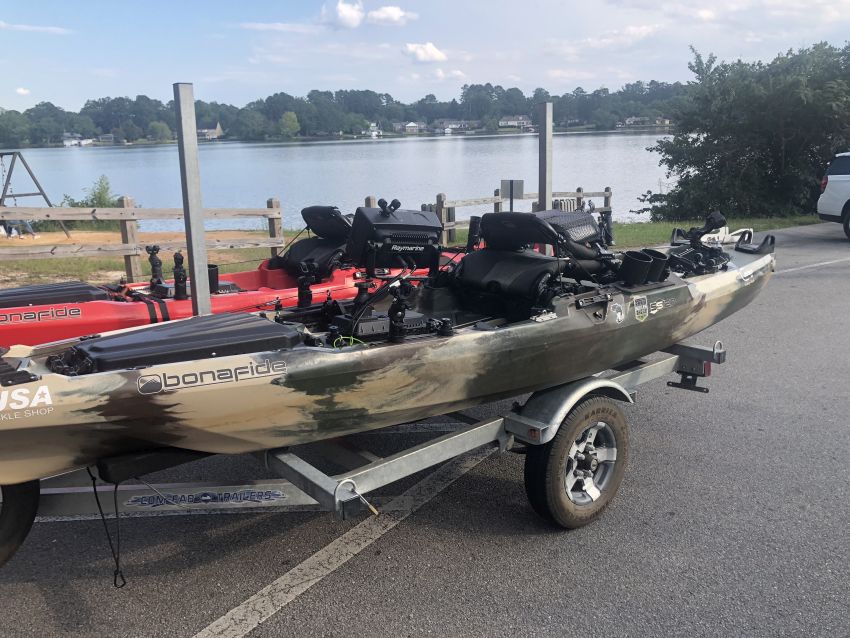 Scott had virtually all of his fishing gear stashed inside the SS127's oversized bow hatch, which kept everything from fishing rods, paddles, nets, lifejackets and more safe and protected from the elements while he was going from Point A to B. He didn't have to worry about going back and forth to his truck to unload most of his gear and get set up. 
Instead, he simply opened the hatch (which can be accessed from either the front of the bow or from the seated position), grabbed the items he needed and was ready to hit the water within a few minutes.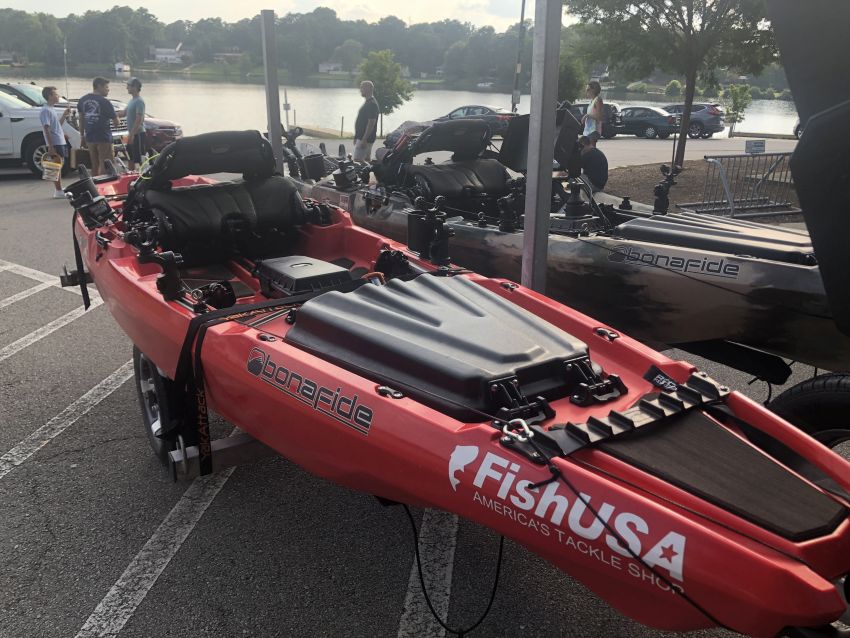 We would have gotten on the water sooner if it hadn't been for a few spectators to gather around near the boat ramp and admire the sleek, sharp look of the SS127. There's no denying that the overall appearance of this model is all about ergonomics and functionality, but my first impression was that this kayak absolutely exudes one thing that I'm fanatical about when it comes to fishing—stealth.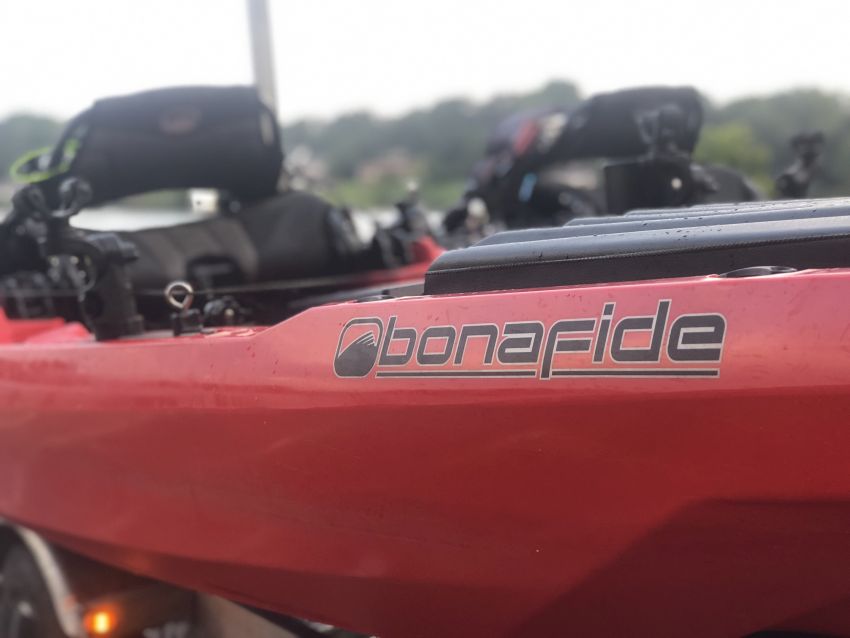 While the kayak I would be using for the day was fitted with mostly standard equipment that comes with each SS127, Scott's kayak was decked out with all the bells and whistles. And boy, was it impressive. 
His kayak was fitted with a Raymarine fish finder that was located front-and-center, mounted on top of the removable DryPod that's perfectly suited to house electronics components. It was situated in a way that was directly facing the seat, but somehow still allowed for plenty of legroom in the cockpit area.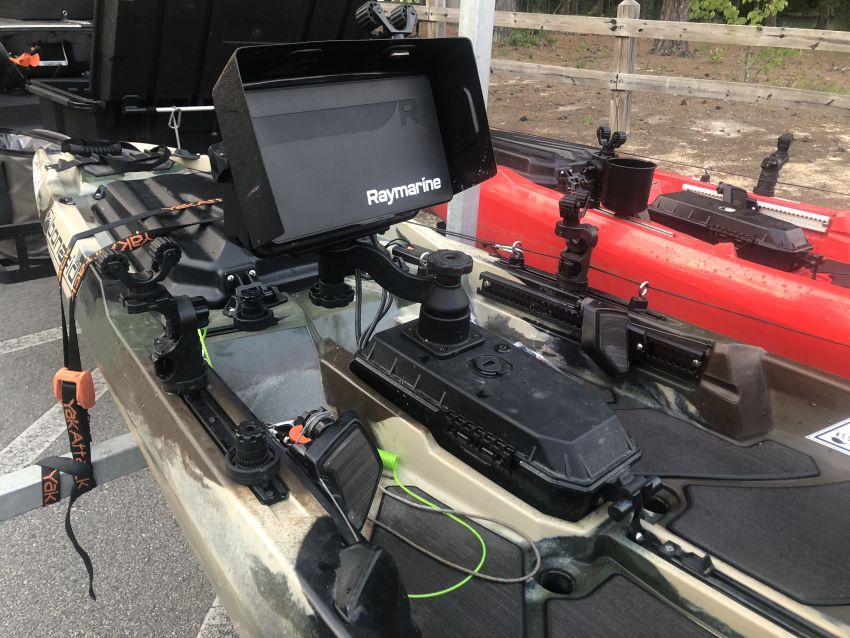 Scott's SS127 was fully rigged with everything you'd typically see on any professional kayak angler's ride, yet it still appeared to have plenty of room to spare. Lastly, he popped a latch on his trailer and cracked a smile. 
"Now for my secret weapon." 
He produced a Torqueedo trolling motor and quickly mounted it onto the previously-installed bracket located on the stern of his kayak. "Alright, let's go."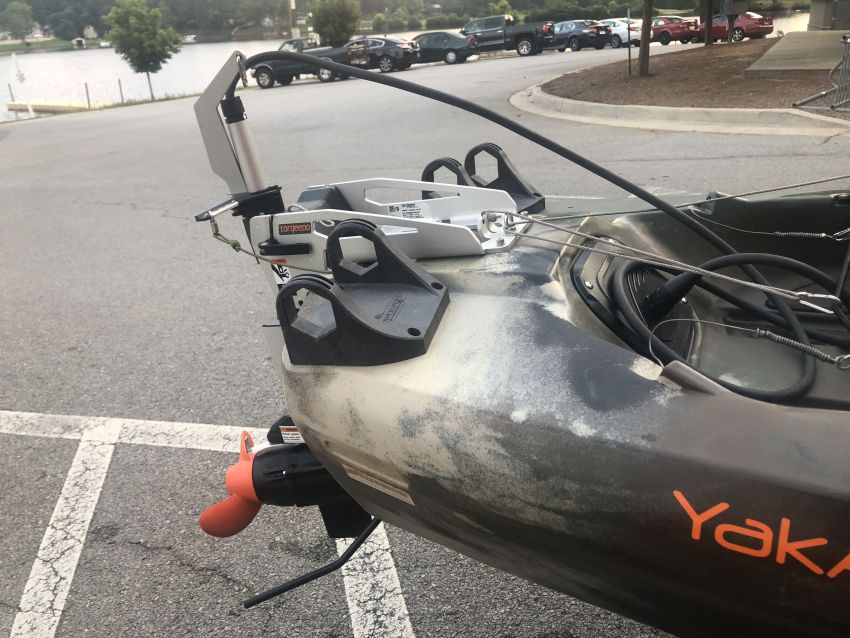 I entered the SS127 and sat down. I could immediately feel the stability that many users had been raving about in the online forums, on Youtube and elsewhere. Rocking back and forth a few times to get a better feel, I have never been as thoroughly impressed with the seating position on a kayak before.
Before launching, I had already locked the seat into the "high" position because I was eager to experience what I had been reading about for weeks online. Bonafide's headline model has truly earned its reputation for being one of the most comfortable kayaks on the market.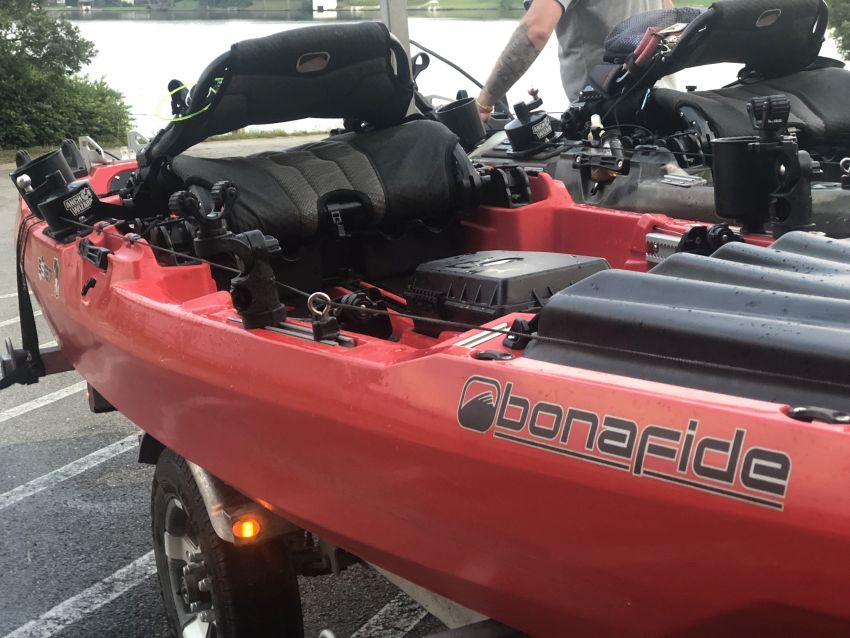 My legs were at just the right height so that I could easily lift my feet and stretch them out if needed without feeling scrunched up and having to shift my weight around much at all. I kicked my legs out a bit, placed my feet on the foot-pegs, and leaned back against the seat. I wanted to test out the lower lumbar support that is all-too-often non-existent in most kayak seats. 
Scott paddled up to my starboard side. Surveying my expression of satisfaction that he's probably seen on every other angler who takes their first ride in the SS127. 
"What'dya think?"


"Wow," I replied.
We talked about the seat positioning and he was keen to inform me on the lengths that Bonafide had gone through to gather feedback from amateur anglers, professionals, dealers and everyone else who had ever fished from a kayak in preparation to design this central feature. 
He elaborated on what Bonafide believed was essential to creating the best possible seating for a kayak angler. And it's vitally important that users realize that this seat and cockpit area are designed specially for fishing, not your everyday recreational kayak ride.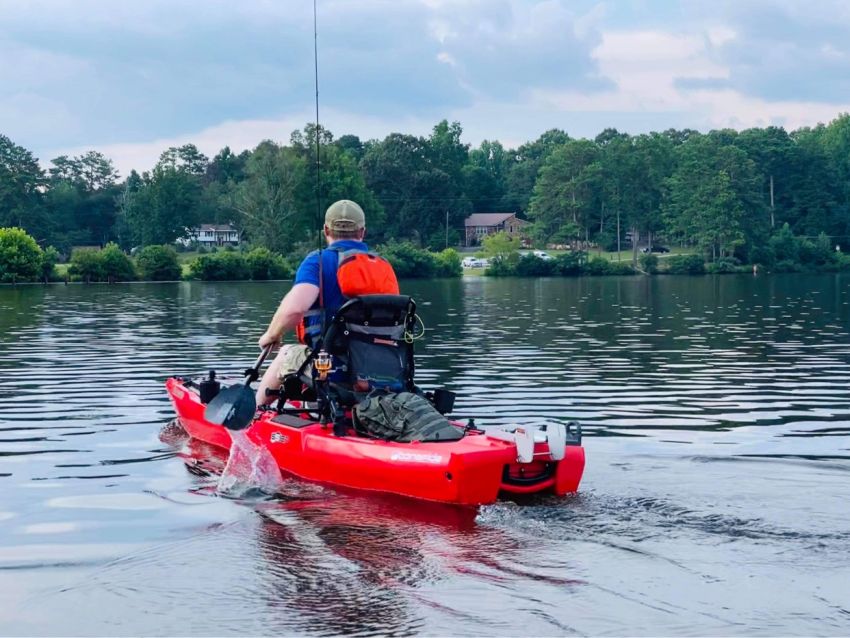 The HiRise padded seat sits on a sturdy aluminum frame and offers a much higher back than most seats made by other brands. Every kayak angler who's spent more than a few hours on the water is all-too-familiar with the dull pain in their lower back that begins to nag at them after a while. This seat didn't have that feel. 
Instead, I was able to sit with my knees bent, with enough back support that honestly made me feel like I was sitting comfortably in a lawn chair next to a crackling campfire. 
"It definitely feels like I could sit in this and fish all day without feeling like I'll pay for it tomorrow," I said. 
The seat is not only padded, but features a mesh material that allows air to circulate to your back. Despite fishing on a sweltering-hot day in the Georgia heat, my back stayed notably cool throughout our trip.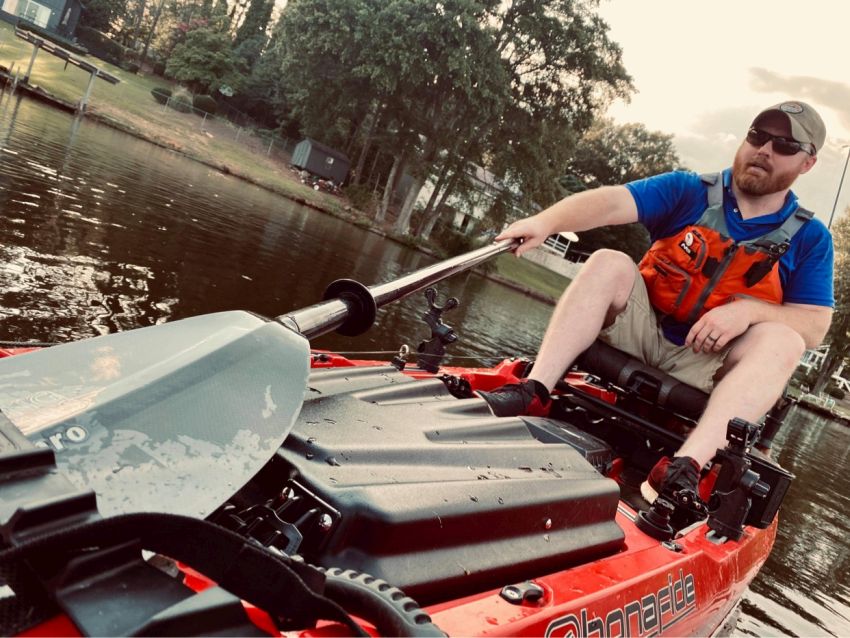 As I began to look around the kayak, I started reaching to different areas near the cockpit, bow and stern, fiddling with every component I could to test to see if the SS127 could maintain the high level of stability in just about every situation I could imagine. 
"Make a cast!"
"Make a cast!" Scott shouted from a few hundred feet away. I had gotten so caught up in admiring the rock-steady feel of the SS127 that I almost forgot to do the main thing I came for that day. Fish!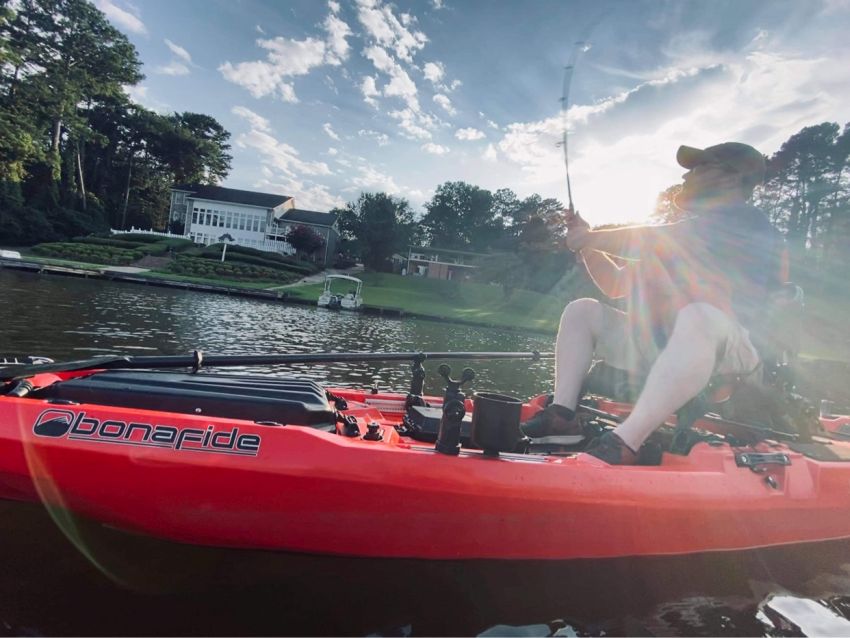 I made a few casts and anticipated that old, familiar back-and-forth sway that I had become accustomed to when fishing out of lesser quality kayaks. Once again, the SS127 was as steady as could be. 
I paddled over to a nearby dock in hopes to test out the most important factor of any kayak: how it performed when I caught a fish. Unfortunately, the bite was tough that evening. 
I stood up. Scott joked that I was getting brave, but I truly didn't at all feel like the kayak would suddenly tip over. It was no problem to flip the seat up on end and utilize the bottom of the frame as a point to lean against and, once again, take the pressure off my back.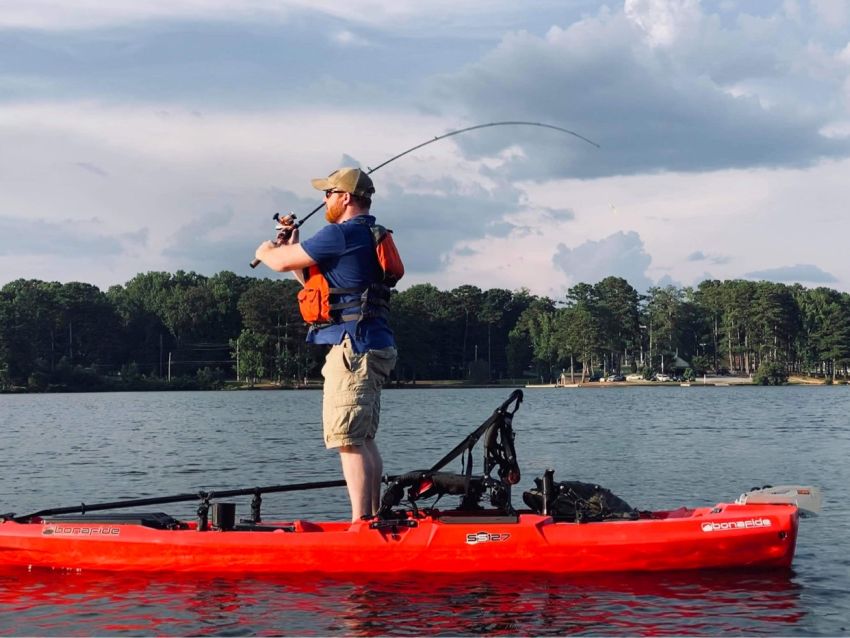 I felt the padding on the deck below my feet. That's when I noticed that Bonafide had really gone out of their way to apply extra padding where it counts to give the user maximum stealth on the water. 
Everything from the latches to the adjustable seat and even the strap across the bow that made a perfect paddle pocket was designed to help you stay quiet on the water. This is a huge advantage for kayak anglers as we tend to relish the opportunity to creep up within close striking distance of monster game fish without ever alerting them to our presence. 
I decided to adjust the seat to the low position and really dig into the water and see what kind of speed this thing had. I was able to easily adjust the seat's positioning with one hand—my rod in the other. 
While I didn't immediately feel like the SS127 was the most agile ride on the planet, I did find that I didn't have to struggle to turn the bow into the position I wanted. With just a few paddle strokes, I was able to quickly pick up steam and move along to a different spot on the lake. 
The kayak didn't have quite the high level of speed of some other premium brands, but the Hybrid Catamaran hull was able to cut through the water effortlessly without making too much of a splash, which once again hails back to the overall stealth of this watercraft.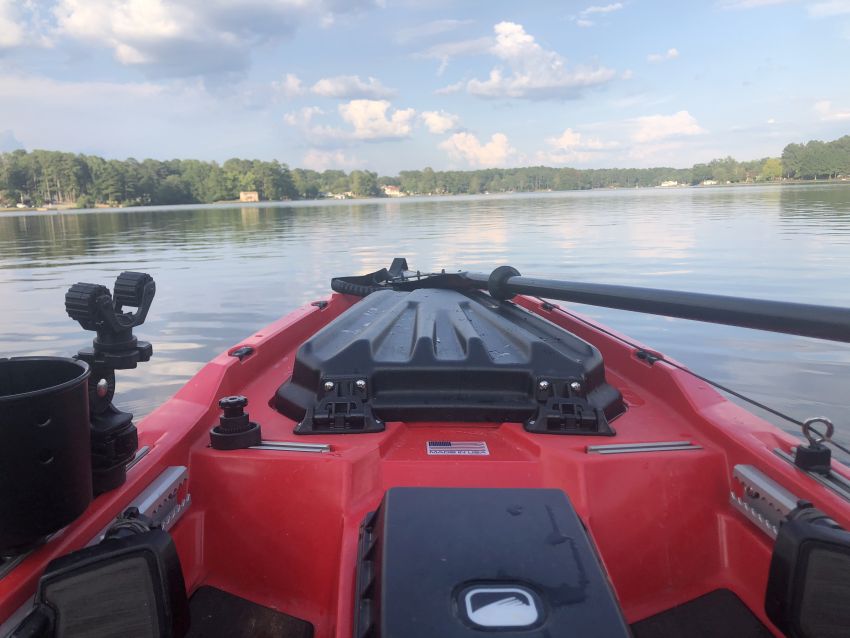 I ceased paddling to get a feel for the tracking of the SS127. It stayed on course quite well despite not having a rudder already installed. I asked Scott about the rudder system. 
"To be honest, I wouldn't get a rudder for it."
"To be honest, I wouldn't get a rudder for it," he said, paddling along beside me. "I would get the FlexWings. Those will give you much better tracking and add an overall boost to the control you'll have on the kayak." 
I again picked up the pace with the paddle and really paid attention to how the SS127 was able to glide across the water without making much noise at all. Suddenly, I heard a zooming noise rapidly approaching me from behind. Startled, I turned to look just as Scott came speeding by with his trolling motor. 
He zipped by within just a few feet of me, creating a sizable wake, which I could tell he got a kick out of. Normally, I would be afraid of tipping over in that circumstance, but the SS127 once again displayed flawless stability. 
We paddled around the lake and hit a few more spots that looked promising. I make every turn I could think of to get a sense of the overall level of control the user has over the SS127. Backward, forward, paddling in a tight circle, you name it: this kayak was all business. 
I continued to pick Scott's brain on the SS127, its most proud features as well as its limitations. He's very well-acquainted with what Bonafide's mentality was when they set out to create the ultimate fishing kayak. 
"The SS127, I would say, is not a kayak that's particularly great in one or two specific areas," he said. "But it's pretty solid in just about everything you need when you're talking about a fishing kayak. There is one thing that it excels at and leaves most of the competition behind, and that's Fishability."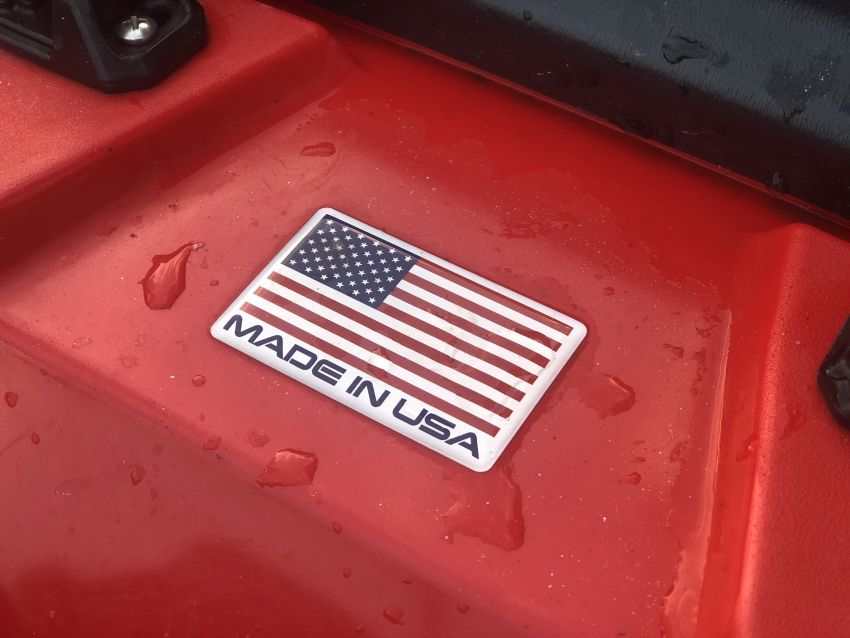 I finally had a firm grasp on what Fishability meant and how Bonafide was able to harness this kayak's potential to craft one of the finest fishing kayaks the world has seen to date. 
Whether you're sitting, standing, paddling or just relaxing in your boat, the SS127 provides you with an exceptional amount of advantages for fishing in just about any scenario. Going into this demo session with Scott, I knew that one of the most prominent things I always look for in a kayak are stealth and performance. There's no denying that the SS127 possesses stealth capabilities in spades, and the overall maneuverability is also impressive. 
Going forward, I'll be adding a new area of performance to my list of things to look for in a kayak: Fishability. 
It may be hard to understand just what that word means if you've never sat atop a Bonafide kayak, but once you have the opportunity to do so, I think you'll get it.
Product
Specification
Photos
Deals