The MayFly from Jackson Kayak is designed to make fly fishing a fun, user friendly experience. The versatile hull on the MayFly is made for tracking, stability and speed; perfect for water conditions in fly fishing hot spots, including tropical flats, slow moving rivers, lakes and ponds.

Description
Jackson MayFly was designed from the ground up with fly fishing in mind. Jackson made a list of typical problems and challenges fly fishermen face and made an effort to solve them. As a result, the MayFly is a well-balanced kayak that demonstrates amazing attention to detail.
Size and Weight
Jackson MayFly is 12'8″ long and 35″ wide. It weighs 89 lbs without the seat. It is not the easiest kayak to transport, especially alone, but manageable. We recommend getting a kayak cart to take it from your car to the water and back. If you have to cartop the Mayfly, consider buying a load helper.
Capacity
The maximum capacity of 450 lbs. means that the MayFly will be great even for bigger guys and a lot of gear. Just remember it is always a good idea to not load the kayak beyond 75 percent of its max capacity to get better paddling performance.
Construction and Material
Jackson MayFly is made from high-density polyethylene using the rotational molding technology. Beads of polyethylene are poured into the mold, the mold is heated up and slowly rotated so that the material fills up every nook and cranny. After the mold cools down you get a one-piece construction that is extremely rugged and durable.
Jackson Kayak is known for its high-quality materials. Their kayaks last a very long time.
The downside of polyethylene is that it is a very non-stick material. If you manage to put a hole in the hull, you can't just glue a patch to it. Repairing usually requires a piece of the same material and a blowtorch to melt it onto the hole.
Hull Design
When designing the hull for the MayFly, Jackson's team took into account the typical applications of a fly fishing kayak. These include Class 1 rivers, lakes and ponds, and also inshore saltwater. As a result, the MayFly is optimized for stability and standability for casting, overall room for gear, and comfort, but also for speed. It is not the fastest boat but it's still nice to paddle. The MayFly has a lower profile than many of Jackson's models. It is less affected by the wind but will be less comfortable in choppy waters as you will get more waves inside.
Deck/Cockpit
The MayFly offers an open standing area that is padded to dampen any noise and avoid spooking the fish. Jackson really went out of their way to make the deck fly-fishing friendly. One of fly fishermen's main concern is line management, so Jackson's engineers removed everything a line could snag on. There are no bungees on the bow. The footrests were completely redesigned to be tangle-fee. The tackle box/fly patch storage areas are closed. Even the knobs are skirted so the line can't get under them. There are just so many little things throughout the boat that contribute to stress-free fly fishing.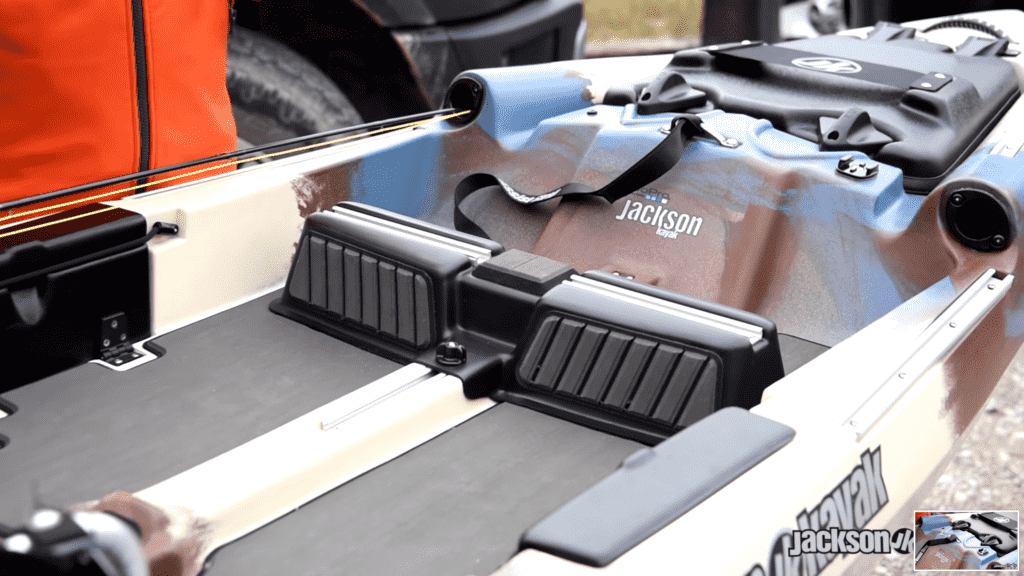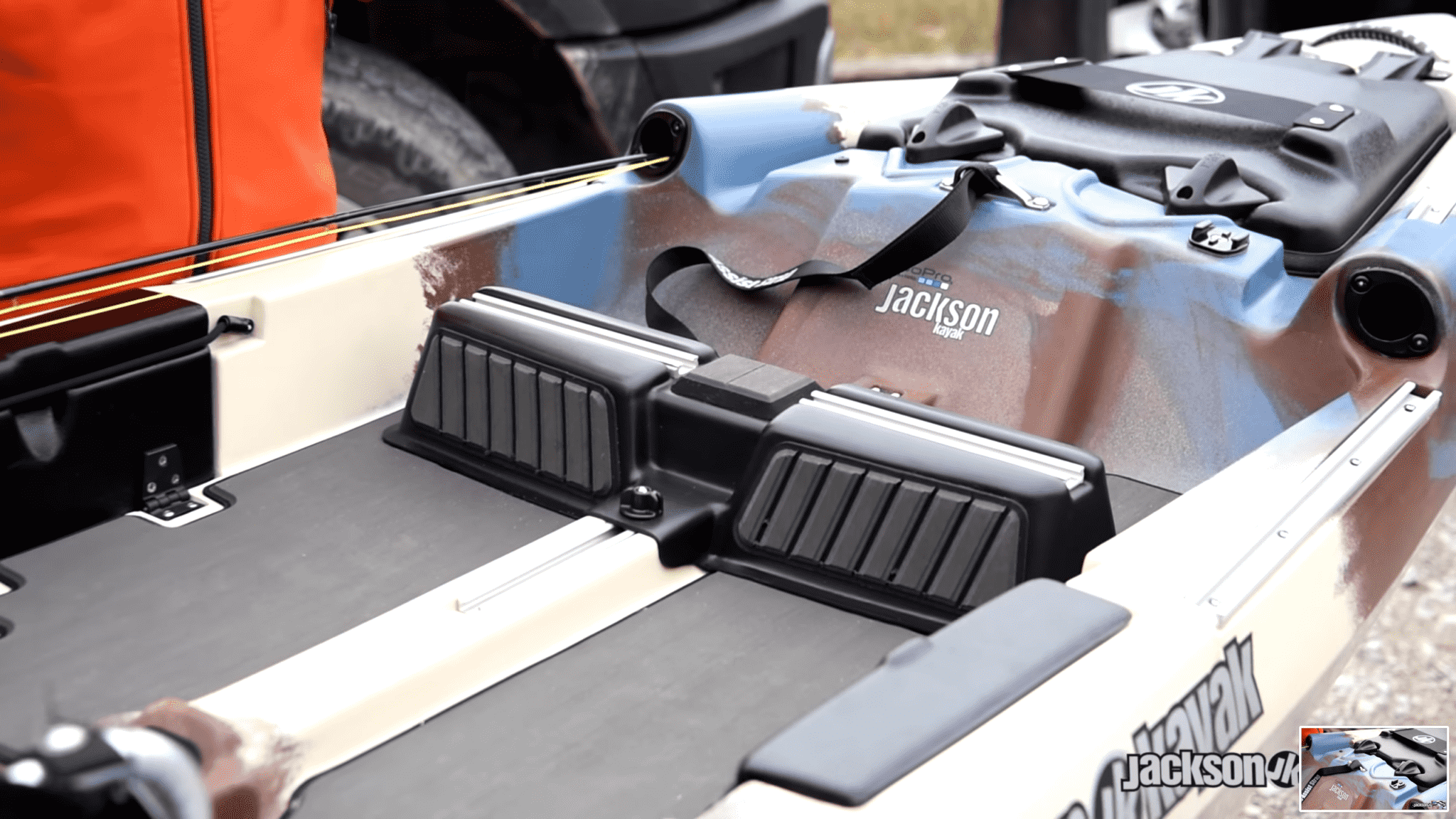 Seat
The MayFly features a removable frame seat with high and low positions. To change the position of the seat or remove it, all you have to do is pull two pins. The whole seat also slides fore and aft on tracks. This is extremely handy when you want to trim the boat for different loads. An interesting feature is that you can take the seat out and replace it with an Orion 25 cooler for SUP-like experience.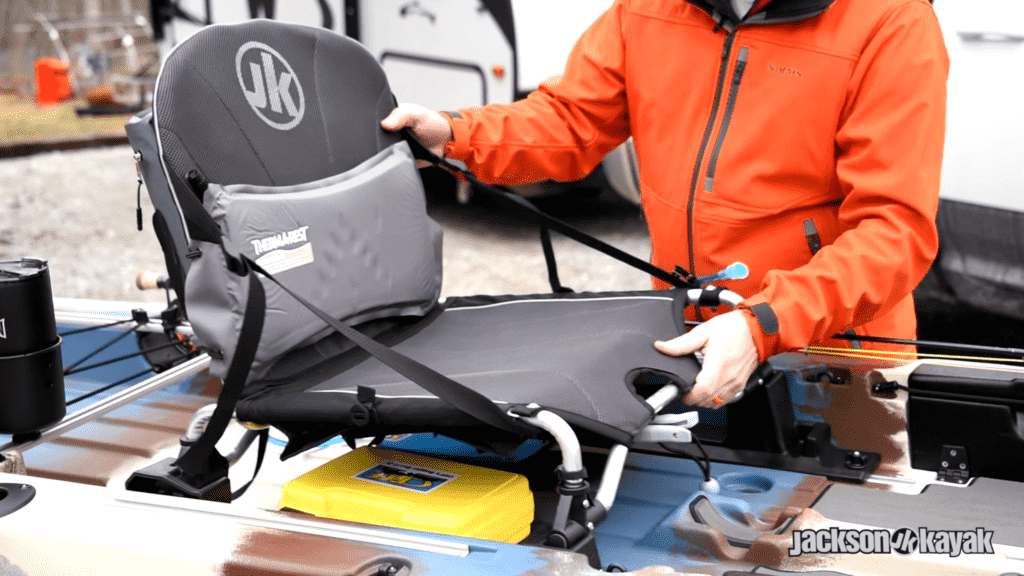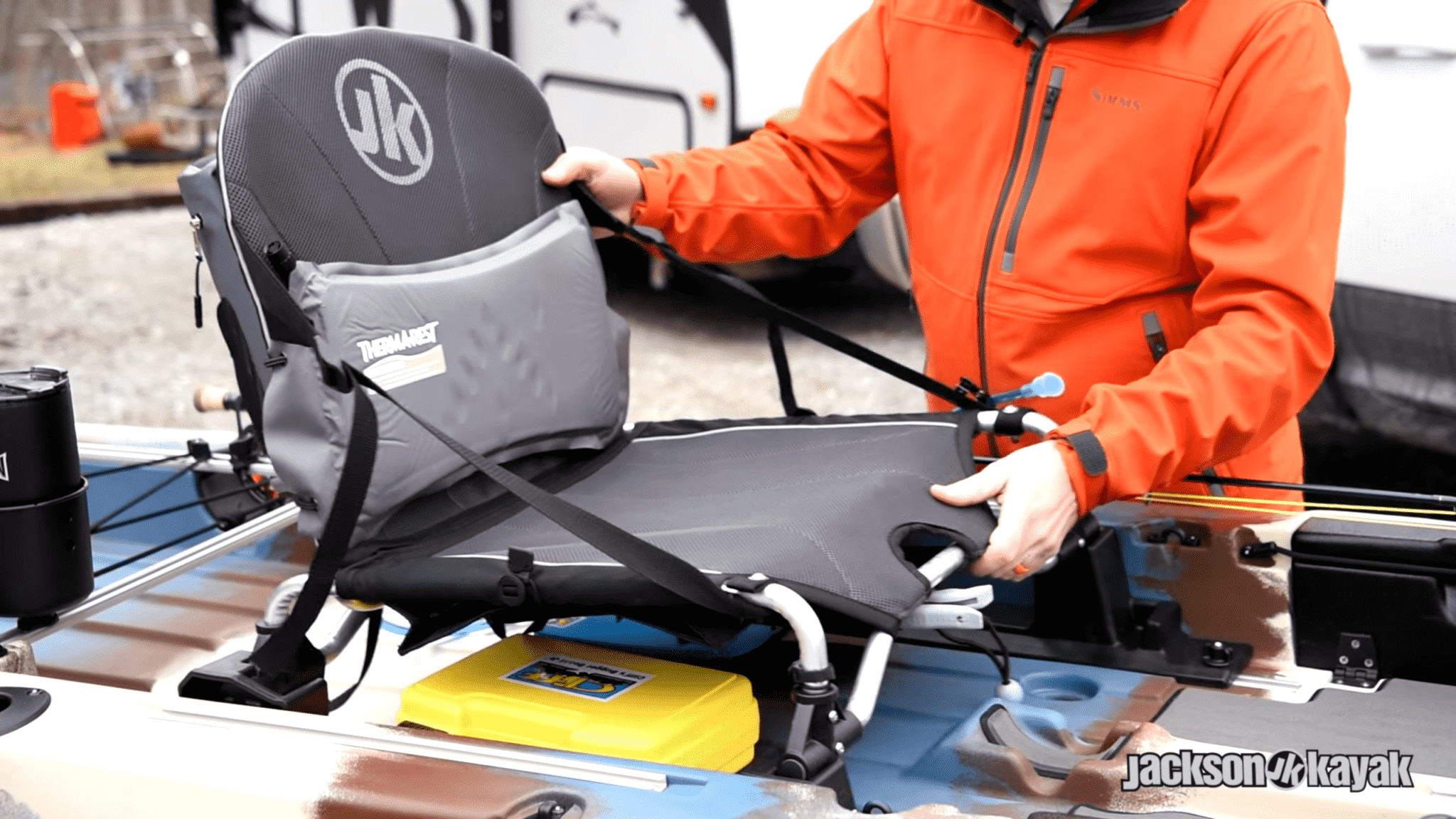 The seat itself is very comfortable. It is made of breathable material. The backrest is adjustable and offers a Therm-a-Rest lumbar support that doubles as a great camp pillow. On the back of the seat, there's a SealLine waterproof pouch and under it, a Platypus hydration system.
Underneath the seat, you have a lot of storage for your tackle boxes and even a dedicated sleeve for a lip grip.
Storage
Jackson MayFly offers a lot of storage options. On the bow, there is a large hinged hatch secured with two rotating latches. It opens access to in-hull storage. To prevent small items from getting lost inside the kayak, the hatch has a hanging plastic bin. This is a really convenient feature.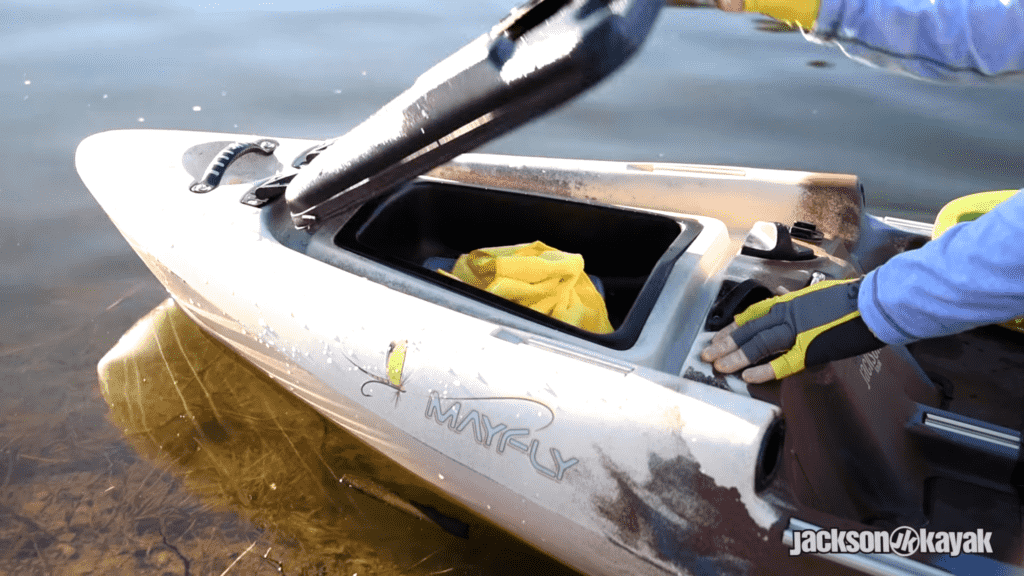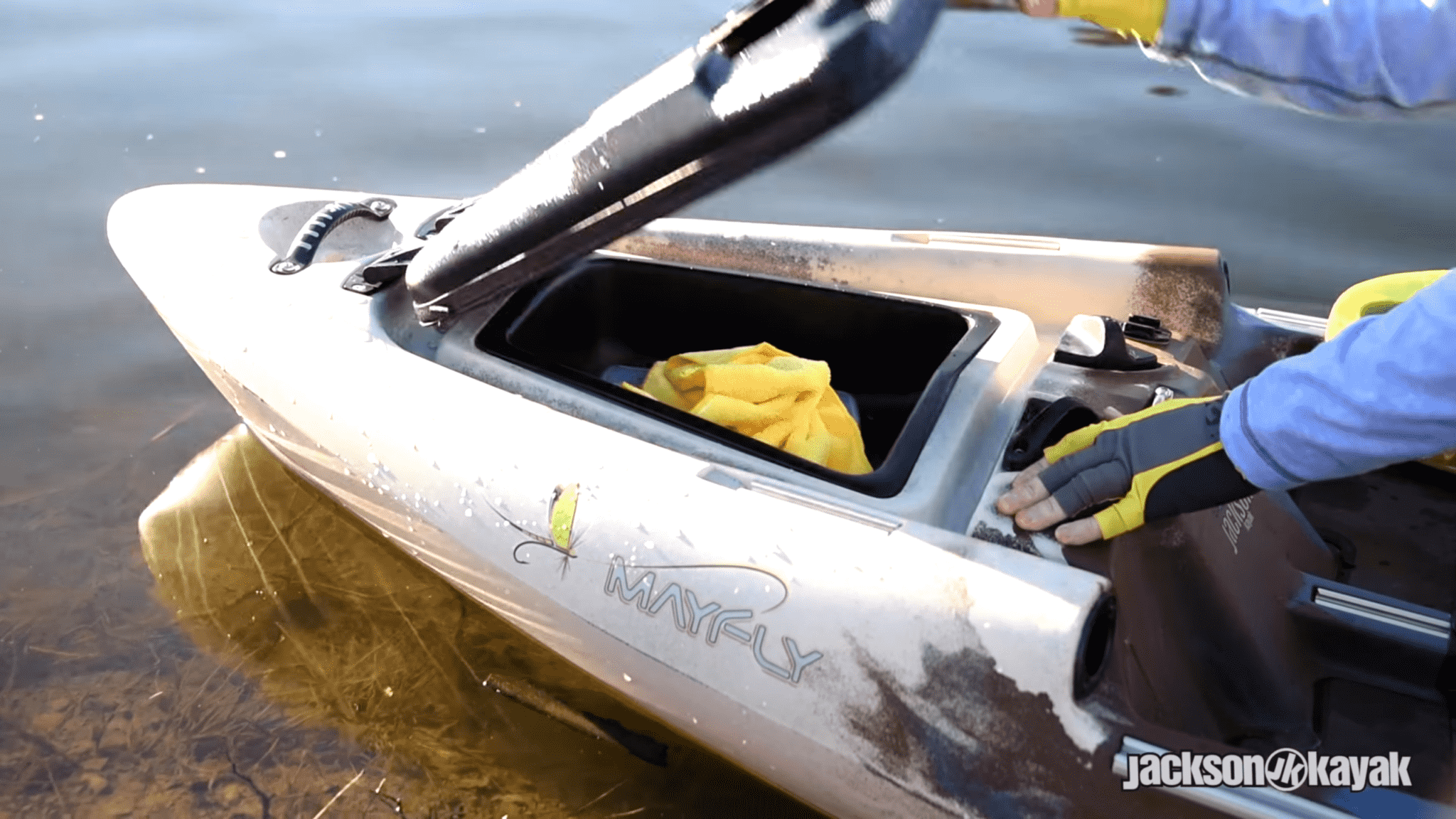 Moving back, you'll see two closed tackle box compartments, one on each side. The covers actually come with fly patches on the inside. The size of the compartments is perfect for many popular fly box sizes. There's also a lot of flat surfaces around so you can attach your favorite foam or velcro fly patches right to the hull.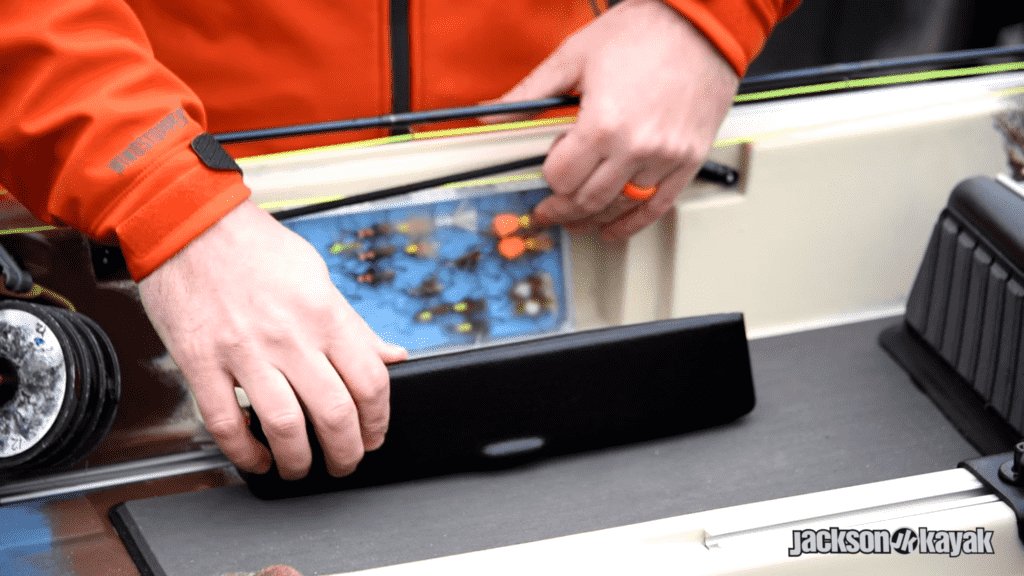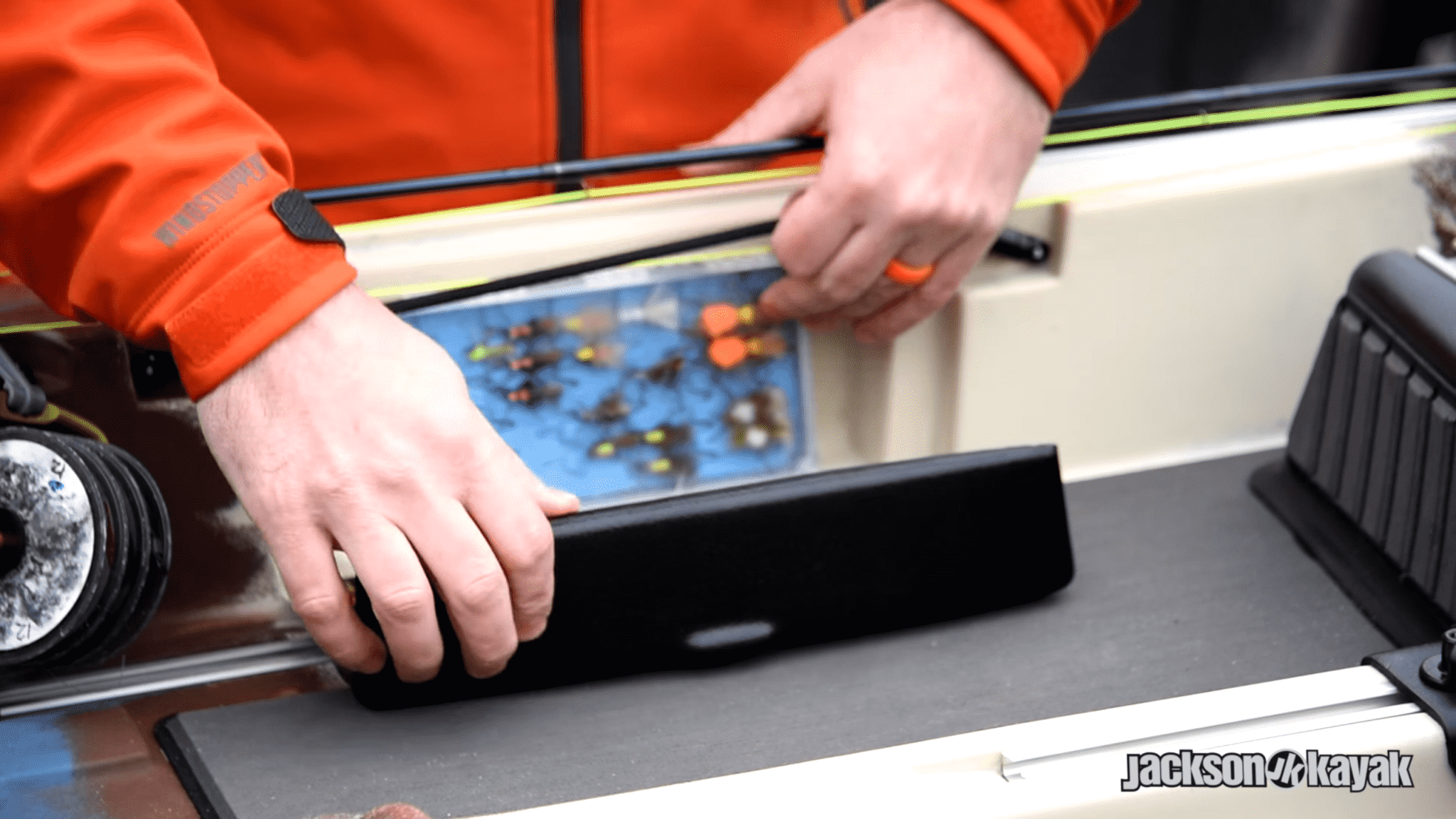 Further back, there's quite a lot of storage space under the seat. Large lure boxes, small dry bags – you can fit quite a lot there.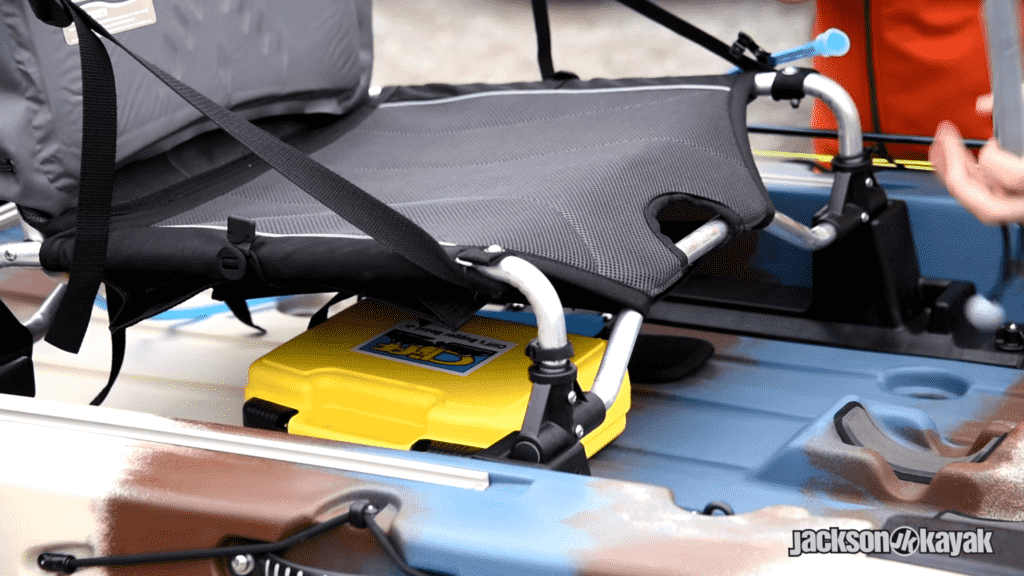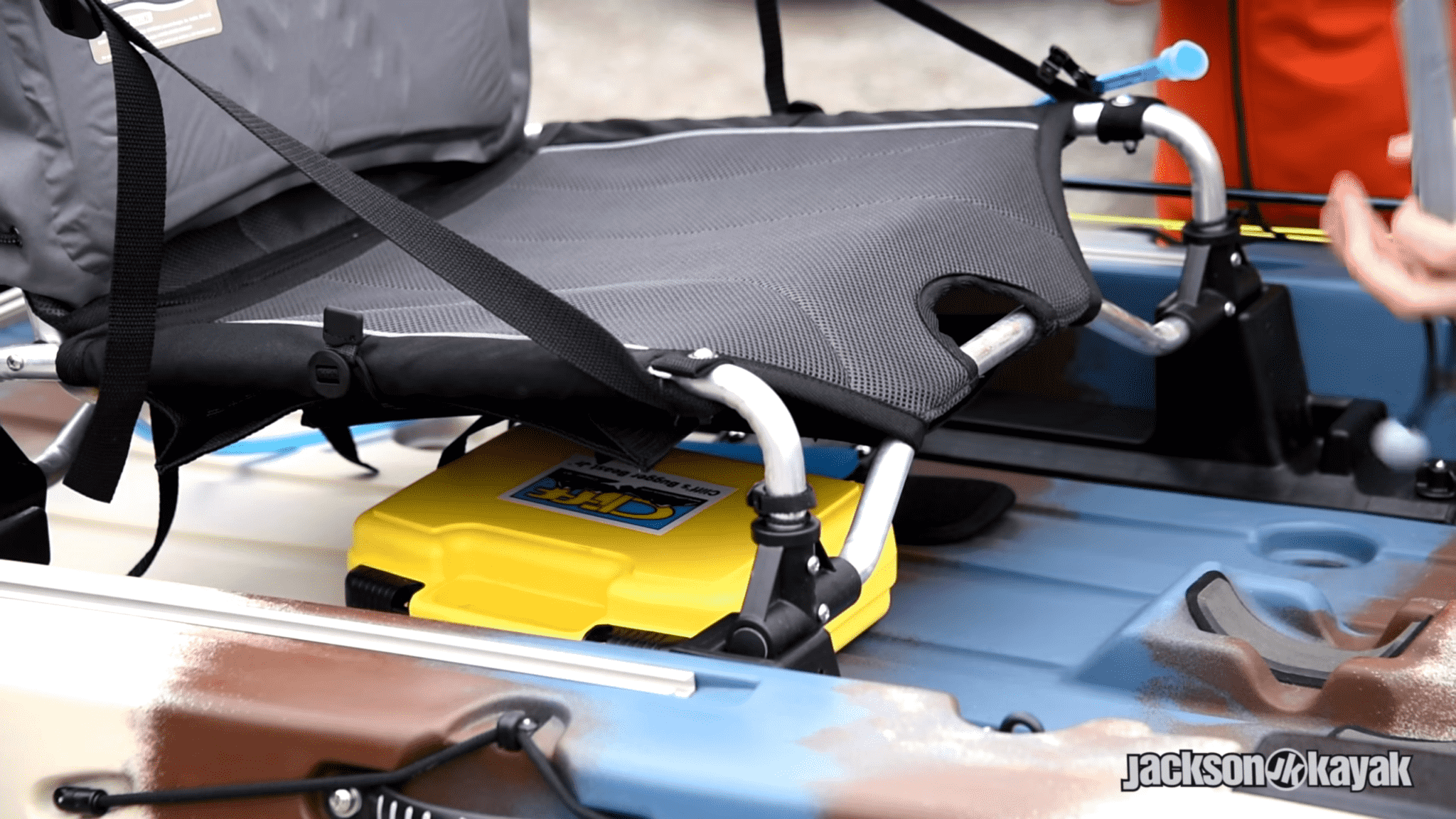 The seat itself comes with a waterproof SealLine bag on the back.
Behind the seat, you'll find a large tank well. It comes with a bungee cord that is fully adjustable thanks to top-loading tracks that run on both sides.
Finally, there's another oversized hatch on the stern – again, with a hanging bin for smaller items.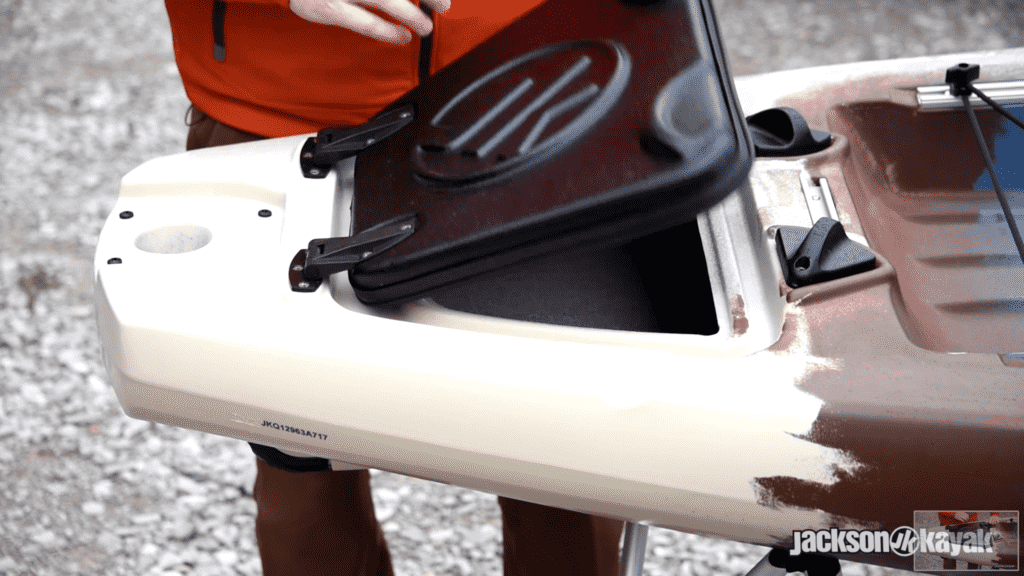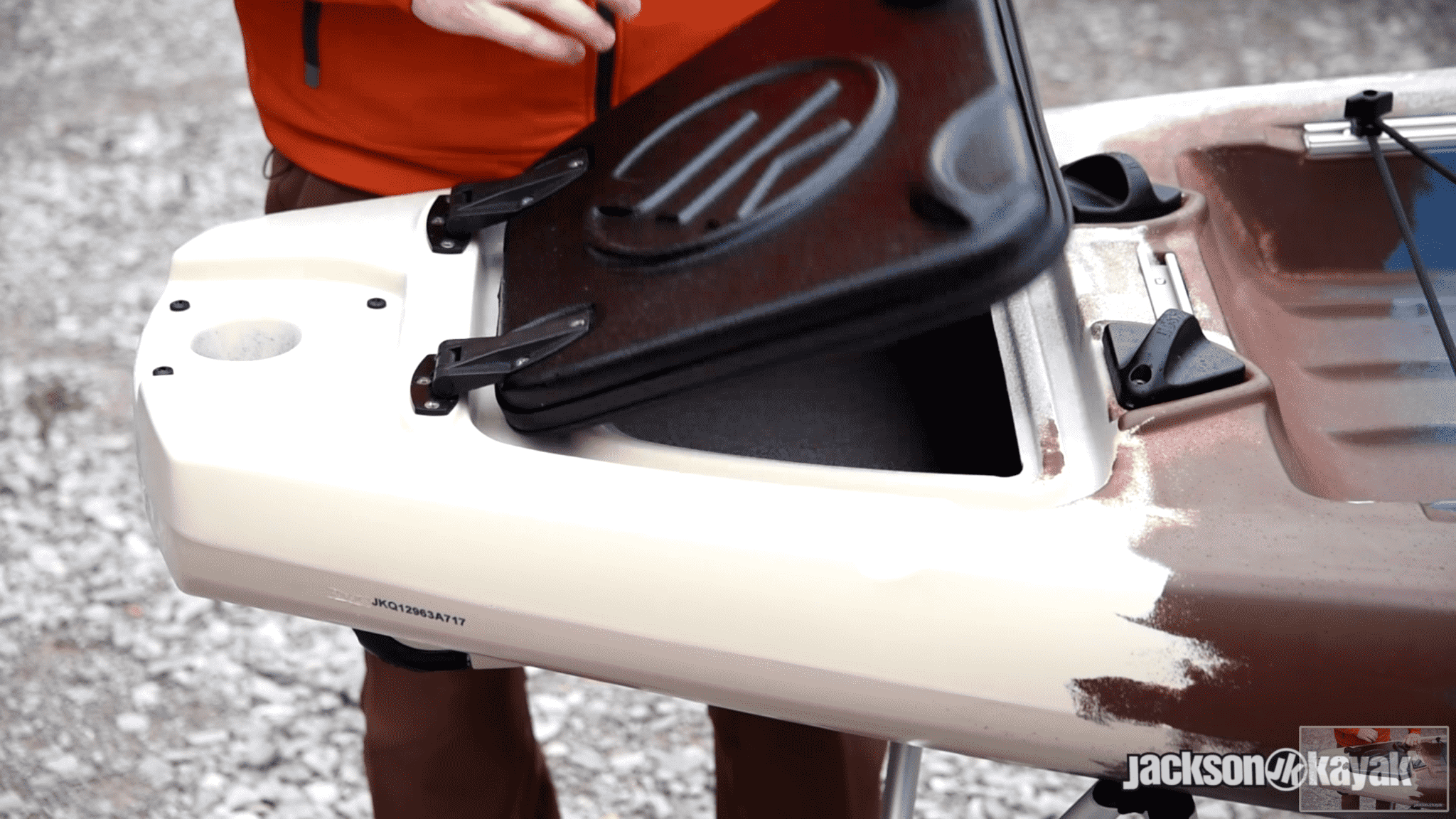 Gear Mounts
When it comes to adding custom gear, the MayFly really shines.
On the bow, there are two tracks where you could mount a casting brace. Right behind the front hatch, there are two mounts for GoPro clips or RAM balls.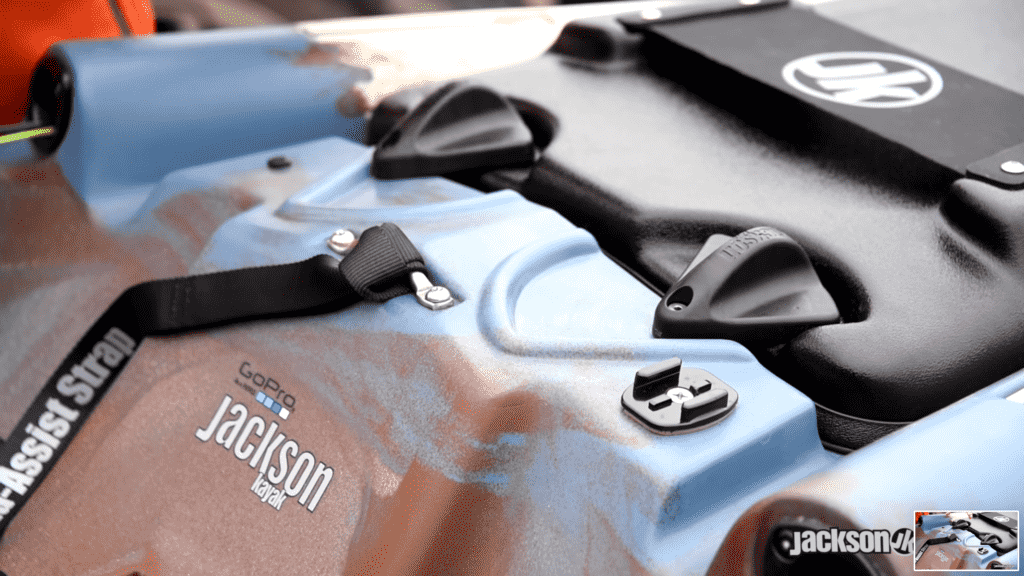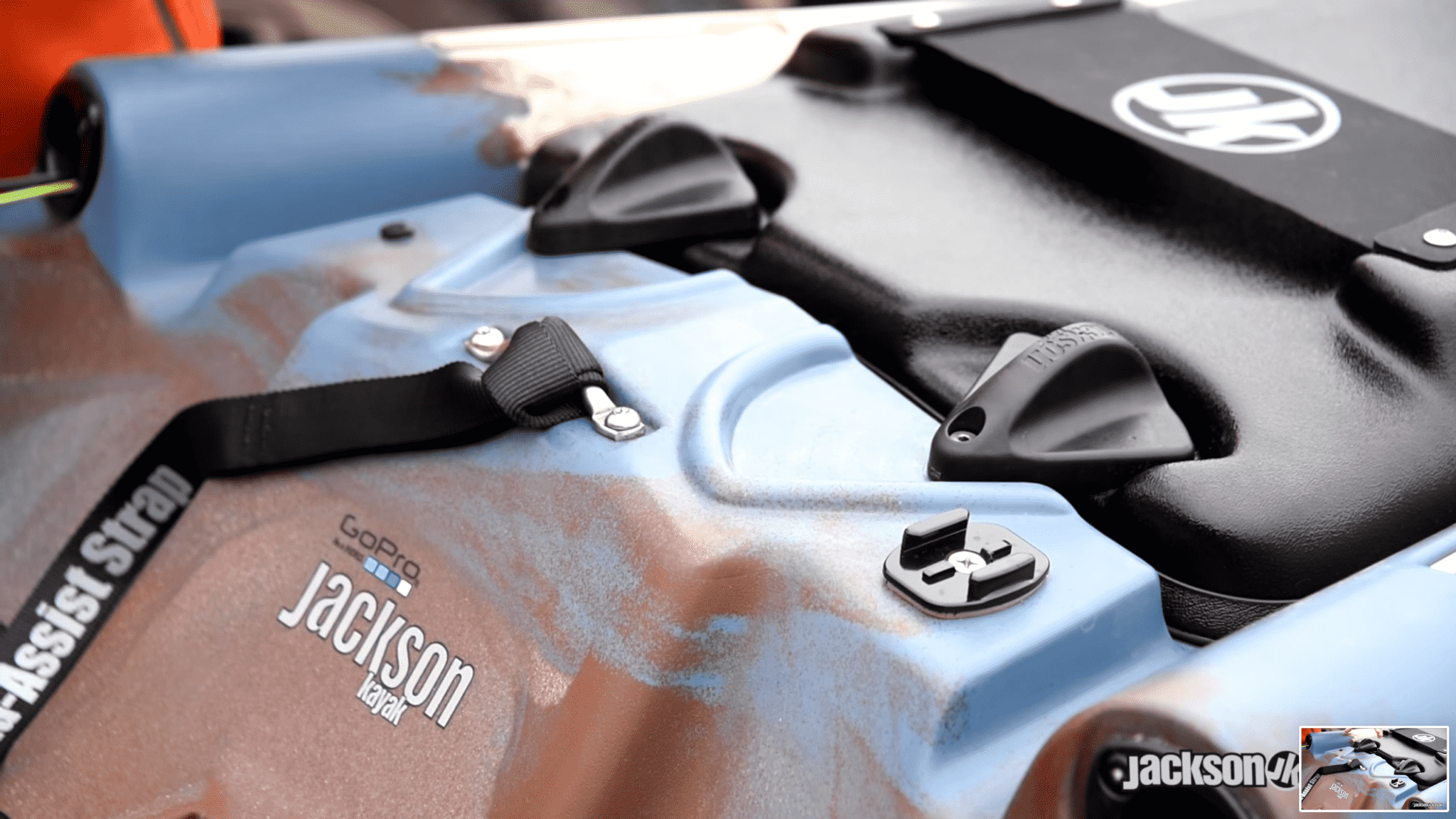 On the deck, you'll find a plethora of gear tracks. First, there are two large tracks on the sides. The footrest also slides on a track, which you can use for additional gear. Finally, there are two tracks across the footrest.
An interesting feature of the MayFly is that you can remove the footrest and place your fish finder battery and cables inside it. You can then run a cable to the transducer scupper. The MayFly is Raymarine-ready so the transducer scupper accepts any Raymarine transducers. With this setup, you get a clean installation with no cables hanging around.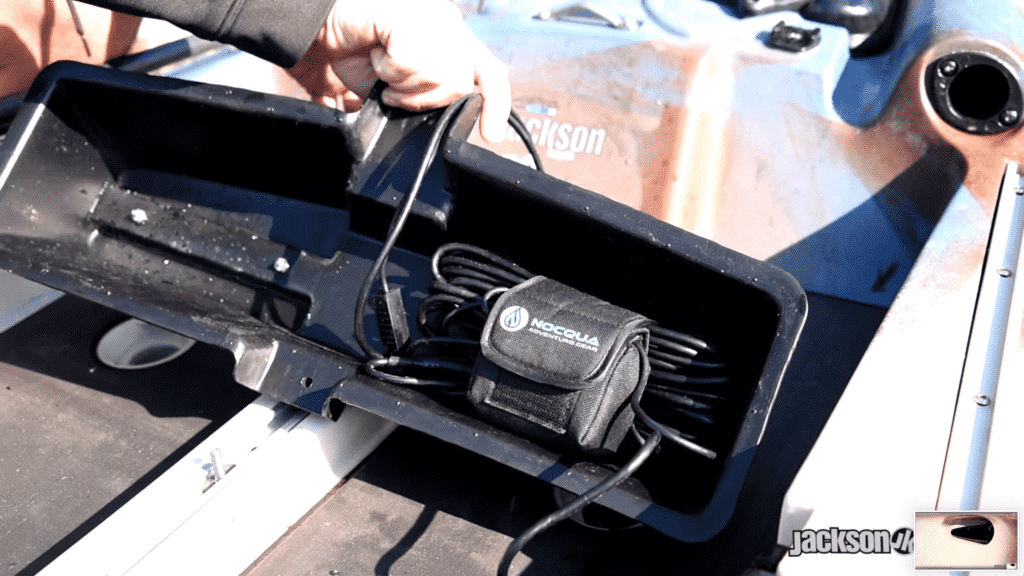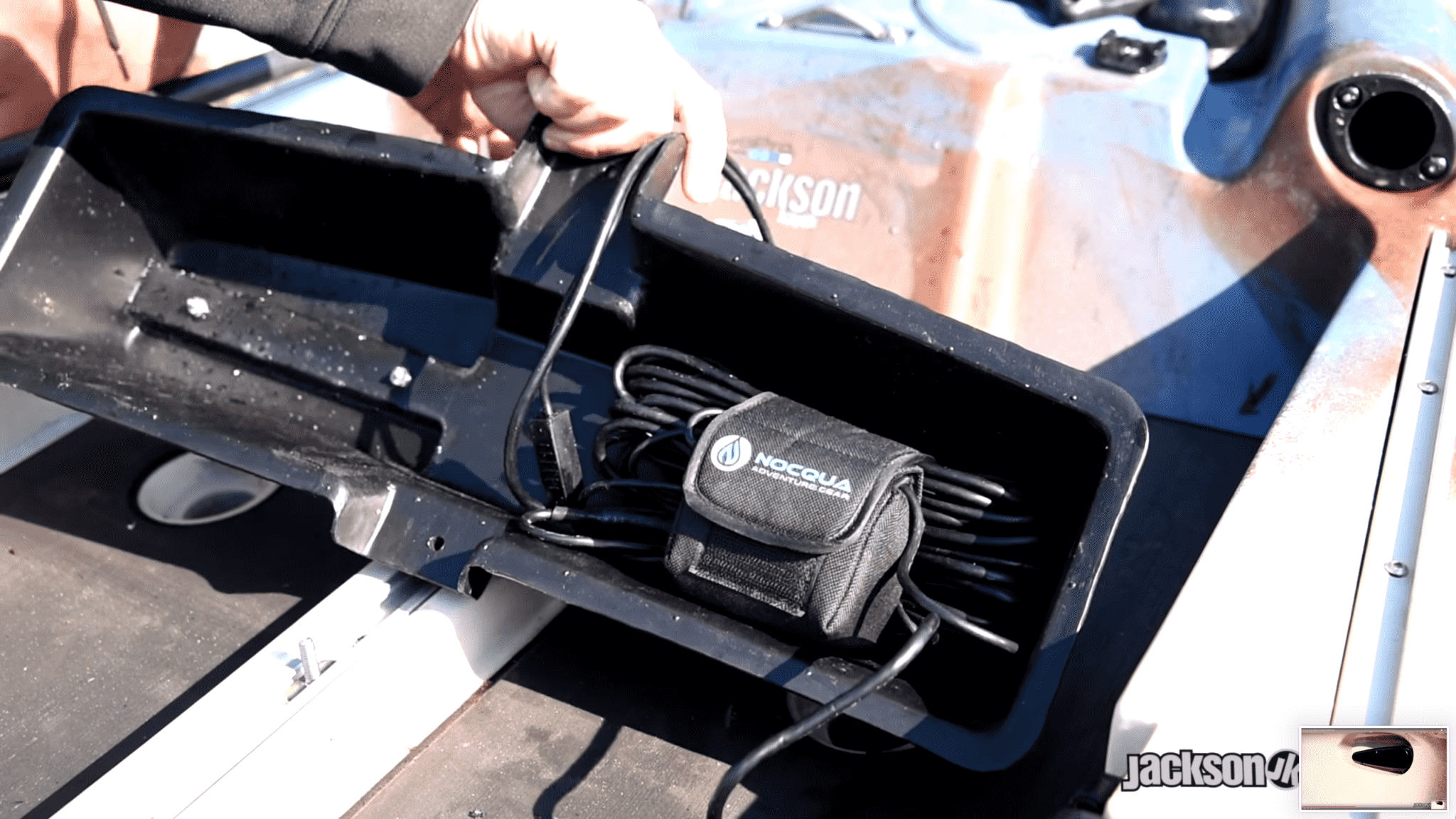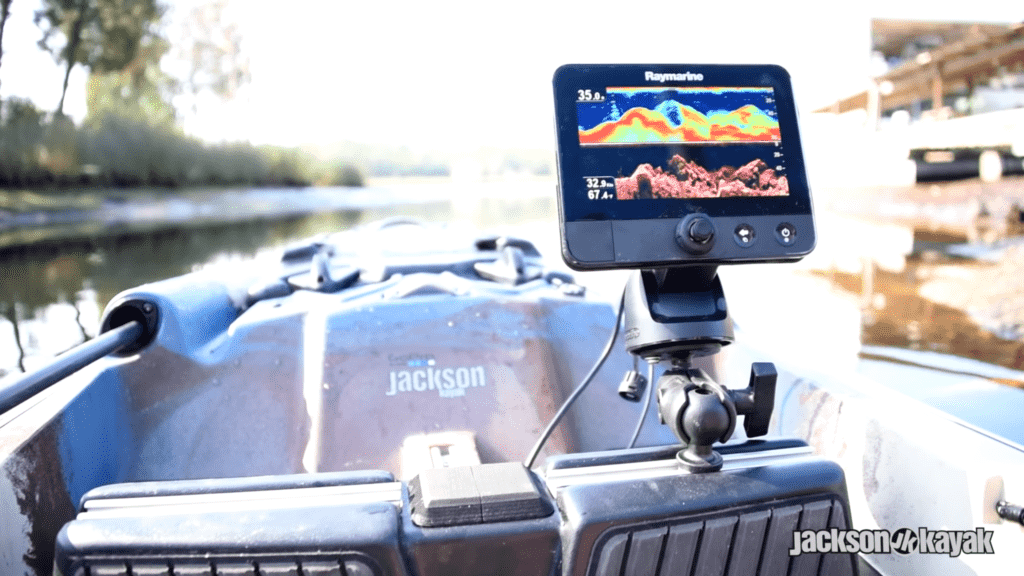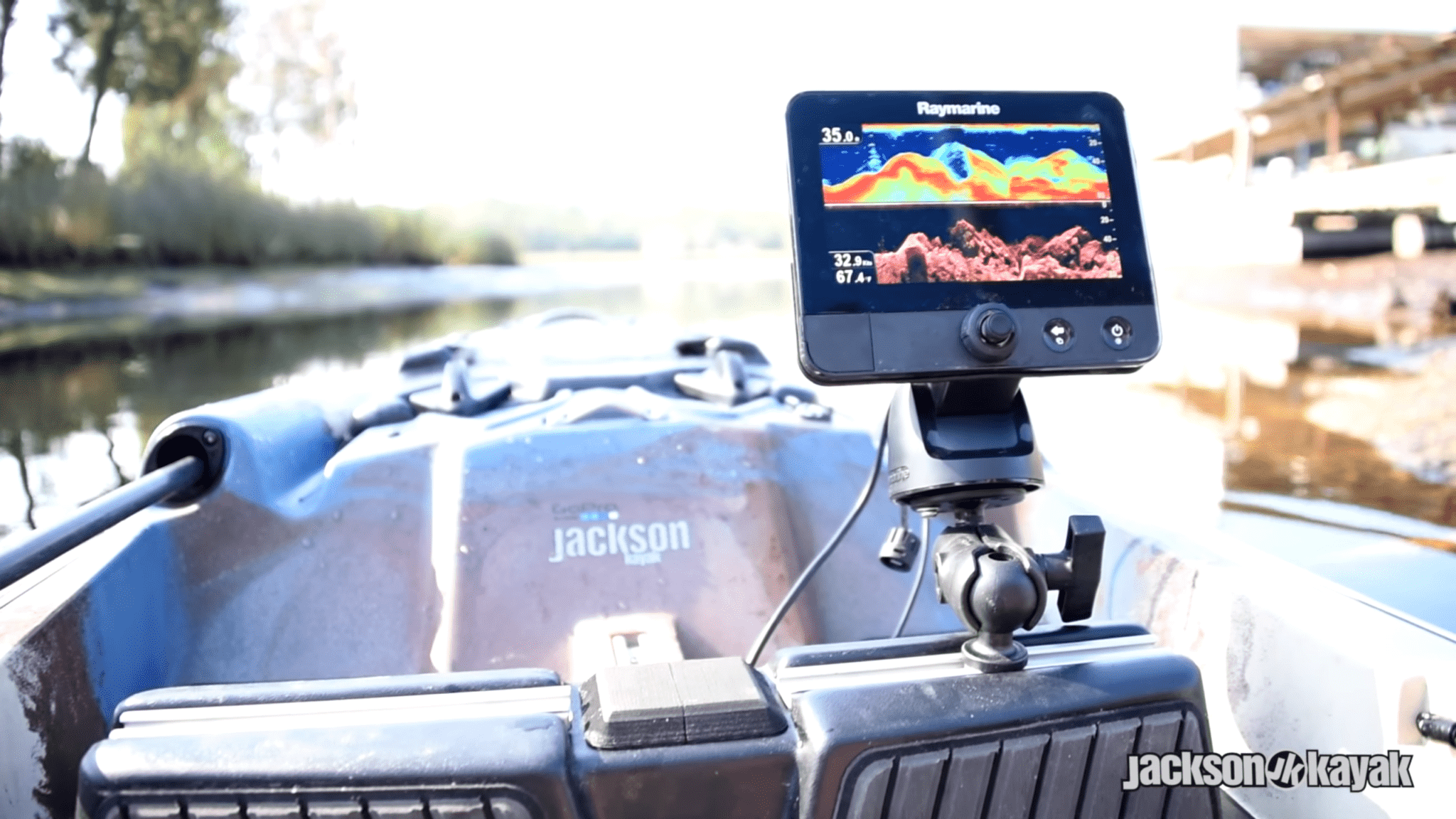 Right at your hip level, you'll find two eyelets for tippet spool holders. Use them from the seating position or easily unclip the holders and take them with you if you go wade fishing.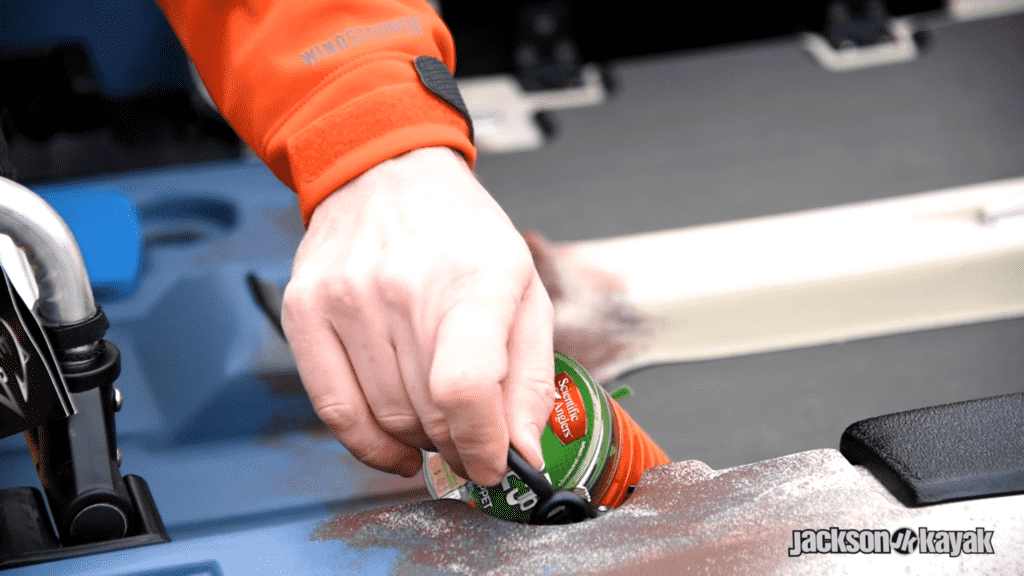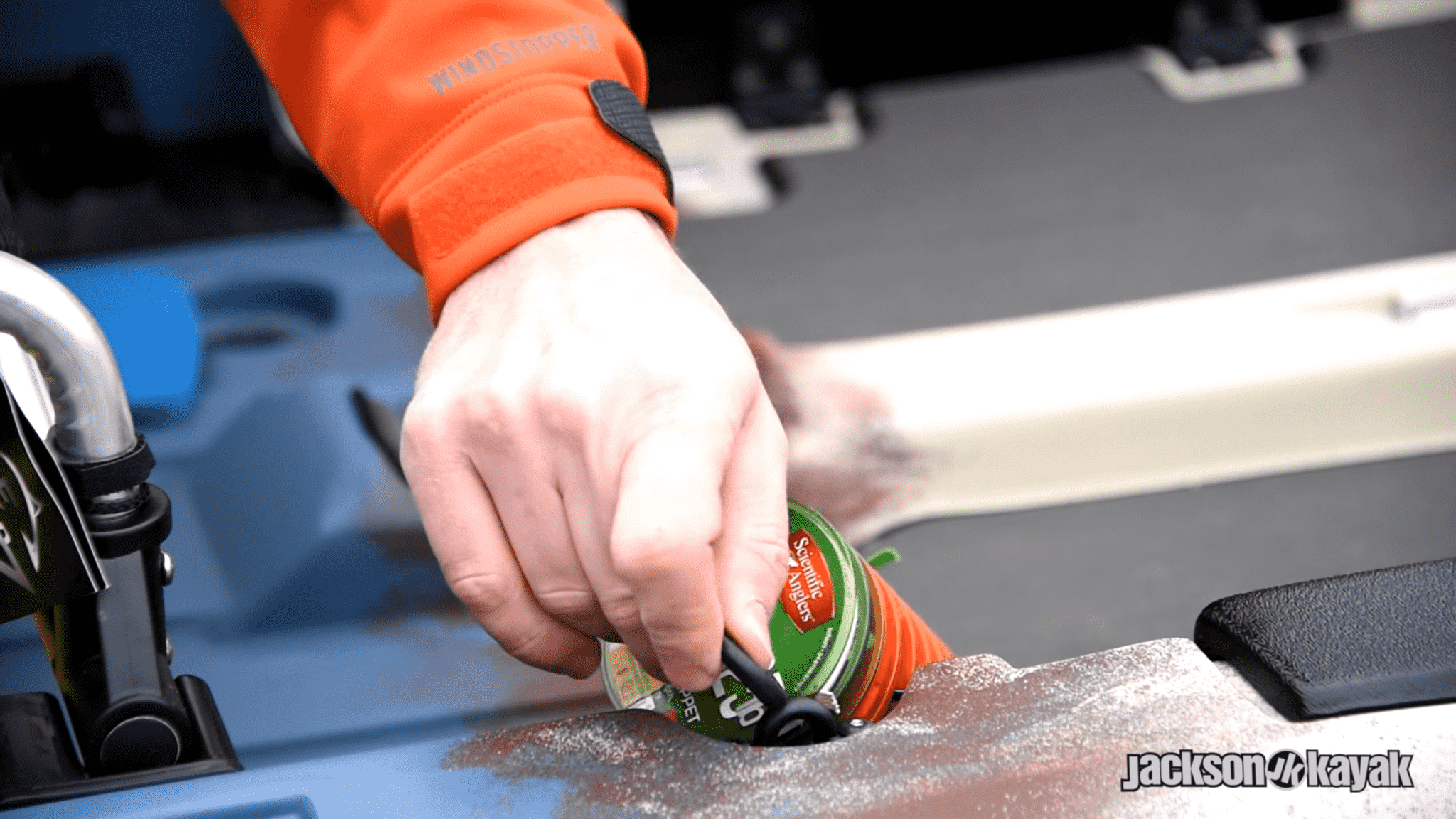 Further back, there are two more gear tracks right near the seat. Use them for bottle holders, swivel rod holders, etc.
The rear tank well offers three large gear tracks and one short track. These will accommodate any gear you want, conveniently out of the way.
Finally, the stern is ready for a Power Pole Micro anchor.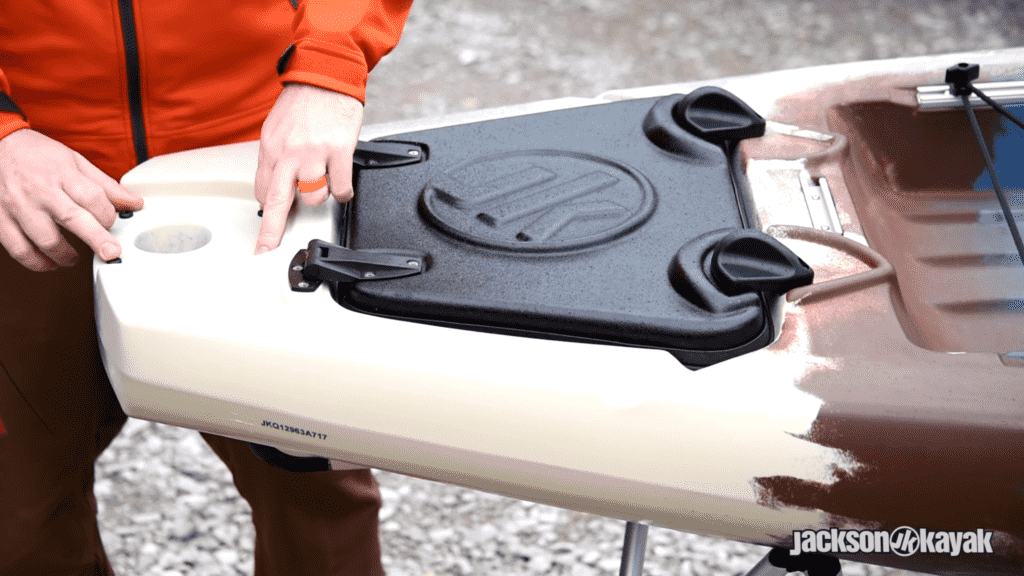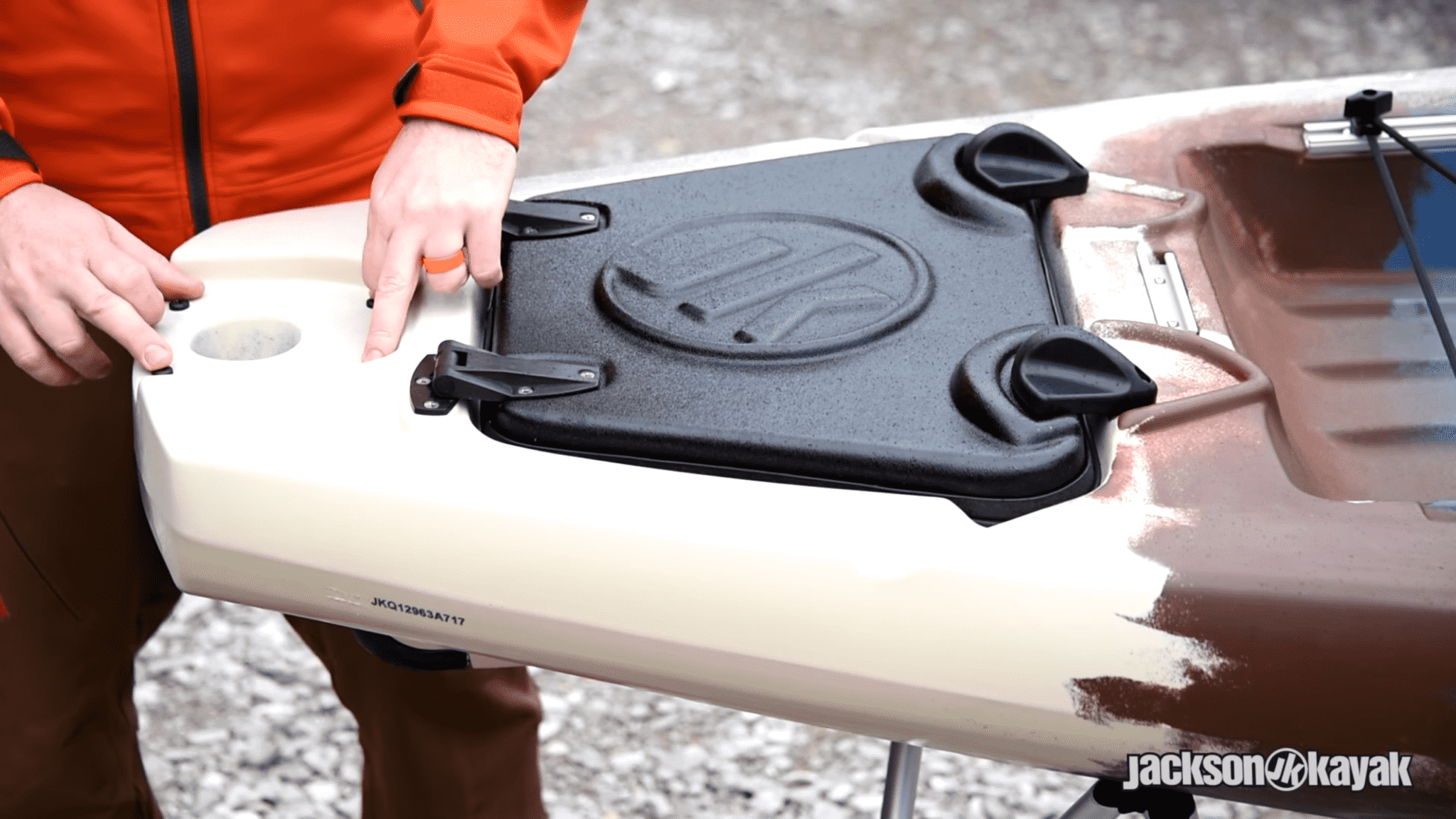 As you can see, there's no shortage of gear mounts on this boat.
Rod Holders
Since fly rods have large reels and are typically longer than conventional spinning or casting rods, the MayFly just had to have a specialized rod storage system. And man, does it have one.
First, there's a rod but prop right under the front handle. Got a line tangle? Put your rod butt there and you can work to untangle your line.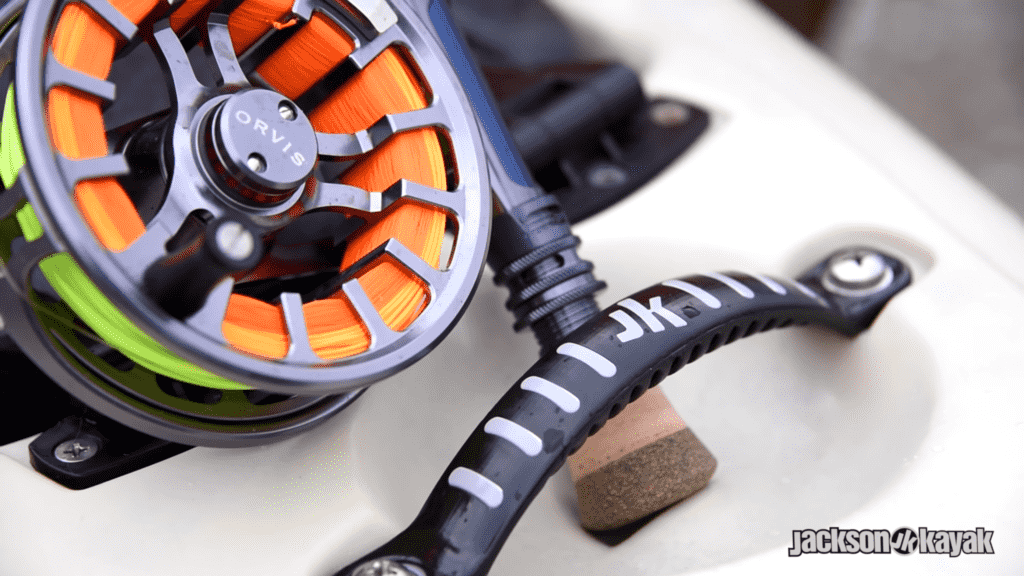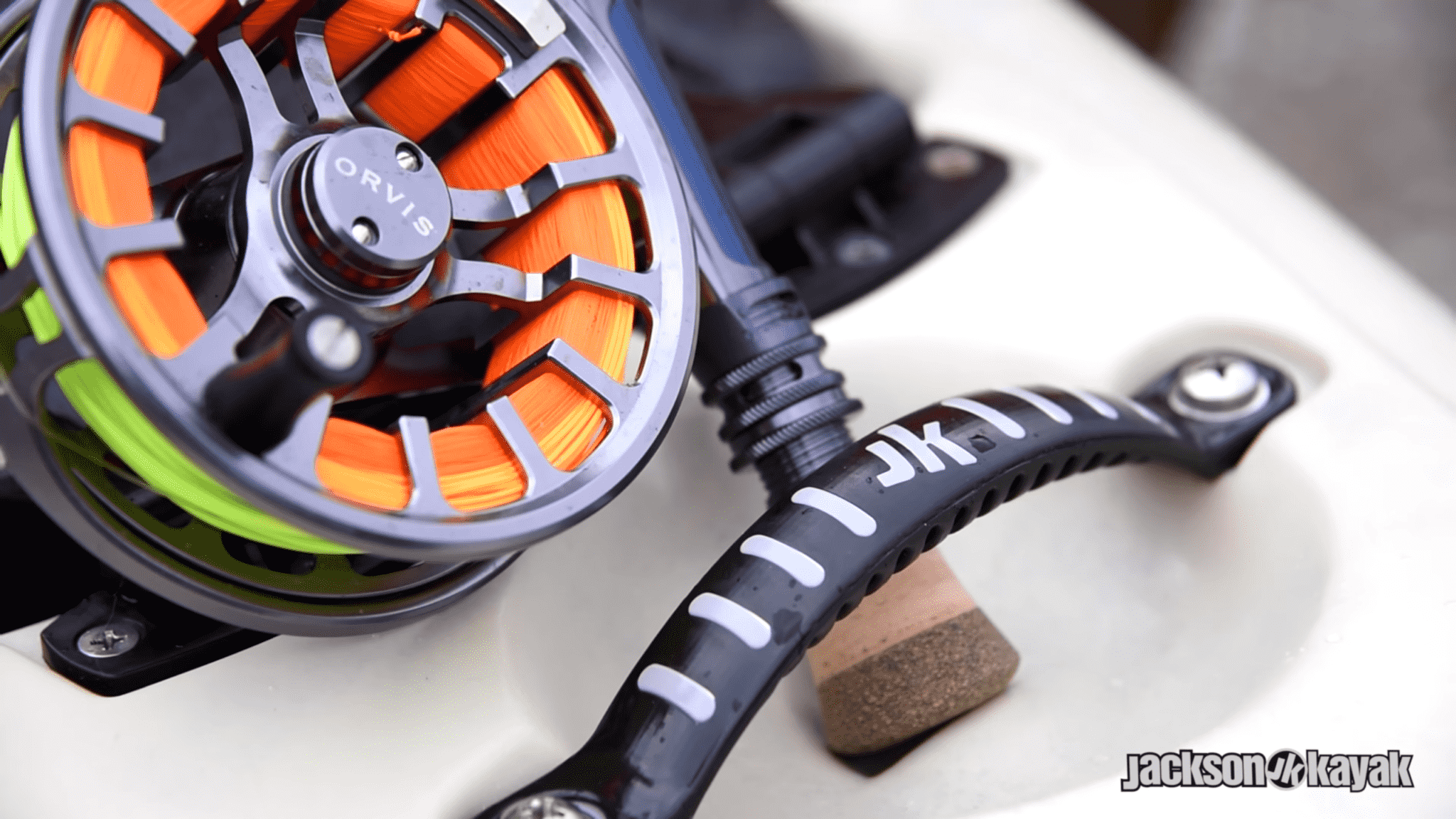 Need to change position quickly while fishing? There's a convenient reel storage recess right in front of your seat. Drop your rod there facing forward and you're good to go. Moreover, there's even a small patch on top of the footrest with a slit in it. You put your fly line there and it's secured but ready to be used immediately. Talk about attention to detail!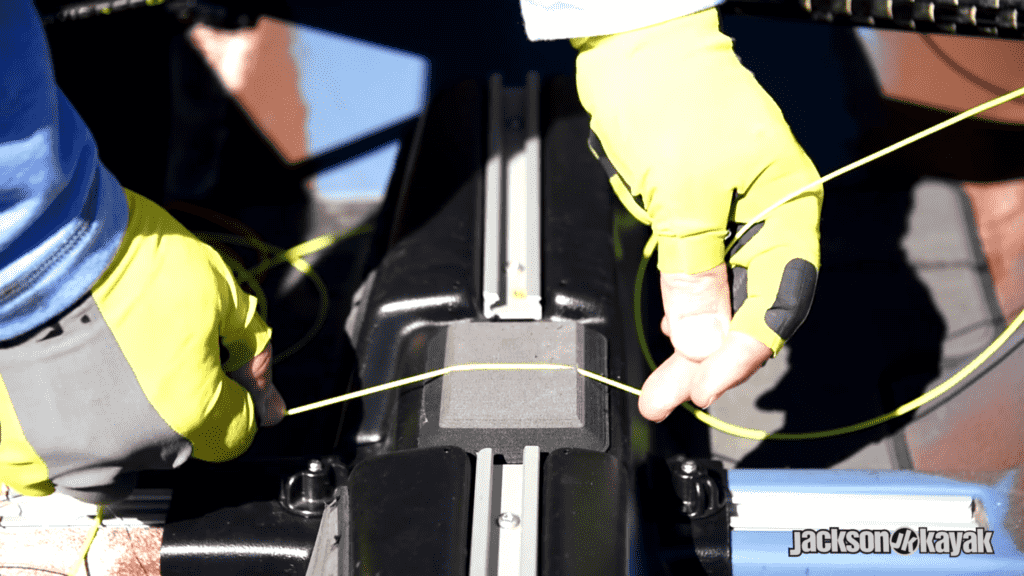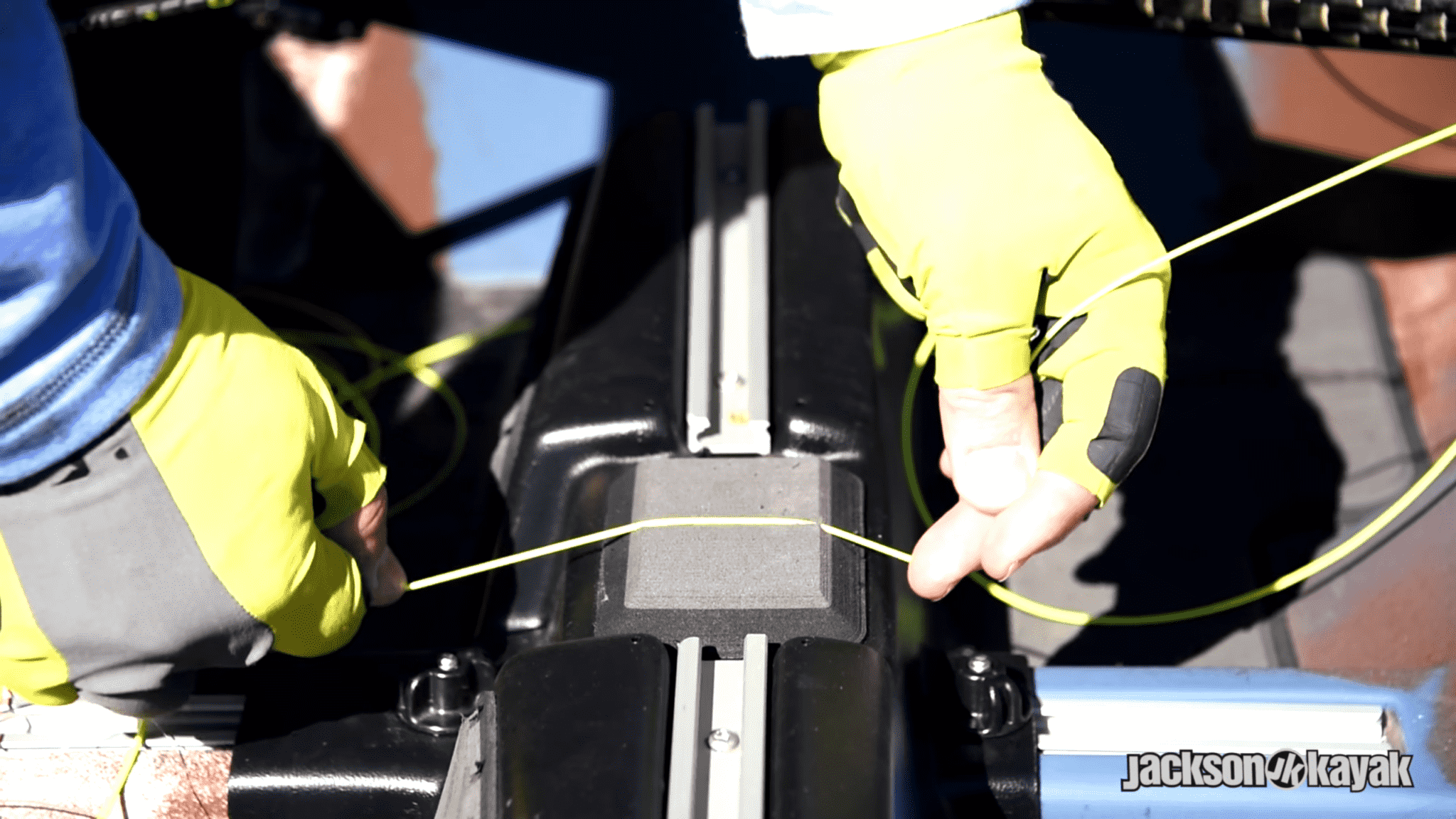 Also in the front, there are molded-in rod tip protectors on both sides.
But the most interesting features are right behind the seat. Here, you'll find some unique geometry that lets you store fly fishing rods in multiple ways. The rod can go in front-facing, backward-facing, or backward-facing at an angle. Whatever the position, the reel goes into a special recess in the side of the tank well while the rod itself is secured with bungees.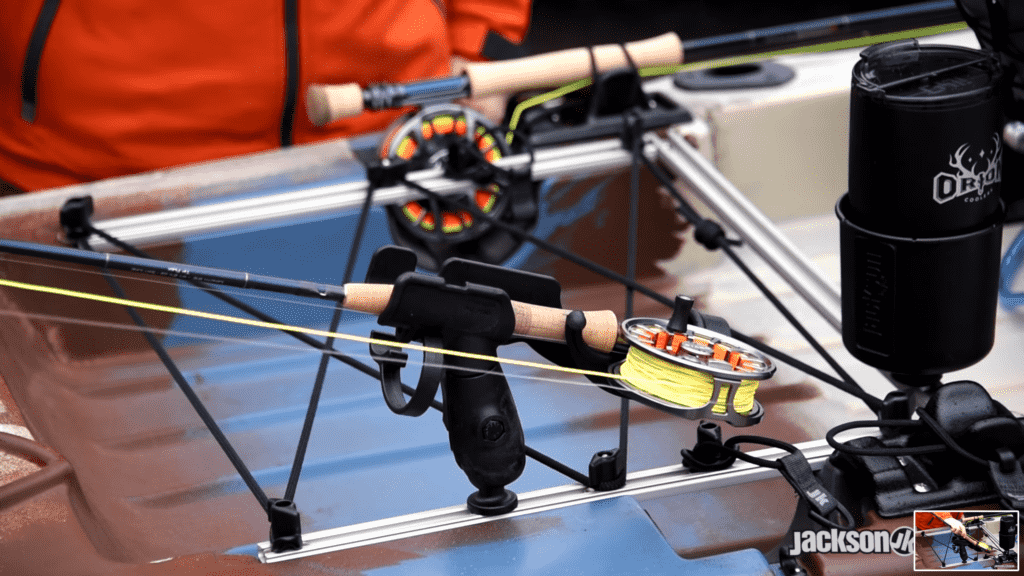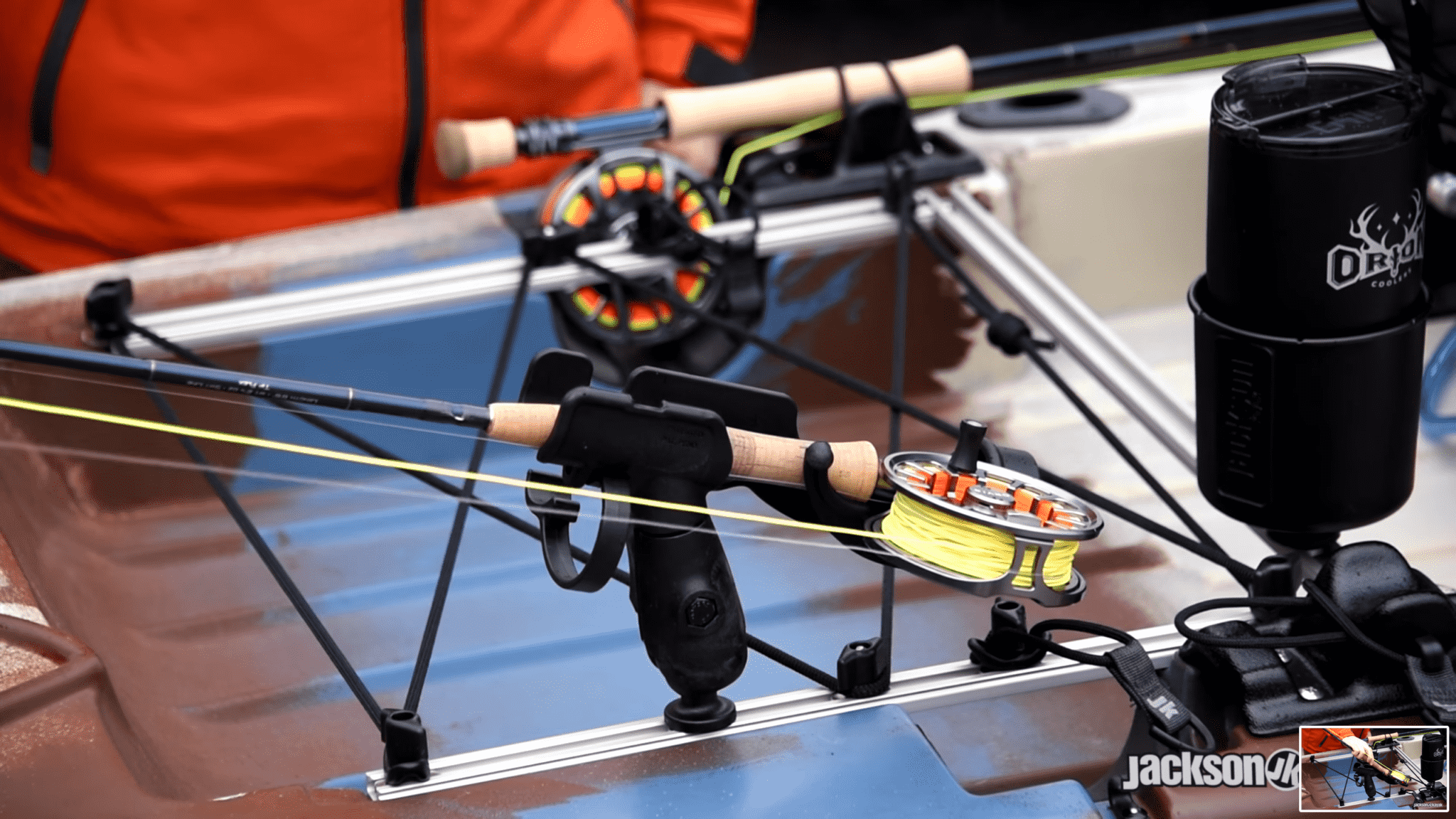 There are also two flush-mount rod holders that are perfect for fly net handles or traditional spinning rods.
If you have a really unique system and none of the rod storage options suit you, the MayFly comes with an Omega rod holder. Feel free to mount it anywhere on the kayak – there's no shortage of gear tracks.
Footrests
As we mentioned before, Jackson has developed a unique footrest for the MayFly (its Kilroy HD sit-in model uses a similar design but it's still a little different). The purpose was to eliminate the footpegs that stick out of the walls and can snag your fly line.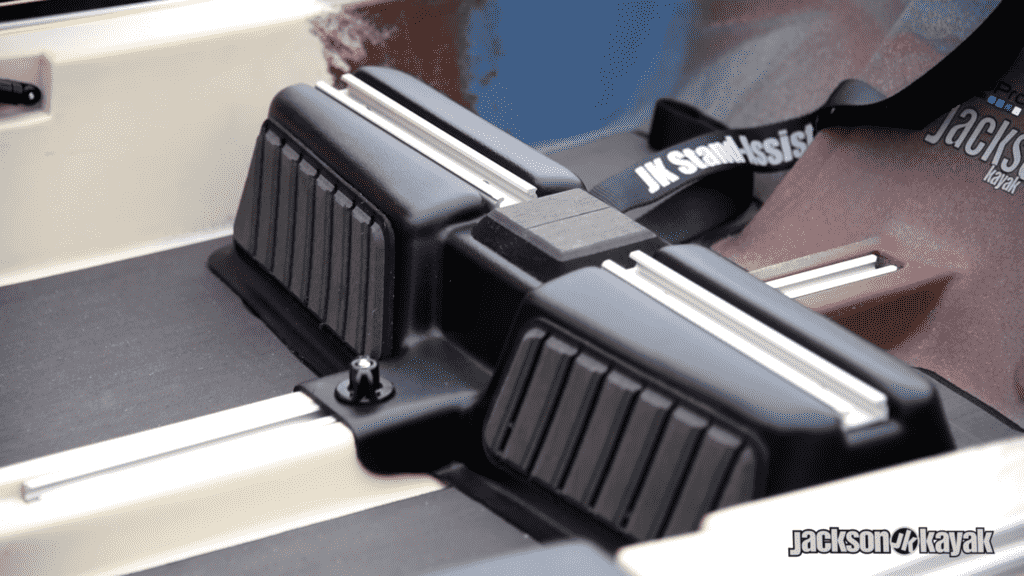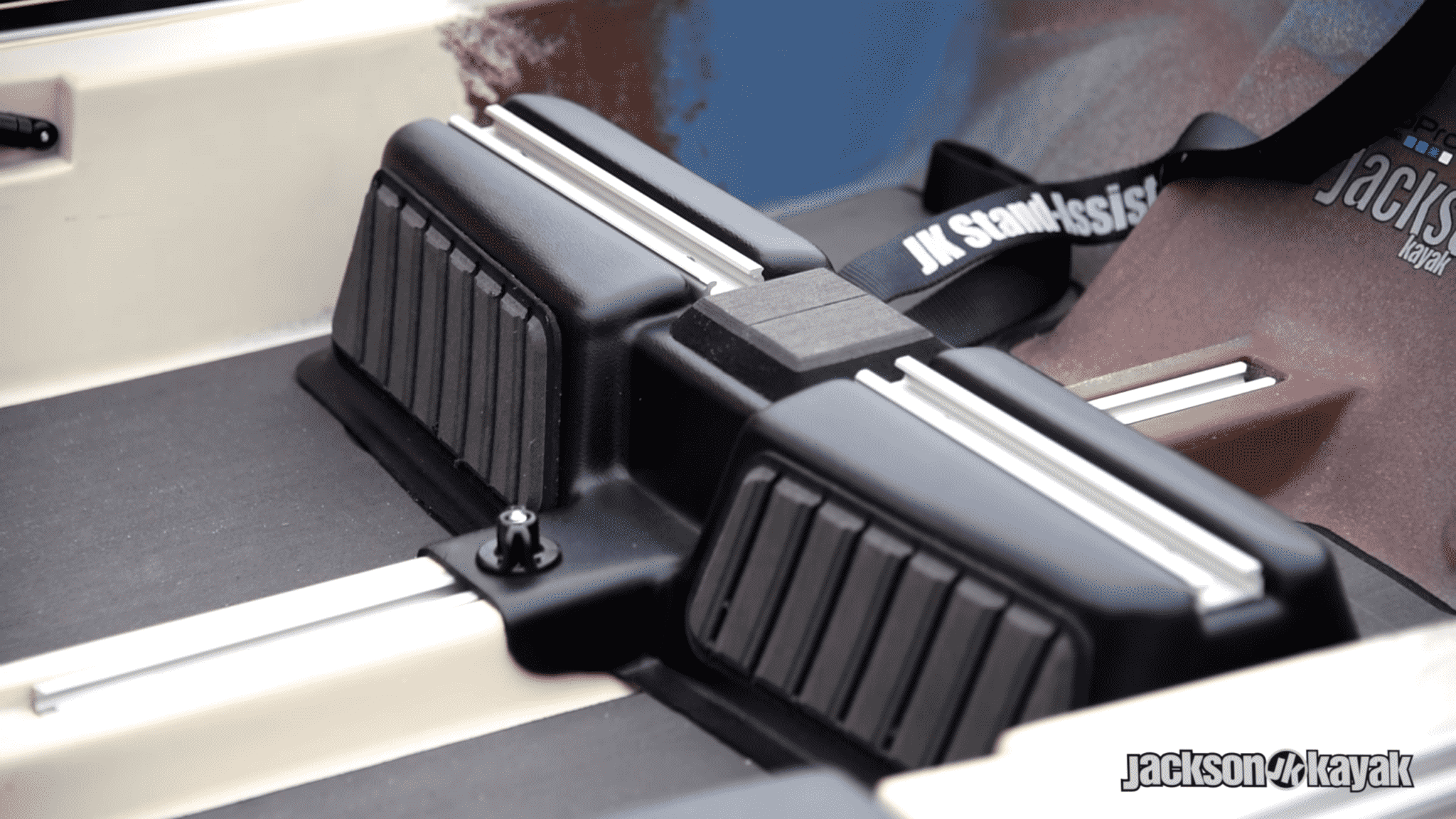 The footrest slides fore and aft on a gear track and has another gear track on top. The most interesting thing about it is that you can remove the footrest and store your fish finder battery and cables inside. Put a fishfinder on top and run a cable to a transducer scupper underneath, and you got yourself a system with no hanging cables. Neat!
Paddle Holders
Like many other Jackson models, the MayFly comes with a Hypalon paddle park on top of the front hatch. It is less prone to catching hooks than a bungee cord. Right beside the seat, there are bungee-secured paddle holders on each side. It's a traditional design found on many other kayaks. Simple and efficient.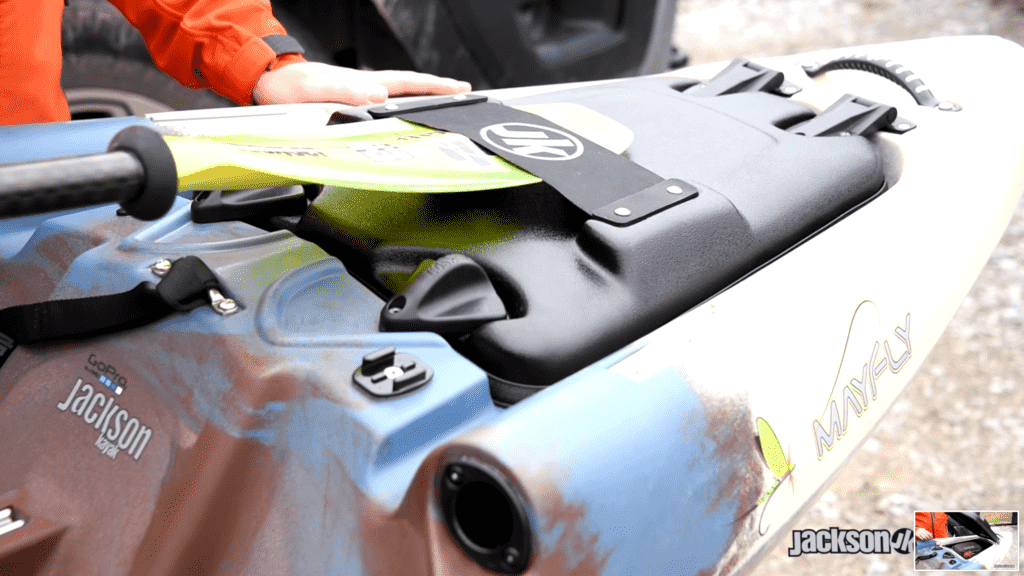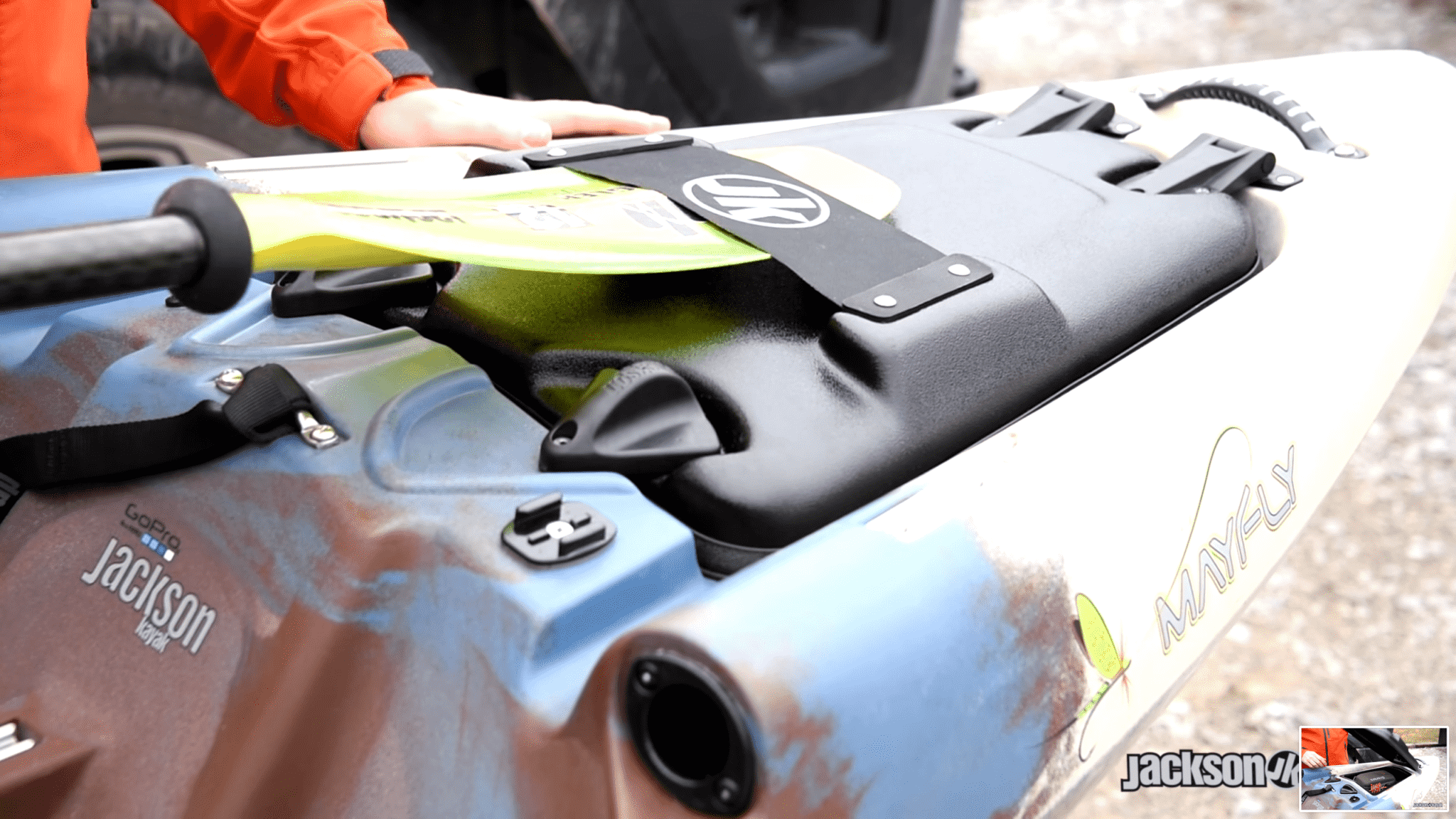 Handles
The Mayfly has three rigid grab handles, one on the bow and one on each side. We prefer a molded handle on the bow as it provides a secure way to strap the kayak on top of your car, but otherwise, these handles are quite comfortable. The stern handle is molded in and can be used to strap or lock down your kayak.
Stability
Most users praise the MayFly for being amazingly stable. "Earth-stable", as Chad Hoover put it. While not quite as stable as Jackson Big Rig (which is also 5″ wider), the MayFly provides a stress-free fishing platform.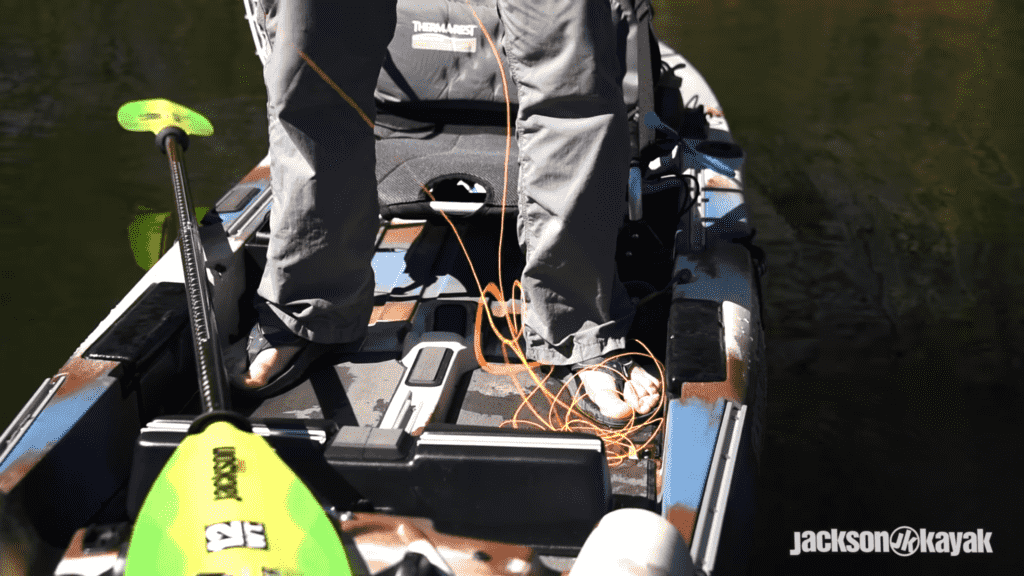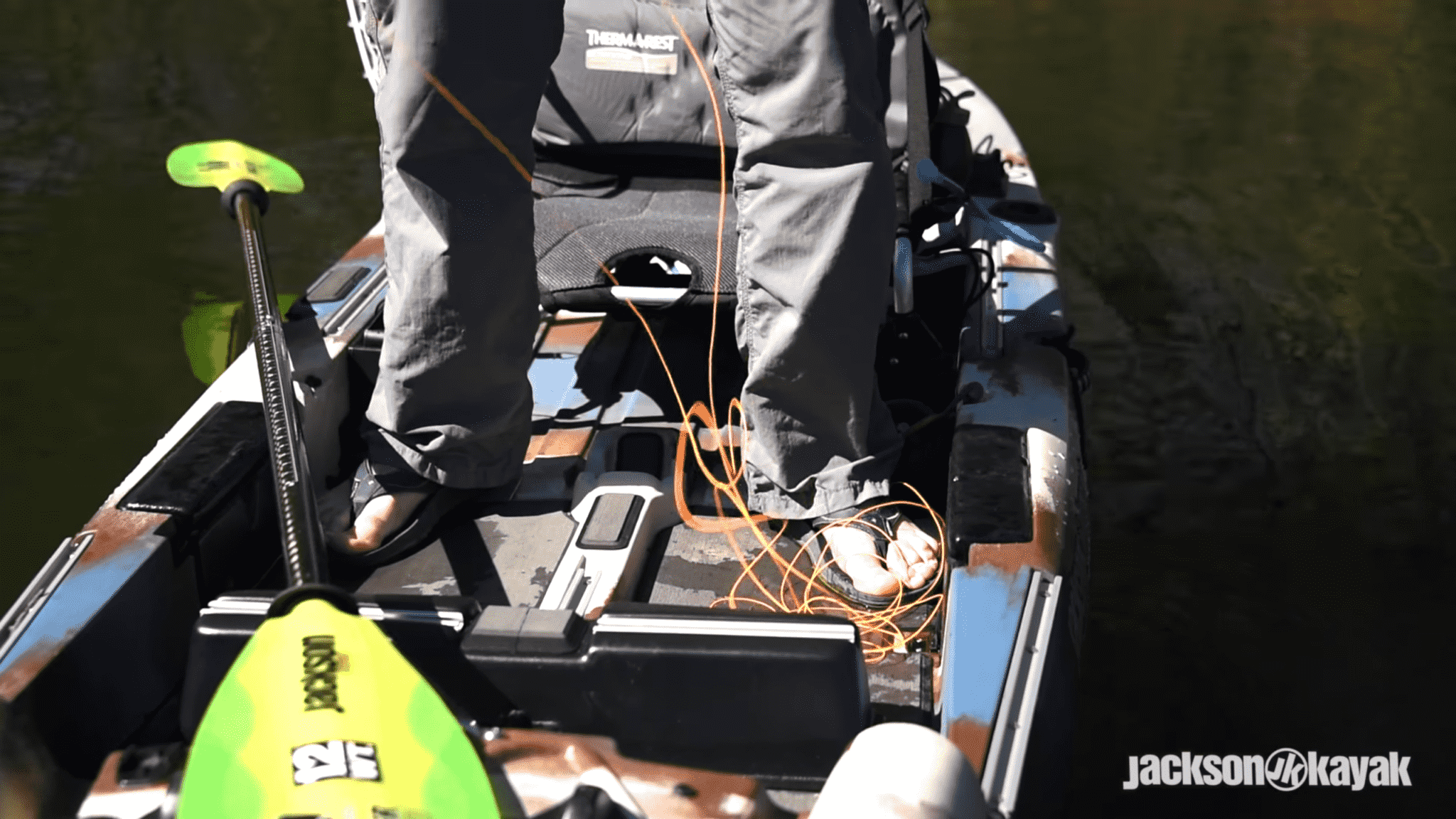 Maneuverability and Tracking
Interestingly for such a big boat, the MayFly is quite nimble, probably because it sits very shallow in the water. It is also less susceptible to the wind because of its low profile. Being shallow, the kayak still has a pronounced keel, which helps it track straight.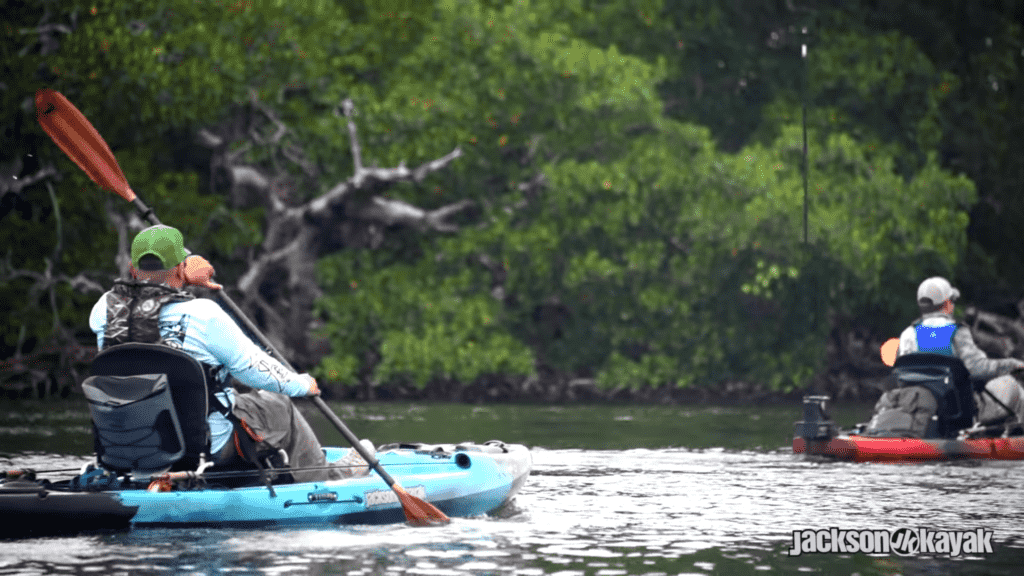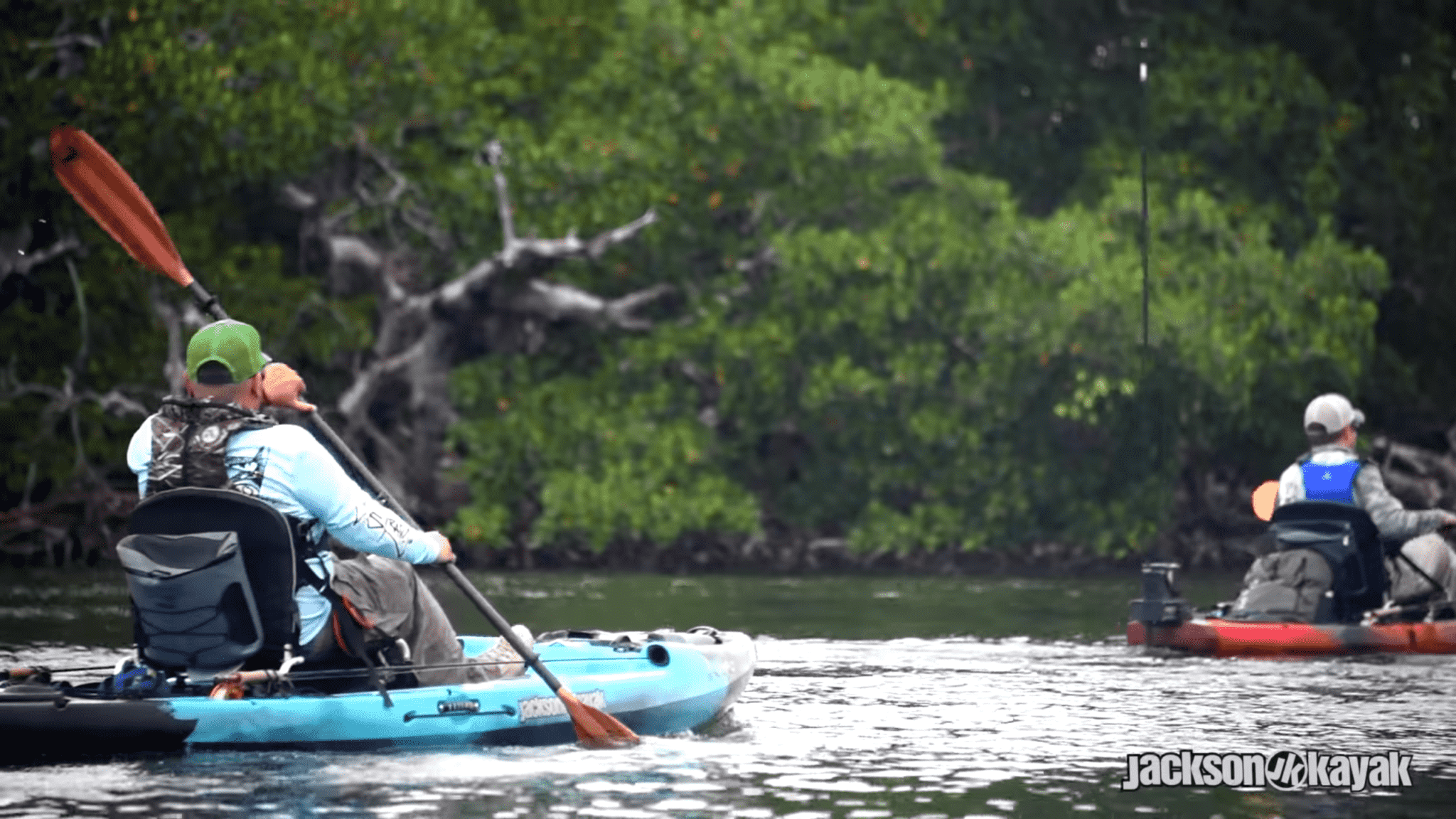 Speed
At 35″ wide, you can't expect a kayak to be fast. However, the MayFly is certainly not a slow boat either. It is fun to paddle and it will get you to your favorite fishing spot without any trouble.
Care and Maintenance
Rotomolded kayaks are extremely durable and require minimum maintenance. However, here are some useful kayak maintenance tips:
You need to do some maintenance when you take your kayak out of storage before the season. Check the hull for damage, inspect all hardware and rigging, replace anything that is worn out, check and refill the emergency gear. It is also a great time to get the new gear you were dreaming of last year.
During the season, it is a good idea to quickly spray down your kayak after each trip (especially in saltwater conditions). Store the kayak away from direct sunlight or use kayak covers. Avoid dragging the kayak on its hull if possible. A kayak cart is a great and inexpensive accessory that can prolong the life of your boat.
When it's time to put the kayak away for storage, turn it upside down and wash it with mild soap and a sponge. Make sure you get any sand, dirt or dead bugs out. Dry the boat thoroughly. Check the rigging and see what needs replacement. Loosen any bungees or straps that can be loosened. Apply some corrosion protection (like WD-40) to metal joints, screws, and bolts.
Storage
Jackson recommends storing your kayak indoors standing up on its end and secured by a strap so that it does not fall. If that's not possible, store your kayak hull up on some flat surface. Worst case, just put it somewhere there's no direct sunlight and use a cockpit cover to protect the kayak from dust or critters.
Warranty
Watercraft Purchased 2020 and After
First Year of Warranty: Jackson will replace or repair the hull for free (or replace the complete boat for 10% of the current MSRP), plus free shipping Second Year of Warranty: Jackson will replace or repair the hull for 10% of current boat MSRP (or replace the complete boat for 30% of the current boat MSRP), plus shipping. Third, Fourth and Fifth Year of Warranty: Jackson will replace or repair the hull for 30% of the current boat MSRP (or replace the complete boat for 50% of the current boat MSRP), plus shipping.
Note that some components are manufactured by independent companies and are covered by separate warranties. You can learn more by contacting Jackson.
To submit a warranty claim, you will need proof of purchase. Jackson may require you to provide photos of the damage or to return the product at your own cost.
International warranty claims are handled via Jackson's distributors. Warranty terms may be different in different countries. Please contact your local dealer to learn more.
Jackson Kayak Mayfly | Complete 2021 Walkthrough
Jackson Kayak MayFly | Complete Walkthrough
Jackson Kayak MayFly on the water demonstration
Additional information
Specification:
Jackson MayFly
| | |
| --- | --- |
| Width (in) | 35 |
| Height (in) | 12 |
| Weight (lb) | 89 |
| Load Capacity (lb) | 450 |
| Cockpit type | sit on top |
| Technology | rotomolded |
| Propulsion | paddle |
| Crew | 1 |
| User Level | Advanced, Beginner, Intermediate |
| Intended Use | Fishing |
| Water type | Slow rivers (Class I-II), Small lakes |
| Seat | Removable Ergo padded frame seat with high-low positions that slides fore and aft on tracks |
| Rear storage hatch | 1 |
| Rod holders | 4 |
| Paddle holders | 2 |
| Footrests | adjustable |