Pelican Trailblazer 100 NXT
| | |
| --- | --- |
| Stability | 7 |
| Speed | 7.5 |
| Tracking | 6 |
| Comfort | 6.5 |
| Features | 7 |
| Portability | 9 |
Pelican Trailblazer 100NXT is an extremely popular 10-foot sit-in recreational kayak. Its light weight, excellent stability, and ease of use make it a no-brainer choice for thousands of beginners and casual paddlers all over the country. It does not have a ton of features, but it's got everything to ensure you have a great experience on the water.

Pelican Trailblazer 100 NXT
Pelican Trailblazer 100 NXT Prices
Description
Pelican Trailblazer 100NXT is an extremely popular 10-foot sit-in recreational kayak. Its light weight, excellent stability, and ease of use make it a no-brainer choice for thousands of beginners and casual paddlers all over the country. It does not have a ton of features, but it's got everything to ensure you have a great experience on the water.
PROS
Great value
Stable
Maneuverable
Padded seat and backrest
Drain plug
Large cockpit with a molded table
Multiple color options
CONS
No dry storage
No paddle holder
Does not like choppy water and strong wind
Pelican Trailblazer 100 NXT is a 10-foot sit-inside kayak that you are very likely to see no matter where you go paddling. While this model is designed for beginner paddlers, it does have fans from all experience ranges. The reason is its value and stability. This durable kayak offers a spacious cockpit and generous storage space. It is very light and convenient for most calm-water outings.
Pelican International is known as one of the best-managed companies in Canada and considered a leading expert in thermoforming technology as a result of having more than fifty years of experience in small-boat manufacturing. Pelican combines innovative technology with proprietary materials to manufacture sturdy kayaks with impressive longevity and safety.
Size and Weight
Pelican Trailblazer 100NXT is 10 ft (305 cm) long, 28 in (71.4 cm) wide and 14 in (35.5 cm) high and it can comfortably seat one person. Weighing only 35.6 lbs (16.2 kg), this kayak is one of the lightest 10-footers on the market. Being almost identical in dimensions, Pelican Mustang 100X is 3 pounds heavier while kayaks from other brands are heftier still.
RELATED: Best Lightweight Kayaks: Reviews and How to Choose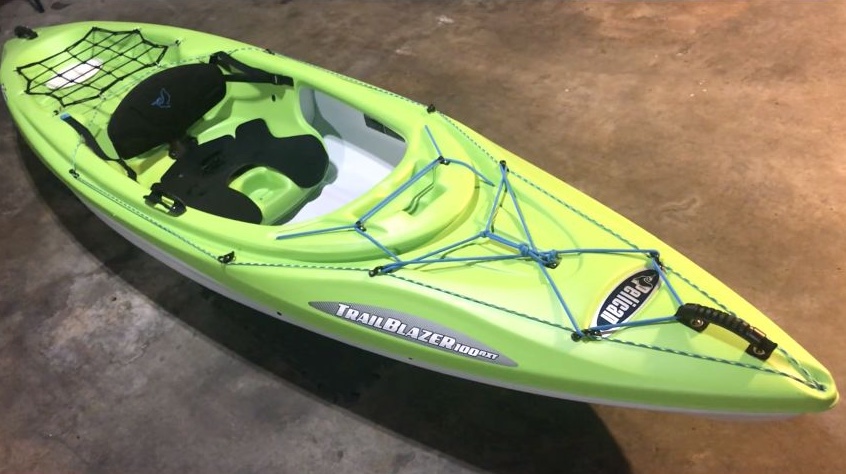 Picture: sightsalongtheshore
In regards to width (28 in – 71 cm), being a bit narrower than the Mustang 100X or ARGO 100X (both 29 in – 74 cm), the Trailblazer 100NXT is easy to carry on your shoulder, even by women, making this small boat a reliable and all-round paddling partner.
When compared to other Pelican kayaks of the same size, the Trailblazer with its 35.6 lbs (16.2 kg) is the lightest in the bunch: the Cove 100XP and Rise 100X both weigh 38lbs (17.2 kg), while the ARGO 100X is 41 lbs (18.6 kg). This feature allows the boat to be convenient for traveling, float better and to offer the paddler an organic connection with the water. Not to forget the ease to transport the kayak on and off the car, to and from the water.
Capacity
Kayak manufacturers consider many factors when calculating a kayak's load capacity. The primary three measurements that engineers integrate with their formulas are 1) Length, 2) Width and 3) Displacement or volume. In plain terms and without high-math calculations, it is best not to exceed two-thirds of a kayak's maximum load capacity. Every additional pound can influence the kayak's speed and performance.

Trailblazer's load capacity of 275 lbs (125 kg) is rather standard in comparison to some of Pelican's other 10-foot kayaks. The reason why Mustang 100X and ARGO 100XP have 300 lbs (136 kg) load capacity despite being 10-feet (305 cm) long is the fact that they have a slightly wider beam and higher deck.
Construction and Material
Pelican utilizes the Twin Sheet Thermoforming (TST) technology building their kayaks from RAM-X™, a proprietary multi-layer very high-density polyethylene.
This material is based on High Molecular Weight Polyethylene (HMWPE) that consists of three layers: In the first layer, the manufacturer adds vibrant colors, UV and scratch resistance. The second layer is the high-density plastic with an applied third layer of added sturdiness and durability for tremendous overall structural rigidity.
The RAM-X™ displays considerable memory characteristics (the boat quickly regains shape upon violent contact), due to the TST production process. Namely, kayaks' decks and hulls are melded together during the thermoforming process, which results in added longevity, strength and impact resistance.
The RAM-X™ polyethylene is a light but robust material that requires minimum care and maintenance. The two weaknesses it does have are: 1) in rare circumstances sharp objects can pierce it through; 2) it requires some skills, time and appropriate materials to patch a hole.
Pelican International is candid when it comes to environmental awareness and giving back to nature. They put the money where their mouth is by manufacturing their kayaks with 99% recycled material gathered during the early stages of the production process.
Cockpit
Passionate multi-kayak owners unanimously agree on one thing: Pelican kayaks are recognizable for spacious and comfortable cockpits. You can rarely find a wider or longer paddling space in a kayak. Trailblazer's cockpit is 42.5 in (108 cm) long, 20.5 in (52 cm) wide and 14 in (35.5 cm) high.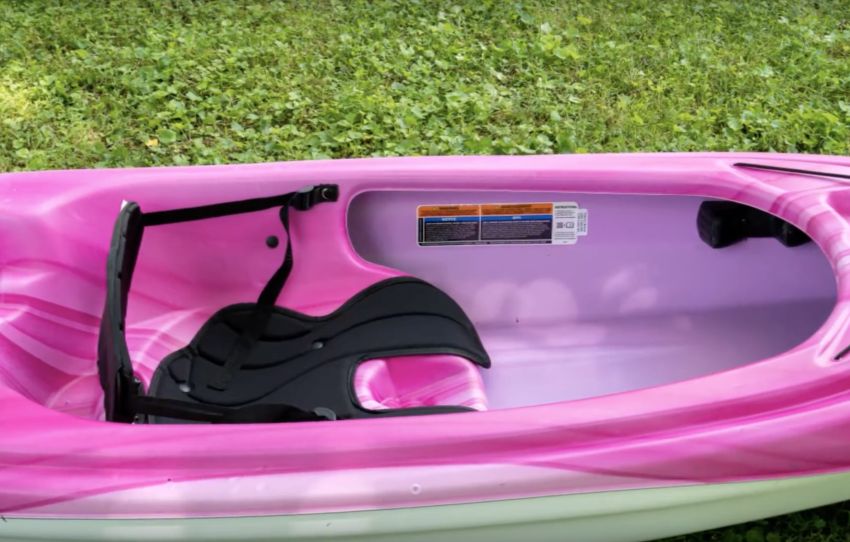 Picture: Wild Wonderful Weekends
Trailblazer's cockpit occupies a significant section of the vessel, making it easy to enter and exit while keeping the kayak well balanced. It comes with some exciting features such as the molded table with a bungee cord where you can strap a water bottle and a molded cup/bottle holder in the seat. Below the front deck, there is a tightly stretched net where you may want to keep your phone or other personal items easily accessible.
Due to the particularly spacious cockpit without bulkheads, gear or camping necessities can safely be stored and protected from falling off into the water and bring extra stability with smart weight distribution.
Seat
The Trailblazer 100NXT offers some serious comfort with the ErgoBase™ padded seat and adjustable ErgoForm™ padded backrest. The cushioned seat with a molded cup holder, a cockpit table with a bungee cord, adjustable footrests and storage net all contribute to an enjoyable paddling experience.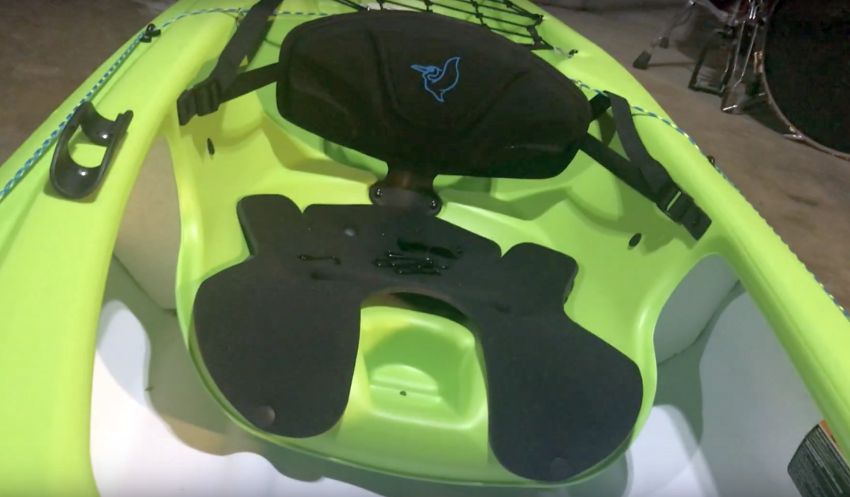 Picture: sightsalongtheshore
Thigh Pads
Pelican Trailblazer 100 NXT does not include knee pads, which is understandable for such a budget-friendly boat. Admittedly, cushioned knee pads are always a useful feature to have in a kayak, especially for longer trips.
Footrests
Pelican Trailblazer 100 NXT features molded footrests with four predetermined positions. This construction is great when several people use the boat at the same time as you don't have to re-adjust the footpegs. However, there's always a risk that your ideal foot position will be in between the footrest positions. It is always a good idea to test those before buying the kayak.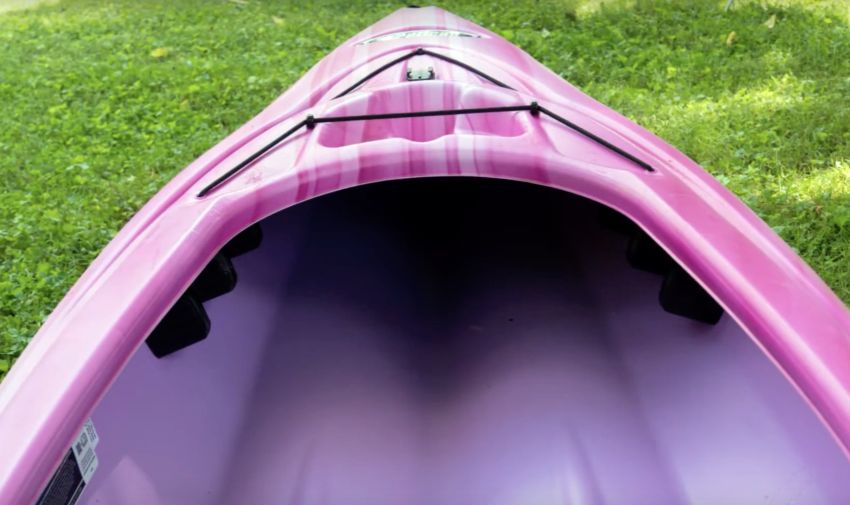 Picture: Wild Wonderful Weekends
Paddle Holder
Pelican Trailblazer 100 NXT does not have a paddle holder or even an indent on the cockpit rim to put the paddle across the boat. This is really a shame: a simple bungee cord-based paddle holder may seem like a tiny feature but it adds a ton of comfort on the water (think pausing to take a picture or a snack).
Storage
Pelican Trailblazer 100 NXT comes with basic storage options that won't impress anyone but should be enough for short recreational trips that this kayak is designed for.
Starting with the bow, you get a small storage platform on the front deck secured with a V-shaped bungee cord. It is perfect for items you may need on the water, such as a rain jacket or a lunch bag.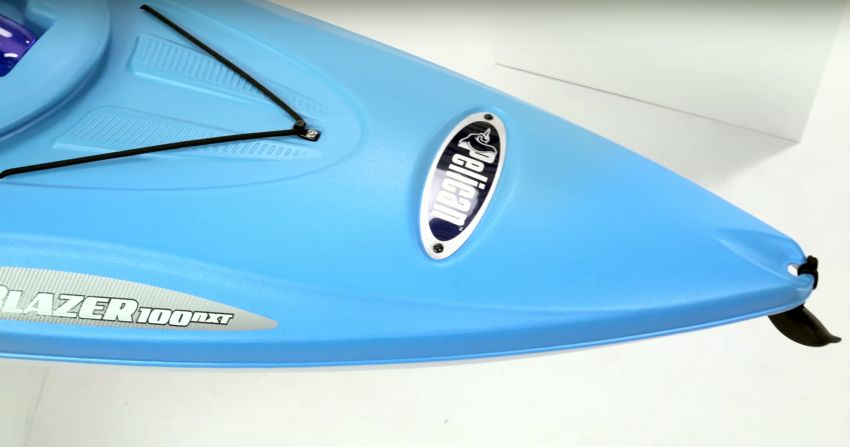 In front of the cockpit, there is a molded cockpit table with three compartments and a bottle holder. Another bungee cord holds everything in place.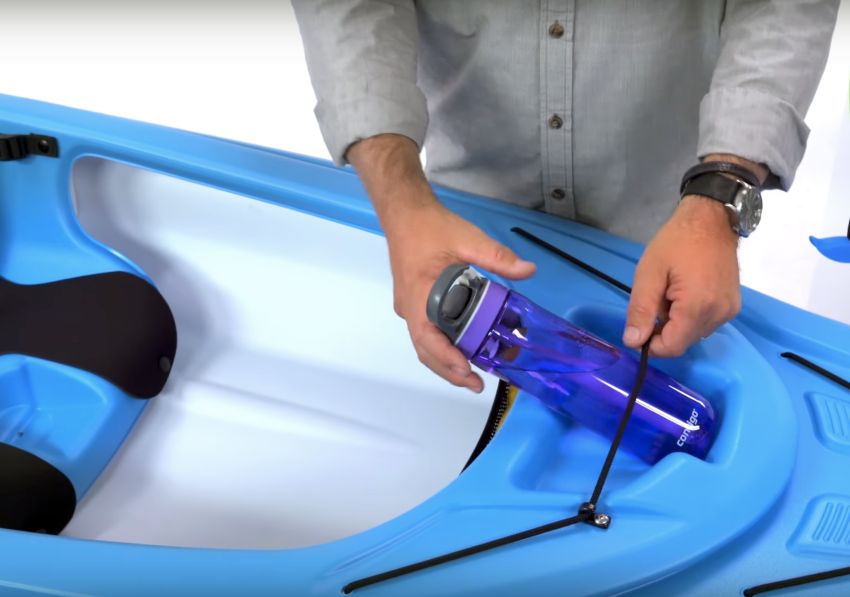 Depending on your height and how long your legs are, you may be able to put quite a lot of stuff inside the hull in front of you. Just make sure everything is inside a dry bag. Alternatively, you can use this space to add a float bag and greatly improve the safety of the kayak.
Under the cockpit table, there's a small storage net for small items.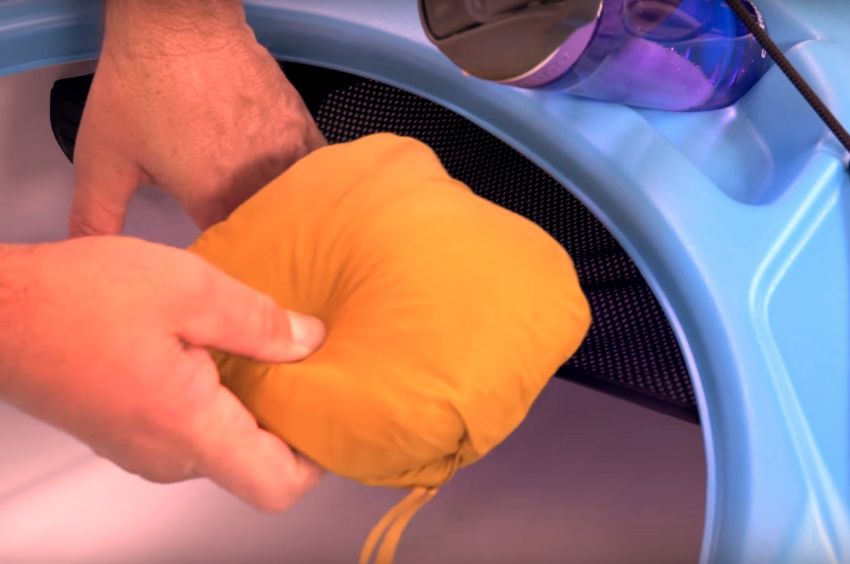 At the stern, you have a decently sized tank well with two mesh covers above it. We prefer traditional bungee cords (and the Trailblazer used to have them up to 2018), but Pelican must have their reasons to replace them with the mesh covers.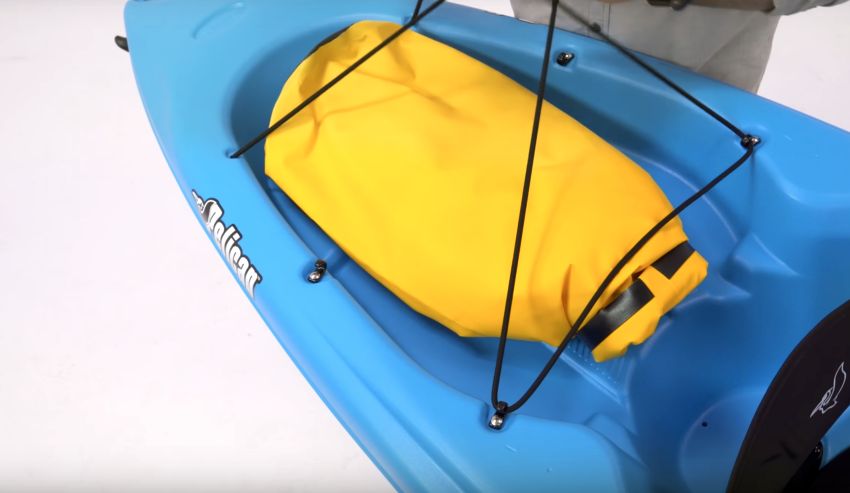 One thing we don't like about the tank well is that it is not separated from the cockpit. Any water that gets there will drain right on the seat and then into the cockpit. It does not just give a wetter ride but can be dangerous in some situations
Handles
The Trailblazer has two nifty ergonomic carrying handles located at the bow and stern positioned for two people to carry the kayak. However, being very lightweight, feel free to hold the kayak by any part of the body you find comfortable. In case you've had a long paddling session, dragging the kayak is also an option because of the material strength.
Stability
The Trailblazer 100NXT is a beginner-favorite due to the stability resulted from its hull design. The twin-arched multichine, flat-in-the-middle hull, accommodates inexperienced paddlers with safety and great primary and secondary balance. The 28-inch beam, as well as the overall even weight distribution, add to the kayak's stability and steady behavior out in the water.
You need to be aware that this kayak is not intended for rough waters, strong currents and winds. These weather conditions can cause the kayak to capsize or fill with water. Without bulkheads, it will be very difficult to empty it.
Maneuverability and Tracking
If we look at the Trailblazer's shape, we can see that the bow and stern fade to a pointed keel which certainly assists during tracking. The kayak's smooth and narrow surface causes minimal traction on the water, cutting it effortlessly. As a result, the boat displays stable tracking in a straight line when paddling evenly.
The Trailblazer is a very easy-to-master kayak due to the boat's responsiveness and straightforward maneuverability. Even if you're a long-time kayaker, it is always a good idea to put on a life vest while on the water.
Speed
The Trailblazer's narrow bow and stern and broad beam, predispose the kayak to pick up speed fast, maintain it while paddling, but slow down quickly due to being wide for a 10-feet long kayak. It does not have sufficient overall length to keep going with the same speed if not paddling.
Although the Trailblazer 100NXT is not considered particularly fast kayak, it is capable of providing tons of excitement and speed in no time, as long as you paddle.
Durability
Pelican uses their proprietary RAM-X™ multi-layer, UV-stabilized and extremely impact-resistant material to achieve one goal – to produce kayaks with significant longevity.
The results of the innovative RAM-X™ material are creating very light products (the TST technology uses less material per boat) that are very difficult to break or deform. In a rare situation, should the body gets a deep cut or a crack, patching it can be a laborious task.
Trailblazer's material elasticity quickly regains shape even after a violent collision with a hard object in the water or ashore. Paying more attention to murky waters is a good idea even with such a well built kayak.
Related:
10 Best Kayaks for Beginners: Reviews and Buying Guide
Care
The Trailblazer 100NXT requires minimal maintenance. However, to make sure that the kayak always performs well, here are some general rules to follow:
INSPECT THE HULL AFTER EACH TRIP:
Regardless of how uneventful the paddling has been, upon arrival home, always check the hull for cracks, abrasions or more serious breaches. Light nicks and scratches are a normal part of the experience. In case the hull has been dented or if you notice deep scratches, follow these instructions:
The most effective way to patch a hole is to heat-weld new HWM PE or HDPE plastic piece into the cracks. It's best to use a flat surface such as a soldering iron by utilizing welding techniques to bond the material for an air-tight lasting patch. This procedure takes some skill but is a relatively simple process. Do not use chemical products or abrasives. If you haven't previously done similar reparations, we strongly recommend seeking professional help.
INSPECT ALL MOVING PARTS AND RIGGING BEFORE GOING ON A TRIP:
Always check the straps, buckles, hatch cover and cords if they hold a strong elasticity. If any of the moving parts become loose, it is better to replace them.
HOW TO STORE YOUR KAYAK:
Store your kayak on its side, never on the hull. To protect your kayak, provide shelter from the sun. To prevent heat build-up, do not cover the boat with tarp laying directly on its surface. Leave adequate air space to allow for air circulation. If possible, it is best to store your kayak inside for the winter. Don't allow water to accumulate between the deck and hull and freeze.
ENSURE SAFE TRANSPORTATION:
Transportation can cause damage if the kayak isn't fastened firmly. Make sure you load it and unload it with care.
Warranty
Pelican offers a limited lifetime warranty on its RAM-X™, RAM-X PREMIUM™ and POLY-XR™ boats (hull and deck) and a 1-year warranty on product parts and accessories.
This Limited Lifetime Warranty is not valid unless registration is submitted within 30 days of retail purchase.
You can register your product via their website (click here) or by completing and returning the registration card found in your owner's manual.
You can find the complete terms and conditions of the warranty on Pelican's website.
Pelican Trailblazer 100NXT 2018
The Pelican TRAILBLAZER 100 NXT is designed to answer the needs of the most demanding recreational paddlers. Built on a twin-arched multi chine hull, this ...
2018 Pelican Trailblazer 100NXT - Review and Backcountry Modifications
Overview of the 2018 Trailblazer - Review Pelican Trail blazer 100 NXT, modifications for backcountry kayak touring, solo paddling, cheap mods, harbor freight, ...
Pelican Trailblazer 100 NXT kayak review
Reviewing the performance and possible accessories/upgrades of the kayak. Weight/width in link below. Let me know your thoughts/opinions and if I missed ...
Pelican Trailblazer 100 Kayak - Our Performance Review on Lake Michigan
We took the kayak out on Lake Michigan for some calm weather use. See how it did and if it would work for you. NOTE: While these kayaks are fun to paddle ...
Pelican Trailblazer 100 Kayak - Our opinion and review
A review of our new Pelican Trailblazer 100 kayak.
Additional information
Specification:
Pelican Trailblazer 100 NXT
| | |
| --- | --- |
| Length (in) | 120 |
| Width (in) | 28 |
| Height (in) | 14 |
| Weight (lb) | 36 |
| Load Capacity (lb) | 275 |
| Cockpit length (in) | 42.5 |
| Cockpit width (in) | 20.5 |
| Cockpit width (cm) | 52 |
| Cockpit type | sit inside |
| Technology | blow-molded |
| Propulsion | paddle |
| Crew | 1 |
| User Level | Beginner, Intermediate |
| Intended Use | Recreation |
| Water type | Slow rivers (Class I-II), Small lakes |
| Seat | Ergobase™ seat pad with an Ergoform™ adjustable padded backrest |
| Footrests | molded |
| Warranty | limited lifetime for hull; 1 year for pre-assembled accessories |
Dimensions
| | |
| --- | --- |
| Weight | 16.33 kg |
| Dimensions | 305 × 71 × 35 cm |