Vibe Sea Ghost 110 is a very popular model and a strong player in the sub-$1,000 niche. Although the manufacturer's suggested price was bumped up with the 2019 model update ($899 vs. $799 before), this kayak still demonstrates exceptional value. Let us see why.
Vibe Sea Ghost 110 Specs
| | |
| --- | --- |
| Length | 11 ft (335.3 cm) |
| Width | 33 in. (83.8 cm) |
| Weight | 62 lbs (28.1 kg) |
| Capacity | 425 lbs (192.8 kg) |
| Material | Rotomolded from High-Density Polyethylene (HDPE) |
| Warranty | Limited lifetime warranty on the hull; 1-year limited warranty on accessories |
Size and Weight
Vibe Sea Ghost 110 is a sit-on-top fishing kayak. It is 11′ long, 33″ wide, and weighs 62 lbs. It is a relatively lightweight and compact boat that can be handled by one person in most situations. Another advantage is that shorter kayaks are easier to transport and store.
Capacity
Vibe Sea Ghost 110 has a maximum capacity of 425 lbs. This is awesome for such a short boat. The Sea Ghost 110 can carry 100 lbs more than Perception Pescador 10, 50 lbs more than Perception Pescador 12 (which is a 12-footer), and 25 lbs more than Jackson Bite, which is 6″ longer and 3″ wider.
Construction and Material
The Vibe Sea Ghost 110 is made from High-Density Polyethylene using the rotational molding technology. Beads of polyethylene are poured into the mold as it gets heated up and slowly rotated so that the material fills up every nook and cranny. After the mold cools down, you get a one-piece construction that is extremely rugged and durable. Boats manufactured with the rotomolding process tend to be long-lasting and sturdy.
The downside of polyethylene is that it is a very non-stick material. If you manage to put a hole in the hull, you can't just glue a patch to it. The most effective way to patch the hole is to heat-weld new HWM PE or HDPE plastic pieces (or the same material) into the crack. It's best to use a flat surface such as a soldering iron or blow torch by utilizing welding techniques to bond the material for an air-tight lasting patch.
The Vibe Sea Ghost 110 comes with a replaceable skid plate.
Stability
A popular question about almost any fishing kayak is "Can I stand in it?". For Vibe Sea Ghost 110, the honest answer would be "it depends". While many people have no problems standing in their Sea Ghosts, there are numerous descriptions of the kayak as a little "tippy" or "wobbly". Primary stability is not a forte of Vibe Sea Ghost 110 and is something that you'll have to get used to, especially if you are a taller and/or heavier person.
Maneuverability
That's where the Sea Ghost 110 really shines. First of all, it is quite a short boat, which makes it inherently easier to turn. If that is not enough, this kayak comes with a toe-controlled rudder, making it even more agile and controllable. Most of the time, however, you won't need the rudder because the boat turns very easily with a paddle stroke or two.
Tracking
Jackson Sea Ghost 110 tracks really well. This is achieved by a combination of a well-balanced hull and an integrated rudder. The kayak is also less subject to weather cocking because of its relatively low profile. It does not get blown around by the wind like some other kayaks of a similar size.
Deck/Cockpit
Vibe Sea Ghost 110 offers a functional deck designed for better gear organization. The most prominent element is the central Versa console between the paddler's legs.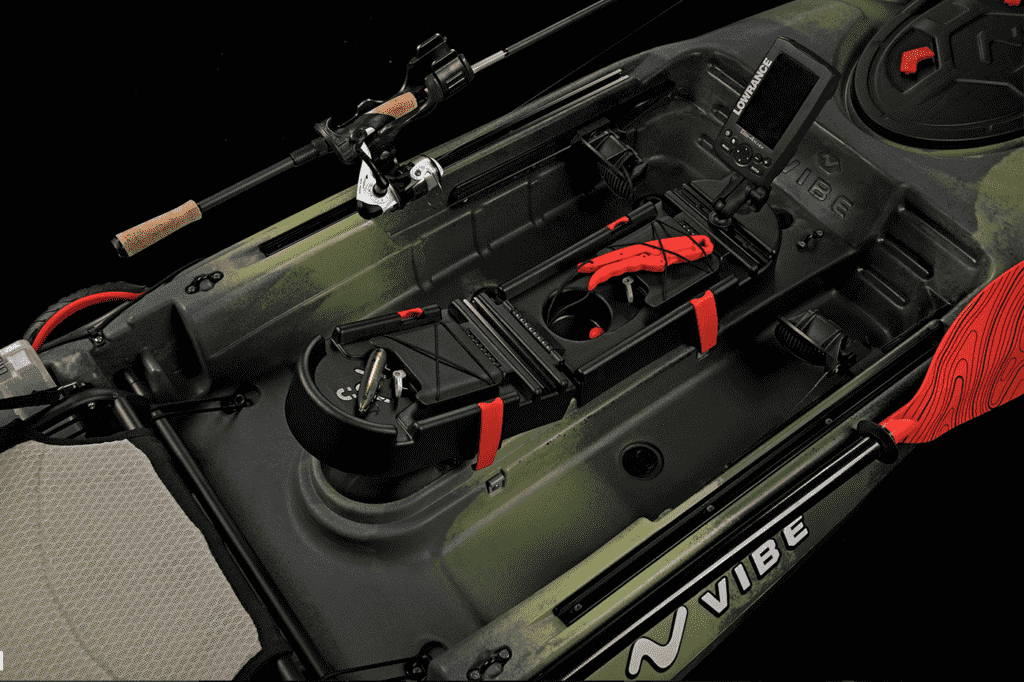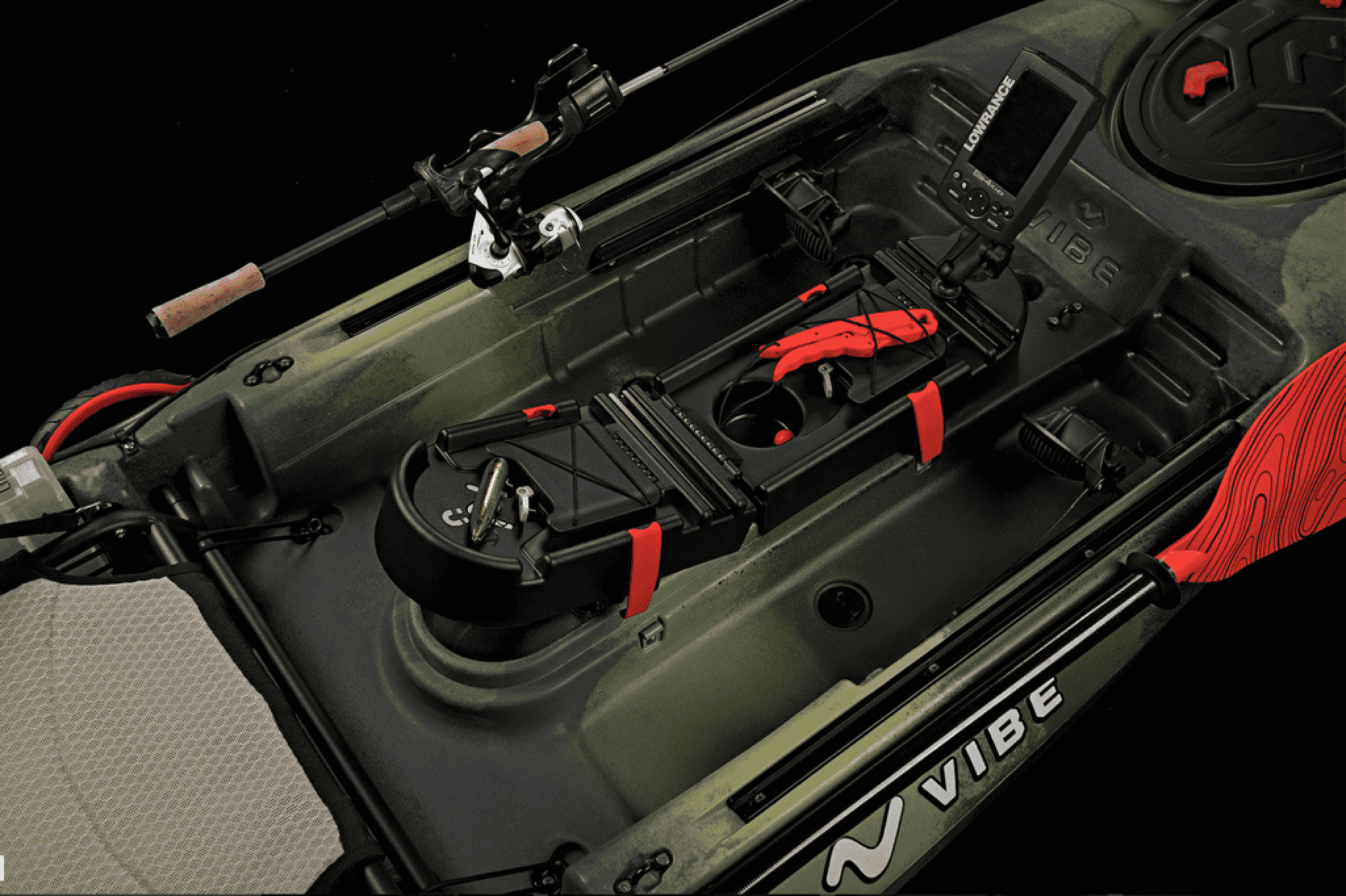 You either love it or you hate it. The console provides a ton of gear management options. It has two small gear tracks where you can mount a fish finder, a rod holder, or a GPS. A hole right in front of the console connects with a transducer scupper in the hull while a fishfinder battery can be stored inside the console, giving you a clutter-free fish finder setup. You also get a bottle holder, some bungee cords, and two small watertight hatches for your phone, keys, etc. The hinged console cover opens halfway or all the way, giving you access to a large storage pod under it. At the very back, there is a magnetic spot where you can toss your lures, hooks, or pliers that you want to stay in place. A really cool idea.
The downside of the console is that it occupies valuable standing space, limiting your freedom of movement on the deck. Unhooking fish is also harder when you have limited space on the deck. Ultimately, it comes down to personal preference. Some people like central consoles, some don't.
Seat
Vibe Sea Ghost 110 features an updated Hero seat. This foldable frame seat has high and low positions and can be removed from the boat to use as a camping chair. The seat is made from a breathable mesh fabric that dries quickly. You can adjust the backrest with side straps. The seat and the backrest are padded to improve comfort during long fishing trips. It does not slide fore and aft like on some higher-end kayaks, but overall, the comfort and functionality it provides are adequate for this price point.
Storage
The Sea Ghost comes with generous storage compartments throughout the deck. At the bow, there's a large storage hatch that comes with a waterproof cargo bag inside. The company changed the gasket seal for a better quality system and included a sturdy watertight lid with two v-shaped quick-lock handles.
On both sides of the seat, you can find molded storage compartments designed to fit Plano 3600 tackle boxes.
Another improved storage option introduced with the Sea Ghost 110 is the Versa console. It includes two small square hatches with dry bags to put the items you need at hand, a good-sized molded cup holder, and a magnet base to keep your small metal items, such as lures or hooks, easily accessible. The console's watertight lid is divided into two parts with a hinge opening system and a set of flip latches on both sides for easy access. It is designed to store your fishfinder battery and other accessories safely.
Behind the seat, there's a 6-inch waterproof hatch with a cargo bag.
Last but not least, there is a large tank well at the stern that can comfortably carry a standard size milk crate or cooler. The compartment is secured with a bungee cord to hold your stuff in place.
Gear Mounts
Surprisingly for such an affordable kayak, Vibe Sea Ghost 110 provides a lot of gear mounting options.
Two top-load gear tracks on the cockpit gunnels are perfectly placed for all kinds of custom gear such as rod holders, casting braces, GoPro mounts, you name it. The tracks are long enough to allow a lot of flexibility in where you position your gear.
Vibe Sea Ghost 110 has a transducer scupper which is large enough for newer, larger transducer units. The scupper hole is positioned right in front of the central console, so you can easily assemble a streamlined, clutter-free fish finder installation. There are two eyelets next to the scupper hole to give you even more mounting options.
The central console offers a ton of gear mounting options. You can store your fish finder battery and wiring inside the console. The console cover includes two short gear tracks, which can be very useful for mounting your fish finder or various gadgets and accessories.
There are two handy eyelets on each side of the seat where you can tether your small tools like line cutters or pliers.
The rear tank well also offers two long top-loading gear tracks. The thumbscrews that hold the bungee cord slide freely on the tracks so you can position them the way you want or remove them altogether.
Rod Holders
Vibe Sea Ghost 110 comes with two flush-mount, capped rod holders. These are standard rod holders for spinning or casting rods, but they may not be well-suited for fly fishing poles.
This kayak also lets you store your rods inside the hull. The front hatch is large enough to put your rods inside comfortably.
Finally, the kayak comes with a lot of gear tracks, giving you unlimited opportunities to add rod holders anywhere you like without ever drilling into your boat.
Rudder
Vibe Sea Ghost 110 comes with a pre-installed toe-controlled rudder system. The rudder steering got upgraded from previous Sea Ghost models with a 750-pound braided non-stretch cord that makes the rudder more responsive to the toe commands and significantly reduces the effort required to control the kayak. The rudder can be easily deployed or raised from the sitting position by pulling a cord.
Footrests
The Sea Ghost 110 uses a reliable, sturdy, and adjustable set of footrests that are suitable for kayakers of all sizes. The rudder toe control pegs are installed on top of the footrests. The two systems do not interfere with each other so you can comfortably paddle, fish, or maneuver your kayak in any environment.
Paddle Holders
Vibe Sea Ghost 110 comes with two molded paddle holders, one on each side. The paddle is secured with a bungee cord to give you more peace of mind. On the bow, there is a simple bungee paddle park to quickly toss your paddle blade when changing lures or fighting a fish.
Handles
The Sea Ghost 110 features four carrying handles. These are made from rigid plastic with some padding on the inside. The handles are well-positioned and make it easy to handle the boat. The rear handle is partially obstructed by the rudder blade but you can easily push it to the side when you grab the handle.
Care and Maintenance
Rotomolded kayaks are incredibly durable and require minimum maintenance. However, to make sure that the kayak always performs well when plunged into the water, we must follow some general rules:
Regardless of how uneventful the paddling has been, upon arrival home, always check the hull for cracks, abrasions, or more serious breaches. Light nicks and scratches are a normal part of the experience. It is also a great time to get the new gear you were dreaming of last year.
During the season, it is a good idea to quickly spray down your kayak after each trip (especially in salt water). Store the kayak away from direct sunlight or use kayak covers. Avoid dragging the kayak on its hull if possible. A kayak cart is a great and inexpensive accessory that can prolong the life of your boat.
Make sure you get any sand, dirt, or dead bugs out. Check the rigging and see what needs replacement. Loosen any bungees or straps that can be loosened. Apply some corrosion protection (like WD-40) to metal joints, screws, and bolts.
Always check the straps, buckles, hatch cover, and cords if they hold a strong elasticity. If any of the moving parts become loose, it is better to replace them.
Storage
Here are some useful storage tips for rotomolded kayaks:
Dry the boat thoroughly.
Store your kayak on its side, never on the hull
To protect your boat, provide shelter from the sun.
To prevent heat build-up, do not cover the boat with tarp laying directly on its surface. Leave adequate air space to allow for air circulation.
Don't allow water to accumulate between the deck and hull and freeze.
If possible, it is best to store your kayak inside for the winter.
Warranty
Vibe provides a Limited Lifetime Manufacturer's Warranty for defects on all new kayak and cooler purchases and one year on the attached parts. This warranty covers only Vibe products that are purchased from an authorized Vibe dealer. This warranty applies only to the original purchaser and may not be transferred. Proof of purchase must be presented at the time of the warranty claim. Normal wear and tear are not warranted.
In case your Vibe kayak gets damaged during shipping, Vibe Kayaks recommends the following:
If you find any significant damage, such as holes or deep gouges, have the carrier document in writing a detailed description of the damages before signing anything, take pictures, return the damaged kayak to the driver, and contact Vibe immediately.
If you find minor damage, such as minor scratches, dings, and dents, note the damage on the Bill of Lading, take pictures and accept the shipment. You can contact Vibe with any questions.
If the product is signed for without damage being reported or if the driver leaves the property without the damage being reported, Vibe Kayaks won't be able to replace it. You will have to pay return freight charges (which range from $185 – $390) to get a replacement or accept the kayak as is.
New items are eligible for a full refund within 14 days of purchase.
To read the full terms of Vibe Kayak's warranty, click here: https://vibekayaks.com/pages/warranty