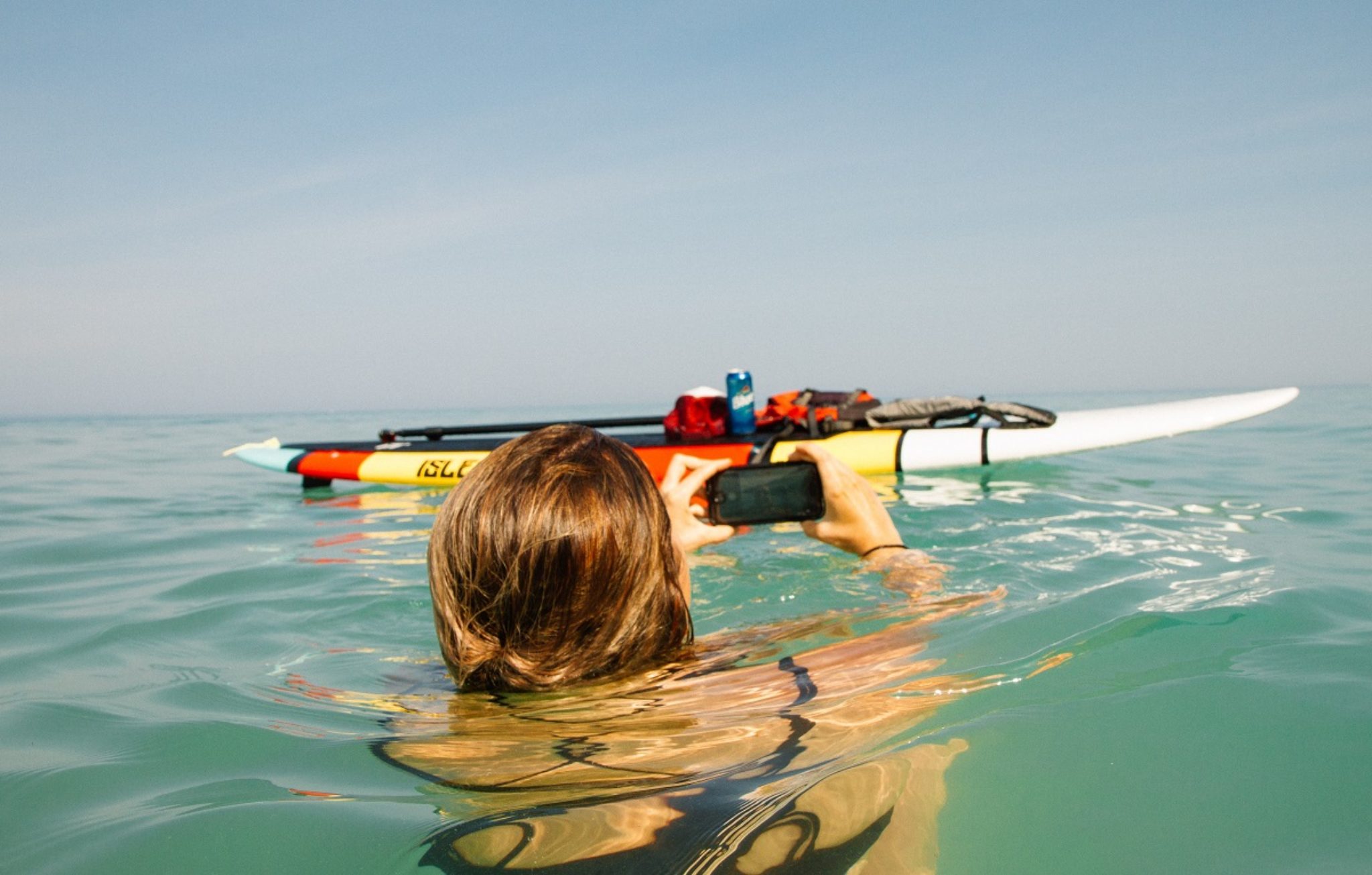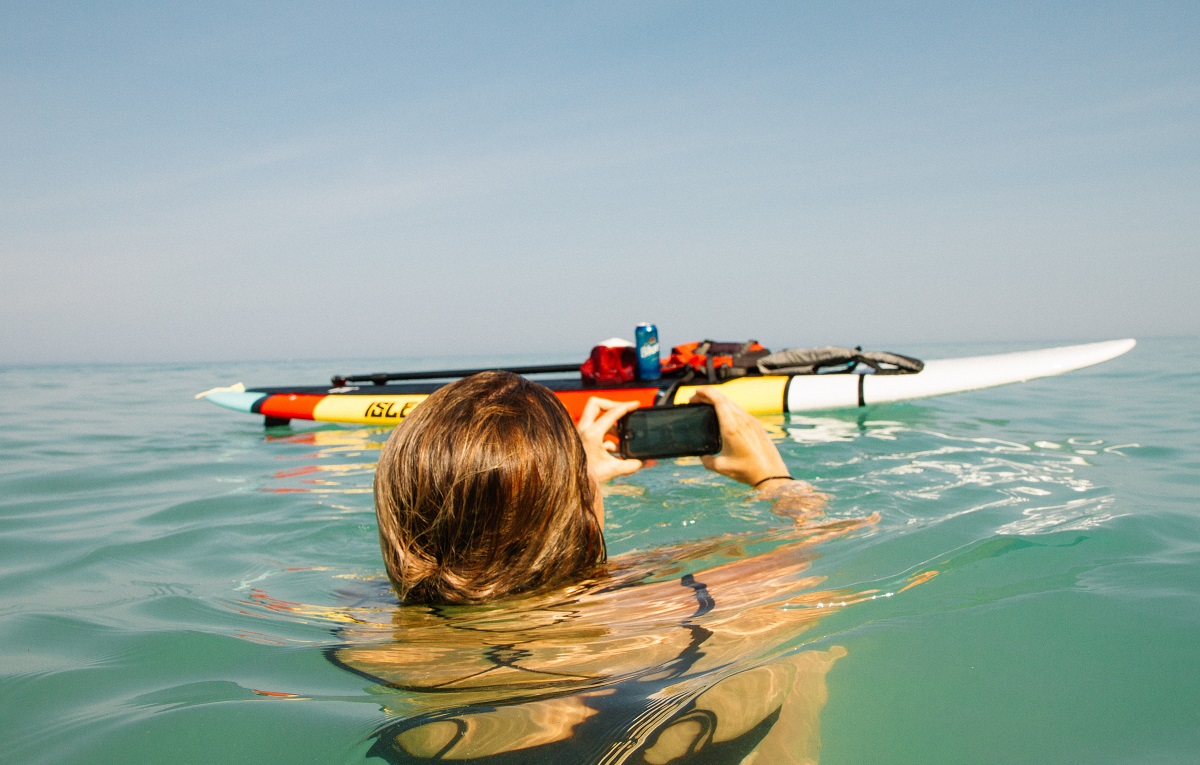 This is our list of the best paddleboarding accessories.
Whatever type of paddle boarding you're going to do—touring, whitewater paddling, SUP Yoga, SUP surfing, or just relaxing out on the water—you'll find our list below has all the accessories you could possibly need for safety, comfort, and performance.
Read over the list, see our recommendations, and make sure you've got all these SUP accessories stocked. I promise they'll make your paddling trips a whole lot better in every possible way.
The Best SUP Accessories You Just Can't Live Without
Paddle
You might think that all SUPs come with a paddle, but you'll be surprised to find that many (particularly hard-shell boards) don't.
Inflatable SUPs that include a foldable paddle in the package may offer you a "cheap" one—meaning cheap in terms of quality as well as price. Maybe it'll be made from flexible plastic that breaks or cracks easily, or the shaft is an aluminum that's just not up for years of hardcore use.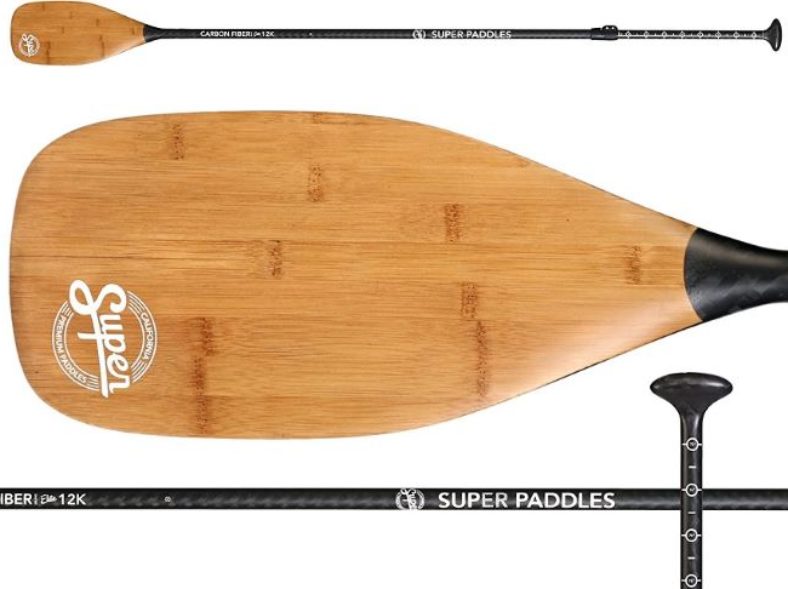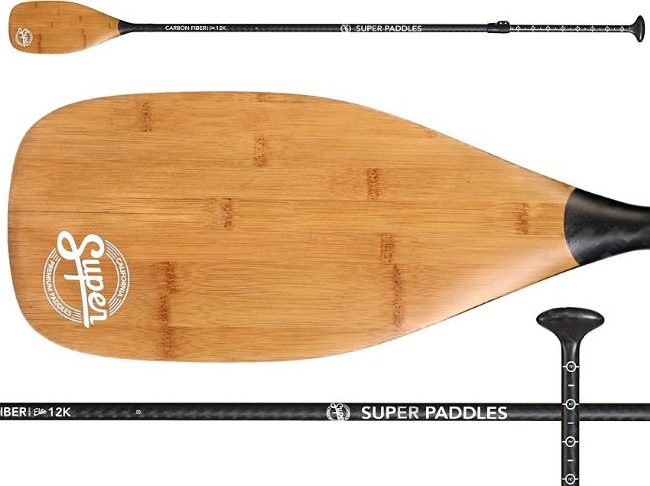 As we explain in this article on the Best Kayak Paddles, "The paddle is an extension of your arms; your primary means of transferring power from your body to the water and propelling the kayak (or, in this case, SUP." A better paddle, not surprisingly, leads to smoother propulsion through the water and less effort on your body.
For really good SUP paddles, look for offerings that have:
Fiberglass or carbon fiber heads. Fiberglass is a middle-of-the-range material that is light, stiff, and slices through the water like a boss. Carbon fiber is tougher than fiberglass and the most efficient for paddling, but also the most expensive. Bear in mind that these two materials tend to be a bit less durable than plastic, however.
Fiberglass or carbon fiber shaft. Fiberglass is a bit more flexible than carbon fiber, and that flex will actually increase the amount of power you can generate with each stroke while also decreasing the likelihood of repetitive strain injuries.
However, be aware that ultra-high quality paddles will be significantly pricier than the "budget" paddles included in many inflatable SUP packages.
Quick Recommendation: Super Paddles Carbon Fiber SUP Paddle
Made entirely out of carbon fiber (for both the head and shaft), this is the lightest SUP paddle around, and one of the most responsive and efficient for fast paddling. Use it for racing, touring, fishing, or SUP surfing.
PFD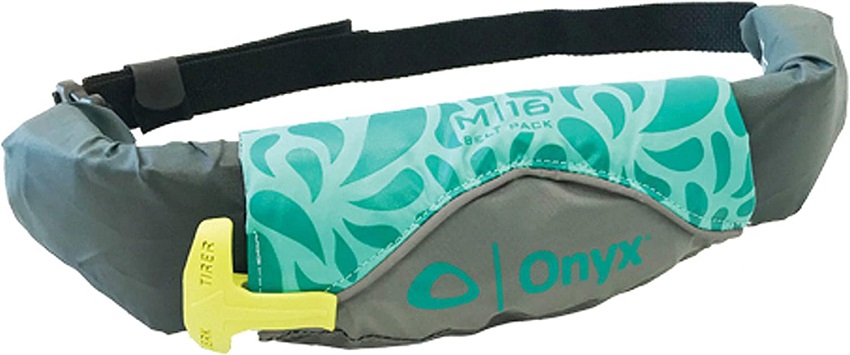 Your Personal Flotation Device, or PFD, is critical for your safety.
The U.S. Coast Guard requires that one PFD per person is present aboard all water vessels of all sizes—and yes, that includes paddleboards as well as kayaks.
Whether you're headed out to sea, down a river, or floating on a lake, it just makes smart sense to have your PFD handy in case you capsize, your SUP is damaged, or you experience some injury or condition where you are unable to paddle yourself safely back to shore. When the wind, spray, and swells are up, it's even more important.
For information on how to choose the best PFD, we have a full article on the subject. In his guide, he'll explain what to look for in your PFD, including:
Type
US Coast Guard rating
Flotation
Entry style
Comfort
Fit
Features
It's a great read to help you choose the lifejacket that suits your specific size and comfort requirements to perfection.
Quick Recommendation: for paddleboarding, I recommend something compact like the Onyx M-16 Belt Life Jacket
Seat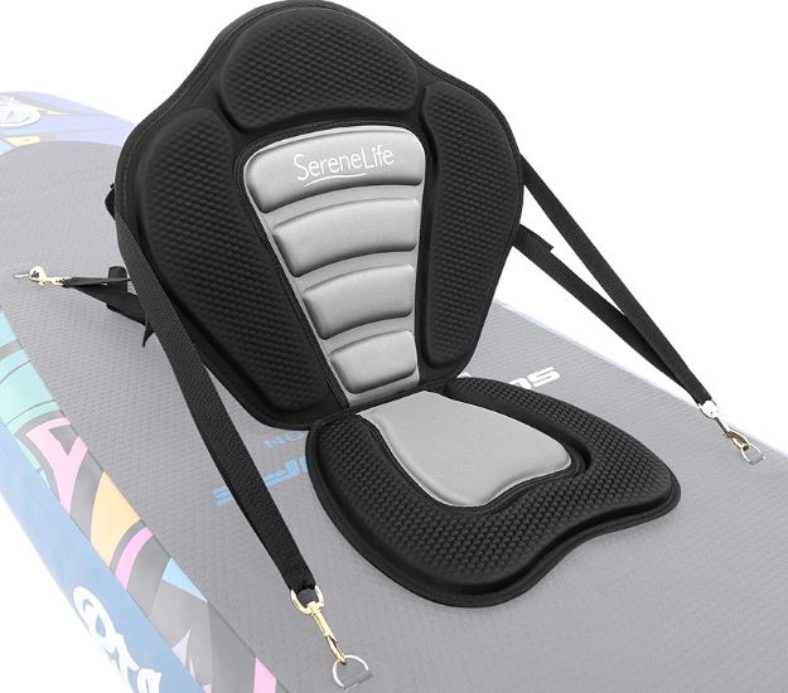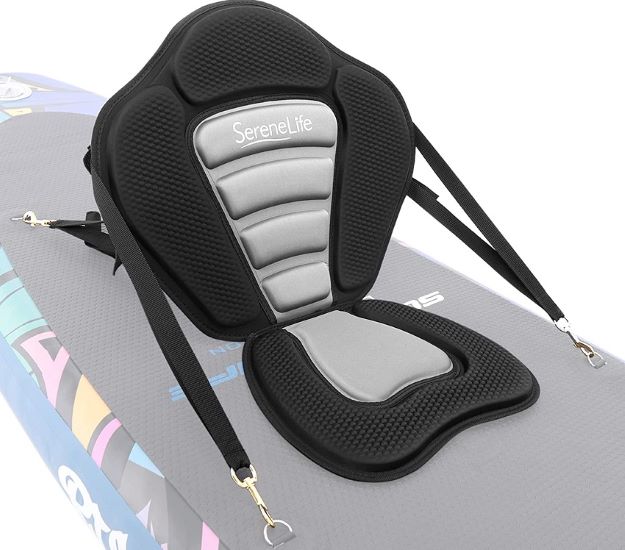 For those who like to relax on their SUP, a seat is an excellent accessory to include.
You'll do most of your paddling standing up, but sometimes you just want to sit back and enjoy the sun, heat, and the gorgeous views of the ocean, lake, or river around you. To do that, you'll need a seat of some sort.
Thanks to the design of modern SUPs (particularly inflatables), you can even convert your paddleboard into a kayak by adding on a seat and a second paddle head (turning your one-headed SUP paddle into a dual-headed kayak paddle). But that seat needs to have solid support and provide a stable base to brace your torso on as you paddle.
Quick Recommendation: SereneLife Universal Paddle-Board Seat
This seat makes it quick and easy to set up your paddleboard for maximum comfort. The provides straps clip onto the D-rings on your deck and can be adjusted in seconds to the right length for your size. Thanks to the tough polyester exterior and padded EVA foam interior, you've got all the durability and cushioning needed to make every paddleboarding trip more relaxing.
Leash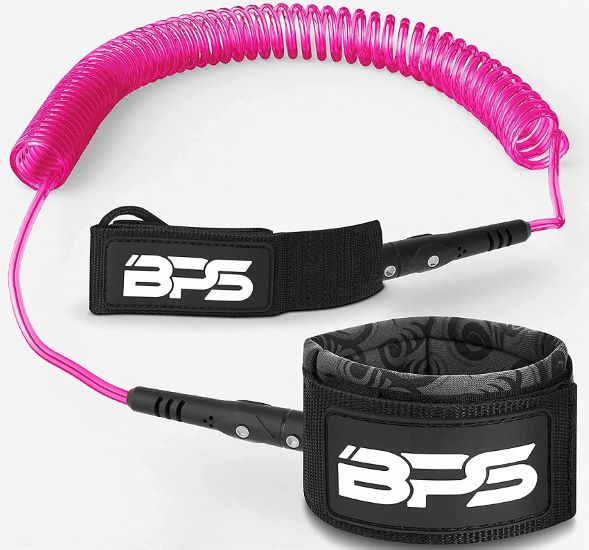 A leash is as necessary for your safety as your PFD.
If, Heavens forbid, you should fall off your paddleboard, the leash will ensure the board can't float away. And trust me, when you're dealing with fast river or ocean currents, there is a very real chance the board will float away unless it's tethered to you.
The leash makes it absolutely certain that you can always stay connected to your board and able to recover and remount anytime you fall off.
It may not be as necessary for recreational paddling on a calm, flatwater lake, but if you're going to paddle anywhere with more challenging waters, you'll absolutely want to have a high-quality leash securing you to your SUP.
Quick Recommendation: BPS New Zealand 'Storm' Premium Surf SUP Leash
The 10-foot length of this leash means you can paddle, stand, sit, and lounge in comfort, even dive into the water beneath your board. But as long as that comfortable neoprene cuff is locked around your ankle, you can trust the heavy duty 7.2mm cord will keep you safely tethered and able to recover from any tumble or capsize.
Carry Straps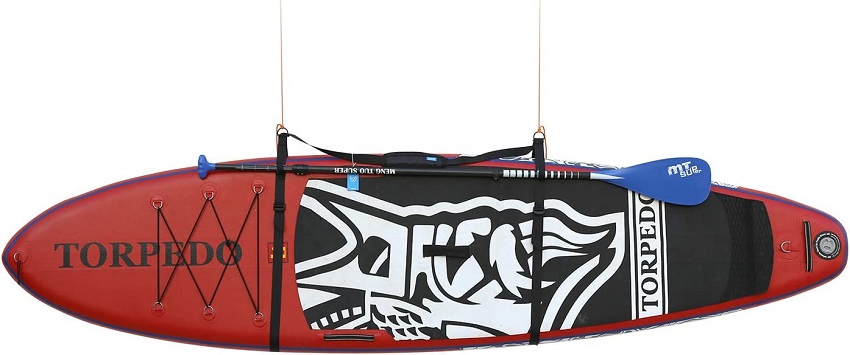 If you're packing an inflatable paddleboard, you don't really need carry straps. All you've got to do is deflate the board, stow it in the provided bag, and you're good to go.
For hard-shell SUPs, however, carry straps make transporting the board to and from your vehicle a whole lot easier. They'll come in particularly handy if you've got to portage the board between bodies of water when exploring rivers.
Carry straps are light, portable, and a simple solution to reduce the strain and stress of moving your SUP around.
Quick Recommendation: SUP-NOW Paddleboard Carrier
This sling has everything you need to make the task of carrying your paddleboard easier: a triple-padded shoulder strap, industrial-strength Velcro straps, and rust-resistant metal hardware that won't break, crack, or bend beneath the weight of your board. It's affordable yet also backed by a lifetime warranty.
Backup Bungee Deck Rigging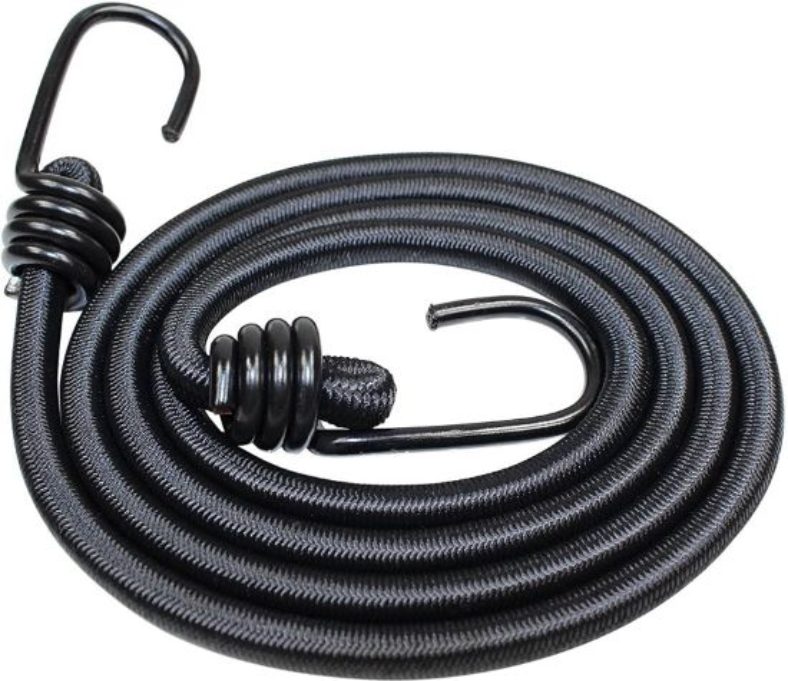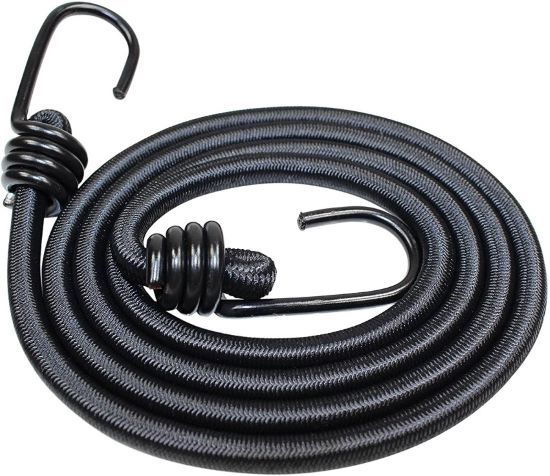 Kayaks have lots of storage space in their watertight or open compartments, but sadly, there's no room on the deck of a paddleboard to add such compartments.
That's where bungee deck rigging comes in! The bungee rigging provides you with a place to stow your dry bag, hook on your waterproof speaker, tie down your tackle box, even keep your paddle close at hand.
Unfortunately, over time, the rubber inside the bungee rigging will likely begin to sag, stretch, fray, and ultimately snap. When that happens, you'll want to make sure you've got backup rigging to replace it quickly.
After all, it's your only storage option, and without it, you're limited to only carrying what you can keep on your person.
Quick Recommendation: SGT KNOTS Marine Grade Shock Cord
If your SUP already has the D-rings (which it should), you'll want to keep a spool of this high-grade, premium-quality dacron polyester bungee cord on hand so you can replace your deck rigging cheaply and easily. Available in 50-foot spools and thicknesses ranging from ⅛" to ⅜", it'll serve you well for years to come.
Electric Pump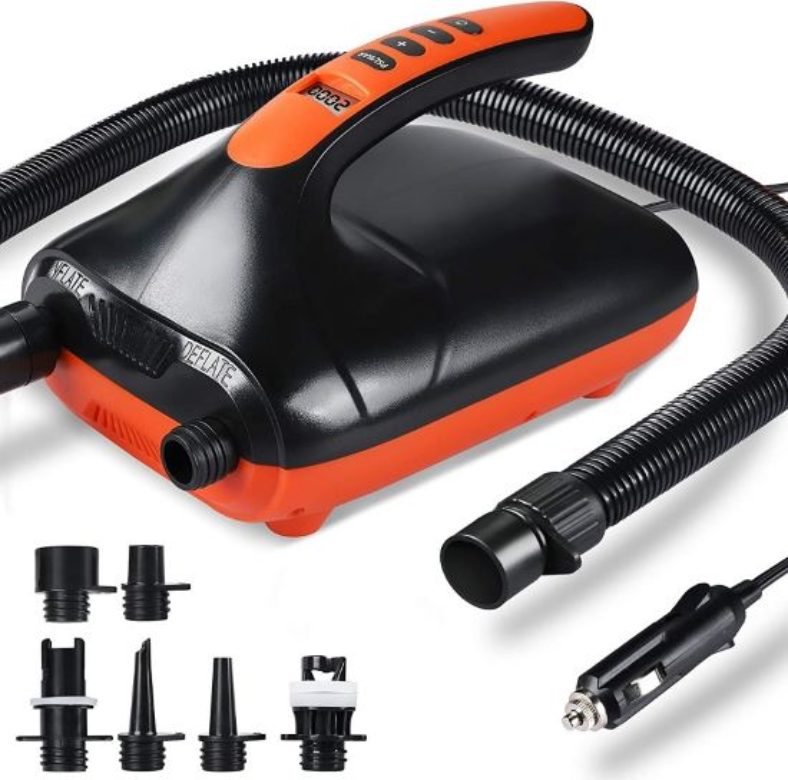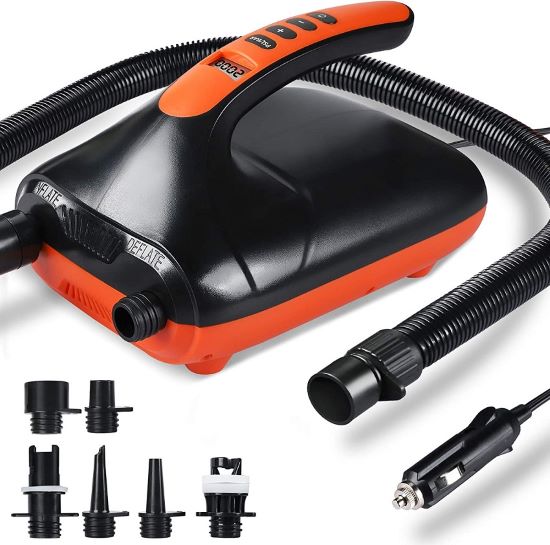 I don't know about you, but I hate having to sweat over pumping up my inflatable SUPs.
I'd say that's probably the biggest downside to inflatable vs. hard-shell SUPS: the amount of time and effort that goes into getting them out on the water. You can't just unload them and get paddling; you've got to spend easily 10-20 minutes pumping up the SUPs by hand.
Unless you've got an electric pump, that is!
An electric SUP pump is designed to fill the board in around 10 minutes, but with zero effort on your part. Typically, they plug into your car's 12V port to run off the battery so you can use them anywhere, anytime. While they're working, you can focus on unloading the rest of your gear and preparing to head out.
Some electric SUP pumps can even be used to deflate the SUP once you're done paddling. They're insanely convenient and one of the best SUP accessories you could invest in.
Quick Recommendation: SHARK II ELECTRIC SUP PUMP
This dual-stage electric SUP pump can handle up to 3 boards without needing to cool down, thanks to the integrated active cooling system. It's compact, portable, but gets the job done of inflating your board up to 20 PSI in under 10 minutes.
I've had this pump for two years now and I can say with full confidence it's worth every penny.
Dry Bag
On a SUP, the only storage you've got is what you can bring with you. That means a dry bag is absolutely crucial for keeping your important items (phone, wallet, keys, IDs/credit cards, etc.) safe and secure when out paddling.
The larger the dry bag, the more you can carry, but the more space it will take up on the deck. The smaller the bag, the more portable it'll be, but you'll have less storage space.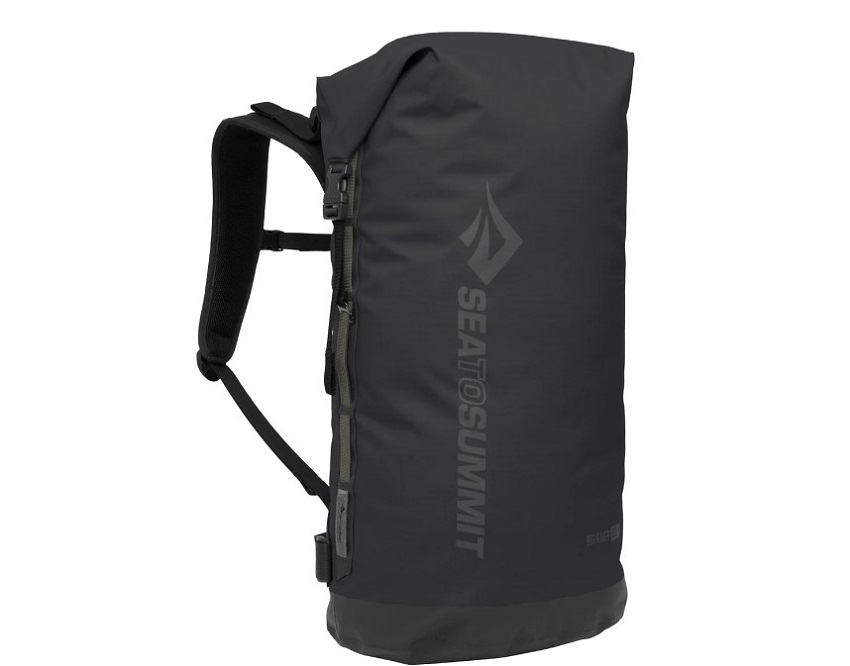 Quick Recommendation: Sea to Summit Big River Dry Backpack
This isn't just a dry bag: it's a dry backpack. Designed to pack and carry like your favorite backpack (straps included), it's tough enough to endure any whitewater or ocean paddling adventure, and comes in 50L and 75L sizes so you've got all the storage space you need to pack gear for multiple days out on the water.
Emergency Whistle
The U.S. Coast Guard requires one "sound-producing device" to be present aboard every watercraft. Given how little storage space you have aboard your SUP, the more compact whistle makes more sense than a larger airhorn.
An emergency whistle is one of those items you'll likely never need (unless you're into extreme paddling adventures), but you'll be glad you had it in that one emergency situation where it saves your life.
It'll come in handy to alert people back on the shore or in passing watercraft that you're in trouble and in need of help.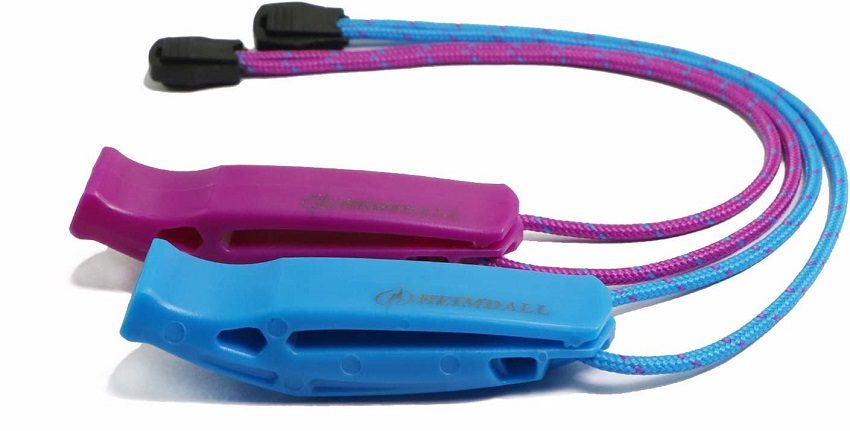 Quick Recommendation: HEIMDALL Emergency Whistle
This brightly colored little whistle will be easily visible even in low-light conditions, and includes both a lanyard to wear around your neck and integrated clip to clip it onto your PFD so it's always within easy reach. The 120db volume is audible for more than a mile in all directions. The non-brittle plastic won't wear out with repeated exposure to UV light, and the pealess design prevents it from freezing or getting waterlogged or damaged.
Paddlekeeper/Paddle Leash
A paddlekeeper or paddle leash is a lovely accessory to have on your board for those moments when you want to kick back and relax. All you've got to do is secure the paddle in its strap or leash, and it'll stay out of the way so you can stretch out fully on the deck of your paddleboard. When the time comes to resume moving, you've got your SUP paddle close at hand and ready to go.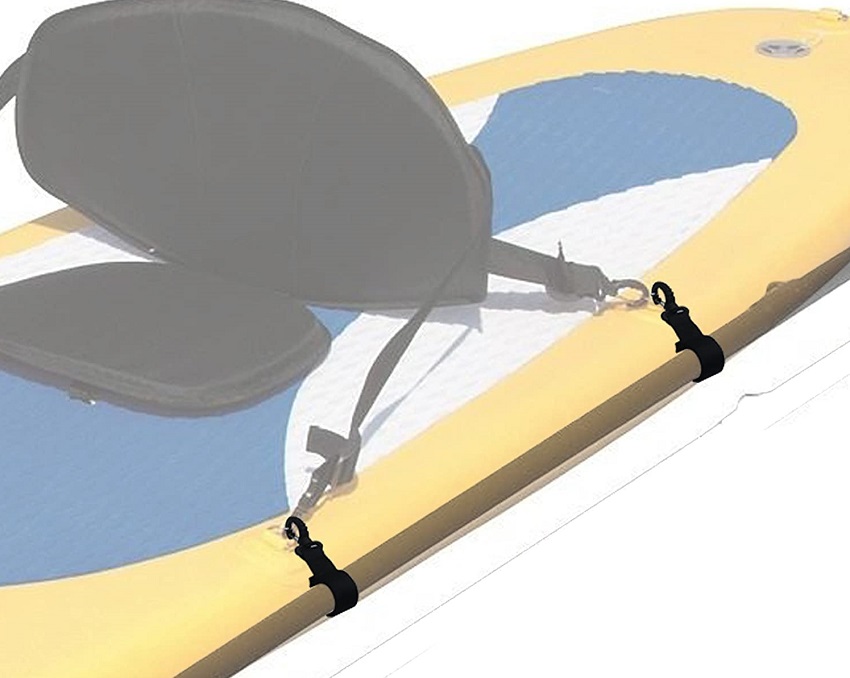 Quick Recommendation: YYST Paddle Keeper
This lovely little set of four clips serves as paddlekeeper for both you and a buddy. Simply clip them onto your board's existing D-rings, and the universal Velcro straps will hold any paddle of any size or length.
Patch Kit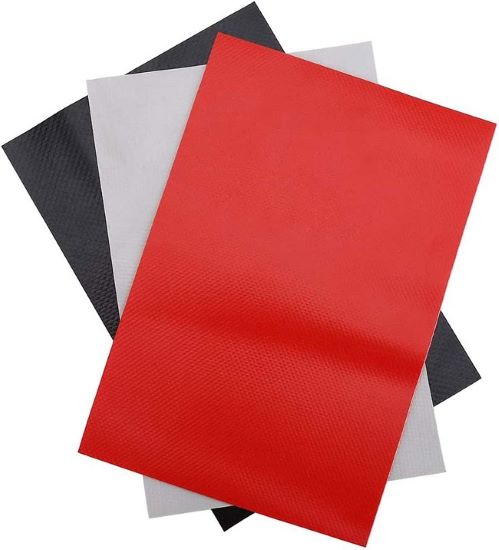 This is a definite must-have for anyone who uses inflatable paddle boards!
Most modern paddle boards are made using tough materials (such as military-grade PVC) that can withstand pretty rough and rugged use. However, it's very possible that over time, your board may be punctured, torn, or begin to leak. This is especially true if you're using inflatable boards for more high-speed adventures (racing, navigating fast-flowing or shallow rivers, whitewater paddling, etc.).
Having a patch kit on hand is the smart way to ensure you can always repair any damage to the SUP to prevent it from losing air–which will compromise not only its buoyancy, but also its stability and handling.
Quick Recommendation: YIPINER 6 Pcs Boat Repair Kit
This repair kit comes with six PVC squares (6″ x 4″) that will quickly adhere to the PVC material of your SUP to cover up any holes. The material is easily cut using scissors or a cutting blade, and the provided adhesive will ensure that once dried, your board will be as good as new.
Spare Fins
Fins are absolutely crucial to the performance of your SUP.
Not only do they contribute to the tracking and handling of the paddle board, but they also play a significant role in your balance. They thrust down into the water, creating water resistance that keeps you from capsizing.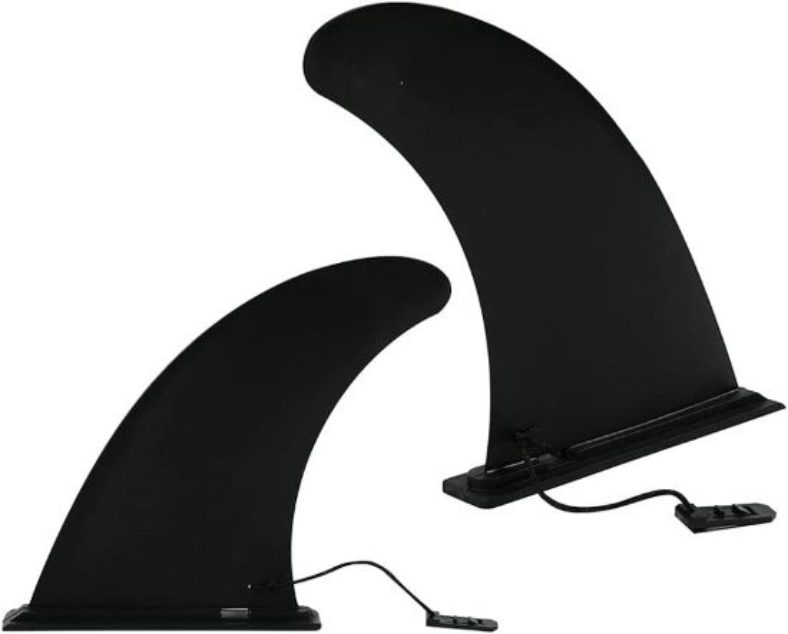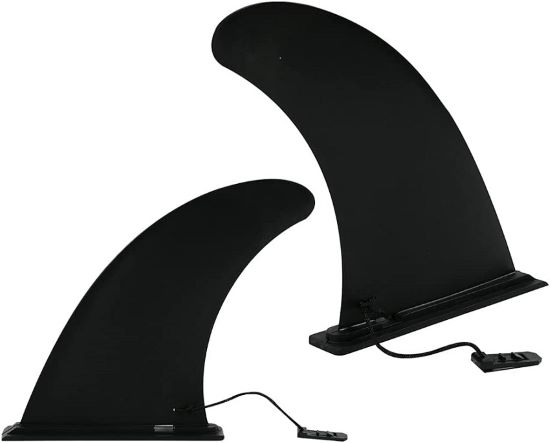 Many hard-shell SUPs come with fins integrated into the design. Inflatable SUPs, however, will usually feature fins that can be removed in order to make packing them easier. As with anything removable, it's possible that you might lose a fin–such as when packing/unpacking, or, as happened in my case, in the water (my brother failed to clip it securely into its holder so it got pulled free by seaweed).
Without a fin, your SUP will be little better than a plank sitting on top of the water–not very stable and not very easy to handle. Having a spare fin (or two) just makes smart sense!
Quick Recommendation: HEYTUR Surf & SUP Single Fin
This fin is designed to fit most "universal" receptors installed on inflatable paddleboards, so it should work for just about any brand (unless they feature brand-specific designs, like ISLE SUP's do). It's built from tough fiberglass-reinforced nylon that strikes the ideal balance between flexibility and stiffness to ensure good handling in even fast-paced environments.
UV-Resistant Carry Case/Sock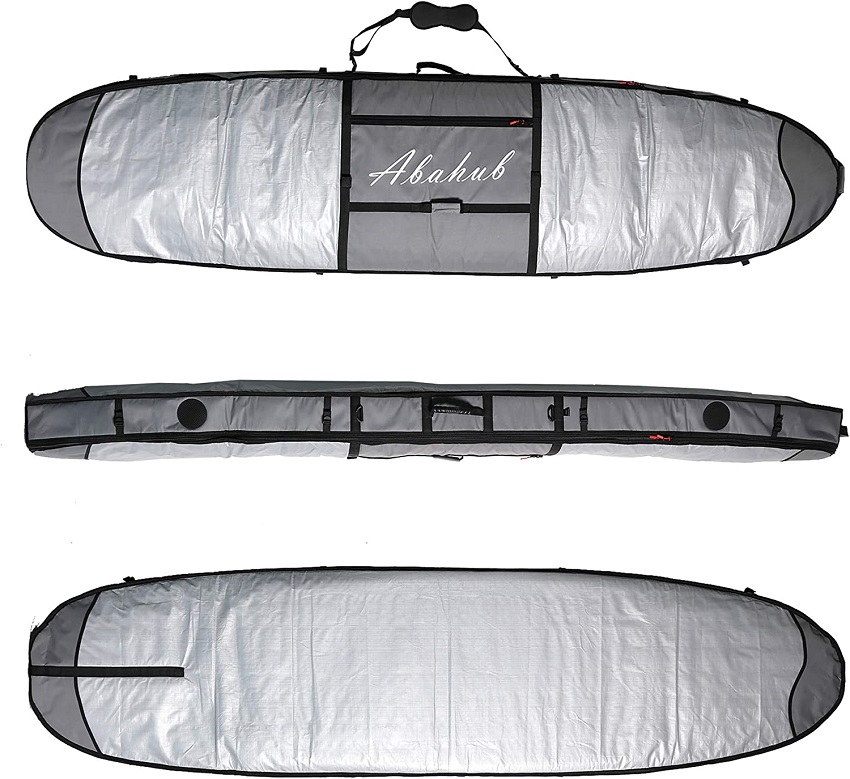 A carry case (or carry sock) serves two purposes:
It makes it easy to transport the SUP to/from the water (the same way carry straps do).
It provides protection against the UV radiation in sunlight that deteriorates/damages the material of your SUP.
Typically, they're only used for hard-shell SUPs, as the materials used (i.e. plastic, wood, fiberglass) will need protecting against sunlight.
Inflatable SUPs can just be deflated and packed in their bag. However, if you're the sort of paddler who likes to keep their SUP inflated and ready for adventure at a moment's notice, it's worth having a carry case/sock to shield your board from damage, too.
Quick Recommendation: Abahub Premium SUP Travel Bag
Take this foam-padded carry case wherever you go, and it'll shield your SUP from both UV and impact damage. It's available in a wide range of sizes–from 8′ x 33″ all the way up to 12′ x 33″–so it'll fit just about any paddleboard you want to protect.
Wetsuit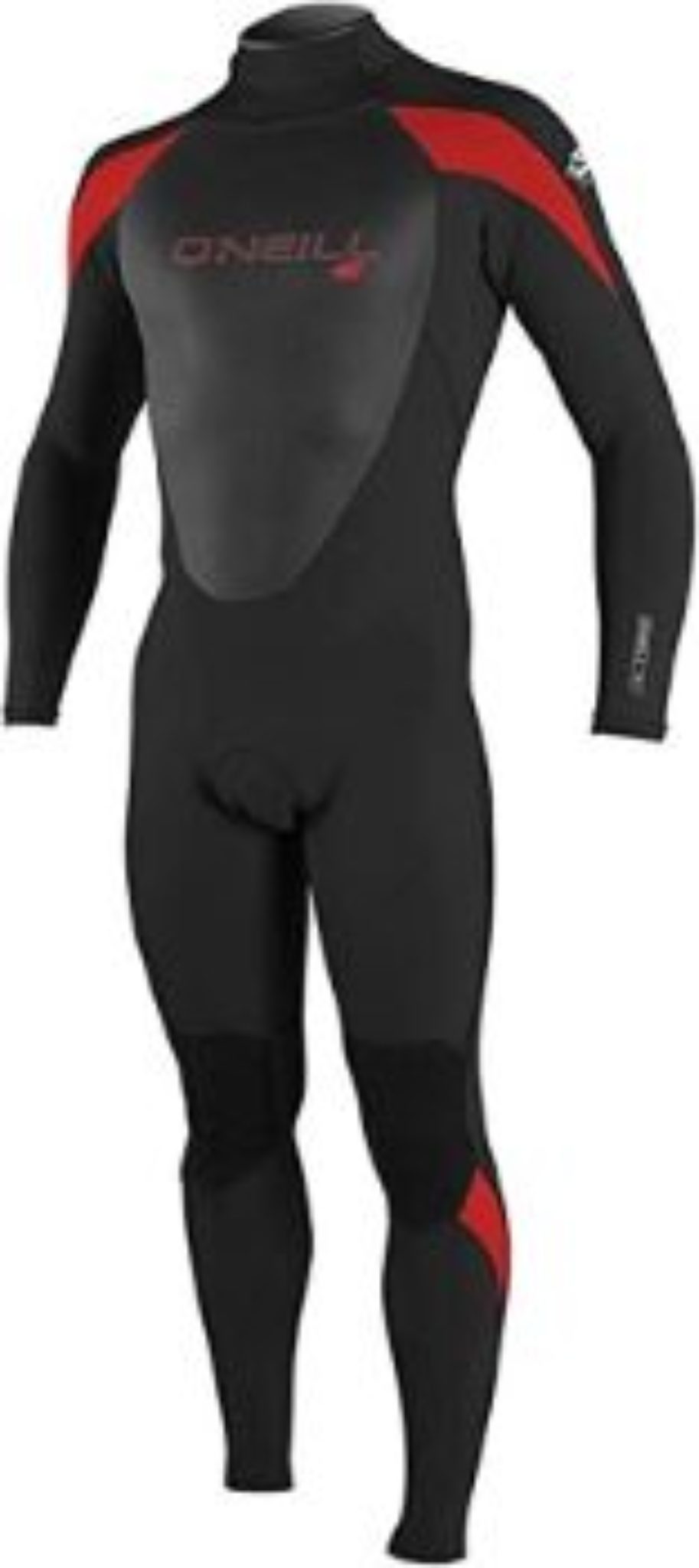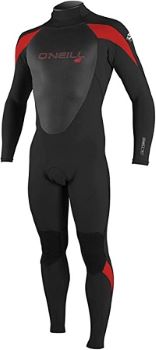 For those cold-weather paddling adventures, a wetsuit will be absolutely game-changing.
According to the U.S. Coast Guard, any water temperature below 77 F could be considered "risky", and anything below 70 F is downright dangerous, with real risks of hypothermia.
But with a wetsuit, you've got an extra layer of protection against the cold water and air. You can swim in water as cold as 55 F with a full suit.
Quick Recommendation: O'Neill Men's Epic 4/3mm Back Zip Full Wetsuit
This wetsuit is tough, well-built, and constructed using reliable materials that won't rip, tear, or wear out with regular use. The full protection makes it ideal for cold-weather use and will shield you from both the water's chill and the harsh UV rays in sunlight.
Drysuit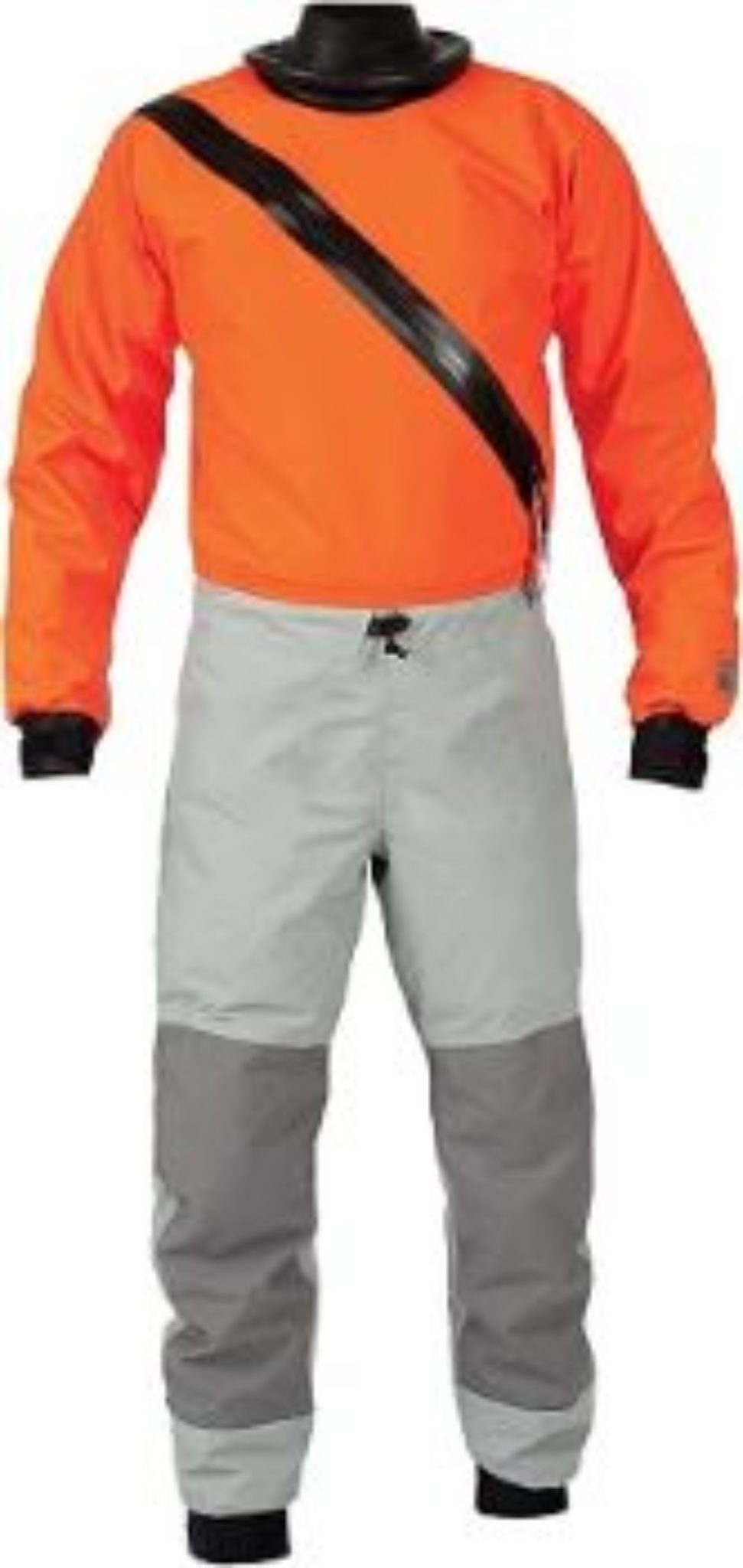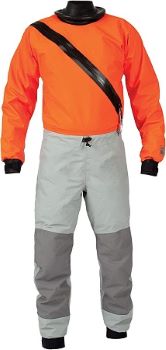 Drysuits are more commonly used by kayakers who want to stay utterly dry (hence their name), though advanced paddleboarders may find they serve well, too. They're a bit cumbersome in the water, but as long as you stay on your board, that shouldn't cause any issues.
Quick Recommendation: Kokatat Men's Hydrus Swift Entry Drysuit
Wear this for any cold-weather and cold-water adventure, and you'll stay bone-dry. The suit is loose enough to fit over thermal base layers that will keep you warm while the sturdy latex and nylon shell will repel water with ease.
Water Shoes
Water shoes won't keep your feet dry (that's not what they're for), but will give you better traction on both the shore and the deck of your paddleboard. And if you spend time paddling on your knees (like so many newbies do), they can protect your toes.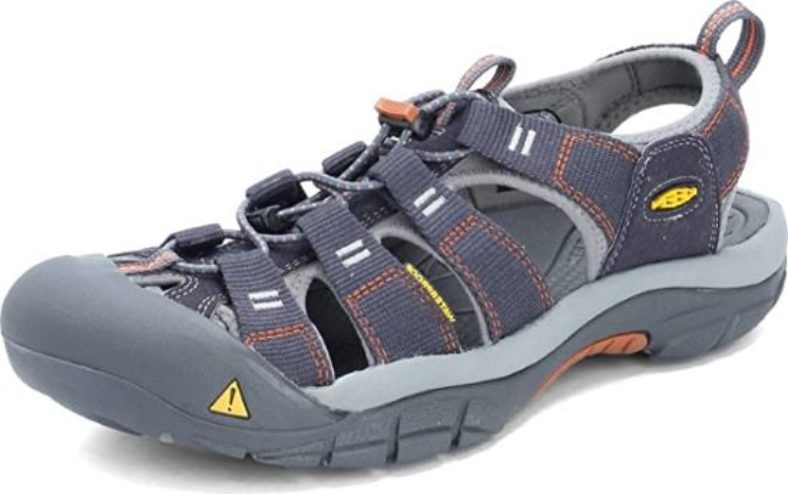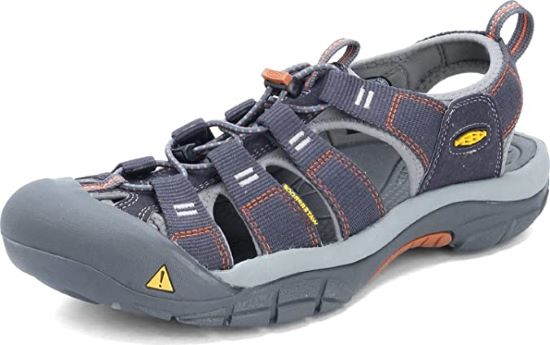 Quick Recommendation: KEEN Men's Newport H2 Sandal Water Shoe
It doesn't get tougher, sturdier, or more comfortable than these water shoes by Keen! The water-resistant polyester webbing upper is complemented by a quick-drying inner lining and PFC-free water-repellent coating that makes them ideal for getting in and out of the water. Plus, for hiking your board to and from the water, you'll love the cushioning and support provided by the thick sole.
Gloves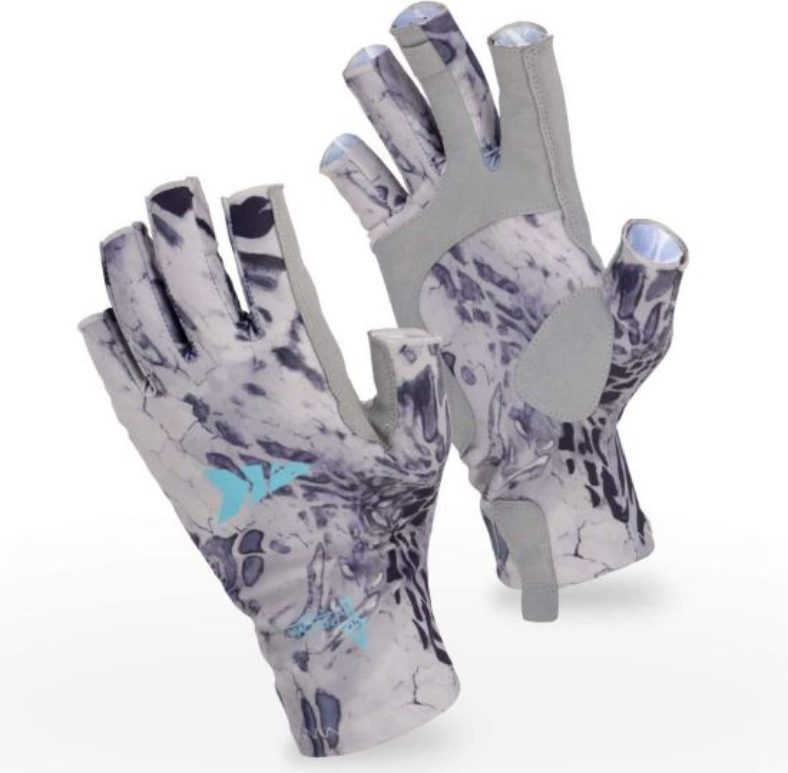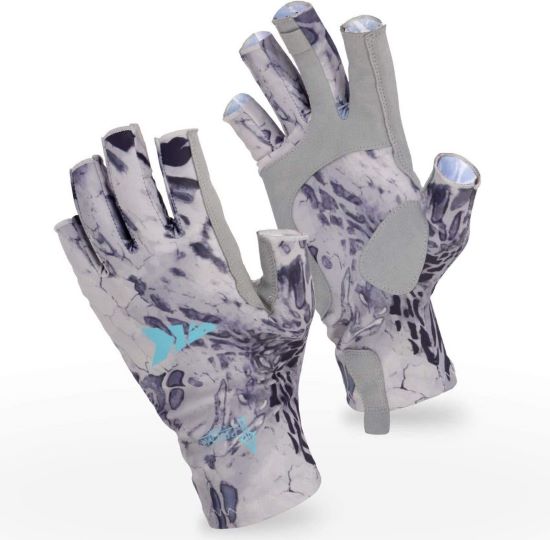 Gloves offer a lot of protection:
Against the winter/cool-weather cold
Against sunlight and sunburns
Against calluses caused by your paddle
A good pair of water-friendly gloves will be a wonderful addition to your paddling outfit.
Quick Recommendation: KastKing Sol Armis Sun Gloves
These KastKing fishing gloves make for excellent paddling gloves, too. UPF50 protection in the fabric ensures your hands are safe even after a long day under the hot sun, and the poly-spandex fabric is both tough and breathable. You'll find they're wonderfully easy to pull on and off. Thanks to the fingerless design, you've got total control over your electronic devices, fishing rod, and paddle.
Sunscreen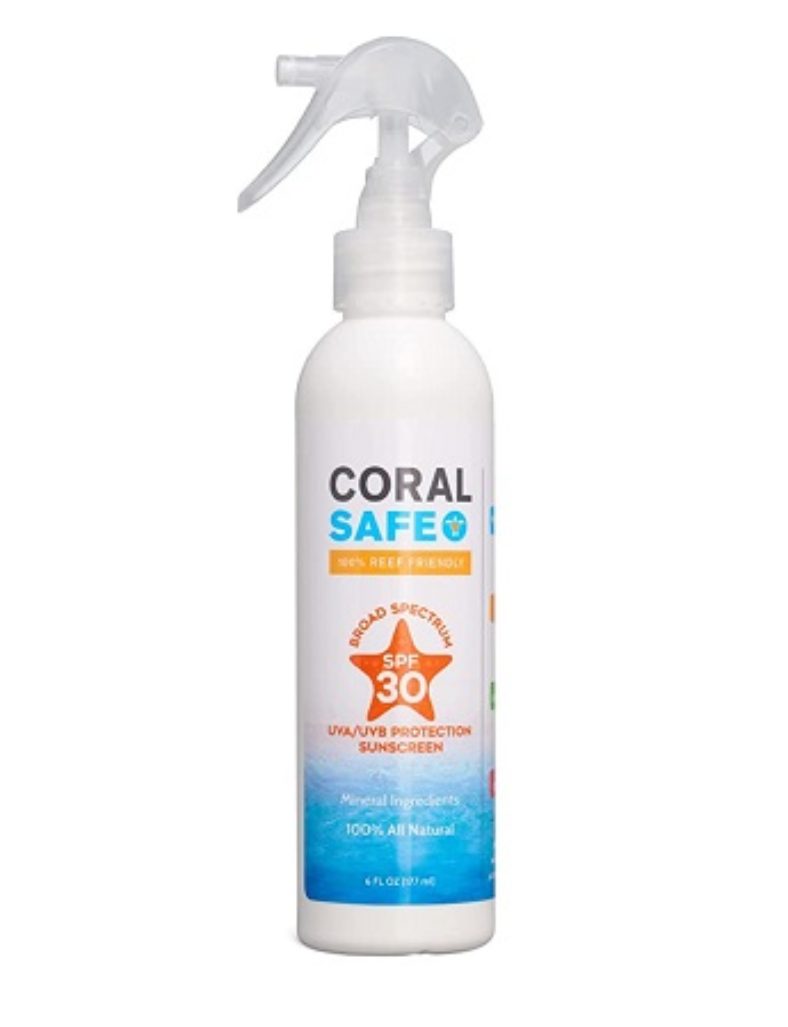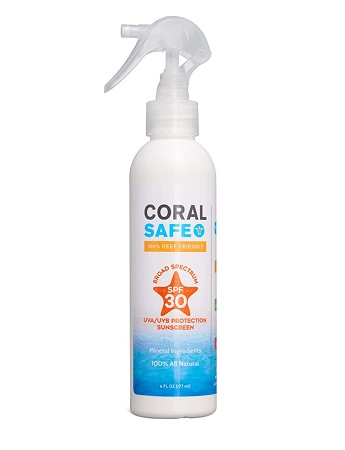 If you're going to spend long hours under the hot sun, the American Academy of Dermatologists recommend "using a sunscreen with an SPF of at least 30, which blocks 97% of the sun's UVB rays." Be aware that "higher-number SPFs block slightly more of the sun's UVB rays, but no sunscreen can block 100% of the sun's UVB rays."
Quick Recommendation: Coral Safe Sunscreen SPF 30
This sunscreen is "coral safe", meaning it uses no chemicals or ingredients that could prove harmful to marine life. It's biodegradable, has no harsh chemicals that could harm your skin, and will remain effective even if you get wet. It's also TSA-friendly so you can take it with you on your next vacation.
First Aid Kit
The chances of you actually getting hurt while out on the water are slim, but not nonexistent. Those chances increase if you switch to more active or dangerous forms of paddling–for example, open-water touring where you could run into marine animals or whitewater paddling where you might run into rocks and obstacles (literally!).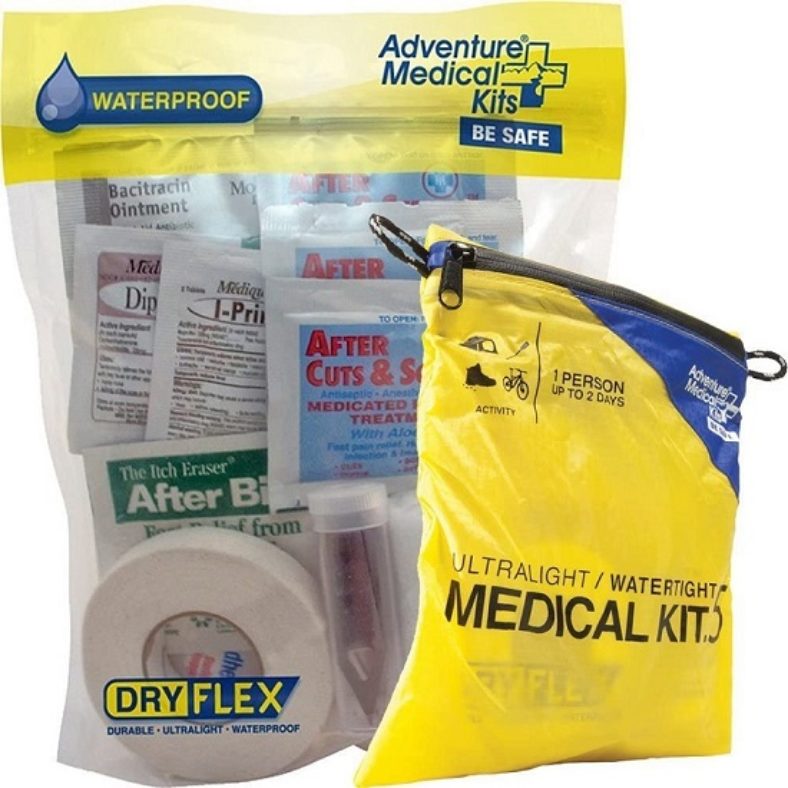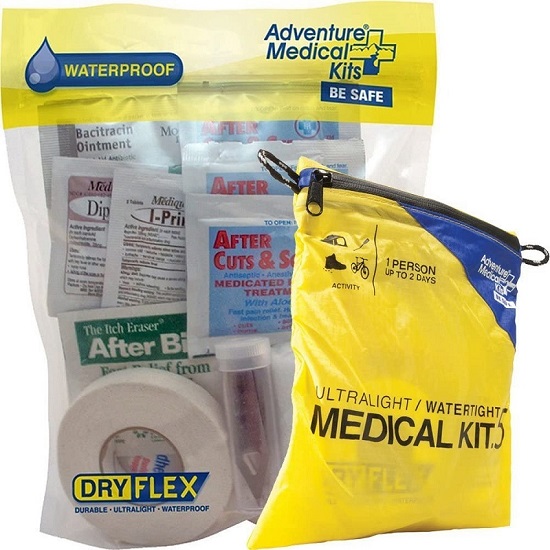 It's always smart to have a first aid kit handy in case of any emergencies. Like a whistle, flashlight, or PFD, it's better to have it and not need it than be without it in a situation where it's necessary.
Quick Recommendation: Adventure Medical Kits Ultralight and Watertight .5 First Aid Kit
This lightweight, waterproof kit is assembled specifically for kayakers and paddle boarders. The 46-piece set comes with everything from bandages to gauze to scissors to antiseptic wipes to insect bite relief strips. It's small enough to fit in your dry bag and handy to take on every paddling trip.
Sunglasses


Experts agree that "sunglasses are good for your health" because "Eyes filter out most, but not all, UV rays. Anything that limits UV exposure to the eye alleviates risk. Sunglasses protect your eyes and also can protect the skin around the eyes."
A good pair of paddleboarding sunglasses will grip your face firmly, won't slide off if you fall in the water, will shield your eyes completely from the sunlight, and will offer 99% to 100% UVA and UVB protection.
Quick Recommendation: Tifosi Crit
Tifosi's sunglasses are affordable but incredibly sturdy and long-lasting. The Crit is designed specifically for active/sports use, with a wraparound style that shields your eyes completely, an adjustable nose and arm that you can adapt to the shape and size of your face, and hydrophilic rubber grips that swell as they get wet and grip your face more tightly so they'll never slide off.
Water Bottle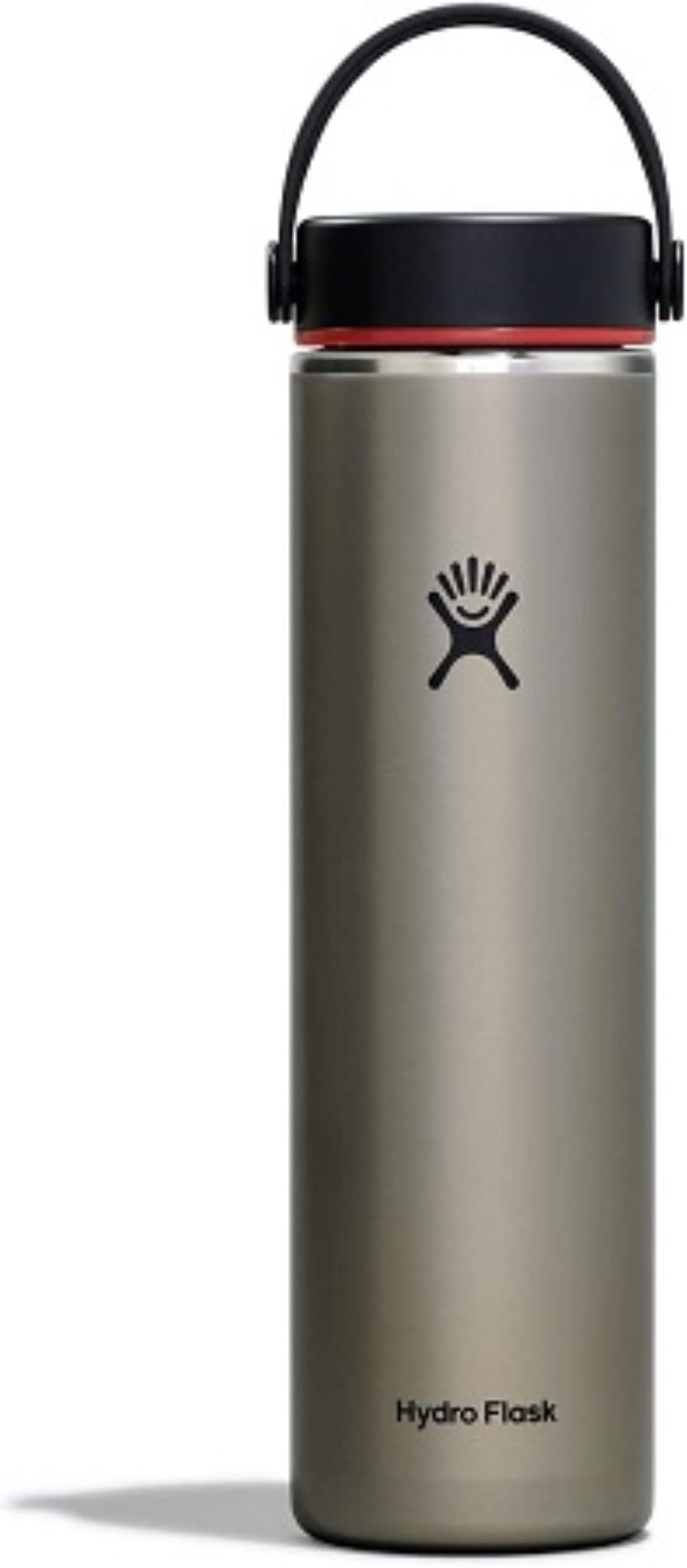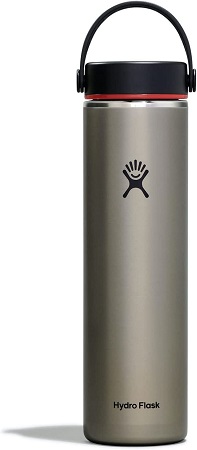 You'd think thirst wouldn't be a problem when out on the water, but trust me when I say it's a bigger problem than you realize!
When out on the ocean, there's no drinking water for miles in any direction. Even in the middle of a lake or river, chances are you won't want to drink the fresh water because you've got no idea what sort of contaminants or pollutants it contains.
Ideally, you want to have at least 24 ounces of drinking water aboard for a multi-hour float/paddling trip, and closer to half a gallon if you're going to be out on the water all day.
Quick Recommendation: HydroFlask 24 oz Lightweight Wide Mouth Trail Series
Light, tough, and well-insulated: everything you want in a water bottle to take on your paddleboard. This wide-mouthed bottle is easy to fill with ice and clean, and the thick insulation ensures its contents stay at the right temperature all day long. The 18/8 pro-grade stainless steel interior will maintain the purity of your water's taste while providing a sturdy, adventure-proof container that will survive even the most rugged adventure.
Waterproof Headphones
There are few things I love more than listening to audiobooks and music while out on the water. It makes an already amazing activity so much more enjoyable.
Unfortunately, my regular headphones are all but guaranteed to be destroyed if/when I fall into the water, or if it starts to rain.
Thankfully, there are waterproof headphones designed specifically for swimming or water sports that can both survive immersion and won't slip out of my ears or get lost if I end up in the water. One of the best investments I've made (after buying my paddleboard, of course).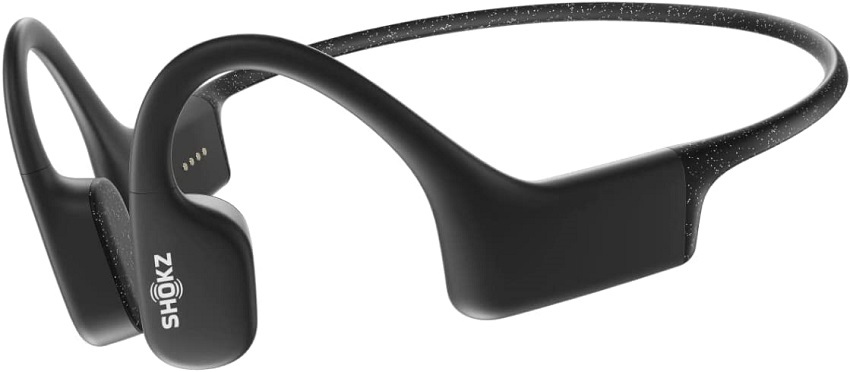 Quick Recommendation: Shokz OpenSwim
These headphones combine a bone-conduction, open-ear design with IP68 waterproof construction to make a truly amazing choice for my paddling adventures. The 3mm-thick frame can fit under virtually any helmet or swim camp and is lightweight enough I all but forget I'm wearing it. With 8 hours of playtime, 4 GB of internal storage, a 2-year warranty, and user-friendly controls, it makes listening to my music/audiobooks out on the water a treat.
Waterproof Speaker
When I go paddling with my wife, I love being able to play music. Really, it turns our paddling trips into a beach party!
A waterproof Bluetooth speaker is just the thing: it's got battery life enough to last for the hours we're out on the water, it's resistant to splashes and immersion, and connects to my smartphone in my dry bag to play tunes remotely.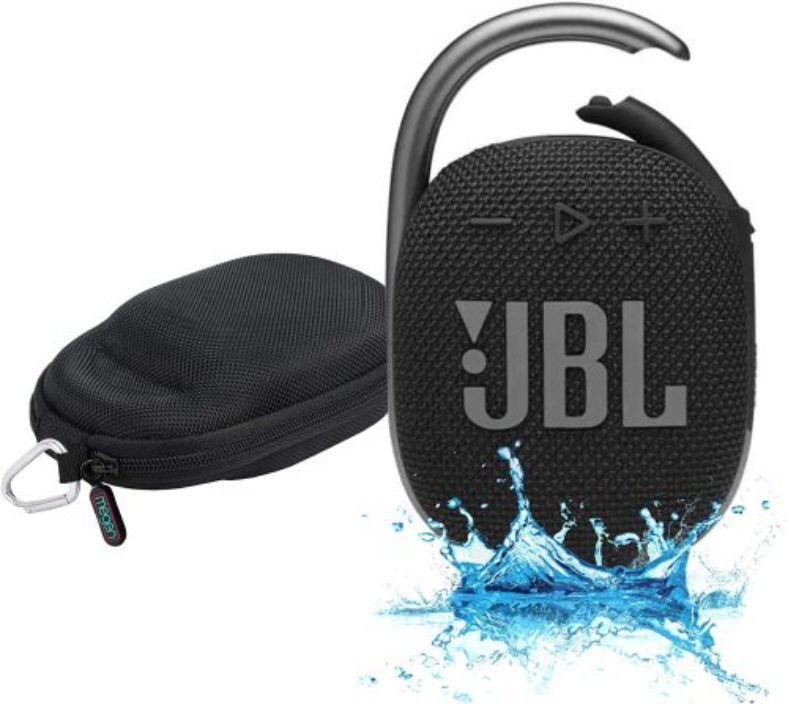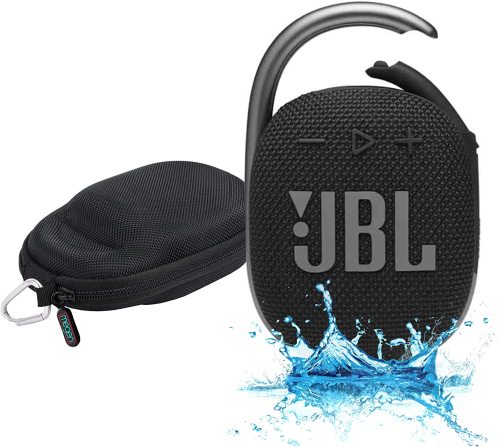 Integrated controls (play/pause, skip/rewind, volume up/down) make it easy to play DJ and enjoy those hours we spend floating and paddling together.
Quick Recommendation: JBL Clip 4
The JBL Clip 4 is just the thing for paddleboarders. The integrated clip makes it easy to secure the speaker to the deck bungee rigging so it'll never slip or get knocked off. The sound quality is as good expected from a brand like JBL and surprisingly loud despite the speaker's small size. It's also IP67 waterproof so there's no fear of it getting damaged if submerged or soaked in a rain shower.
Waterproof Phone Case
Over the last few years, most smartphone manufacturers have begun building their top-tier models (like the Samsung Galaxy or Apple's iPhone) to be waterproof–usually with an IP67 or IP68 rating. That means they can be submerged in water up to 6 meters deep for up to 30 minutes.
Still, if you want to add an extra layer of protection for your phone, it's worth getting a waterproof case. Not only will it guarantee your phone is safe, but some will include lanyards or clips that allow you to secure the phone to your PFD or the paddleboard. That way, you won't have to worry about it falling overboard and getting lost in case you drop it.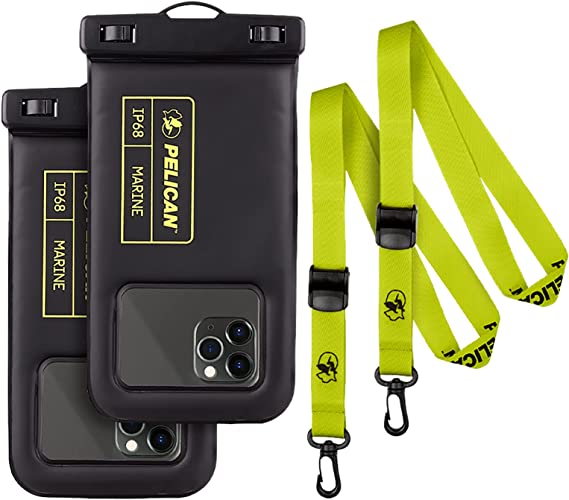 Quick Recommendation: Pelican IP68 Floating Waterproof Phone Pouch
Take pictures and browse your phone secure in the knowledge it's shielded from water and won't get lost in the lake, river, or ocean. In addition to a waterproof case, this features a lanyard you can wear around your neck or tie to your deck rigging to ensure the phone is always safe and close at hand.
Waterproof Flashlight
A flashlight, like a whistle or PFD, is one of those devices you're better off packing for those rare occasions when they might prove necessary or useful.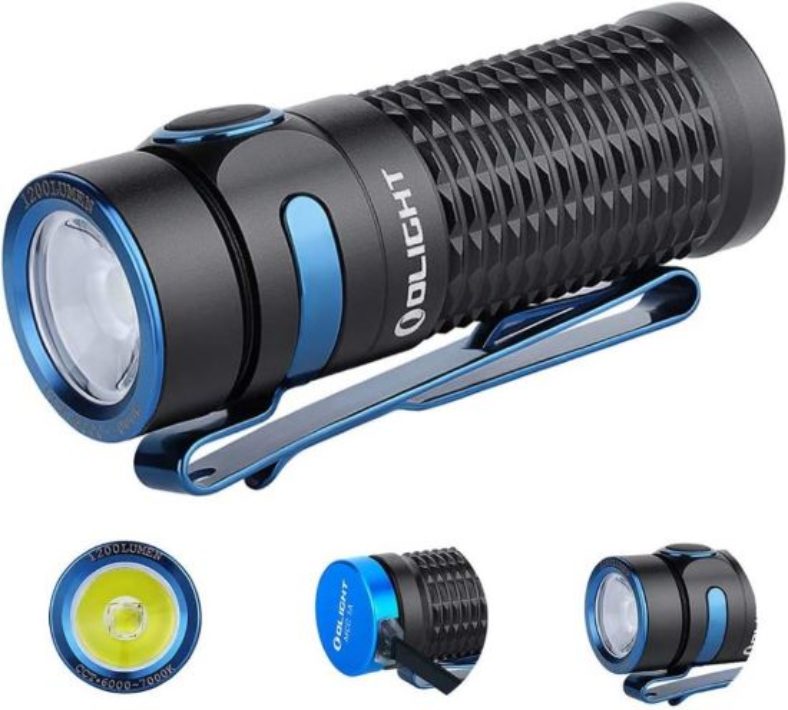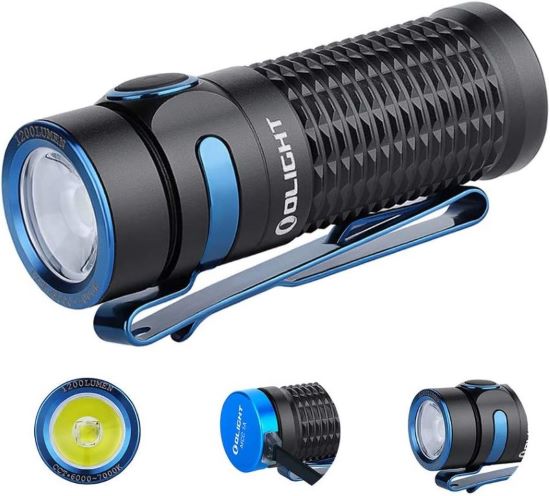 You'll rarely need it on those bright summer days when the sun is shining and the days are long, but they'll be handy if you're paddling late at night or headed up/downstream to a camping site.
Just make sure it's waterproof (or at least, water-resistant) so you don't have to worry about it getting damaged should it come into contact with water.
Quick Recommendation: Olight Baton 3 Rechargeable EDC Flashlight
This little flashlight is small enough to clip onto your PFD or stow in your dry bag, but it packs a surprisingly bright light: a whopping 1200 lumens on Turbo mode, or 300 lumens on High mode. Battery life ranges from 20 days to 75+ minutes. The stainless steel body is IPX8 waterproof and tough enough to withstanding any camping, hiking, paddling, and cycling adventure.
Cooler
A nice, cold drink just makes every paddling outing a whole lot more delightful.
For recreational paddlers, SUP anglers, racers, and even SUP Yogis, having a cooler with drinks and some snacks or food is the smart way to go. You'll be able to stay hydrated and satiated all day long, whether you're paddling hard or enjoying a lazy float along with a slow-moving current.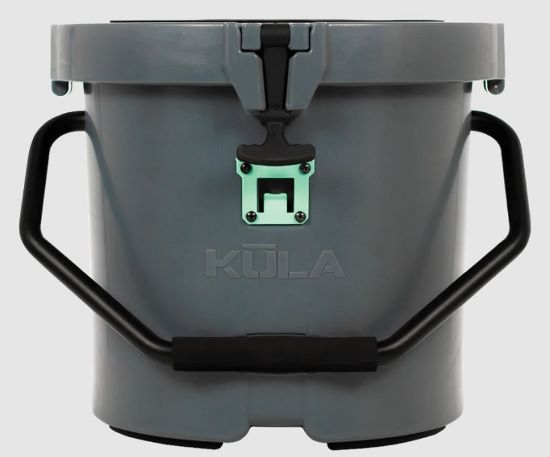 Quick Recommendation: BOTE KULA 5
This hard-shell cooler can fit up to 5 gallons of food and drink, but it's tough enough to use as a seat, storage compartment, or a place to store the fish you catch. The exterior and interior are both watertight and leak-proof, and the shell is beautifully durable, capable of withstanding drops, scuffs, scrapes, and impact.
Anchor
An anchor is a lovely accessory to add to your SUP gear.
Think about it: if you're fishing, you want to stay where the fish are biting, which might mean paddling continually against the river or lake current. Or, if you're snorkeling, you'll have to stay within leash range of your SUP. With SUP Yoga, you've got to worry about not drifting into your fellow practitioners or nearby boats.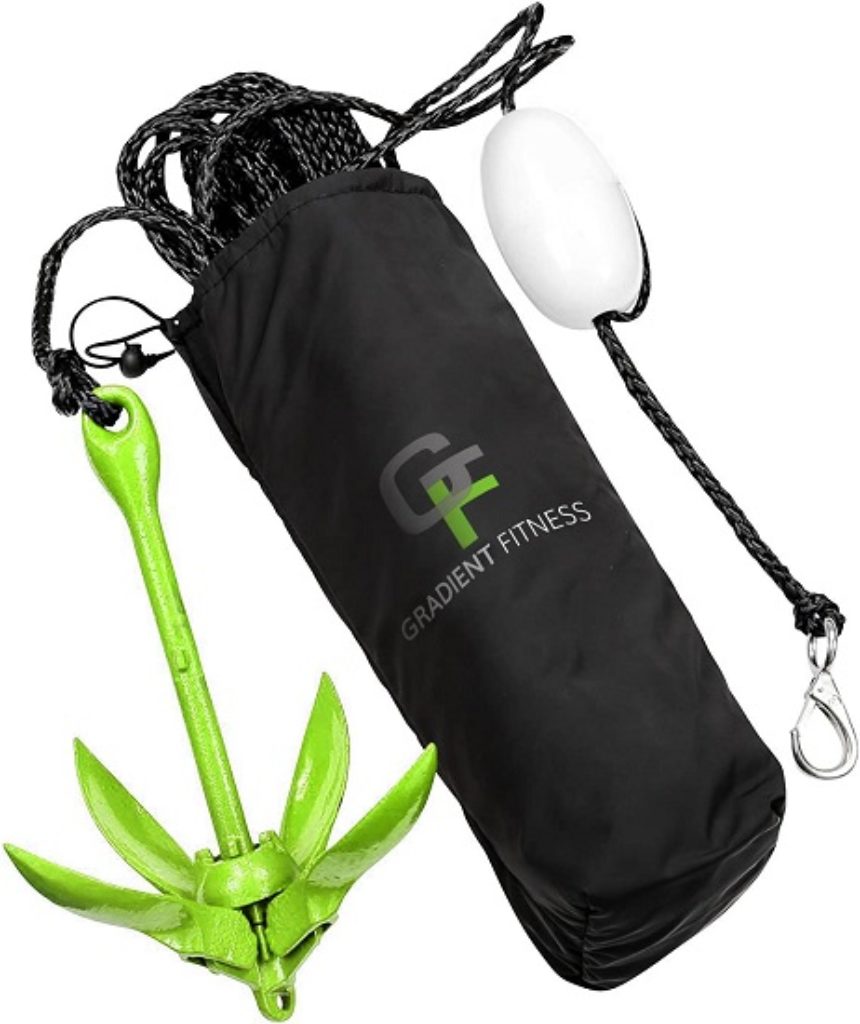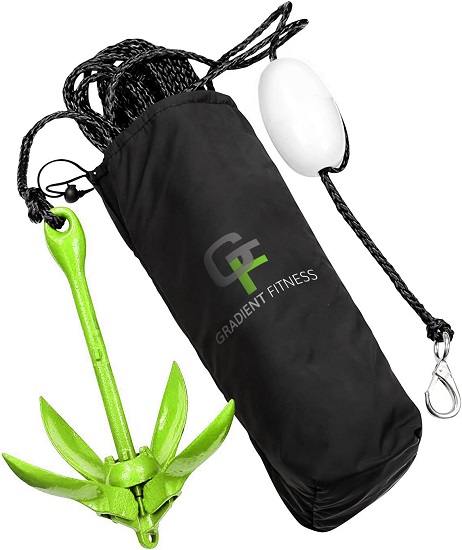 Unless you've got an anchor!
The anchor will tether your SUP (and you with it) to one location. You can enjoy fishing, lounging, Yoga, or snorkeling and trust that the anchor will keep your board from drifting or floating away.
Quick Recommendation: Gradient Fitness 3.5 lb Grapnel Anchor
Weighing just 3.5 pounds, this anchor is light enough to carry on your paddle board but still heavy enough to secure you (and possibly a partner) in place. The unfolding grapnels will dig into the ocean, river, or lake bed to keep you from drifting. The sturdy stainless steel is finished with a rust-resistant coating so it won't corrode even with regular use in saltwater.
Action Camera Mount
For the more adventurous paddlers, an action camera mount lets you set up a GoPro (or similar action camera) to record your wild, watery endeavors.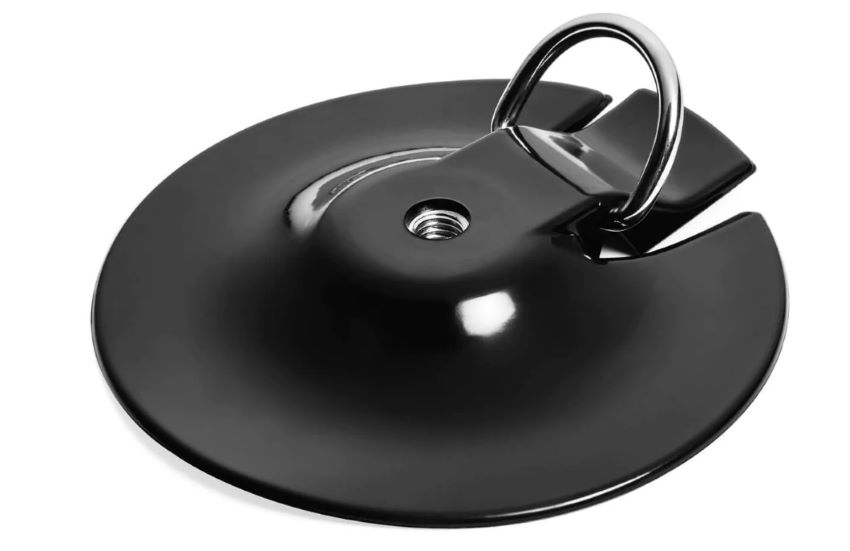 Quick Recommendation: GILI Action Camera GOPRO Paddle Board Mount
This mount is designed to adhere to the deck of your SUP (thanks to the glue backing) and features a standard M8 threaded attachment to secure your GoPro or action camera to the deck. It's easy to mount and even includes a D-ring to serve as an extra attachment point.
Fishing Rod Holder
For SUP anglers, a fishing rod holder is the perfect solution for hands-free fishing while you paddle, relax, or swim.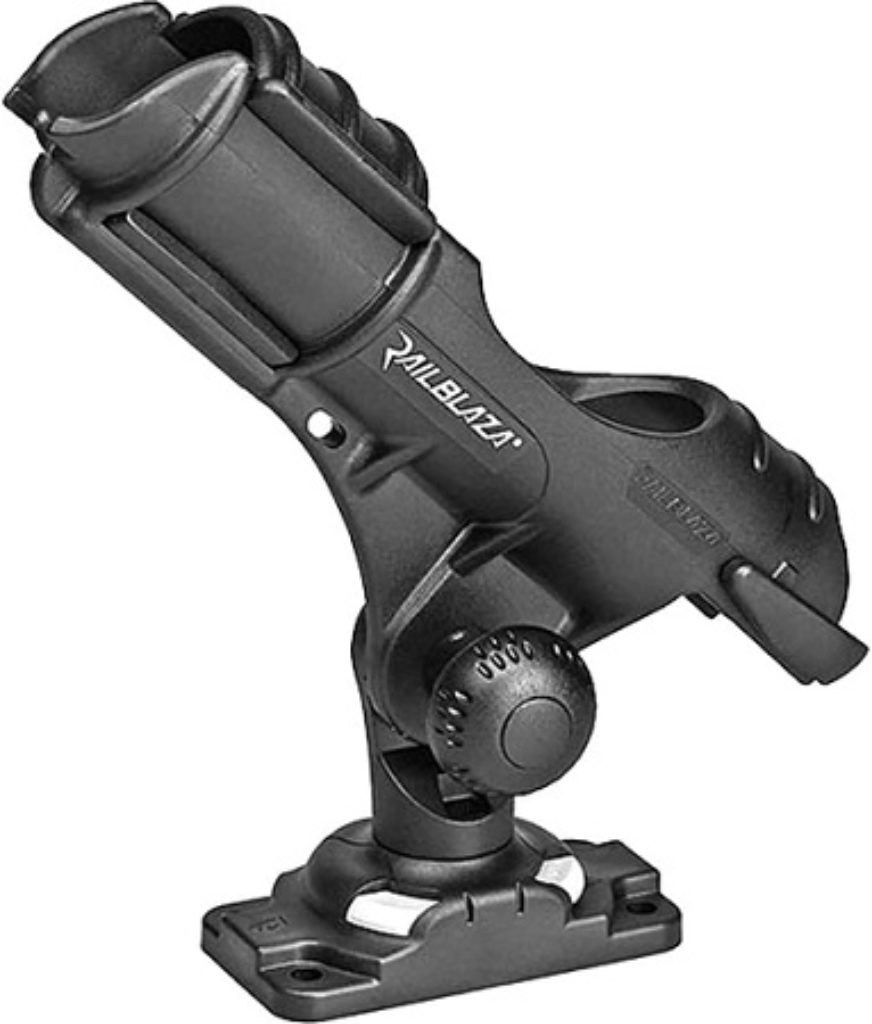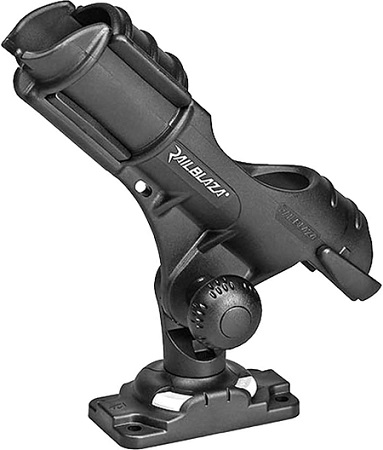 (Just make sure it's compatible with the action mounts included on your SUP)
Quick Recommendation: iRocker Fishing Rod Holder
This fishing rod holder is compatible with the action mounts used on most newer inflatable SUPs. It features a sliding lock mechanism that lets you adjust the tilt and set the optimum angle for your rod, securing it firmly in place no matter how feisty your catch is.
Waterproof Walkie-Talkie


If you're heading away from the shore, you'll still want a way to communicate with those on dry land to A) let them know where you're going, or B) alert them in case of an emergency. For rivers and lakes and even coastal waters, a walkie-talkie is the smart way to go.
And for any paddlers who are traveling up or downstream together, a walkie talkie will make it easy to remain in touch with each other so no one gets lost or left behind.
Quick Recommendation: 4-Pack Midland LXT500VP3 Two Way Radio
With a range of 24 miles, this radio will be the ideal choice for paddlers. The set includes 4 handsets to distribute among your buddies/group, or you can leave one or two on shore so you can stay in touch with your loved ones. Features like auto channel scan, HI/LO power settings, silent operation, and dual power options (battery pack or AAA batteries) make them very user-friendly.
Waterproof GPS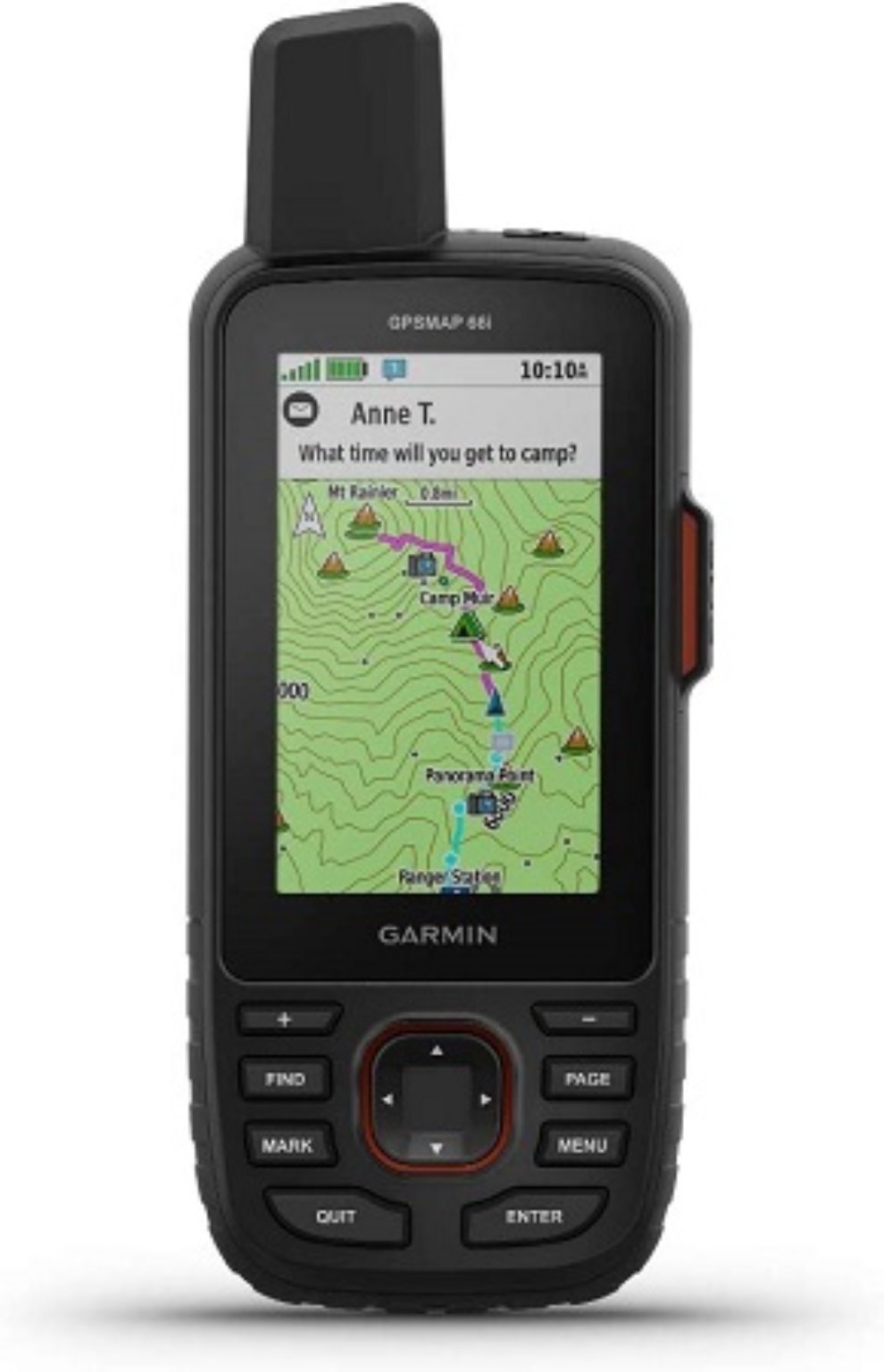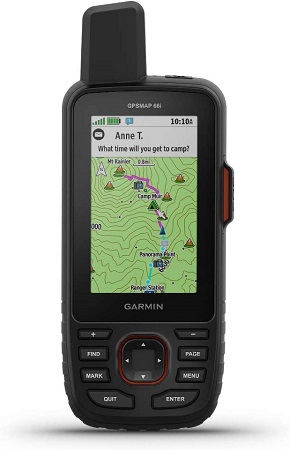 For anyone traveling far from civilization–be it down long stretches of rivers that run through national parks or heading out into the open ocean–a waterproof GPS will help you stay on course no matter how far you go.
Because the device is connected to satellite services rather than cell towers or reliant on RF signals, you can know where you are from literally anywhere in the world. It's not just smart for navigation's sake, but a good safety precaution, too.
Quick Recommendation: Garmin GPSMAP 66i
This little handheld GPS device has all the features you could want: two-way messaging, 24/7 SOS monitoring, TOPO mapping, satellite imagery downloads, GNSS support, navigation sensors, weather forecasts, and a sunlight-readable color display. With battery life ranging from 35 hours (in GPS mode) to 200 hours (in Expedition mode), it's more than capable of keeping up with any long-distance paddling trip you're planning.
Tarp
This is a smart investment into the protection of your inflatable SUPs!
You can't always find soft grass to lay down your paddle boards. You might have to inflate them on rocky ground or the hot concrete of a parking lot. The rough terrain could scuff, scrape, puncture, and otherwise damage the underside of the SUP.
But not with a tarp to protect your board. Throw down the tarp before inflating/deflating your board, and it'll extend the lifespan of your SUP by years.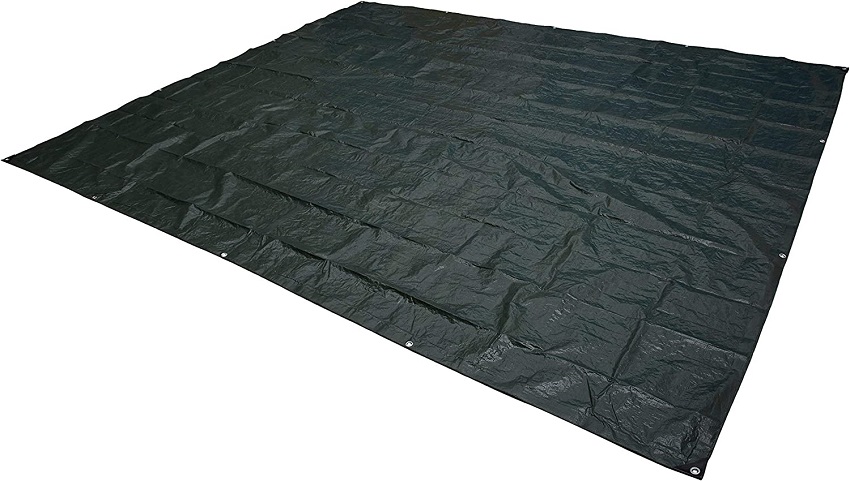 Quick Recommendation: Amazon Basics Waterproof Camping Tarp
At 9.5″ by 11.3″, this tarp is more than long and wide enough for the vast majority of paddleboards. The durable ripstop fabric will resist tearing and damage, and will act as a buffer to shield the underside of your SUPs while you inflate them. It's also perfectly serviceable for camping, too!
SUP Accessories FAQs
Should I wear a wetsuit when paddle boarding?
You should consider wearing a wetsuit when paddle boarding in any water temperature below 77 F (25 C). A wetsuit is an absolute must-have if you're going to paddle in any water below 65 F (18.3 C).
Remember the old saying: "Dress for the water, not the weather." The day may be perfectly warm and sunny but the water can be dangerously cold (especially in early spring). The water is the real danger!
What are the must-have SUP accessories?
There are really only a few things you absolutely have to have to get out on a paddleboard:

– Paddle
– PFD
– Leash
– Emergency Whistle

However, I also recommend:

– Dry bag
– Proper clothing
– Sunscreen/sun protection
– Water
– Sunglasses
How do you carry stuff on a SUP?
To carry stuff on your SUP, you can stuff it under or tie it to the bungee deck rigging. Dry bags usually feature clips or hooks that allow you to connect them to the D-rings or the rigging itself. You can also secure coolers, tackle boxes, and other gear using straps or tie-downs that you connect to the D-rings. 
Is it OK to keep SUP inflated?
While it's not ideal for SUPs to remain inflated permanently, leaving them inflated for a few days or weeks won't harm them. However, it's smart to keep them stored away from direct sunlight, off the ground, and in a cool, dry area where they won't risk being damaged.